Bernard Ganley
Profile
William Bernard Ganley signed for Oldham originally as an amateur in August 1950, turning professional one year later. His father Bert had played for Leigh, Huddersfield and Leeds. Bernard was, of course, a full back, but had played at half back in his amateur days with the Leigh Spinners club.
His debut came in the match against Liverpool Stanley on March 3rd, 1951, his contribution being two goals in a 16 – 3 victory over the Merseysiders. A humble beginning to a truly remarkable career. The following 1951-52 season saw Bernard become the first Oldham player to land over 100 goals, finishing with a total of 106.
This was only the tip of the iceberg as records tumbled to the Ganley boot. He would surpass the 100 mark on another six occasions and in 1957-58 became the first player in history to kick 200 goals, in club matches only. 1958-59 brought him another record that of goals in a match, splitting the uprights fourteen times with Liverpool again being on the receiving end on April 4th, 1959.
Bernard played in all the cup-final wins in the 1950's and not surprisingly scored in each one, with his kicking expertise being supplemented by a rare try in the 1957 Lancashire Cup Final victory over Wigan. He gained county honours and three full Great Britain caps, all against the French. His debut yielded him five goals and another try ! The second appearance saw Bernard again creating records, with ten goals as the French were demolished to the tune of 44 – 15 at Wigan.
There have been many great goal kickers in Rugby League, but for the Oldham fans there has never been anyone to compare with "The Maestro". Bernard was the most lethal of marksmen and broke many the heart of opposing teams and their supporters, with his deadly accuracy, whether it was part of a runaway win or tipping the balance for a single point victory.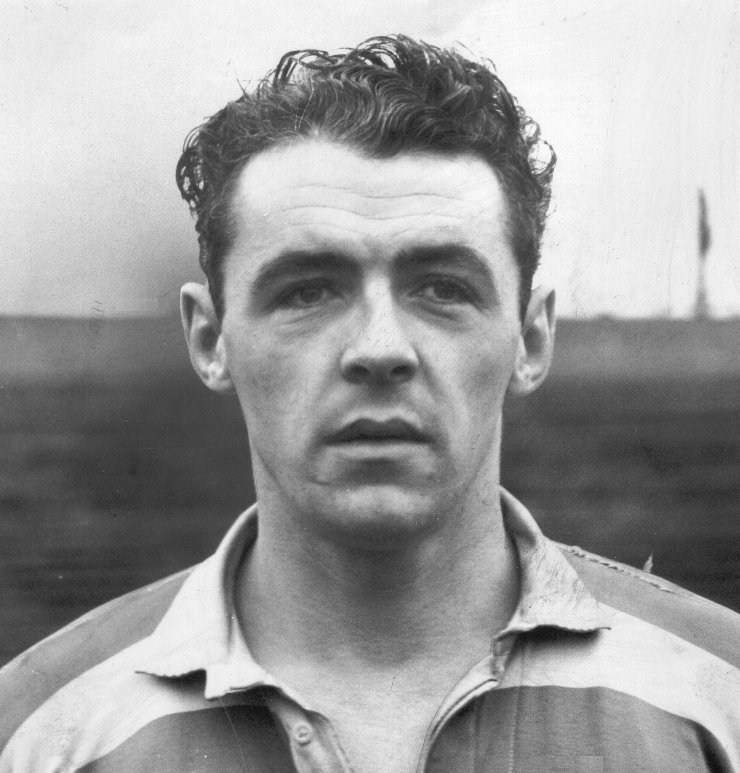 Career Games
| | | | |
| --- | --- | --- | --- |
| Oldham v Liverpool Stanley | Home | March 3, 1951 | League Championship |
| Widnes v Oldham | Away | March 10, 1951 | League Championship |
| Swinton v Oldham | Away | March 23, 1951 | League Championship |
| Oldham v Whitehaven | Home | March 24, 1951 | League Championship |
| Oldham v Whitehaven | Home | September 10, 1951 | League Championship |
| Oldham v St Helens | Home | September 15, 1951 | League Championship |
| Widnes v Oldham | Away | September 22, 1951 | League Championship |
| Oldham v Widnes | Home | September 24, 1951 | Lancashire Cup |
| Oldham v New Zealand | Home | September 29, 1951 | Tour Match |
| Oldham v Warrington | Home | October 6, 1951 | League Championship |
| Liverpool City v Oldham | Away | October 13, 1951 | League Championship |
| Oldham v Leigh | Home | October 16, 1951 | Lancashire Cup |
| Oldham v Leigh | Home | October 20, 1951 | League Championship |
| Salford v Oldham | Away | October 27, 1951 | League Championship |
| Oldham v Bramley | Home | November 3, 1951 | League Championship |
| Workington Town v Oldham | Away | November 10, 1951 | League Championship |
| Oldham v Wigan | Home | November 17, 1951 | League Championship |
| Barrow v Oldham | Away | November 24, 1951 | League Championship |
| Oldham v Barrow | Home | December 1, 1951 | League Championship |
| Halifax v Oldham | Away | December 8, 1951 | League Championship |
| Whitehaven v Oldham | Away | December 15, 1951 | League Championship |
| Oldham v Keighley | Home | December 22, 1951 | League Championship |
| Oldham v Swinton | Home | December 25, 1951 | League Championship |
| Oldham v Workington Town | Home | December 26, 1951 | League Championship |
| Bradford Northern v Oldham | Away | December 29, 1951 | League Championship |
| Oldham v Barrow | Home | January 3, 1952 | League Championship |
| Oldham v Widnes | Home | January 5, 1952 | League Championship |
| Oldham v Salford | Home | January 12, 1952 | League Championship |
| Warrington v Oldham | Away | February 2, 1952 | League Championship |
| Hull FC v Oldham | Away | February 9, 1952 | Rugby League Challenge Cup |
| Oldham v Hull FC | Home | February 16, 1952 | Rugby League Challenge Cup |
| Oldham v Hull Kingston Rovers | Home | February 23, 1952 | League Championship |
| Leeds v Oldham | Away | March 1, 1952 | Rugby League Challenge Cup |
| Bramley v Oldham | Away | March 8, 1952 | League Championship |
| Leigh v Oldham | Away | March 22, 1952 | League Championship |
| St Helens v Oldham | Away | March 29, 1952 | League Championship |
| Rochdale Hornets v Oldham | Away | April 1, 1952 | League Championship |
| Oldham v Belle Vue Rangers | Home | April 5, 1952 | League Championship |
| Swinton v Oldham | Away | April 11, 1952 | League Championship |
| Oldham v Rochdale Hornets | Home | April 12, 1952 | League Championship |
| Oldham v Halifax | Home | April 14, 1952 | League Championship |
| Hull Kingston Rovers v Oldham | Away | April 26, 1952 | League Championship |
| Oldham v Rochdale Hornets | Home | August 16, 1952 | Law Cup |
| Oldham v Featherstone Rovers | Home | August 23, 1952 | League Championship |
| Oldham v Swinton | Home | August 30, 1952 | Lancashire Cup |
| Swinton v Oldham | Away | September 3, 1952 | Lancashire Cup |
| Oldham v Leeds | Home | September 6, 1952 | League Championship |
| St Helens v Oldham | Away | September 10, 1952 | League Championship |
| Barrow v Oldham | Away | September 13, 1952 | League Championship |
| Oldham v Australia | Home | September 15, 1952 | Tour Match |
| Workington Town v Oldham | Away | September 24, 1952 | Lancashire Cup |
| Leeds v Oldham | Away | September 27, 1952 | League Championship |
| Workington Town v Oldham | Away | October 4, 1952 | League Championship |
| Oldham v Widnes | Home | October 11, 1952 | League Championship |
| Warrington v Oldham | Away | October 18, 1952 | League Championship |
| Oldham v Warrington | Home | October 25, 1952 | League Championship |
| Bramley v Oldham | Away | November 1, 1952 | League Championship |
| Oldham v Leigh | Home | November 8, 1952 | League Championship |
| Wakefield Trinity v Oldham | Away | November 15, 1952 | League Championship |
| Oldham v Salford | Home | November 22, 1952 | League Championship |
| Oldham v Belle Vue Rangers | Home | December 6, 1952 | League Championship |
| Bradford Northern v Oldham | Away | December 20, 1952 | League Championship |
| Oldham v Swinton | Home | December 25, 1952 | League Championship |
| Oldham v Wigan | Home | December 27, 1952 | League Championship |
| Wigan v Oldham | Away | January 10, 1953 | League Championship |
| Salford v Oldham | Away | January 17, 1953 | League Championship |
| Oldham v Rochdale Hornets | Home | January 24, 1953 | League Championship |
| Oldham v Bramley | Home | January 31, 1953 | League Championship |
| St Helens v Oldham | Away | February 7, 1953 | Rugby League Challenge Cup |
| Oldham v St Helens | Home | February 14, 1953 | Rugby League Challenge Cup |
| Rochdale Hornets v Oldham | Away | February 21, 1953 | League Championship |
| Whitehaven v Oldham | Away | February 28, 1953 | League Championship |
| Oldham v Bradford Northern | Home | March 7, 1953 | League Championship |
| Widnes v Oldham | Away | March 14, 1953 | League Championship |
| Oldham v Workington Town | Home | March 21, 1953 | League Championship |
| Featherstone Rovers v Oldham | Away | March 28, 1953 | League Championship |
| Swinton v Oldham | Away | April 3, 1953 | League Championship |
| Belle Vue Rangers v Oldham | Away | April 4, 1953 | League Championship |
| Oldham v Whitehaven | Home | April 6, 1953 | League Championship |
| Oldham v Liverpool City | Home | April 11, 1953 | League Championship |
| Oldham v St Helens | Home | April 18, 1953 | League Championship |
| Oldham v Huddersfield | Home | May 16, 1953 | Benefit Match |
| Rochdale Hornets v Oldham | Away | August 8, 1953 | Law Cup |
| Oldham v Wigan | Home | August 15, 1953 | League Championship |
| Huddersfield v Oldham | Away | August 22, 1953 | League Championship |
| Bramley v Oldham | Away | August 26, 1953 | League Championship |
| Whitehaven v Oldham | Away | September 5, 1953 | Lancashire Cup |
| Oldham v Whitehaven | Home | September 7, 1953 | Lancashire Cup |
| Leigh v Oldham | Away | September 12, 1953 | League Championship |
| Oldham v Liverpool City | Home | September 19, 1953 | League Championship |
| Warrington v Oldham | Away | September 24, 1953 | Lancashire Cup |
| Oldham v Widnes | Home | October 3, 1953 | League Championship |
| Oldham v Dewsbury | Home | October 10, 1953 | League Championship |
| Salford v Oldham | Away | October 17, 1953 | League Championship |
| Oldham v Rochdale Hornets | Home | October 24, 1953 | League Championship |
| Belle Vue Rangers v Oldham | Away | November 28, 1953 | League Championship |
| Oldham v Barrow | Home | December 5, 1953 | League Championship |
| St Helens v Oldham | Away | December 12, 1953 | League Championship |
| Oldham v Workington Town | Home | December 19, 1953 | League Championship |
| Oldham v Swinton | Home | December 25, 1953 | League Championship |
| Workington Town v Oldham | Away | December 26, 1953 | League Championship |
| Oldham v Salford | Home | January 9, 1954 | League Championship |
| Oldham v Huddersfield | Home | January 16, 1954 | League Championship |
| Liverpool City v Oldham | Away | January 23, 1954 | League Championship |
| Liverpool City v Oldham | Away | February 6, 1954 | Rugby League Challenge Cup |
| Oldham v Liverpool City | Home | February 13, 1954 | Rugby League Challenge Cup |
| Warrington v Oldham | Away | February 20, 1954 | League Championship |
| Oldham v Leigh | Home | February 27, 1954 | League Championship |
| Oldham v Warrington | Home | March 6, 1954 | Rugby League Challenge Cup |
| Barrow v Oldham | Away | March 13, 1954 | League Championship |
| Oldham v Hull FC | Home | March 20, 1954 | League Championship |
| Leigh v Oldham | Neutral | April 3, 1954 | Exhibition Match |
| Oldham v Warrington | Home | April 8, 1954 | League Championship |
| Wigan v Oldham | Away | April 10, 1954 | League Championship |
| Oldham v Whitehaven | Home | April 12, 1954 | League Championship |
| Swinton v Oldham | Away | April 16, 1954 | League Championship |
| Oldham v Belle Vue Rangers | Home | April 17, 1954 | League Championship |
| Rochdale Hornets v Oldham | Away | April 19, 1954 | League Championship |
| Halifax v Oldham | Away | May 15, 1954 | Benefit Match |
| Oldham v Rochdale Hornets | Home | August 7, 1954 | Law Cup |
| Wakefield Trinity v Oldham | Away | August 14, 1954 | League Championship |
| Oldham v Batley | Home | August 21, 1954 | League Championship |
| Salford v Oldham | Away | August 25, 1954 | League Championship |
| St Helens v Oldham | Away | August 28, 1954 | League Championship |
| Barrow v Oldham | Away | September 4, 1954 | League Championship |
| Oldham v Lancs County Amateurs | Home | September 11, 1954 | Lancashire Cup |
| Oldham v Liverpool City | Home | September 14, 1954 | League Championship |
| Batley v Oldham | Away | September 18, 1954 | League Championship |
| Oldham v St Helens | Home | September 20, 1954 | Lancashire Cup |
| Workington Town v Oldham | Away | September 30, 1954 | Lancashire Cup |
| Blackpool Borough v Oldham | Away | October 2, 1954 | League Championship |
| Oldham v Workington Town | Home | October 9, 1954 | League Championship |
| Barrow v Oldham | Neutral | October 23, 1954 | Lancashire Cup |
| Liverpool City v Oldham | Away | October 30, 1954 | League Championship |
| Oldham v Blackpool Borough | Home | November 6, 1954 | League Championship |
| Widnes v Oldham | Away | November 13, 1954 | League Championship |
| Oldham v Whitehaven | Home | November 20, 1954 | League Championship |
| Oldham v Salford | Home | December 28, 1954 | League Championship |
| Oldham v Belle Vue Rangers | Home | January 1, 1955 | League Championship |
| Leigh v Oldham | Away | January 8, 1955 | League Championship |
| Oldham v Warrington | Home | January 15, 1955 | League Championship |
| Oldham v Hull FC | Home | April 18, 1955 | League Championship |
| Rochdale Hornets v Oldham | Away | August 13, 1955 | Law Cup |
| Rochdale Hornets v Oldham | Away | August 30, 1955 | League Championship |
| Oldham v Hunslet | Home | September 3, 1955 | League Championship |
| York v Oldham | Away | September 24, 1955 | League Championship |
| Oldham v Featherstone Rovers | Home | October 1, 1955 | League Championship |
| Hunslet v Oldham | Away | October 8, 1955 | League Championship |
| Oldham v Barrow | Home | October 15, 1955 | League Championship |
| Featherstone Rovers v Oldham | Neutral | November 2, 1955 | Independent Television Floodlit Trophy |
| Blackpool Borough v Oldham | Away | December 27, 1955 | League Championship |
| Oldham v Rochdale Hornets | Home | January 28, 1956 | League Championship |
| Oldham v Dewsbury | Home | February 11, 1956 | Rugby League Challenge Cup |
| Oldham v Wigan | Home | February 18, 1956 | League Championship |
| Featherstone Rovers v Oldham | Away | February 25, 1956 | League Championship |
| Leeds v Oldham | Away | March 3, 1956 | Rugby League Challenge Cup |
| Oldham v York | Home | March 10, 1956 | League Championship |
| Oldham v Blackpool Borough | Home | March 17, 1956 | League Championship |
| Oldham v Leigh | Home | March 24, 1956 | League Championship |
| Swinton v Oldham | Away | March 30, 1956 | League Championship |
| Oldham v Leeds | Home | March 31, 1956 | League Championship |
| Barrow v Oldham | Away | April 2, 1956 | League Championship |
| Oldham v St Helens | Home | April 14, 1956 | League Championship |
| Oldham v Workington Town | Home | April 21, 1956 | League Championship |
| Oldham v Rochdale Hornets | Home | August 11, 1956 | Law Cup |
| Oldham v Bramley | Home | August 18, 1956 | League Championship |
| Rochdale Hornets v Oldham | Away | August 25, 1956 | League Championship |
| Oldham v Leigh | Home | August 28, 1956 | League Championship |
| Wigan v Oldham | Away | September 1, 1956 | Lancashire Cup |
| St Helens v Oldham | Away | September 8, 1956 | League Championship |
| Salford v Oldham | Away | September 11, 1956 | Lancashire Cup |
| Oldham v Wakefield Trinity | Home | September 15, 1956 | League Championship |
| Wigan v Oldham | Away | October 6, 1956 | League Championship |
| Leigh v Oldham | Neutral | October 8, 1956 | Rules trial game |
| Oldham v Halifax | Home | October 13, 1956 | League Championship |
| St Helens v Oldham | Neutral | October 20, 1956 | Lancashire Cup |
| Oldham v Keighley | Home | October 27, 1956 | League Championship |
| Workington Town v Oldham | Away | November 3, 1956 | League Championship |
| Oldham v Australia | Home | November 7, 1956 | Tour Match |
| Oldham v Workington Town | Home | November 10, 1956 | League Championship |
| Keighley v Oldham | Away | November 17, 1956 | League Championship |
| Oldham v York | Home | December 1, 1956 | League Championship |
| Oldham v St Helens | Home | December 8, 1956 | League Championship |
| Wakefield Trinity v Oldham | Away | December 15, 1956 | League Championship |
| Warrington v Oldham | Away | December 22, 1956 | League Championship |
| Widnes v Oldham | Away | December 29, 1956 | League Championship |
| Blackpool Borough v Oldham | Away | January 1, 1957 | League Championship |
| Oldham v Hunslet | Home | January 5, 1957 | League Championship |
| Oldham v Salford | Home | January 12, 1957 | League Championship |
| Whitehaven v Oldham | Away | January 19, 1957 | League Championship |
| Oldham v Warrington | Home | January 26, 1957 | League Championship |
| Salford v Oldham | Away | February 2, 1957 | League Championship |
| Workington Town v Oldham | Away | February 9, 1957 | Rugby League Challenge Cup |
| Oldham v Widnes | Home | February 16, 1957 | League Championship |
| Leigh v Oldham | Away | February 23, 1957 | Rugby League Challenge Cup |
| Oldham v Liverpool City | Home | March 2, 1957 | League Championship |
| York v Oldham | Away | March 9, 1957 | League Championship |
| Oldham v Whitehaven | Home | March 16, 1957 | League Championship |
| Bramley v Oldham | Away | March 23, 1957 | League Championship |
| Oldham v Wigan | Home | March 30, 1957 | League Championship |
| Leigh v Oldham | Away | April 4, 1957 | League Championship |
| Oldham v Swinton | Home | April 15, 1957 | League Championship |
| Swinton v Oldham | Away | April 19, 1957 | League Championship |
| Hunslet v Oldham | Away | April 20, 1957 | League Championship |
| Oldham v Rochdale Hornets | Home | April 22, 1957 | League Championship |
| Oldham v Leeds | Home | May 4, 1957 | League Championship |
| Hull FC v Oldham | Neutral | May 18, 1957 | League Championship |
| Rochdale Hornets v Oldham | Away | August 10, 1957 | Law Cup |
| Oldham v Halifax | Home | August 17, 1957 | League Championship |
| Barrow v Oldham | Away | August 22, 1957 | League Championship |
| Wakefield Trinity v Oldham | Away | August 24, 1957 | League Championship |
| Oldham v St Helens | Home | August 26, 1957 | League Championship |
| Oldham v Barrow | Home | August 31, 1957 | Lancashire Cup |
| Huddersfield v Oldham | Away | September 2, 1957 | League Championship |
| Halifax v Oldham | Away | September 7, 1957 | League Championship |
| Oldham v Warrington | Home | September 10, 1957 | Lancashire Cup |
| Oldham v Warrington | Home | September 14, 1957 | League Championship |
| Oldham v Leigh | Home | September 21, 1957 | League Championship |
| Workington Town v Oldham | Away | September 28, 1957 | League Championship |
| St Helens v Oldham | Away | October 2, 1957 | Lancashire Cup |
| Rochdale Hornets v Oldham | Away | October 12, 1957 | League Championship |
| Wigan v Oldham | Neutral | October 19, 1957 | Lancashire Cup |
| Blackpool Borough v Oldham | Away | October 26, 1957 | League Championship |
| Salford v Oldham | Away | November 9, 1957 | League Championship |
| Oldham v Liverpool City | Home | November 16, 1957 | League Championship |
| Oldham v Salford | Home | November 30, 1957 | League Championship |
| Hunslet v Oldham | Away | December 7, 1957 | League Championship |
| Liverpool City v Oldham | Away | December 14, 1957 | League Championship |
| Oldham v Whitehaven | Home | December 21, 1957 | League Championship |
| Oldham v Swinton | Home | December 25, 1957 | League Championship |
| Hull FC v Oldham | Away | December 26, 1957 | League Championship |
| Warrington v Oldham | Away | December 28, 1957 | League Championship |
| Oldham v Leeds | Home | January 4, 1958 | League Championship |
| Oldham v Barrow | Home | January 11, 1958 | League Championship |
| Widnes v Oldham | Away | January 18, 1958 | League Championship |
| Wigan v Oldham | Away | February 1, 1958 | League Championship |
| Oldham v Hull Kingston Rovers | Home | February 8, 1958 | Rugby League Challenge Cup |
| St Helens v Oldham | Away | February 15, 1958 | League Championship |
| Blackpool Borough v Oldham | Away | February 22, 1958 | Rugby League Challenge Cup |
| Oldham v Wigan | Home | March 8, 1958 | Rugby League Challenge Cup |
| Whitehaven v Oldham | Away | March 15, 1958 | League Championship |
| Oldham v Rochdale Hornets | Home | March 22, 1958 | League Championship |
| Oldham v Widnes | Home | March 25, 1958 | League Championship |
| Swinton v Oldham | Away | April 4, 1958 | League Championship |
| Oldham v Wigan | Home | April 5, 1958 | League Championship |
| Oldham v Huddersfield | Home | April 7, 1958 | League Championship |
| Oldham v Hunslet | Home | April 12, 1958 | League Championship |
| Oldham v Hull FC | Home | April 16, 1958 | League Championship |
| Oldham v Workington Town | Home | April 26, 1958 | League Championship |
| Oldham v Hull FC | Home | May 3, 1958 | League Championship |
| Rochdale Hornets v Oldham | Away | August 9, 1958 | Law Cup |
| Oldham v Halifax | Home | August 16, 1958 | League Championship |
| Blackpool Borough v Oldham | Away | August 19, 1958 | League Championship |
| Wakefield Trinity v Oldham | Away | August 23, 1958 | League Championship |
| Oldham v Whitehaven | Home | August 30, 1958 | Lancashire Cup |
| Oldham v Workington Town | Home | September 2, 1958 | League Championship |
| Halifax v Oldham | Away | September 6, 1958 | League Championship |
| Oldham v Wakefield Trinity | Home | September 13, 1958 | League Championship |
| Oldham v Wigan | Home | September 16, 1958 | Lancashire Cup |
| Rochdale Hornets v Oldham | Away | September 20, 1958 | League Championship |
| Oldham v Widnes | Home | September 30, 1958 | Lancashire Cup |
| Warrington v Oldham | Away | October 4, 1958 | League Championship |
| Oldham v Rochdale Hornets | Home | October 11, 1958 | League Championship |
| Liverpool City v Oldham | Away | October 18, 1958 | League Championship |
| St Helens v Oldham | Neutral | October 25, 1958 | Lancashire Cup |
| Featherstone Rovers v Oldham | Away | November 1, 1958 | League Championship |
| Salford v Oldham | Away | November 15, 1958 | League Championship |
| Oldham v Leeds | Home | November 22, 1958 | League Championship |
| Wigan v Oldham | Away | November 29, 1958 | League Championship |
| Oldham v Widnes | Home | December 6, 1958 | League Championship |
| Workington Town v Oldham | Away | December 13, 1958 | League Championship |
| Oldham v Wigan | Home | December 20, 1958 | League Championship |
| Oldham v Swinton | Home | December 25, 1958 | League Championship |
| Hunslet v Oldham | Away | December 26, 1958 | League Championship |
| St Helens v Oldham | Away | December 27, 1958 | League Championship |
| Oldham v Leigh | Home | January 3, 1959 | League Championship |
| Leeds v Oldham | Away | January 31, 1959 | League Championship |
| Oldham v Warrington | Home | February 7, 1959 | League Championship |
| Oldham v St Helens | Home | February 21, 1959 | Rugby League Challenge Cup |
| Whitehaven v Oldham | Away | February 28, 1959 | League Championship |
| Hull FC v Oldham | Away | March 14, 1959 | League Championship |
| Oldham v Barrow | Home | March 21, 1959 | League Championship |
| Swinton v Oldham | Away | March 27, 1959 | League Championship |
| Oldham v Hull FC | Home | March 30, 1959 | League Championship |
| Oldham v Liverpool City | Home | April 4, 1959 | League Championship |
| Oldham v Salford | Home | April 7, 1959 | League Championship |
| Widnes v Oldham | Away | April 11, 1959 | League Championship |
| Oldham v Hunslet | Home | April 14, 1959 | League Championship |
| Oldham v Whitehaven | Home | April 18, 1959 | League Championship |
| Barrow v Oldham | Away | April 20, 1959 | League Championship |
| Oldham v St Helens | Home | April 27, 1959 | League Championship |
| St Helens v Oldham | Away | May 2, 1959 | League Championship |
| Oldham v Rochdale Hornets | Home | August 8, 1959 | Law Cup |
| Oldham v Leeds | Home | August 15, 1959 | League Championship |
| Dewsbury v Oldham | Away | August 18, 1959 | League Championship |
| Salford v Oldham | Away | August 22, 1959 | League Championship |
| Oldham v Warrington | Home | August 25, 1959 | League Championship |
| Whitehaven v Oldham | Away | August 29, 1959 | Lancashire Cup |
| Halifax v Oldham | Away | September 5, 1959 | League Championship |
| Oldham v Halifax | Home | September 8, 1959 | League Championship |
| Oldham v Widnes | Home | September 19, 1959 | League Championship |
| Blackpool Borough v Oldham | Away | September 26, 1959 | League Championship |
| Oldham v Australia | Home | October 3, 1959 | Tour Match |
| Barrow v Oldham | Away | October 10, 1959 | League Championship |
| Oldham v Workington Town | Home | October 17, 1959 | League Championship |
| Warrington v Oldham | Away | October 24, 1959 | League Championship |
| Oldham v Barrow | Home | October 31, 1959 | League Championship |
| Rochdale Hornets v Oldham | Away | November 7, 1959 | League Championship |
| Oldham v Blackpool Borough | Home | November 14, 1959 | League Championship |
| Whitehaven v Oldham | Away | November 21, 1959 | League Championship |
| Oldham v Rochdale Hornets | Home | November 28, 1959 | League Championship |
| Wigan v Oldham | Away | December 5, 1959 | League Championship |
| Oldham v Dewsbury | Home | December 19, 1959 | League Championship |
| Oldham v Swinton | Home | December 25, 1959 | League Championship |
| Oldham v Hull FC | Home | December 28, 1959 | League Championship |
| Liverpool City v Oldham | Away | January 2, 1960 | League Championship |
| Oldham v Wakefield Trinity | Home | January 9, 1960 | League Championship |
| Oldham v Leigh | Home | January 16, 1960 | League Championship |
| Widnes v Oldham | Away | January 30, 1960 | League Championship |
| Oldham v Salford | Home | February 6, 1960 | League Championship |
| Oldham v Huddersfield | Home | February 13, 1960 | Rugby League Challenge Cup |
| Wakefield Trinity v Oldham | Away | February 20, 1960 | League Championship |
| Oldham v Walney Central | Home | February 27, 1960 | Rugby League Challenge Cup |
| Leeds v Oldham | Away | March 5, 1960 | League Championship |
| Oldham v Wigan | Home | March 12, 1960 | League Championship |
| Oldham v Bramley | Home | March 19, 1960 | Rugby League Challenge Cup |
| Hunslet v Oldham | Away | March 26, 1960 | League Championship |
| Hull FC v Oldham | Neutral | April 9, 1960 | Rugby League Challenge Cup |
| Oldham v St Helens | Home | August 13, 1960 | League Championship |
| Warrington v Oldham | Away | August 17, 1960 | League Championship |
| Leeds v Oldham | Away | August 20, 1960 | League Championship |
| Wigan v Oldham | Away | August 27, 1960 | Lancashire Cup |
| Oldham v Leigh | Home | August 30, 1960 | League Championship |
| Featherstone Rovers v Oldham | Away | September 3, 1960 | League Championship |
| Oldham v Halifax | Home | September 10, 1960 | League Championship |
| St Helens v Oldham | Away | September 17, 1960 | League Championship |
| Oldham v Featherstone Rovers | Home | September 20, 1960 | League Championship |
| Hull Kingston Rovers v Oldham | Away | October 15, 1960 | League Championship |
| Oldham v Widnes | Home | October 22, 1960 | League Championship |
| Rochdale Hornets v Oldham | Away | October 29, 1960 | League Championship |
| Oldham v Liverpool City | Home | November 5, 1960 | League Championship |
| Keighley v Oldham | Away | November 12, 1960 | League Championship |
| Oldham v Salford | Home | November 19, 1960 | League Championship |
| Whitehaven v Oldham | Away | November 26, 1960 | League Championship |
| Oldham v Leeds | Home | December 3, 1960 | League Championship |
| Oldham v Blackpool Borough | Home | December 17, 1960 | League Championship |
| Leigh v Oldham | Away | December 24, 1960 | League Championship |
| Oldham v Swinton | Home | December 26, 1960 | League Championship |
| Barrow v Oldham | Away | December 31, 1960 | League Championship |
| Hull FC v Oldham | Away | February 11, 1961 | Rugby League Challenge Cup |
| Oldham v Hull Kingston Rovers | Home | February 18, 1961 | League Championship |
| Salford v Oldham | Away | March 4, 1961 | League Championship |
| Widnes v Oldham | Away | March 11, 1961 | League Championship |