Tommy Cash
Profile
Tommy Cash was born on Ashton Road, Oldham and was first introduced to a crude form of Rugby football at the local St Pauls school. A diminutive, figure he went on to play for Oldham Edge Recreation and Glenby at half back. He was invited to play for Oldham "A" against Werneth, when he scored three tries which led to him joining the Werneth club.
He eventually joined the senior club making his debut at centre in the 7 – 2 win at Hull Kingston on September 27th, 1902. He made 21 appearances that season, all the rest were on the wing, this being the position where he would become a great favourite with the Oldham crowd. Not that all of his admirers were confined to Watersheddings. On another trip to Humberside, on March 11th 1905, Tommy scored the only try of the match in a 3 – 0 victory at the Boulevard and one of the Hull F.C. officials was heard to comment that ,"little Cash is worth his weight in gold to Oldham".
He topped the Oldham try list in 1904-05 with 13 and 1905-06 with 21. At times he would be switched to half back prompting the cartoon image featured in the "Athletic News", with the witty caption "Cash, though changed from ¾ to ½, is still sterling value".
Irrespective of his slight stature, Tommy was well known for his courage and would take on the heftiest of opponents. Once he received his marching orders, to the amusement of the crowd, after an entanglement with a burly Leeds forward.
Along with several of his team mates, he left to assist the newly formed Coventry club in 1910. During the First World War he joined the Royal Rifles and earned the Military Medal for heroism at Paschendale Ridge.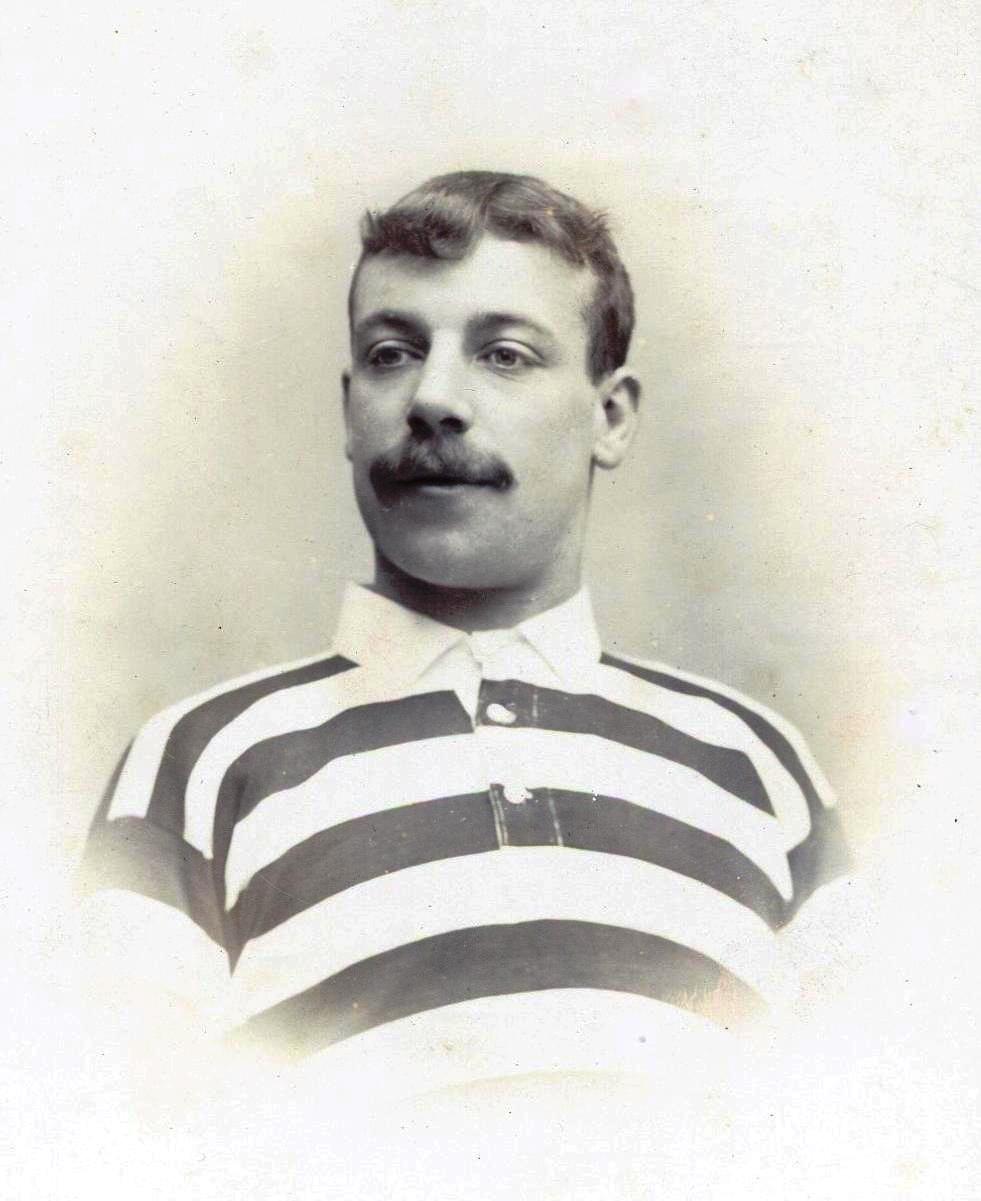 Career Games
| | | | |
| --- | --- | --- | --- |
| Hull Kingston Rovers v Oldham | Away | September 27, 1902 | Division 1 |
| Oldham v Salford | Home | December 13, 1902 | Division 1 |
| Oldham v Halifax | Home | December 20, 1902 | Division 1 |
| Oldham v Swinton | Home | December 25, 1902 | Division 1 |
| Oldham v Leigh | Home | December 27, 1902 | Division 1 |
| Widnes v Oldham | Away | January 1, 1903 | Division 1 |
| Oldham v Hull FC | Home | January 3, 1903 | Division 1 |
| Broughton Rangers v Oldham | Away | January 17, 1903 | Division 1 |
| Oldham v Hull Kingston Rovers | Home | January 24, 1903 | Division 1 |
| Hunslet v Oldham | Away | January 31, 1903 | Division 1 |
| Batley v Oldham | Away | February 3, 1903 | Division 1 |
| Oldham v Wigan | Home | February 7, 1903 | Division 1 |
| Broughton Rangers v Oldham | Away | February 14, 1903 | Rugby League Challenge Cup |
| Oldham v Wigan | Home | February 21, 1903 | Rugby League Challenge Cup |
| Huddersfield v Oldham | Away | February 28, 1903 | Division 1 |
| Bradford v Oldham | Away | March 7, 1903 | Rugby League Challenge Cup |
| Oldham v Runcorn | Home | March 28, 1903 | Division 1 |
| Salford v Oldham | Away | April 11, 1903 | Division 1 |
| Oldham v Swinton | Home | April 13, 1903 | Division 1 |
| Oldham v Batley | Home | April 14, 1903 | Division 1 |
| Leigh v Oldham | Away | April 25, 1903 | Division 1 |
| Oldham v Batley | Home | December 25, 1903 | Division 1 |
| Oldham v Salford | Home | February 20, 1904 | Division 1 |
| Leigh v Oldham | Away | February 27, 1904 | Division 1 |
| Oldham v Swinton | Home | March 19, 1904 | Friendly |
| Oldham v Swinton | Home | April 4, 1904 | Division 1 |
| Widnes v Oldham | Away | April 9, 1904 | Division 1 |
| Oldham v Keighley | Home | April 12, 1904 | Division 1 |
| Oldham v Hunslet | Home | April 19, 1904 | Division 1 |
| Hull Kingston Rovers v Oldham | Away | April 23, 1904 | Division 1 |
| St Helens v Oldham | Away | September 3, 1904 | Division 1 |
| Hull Kingston Rovers v Oldham | Away | September 10, 1904 | Division 1 |
| Oldham v Batley | Home | September 17, 1904 | Division 1 |
| Salford v Oldham | Away | October 8, 1904 | Division 1 |
| Oldham v Warrington | Home | October 15, 1904 | Division 1 |
| Wakefield Trinity v Oldham | Away | October 22, 1904 | Division 1 |
| Oldham v Leigh | Home | October 29, 1904 | Division 1 |
| Oldham v Halifax | Home | November 5, 1904 | Division 1 |
| Bradford v Oldham | Away | November 19, 1904 | Division 1 |
| Oldham v Leeds | Home | November 26, 1904 | Division 1 |
| Runcorn v Oldham | Away | December 3, 1904 | Division 1 |
| Oldham v Wigan | Home | December 17, 1904 | Division 1 |
| Swinton v Oldham | Away | December 24, 1904 | Division 1 |
| Oldham v Swinton | Home | December 26, 1904 | Division 1 |
| Oldham v St Helens | Home | December 31, 1904 | Division 1 |
| Halifax v Oldham | Away | January 2, 1905 | Division 1 |
| Oldham v Hull Kingston Rovers | Home | January 7, 1905 | Division 1 |
| Batley v Oldham | Away | January 14, 1905 | Division 1 |
| Oldham v Hunslet | Home | January 21, 1905 | Division 1 |
| Widnes v Oldham | Away | January 28, 1905 | Division 1 |
| Oldham v Salford | Home | February 4, 1905 | Division 1 |
| Warrington v Oldham | Away | February 11, 1905 | Division 1 |
| Oldham v Wakefield Trinity | Home | February 18, 1905 | Division 1 |
| Leigh v Oldham | Away | February 25, 1905 | Division 1 |
| Oldham v Normanton | Home | March 4, 1905 | Rugby League Challenge Cup |
| Hull FC v Oldham | Away | March 11, 1905 | Division 1 |
| Batley v Oldham | Away | March 18, 1905 | Rugby League Challenge Cup |
| Oldham v Bradford | Home | March 20, 1905 | Division 1 |
| Leeds v Oldham | Away | March 25, 1905 | Division 1 |
| Oldham v Bradford | Home | April 1, 1905 | Rugby League Challenge Cup |
| Bradford v Oldham | | April 5, 1905 | Rugby League Challenge Cup |
| Broughton Rangers v Oldham | Away | April 8, 1905 | Division 1 |
| Wigan v Oldham | Away | April 15, 1905 | Division 1 |
| Millom v Oldham | Away | September 1, 1905 | RL Championship |
| Morecambe v Oldham | Away | September 2, 1905 | RL Championship |
| Oldham v Wigan | Home | September 16, 1905 | RL Championship |
| Runcorn v Oldham | Away | September 20, 1905 | RL Championship |
| Oldham v Barrow | Home | September 23, 1905 | RL Championship |
| Rochdale Hornets v Oldham | Away | September 30, 1905 | RL Championship |
| Oldham v Morecambe | Home | October 7, 1905 | RL Championship |
| Oldham v Broughton Rangers | Home | October 14, 1905 | RL Championship |
| Oldham v Warrington | Home | October 21, 1905 | RL Championship |
| Salford v Oldham | Away | October 28, 1905 | Lancashire Cup |
| Oldham v Widnes | Home | November 4, 1905 | RL Championship |
| Salford v Oldham | Away | November 11, 1905 | RL Championship |
| Oldham v Wigan | Home | November 18, 1905 | Lancashire Cup |
| Oldham v Wakefield Trinity | Home | November 25, 1905 | RL Championship |
| St Helens v Oldham | Away | December 2, 1905 | RL Championship |
| Hull FC v Oldham | Away | December 9, 1905 | RL Championship |
| Swinton v Oldham | Away | December 16, 1905 | RL Championship |
| Oldham v Leeds | Home | December 23, 1905 | RL Championship |
| Oldham v Rochdale Hornets | Home | December 25, 1905 | RL Championship |
| Leeds v Oldham | Away | December 30, 1905 | RL Championship |
| Oldham v Hull FC | Home | January 1, 1906 | RL Championship |
| Oldham v Swinton | Home | January 6, 1906 | RL Championship |
| Oldham v Leigh | Home | January 13, 1906 | RL Championship |
| Broughton Rangers v Oldham | Away | January 20, 1906 | RL Championship |
| Oldham v St Helens | Home | January 27, 1906 | RL Championship |
| Hull Kingston Rovers v Oldham | Away | February 3, 1906 | RL Championship |
| Oldham v Salford | Home | February 10, 1906 | RL Championship |
| Oldham v Millom | Home | February 12, 1906 | RL Championship |
| Oldham v Dewsbury | Home | February 17, 1906 | RL Championship |
| Halifax v Oldham | Away | February 24, 1906 | RL Championship |
| Pontefract v Oldham | Away | March 3, 1906 | Rugby League Challenge Cup |
| Oldham v Bradford | Home | March 10, 1906 | RL Championship |
| Oldham v Halifax | Home | March 17, 1906 | Rugby League Challenge Cup |
| Oldham v Halifax | Home | March 24, 1906 | RL Championship |
| Wakefield Trinity v Oldham | Away | March 31, 1906 | RL Championship |
| Leigh v Oldham | Away | April 4, 1906 | RL Championship |
| Bradford v Oldham | Away | April 7, 1906 | RL Championship |
| Oldham v Hull Kingston Rovers | Home | April 14, 1906 | RL Championship |
| Wigan v Oldham | Away | April 16, 1906 | RL Championship |
| Oldham v Chadderton | Home | April 19, 1906 | Friendly |
| Barrow v Oldham | Away | April 21, 1906 | RL Championship |
| Widnes v Oldham | Away | April 26, 1906 | RL Championship |
| Dewsbury v Oldham | Away | April 28, 1906 | RL Championship |
| Oldham v Runcorn | Home | September 1, 1906 | League Championship |
| Oldham v Wigan | Home | September 8, 1906 | League Championship |
| Oldham v Hull Kingston Rovers | Home | September 15, 1906 | League Championship |
| Oldham v Huddersfield | Home | October 6, 1906 | League Championship |
| St Helens v Oldham | Away | October 13, 1906 | Lancashire Cup |
| Hunslet v Oldham | Away | October 20, 1906 | League Championship |
| Oldham v Rochdale Hornets | Home | October 27, 1906 | Lancashire Cup |
| Oldham v Leigh | Home | November 3, 1906 | League Championship |
| Barrow v Oldham | Away | November 5, 1906 | League Championship |
| Warrington v Oldham | Away | November 17, 1906 | Lancashire Cup |
| Oldham v Salford | Home | November 24, 1906 | League Championship |
| Oldham v Salford | Home | December 3, 1906 | League Championship |
| Oldham v Broughton Rangers | Home | December 8, 1906 | League Championship |
| Oldham v Leeds | Home | December 15, 1906 | League Championship |
| Bradford v Oldham | Away | December 18, 1906 | League Championship |
| Rochdale Hornets v Oldham | Away | December 22, 1906 | League Championship |
| Oldham v Swinton | Home | December 25, 1906 | League Championship |
| Oldham v Hunslet | Home | December 29, 1906 | League Championship |
| Oldham v Barrow | Home | January 1, 1907 | League Championship |
| Leeds v Oldham | Away | January 5, 1907 | League Championship |
| Salford v Oldham | Away | January 12, 1907 | League Championship |
| Oldham v Hull FC | Home | January 19, 1907 | League Championship |
| Oldham v Warrington | Home | February 4, 1907 | League Championship |
| Hull Kingston Rovers v Oldham | Away | February 9, 1907 | League Championship |
| Warrington v Oldham | Away | February 16, 1907 | League Championship |
| Oldham v Wakefield Trinity | Home | February 23, 1907 | League Championship |
| Oldham v Bradford | Home | March 2, 1907 | League Championship |
| Oldham v Halifax | Home | March 9, 1907 | League Championship |
| Wakefield Trinity v Oldham | Away | March 11, 1907 | League Championship |
| Oldham v Runcorn | Home | March 16, 1907 | Rugby League Challenge Cup |
| Halifax v Oldham | Away | March 23, 1907 | Rugby League Challenge Cup |
| Hull FC v Oldham | Away | April 2, 1907 | League Championship |
| Hull Kingston Rovers v Oldham | Away | September 4, 1909 | League Championship |
| Ebbw Vale v Oldham | Away | October 4, 1909 | League Championship |
| Runcorn v Oldham | Away | October 30, 1909 | Lancashire Cup |