George Tyson
Profile
George Tyson was born on Christmas Eve 1879 in the Tommyfield area of Oldham. His first club was a church hall team called Vale Hornets who had some allegiance to the Roscoe Hornets club. He played for other local teams before ending up at Werneth where his good form caught the eye of the Oldham officials and he was invited for trials.
A speedy and elusive wing man, George was soon in the senior side and topped the Oldham try list for three consecutive seasons. 1906-07, 1907-08 and 1908-09. His talents were rewarded with caps at county and international level. Indeed it was he who scored the try that won the first ever "Ashes" series against the Australian touring team of 1908.
With the series standing at one win to Britain and one draw, the "Kangaroos" were leading 5 3 going into the final minutes of the last test played at Villa Park, Birmingham. With time ticking away, centre Jim Lomas of Salford and later of Oldham, put George over for the vital try that won the match 6-5. The whole series was a personal success for George who played and scored in every test.
He was selected for the first tour down under in 1910 but declined the invitation having just taken over at the Farmer's Boy Public House, on Huddersfield Road, which coincided with the birth of his son.
Also well known for a keen defensive game, he was once told to keep a close watch on the aforementioned Lomas in an Oldham v Salford encounter, and upon coming to Watersheddings, Jim was to recall the match and the fact that he finished the game black and blue from Tyson's attention, commenting that George had tackled him every time they were in the same area, whether he had the ball or not!
In later life he became a keen bowler and was the first winner of the Oldham Chronicle Bowling Championship.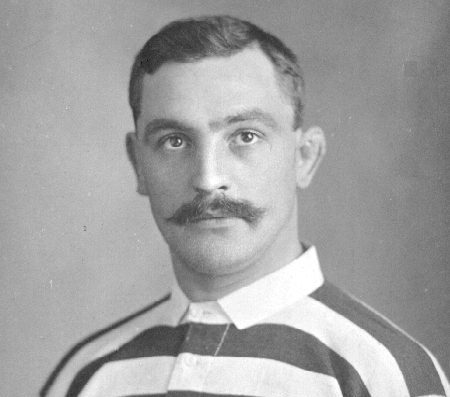 Career Games
| | | | |
| --- | --- | --- | --- |
| Oldham v Broughton Rangers | Home | September 20, 1902 | Division 1 |
| Oldham v Halifax | Home | December 20, 1902 | Division 1 |
| Oldham v Swinton | Home | December 25, 1902 | Division 1 |
| Oldham v Leigh | Home | December 27, 1902 | Division 1 |
| Broughton Rangers v Oldham | Away | January 17, 1903 | Division 1 |
| Oldham v Hull Kingston Rovers | Home | January 24, 1903 | Division 1 |
| Hunslet v Oldham | Away | January 31, 1903 | Division 1 |
| Batley v Oldham | Away | February 3, 1903 | Division 1 |
| Oldham v Wigan | Home | February 7, 1903 | Division 1 |
| Broughton Rangers v Oldham | Away | February 14, 1903 | Rugby League Challenge Cup |
| Oldham v Wigan | Home | February 21, 1903 | Rugby League Challenge Cup |
| Huddersfield v Oldham | Away | February 28, 1903 | Division 1 |
| Bradford v Oldham | Away | March 7, 1903 | Rugby League Challenge Cup |
| Oldham v Bradford | Home | March 10, 1903 | Division 1 |
| Brighouse Rangers v Oldham | Away | March 14, 1903 | Division 1 |
| Oldham v Hunslet | Home | March 21, 1903 | Rugby League Challenge Cup |
| Oldham v Warrington | Home | March 24, 1903 | Division 1 |
| Oldham v Runcorn | Home | March 28, 1903 | Division 1 |
| Oldham v St Helens | Home | March 31, 1903 | Division 1 |
| Salford v Oldham | Neutral | April 4, 1903 | Rugby League Challenge Cup |
| Salford v Oldham | Neutral | April 8, 1903 | Rugby League Challenge Cup |
| Oldham v Swinton | Home | April 13, 1903 | Division 1 |
| Oldham v Batley | Home | April 14, 1903 | Division 1 |
| Halifax v Oldham | Away | April 18, 1903 | Division 1 |
| Leigh v Oldham | Away | April 25, 1903 | Division 1 |
| Oldham v Hull FC | Home | September 5, 1903 | Division 1 |
| Halifax v Oldham | Away | September 12, 1903 | Division 1 |
| Bradford v Oldham | Away | September 26, 1903 | Division 1 |
| Oldham v Wigan | Home | October 3, 1903 | Division 1 |
| Leeds v Oldham | Away | October 10, 1903 | Division 1 |
| Oldham v Runcorn | Home | October 17, 1903 | Division 1 |
| Salford v Oldham | Away | October 24, 1903 | Division 1 |
| Oldham v Leigh | Home | October 31, 1903 | Division 1 |
| Warrington v Oldham | Away | November 7, 1903 | Division 1 |
| Batley v Oldham | Away | November 14, 1903 | Division 1 |
| Keighley v Oldham | Away | November 21, 1903 | Division 1 |
| Oldham v Broughton Rangers | Home | November 28, 1903 | Division 1 |
| Hunslet v Oldham | Away | December 5, 1903 | Division 1 |
| Oldham v Widnes | Home | December 12, 1903 | Division 1 |
| Hull FC v Oldham | Away | January 2, 1904 | Division 1 |
| Oldham v Halifax | Home | January 9, 1904 | Division 1 |
| Huddersfield v Oldham | Away | January 16, 1904 | Division 1 |
| Oldham v Bradford | Home | January 23, 1904 | Division 1 |
| Wigan v Oldham | Away | January 30, 1904 | Division 1 |
| Oldham v Leeds | Home | February 6, 1904 | Division 1 |
| Runcorn v Oldham | Away | February 13, 1904 | Division 1 |
| Oldham v Salford | Home | February 20, 1904 | Division 1 |
| Leigh v Oldham | Away | February 27, 1904 | Division 1 |
| Oldham v Warrington | Home | March 5, 1904 | Division 1 |
| Broughton Rangers v Oldham | Away | March 26, 1904 | Division 1 |
| Oldham v Oldham A | Home | April 2, 1904 | Friendly |
| Oldham v Swinton | Home | April 4, 1904 | Division 1 |
| Oldham v Hunslet | Home | April 19, 1904 | Division 1 |
| Hull Kingston Rovers v Oldham | Away | April 23, 1904 | Division 1 |
| Oldham v Widnes | Home | September 10, 1904 | Division 1 |
| Oldham v Warrington | Home | October 15, 1904 | Division 1 |
| Wakefield Trinity v Oldham | Away | October 22, 1904 | Division 1 |
| Leeds v Oldham | Away | March 25, 1905 | Division 1 |
| Oldham v Bradford | Home | April 1, 1905 | Rugby League Challenge Cup |
| Bradford v Oldham | | April 5, 1905 | Rugby League Challenge Cup |
| Broughton Rangers v Oldham | Away | April 8, 1905 | Division 1 |
| Wigan v Oldham | Away | April 15, 1905 | Division 1 |
| Oldham v Runcorn | Home | April 22, 1905 | Division 1 |
| Oldham v Hull FC | Home | April 24, 1905 | Division 1 |
| Millom v Oldham | Away | September 1, 1905 | RL Championship |
| Morecambe v Oldham | Away | September 2, 1905 | RL Championship |
| Warrington v Oldham | Away | September 9, 1905 | RL Championship |
| Rochdale Hornets v Oldham | Away | September 30, 1905 | RL Championship |
| Oldham v Morecambe | Home | October 7, 1905 | RL Championship |
| Oldham v Warrington | Home | October 21, 1905 | RL Championship |
| Salford v Oldham | Away | October 28, 1905 | Lancashire Cup |
| Oldham v Widnes | Home | November 4, 1905 | RL Championship |
| Salford v Oldham | Away | November 11, 1905 | RL Championship |
| Oldham v Wigan | Home | November 18, 1905 | Lancashire Cup |
| Hull FC v Oldham | Away | December 9, 1905 | RL Championship |
| Swinton v Oldham | Away | December 16, 1905 | RL Championship |
| Oldham v Leeds | Home | December 23, 1905 | RL Championship |
| Oldham v Rochdale Hornets | Home | December 25, 1905 | RL Championship |
| Leeds v Oldham | Away | December 30, 1905 | RL Championship |
| Oldham v Hull FC | Home | January 1, 1906 | RL Championship |
| Oldham v Runcorn | Home | January 2, 1906 | RL Championship |
| Oldham v Swinton | Home | January 6, 1906 | RL Championship |
| Oldham v Leigh | Home | January 13, 1906 | RL Championship |
| Broughton Rangers v Oldham | Away | January 20, 1906 | RL Championship |
| Oldham v St Helens | Home | January 27, 1906 | RL Championship |
| Hull Kingston Rovers v Oldham | Away | February 3, 1906 | RL Championship |
| Oldham v Salford | Home | February 10, 1906 | RL Championship |
| Oldham v Millom | Home | February 12, 1906 | RL Championship |
| Oldham v Dewsbury | Home | February 17, 1906 | RL Championship |
| Halifax v Oldham | Away | February 24, 1906 | RL Championship |
| Pontefract v Oldham | Away | March 3, 1906 | Rugby League Challenge Cup |
| Oldham v Bradford | Home | March 10, 1906 | RL Championship |
| Oldham v Halifax | Home | March 24, 1906 | RL Championship |
| Wakefield Trinity v Oldham | Away | March 31, 1906 | RL Championship |
| Leigh v Oldham | Away | April 4, 1906 | RL Championship |
| Bradford v Oldham | Away | April 7, 1906 | RL Championship |
| Oldham v Hull Kingston Rovers | Home | April 14, 1906 | RL Championship |
| Wigan v Oldham | Away | April 16, 1906 | RL Championship |
| Oldham v Chadderton | Home | April 19, 1906 | Friendly |
| Barrow v Oldham | Away | April 21, 1906 | RL Championship |
| Widnes v Oldham | Away | April 26, 1906 | RL Championship |
| Dewsbury v Oldham | Away | April 28, 1906 | RL Championship |
| Oldham v Runcorn | Home | September 1, 1906 | League Championship |
| Oldham v Wigan | Home | September 8, 1906 | League Championship |
| Oldham v Hull Kingston Rovers | Home | September 15, 1906 | League Championship |
| Swinton v Oldham | Away | September 22, 1906 | League Championship |
| Huddersfield v Oldham | Away | September 24, 1906 | League Championship |
| Oldham v Rochdale Hornets | Home | September 29, 1906 | League Championship |
| St Helens v Oldham | Away | October 13, 1906 | Lancashire Cup |
| Hunslet v Oldham | Away | October 20, 1906 | League Championship |
| Oldham v Rochdale Hornets | Home | October 27, 1906 | Lancashire Cup |
| Oldham v Leigh | Home | November 3, 1906 | League Championship |
| Barrow v Oldham | Away | November 5, 1906 | League Championship |
| Broughton Rangers v Oldham | Away | November 10, 1906 | League Championship |
| Halifax v Oldham | Away | November 12, 1906 | League Championship |
| Warrington v Oldham | Away | November 17, 1906 | Lancashire Cup |
| Oldham v Salford | Home | November 24, 1906 | League Championship |
| Oldham v Salford | Home | December 3, 1906 | League Championship |
| Oldham v Broughton Rangers | Home | December 8, 1906 | League Championship |
| Oldham v Leeds | Home | December 15, 1906 | League Championship |
| Bradford v Oldham | Away | December 18, 1906 | League Championship |
| Rochdale Hornets v Oldham | Away | December 22, 1906 | League Championship |
| Oldham v Swinton | Home | December 25, 1906 | League Championship |
| Runcorn v Oldham | Away | December 26, 1906 | League Championship |
| Oldham v Hunslet | Home | December 29, 1906 | League Championship |
| Oldham v Barrow | Home | January 1, 1907 | League Championship |
| Leeds v Oldham | Away | January 5, 1907 | League Championship |
| Salford v Oldham | Away | January 12, 1907 | League Championship |
| Oldham v Hull FC | Home | January 19, 1907 | League Championship |
| Oldham v Warrington | Home | February 4, 1907 | League Championship |
| Hull Kingston Rovers v Oldham | Away | February 9, 1907 | League Championship |
| Warrington v Oldham | Away | February 16, 1907 | League Championship |
| Oldham v Wakefield Trinity | Home | February 23, 1907 | League Championship |
| Oldham v Bradford | Home | March 2, 1907 | League Championship |
| Oldham v Halifax | Home | March 9, 1907 | League Championship |
| Wakefield Trinity v Oldham | Away | March 11, 1907 | League Championship |
| Oldham v Runcorn | Home | March 16, 1907 | Rugby League Challenge Cup |
| Halifax v Oldham | Away | March 23, 1907 | Rugby League Challenge Cup |
| Leigh v Oldham | Away | March 27, 1907 | League Championship |
| Wakefield Trinity v Oldham | Away | March 30, 1907 | Rugby League Challenge Cup |
| Wigan v Oldham | Away | April 1, 1907 | League Championship |
| Hull FC v Oldham | Away | April 2, 1907 | League Championship |
| Oldham v Runcorn | Home | April 6, 1907 | League Championship |
| Salford v Oldham | Neutral | April 13, 1907 | Rugby League Challenge Cup |
| Halifax v Oldham | Neutral | April 20, 1907 | League Championship |
| Warrington v Oldham | Neutral | April 27, 1907 | Rugby League Challenge Cup |
| Oldham v Wigan | Home | September 14, 1907 | League Championship |
| Oldham v Ebbw Vale | Home | September 21, 1907 | League Championship |
| Huddersfield v Oldham | Away | September 23, 1907 | League Championship |
| Rochdale Hornets v Oldham | Away | September 28, 1907 | League Championship |
| Warrington v Oldham | Away | October 5, 1907 | League Championship |
| Oldham v Barrow | Home | October 12, 1907 | Lancashire Cup |
| Oldham v Leigh | Home | October 19, 1907 | League Championship |
| Oldham v Swinton | Home | October 26, 1907 | Lancashire Cup |
| Oldham v St Helens | Home | November 9, 1907 | League Championship |
| Salford v Oldham | Away | November 16, 1907 | Lancashire Cup |
| Oldham v New Zealand | Home | November 23, 1907 | Tour Match |
| Broughton Rangers v Oldham | Neutral | November 30, 1907 | Lancashire Cup |
| Broughton Rangers v Oldham | Away | December 7, 1907 | League Championship |
| Halifax v Oldham | Away | December 9, 1907 | League Championship |
| Oldham v Warrington | Home | December 14, 1907 | League Championship |
| Oldham v Salford | Home | December 21, 1907 | League Championship |
| Oldham v Huddersfield | Home | December 25, 1907 | League Championship |
| Swinton v Oldham | Away | December 26, 1907 | League Championship |
| Oldham v Swinton | Home | December 28, 1907 | League Championship |
| Leeds v Oldham | Away | January 1, 1908 | League Championship |
| Oldham v Halifax | Home | January 4, 1908 | League Championship |
| Oldham v Widnes | Home | January 11, 1908 | League Championship |
| Oldham v Merthyr Tydfil | Home | January 25, 1908 | League Championship |
| Oldham v Broughton Rangers | Home | February 1, 1908 | League Championship |
| Leigh v Oldham | Away | February 8, 1908 | League Championship |
| Wigan v Oldham | Away | February 19, 1908 | League Championship |
| Salford v Oldham | Away | February 22, 1908 | League Championship |
| Dewsbury v Oldham | Away | February 29, 1908 | Rugby League Challenge Cup |
| Oldham v Leeds | Home | March 7, 1908 | League Championship |
| Hunslet v Oldham | Away | March 14, 1908 | Rugby League Challenge Cup |
| St Helens v Oldham | Away | March 21, 1908 | League Championship |
| Ebbw Vale v Oldham | Away | March 25, 1908 | League Championship |
| Runcorn v Oldham | Away | March 28, 1908 | League Championship |
| Oldham v Barrow | Home | April 4, 1908 | League Championship |
| Widnes v Oldham | Away | April 11, 1908 | League Championship |
| Oldham v Wigan | Home | April 18, 1908 | League Championship |
| Hunslet v Oldham | Neutral | May 2, 1908 | League Championship |
| Hunslet v Oldham | Neutral | May 9, 1908 | League Championship |
| St Helens v Oldham | Away | September 5, 1908 | League Championship |
| Oldham v Salford | Home | September 12, 1908 | League Championship |
| Widnes v Oldham | Away | September 19, 1908 | League Championship |
| Oldham v Swinton | Home | September 26, 1908 | League Championship |
| Oldham v Leigh | Home | October 10, 1908 | League Championship |
| Hull Kingston Rovers v Oldham | Away | October 17, 1908 | League Championship |
| Oldham v Barrow | Home | October 24, 1908 | League Championship |
| Oldham v Salford | Home | November 7, 1908 | Lancashire Cup |
| Broughton Rangers v Oldham | Away | November 14, 1908 | League Championship |
| Oldham v Rochdale Hornets | Home | November 21, 1908 | Lancashire Cup |
| Warrington v Oldham | Away | November 23, 1908 | League Championship |
| Oldham v Broughton Rangers | Home | November 28, 1908 | League Championship |
| Oldham v Runcorn | Home | December 5, 1908 | Lancashire Cup |
| Leigh v Oldham | Away | December 9, 1908 | League Championship |
| Wigan v Oldham | Neutral | December 19, 1908 | Lancashire Cup |
| Oldham v Hull Kingston Rovers | Home | December 25, 1908 | League Championship |
| Oldham v Australia | Home | December 26, 1908 | Tour Match |
| Runcorn v Oldham | Away | January 9, 1909 | League Championship |
| Oldham v Halifax | Home | January 16, 1909 | League Championship |
| Halifax v Oldham | Away | February 13, 1909 | League Championship |
| Oldham v Warrington | Home | February 20, 1909 | League Championship |
| Oldham v Hull Kingston Rovers | Home | February 27, 1909 | Rugby League Challenge Cup |
| Oldham v St Helens | Home | March 6, 1909 | League Championship |
| Swinton v Oldham | Away | March 13, 1909 | Rugby League Challenge Cup |
| Oldham v Swinton | Home | March 16, 1909 | Rugby League Challenge Cup |
| Oldham v Wigan | Home | March 20, 1909 | League Championship |
| Hunslet v Oldham | Away | March 22, 1909 | League Championship |
| Oldham v Hull FC | Home | March 27, 1909 | Rugby League Challenge Cup |
| Barrow v Oldham | Away | April 1, 1909 | League Championship |
| Oldham v Runcorn | Home | April 3, 1909 | League Championship |
| Leeds v Oldham | Away | April 10, 1909 | League Championship |
| Salford v Oldham | Away | April 12, 1909 | League Championship |
| Halifax v Oldham | Away | April 17, 1909 | League Championship |
| Oldham v Halifax | Home | April 21, 1909 | League Championship |
| Wigan v Oldham | Neutral | May 1, 1909 | League Championship |
| Hull Kingston Rovers v Oldham | Away | September 4, 1909 | League Championship |
| Salford v Oldham | Away | September 11, 1909 | League Championship |
| Oldham v Halifax | Home | September 18, 1909 | League Championship |
| Oldham v Wigan | Home | September 25, 1909 | League Championship |
| Treherbert v Oldham | Away | October 2, 1909 | League Championship |
| Ebbw Vale v Oldham | Away | October 4, 1909 | League Championship |
| Oldham v Runcorn | Home | October 9, 1909 | League Championship |
| Rochdale Hornets v Oldham | Away | October 16, 1909 | Lancashire Cup |
| Oldham v Hull FC | Home | October 23, 1909 | League Championship |
| Runcorn v Oldham | Away | October 30, 1909 | Lancashire Cup |
| Oldham v Warrington | Home | November 6, 1909 | League Championship |
| Oldham v Swinton | Home | November 20, 1909 | League Championship |
| St Helens v Oldham | Away | November 27, 1909 | League Championship |
| Huddersfield v Oldham | Neutral | December 13, 1909 | Friendly |
| Oldham v St Helens | Home | December 18, 1909 | League Championship |
| Oldham v Hull Kingston Rovers | Home | December 25, 1909 | League Championship |
| Oldham v Barrow | Home | December 27, 1909 | League Championship |
| Hull FC v Oldham | Away | January 1, 1910 | League Championship |
| Broughton Rangers v Oldham | Away | January 4, 1910 | League Championship |
| Wigan v Oldham | Away | January 8, 1910 | League Championship |
| Runcorn v Oldham | Away | January 15, 1910 | League Championship |
| Oldham v Rochdale Hornets | Home | January 22, 1910 | League Championship |
| Leigh v Oldham | Away | January 26, 1910 | League Championship |
| Oldham v Leigh | Home | January 29, 1910 | League Championship |
| Huddersfield v Oldham | Away | February 26, 1910 | Rugby League Challenge Cup |
| Oldham v Salford | Home | March 5, 1910 | League Championship |
| Barrow v Oldham | Away | March 12, 1910 | League Championship |
| Coventry v Oldham | Away | March 23, 1911 | League Championship |
| Oldham v Leigh | Home | March 25, 1911 | League Championship |
| Huddersfield v Oldham | Away | September 23, 1911 | League Championship |
| Oldham v Oldham Present | Home | January 3, 1916 | Special Friendly |
| Rochdale Hornets v Oldham | Away | January 8, 1916 | Wartime Friendly |
| Oldham v Broughton Rangers | Home | January 22, 1916 | Wartime Friendly |
| Swinton v Oldham | Away | January 29, 1916 | Wartime Friendly |
| Oldham v Rochdale Hornets | Home | February 19, 1916 | Wartime Friendly |
| Oldham v Dewsbury | Home | March 4, 1916 | Wartime Friendly |