Billy Jardine
Profile
William Boyd 'Billy' Jardine was a tall and energetic forward from Jedburgh in Scotland. He was also a useful goal-kicker and played one county game for his adopted Lancashire and figured in the trial games prior to the 1910 tour to Australia and New Zealand. He enjoyed a distinguished career with Oldham. after joining the club for the 1908-09 season, carrying on from his brother Adam who had played for the Roughyeds from 1903, only to finish his Oldham career as Billy arrived at Watersheddings.
A regular member of the first team right up to the 1914-15 season Billy played 164 senior matches for Oldham scoring 26 tries and kicking 60 goals in the process. He played against the first Kangaroos at Watersheddings on Boxing Day 1908, scored a try in the 1909 Championship Final defeat to Wigan (3 – 7) and was a member of the team that won the Lancashire Cup in 1910 against Swinton (4 – 3).
He joined the Manchester Regiment with many of his team-mates in September 1914. Having reached the rank of corporal, he was discharged from the army towards the end of 1915 after being diagnosed with tuberculosis of the throat. He returned to Scotland and spent 12 months at the Anderson sanatorium in Hawick which specialised in the treatment of 'TB'. After initial reports that he was improving the news of his death on January 16th 1917 came as a shock to his many friends in Oldham.
He was 31 when he died and is remembered on the Jedburgh War Memorial in Scotland.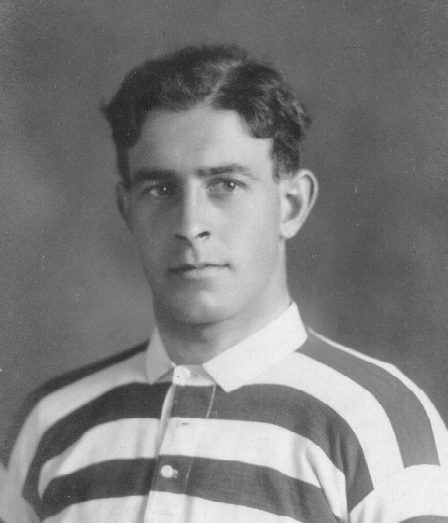 Career Games
| | | | |
| --- | --- | --- | --- |
| St Helens v Oldham | Away | September 5, 1908 | League Championship |
| Oldham v Salford | Home | September 12, 1908 | League Championship |
| Widnes v Oldham | Away | September 19, 1908 | League Championship |
| Oldham v Swinton | Home | September 26, 1908 | League Championship |
| Oldham v Hunslet | Home | December 12, 1908 | League Championship |
| Oldham v Hull Kingston Rovers | Home | December 25, 1908 | League Championship |
| Oldham v Australia | Home | December 26, 1908 | Tour Match |
| Oldham v Barry | Home | January 1, 1909 | League Championship |
| Oldham v Leeds | Home | January 2, 1909 | League Championship |
| Swinton v Oldham | Away | January 4, 1909 | League Championship |
| Runcorn v Oldham | Away | January 9, 1909 | League Championship |
| Oldham v Rochdale Hornets | Home | January 23, 1909 | League Championship |
| Wigan v Oldham | Away | January 30, 1909 | League Championship |
| Oldham v Widnes | Home | February 6, 1909 | League Championship |
| Halifax v Oldham | Away | February 13, 1909 | League Championship |
| Oldham v Warrington | Home | February 20, 1909 | League Championship |
| Oldham v Hull Kingston Rovers | Home | February 27, 1909 | Rugby League Challenge Cup |
| Oldham v St Helens | Home | March 6, 1909 | League Championship |
| Swinton v Oldham | Away | March 13, 1909 | Rugby League Challenge Cup |
| Oldham v Swinton | Home | March 16, 1909 | Rugby League Challenge Cup |
| Oldham v Wigan | Home | March 20, 1909 | League Championship |
| Hunslet v Oldham | Away | March 22, 1909 | League Championship |
| Oldham v Hull FC | Home | March 27, 1909 | Rugby League Challenge Cup |
| Barrow v Oldham | Away | April 1, 1909 | League Championship |
| Oldham v Runcorn | Home | April 3, 1909 | League Championship |
| Leeds v Oldham | Away | April 10, 1909 | League Championship |
| Salford v Oldham | Away | April 12, 1909 | League Championship |
| Halifax v Oldham | Away | April 17, 1909 | League Championship |
| Oldham v Halifax | Home | April 21, 1909 | League Championship |
| Wigan v Oldham | Neutral | May 1, 1909 | League Championship |
| Hull Kingston Rovers v Oldham | Away | September 4, 1909 | League Championship |
| Salford v Oldham | Away | September 11, 1909 | League Championship |
| Oldham v Halifax | Home | September 18, 1909 | League Championship |
| Oldham v Wigan | Home | September 25, 1909 | League Championship |
| Treherbert v Oldham | Away | October 2, 1909 | League Championship |
| Ebbw Vale v Oldham | Away | October 4, 1909 | League Championship |
| Oldham v Runcorn | Home | October 9, 1909 | League Championship |
| Rochdale Hornets v Oldham | Away | October 16, 1909 | Lancashire Cup |
| Oldham v Hull FC | Home | October 23, 1909 | League Championship |
| Runcorn v Oldham | Away | October 30, 1909 | Lancashire Cup |
| Oldham v Warrington | Home | November 6, 1909 | League Championship |
| Widnes v Oldham | Away | November 13, 1909 | League Championship |
| Oldham v Swinton | Home | November 20, 1909 | League Championship |
| St Helens v Oldham | Away | November 27, 1909 | League Championship |
| Oldham v Leeds | Home | December 4, 1909 | League Championship |
| Huddersfield v Oldham | Neutral | December 13, 1909 | Friendly |
| Oldham v St Helens | Home | December 18, 1909 | League Championship |
| Oldham v Hull Kingston Rovers | Home | December 25, 1909 | League Championship |
| Oldham v Barrow | Home | December 27, 1909 | League Championship |
| Oldham v Leigh | Home | January 29, 1910 | League Championship |
| Oldham v Broughton Rangers | Home | February 12, 1910 | League Championship |
| Leeds v Oldham | Away | February 19, 1910 | League Championship |
| Huddersfield v Oldham | Away | February 26, 1910 | Rugby League Challenge Cup |
| Oldham v Salford | Home | March 5, 1910 | League Championship |
| Swinton v Oldham | Away | March 25, 1910 | League Championship |
| Oldham v Widnes | Home | March 26, 1910 | League Championship |
| Halifax v Oldham | Away | March 28, 1910 | League Championship |
| Rochdale Hornets v Oldham | Away | April 2, 1910 | League Championship |
| Oldham v Treherbert | Home | April 9, 1910 | League Championship |
| Oldham v Wakefield Trinity | Home | April 16, 1910 | League Championship |
| Rochdale Hornets v Oldham | Away | October 8, 1910 | League Championship |
| Oldham v Wigan | Home | October 15, 1910 | League Championship |
| Warrington v Oldham | Away | October 22, 1910 | League Championship |
| Oldham v Salford | Home | October 29, 1910 | League Championship |
| Widnes v Oldham | Away | November 5, 1910 | Lancashire Cup |
| Oldham v Halifax | Home | November 12, 1910 | League Championship |
| Rochdale Hornets v Oldham | Away | November 19, 1910 | Lancashire Cup |
| Oldham v Huddersfield | Home | November 26, 1910 | League Championship |
| Swinton v Oldham | Neutral | December 3, 1910 | Lancashire Cup |
| Oldham v St Helens | Home | December 10, 1910 | League Championship |
| Leigh v Oldham | Away | December 13, 1910 | League Championship |
| Huddersfield v Oldham | Away | December 17, 1910 | League Championship |
| Oldham v Hull Kingston Rovers | Home | December 24, 1910 | League Championship |
| Oldham v Swinton | Home | December 26, 1910 | League Championship |
| Leeds v Oldham | Away | December 31, 1910 | League Championship |
| Barrow v Oldham | Away | January 2, 1911 | League Championship |
| Oldham v Widnes | Home | January 7, 1911 | League Championship |
| Halifax v Oldham | Away | January 14, 1911 | League Championship |
| Oldham v Warrington | Home | January 28, 1911 | League Championship |
| Salford v Oldham | Away | February 4, 1911 | League Championship |
| Oldham v Runcorn | Home | February 11, 1911 | League Championship |
| Hull Kingston Rovers v Oldham | Away | February 18, 1911 | Rugby League Challenge Cup |
| Oldham v Rochdale Hornets | Home | February 25, 1911 | League Championship |
| Oldham v Rochdale Hornets | Home | March 18, 1911 | Rugby League Challenge Cup |
| Coventry v Oldham | Away | March 23, 1911 | League Championship |
| Oldham v Leigh | Home | March 25, 1911 | League Championship |
| Wigan v Oldham | Away | March 29, 1911 | League Championship |
| Swinton v Oldham | Away | April 1, 1911 | League Championship |
| Oldham v Leeds | Home | April 8, 1911 | League Championship |
| Ebbw Vale v Oldham | Away | April 15, 1911 | League Championship |
| Broughton Rangers v Oldham | Away | April 17, 1911 | League Championship |
| Wigan v Oldham | Neutral | April 19, 1911 | League Championship |
| Oldham v Wakefield Trinity | Home | April 22, 1911 | League Championship |
| Oldham v Halifax | Home | October 14, 1911 | League Championship |
| Oldham v Swinton | Home | October 28, 1911 | League Championship |
| Runcorn v Oldham | Away | November 8, 1911 | League Championship |
| Oldham v Australia | Home | November 11, 1911 | Tour Match |
| Oldham v Widnes | Home | November 25, 1911 | League Championship |
| St Helens v Oldham | Away | December 7, 1911 | League Championship |
| Oldham v Broughton Rangers | Home | December 9, 1911 | League Championship |
| Oldham v Leigh | Home | December 23, 1911 | League Championship |
| Oldham v Hull Kingston Rovers | Home | December 25, 1911 | League Championship |
| Oldham v Bradford Northern | Home | December 26, 1911 | League Championship |
| Oldham v St Helens | Home | December 30, 1911 | League Championship |
| Oldham v Coventry | Home | January 1, 1912 | League Championship |
| Salford v Oldham | Away | January 6, 1912 | League Championship |
| Oldham v Warrington | Home | January 13, 1912 | League Championship |
| Coventry v Oldham | Away | February 17, 1912 | Rugby League Challenge Cup |
| Oldham v Huddersfield | Home | February 24, 1912 | League Championship |
| Oldham v Wigan | Home | March 2, 1912 | Rugby League Challenge Cup |
| Oldham v Wigan | Home | March 9, 1912 | League Championship |
| Widnes v Oldham | Away | March 13, 1912 | League Championship |
| Rochdale Hornets v Oldham | Away | March 16, 1912 | League Championship |
| Oldham v Huddersfield | Home | March 23, 1912 | Rugby League Challenge Cup |
| Oldham v Runcorn | Home | March 30, 1912 | League Championship |
| Halifax v Oldham | Away | April 5, 1912 | League Championship |
| Coventry v Oldham | Away | April 8, 1912 | League Championship |
| Oldham v Dewsbury | Home | September 7, 1912 | League Championship |
| Hull Kingston Rovers v Oldham | Away | September 14, 1912 | League Championship |
| Oldham v St Helens | Home | September 28, 1912 | League Championship |
| Rochdale Hornets v Oldham | Away | October 5, 1912 | League Championship |
| Oldham v Barrow | Home | December 7, 1912 | League Championship |
| Oldham v Swinton | Home | December 12, 1912 | League Championship |
| Halifax v Oldham | Away | December 14, 1912 | League Championship |
| Oldham v Warrington | Home | December 26, 1912 | League Championship |
| Broughton Rangers v Oldham | Away | December 28, 1912 | League Championship |
| Oldham v Halifax | Home | January 4, 1913 | League Championship |
| Oldham v Widnes | Home | January 18, 1913 | League Championship |
| Huddersfield v Oldham | Away | January 25, 1913 | League Championship |
| Oldham v Rochdale Hornets | Home | February 1, 1913 | League Championship |
| Oldham v Leeds | Home | February 8, 1913 | League Championship |
| Runcorn v Oldham | Away | February 12, 1913 | League Championship |
| Widnes v Oldham | Away | February 15, 1913 | League Championship |
| Oldham v Leigh | Home | February 22, 1913 | League Championship |
| St Helens v Oldham | Away | March 1, 1913 | League Championship |
| Normanton St Johns v Oldham | Away | March 8, 1913 | Rugby League Challenge Cup |
| Dewsbury v Oldham | Away | March 15, 1913 | Rugby League Challenge Cup |
| Salford v Oldham | Away | April 7, 1913 | League Championship |
| Oldham v Salford | Home | December 20, 1913 | League Championship |
| Oldham v Leigh | Home | September 12, 1914 | League Championship |
| St Helens v Oldham | Away | September 19, 1914 | League Championship |
| Oldham v Warrington | Home | September 26, 1914 | League Championship |
| Widnes v Oldham | Away | October 3, 1914 | League Championship |
| Oldham v Batley | Home | October 5, 1914 | League Championship |
| Oldham v Broughton Rangers | Home | October 10, 1914 | League Championship |
| Wigan v Oldham | Away | October 17, 1914 | Lancashire Cup |
| Oldham v Leeds | Home | October 24, 1914 | League Championship |
| Barrow v Oldham | Away | October 31, 1914 | League Championship |
| Oldham v Hull FC | Home | November 7, 1914 | League Championship |
| Runcorn v Oldham | Away | November 14, 1914 | League Championship |
| Oldham v Wigan | Home | November 21, 1914 | League Championship |
| Rochdale Hornets v Oldham | Away | November 28, 1914 | League Championship |
| Leigh v Oldham | Away | December 5, 1914 | League Championship |
| Oldham v St Helens | Home | December 12, 1914 | League Championship |
| Salford v Oldham | Away | December 19, 1914 | League Championship |
| Oldham v Swinton | Home | December 25, 1914 | League Championship |
| Broughton Rangers v Oldham | Away | December 26, 1914 | League Championship |
| Batley v Oldham | Away | January 1, 1915 | League Championship |
| Oldham v Runcorn | Home | January 2, 1915 | League Championship |
| Huddersfield v Oldham | Away | January 9, 1915 | League Championship |
| Oldham v Widnes | Home | January 23, 1915 | League Championship |
| Warrington v Oldham | Away | January 30, 1915 | League Championship |
| Oldham v Rochdale Hornets | Home | February 13, 1915 | League Championship |
| Oldham v Halifax | Home | March 6, 1915 | League Championship |
| Oldham v Rochdale Hornets | Home | March 16, 1915 | League Championship |