Scott Ranson
Profile
Scott Ranson signed from Swinton in the Peter Tunks era. making his debut on February 24th 1992 against Ryedale-York at Watersheddings.
St Helens born, Scott played for the local Thatto Heath amateur club, before moving to Station Road. His main attribute was his speed and he was always a thorn in Oldham's side when playing tor the "Lions".
He scored some remarkable tries for Oldham, perhaps the most dramatic being a superb effort in the "Divisional" Premiership final at Old Trafford in 1992, which for a short time gave the twelve man Oldham team a scent of victory before going down to Sheffield Eagles. Probably the most vital Ranson touchdown came in the match at Salford on April 1st 1994. The second of his two tries that day came in the final minute to snatch a victory that kept Oldham in the first division and on course for "Super League".
A place in the club's history books was assured for Scott when he scored a second half hat trick in the last senior game at Watersheddings on August 25th 1996 in the 34-25 victory, again versus Sheffield the first three try haul by an Oldham player in "Super League".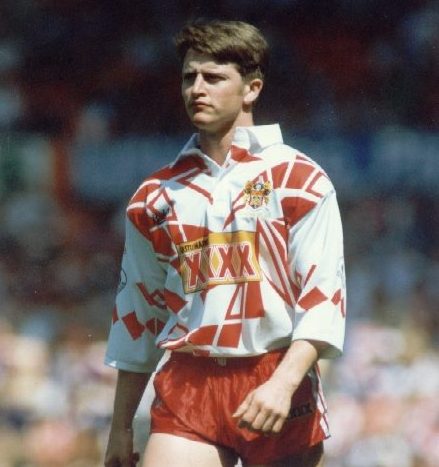 Career Games
| | | | |
| --- | --- | --- | --- |
| Oldham v Ryedale-York | Home | February 24, 1992 | Division 2 |
| Carlisle v Oldham | Away | March 29, 1992 | Division 2 |
| Oldham v Workington Town | Home | April 5, 1992 | Division 2 |
| Ryedale-York v Oldham | Away | April 12, 1992 | Division 2 |
| Rochdale Hornets v Oldham | Away | April 17, 1992 | Division 2 |
| Oldham v Leigh | Home | April 20, 1992 | Division 2 |
| Oldham v Dewsbury | Home | April 26, 1992 | Divisional Premiership |
| Oldham v London Crusaders | Home | May 10, 1992 | Divisional Premiership |
| Sheffield Eagles v Oldham | Neutral | May 17, 1992 | Divisional Premiership |
| Oldham v Leigh | Home | August 16, 1992 | Benefit Match |
| Widnes v Oldham | Away | August 23, 1992 | Friendly |
| Oldham v London Crusaders | Home | August 30, 1992 | Division 2 |
| Oldham v Carlisle | Home | September 6, 1992 | Division 2 |
| Oldham v Warrington | Home | September 13, 1992 | Lancashire Cup |
| Huddersfield v Oldham | Away | September 20, 1992 | Division 2 |
| Leigh v Oldham | Away | September 23, 1992 | Lancashire Cup |
| Oldham v Swinton | Home | September 27, 1992 | Division 2 |
| Oldham v Swinton | Home | November 1, 1992 | Division 2 |
| Carlisle v Oldham | Away | November 15, 1992 | Division 2 |
| Oldham v Huddersfield | Home | November 22, 1992 | Division 2 |
| Swinton v Oldham | Away | November 29, 1992 | Division 2 |
| Featherstone Rovers v Oldham | Away | December 13, 1992 | Division 2 |
| Oldham v Bramley | Home | January 6, 1993 | Division 2 |
| Oldham v Bramley | Home | January 10, 1993 | Division 2 |
| Carlisle v Oldham | Away | January 17, 1993 | Division 2 |
| Oldham v Rochdale Hornets | Home | January 24, 1993 | Division 2 |
| Swinton v Oldham | Away | January 27, 1993 | Division 2 |
| Oldham v London Crusaders | Home | March 21, 1993 | Division 2 |
| London Crusaders v Oldham | Away | March 31, 1993 | Division 2 |
| Bramley v Oldham | Away | April 4, 1993 | Division 2 |
| Rochdale Hornets v Oldham | Away | April 9, 1993 | Division 2 |
| Oldham v Huddersfield | Home | April 12, 1993 | Division 2 |
| London Crusaders v Oldham | Away | April 18, 1993 | Division 2 |
| Oldham v Dewsbury | Home | April 25, 1993 | Divisional Premiership |
| Dewsbury v Oldham | Away | April 28, 1993 | Divisional Premiership |
| Oldham v Dewsbury | Home | August 13, 1993 | Friendly |
| Halifax v Oldham | Away | August 29, 1993 | Division 1 |
| Hull Kingston Rovers v Oldham | Away | September 12, 1993 | Division 1 |
| Oldham v Sheffield Eagles | Home | September 26, 1993 | Division 1 |
| Oldham v Leeds | Home | October 10, 1993 | Division 1 |
| Hull FC v Oldham | Away | October 24, 1993 | Division 1 |
| Wakefield Trinity v Oldham | Away | October 31, 1993 | Division 1 |
| Featherstone Rovers v Oldham | Away | November 7, 1993 | Division 1 |
| Oldham v St Helens | Home | November 21, 1993 | Division 1 |
| Wigan v Oldham | Away | November 28, 1993 | Division 1 |
| Oldham v Leigh | Home | December 5, 1993 | Division 1 |
| Oldham v Wigan | Home | December 12, 1993 | Regal Trophy |
| Oldham v Halifax | Home | December 19, 1993 | Division 1 |
| Oldham v Salford | Home | December 26, 1993 | Division 1 |
| Bradford Northern v Oldham | Away | January 9, 1994 | Division 1 |
| Castleford v Oldham | Away | January 12, 1994 | Division 1 |
| Oldham v Hull Kingston Rovers | Home | January 16, 1994 | Division 1 |
| Warrington v Oldham | Away | January 23, 1994 | Division 1 |
| Hunslet v Oldham | Away | January 30, 1994 | Rugby League Challenge Cup |
| Sheffield Eagles v Oldham | Away | February 6, 1994 | Division 1 |
| Doncaster v Oldham | Away | February 13, 1994 | Rugby League Challenge Cup |
| Oldham v Widnes | Home | February 20, 1994 | Division 1 |
| Leeds v Oldham | Away | March 6, 1994 | Division 1 |
| Oldham v Hull FC | Home | March 13, 1994 | Division 1 |
| Oldham v Wakefield Trinity | Home | March 20, 1994 | Division 1 |
| Oldham v Featherstone Rovers | Home | March 27, 1994 | Division 1 |
| Salford v Oldham | Away | April 1, 1994 | Division 1 |
| Oldham v Castleford | Home | April 4, 1994 | Division 1 |
| Leigh v Oldham | Away | April 10, 1994 | Division 1 |
| St Helens v Oldham | Away | April 17, 1994 | Division 1 |
| Oldham v Halifax | Home | August 21, 1994 | Division 1 |
| Bradford Northern v Oldham | Away | August 28, 1994 | Division 1 |
| Oldham v Wigan | Home | September 4, 1994 | Division 1 |
| Warrington v Oldham | Away | September 11, 1994 | Division 1 |
| Oldham v Doncaster | Home | September 18, 1994 | Division 1 |
| Hull FC v Oldham | Away | September 25, 1994 | Division 1 |
| Oldham v St Helens | Home | October 2, 1994 | Division 1 |
| Wakefield Trinity v Oldham | Away | October 9, 1994 | Division 1 |
| Oldham v Widnes | Home | October 14, 1994 | Division 1 |
| Oldham v Featherstone Rovers | Home | October 30, 1994 | Division 1 |
| Halifax v Oldham | Away | November 6, 1994 | Division 1 |
| Oldham v Bradford Northern | Home | November 22, 1994 | Division 1 |
| Wigan v Oldham | Away | November 27, 1994 | Division 1 |
| Oldham v Hull Kingston Rovers | Home | December 4, 1994 | Regal Trophy |
| Oldham v Warrington | Home | December 11, 1994 | Division 1 |
| Widnes v Oldham | Away | December 18, 1994 | Regal Trophy |
| Salford v Oldham | Away | December 26, 1994 | Division 1 |
| Oldham v Workington Town | Home | January 1, 1995 | Division 1 |
| Oldham v Leeds | Home | January 11, 1995 | Division 1 |
| Oldham v Sheffield Eagles | Home | January 22, 1995 | Division 1 |
| Oldham v Hull FC | Home | February 5, 1995 | Division 1 |
| Oldham v Bramley | Home | February 12, 1995 | Rugby League Challenge Cup |
| St Helens v Oldham | Away | February 19, 1995 | Division 1 |
| Warrington v Oldham | Away | February 25, 1995 | Rugby League Challenge Cup |
| Oldham v Wakefield Trinity | Home | March 5, 1995 | Division 1 |
| Oldham v Huddersfield | Home | March 12, 1995 | Rugby League Challenge Cup |
| Castleford v Oldham | Away | March 15, 1995 | Division 1 |
| Widnes v Oldham | Away | March 19, 1995 | Division 1 |
| Wigan v Oldham | Neutral | March 25, 1995 | Rugby League Challenge Cup |
| Oldham v Salford | Home | April 14, 1995 | Division 1 |
| Oldham v Castleford | Home | April 20, 1995 | Division 1 |
| Oldham v Dewsbury | Home | August 4, 1995 | Benefit Match |
| Castleford v Oldham | Away | August 20, 1995 | Division 1 Centenary Championship |
| Oldham v London Broncos | Home | September 20, 1995 | Division 1 Centenary Championship |
| Wigan v Oldham | Away | September 24, 1995 | Division 1 Centenary Championship |
| Oldham v Leeds | Home | October 1, 1995 | Division 1 Centenary Championship |
| London Broncos v Oldham | Away | October 27, 1995 | Division 1 Centenary Championship |
| Oldham v Workington Town | Home | November 1, 1995 | Division 1 Centenary Championship |
| Sheffield Eagles v Oldham | Away | November 5, 1995 | Division 1 Centenary Championship |
| Widnes v Oldham | Away | November 12, 1995 | Regal Trophy |
| Oldham v Castleford | Home | November 19, 1995 | Division 1 Centenary Championship |
| Bradford Bulls v Oldham | Away | December 1, 1995 | Division 1 Centenary Championship |
| Oldham Bears v Hunslet | Home | March 22, 1996 | Friendly |
| Castleford v Oldham Bears | Away | April 20, 1996 | Super League |
| Sheffield Eagles v Oldham Bears | Away | May 19, 1996 | Super League |
| Oldham Bears v Castleford | Home | July 14, 1996 | Super League |
| Oldham Bears v St Helens | Home | July 19, 1996 | Super League |
| Bradford Bulls v Oldham Bears | Away | July 28, 1996 | Super League |
| Warrington v Oldham Bears | Away | August 16, 1996 | Super League |
| Oldham Bears v Sheffield Eagles | Home | August 25, 1996 | Super League |
| Leigh v Oldham Bears | Away | January 31, 1997 | Friendly |
| Oldham Bears v Rochdale Hornets | Home | February 9, 1997 | Rugby League Challenge Cup |
| Wakefield Trinity v Oldham Bears | Away | February 23, 1997 | Rugby League Challenge Cup |
| Oldham Bears v Bradford Bulls | Home | March 9, 1997 | Rugby League Challenge Cup |
| Leeds Rhinos v Oldham Bears | Away | March 16, 1997 | Super League |
| Oldham Bears v Bradford Bulls | Home | March 21, 1997 | Super League |
| Salford Reds v Oldham Bears | Away | March 28, 1997 | Super League |
| Oldham Bears v London Broncos | Home | April 1, 1997 | Super League |
| Warrington Wolves v Oldham Bears | Away | April 6, 1997 | Super League |
| Oldham Bears v Paris St Germain | Home | April 13, 1997 | Super League |
| Wigan Warriors v Oldham Bears | Away | April 20, 1997 | Super League |
| Oldham Bears v Halifax Bue Sox | Home | April 27, 1997 | Super League |
| Bradford Bulls v Oldham Bears | Away | May 23, 1997 | Super League |
| St Helens v Oldham Bears | Away | August 10, 1997 | Super League |
| Halifax Bue Sox v Oldham Bears | Away | August 17, 1997 | Super League |
| Oldham Bears v Wigan Warriors | Home | August 22, 1997 | Super League |
| Paris St Germain v Oldham Bears | Away | August 26, 1997 | Super League |
| Oldham Bears v Warrington Wolves | Home | August 31, 1997 | Super League |
| Leeds Rhinos v Oldham Bears | Away | September 8, 1997 | Premiership |