Adrian Alexander
Profile
When Oldham signed Adrian Alexander in December 1979. Following close after the capture of his fellow London based, Rugby Union forward Bob Mordell, it caused something of a sensation in the press, giving the club more national coverage than it had enjoyed for years.
"Alex", has he came to be known, came north with a big reputation in Union circles and at the time of his defection was actually captain of the famous Harlequins club, having represented Middlesex county and the "Barbarians". He had also played for an England XV and a full cap was almost imminent. All this making the switch of codes all the more dramatic, prompting the wide media interest.
He played at prop in a try-scoring debut against Batley on December 9th, 1979 and, strange as it may seem, went on to introduce some of the skills of the fifteen man game into Rugby League. I refer, of course, to the knack "Alex" had of regaining possession for his team after an Oldham kick off. This was most effective in combination with Ray Ashton, who would lift a restart kick high into the air, with the ball travelling just more than the necessary ten yards. "Alex" would then use his height to palm it back "line-out" style to the Oldham players.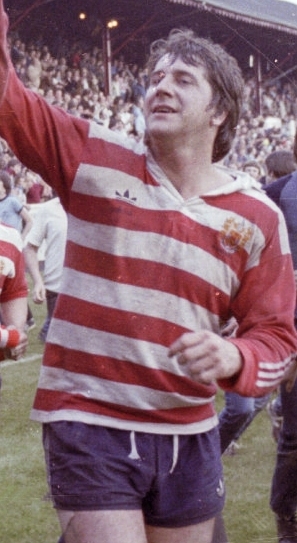 Career Games
| | | | |
| --- | --- | --- | --- |
| Oldham v Batley | Home | December 9, 1979 | Division 2 |
| Dewsbury v Oldham | Away | December 16, 1979 | Division 2 |
| Oldham v Rochdale Hornets | Home | December 26, 1979 | Division 2 |
| Featherstone Rovers v Oldham | Away | December 30, 1979 | Division 2 |
| Oldham v Swinton | Home | January 6, 1980 | Division 2 |
| Keighley v Oldham | Away | January 13, 1980 | Division 2 |
| Halifax v Oldham | Away | January 20, 1980 | Division 2 |
| Dewsbury v Oldham | Away | February 10, 1980 | Rugby League Challenge Cup |
| Oldham v Wakefield Trinity | Home | February 24, 1980 | Rugby League Challenge Cup |
| Barrow v Oldham | Away | March 2, 1980 | Division 2 |
| Oldham v Whitehaven | Home | March 9, 1980 | Division 2 |
| Oldham v Keighley | Home | March 16, 1980 | Division 2 |
| Oldham v Doncaster | Home | March 30, 1980 | Division 2 |
| Rochdale Hornets v Oldham | Away | April 4, 1980 | Division 2 |
| Oldham v Halifax | Home | April 9, 1980 | Division 2 |
| Oldham v Rl Select | Home | April 27, 1980 | Benefit Match |
| St Helens v Oldham | Away | August 10, 1980 | Friendly |
| Swinton v Oldham | Away | August 17, 1980 | Lancashire Cup |
| Oldham v Salford | Home | August 24, 1980 | Lancashire Cup |
| Oldham v Castleford | Home | August 31, 1980 | Division 1 |
| Hull FC v Oldham | Away | September 21, 1980 | Division 1 |
| Leeds v Oldham | Away | September 28, 1980 | Division 1 |
| Oldham v Leigh | Home | October 5, 1980 | Division 1 |
| Oldham v Workington Town | Home | October 26, 1980 | Division 1 |
| Featherstone Rovers v Oldham | Away | November 9, 1980 | Division 1 |
| Oldham v Bradford Northern | Home | November 16, 1980 | Division 1 |
| Salford v Oldham | Away | November 19, 1980 | Division 1 |
| York v Oldham | Away | November 23, 1980 | John Player Cup |
| Workington Town v Oldham | Away | December 14, 1980 | Division 1 |
| Oldham v Hull Kingston Rovers | Home | December 21, 1980 | Division 1 |
| St Helens v Oldham | Away | December 26, 1980 | Division 1 |
| Oldham v Hull FC | Home | December 28, 1980 | Division 1 |
| Warrington v Oldham | Away | January 1, 1981 | Division 1 |
| Barrow v Oldham | Away | January 4, 1981 | Division 1 |
| Castleford v Oldham | Away | January 18, 1981 | Division 1 |
| Oldham v Halifax | Home | March 22, 1981 | Division 1 |
| Leigh v Oldham | Away | March 29, 1981 | Division 1 |
| Oldham v Wakefield Trinity | Home | April 5, 1981 | Division 1 |
| Hull Kingston Rovers v Oldham | Away | April 8, 1981 | Division 1 |
| Oldham v St Helens | Home | April 17, 1981 | Division 1 |
| Oldham v Salford | Home | April 20, 1981 | Division 1 |
| Rochdale Hornets v Oldham | Away | August 2, 1981 | Law Cup |
| Oldham v St Helens | Home | August 9, 1981 | Friendly |
| Oldham v Salford | Home | August 14, 1981 | Lancashire Cup |
| Oldham v Hunslet | Home | August 30, 1981 | Division 2 |
| Blackpool Borough v Oldham | Away | September 6, 1981 | Division 2 |
| Huddersfield v Oldham | Away | September 20, 1981 | Division 2 |
| Oldham v Swinton | Home | September 23, 1981 | Division 2 |
| Oldham v Doncaster | Home | September 27, 1981 | Division 2 |
| Halifax v Oldham | Away | October 4, 1981 | Division 2 |
| Oldham v Keighley | Home | October 11, 1981 | Division 2 |
| Oldham v Doncaster | Home | October 18, 1981 | John Player Cup |
| Dewsbury v Oldham | Away | October 25, 1981 | Division 2 |
| Oldham v Huddersfield | Home | November 1, 1981 | John Player Cup |
| Oldham v Carlisle | Home | November 8, 1981 | Division 2 |
| Oldham v Leeds | Home | November 15, 1981 | John Player Cup |
| Oldham v Halifax | Home | November 22, 1981 | Division 2 |
| Hull FC v Oldham | Neutral | November 29, 1981 | John Player Cup |
| Oldham v Huyton | Home | December 6, 1981 | Division 2 |
| Salford v Oldham | Away | January 3, 1982 | Division 2 |
| Oldham v Batley | Home | January 10, 1982 | Division 2 |
| Oldham v Huddersfield | Home | January 24, 1982 | Division 2 |
| Keighley v Oldham | Away | February 21, 1982 | Division 2 |
| Wakefield Trinity v Oldham | Away | February 28, 1982 | Rugby League Challenge Cup |
| Oldham v Bramley | Home | March 14, 1982 | Division 2 |
| Batley v Oldham | Away | March 21, 1982 | Division 2 |
| Oldham v Blackpool Borough | Home | March 28, 1982 | Division 2 |
| Swinton v Oldham | Away | April 4, 1982 | Division 2 |
| Oldham v Rochdale Hornets | Home | April 9, 1982 | Division 2 |
| Oldham v Salford | Home | April 12, 1982 | Division 2 |
| Huyton v Oldham | Away | April 18, 1982 | Division 2 |
| Carlisle v Oldham | Away | April 25, 1982 | Division 2 |
| Bramley v Oldham | Away | April 28, 1982 | Division 2 |
| Doncaster v Oldham | Away | May 3, 1982 | Division 2 |
| Hunslet v Oldham | Away | May 6, 1982 | Division 2 |
| Oldham v Workington Town | Home | May 9, 1982 | Division 2 |
| St Helens v Oldham | Away | August 15, 1982 | Friendly |
| Bradford Northern v Oldham | Away | August 29, 1982 | Division 1 |
| Blackpool Borough v Oldham | Away | September 5, 1982 | Lancashire Cup |
| St Helens v Oldham | Away | September 12, 1982 | Division 1 |
| Oldham v Warrington | Home | September 15, 1982 | Division 1 |
| Warrington v Oldham | Away | September 19, 1982 | Lancashire Cup |
| Halifax v Oldham | Away | September 26, 1982 | Division 1 |
| Oldham v Wigan | Home | October 3, 1982 | Division 1 |
| Warrington v Oldham | Away | January 23, 1983 | Division 1 |