Frank Daley
Profile
Wigan born, Frank Daley was a true Rugby League "character". His working class, mining town, up-bringing contrasted with his reputation of being a proficient classical pianist. He came to Oldham from Leigh in January 1949 as a centre and it was in that position that he started his career with the club for which he would also turn out at loose forward and in the second row. However, it would be some years later and as a stand off half that Frank would build his Oldham reputation.
Mention Daley to supporters of the 1950's team and you also have to mention Stirrup.
The two "Franks" formed a half back partnership of sheer quality, both of them tricky performers who would often leave their opponents, team mates and spectators wondering just who had the ball. Both of them were capped by Lancashire, evoking memories of the Lees / Lawton partnership some fifty years earlier.
Daley was also to partner the other Frank (Pitchford) to great effect in the Championship Final of 1957, but it was in the Lancashire Cup Final later the same year that "Dancing Dan" would have his finest hour. Wigan were the opponents and wing sensation Billy Boston had been switched to stand off and up until the final, had been successful in the new position, but on this day Daley put in an awesome defensive display to completely blot out the threat of the Welsh legend and Billy was to return to greater glories, back on the wing.
A quiet man off the field, his considerable talents did not go un-noticed and a testimonial brochure of his career issued in 1959 contained glowing accounts of his career by many of the top RL writers of the day including Phil King, Eddie Waring and Jack McNamara. Frank was never seen as being one of the stars of the fifties team but still commanded the respect of team mates and opponents alike and is fondly remembered by the supporters.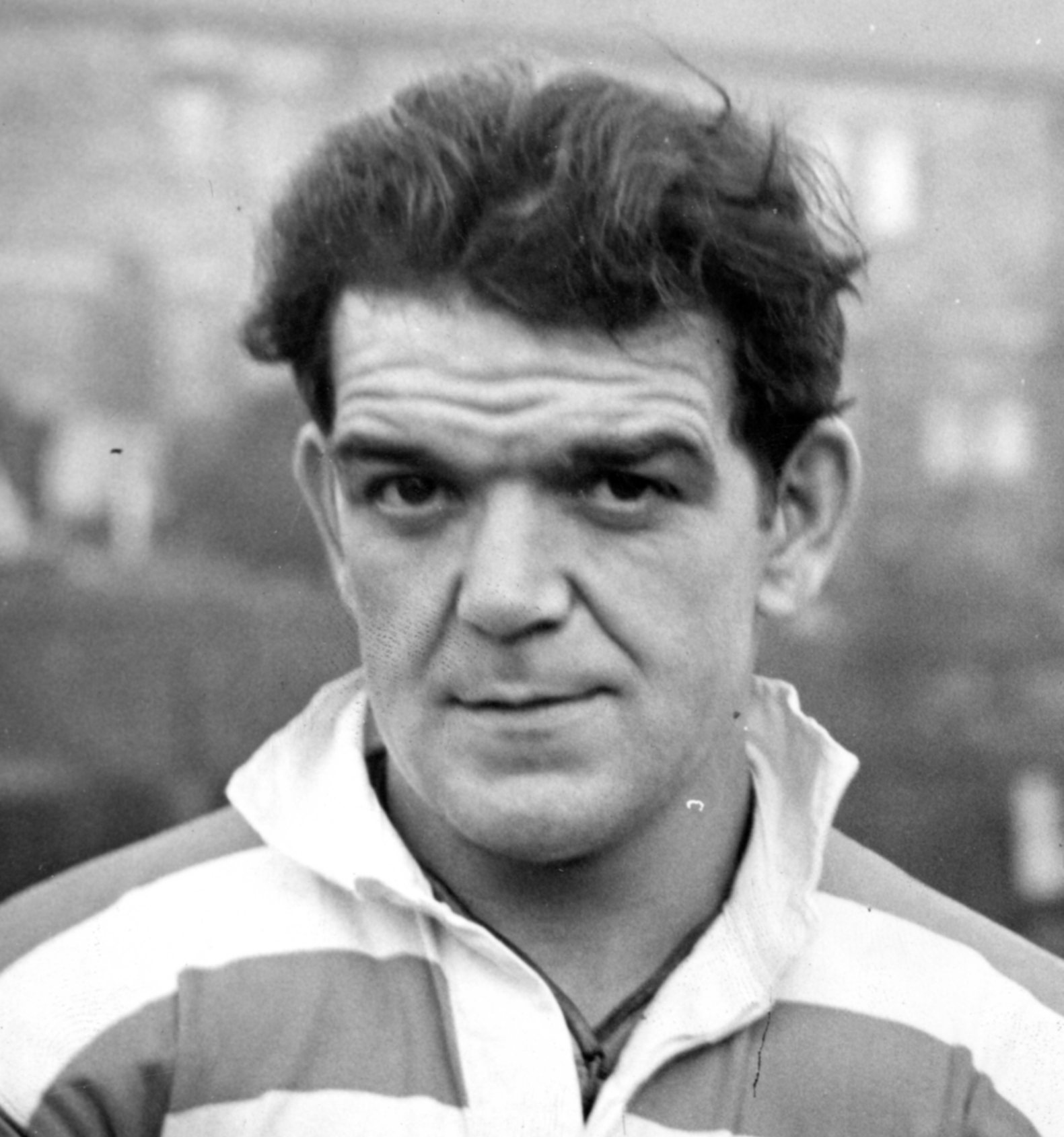 Career Games
| | | | |
| --- | --- | --- | --- |
| Wigan v Oldham | Away | February 5, 1949 | League Championship |
| Oldham v Broughton Moor | Home | February 12, 1949 | Rugby League Challenge Cup |
| Broughton Moor v Oldham | Away | February 19, 1949 | Rugby League Challenge Cup |
| Warrington v Oldham | Away | February 26, 1949 | League Championship |
| York v Oldham | Away | March 5, 1949 | Rugby League Challenge Cup |
| Oldham v Workington Town | Home | March 12, 1949 | League Championship |
| Oldham v Halifax | Home | March 19, 1949 | Rugby League Challenge Cup |
| Belle Vue Rangers v Oldham | Away | April 2, 1949 | League Championship |
| Oldham v Salford | Home | April 4, 1949 | League Championship |
| Oldham v Batley | Home | April 9, 1949 | League Championship |
| Swinton v Oldham | Away | April 15, 1949 | League Championship |
| Oldham v Rochdale Hornets | Home | April 16, 1949 | League Championship |
| Barrow v Oldham | Away | April 18, 1949 | League Championship |
| Hull Kingston Rovers v Oldham | Away | April 23, 1949 | League Championship |
| Workington Town v Oldham | Away | April 30, 1949 | League Championship |
| Oldham v Invitation XIII | Home | May 4, 1949 | Benefit Match |
| Rochdale Hornets v Oldham | Away | August 13, 1949 | Law Cup |
| Leigh v Oldham | Away | August 20, 1949 | League Championship |
| Wigan v Oldham | Away | August 27, 1949 | Lancashire Cup |
| St Helens v Oldham | Away | September 10, 1949 | League Championship |
| Salford v Oldham | Away | December 27, 1949 | League Championship |
| Rochdale Hornets v Oldham | Away | April 8, 1950 | League Championship |
| Oldham v Bordeaux & Villeneuve | Home | April 10, 1950 | Friendly |
| Warrington v Oldham | Away | April 11, 1950 | League Championship |
| Oldham v Workington Town | Home | April 15, 1950 | League Championship |
| Castleford v Oldham | Away | April 19, 1950 | League Championship |
| Featherstone Rovers v Oldham | Away | April 22, 1950 | League Championship |
| Batley v Oldham | Away | September 16, 1950 | League Championship |
| York v Oldham | Away | December 26, 1950 | League Championship |
| Oldham v Belle Vue Rangers | Home | January 20, 1951 | League Championship |
| Wigan v Oldham | Away | January 27, 1951 | League Championship |
| Workington Town v Oldham | Away | February 3, 1951 | League Championship |
| Wigan v Oldham | Away | September 8, 1951 | League Championship |
| Oldham v Whitehaven | Home | September 10, 1951 | League Championship |
| Oldham v St Helens | Home | September 15, 1951 | League Championship |
| Widnes v Oldham | Away | September 22, 1951 | League Championship |
| Oldham v Widnes | Home | September 24, 1951 | Lancashire Cup |
| Oldham v New Zealand | Home | September 29, 1951 | Tour Match |
| Oldham v Warrington | Home | October 6, 1951 | League Championship |
| Liverpool City v Oldham | Away | October 13, 1951 | League Championship |
| Oldham v Leigh | Home | October 16, 1951 | Lancashire Cup |
| Salford v Oldham | Away | October 27, 1951 | League Championship |
| Oldham v Bramley | Home | November 3, 1951 | League Championship |
| Workington Town v Oldham | Away | November 10, 1951 | League Championship |
| Oldham v Wigan | Home | November 17, 1951 | League Championship |
| Barrow v Oldham | Away | November 24, 1951 | League Championship |
| Oldham v Barrow | Home | December 1, 1951 | League Championship |
| Whitehaven v Oldham | Away | December 15, 1951 | League Championship |
| Oldham v Keighley | Home | December 22, 1951 | League Championship |
| Oldham v Swinton | Home | December 25, 1951 | League Championship |
| Oldham v Workington Town | Home | December 26, 1951 | League Championship |
| Bradford Northern v Oldham | Away | December 29, 1951 | League Championship |
| Oldham v Salford | Home | January 12, 1952 | League Championship |
| Warrington v Oldham | Away | February 2, 1952 | League Championship |
| Hull FC v Oldham | Away | February 9, 1952 | Rugby League Challenge Cup |
| Oldham v Hull FC | Home | February 16, 1952 | Rugby League Challenge Cup |
| Oldham v Hull Kingston Rovers | Home | February 23, 1952 | League Championship |
| Leeds v Oldham | Away | March 1, 1952 | Rugby League Challenge Cup |
| Bramley v Oldham | Away | March 8, 1952 | League Championship |
| Leigh v Oldham | Away | March 22, 1952 | League Championship |
| Oldham v Belle Vue Rangers | Home | April 5, 1952 | League Championship |
| Swinton v Oldham | Away | April 11, 1952 | League Championship |
| Oldham v Rochdale Hornets | Home | April 12, 1952 | League Championship |
| Oldham v Halifax | Home | April 14, 1952 | League Championship |
| Hull Kingston Rovers v Oldham | Away | April 26, 1952 | League Championship |
| Oldham v RL XIII | Home | May 6, 1952 | Benefit Match |
| Oldham v Rochdale Hornets | Home | August 16, 1952 | Law Cup |
| Oldham v Featherstone Rovers | Home | August 23, 1952 | League Championship |
| Oldham v Swinton | Home | August 30, 1952 | Lancashire Cup |
| Swinton v Oldham | Away | September 3, 1952 | Lancashire Cup |
| Oldham v Leeds | Home | September 6, 1952 | League Championship |
| St Helens v Oldham | Away | September 10, 1952 | League Championship |
| Barrow v Oldham | Away | September 13, 1952 | League Championship |
| Oldham v Australia | Home | September 15, 1952 | Tour Match |
| Oldham v Wakefield Trinity | Home | September 20, 1952 | League Championship |
| Workington Town v Oldham | Away | September 24, 1952 | Lancashire Cup |
| Leeds v Oldham | Away | September 27, 1952 | League Championship |
| Workington Town v Oldham | Away | October 4, 1952 | League Championship |
| Oldham v Widnes | Home | October 11, 1952 | League Championship |
| Warrington v Oldham | Away | October 18, 1952 | League Championship |
| Bramley v Oldham | Away | November 1, 1952 | League Championship |
| Oldham v Leigh | Home | November 8, 1952 | League Championship |
| Wakefield Trinity v Oldham | Away | November 15, 1952 | League Championship |
| Wigan v Oldham | Away | January 10, 1953 | League Championship |
| Salford v Oldham | Away | January 17, 1953 | League Championship |
| Oldham v Rochdale Hornets | Home | January 24, 1953 | League Championship |
| Oldham v Bramley | Home | January 31, 1953 | League Championship |
| St Helens v Oldham | Away | February 7, 1953 | Rugby League Challenge Cup |
| Rochdale Hornets v Oldham | Away | February 21, 1953 | League Championship |
| Whitehaven v Oldham | Away | February 28, 1953 | League Championship |
| Oldham v Bradford Northern | Home | March 7, 1953 | League Championship |
| Widnes v Oldham | Away | March 14, 1953 | League Championship |
| Oldham v Workington Town | Home | March 21, 1953 | League Championship |
| Featherstone Rovers v Oldham | Away | March 28, 1953 | League Championship |
| Swinton v Oldham | Away | April 3, 1953 | League Championship |
| Belle Vue Rangers v Oldham | Away | April 4, 1953 | League Championship |
| Oldham v Whitehaven | Home | April 6, 1953 | League Championship |
| Oldham v Liverpool City | Home | April 11, 1953 | League Championship |
| Oldham v St Helens | Home | April 18, 1953 | League Championship |
| Leigh v Oldham | Away | April 22, 1953 | League Championship |
| Oldham v Huddersfield | Home | May 16, 1953 | Benefit Match |
| Huddersfield v Oldham | Away | August 22, 1953 | League Championship |
| Bramley v Oldham | Away | August 26, 1953 | League Championship |
| Whitehaven v Oldham | Away | November 14, 1953 | League Championship |
| Oldham v Bramley | Home | November 21, 1953 | League Championship |
| Oldham v Salford | Home | January 9, 1954 | League Championship |
| Oldham v Huddersfield | Home | January 16, 1954 | League Championship |
| Liverpool City v Oldham | Away | January 23, 1954 | League Championship |
| Liverpool City v Oldham | Away | February 6, 1954 | Rugby League Challenge Cup |
| Oldham v Liverpool City | Home | February 13, 1954 | Rugby League Challenge Cup |
| Oldham v Rochdale Hornets | Home | August 7, 1954 | Law Cup |
| Wakefield Trinity v Oldham | Away | August 14, 1954 | League Championship |
| Oldham v Batley | Home | August 21, 1954 | League Championship |
| Salford v Oldham | Away | August 25, 1954 | League Championship |
| St Helens v Oldham | Away | August 28, 1954 | League Championship |
| Barrow v Oldham | Away | September 4, 1954 | League Championship |
| Oldham v Lancs County Amateurs | Home | September 11, 1954 | Lancashire Cup |
| Oldham v Liverpool City | Home | September 14, 1954 | League Championship |
| Batley v Oldham | Away | September 18, 1954 | League Championship |
| Oldham v Workington Town | Home | October 9, 1954 | League Championship |
| Rochdale Hornets v Oldham | Away | October 16, 1954 | League Championship |
| Barrow v Oldham | Neutral | October 23, 1954 | Lancashire Cup |
| Liverpool City v Oldham | Away | October 30, 1954 | League Championship |
| Wigan v Oldham | Away | November 27, 1954 | League Championship |
| Whitehaven v Oldham | Away | December 11, 1954 | League Championship |
| Keighley v Oldham | Away | December 18, 1954 | League Championship |
| Oldham v Swinton | Home | December 25, 1954 | League Championship |
| Oldham v Salford | Home | December 28, 1954 | League Championship |
| Leigh v Oldham | Away | January 8, 1955 | League Championship |
| Oldham v Warrington | Home | January 15, 1955 | League Championship |
| Workington Town v Oldham | Away | January 22, 1955 | League Championship |
| Oldham v Rochdale Hornets | Home | January 29, 1955 | League Championship |
| Oldham v Barrow | Home | February 5, 1955 | League Championship |
| Oldham v Wigan | Home | February 12, 1955 | Rugby League Challenge Cup |
| Oldham v St Helens | Home | February 19, 1955 | League Championship |
| Leigh v Oldham | Away | March 5, 1955 | Rugby League Challenge Cup |
| Warrington v Oldham | Away | March 26, 1955 | League Championship |
| Hull FC v Oldham | Away | April 9, 1955 | League Championship |
| Oldham v Keighley | Home | April 11, 1955 | League Championship |
| Oldham v Leigh | Home | April 16, 1955 | League Championship |
| Oldham v Hull FC | Home | April 18, 1955 | League Championship |
| Oldham v Leeds | Home | April 23, 1955 | League Championship |
| Warrington v Oldham | Neutral | May 14, 1955 | League Championship |
| Oldham v Keighley | Home | August 20, 1955 | Friendly |
| Blackpool Borough v Oldham | Away | August 27, 1955 | Lancashire Cup |
| Rochdale Hornets v Oldham | Away | August 30, 1955 | League Championship |
| Oldham v Leigh | Home | September 7, 1955 | Lancashire Cup |
| Leeds v Oldham | Away | September 10, 1955 | League Championship |
| Oldham v Barrow | Home | October 15, 1955 | League Championship |
| Oldham v New Zealand | Home | October 29, 1955 | Tour Match |
| Featherstone Rovers v Oldham | Neutral | November 2, 1955 | Independent Television Floodlit Trophy |
| Leigh v Oldham | Away | November 5, 1955 | League Championship |
| Oldham v Liverpool City | Home | November 12, 1955 | League Championship |
| Wigan v Oldham | Away | November 19, 1955 | League Championship |
| Oldham v Widnes | Home | November 26, 1955 | League Championship |
| Liverpool City v Oldham | Away | December 3, 1955 | League Championship |
| Salford v Oldham | Away | December 10, 1955 | League Championship |
| Oldham v Salford | Home | December 17, 1955 | League Championship |
| St Helens v Oldham | Away | December 24, 1955 | League Championship |
| Oldham v Swinton | Home | December 26, 1955 | League Championship |
| Blackpool Borough v Oldham | Away | December 27, 1955 | League Championship |
| Whitehaven v Oldham | Away | January 7, 1956 | League Championship |
| Oldham v Rochdale Hornets | Home | January 28, 1956 | League Championship |
| Oldham v Dewsbury | Home | February 11, 1956 | Rugby League Challenge Cup |
| Featherstone Rovers v Oldham | Away | February 25, 1956 | League Championship |
| Leeds v Oldham | Away | March 3, 1956 | Rugby League Challenge Cup |
| Swinton v Oldham | Away | March 30, 1956 | League Championship |
| Barrow v Oldham | Away | April 2, 1956 | League Championship |
| Oldham v St Helens | Home | April 14, 1956 | League Championship |
| Oldham v Workington Town | Home | April 21, 1956 | League Championship |
| Oldham v Halifax | Home | October 13, 1956 | League Championship |
| Oldham v Workington Town | Home | November 10, 1956 | League Championship |
| Keighley v Oldham | Away | November 17, 1956 | League Championship |
| Oldham v York | Home | December 1, 1956 | League Championship |
| Wakefield Trinity v Oldham | Away | December 15, 1956 | League Championship |
| Warrington v Oldham | Away | December 22, 1956 | League Championship |
| Oldham v Salford | Home | January 12, 1957 | League Championship |
| Whitehaven v Oldham | Away | January 19, 1957 | League Championship |
| Oldham v Warrington | Home | January 26, 1957 | League Championship |
| Workington Town v Oldham | Away | February 9, 1957 | Rugby League Challenge Cup |
| Oldham v Widnes | Home | February 16, 1957 | League Championship |
| Leigh v Oldham | Away | February 23, 1957 | Rugby League Challenge Cup |
| Oldham v Liverpool City | Home | March 2, 1957 | League Championship |
| Bramley v Oldham | Away | March 23, 1957 | League Championship |
| Oldham v Wigan | Home | March 30, 1957 | League Championship |
| Leigh v Oldham | Away | April 4, 1957 | League Championship |
| Oldham v Swinton | Home | April 15, 1957 | League Championship |
| Swinton v Oldham | Away | April 19, 1957 | League Championship |
| Oldham v Rochdale Hornets | Home | April 22, 1957 | League Championship |
| Oldham v Leeds | Home | May 4, 1957 | League Championship |
| Hull FC v Oldham | Neutral | May 18, 1957 | League Championship |
| Barrow v Oldham | Away | August 22, 1957 | League Championship |
| Oldham v St Helens | Home | August 26, 1957 | League Championship |
| Oldham v Barrow | Home | August 31, 1957 | Lancashire Cup |
| Workington Town v Oldham | Away | September 28, 1957 | League Championship |
| St Helens v Oldham | Away | October 2, 1957 | Lancashire Cup |
| Rochdale Hornets v Oldham | Away | October 12, 1957 | League Championship |
| Wigan v Oldham | Neutral | October 19, 1957 | Lancashire Cup |
| Oldham v Wakefield Trinity | Home | November 2, 1957 | League Championship |
| Salford v Oldham | Away | November 9, 1957 | League Championship |
| Leigh v Oldham | Away | November 23, 1957 | League Championship |
| Liverpool City v Oldham | Away | December 14, 1957 | League Championship |
| Oldham v Swinton | Home | December 25, 1957 | League Championship |
| Hull FC v Oldham | Away | December 26, 1957 | League Championship |
| Warrington v Oldham | Away | December 28, 1957 | League Championship |
| Oldham v Barrow | Home | January 11, 1958 | League Championship |
| Widnes v Oldham | Away | January 18, 1958 | League Championship |
| Wigan v Oldham | Away | February 1, 1958 | League Championship |
| Oldham v Hull Kingston Rovers | Home | February 8, 1958 | Rugby League Challenge Cup |
| St Helens v Oldham | Away | February 15, 1958 | League Championship |
| Blackpool Borough v Oldham | Away | February 22, 1958 | Rugby League Challenge Cup |
| Oldham v Blackpool Borough | Home | March 1, 1958 | League Championship |
| Oldham v Wigan | Home | March 8, 1958 | Rugby League Challenge Cup |
| Oldham v Widnes | Home | March 25, 1958 | League Championship |
| Rochdale Hornets v Oldham | Away | August 9, 1958 | Law Cup |
| Oldham v Warrington | Home | February 7, 1959 | League Championship |
| St Helens v Oldham | Away | May 2, 1959 | League Championship |