Jack Oster
Profile
Jack Oster signed for Oldham from Wigan Highfield in February 1927 after putting in some impressive performances against the "Roughyeds". Subsequently when the cash strapped Wigan outfit were knocked out of the Challenge Cup, Oldham moved in and got their man. The only downside for Jack was that he was "cup-tied", as Oldham went on to win the Challenge Cup.
A tricky stand off half, "Jackie", as he was known was also very fast and these combined talents earned him an international call up, in one of the most remarkable and controversial test matches of all time. The occasion was the third match of the 1929-30 series against Australia at Swinton. Jack was to partner the legendary Jonty Parkin of Wakefield Trinity, who had already declared that this was to be his last international. What came to pass was the only scoreless match so far recorded in well over 100 Anglo / Australian encounters. The Aussies were very unfortunate to have a late try by scrum half Busch ruled out by the touch judge, who claimed he took out the corner flag as he touched down. The Aussies maintained that the covering tackler, Fred Butters of Swinton, had been responsible. With the series level at one win and a draw each, it was decided to hold a fourth match, this took place at Rochdale two weeks later. Great Britain won 3 – 0, but Jack was overlooked in favour of the now fit again "Billo" Rees of Swinton, whose injury had given the Oldham player his test chance.
Jack continued to perform consistently for Oldham until his transfer to Warrington in 1933.
Appearances:   189        Tries:   67         Goals:   6         Points:   213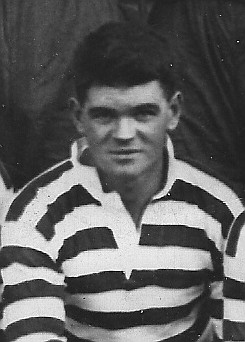 Career Games
| | | | |
| --- | --- | --- | --- |
| York v Oldham | Away | February 19, 1927 | League Championship |
| Oldham v Broughton Rangers | Home | March 5, 1927 | League Championship |
| St Helens v Oldham | Away | March 16, 1927 | League Championship |
| Wigan v Oldham | Away | April 9, 1927 | League Championship |
| Oldham v St Helens Recs | Home | April 11, 1927 | League Championship |
| Swinton v Oldham | Away | April 15, 1927 | League Championship |
| Oldham v Rochdale Hornets | Home | April 16, 1927 | League Championship |
| Huddersfield v Oldham | Away | April 18, 1927 | League Championship |
| Salford v Oldham | Away | August 27, 1927 | League Championship |
| Huddersfield v Oldham | Away | August 31, 1927 | League Championship |
| Rochdale Hornets v Oldham | Away | September 6, 1927 | Infirmary Cup |
| Oldham v Leigh | Home | September 17, 1927 | League Championship |
| Wigan Highfield v Oldham | Away | September 28, 1927 | League Championship |
| Oldham v York | Home | October 1, 1927 | League Championship |
| Oldham v Wigan Highfield | Home | October 8, 1927 | Lancashire Cup |
| Wigan v Oldham | Away | October 15, 1927 | League Championship |
| Oldham v Salford | Home | October 29, 1927 | League Championship |
| St Helens Recs v Oldham | Away | November 5, 1927 | League Championship |
| Wakefield Trinity v Oldham | Away | December 3, 1927 | League Championship |
| Oldham v Swinton | Home | December 10, 1927 | League Championship |
| Leigh v Oldham | Away | December 27, 1927 | League Championship |
| Oldham v Barrow | Home | December 31, 1927 | League Championship |
| Oldham v Hull FC | Home | January 2, 1928 | League Championship |
| Halifax v Oldham | Away | January 7, 1928 | League Championship |
| Oldham v Warrington | Home | January 14, 1928 | League Championship |
| Hull FC v Oldham | Away | January 28, 1928 | League Championship |
| Oldham v St Helens Recs | Home | February 4, 1928 | League Championship |
| Oldham v St Helens | Home | February 11, 1928 | Rugby League Challenge Cup |
| St Helens v Oldham | Away | February 18, 1928 | League Championship |
| Oldham v Broughton Rangers | Home | February 21, 1928 | League Championship |
| Barrow v Oldham | Away | February 25, 1928 | Rugby League Challenge Cup |
| Oldham v Rochdale Hornets | Home | March 3, 1928 | League Championship |
| Leeds v Oldham | Away | March 10, 1928 | Rugby League Challenge Cup |
| Widnes v Oldham | Away | March 17, 1928 | League Championship |
| Oldham v Leeds | Home | March 24, 1928 | League Championship |
| Oldham v Wigan Highfield | Home | March 31, 1928 | League Championship |
| Swinton v Oldham | Away | April 6, 1928 | League Championship |
| Broughton Rangers v Oldham | Away | April 7, 1928 | League Championship |
| Oldham v Widnes | Home | April 9, 1928 | League Championship |
| Hull FC v Oldham | Away | April 14, 1928 | League Championship |
| Rochdale Hornets v Oldham | Away | April 16, 1928 | League Championship |
| Oldham v Wigan | Home | April 23, 1928 | League Championship |
| Oldham v Salford | Home | August 25, 1928 | League Championship |
| Wigan Highfield v Oldham | Away | September 1, 1928 | League Championship |
| Halifax v Oldham | Away | September 3, 1928 | League Championship |
| Oldham v Halifax | Home | September 8, 1928 | League Championship |
| Hull FC v Oldham | Away | September 15, 1928 | League Championship |
| Oldham v Warrington | Home | September 22, 1928 | League Championship |
| Oldham v Featherstone Rovers | Home | September 29, 1928 | League Championship |
| Hunslet v Oldham | Away | October 6, 1928 | League Championship |
| Oldham v Rochdale Hornets | Home | October 13, 1928 | Infirmary Cup |
| Huddersfield v Oldham | Away | October 20, 1928 | League Championship |
| Oldham v Salford | Home | October 24, 1928 | Lancashire Cup |
| Oldham v Leigh | Home | October 27, 1928 | League Championship |
| Barrow v Oldham | Away | November 3, 1928 | League Championship |
| Oldham v Wigan | Home | November 5, 1928 | Lancashire Cup |
| Wigan v Oldham | Away | November 7, 1928 | Lancashire Cup |
| Oldham v Wigan | Home | November 10, 1928 | League Championship |
| Salford v Oldham | Away | November 17, 1928 | League Championship |
| Oldham v Hunslet | Home | November 24, 1928 | League Championship |
| St Helens v Oldham | Away | December 1, 1928 | League Championship |
| Oldham v St Helens | Home | December 8, 1928 | League Championship |
| Wigan v Oldham | Away | December 15, 1928 | League Championship |
| Broughton Rangers v Oldham | Away | December 22, 1928 | League Championship |
| Oldham v Swinton | Home | December 25, 1928 | League Championship |
| Oldham v Leeds | Home | January 6, 1929 | League Championship |
| Warrington v Oldham | Away | January 12, 1929 | League Championship |
| Widnes v Oldham | Away | January 19, 1929 | League Championship |
| Oldham v Wigan Highfield | Home | January 26, 1929 | League Championship |
| Rochdale Hornets v Oldham | Away | February 2, 1929 | League Championship |
| Bramley v Oldham | Away | February 9, 1929 | Rugby League Challenge Cup |
| Warrington v Oldham | Away | February 23, 1929 | Rugby League Challenge Cup |
| Oldham v Huddersfield | Home | March 2, 1929 | League Championship |
| Oldham v Hull FC | Home | March 16, 1929 | League Championship |
| Oldham v St Helens Recs | Home | March 23, 1929 | League Championship |
| Swinton v Oldham | Away | March 29, 1929 | League Championship |
| Oldham v Rochdale Hornets | Home | March 30, 1929 | League Championship |
| Leeds v Oldham | Away | April 1, 1929 | League Championship |
| Oldham v Broughton Rangers | Home | April 6, 1929 | League Championship |
| Oldham v Barrow | Home | April 13, 1929 | League Championship |
| Oldham v Hunslet | Home | August 31, 1929 | League Championship |
| Huddersfield v Oldham | Away | September 4, 1929 | League Championship |
| Dewsbury v Oldham | Away | September 7, 1929 | League Championship |
| Oldham v Broughton Rangers | Home | September 9, 1929 | League Championship |
| Oldham v Huddersfield | Home | September 14, 1929 | League Championship |
| Widnes v Oldham | Away | September 21, 1929 | League Championship |
| St Helens v Oldham | Away | September 28, 1929 | League Championship |
| Oldham v Hull FC | Home | October 5, 1929 | League Championship |
| Wigan v Oldham | Away | October 12, 1929 | Lancashire Cup |
| Oldham v Wigan | Home | October 19, 1929 | League Championship |
| Oldham v Australia | Home | November 2, 1929 | Tour Match |
| Oldham v Warrington | Home | November 11, 1929 | Lancashire Cup |
| Oldham v Wigan Highfield | Home | November 16, 1929 | League Championship |
| Rochdale Hornets v Oldham | Away | November 23, 1929 | Infirmary Cup |
| Oldham v Halifax | Home | November 30, 1929 | League Championship |
| Hull FC v Oldham | Away | December 7, 1929 | League Championship |
| Oldham v Salford | Home | December 14, 1929 | League Championship |
| Wakefield Trinity v Oldham | Away | December 21, 1929 | League Championship |
| Oldham v Swinton | Home | December 25, 1929 | League Championship |
| Rochdale Hornets v Oldham | Away | December 26, 1929 | League Championship |
| Oldham v Widnes | Home | December 28, 1929 | League Championship |
| Warrington v Oldham | Away | January 11, 1930 | League Championship |
| Oldham v Leigh | Home | January 18, 1930 | League Championship |
| Oldham v Barrow | Home | January 25, 1930 | League Championship |
| Salford v Oldham | Away | February 1, 1930 | League Championship |
| Hunslet v Oldham | Away | February 8, 1930 | Rugby League Challenge Cup |
| Oldham v Rochdale Hornets | Home | February 15, 1930 | League Championship |
| Oldham v Dewsbury | Home | March 1, 1930 | League Championship |
| St Helens Recs v Oldham | Away | March 6, 1930 | League Championship |
| Oldham v Wakefield Trinity | Home | March 15, 1930 | League Championship |
| Oldham v Widnes | Home | March 17, 1930 | League Championship |
| Halifax v Oldham | Away | March 22, 1930 | League Championship |
| Broughton Rangers v Oldham | Away | April 5, 1930 | League Championship |
| Wigan Highfield v Oldham | Away | April 7, 1930 | League Championship |
| Swinton v Oldham | Away | April 18, 1930 | League Championship |
| Oldham v St Helens Recs | Home | April 19, 1930 | League Championship |
| Leeds v Oldham | Away | April 21, 1930 | League Championship |
| Wigan v Oldham | Away | April 26, 1930 | League Championship |
| Oldham v Rochdale Hornets | Home | August 25, 1930 | Infirmary Cup |
| Wigan v Oldham | Away | August 30, 1930 | League Championship |
| Oldham v Leigh | Home | September 6, 1930 | League Championship |
| Huddersfield v Oldham | Away | September 10, 1930 | Friendly |
| St Helens Recs v Oldham | Away | September 13, 1930 | League Championship |
| Oldham v Huddersfield | Home | September 15, 1930 | Friendly |
| Oldham v Hull Kingston Rovers | Home | September 20, 1930 | League Championship |
| Oldham v Salford | Home | September 22, 1930 | League Championship |
| Oldham v Barrow | Home | September 27, 1930 | League Championship |
| Rochdale Hornets v Oldham | Away | October 4, 1930 | League Championship |
| Oldham v Salford | Home | October 11, 1930 | Lancashire Cup |
| Hunslet v Oldham | Away | October 18, 1930 | League Championship |
| Rochdale Hornets v Oldham | Away | October 21, 1930 | Lancashire Cup |
| Oldham v Warrington | Home | October 25, 1930 | League Championship |
| Hull Kingston Rovers v Oldham | Away | November 1, 1930 | League Championship |
| St Helens Recs v Oldham | Away | November 6, 1930 | Lancashire Cup |
| Oldham v Bradford Northern | Home | November 8, 1930 | League Championship |
| Halifax v Oldham | Away | November 15, 1930 | League Championship |
| Oldham v Broughton Rangers | Home | November 22, 1930 | League Championship |
| Keighley v Oldham | Away | November 29, 1930 | League Championship |
| Oldham v Wigan | Home | December 8, 1930 | League Championship |
| St Helens v Oldham | Away | December 13, 1930 | League Championship |
| Oldham v Widnes | Home | December 20, 1930 | League Championship |
| Oldham v Swinton | Home | December 25, 1930 | League Championship |
| Wigan Highfield v Oldham | Away | December 26, 1930 | League Championship |
| Oldham v York | Home | December 27, 1930 | League Championship |
| Leigh v Oldham | Away | January 3, 1931 | League Championship |
| Oldham v St Helens Recs | Home | January 17, 1931 | League Championship |
| Hull FC v Oldham | Away | January 24, 1931 | League Championship |
| Oldham v Widnes | Home | February 7, 1931 | Rugby League Challenge Cup |
| Broughton Rangers v Oldham | Away | February 14, 1931 | League Championship |
| Oldham v Hunslet | Home | February 16, 1931 | League Championship |
| Bramley v Oldham | Away | February 21, 1931 | Rugby League Challenge Cup |
| Halifax v Oldham | Away | March 7, 1931 | Rugby League Challenge Cup |
| Oldham v Halifax | Home | March 9, 1931 | Rugby League Challenge Cup |
| Oldham v Hull FC | Home | March 21, 1931 | League Championship |
| Bradford Northern v Oldham | Away | March 28, 1931 | League Championship |
| Swinton v Oldham | Away | April 3, 1931 | League Championship |
| Oldham v St Helens | Home | April 4, 1931 | League Championship |
| Oldham v Keighley | Home | April 6, 1931 | League Championship |
| Warrington v Oldham | Away | April 7, 1931 | League Championship |
| Oldham v Wigan Highfield | Home | April 11, 1931 | League Championship |
| Salford v Oldham | Away | April 13, 1931 | League Championship |
| Barrow v Oldham | Away | April 16, 1931 | League Championship |
| York v Oldham | Away | April 18, 1931 | League Championship |
| Oldham v Halifax | Home | April 20, 1931 | League Championship |
| Swinton v Oldham | Away | April 25, 1931 | League Championship |
| Rochdale Hornets v Oldham | Away | August 22, 1931 | Infirmary Cup |
| Salford v Oldham | Away | August 29, 1931 | League Championship |
| Oldham v Wigan Highfield | Home | September 5, 1931 | League Championship |
| Warrington v Oldham | Away | September 12, 1931 | League Championship |
| Hunslet v Oldham | Away | September 16, 1931 | League Championship |
| Oldham v Halifax | Home | September 19, 1931 | League Championship |
| Oldham v St Helens Recs | Home | September 21, 1931 | League Championship |
| Batley v Oldham | Away | September 26, 1931 | League Championship |
| Oldham v St Helens | Home | October 3, 1931 | League Championship |
| Oldham v Barrow | Home | October 10, 1931 | Lancashire Cup |
| Barrow v Oldham | Away | October 15, 1931 | Lancashire Cup |
| St Helens v Oldham | Away | October 17, 1931 | League Championship |
| Oldham v Bramley | Home | October 24, 1931 | League Championship |
| Rochdale Hornets v Oldham | Away | October 31, 1931 | League Championship |
| Widnes v Oldham | Away | November 14, 1931 | League Championship |
| Oldham v Broughton Rangers | Home | November 21, 1931 | League Championship |
| York v Oldham | Away | November 28, 1931 | League Championship |
| Oldham v Leigh | Home | December 5, 1931 | League Championship |
| Bramley v Oldham | Away | December 12, 1931 | League Championship |
| Oldham v Batley | Home | December 19, 1931 | League Championship |
| Oldham v Salford | Home | January 23, 1932 | League Championship |
| Leigh v Oldham | Away | January 30, 1932 | League Championship |
| Oldham v Rochdale Hornets | Home | February 6, 1932 | Rugby League Challenge Cup |
| Oldham v Hunslet | Home | February 8, 1932 | League Championship |
| Halifax v Oldham | Away | February 13, 1932 | League Championship |
| Oldham v Widnes | Home | February 20, 1932 | League Championship |
| Oldham v Leeds | Home | February 27, 1932 | League Championship |
| Broughton Rangers v Oldham | Away | March 5, 1932 | League Championship |
| St Helens Recs v Oldham | Away | March 19, 1932 | League Championship |
| Swinton v Oldham | Away | March 25, 1932 | League Championship |
| Oldham v Rochdale Hornets | Home | March 26, 1932 | League Championship |