Reg Farrar
Profile
One hundred years have come and gone since the Oldham record for tries in a season was set in 1921-22 and with the current reduced fixture lists this seems to be a record that will last for all time. The holder of the honour …. Reg Farrar.
Reg signed for Oldham from the Halifax Old Boys Rugby Union club, playing his first match against Huddersfield on October 23rd, 1920. Reg set the trend on his debut by scoring the only try in a 5 – 5 draw against the "Fartowners". He played centre that day and also for the next few games, but it would be on the wing that he would make his mark. His determined running was supplemented by an ability to leap over would-be tacklers. The following season Reg was installed on the left wing to great effect and his record breaking 49 touchdowns were complemented by 33 goals which meant he topped the Oldham tries and goals list. The club finished at the top of the league table but missed out on the Championship title when losing to Wigan in the top four play off final. For Reg there was the consolation of leading the tries and points chart for the whole of the Rugby League.
The rest of his career was greatly disrupted by injury and the next two seasons saw him making only 13 senior appearances. When Jack Corsi was injured early in 1925, Reg was selected to take his place and returned to his old form, helping the club to win through to the Challenge Cup Final. Corsi returned to fitness just in time for the final and this left the committee with a selection dilemma. They chose to keep Farrar and Corsi on the wings and switch Syd Rix to centre, to the exclusion of the unfortunate Albert Woodward. The decision, however, proved to be well founded with Reg being the hero of the final, scoring one try, making two others and kicking two goals from the touchline in the 16 – 3 victory over Hull K.R. at Headingley.
More injuries followed and it looked like his career was over, but after two and half years out of the game he made a comeback in 1929, showing the same old style by scoring twelve tries in ten games at the end of the 1928-29 season.
Reg finally called it a day in 1930. Amazingly his career ended exactly as it had begun with him scoring the only Oldham try in a 5- 5 draw ! This time the match was against Leigh at Watersheddings on September 6th, 1930.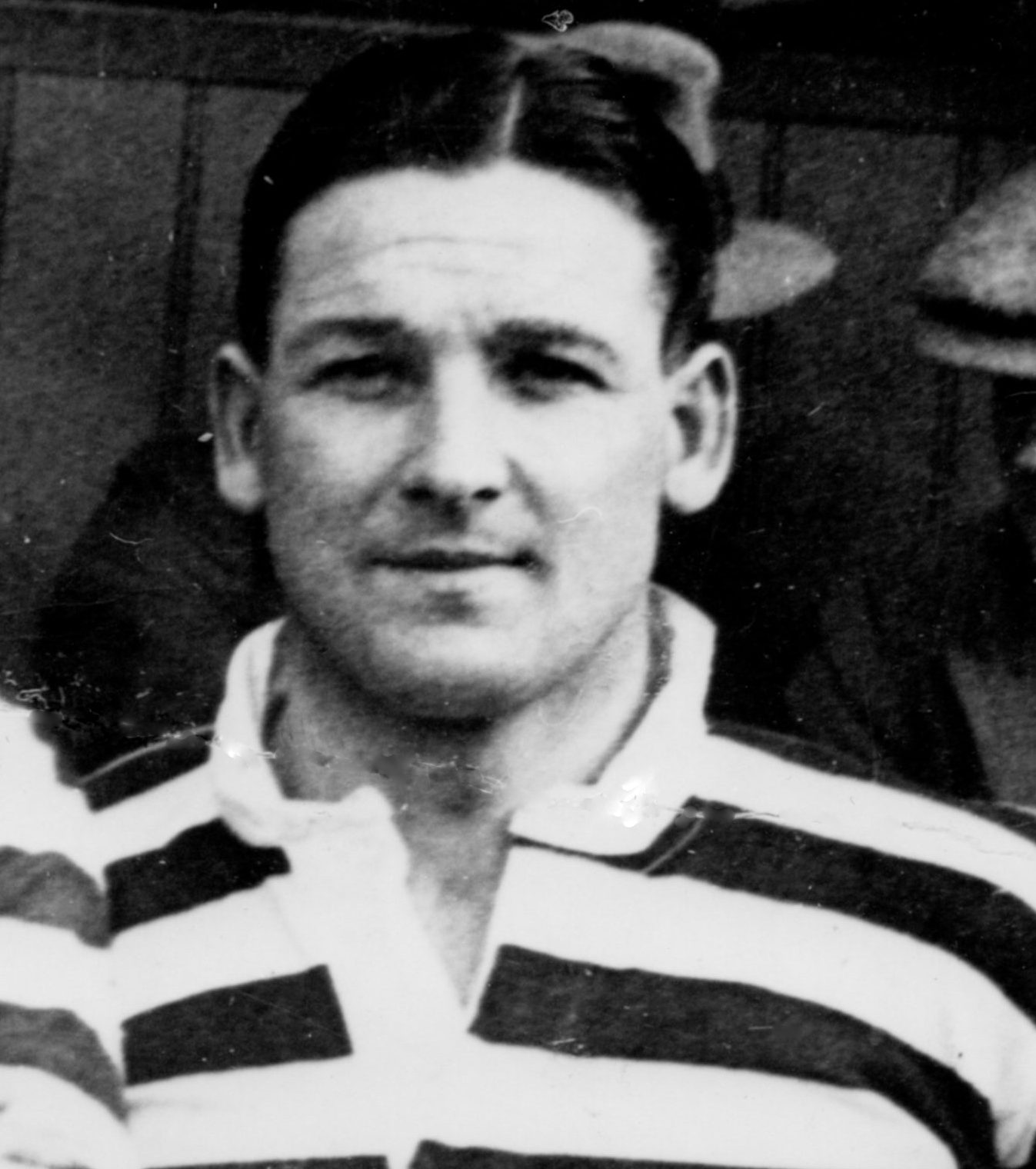 Career Games
| | | | |
| --- | --- | --- | --- |
| Oldham v Huddersfield | Home | October 23, 1920 | League Championship |
| Huddersfield v Oldham | Away | October 30, 1920 | Friendly |
| Oldham v Barrow | Home | November 6, 1920 | League Championship |
| Wigan v Oldham | Away | November 13, 1920 | League Championship |
| Oldham v Swinton | Home | December 25, 1920 | League Championship |
| Oldham v Broughton Rangers | Home | December 27, 1920 | Friendly |
| Oldham v Warrington | Home | January 1, 1921 | League Championship |
| Oldham v Hull FC | Home | January 3, 1921 | League Championship |
| Oldham v Salford | Home | January 8, 1921 | League Championship |
| Oldham v Rochdale Hornets | Home | January 22, 1921 | League Championship |
| Salford v Oldham | Away | January 29, 1921 | League Championship |
| Oldham v Batley | Home | February 5, 1921 | League Championship |
| Halifax v Oldham | Away | February 12, 1921 | League Championship |
| Oldham v St Helens Recs | Home | February 19, 1921 | League Championship |
| Oldham v Elland Wanderers | Home | February 26, 1921 | Rugby League Challenge Cup |
| St Helens v Oldham | Away | March 5, 1921 | League Championship |
| Huddersfield v Oldham | Away | March 12, 1921 | Rugby League Challenge Cup |
| Oldham v Broughton Rangers | Home | March 19, 1921 | League Championship |
| Leigh v Oldham | Away | March 23, 1921 | League Championship |
| Swinton v Oldham | Away | March 25, 1921 | League Championship |
| Oldham v St Helens | Home | March 26, 1921 | League Championship |
| Huddersfield v Oldham | Away | March 28, 1921 | League Championship |
| Oldham v Leeds | Home | April 11, 1921 | League Championship |
| Leeds v Oldham | Away | April 23, 1921 | League Championship |
| Rochdale Hornets v Oldham | Away | May 7, 1921 | Infirmary Cup |
| Oldham v Rochdale Hornets | Home | May 13, 1921 | Infirmary Cup |
| St Helens v Oldham | Away | August 27, 1921 | League Championship |
| Oldham v Broughton Rangers | Home | September 3, 1921 | League Championship |
| Oldham v Leigh | Home | September 10, 1921 | League Championship |
| Oldham v Hunslet | Home | September 24, 1921 | League Championship |
| Wigan v Oldham | Away | October 1, 1921 | League Championship |
| Oldham v Rochdale Hornets | Home | October 3, 1921 | League Championship |
| Oldham v Salford | Home | October 8, 1921 | League Championship |
| Hull FC v Oldham | Away | October 10, 1921 | League Championship |
| St Helens Recs v Oldham | Away | October 15, 1921 | League Championship |
| Oldham v Keighley | Home | October 29, 1921 | League Championship |
| St Helens v Oldham | Away | November 5, 1921 | Lancashire Cup |
| Halifax v Oldham | Away | November 12, 1921 | League Championship |
| Oldham v Barrow | Home | November 19, 1921 | Lancashire Cup |
| Oldham v Australia | Home | November 26, 1921 | Tour Match |
| Warrington v Oldham | Neutral | December 3, 1921 | Lancashire Cup |
| Salford v Oldham | Away | December 7, 1921 | League Championship |
| Oldham v Barrow | Home | December 10, 1921 | League Championship |
| Keighley v Oldham | Away | December 17, 1921 | League Championship |
| Warrington v Oldham | Away | December 31, 1921 | League Championship |
| Oldham v Hull FC | Home | January 2, 1922 | League Championship |
| Oldham v Bradford Northern | Home | January 7, 1922 | League Championship |
| Oldham v Australia | Home | January 16, 1922 | Tour Match |
| Rochdale Hornets v Oldham | Away | January 21, 1922 | League Championship |
| Oldham v Halifax | Home | January 28, 1922 | League Championship |
| Barrow v Oldham | Away | February 4, 1922 | League Championship |
| Oldham v St Helens | Home | February 11, 1922 | League Championship |
| Oldham v Featherstone Rovers | Home | February 18, 1922 | League Championship |
| Elland v Oldham | Away | February 25, 1922 | Rugby League Challenge Cup |
| Bradford Northern v Oldham | Away | March 1, 1922 | League Championship |
| Leigh v Oldham | Away | March 4, 1922 | League Championship |
| Oldham v Huddersfield | Home | March 11, 1922 | Rugby League Challenge Cup |
| Oldham v Warrington | Home | March 18, 1922 | League Championship |
| Oldham v Huddersfield | Home | March 20, 1922 | League Championship |
| Rochdale Hornets v Oldham | Away | March 25, 1922 | Rugby League Challenge Cup |
| Oldham v Widnes | Home | April 1, 1922 | League Championship |
| Oldham v Wigan | Home | April 3, 1922 | League Championship |
| Hunslet v Oldham | Away | April 5, 1922 | League Championship |
| Oldham v St Helens Recs | Home | April 8, 1922 | League Championship |
| Swinton v Oldham | Away | April 14, 1922 | League Championship |
| Huddersfield v Oldham | Away | April 17, 1922 | League Championship |
| Oldham v Huddersfield | Home | April 22, 1922 | League Championship |
| Wigan v Oldham | Neutral | May 6, 1922 | League Championship |
| Oldham v Huddersfield | Home | September 16, 1922 | League Championship |
| Oldham v Leeds | Home | September 23, 1922 | League Championship |
| Oldham v Salford | Home | November 18, 1922 | League Championship |
| Oldham v Hull FC | Home | December 2, 1922 | League Championship |
| Rochdale Hornets v Oldham | Away | March 24, 1923 | League Championship |
| Swinton v Oldham | Away | March 30, 1923 | League Championship |
| St Helens v Oldham | Away | April 14, 1923 | League Championship |
| Oldham v Widnes | Home | December 29, 1923 | League Championship |
| Oldham v Leeds | Home | January 1, 1924 | League Championship |
| Warrington v Oldham | Away | January 12, 1924 | League Championship |
| Oldham v Barrow | Home | January 19, 1924 | League Championship |
| Wigan v Oldham | Away | January 26, 1924 | League Championship |
| Oldham v Hull FC | Home | February 2, 1924 | League Championship |
| Oldham v Widnes | Home | February 21, 1925 | League Championship |
| Barrow v Oldham | Away | March 5, 1925 | League Championship |
| Oldham v Batley | Home | March 7, 1925 | League Championship |
| Oldham v Featherstone Rovers | Home | March 14, 1925 | Rugby League Challenge Cup |
| Oldham v Salford | Home | March 21, 1925 | League Championship |
| Oldham v Huddersfield | Home | March 23, 1925 | League Championship |
| York v Oldham | Away | March 28, 1925 | League Championship |
| Rochdale Hornets v Oldham | Neutral | April 4, 1925 | Rugby League Challenge Cup |
| Oldham v Broughton Rangers | Home | April 7, 1925 | League Championship |
| Swinton v Oldham | Away | April 10, 1925 | League Championship |
| Oldham v St Helens Recs | Home | April 11, 1925 | League Championship |
| Huddersfield v Oldham | Away | April 13, 1925 | League Championship |
| Hull Kingston Rovers v Oldham | Neutral | April 25, 1925 | Rugby League Challenge Cup |
| Dewsbury v Oldham | Away | August 29, 1925 | League Championship |
| Oldham v Salford | Home | September 5, 1925 | League Championship |
| Rochdale Hornets v Oldham | Away | September 12, 1925 | Infirmary Cup |
| Oldham v Warrington | Home | September 19, 1925 | League Championship |
| Rest Of Lancs v Oldham | Neutral | September 22, 1925 | Friendly |
| Leigh v Oldham | Away | September 26, 1925 | League Championship |
| Oldham v Hunslet | Home | October 3, 1925 | League Championship |
| Oldham v Rochdale Hornets | Home | October 10, 1925 | Lancashire Cup |
| Hull FC v Oldham | Away | October 12, 1925 | League Championship |
| St Helens v Oldham | Away | October 17, 1925 | League Championship |
| Oldham v Salford | Home | October 19, 1925 | Lancashire Cup |
| Oldham v Wigan Highfield | Home | October 24, 1925 | League Championship |
| Broughton Rangers v Oldham | Away | October 31, 1925 | League Championship |
| Oldham v Wigan | Home | November 2, 1925 | Lancashire Cup |
| Oldham v Dewsbury | Home | November 7, 1925 | League Championship |
| St Helens Recs v Oldham | Away | November 14, 1925 | League Championship |
| Batley v Oldham | Away | November 21, 1925 | League Championship |
| Oldham v Widnes | Home | November 28, 1925 | League Championship |
| Oldham v Leigh | Home | December 19, 1925 | League Championship |
| Barrow v Oldham | Away | December 26, 1925 | League Championship |
| Oldham v Hull FC | Home | January 1, 1926 | League Championship |
| Oldham v St Helens | Home | January 2, 1926 | League Championship |
| Oldham v Batley | Home | February 6, 1926 | League Championship |
| Huddersfield v Oldham | Away | February 20, 1926 | League Championship |
| Oldham v Rochdale Hornets | Home | February 27, 1926 | Rugby League Challenge Cup |
| Wigan Highfield v Oldham | Neutral | March 27, 1926 | Rugby League Challenge Cup |
| Swinton v Oldham | Away | April 2, 1926 | League Championship |
| Oldham v Barrow | Home | April 3, 1926 | League Championship |
| Oldham v Huddersfield | Home | April 5, 1926 | League Championship |
| Warrington v Oldham | Away | February 23, 1929 | Rugby League Challenge Cup |
| Oldham v Huddersfield | Home | March 2, 1929 | League Championship |
| Featherstone Rovers v Oldham | Away | March 9, 1929 | League Championship |
| Oldham v Hull FC | Home | March 16, 1929 | League Championship |
| Oldham v St Helens Recs | Home | March 23, 1929 | League Championship |
| Swinton v Oldham | Away | March 29, 1929 | League Championship |
| Oldham v Rochdale Hornets | Home | March 30, 1929 | League Championship |
| Oldham v Broughton Rangers | Home | April 6, 1929 | League Championship |
| Oldham v Barrow | Home | April 13, 1929 | League Championship |
| St Helens Recs v Oldham | Away | April 22, 1929 | League Championship |
| Oldham v Hunslet | Home | August 31, 1929 | League Championship |
| Huddersfield v Oldham | Away | September 4, 1929 | League Championship |
| Dewsbury v Oldham | Away | September 7, 1929 | League Championship |
| Oldham v Broughton Rangers | Home | September 9, 1929 | League Championship |
| Oldham v Huddersfield | Home | September 14, 1929 | League Championship |
| Widnes v Oldham | Away | September 21, 1929 | League Championship |
| Oldham v Warrington | Home | November 11, 1929 | Lancashire Cup |
| Oldham v Salford | Home | December 14, 1929 | League Championship |
| Wakefield Trinity v Oldham | Away | December 21, 1929 | League Championship |
| Oldham v Swinton | Home | December 25, 1929 | League Championship |
| Rochdale Hornets v Oldham | Away | December 26, 1929 | League Championship |
| Oldham v Widnes | Home | December 28, 1929 | League Championship |
| Oldham v Rochdale Hornets | Home | February 15, 1930 | League Championship |
| Leeds v Oldham | Away | April 21, 1930 | League Championship |
| Wigan v Oldham | Away | August 30, 1930 | League Championship |
| Oldham v Leigh | Home | September 6, 1930 | League Championship |
| Huddersfield v Oldham | Away | September 10, 1930 | Friendly |