Arthur Smith
Profile
"Mad" Arthur Smith, so nick-named because of his forceful and enthusiastic performances on the field of play, was a West Country man who played his first Rugby with the Yorkley and Cinderford clubs before becoming an Oldham player at the start of the 1905-06 season.
A robust and energetic forward, his style was well suited to the more fluent Northern Union game and he was soon amongst the honours, picking up a Lancashire Cup winners medal after scoring a try in the 1907 final victory over Broughton Rangers. Lancashire county honours followed and he was selected for what is now regarded as the first ever "test rated" international against the New Zealand "All Golds" on January 25th, 1908, retaining his place for the full series. The following season he again played in the full series against the first "Kangaroos", accompanied in the British pack by Oldham team mate, Billy Longworth.
Arthur gave eight and half years of great service to Oldham before moving on to Halifax in January 1914. He did return to play a few more matches for the club in the non-competitive First World War period.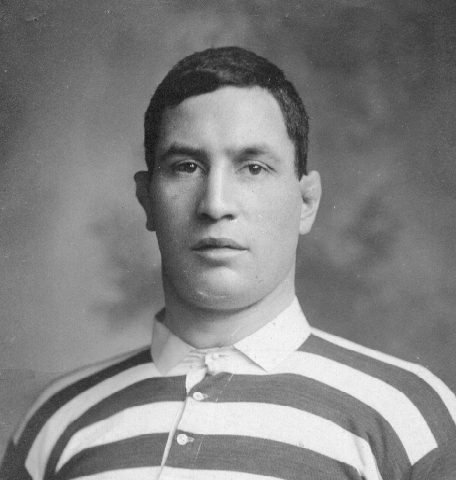 Career Games
| | | | |
| --- | --- | --- | --- |
| Warrington v Oldham | Away | September 9, 1905 | RL Championship |
| Oldham v Wigan | Home | September 16, 1905 | RL Championship |
| Runcorn v Oldham | Away | September 20, 1905 | RL Championship |
| Oldham v Barrow | Home | September 23, 1905 | RL Championship |
| Rochdale Hornets v Oldham | Away | September 30, 1905 | RL Championship |
| Oldham v Morecambe | Home | October 7, 1905 | RL Championship |
| Oldham v Broughton Rangers | Home | October 14, 1905 | RL Championship |
| Oldham v Warrington | Home | October 21, 1905 | RL Championship |
| Salford v Oldham | Away | October 28, 1905 | Lancashire Cup |
| Oldham v Widnes | Home | November 4, 1905 | RL Championship |
| Salford v Oldham | Away | November 11, 1905 | RL Championship |
| Oldham v Wigan | Home | November 18, 1905 | Lancashire Cup |
| Oldham v Wakefield Trinity | Home | November 25, 1905 | RL Championship |
| St Helens v Oldham | Away | December 2, 1905 | RL Championship |
| Swinton v Oldham | Away | December 16, 1905 | RL Championship |
| Oldham v Leeds | Home | December 23, 1905 | RL Championship |
| Oldham v Rochdale Hornets | Home | December 25, 1905 | RL Championship |
| Leeds v Oldham | Away | December 30, 1905 | RL Championship |
| Oldham v Swinton | Home | January 6, 1906 | RL Championship |
| Oldham v Leigh | Home | January 13, 1906 | RL Championship |
| Broughton Rangers v Oldham | Away | January 20, 1906 | RL Championship |
| Oldham v St Helens | Home | January 27, 1906 | RL Championship |
| Hull Kingston Rovers v Oldham | Away | February 3, 1906 | RL Championship |
| Oldham v Salford | Home | February 10, 1906 | RL Championship |
| Oldham v Millom | Home | February 12, 1906 | RL Championship |
| Oldham v Dewsbury | Home | February 17, 1906 | RL Championship |
| Halifax v Oldham | Away | February 24, 1906 | RL Championship |
| Pontefract v Oldham | Away | March 3, 1906 | Rugby League Challenge Cup |
| Oldham v Bradford | Home | March 10, 1906 | RL Championship |
| Oldham v Halifax | Home | March 17, 1906 | Rugby League Challenge Cup |
| Oldham v Halifax | Home | March 24, 1906 | RL Championship |
| Wakefield Trinity v Oldham | Away | March 31, 1906 | RL Championship |
| Leigh v Oldham | Away | April 4, 1906 | RL Championship |
| Bradford v Oldham | Away | April 7, 1906 | RL Championship |
| Oldham v Hull Kingston Rovers | Home | April 14, 1906 | RL Championship |
| Wigan v Oldham | Away | April 16, 1906 | RL Championship |
| Barrow v Oldham | Away | April 21, 1906 | RL Championship |
| Widnes v Oldham | Away | April 26, 1906 | RL Championship |
| Dewsbury v Oldham | Away | April 28, 1906 | RL Championship |
| Oldham v Runcorn | Home | September 1, 1906 | League Championship |
| Oldham v Wigan | Home | September 8, 1906 | League Championship |
| Oldham v Hull Kingston Rovers | Home | September 15, 1906 | League Championship |
| Swinton v Oldham | Away | September 22, 1906 | League Championship |
| Huddersfield v Oldham | Away | September 24, 1906 | League Championship |
| Oldham v Rochdale Hornets | Home | September 29, 1906 | League Championship |
| Oldham v Rochdale Hornets | Home | October 27, 1906 | Lancashire Cup |
| Barrow v Oldham | Away | November 5, 1906 | League Championship |
| Broughton Rangers v Oldham | Away | November 10, 1906 | League Championship |
| Halifax v Oldham | Away | November 12, 1906 | League Championship |
| Warrington v Oldham | Away | November 17, 1906 | Lancashire Cup |
| Oldham v Broughton Rangers | Home | December 8, 1906 | League Championship |
| Oldham v Leeds | Home | December 15, 1906 | League Championship |
| Bradford v Oldham | Away | December 18, 1906 | League Championship |
| Rochdale Hornets v Oldham | Away | December 22, 1906 | League Championship |
| Oldham v Swinton | Home | December 25, 1906 | League Championship |
| Runcorn v Oldham | Away | December 26, 1906 | League Championship |
| Oldham v Hunslet | Home | December 29, 1906 | League Championship |
| Oldham v Barrow | Home | January 1, 1907 | League Championship |
| Leeds v Oldham | Away | January 5, 1907 | League Championship |
| Salford v Oldham | Away | January 12, 1907 | League Championship |
| Oldham v Hull FC | Home | January 19, 1907 | League Championship |
| Oldham v Warrington | Home | February 4, 1907 | League Championship |
| Hull Kingston Rovers v Oldham | Away | February 9, 1907 | League Championship |
| Warrington v Oldham | Away | February 16, 1907 | League Championship |
| Oldham v Wakefield Trinity | Home | February 23, 1907 | League Championship |
| Oldham v Bradford | Home | March 2, 1907 | League Championship |
| Oldham v Halifax | Home | March 9, 1907 | League Championship |
| Wakefield Trinity v Oldham | Away | March 11, 1907 | League Championship |
| Halifax v Oldham | Away | March 23, 1907 | Rugby League Challenge Cup |
| Leigh v Oldham | Away | March 27, 1907 | League Championship |
| Wakefield Trinity v Oldham | Away | March 30, 1907 | Rugby League Challenge Cup |
| Wigan v Oldham | Away | April 1, 1907 | League Championship |
| Hull FC v Oldham | Away | April 2, 1907 | League Championship |
| Oldham v Runcorn | Home | April 6, 1907 | League Championship |
| Salford v Oldham | Neutral | April 13, 1907 | Rugby League Challenge Cup |
| Halifax v Oldham | Neutral | April 20, 1907 | League Championship |
| Warrington v Oldham | Neutral | April 27, 1907 | Rugby League Challenge Cup |
| Merthyr Tydfil v Oldham | Away | September 7, 1907 | League Championship |
| Oldham v Wigan | Home | September 14, 1907 | League Championship |
| Oldham v Ebbw Vale | Home | September 21, 1907 | League Championship |
| Huddersfield v Oldham | Away | September 23, 1907 | League Championship |
| Rochdale Hornets v Oldham | Away | September 28, 1907 | League Championship |
| Warrington v Oldham | Away | October 5, 1907 | League Championship |
| Oldham v Barrow | Home | October 12, 1907 | Lancashire Cup |
| Oldham v Leigh | Home | October 19, 1907 | League Championship |
| Oldham v Swinton | Home | October 26, 1907 | Lancashire Cup |
| Oldham v St Helens | Home | November 9, 1907 | League Championship |
| Salford v Oldham | Away | November 16, 1907 | Lancashire Cup |
| Oldham v New Zealand | Home | November 23, 1907 | Tour Match |
| Broughton Rangers v Oldham | Neutral | November 30, 1907 | Lancashire Cup |
| Broughton Rangers v Oldham | Away | December 7, 1907 | League Championship |
| Halifax v Oldham | Away | December 9, 1907 | League Championship |
| Oldham v Warrington | Home | December 14, 1907 | League Championship |
| Oldham v Huddersfield | Home | December 25, 1907 | League Championship |
| Swinton v Oldham | Away | December 26, 1907 | League Championship |
| Oldham v Swinton | Home | December 28, 1907 | League Championship |
| Leeds v Oldham | Away | January 1, 1908 | League Championship |
| Oldham v Halifax | Home | January 4, 1908 | League Championship |
| Oldham v Broughton Rangers | Home | February 1, 1908 | League Championship |
| Wigan v Oldham | Away | February 19, 1908 | League Championship |
| Salford v Oldham | Away | February 22, 1908 | League Championship |
| Dewsbury v Oldham | Away | February 29, 1908 | Rugby League Challenge Cup |
| Oldham v Leeds | Home | March 7, 1908 | League Championship |
| Hunslet v Oldham | Away | March 14, 1908 | Rugby League Challenge Cup |
| Ebbw Vale v Oldham | Away | March 25, 1908 | League Championship |
| Runcorn v Oldham | Away | March 28, 1908 | League Championship |
| Oldham v Barrow | Home | April 4, 1908 | League Championship |
| Widnes v Oldham | Away | April 11, 1908 | League Championship |
| Oldham v Wigan | Home | April 18, 1908 | League Championship |
| Hunslet v Oldham | Neutral | May 2, 1908 | League Championship |
| Hunslet v Oldham | Neutral | May 9, 1908 | League Championship |
| St Helens v Oldham | Away | September 5, 1908 | League Championship |
| Oldham v Salford | Home | September 12, 1908 | League Championship |
| Widnes v Oldham | Away | September 19, 1908 | League Championship |
| Oldham v Swinton | Home | September 26, 1908 | League Championship |
| Rochdale Hornets v Oldham | Away | October 3, 1908 | League Championship |
| Oldham v Leigh | Home | October 10, 1908 | League Championship |
| Hull Kingston Rovers v Oldham | Away | October 17, 1908 | League Championship |
| Oldham v Salford | Home | November 7, 1908 | Lancashire Cup |
| Broughton Rangers v Oldham | Away | November 14, 1908 | League Championship |
| Oldham v Rochdale Hornets | Home | November 21, 1908 | Lancashire Cup |
| Oldham v Broughton Rangers | Home | November 28, 1908 | League Championship |
| Oldham v Runcorn | Home | December 5, 1908 | Lancashire Cup |
| Leigh v Oldham | Away | December 9, 1908 | League Championship |
| Wigan v Oldham | Neutral | December 19, 1908 | Lancashire Cup |
| Swinton v Oldham | Away | January 4, 1909 | League Championship |
| Runcorn v Oldham | Away | January 9, 1909 | League Championship |
| Oldham v Halifax | Home | January 16, 1909 | League Championship |
| Wigan v Oldham | Away | January 30, 1909 | League Championship |
| Halifax v Oldham | Away | February 13, 1909 | League Championship |
| Oldham v Warrington | Home | February 20, 1909 | League Championship |
| Oldham v Hull Kingston Rovers | Home | February 27, 1909 | Rugby League Challenge Cup |
| Oldham v St Helens | Home | March 6, 1909 | League Championship |
| Swinton v Oldham | Away | March 13, 1909 | Rugby League Challenge Cup |
| Oldham v Swinton | Home | March 16, 1909 | Rugby League Challenge Cup |
| Oldham v Wigan | Home | March 20, 1909 | League Championship |
| Oldham v Hull FC | Home | March 27, 1909 | Rugby League Challenge Cup |
| Barrow v Oldham | Away | April 1, 1909 | League Championship |
| Oldham v Runcorn | Home | April 3, 1909 | League Championship |
| Leeds v Oldham | Away | April 10, 1909 | League Championship |
| Salford v Oldham | Away | April 12, 1909 | League Championship |
| Halifax v Oldham | Away | April 17, 1909 | League Championship |
| Oldham v Halifax | Home | April 21, 1909 | League Championship |
| Wigan v Oldham | Neutral | May 1, 1909 | League Championship |
| Oldham v Wigan | Home | September 25, 1909 | League Championship |
| Treherbert v Oldham | Away | October 2, 1909 | League Championship |
| Oldham v Runcorn | Home | October 9, 1909 | League Championship |
| Rochdale Hornets v Oldham | Away | October 16, 1909 | Lancashire Cup |
| Oldham v Hull FC | Home | October 23, 1909 | League Championship |
| Runcorn v Oldham | Away | October 30, 1909 | Lancashire Cup |
| St Helens v Oldham | Away | November 27, 1909 | League Championship |
| Oldham v Leeds | Home | December 4, 1909 | League Championship |
| Huddersfield v Oldham | Neutral | December 13, 1909 | Friendly |
| Oldham v St Helens | Home | December 18, 1909 | League Championship |
| Oldham v Hull Kingston Rovers | Home | December 25, 1909 | League Championship |
| Oldham v Barrow | Home | December 27, 1909 | League Championship |
| Hull FC v Oldham | Away | January 1, 1910 | League Championship |
| Broughton Rangers v Oldham | Away | January 4, 1910 | League Championship |
| Runcorn v Oldham | Away | January 15, 1910 | League Championship |
| Oldham v Widnes | Home | March 26, 1910 | League Championship |
| Rochdale Hornets v Oldham | Away | April 2, 1910 | League Championship |
| Warrington v Oldham | Away | April 4, 1910 | League Championship |
| Oldham v Treherbert | Home | April 9, 1910 | League Championship |
| Oldham v Wakefield Trinity | Home | April 16, 1910 | League Championship |
| Wigan v Oldham | Neutral | April 23, 1910 | League Championship |
| St Helens v Oldham | Away | September 3, 1910 | League Championship |
| Hull Kingston Rovers v Oldham | Away | September 10, 1910 | League Championship |
| Oldham v Broughton Rangers | Home | September 17, 1910 | League Championship |
| Oldham v Coventry | Home | September 24, 1910 | League Championship |
| Oldham v Ebbw Vale | Home | October 1, 1910 | League Championship |
| Rochdale Hornets v Oldham | Away | October 8, 1910 | League Championship |
| Oldham v Wigan | Home | October 15, 1910 | League Championship |
| Warrington v Oldham | Away | October 22, 1910 | League Championship |
| Oldham v Salford | Home | October 29, 1910 | League Championship |
| Widnes v Oldham | Away | November 5, 1910 | Lancashire Cup |
| Oldham v Halifax | Home | November 12, 1910 | League Championship |
| Rochdale Hornets v Oldham | Away | November 19, 1910 | Lancashire Cup |
| Oldham v Huddersfield | Home | November 26, 1910 | League Championship |
| Swinton v Oldham | Neutral | December 3, 1910 | Lancashire Cup |
| Widnes v Oldham | Away | December 7, 1910 | League Championship |
| Oldham v St Helens | Home | December 10, 1910 | League Championship |
| Leigh v Oldham | Away | December 13, 1910 | League Championship |
| Oldham v Swinton | Home | December 26, 1910 | League Championship |
| Leeds v Oldham | Away | December 31, 1910 | League Championship |
| Oldham v Widnes | Home | January 7, 1911 | League Championship |
| Runcorn v Oldham | Away | January 21, 1911 | League Championship |
| Oldham v Warrington | Home | January 28, 1911 | League Championship |
| Salford v Oldham | Away | February 4, 1911 | League Championship |
| Oldham v Runcorn | Home | February 11, 1911 | League Championship |
| Hull Kingston Rovers v Oldham | Away | February 18, 1911 | Rugby League Challenge Cup |
| Oldham v Rochdale Hornets | Home | February 25, 1911 | League Championship |
| Oldham v Wakefield Trinity | Home | March 4, 1911 | Rugby League Challenge Cup |
| Oldham v Barrow | Home | March 11, 1911 | League Championship |
| Oldham v Rochdale Hornets | Home | March 18, 1911 | Rugby League Challenge Cup |
| Rochdale Hornets v Oldham | Away | March 21, 1911 | Rugby League Challenge Cup |
| Oldham v Leeds | Home | April 8, 1911 | League Championship |
| Oldham v Wakefield Trinity | Home | April 22, 1911 | League Championship |
| Wigan v Oldham | Neutral | May 6, 1911 | League Championship |
| Hull Kingston Rovers v Oldham | Away | September 2, 1911 | League Championship |
| Leigh v Oldham | Away | September 9, 1911 | League Championship |
| Bradford Northern v Oldham | Away | September 12, 1911 | League Championship |
| Oldham v Leeds | Home | September 16, 1911 | League Championship |
| Huddersfield v Oldham | Away | September 23, 1911 | League Championship |
| Oldham v Rochdale Hornets | Home | September 30, 1911 | League Championship |
| Broughton Rangers v Oldham | Away | October 7, 1911 | League Championship |
| Oldham v Halifax | Home | October 14, 1911 | League Championship |
| Barrow v Oldham | Away | October 21, 1911 | Lancashire Cup |
| Oldham v Swinton | Home | October 28, 1911 | League Championship |
| Oldham v Leigh | Home | November 4, 1911 | Lancashire Cup |
| Runcorn v Oldham | Away | November 8, 1911 | League Championship |
| Oldham v Australia | Home | November 11, 1911 | Tour Match |
| Oldham v Widnes | Home | November 25, 1911 | League Championship |
| Rochdale Hornets v Oldham | Neutral | December 2, 1911 | Lancashire Cup |
| St Helens v Oldham | Away | December 7, 1911 | League Championship |
| Oldham v Broughton Rangers | Home | December 9, 1911 | League Championship |
| Barrow v Oldham | Away | December 11, 1911 | League Championship |
| Wigan v Oldham | Away | December 16, 1911 | League Championship |
| Oldham v Leigh | Home | December 23, 1911 | League Championship |
| Oldham v Hull Kingston Rovers | Home | December 25, 1911 | League Championship |
| Oldham v St Helens | Home | December 30, 1911 | League Championship |
| Oldham v Coventry | Home | January 1, 1912 | League Championship |
| Oldham v Warrington | Home | January 13, 1912 | League Championship |
| Oldham v Barrow | Home | January 27, 1912 | League Championship |
| Leeds v Oldham | Away | February 10, 1912 | League Championship |
| Coventry v Oldham | Away | February 17, 1912 | Rugby League Challenge Cup |
| Oldham v Wigan | Home | March 2, 1912 | Rugby League Challenge Cup |
| Widnes v Oldham | Away | March 13, 1912 | League Championship |
| Rochdale Hornets v Oldham | Away | March 16, 1912 | League Championship |
| Oldham v Huddersfield | Home | March 23, 1912 | Rugby League Challenge Cup |
| Swinton v Oldham | Away | March 27, 1912 | League Championship |
| Oldham v Runcorn | Home | March 30, 1912 | League Championship |
| Warrington v Oldham | Away | April 1, 1912 | League Championship |
| Wakefield Trinity v Oldham | Neutral | April 13, 1912 | Rugby League Challenge Cup |
| Dewsbury v Oldham | Neutral | April 27, 1912 | Rugby League Challenge Cup |
| Huddersfield v Oldham | Neutral | May 11, 1912 | Friendly |
| Oldham v Halifax | Home | January 4, 1913 | League Championship |
| Oldham v Widnes | Home | January 18, 1913 | League Championship |
| Huddersfield v Oldham | Away | January 25, 1913 | League Championship |
| St Helens v Oldham | Away | March 1, 1913 | League Championship |
| Warrington v Oldham | Away | March 21, 1913 | League Championship |
| Oldham v Huddersfield | Home | March 22, 1913 | League Championship |
| Oldham v Broughton Rangers | Home | March 24, 1913 | League Championship |
| Broughton Rangers v Oldham | Away | November 29, 1913 | League Championship |
| Warrington v Oldham | Away | December 26, 1913 | League Championship |
| Leeds v Oldham | Away | December 27, 1913 | League Championship |
| Dewsbury v Oldham | Away | January 1, 1914 | League Championship |
| Oldham v Wigan | Home | January 3, 1914 | League Championship |
| Oldham v Oldham Present | Home | January 3, 1916 | Special Friendly |
| Oldham v Dewsbury | Home | March 4, 1916 | Wartime Friendly |
| Oldham v Wigan | Home | March 18, 1916 | Wartime Friendly |
| Oldham v Batley | Home | April 1, 1916 | Wartime Friendly |
| Bradford Northern v Oldham | Away | April 8, 1916 | Wartime Friendly |
| Oldham v Hull FC | Home | April 15, 1916 | Wartime Friendly |
| Oldham v Rochdale Hornets | Home | April 29, 1916 | Wartime Friendly |
| Rochdale Hornets v Oldham | Away | February 24, 1917 | Wartime Friendly |
| Swinton v Oldham | Away | April 6, 1917 | Wartime Friendly |