Ernest Knapman
Profile
Ernie Knapman continued the Oldham tradition of plundering top class players from the West Country, when he signed for the club in January, 1921. Born in Torquay, he was a full back and played his early rugby with the local fifteen, where his good form brought him recognition by Devon county.
At Oldham he built up a reputation as a fine full back, especially on defence, which led to him being selected for the 1924 tour as understudy to the great Jim Sullivan of Wigan. He gained his one Great Britain cap on the tour in the first New Zealand test in Auckland.
On the domestic scene, Ernie was, of course, one of the stars of the Oldham side that dominated the Challenge Cup competition in the mid 1920's, playing in the first three of the four consecutive final appearances in 1924-25-26. A recurring shoulder injury ended his career and he played his final Oldham game at St Helens on March 16th, 1927.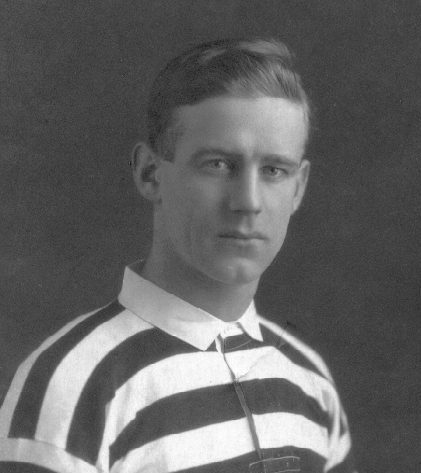 Career Games
| | | | |
| --- | --- | --- | --- |
| Oldham v Rochdale Hornets | Home | January 22, 1921 | League Championship |
| Salford v Oldham | Away | January 29, 1921 | League Championship |
| Oldham v Batley | Home | February 5, 1921 | League Championship |
| Halifax v Oldham | Away | February 12, 1921 | League Championship |
| Oldham v St Helens Recs | Home | February 19, 1921 | League Championship |
| Oldham v Elland Wanderers | Home | February 26, 1921 | Rugby League Challenge Cup |
| St Helens v Oldham | Away | March 5, 1921 | League Championship |
| Huddersfield v Oldham | Away | March 12, 1921 | Rugby League Challenge Cup |
| Oldham v Broughton Rangers | Home | March 19, 1921 | League Championship |
| Leigh v Oldham | Away | March 23, 1921 | League Championship |
| Swinton v Oldham | Away | March 25, 1921 | League Championship |
| Oldham v St Helens | Home | March 26, 1921 | League Championship |
| Huddersfield v Oldham | Away | March 28, 1921 | League Championship |
| Wigan v Oldham | Away | April 2, 1921 | Friendly |
| Cumberland League v Oldham | Away | April 9, 1921 | Friendly |
| Oldham v Leeds | Home | April 11, 1921 | League Championship |
| Leeds v Oldham | Away | April 23, 1921 | League Championship |
| Rochdale Hornets v Oldham | Away | May 7, 1921 | Infirmary Cup |
| Oldham v Rochdale Hornets | Home | May 13, 1921 | Infirmary Cup |
| St Helens v Oldham | Away | August 27, 1921 | League Championship |
| Oldham v Broughton Rangers | Home | September 3, 1921 | League Championship |
| Oldham v Leigh | Home | September 10, 1921 | League Championship |
| Widnes v Oldham | Away | September 17, 1921 | League Championship |
| Oldham v Hunslet | Home | September 24, 1921 | League Championship |
| Wigan v Oldham | Away | October 1, 1921 | League Championship |
| Oldham v Rochdale Hornets | Home | October 3, 1921 | League Championship |
| Oldham v Salford | Home | October 8, 1921 | League Championship |
| Hull FC v Oldham | Away | October 10, 1921 | League Championship |
| Rochdale Hornets v Oldham | Away | October 22, 1921 | Lancashire Cup |
| Oldham v Keighley | Home | October 29, 1921 | League Championship |
| St Helens v Oldham | Away | November 5, 1921 | Lancashire Cup |
| Halifax v Oldham | Away | November 12, 1921 | League Championship |
| Oldham v Barrow | Home | November 19, 1921 | Lancashire Cup |
| Oldham v Australia | Home | November 26, 1921 | Tour Match |
| Warrington v Oldham | Neutral | December 3, 1921 | Lancashire Cup |
| Salford v Oldham | Away | December 7, 1921 | League Championship |
| Oldham v Barrow | Home | December 10, 1921 | League Championship |
| Keighley v Oldham | Away | December 17, 1921 | League Championship |
| Oldham v Swinton | Home | December 24, 1921 | League Championship |
| Broughton Rangers v Oldham | Away | December 26, 1921 | League Championship |
| Warrington v Oldham | Away | December 31, 1921 | League Championship |
| Oldham v Hull FC | Home | January 2, 1922 | League Championship |
| Oldham v Bradford Northern | Home | January 7, 1922 | League Championship |
| Oldham v Australia | Home | January 16, 1922 | Tour Match |
| Rochdale Hornets v Oldham | Away | January 21, 1922 | League Championship |
| Oldham v Halifax | Home | January 28, 1922 | League Championship |
| Barrow v Oldham | Away | February 4, 1922 | League Championship |
| Oldham v Featherstone Rovers | Home | February 18, 1922 | League Championship |
| Elland v Oldham | Away | February 25, 1922 | Rugby League Challenge Cup |
| Bradford Northern v Oldham | Away | March 1, 1922 | League Championship |
| Leigh v Oldham | Away | March 4, 1922 | League Championship |
| Oldham v Huddersfield | Home | March 11, 1922 | Rugby League Challenge Cup |
| Featherstone Rovers v Oldham | Away | March 15, 1922 | League Championship |
| Oldham v Warrington | Home | March 18, 1922 | League Championship |
| Oldham v Huddersfield | Home | March 20, 1922 | League Championship |
| Rochdale Hornets v Oldham | Away | March 25, 1922 | Rugby League Challenge Cup |
| Oldham v Widnes | Home | April 1, 1922 | League Championship |
| Oldham v Wigan | Home | April 3, 1922 | League Championship |
| Wigan v Oldham | Neutral | May 6, 1922 | League Championship |
| St Helens Recs v Oldham | Away | August 26, 1922 | League Championship |
| Oldham v Broughton Rangers | Home | September 2, 1922 | League Championship |
| Hunslet v Oldham | Away | September 6, 1922 | League Championship |
| Oldham v Rochdale Hornets | Home | September 9, 1922 | Infirmary Cup |
| Oldham v Huddersfield | Home | September 16, 1922 | League Championship |
| Oldham v Leeds | Home | September 23, 1922 | League Championship |
| Hull FC v Oldham | Away | September 30, 1922 | League Championship |
| Wigan Highfield v Oldham | Away | October 7, 1922 | League Championship |
| Wigan Highfield v Oldham | Away | October 14, 1922 | Lancashire Cup |
| Oldham v Wigan Highfield | Home | October 16, 1922 | Lancashire Cup |
| Leigh v Oldham | Away | October 28, 1922 | Lancashire Cup |
| Oldham v Salford | Home | November 18, 1922 | League Championship |
| Oldham v Hull FC | Home | December 2, 1922 | League Championship |
| Warrington v Oldham | Away | December 9, 1922 | League Championship |
| Oldham v Halifax | Home | December 16, 1922 | League Championship |
| Halifax v Oldham | Away | December 23, 1922 | League Championship |
| Oldham v Swinton | Home | December 25, 1922 | League Championship |
| Broughton Rangers v Oldham | Away | December 26, 1922 | League Championship |
| Oldham v Rochdale Hornets | Home | December 30, 1922 | League Championship |
| Oldham v Hunslet | Home | January 1, 1923 | League Championship |
| Leigh v Oldham | Away | January 6, 1923 | League Championship |
| Oldham v Barrow | Home | January 13, 1923 | League Championship |
| Widnes v Oldham | Away | January 20, 1923 | League Championship |
| Oldham v Warrington | Home | January 27, 1923 | League Championship |
| Wigan v Oldham | Away | February 3, 1923 | League Championship |
| Oldham v Wigan | Home | February 10, 1923 | League Championship |
| Batley v Oldham | Away | February 17, 1923 | Rugby League Challenge Cup |
| Oldham v Batley | Home | February 19, 1923 | Rugby League Challenge Cup |
| Oldham v Batley | Home | February 24, 1923 | League Championship |
| St Helens v Oldham | Away | March 3, 1923 | Rugby League Challenge Cup |
| Oldham v Wigan Highfield | Home | March 10, 1923 | League Championship |
| Barrow v Oldham | Away | March 17, 1923 | Rugby League Challenge Cup |
| Oldham v Leigh | Home | March 19, 1923 | League Championship |
| Swinton v Oldham | Away | March 30, 1923 | League Championship |
| Salford v Oldham | Away | March 31, 1923 | League Championship |
| Huddersfield v Oldham | Away | April 2, 1923 | League Championship |
| Leeds v Oldham | Away | April 4, 1923 | League Championship |
| Oldham v St Helens Recs | Home | April 9, 1923 | League Championship |
| St Helens v Oldham | Away | April 14, 1923 | League Championship |
| Oldham v Broughton Rangers | Home | August 25, 1923 | League Championship |
| Hull FC v Oldham | Away | September 1, 1923 | League Championship |
| Rochdale Hornets v Oldham | Away | September 8, 1923 | Infirmary Cup |
| Oldham v Salford | Home | September 15, 1923 | League Championship |
| St Helens v Oldham | Away | September 22, 1923 | League Championship |
| Oldham v Huddersfield | Home | September 29, 1923 | League Championship |
| Wigan Highfield v Oldham | Away | October 6, 1923 | League Championship |
| Leeds v Oldham | Away | October 20, 1923 | League Championship |
| Oldham v Wigan | Home | October 27, 1923 | Lancashire Cup |
| Rochdale Hornets v Oldham | Away | November 3, 1923 | League Championship |
| St Helens Recs v Oldham | Away | November 10, 1923 | Lancashire Cup |
| Oldham v Leigh | Home | November 17, 1923 | League Championship |
| Oldham v Warrington | Home | November 19, 1923 | League Championship |
| Widnes v Oldham | Away | November 24, 1923 | League Championship |
| Oldham v Wigan | Home | December 1, 1923 | League Championship |
| York v Oldham | Away | December 8, 1923 | League Championship |
| Oldham v St Helens Recs | Home | December 15, 1923 | League Championship |
| Halifax v Oldham | Away | December 22, 1923 | League Championship |
| Oldham v Swinton | Home | December 25, 1923 | League Championship |
| Barrow v Oldham | Away | December 26, 1923 | League Championship |
| Oldham v Widnes | Home | December 29, 1923 | League Championship |
| Oldham v Leeds | Home | January 1, 1924 | League Championship |
| Leigh v Oldham | Away | January 5, 1924 | League Championship |
| Oldham v Barrow | Home | January 19, 1924 | League Championship |
| Wigan v Oldham | Away | January 26, 1924 | League Championship |
| Oldham v Hull FC | Home | February 2, 1924 | League Championship |
| Broughton Rangers v Oldham | Away | February 9, 1924 | League Championship |
| Oldham v Rochdale Hornets | Home | February 16, 1924 | Rugby League Challenge Cup |
| St Helens Recs v Oldham | Away | February 23, 1924 | League Championship |
| Oldham v Dewsbury | Home | March 1, 1924 | Rugby League Challenge Cup |
| Oldham v Rochdale Hornets | Home | March 4, 1924 | League Championship |
| Oldham v Halifax | Home | March 8, 1924 | League Championship |
| Oldham v Wakefield Trinity | Home | March 15, 1924 | Rugby League Challenge Cup |
| Oldham v St Helens | Home | March 22, 1924 | League Championship |
| Huddersfield v Oldham | Neutral | March 29, 1924 | Rugby League Challenge Cup |
| Featherstone Rovers v Oldham | Away | March 31, 1924 | League Championship |
| Salford v Oldham | Away | April 3, 1924 | League Championship |
| Oldham v Wigan Highfield | Home | April 5, 1924 | League Championship |
| Wigan v Oldham | Neutral | April 12, 1924 | Rugby League Challenge Cup |
| Oldham v York | Home | April 14, 1924 | League Championship |
| Oldham v Halifax | Home | September 27, 1924 | League Championship |
| Wigan v Oldham | Away | October 4, 1924 | League Championship |
| Oldham v Barrow | Home | October 11, 1924 | League Championship |
| Hull FC v Oldham | Away | October 18, 1924 | League Championship |
| Oldham v Rochdale Hornets | Home | October 25, 1924 | Lancashire Cup |
| Widnes v Oldham | Away | November 1, 1924 | League Championship |
| St Helens v Oldham | Away | November 8, 1924 | Lancashire Cup |
| Batley v Oldham | Away | November 15, 1924 | League Championship |
| St Helens Recs v Oldham | Neutral | November 22, 1924 | Lancashire Cup |
| St Helens Recs v Oldham | Away | November 29, 1924 | League Championship |
| Oldham v Wigan | Home | December 6, 1924 | League Championship |
| Warrington v Oldham | Away | December 13, 1924 | League Championship |
| Oldham v York | Home | December 15, 1924 | League Championship |
| Oldham v Swinton | Home | December 25, 1924 | League Championship |
| Broughton Rangers v Oldham | Away | December 26, 1924 | League Championship |
| Halifax v Oldham | Away | December 27, 1924 | League Championship |
| Oldham v Hull FC | Home | January 1, 1925 | League Championship |
| Oldham v Wigan Highfield | Home | January 3, 1925 | League Championship |
| Leigh v Oldham | Away | January 10, 1925 | League Championship |
| St Helens v Oldham | Away | January 17, 1925 | League Championship |
| Leigh v Oldham | Away | February 14, 1925 | Rugby League Challenge Cup |
| Oldham v Warrington | Home | February 28, 1925 | Rugby League Challenge Cup |
| Barrow v Oldham | Away | March 5, 1925 | League Championship |
| Oldham v Batley | Home | March 7, 1925 | League Championship |
| Oldham v Featherstone Rovers | Home | March 14, 1925 | Rugby League Challenge Cup |
| Oldham v Salford | Home | March 21, 1925 | League Championship |
| Oldham v Huddersfield | Home | March 23, 1925 | League Championship |
| York v Oldham | Away | March 28, 1925 | League Championship |
| Rochdale Hornets v Oldham | Neutral | April 4, 1925 | Rugby League Challenge Cup |
| Oldham v Broughton Rangers | Home | April 7, 1925 | League Championship |
| Hull Kingston Rovers v Oldham | Neutral | April 25, 1925 | Rugby League Challenge Cup |
| Dewsbury v Oldham | Away | August 29, 1925 | League Championship |
| Oldham v Salford | Home | September 5, 1925 | League Championship |
| Rochdale Hornets v Oldham | Away | September 12, 1925 | Infirmary Cup |
| Broughton Rangers v Oldham | Away | October 31, 1925 | League Championship |
| Oldham v Wigan | Home | November 2, 1925 | Lancashire Cup |
| Oldham v Swinton | Home | December 25, 1925 | League Championship |
| Oldham v Batley | Home | February 6, 1926 | League Championship |
| Leigh v Oldham | Away | February 13, 1926 | Rugby League Challenge Cup |
| Huddersfield v Oldham | Away | February 20, 1926 | League Championship |
| Oldham v Rochdale Hornets | Home | February 27, 1926 | Rugby League Challenge Cup |
| Hunslet v Oldham | Away | March 6, 1926 | League Championship |
| Oldham v Halifax | Home | March 13, 1926 | Rugby League Challenge Cup |
| Wigan Highfield v Oldham | Away | March 17, 1926 | League Championship |
| Wigan v Oldham | Away | March 20, 1926 | League Championship |
| Wigan Highfield v Oldham | Neutral | March 27, 1926 | Rugby League Challenge Cup |
| Swinton v Oldham | Away | April 2, 1926 | League Championship |
| Oldham v Barrow | Home | April 3, 1926 | League Championship |
| Oldham v Huddersfield | Home | April 5, 1926 | League Championship |
| Oldham v Wigan | Home | April 10, 1926 | League Championship |
| Oldham v St Helens Recs | Home | April 17, 1926 | League Championship |
| Salford v Oldham | Away | April 21, 1926 | League Championship |
| Swinton v Oldham | Neutral | May 1, 1926 | Rugby League Challenge Cup |
| Oldham v Rochdale Hornets | Home | August 21, 1926 | Infirmary Cup |
| Oldham v Leeds | Home | August 28, 1926 | League Championship |
| Pontypridd v Oldham | Away | September 4, 1926 | League Championship |
| Oldham v Wakefield Trinity | Home | September 6, 1926 | League Championship |
| Broughton Rangers v Oldham | Away | September 11, 1926 | League Championship |
| Oldham v Barrow | Home | October 2, 1926 | League Championship |
| Oldham v Salford | Home | October 9, 1926 | Lancashire Cup |
| Rochdale Hornets v Oldham | Away | October 16, 1926 | League Championship |
| Oldham v New Zealand | Home | October 23, 1926 | Tour Match |
| Warrington v Oldham | Away | October 30, 1926 | League Championship |
| Oldham v York | Home | November 6, 1926 | League Championship |
| Barrow v Oldham | Away | November 13, 1926 | League Championship |
| Oldham v St Helens | Home | December 4, 1926 | League Championship |
| Wakefield Trinity v Oldham | Away | December 11, 1926 | League Championship |
| Oldham v Batley | Home | December 18, 1926 | League Championship |
| Oldham v Swinton | Home | December 25, 1926 | League Championship |
| Hull FC v Oldham | Away | December 27, 1926 | League Championship |
| Oldham v Wigan Highfield | Home | January 1, 1927 | League Championship |
| Oldham v Hull FC | Home | January 3, 1927 | League Championship |
| Leigh v Oldham | Away | January 8, 1927 | League Championship |
| Salford v Oldham | Away | January 15, 1927 | League Championship |
| Wigan Highfield v Oldham | Away | January 29, 1927 | League Championship |
| Leeds v Oldham | Away | February 5, 1927 | League Championship |
| St Helens v Oldham | Away | March 16, 1927 | League Championship |