Jack Stephens
Profile
Sidney John (Jack) Stephens, came to Oldham while still only a teenager from Gloucester, having played his first Rugby with the Widden Old Boys club.
A tall, powerful centre threequarter, Jack signed on October 8th, 1929, making his first team debut in the 23 – 3 victory over Wigan at Watersheddings on October 19th. He retained his place for the rest of the season and would continue to be first choice in the left centre position for the next five years.
Three times he was the club's top try scorer in 1931-32/ 32-33 and 33-34. His best total was the 23 touchdowns secured in 1932-33. The following season Jack turned in one of his best performances in the 1933 Lancashire Cup Final, when his second half interception try clinched the 12 – 0 victory over St Helens Recs. After this injuries were to hamper his career until his final game in a second round Challenge Cup defeat at Huddersfield on February 23rd, 1935.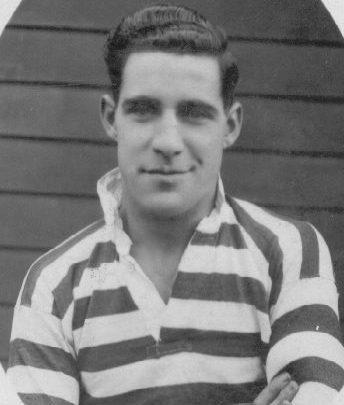 Career Games
| | | | |
| --- | --- | --- | --- |
| Oldham v Wigan | Home | October 19, 1929 | League Championship |
| Hunslet v Oldham | Away | October 26, 1929 | League Championship |
| Oldham v Australia | Home | November 2, 1929 | Tour Match |
| Leigh v Oldham | Away | November 9, 1929 | League Championship |
| Oldham v Wigan Highfield | Home | November 16, 1929 | League Championship |
| Rochdale Hornets v Oldham | Away | November 23, 1929 | Infirmary Cup |
| Oldham v Halifax | Home | November 30, 1929 | League Championship |
| Hull FC v Oldham | Away | December 7, 1929 | League Championship |
| Oldham v Salford | Home | December 14, 1929 | League Championship |
| Wakefield Trinity v Oldham | Away | December 21, 1929 | League Championship |
| Oldham v Swinton | Home | December 25, 1929 | League Championship |
| Barrow v Oldham | Away | January 1, 1930 | League Championship |
| Oldham v St Helens | Home | January 4, 1930 | League Championship |
| Warrington v Oldham | Away | January 11, 1930 | League Championship |
| Oldham v Leigh | Home | January 18, 1930 | League Championship |
| Salford v Oldham | Away | February 1, 1930 | League Championship |
| Hunslet v Oldham | Away | February 8, 1930 | Rugby League Challenge Cup |
| Oldham v Rochdale Hornets | Home | February 15, 1930 | League Championship |
| Oldham v Dewsbury | Home | March 1, 1930 | League Championship |
| St Helens Recs v Oldham | Away | March 6, 1930 | League Championship |
| Oldham v Wakefield Trinity | Home | March 15, 1930 | League Championship |
| Oldham v Widnes | Home | March 17, 1930 | League Championship |
| Halifax v Oldham | Away | March 22, 1930 | League Championship |
| Oldham v Warrington | Home | March 29, 1930 | League Championship |
| Broughton Rangers v Oldham | Away | April 5, 1930 | League Championship |
| Wigan Highfield v Oldham | Away | April 7, 1930 | League Championship |
| Oldham v Leeds | Home | April 12, 1930 | League Championship |
| Swinton v Oldham | Away | April 18, 1930 | League Championship |
| Oldham v St Helens Recs | Home | April 19, 1930 | League Championship |
| Leeds v Oldham | Away | April 21, 1930 | League Championship |
| Wigan v Oldham | Away | April 26, 1930 | League Championship |
| Huddersfield v Oldham | Away | September 10, 1930 | Friendly |
| St Helens Recs v Oldham | Away | September 13, 1930 | League Championship |
| Oldham v Huddersfield | Home | September 15, 1930 | Friendly |
| Oldham v Hull Kingston Rovers | Home | September 20, 1930 | League Championship |
| Oldham v Salford | Home | September 22, 1930 | League Championship |
| Oldham v Barrow | Home | September 27, 1930 | League Championship |
| Rochdale Hornets v Oldham | Away | October 4, 1930 | League Championship |
| Oldham v Salford | Home | October 11, 1930 | Lancashire Cup |
| Hunslet v Oldham | Away | October 18, 1930 | League Championship |
| Rochdale Hornets v Oldham | Away | October 21, 1930 | Lancashire Cup |
| Oldham v Warrington | Home | October 25, 1930 | League Championship |
| Hull Kingston Rovers v Oldham | Away | November 1, 1930 | League Championship |
| St Helens Recs v Oldham | Away | November 6, 1930 | Lancashire Cup |
| Oldham v Bradford Northern | Home | November 8, 1930 | League Championship |
| Halifax v Oldham | Away | November 15, 1930 | League Championship |
| Oldham v Broughton Rangers | Home | November 22, 1930 | League Championship |
| Keighley v Oldham | Away | November 29, 1930 | League Championship |
| Oldham v Wigan | Home | December 8, 1930 | League Championship |
| St Helens v Oldham | Away | December 13, 1930 | League Championship |
| Oldham v Widnes | Home | December 20, 1930 | League Championship |
| Oldham v Swinton | Home | December 25, 1930 | League Championship |
| Wigan Highfield v Oldham | Away | December 26, 1930 | League Championship |
| Oldham v York | Home | December 27, 1930 | League Championship |
| Leigh v Oldham | Away | January 3, 1931 | League Championship |
| Hull FC v Oldham | Away | January 24, 1931 | League Championship |
| Oldham v Widnes | Home | February 7, 1931 | Rugby League Challenge Cup |
| Broughton Rangers v Oldham | Away | February 14, 1931 | League Championship |
| Oldham v Hunslet | Home | February 16, 1931 | League Championship |
| Bramley v Oldham | Away | February 21, 1931 | Rugby League Challenge Cup |
| Halifax v Oldham | Away | March 7, 1931 | Rugby League Challenge Cup |
| Oldham v Halifax | Home | March 9, 1931 | Rugby League Challenge Cup |
| Oldham v Rochdale Hornets | Home | March 10, 1931 | League Championship |
| Widnes v Oldham | Away | March 14, 1931 | League Championship |
| Oldham v Hull FC | Home | March 21, 1931 | League Championship |
| Bradford Northern v Oldham | Away | March 28, 1931 | League Championship |
| Swinton v Oldham | Away | April 3, 1931 | League Championship |
| Oldham v St Helens | Home | April 4, 1931 | League Championship |
| Oldham v Keighley | Home | April 6, 1931 | League Championship |
| Warrington v Oldham | Away | April 7, 1931 | League Championship |
| Oldham v Wigan Highfield | Home | April 11, 1931 | League Championship |
| Salford v Oldham | Away | April 13, 1931 | League Championship |
| Barrow v Oldham | Away | April 16, 1931 | League Championship |
| York v Oldham | Away | April 18, 1931 | League Championship |
| Swinton v Oldham | Away | April 25, 1931 | League Championship |
| Batley v Oldham | Away | September 26, 1931 | League Championship |
| Oldham v St Helens | Home | October 3, 1931 | League Championship |
| Oldham v Barrow | Home | October 10, 1931 | Lancashire Cup |
| Barrow v Oldham | Away | October 15, 1931 | Lancashire Cup |
| St Helens v Oldham | Away | October 17, 1931 | League Championship |
| Rochdale Hornets v Oldham | Away | October 31, 1931 | League Championship |
| Oldham v Hull FC | Home | November 7, 1931 | League Championship |
| Widnes v Oldham | Away | November 14, 1931 | League Championship |
| Oldham v Broughton Rangers | Home | November 21, 1931 | League Championship |
| York v Oldham | Away | November 28, 1931 | League Championship |
| Oldham v Leigh | Home | December 5, 1931 | League Championship |
| Bramley v Oldham | Away | December 12, 1931 | League Championship |
| Oldham v Batley | Home | December 19, 1931 | League Championship |
| Oldham v Swinton | Home | December 25, 1931 | League Championship |
| Barrow v Oldham | Away | December 26, 1931 | League Championship |
| Oldham v Hunslet | Home | January 2, 1932 | League Championship |
| Hull FC v Oldham | Away | January 9, 1932 | League Championship |
| Wigan v Oldham | Away | January 16, 1932 | League Championship |
| Oldham v Salford | Home | January 23, 1932 | League Championship |
| Leigh v Oldham | Away | January 30, 1932 | League Championship |
| Oldham v Rochdale Hornets | Home | February 6, 1932 | Rugby League Challenge Cup |
| Oldham v Hunslet | Home | February 8, 1932 | League Championship |
| Halifax v Oldham | Away | February 13, 1932 | League Championship |
| Oldham v Widnes | Home | February 20, 1932 | League Championship |
| Oldham v Leeds | Home | February 27, 1932 | League Championship |
| Broughton Rangers v Oldham | Away | March 5, 1932 | League Championship |
| Oldham v York | Home | March 12, 1932 | League Championship |
| St Helens Recs v Oldham | Away | March 19, 1932 | League Championship |
| Swinton v Oldham | Away | March 25, 1932 | League Championship |
| Oldham v Rochdale Hornets | Home | March 26, 1932 | League Championship |
| Oldham v Barrow | Home | March 28, 1932 | League Championship |
| Leeds v Oldham | Away | April 2, 1932 | League Championship |
| Oldham v Wigan | Home | April 9, 1932 | League Championship |
| Wigan Highfield v Oldham | Away | April 16, 1932 | League Championship |
| Oldham v Warrington | Home | April 23, 1932 | League Championship |
| Hull FC v Oldham | Away | August 27, 1932 | League Championship |
| Oldham v St Helens Recs | Home | September 3, 1932 | League Championship |
| Featherstone Rovers v Oldham | Away | September 10, 1932 | League Championship |
| St Helens Recs v Oldham | Away | September 12, 1932 | League Championship |
| Oldham v Wakefield Trinity | Home | September 17, 1932 | League Championship |
| Wigan v Oldham | Away | September 24, 1932 | League Championship |
| Oldham v Rochdale Hornets | Home | September 27, 1932 | Infirmary Cup |
| Oldham v Widnes | Home | October 1, 1932 | League Championship |
| St Helens Recs v Oldham | Away | October 8, 1932 | Lancashire Cup |
| Oldham v St Helens Recs | Home | October 10, 1932 | Lancashire Cup |
| Oldham v St Helens Recs | Home | October 13, 1932 | Lancashire Cup |
| Oldham v Halifax | Home | October 15, 1932 | League Championship |
| St Helens Recs v Oldham | Neutral | October 17, 1932 | Lancashire Cup |
| Oldham v Wigan Highfield | Home | October 29, 1932 | League Championship |
| Castleford v Oldham | Away | November 5, 1932 | League Championship |
| Oldham v Warrington | Home | November 12, 1932 | League Championship |
| Wigan Highfield v Oldham | Away | November 19, 1932 | League Championship |
| Oldham v Hull FC | Home | November 26, 1932 | League Championship |
| Warrington v Oldham | Away | December 3, 1932 | League Championship |
| Oldham v Hull Kingston Rovers | Home | December 10, 1932 | League Championship |
| Widnes v Oldham | Away | December 17, 1932 | League Championship |
| Oldham v St Helens | Home | December 24, 1932 | League Championship |
| Oldham v Castleford | Home | December 27, 1932 | League Championship |
| Wakefield Trinity v Oldham | Away | December 31, 1932 | League Championship |
| Oldham v Leigh | Home | January 2, 1933 | League Championship |
| Leigh v Oldham | Away | January 7, 1933 | League Championship |
| Broughton Rangers v Oldham | Away | January 14, 1933 | League Championship |
| Oldham v Barrow | Home | January 21, 1933 | League Championship |
| Oldham v Rochdale Hornets | Home | February 11, 1933 | Rugby League Challenge Cup |
| St Helens v Oldham | Away | February 18, 1933 | League Championship |
| Wigan v Oldham | Away | March 1, 1933 | Rugby League Challenge Cup |
| Oldham v Salford | Home | March 4, 1933 | League Championship |
| Salford v Oldham | Away | March 11, 1933 | League Championship |
| Oldham v Featherstone Rovers | Home | March 18, 1933 | League Championship |
| Rochdale Hornets v Oldham | Away | April 1, 1933 | League Championship |
| Oldham v Widnes | Home | September 30, 1933 | Lancashire Cup |
| Rochdale Hornets v Oldham | Away | October 3, 1933 | Infirmary Cup |
| Oldham v Hunslet | Home | October 7, 1933 | League Championship |
| Broughton Rangers v Oldham | Away | October 11, 1933 | Lancashire Cup |
| Salford v Oldham | Away | October 14, 1933 | League Championship |
| Oldham v Keighley | Home | October 21, 1933 | League Championship |
| Wigan v Oldham | Away | October 25, 1933 | Lancashire Cup |
| Warrington v Oldham | Away | October 28, 1933 | League Championship |
| St Helens Recs v Oldham | Neutral | November 18, 1933 | Lancashire Cup |
| Leigh v Oldham | Away | November 25, 1933 | League Championship |
| Oldham v Batley | Home | December 2, 1933 | League Championship |
| Wakefield Trinity v Oldham | Away | December 9, 1933 | League Championship |
| Oldham v Barrow | Home | December 16, 1933 | League Championship |
| London Highfield v Oldham | Away | December 20, 1933 | League Championship |
| Oldham v Warrington | Home | January 6, 1934 | League Championship |
| Oldham v Australia | Home | January 10, 1934 | Tour Match |
| Oldham v Leigh | Home | January 13, 1934 | League Championship |
| Batley v Oldham | Away | January 20, 1934 | League Championship |
| Oldham v London Highfield | Home | January 27, 1934 | League Championship |
| Hunslet v Oldham | Away | February 3, 1934 | League Championship |
| Oldham v Dewsbury | Home | February 10, 1934 | Rugby League Challenge Cup |
| Keighley v Oldham | Away | February 17, 1934 | League Championship |
| St Helens Recs v Oldham | Away | February 24, 1934 | Rugby League Challenge Cup |
| Oldham v St Helens Recs | Home | February 28, 1934 | Rugby League Challenge Cup |
| Oldham v Wakefield Trinity | Home | March 5, 1934 | League Championship |
| Oldham v Bramley | Home | March 10, 1934 | Rugby League Challenge Cup |
| St Helens Recs v Oldham | Away | March 17, 1934 | League Championship |
| Oldham v Halifax | Home | March 19, 1934 | League Championship |
| Widnes v Oldham | Neutral | March 24, 1934 | Rugby League Challenge Cup |
| Swinton v Oldham | Away | March 30, 1934 | League Championship |
| Halifax v Oldham | Away | March 31, 1934 | League Championship |
| Oldham v St Helens Recs | Home | April 2, 1934 | League Championship |
| Wigan v Oldham | Away | August 25, 1934 | League Championship |
| Oldham v Bramley | Home | September 1, 1934 | League Championship |
| Oldham v Widnes | Home | September 8, 1934 | Lancashire Cup |
| Oldham v Warrington | Home | September 15, 1934 | League Championship |
| Oldham v Villeneuve | Home | September 17, 1934 | Friendly |
| Keighley v Oldham | Away | October 6, 1934 | League Championship |
| Oldham v Salford | Home | October 13, 1934 | League Championship |
| Oldham v St Helens Recs | Home | October 20, 1934 | League Championship |
| Broughton Rangers v Oldham | Away | October 27, 1934 | League Championship |
| Oldham v Broughton Rangers | Home | November 3, 1934 | League Championship |
| St Helens Recs v Oldham | Away | January 26, 1935 | League Championship |
| Oldham v St Helens | Home | February 2, 1935 | League Championship |
| Oldham v St Helens | Home | February 9, 1935 | Rugby League Challenge Cup |
| Oldham v Hull Kingston Rovers | Home | February 16, 1935 | League Championship |
| Huddersfield v Oldham | Away | February 23, 1935 | Rugby League Challenge Cup |