Sam Lees
Profile
Sam Lees was born in the village of Lees in 1871 and was a founder member of the Leesfield Trinity club. He joined Oldham F.C. in 1891 and played in every back position, but his specialist spot was at centre. Sam soon established himself in the senior side where he formed part of a formidable threequarter line up with Bill McCutcheon, Dai Gwynn and Jack Hurst.
Capped by Lancashire, Sam played in many "Roses" encounters and is the central figure in a painting by the artist W.B. Wollen, which depicts a Lancashire v Yorkshire county match from the early 1895, which has pride of place in Rugby Union H.Q. at Twickenham.
In the club's first match in the Northern Union at Hunslet, Sam scored a try and kicked a goal and would go on to top the 'Oldham goal kicking list for the first six seasons under the new code.
He took over as captain in 1897 upon the retirement of Harry Varley, but relinquished the leadership to namesake (no relation) Arthur part way through the following season. He did however retain his place in the senior team, being a try scorer in the Challenge Cup Final victory over Hunslet in 1899.
In 1901 another Sam Lees (Sam's nephew) started to break into the first team and in order to distinguish between the two, the veteran Sam became known as Sam Lees "senior" with the new arrival being given the "junior" title. Sam later had spells at Leigh and Warrington.
* Includes goals with 2, 3 and 4 point value.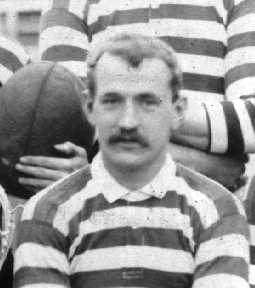 Career Games
| | | | |
| --- | --- | --- | --- |
| Hunslet v Oldham | Away | September 14, 1895 | Northern Union |
| Oldham v Tyldesley | Home | September 21, 1895 | Northern Union |
| Huddersfield v Oldham | Away | September 23, 1895 | Northern Union |
| Halifax v Oldham | Away | September 28, 1895 | Northern Union |
| Oldham v Batley | Home | October 5, 1895 | Northern Union |
| Oldham v Wakefield Trinity | Home | October 7, 1895 | Northern Union |
| Hull FC v Oldham | Away | October 12, 1895 | Northern Union |
| Oldham v Bradford | Home | October 19, 1895 | Northern Union |
| Widnes v Oldham | Away | October 26, 1895 | Northern Union |
| Oldham v Manningham | Home | November 2, 1895 | Northern Union |
| Leigh v Oldham | Away | November 9, 1895 | Northern Union |
| Oldham v Stockport | Home | November 16, 1895 | Northern Union |
| Warrington v Oldham | Away | November 23, 1895 | Northern Union |
| Oldham v Rochdale Hornets | Home | November 30, 1895 | Northern Union |
| Liversedge v Oldham | Away | December 10, 1895 | Northern Union |
| Oldham v St Helens | Home | December 14, 1895 | Northern Union |
| Oldham v Wigan | Home | December 21, 1895 | Northern Union |
| Oldham v Broughton Rangers | Home | December 25, 1895 | Northern Union |
| Leeds v Oldham | Away | December 26, 1895 | Northern Union |
| Oldham v Warrington | Home | December 28, 1895 | Northern Union |
| Brighouse Rangers v Oldham | Away | January 1, 1896 | Northern Union |
| Runcorn v Oldham | Away | January 4, 1896 | Northern Union |
| Oldham v Huddersfield | Home | January 11, 1896 | Northern Union |
| Oldham v Hunslet | Home | January 18, 1896 | Northern Union |
| Tyldesley v Oldham | Away | January 25, 1896 | Northern Union |
| Oldham v Halifax | Home | February 1, 1896 | Northern Union |
| Batley v Oldham | Away | February 8, 1896 | Northern Union |
| Oldham v Widnes | Home | February 15, 1896 | Northern Union |
| Bradford v Oldham | Away | February 18, 1896 | Northern Union |
| Oldham v Hull FC | Home | February 22, 1896 | Northern Union |
| Manningham v Oldham | Away | March 7, 1896 | Northern Union |
| Stockport v Oldham | Away | March 14, 1896 | Northern Union |
| Oldham v Rochdale Hornets | Home | March 21, 1896 | Northern Union |
| Oldham v Leeds | Home | March 28, 1896 | Northern Union |
| Wigan v Oldham | Away | April 3, 1896 | Northern Union |
| Oldham v Brighouse Rangers | Home | April 4, 1896 | Northern Union |
| Oldham v Liversedge | Home | April 6, 1896 | Northern Union |
| Oldham v Runcorn | Home | April 11, 1896 | Northern Union |
| Oldham v Leigh | Home | April 13, 1896 | Northern Union |
| St Helens v Oldham | Away | April 18, 1896 | Northern Union |
| Wakefield Trinity v Oldham | Away | April 22, 1896 | Northern Union |
| Manningham v Oldham | Away | September 5, 1896 | Friendly |
| Crompton v Oldham | Away | September 7, 1896 | Friendly |
| Salford v Oldham | Away | September 12, 1896 | Lancashire Senior Competition |
| Oldham v Tyldesley | Home | September 19, 1896 | Lancashire Senior Competition |
| Huddersfield v Oldham | Away | September 21, 1896 | Friendly |
| Swinton v Oldham | Away | September 26, 1896 | Lancashire Senior Competition |
| Halifax v Oldham | Away | September 28, 1896 | Friendly |
| Oldham v St Helens | Home | October 3, 1896 | Lancashire Senior Competition |
| Oldham v Widnes | Home | October 10, 1896 | Lancashire Senior Competition |
| Wigan v Oldham | Away | October 24, 1896 | Lancashire Senior Competition |
| Oldham v Leigh | Home | October 31, 1896 | Lancashire Senior Competition |
| Morecambe v Oldham | Away | November 7, 1896 | Lancashire Senior Competition |
| Rochdale Hornets v Oldham | Away | November 14, 1896 | Lancashire Senior Competition |
| Oldham v Runcorn | Home | November 28, 1896 | Lancashire Senior Competition |
| Warrington v Oldham | Away | December 5, 1896 | Lancashire Senior Competition |
| Oldham v Salford | Home | December 19, 1896 | Lancashire Senior Competition |
| Oldham v Stockport | Home | December 25, 1896 | Lancashire Senior Competition |
| Oldham v Morecambe | Home | January 16, 1897 | Lancashire Senior Competition |
| Oldham v Rochdale Hornets | Home | January 23, 1897 | Lancashire Senior Competition |
| Stockport v Oldham | Away | January 30, 1897 | Lancashire Senior Competition |
| Widnes v Oldham | Away | February 6, 1897 | Lancashire Senior Competition |
| Oldham v Wigan | Home | February 13, 1897 | Lancashire Senior Competition |
| Oldham v Warrington | Home | February 20, 1897 | Lancashire Senior Competition |
| Runcorn v Oldham | Away | February 27, 1897 | Lancashire Senior Competition |
| Oldham v Swinton | Home | March 2, 1897 | Lancashire Senior Competition |
| Oldham v St Helens Recs | Home | March 6, 1897 | Friendly |
| Tyldesley v Oldham | Away | March 13, 1897 | Lancashire Senior Competition |
| Bradford v Oldham | Away | March 20, 1897 | Rugby League Challenge Cup |
| Oldham v Broughton Rangers | Home | March 27, 1897 | Friendly |
| Broughton Rangers v Oldham | Away | April 3, 1897 | Friendly |
| Oldham v Manningham | Home | April 10, 1897 | Friendly |
| St Helens Recs v Oldham | Away | April 17, 1897 | Friendly |
| Oldham v Huddersfield | Home | April 19, 1897 | Friendly |
| Oldham v Halifax | Home | April 26, 1897 | Friendly |
| Morecambe v Oldham | Away | September 4, 1897 | Lancashire Senior Competition |
| Oldham v Crompton | Home | September 6, 1897 | Friendly |
| Stockport v Oldham | Away | September 11, 1897 | Lancashire Senior Competition |
| Crompton v Oldham | Away | September 13, 1897 | Friendly |
| Oldham v Runcorn | Home | September 18, 1897 | Lancashire Senior Competition |
| Oldham v Salford | Home | September 25, 1897 | Lancashire Senior Competition |
| Swinton v Oldham | Away | October 1, 1897 | Lancashire Senior Competition |
| Rochdale Hornets v Oldham | Away | October 9, 1897 | Lancashire Senior Competition |
| Oldham v Wigan | Home | October 23, 1897 | Lancashire Senior Competition |
| Oldham v Morecambe | Home | October 30, 1897 | Lancashire Senior Competition |
| Widnes v Oldham | Away | November 6, 1897 | Lancashire Senior Competition |
| St Helens v Oldham | Away | November 27, 1897 | Lancashire Senior Competition |
| Oldham v Halifax | Home | December 4, 1897 | Friendly |
| Oldham v Warrington | Home | December 11, 1897 | Lancashire Senior Competition |
| Leigh v Oldham | Away | December 18, 1897 | Lancashire Senior Competition |
| Oldham v Rochdale Hornets | Home | December 25, 1897 | Lancashire Senior Competition |
| Broughton Rangers v Oldham | Away | December 27, 1897 | Lancashire Senior Competition |
| Oldham v Tyldesley | Home | January 1, 1898 | Lancashire Senior Competition |
| Oldham v Manningham | Home | January 3, 1898 | Friendly |
| Oldham v Widnes | Home | January 8, 1898 | Lancashire Senior Competition |
| Warrington v Oldham | Away | January 15, 1898 | Lancashire Senior Competition |
| Oldham v Stockport | Home | January 22, 1898 | Lancashire Senior Competition |
| Salford v Oldham | Away | February 5, 1898 | Lancashire Senior Competition |
| Oldham v St Helens | Home | February 12, 1898 | Lancashire Senior Competition |
| Oldham v Swinton | Home | February 19, 1898 | Lancashire Senior Competition |
| Oldham v Leeds | Home | February 26, 1898 | Rugby League Challenge Cup |
| Halifax v Oldham | Away | March 5, 1898 | Rugby League Challenge Cup |
| Bradford v Oldham | Away | March 12, 1898 | Friendly |
| Runcorn v Oldham | Away | April 2, 1898 | Lancashire Senior Competition |
| Oldham v Broughton Rangers | Home | April 11, 1898 | Lancashire Senior Competition |
| Oldham v Tyldesley | Home | April 16, 1898 | Lancashire Senior Competition |
| Oldham v Rest Of Lancs | Home | April 30, 1898 | Champs v Rest |
| Morecambe v Oldham | Away | September 3, 1898 | Lancashire Senior Competition |
| Warrington v Oldham | Away | September 10, 1898 | Lancashire Senior Competition |
| Oldham v Tyldesley | Home | September 17, 1898 | Lancashire Senior Competition |
| Oldham v Runcorn | Home | September 24, 1898 | Lancashire Senior Competition |
| Huddersfield v Oldham | Away | September 26, 1898 | Friendly |
| St Helens v Oldham | Away | October 1, 1898 | Lancashire Senior Competition |
| Oldham v Broughton Rangers | Home | October 8, 1898 | Lancashire Senior Competition |
| Salford v Oldham | Away | October 22, 1898 | Lancashire Senior Competition |
| Oldham v Warrington | Home | November 19, 1898 | Lancashire Senior Competition |
| Leigh v Oldham | Away | November 26, 1898 | Lancashire Senior Competition |
| Oldham v Elland | Home | December 3, 1898 | Friendly |
| Oldham v St Helens | Home | January 28, 1899 | Lancashire Senior Competition |
| Oldham v Stockport | Home | February 11, 1899 | Lancashire Senior Competition |
| Widnes v Oldham | Away | February 25, 1899 | Lancashire Senior Competition |
| Oldham v Wigan | Home | March 11, 1899 | Lancashire Senior Competition |
| Oldham v Goole | Home | March 18, 1899 | Rugby League Challenge Cup |
| Oldham v Warrington | Home | March 25, 1899 | Rugby League Challenge Cup |
| Bradford v Oldham | Away | April 1, 1899 | Rugby League Challenge Cup |
| Oldham v Widnes | Home | April 8, 1899 | Rugby League Challenge Cup |
| Leigh v Oldham | Neutral | April 15, 1899 | Rugby League Challenge Cup |
| Hunslet v Oldham | Neutral | April 29, 1899 | Rugby League Challenge Cup |
| Morecambe v Oldham | Away | September 2, 1899 | Friendly |
| Millom v Oldham | Away | September 9, 1899 | Lancashire Senior Competition |
| Oldham v Tyldesley | Home | September 16, 1899 | Lancashire Senior Competition |
| Oldham v Runcorn | Home | September 23, 1899 | Lancashire Senior Competition |
| Stockport v Oldham | Away | September 25, 1899 | Lancashire Senior Competition |
| Seaton v Oldham | Away | September 30, 1899 | Friendly |
| Widnes v Oldham | Away | October 7, 1899 | Lancashire Senior Competition |
| Oldham v Hunslet | Home | November 4, 1899 | Friendly |
| Swinton v Oldham | Away | November 11, 1899 | Lancashire Senior Competition |
| Oldham v Warrington | Home | November 18, 1899 | Lancashire Senior Competition |
| Wigan v Oldham | Away | November 25, 1899 | Lancashire Senior Competition |
| Oldham v Morecambe | Home | December 2, 1899 | Friendly |
| St Helens v Oldham | Away | December 9, 1899 | Lancashire Senior Competition |
| Broughton Rangers v Oldham | Away | December 23, 1899 | Lancashire Senior Competition |
| Oldham v Bradford | Home | January 1, 1900 | Friendly |
| Oldham v Leigh | Home | January 6, 1900 | Lancashire Senior Competition |
| Oldham v Widnes | Home | January 13, 1900 | Lancashire Senior Competition |
| Oldham v Wigan | Home | January 20, 1900 | Lancashire Senior Competition |
| Salford v Oldham | Away | January 27, 1900 | Lancashire Senior Competition |
| Oldham v Swinton | Home | February 3, 1900 | Lancashire Senior Competition |
| Oldham v Broughton Rangers | Home | February 17, 1900 | Lancashire Senior Competition |
| Warrington v Oldham | Away | February 21, 1900 | Lancashire Senior Competition |
| Leigh v Oldham | Away | February 24, 1900 | Lancashire Senior Competition |
| Tyldesley v Oldham | Away | February 27, 1900 | Lancashire Senior Competition |
| Oldham v St Helens | Home | March 3, 1900 | Lancashire Senior Competition |
| Runcorn v Oldham | Away | March 10, 1900 | Lancashire Senior Competition |
| Manningham v Oldham | Away | March 17, 1900 | Rugby League Challenge Cup |
| Oldham v Manningham | Home | March 20, 1900 | Rugby League Challenge Cup |
| Halifax v Oldham | Away | March 24, 1900 | Rugby League Challenge Cup |
| Swinton v Oldham | Away | March 31, 1900 | Rugby League Challenge Cup |
| Hull Kingston Rovers v Oldham | Away | April 7, 1900 | Friendly |
| Oldham v Brighouse Rangers | Home | April 16, 1900 | Friendly |
| Workington v Oldham | Away | September 1, 1900 | Friendly |
| Barrow v Oldham | Away | September 8, 1900 | Lancashire Senior Competition |
| Oldham v Wigan | Home | September 15, 1900 | Lancashire Senior Competition |
| Oldham v Barrow | Home | September 22, 1900 | Lancashire Senior Competition |
| Swinton v Oldham | Away | September 29, 1900 | Lancashire Senior Competition |
| Oldham v St Helens | Home | October 13, 1900 | Lancashire Senior Competition |
| Oldham v Workington | Home | October 20, 1900 | Friendly |
| Oldham v Leigh | Home | October 27, 1900 | Lancashire Senior Competition |
| Birkenhead Wanderers v Oldham | Away | November 3, 1900 | Friendly |
| Salford v Oldham | Away | November 10, 1900 | Lancashire Senior Competition |
| Oldham v Rochdale Hornets | Home | November 24, 1900 | Lancashire Senior Competition |
| Oldham v Millom | Home | December 1, 1900 | Lancashire Senior Competition |
| Halifax v Oldham | Away | December 8, 1900 | Friendly |
| St Helens v Oldham | Away | December 15, 1900 | Lancashire Senior Competition |
| Warrington v Oldham | Away | December 22, 1900 | Lancashire Senior Competition |
| Rochdale Hornets v Oldham | Away | December 25, 1900 | Lancashire Senior Competition |
| Oldham v Swinton | Home | January 12, 1901 | Lancashire Senior Competition |
| Stockport v Oldham | Away | January 19, 1901 | Lancashire Senior Competition |
| Oldham v Stockport | Home | February 9, 1901 | Lancashire Senior Competition |
| Oldham v Runcorn | Home | February 23, 1901 | Lancashire Senior Competition |
| Leigh v Oldham | Away | September 7, 1901 | Northern RL |
| Batley v Oldham | Away | September 14, 1901 | Northern RL |
| Oldham v Huddersfield | Home | September 21, 1901 | Northern RL |
| Bradford v Oldham | Away | September 28, 1901 | Northern RL |
| Oldham v Brighouse Rangers | Home | October 5, 1901 | Northern RL |
| Oldham v Runcorn | Home | October 12, 1901 | Northern RL |
| Hull FC v Oldham | Away | November 9, 1901 | Northern RL |
| Huddersfield v Oldham | Away | November 23, 1901 | Northern RL |
| Hunslet v Oldham | Away | November 30, 1901 | Northern RL |
| Oldham v Leigh | Home | December 7, 1901 | Northern RL |
| Oldham v Warrington | Home | December 14, 1901 | Northern RL |
| Broughton Rangers v Oldham | Away | March 8, 1902 | Northern RL |
| Maryport v Oldham | Away | March 15, 1902 | Rugby League Challenge Cup |
| Runcorn v Oldham | Away | March 22, 1902 | Rugby League Challenge Cup |
| Stockport v Oldham | Away | March 31, 1902 | South East Lancashire League |
| Oldham v Oldham Present | Home | January 3, 1916 | Special Friendly |