David Treasure
Profile
Castleford born, David Treasure came to Oldham from Bradford in November 1973, having played for "Northern" in the Challenge Cup final earlier the same year, when he came on as a substitute in their defeat by Featherstone.
At this time the club was recruiting in an effort to consolidate in the first division with Bill McCraken and Brian Gregory signed at about the same time. David proved to be the most enduring of these captures, making a good impression in his first two games for the club, which saw Oldham defeat, first Wigan and then St Helens, both matches at Watersheddings. The latter was a single point victory (12 – 11) in which he scored a try and dropped a goal.
As speedy a stand off half as ever played for the club, David qualified through parentage to play for Wales and was selected to represent them in the 1975 World Cup in Australia. The first of five Welsh appearances saw him score a try in the 12 – 7 defeat of England in Brisbane on June 10th, 1975.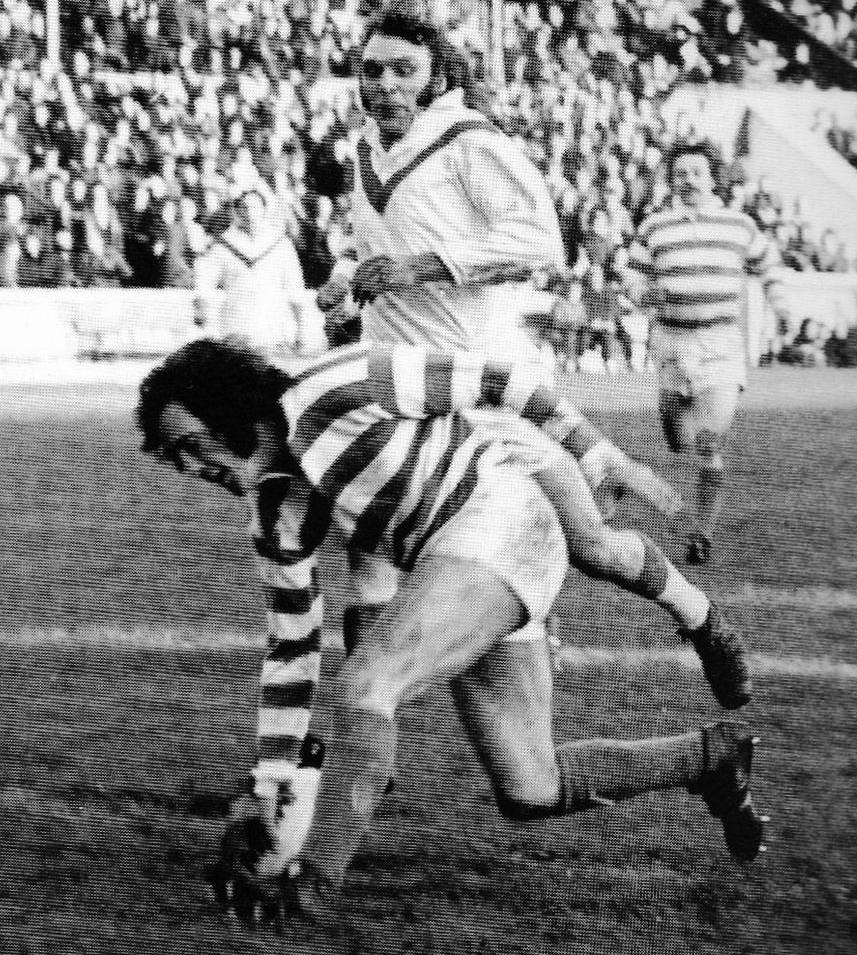 Career Games
| | | | |
| --- | --- | --- | --- |
| Oldham v Wigan | Home | November 25, 1973 | Division 1 |
| Oldham v St Helens | Home | December 8, 1973 | Division 1 |
| Featherstone Rovers v Oldham | Away | December 15, 1973 | Division 1 |
| Oldham v Leigh | Home | December 23, 1973 | Division 1 |
| Oldham v Rochdale Hornets | Home | December 26, 1973 | Division 1 |
| Whitehaven v Oldham | Away | December 30, 1973 | Division 1 |
| Salford v Oldham | Away | January 1, 1974 | Division 1 |
| Oldham v Hull Kingston Rovers | Home | January 6, 1974 | Division 1 |
| Leigh v Oldham | Away | January 13, 1974 | Division 1 |
| Oldham v Warrington | Home | January 20, 1974 | Division 1 |
| Salford v Oldham | Away | February 3, 1974 | Rugby League Challenge Cup |
| Bramley v Oldham | Away | February 10, 1974 | Division 1 |
| Oldham v Wakefield Trinity | Home | February 16, 1974 | Division 1 |
| Oldham v Leeds | Home | March 3, 1974 | Division 1 |
| Widnes v Oldham | Away | March 17, 1974 | Division 1 |
| Hull Kingston Rovers v Oldham | Away | March 24, 1974 | Division 1 |
| Warrington v Oldham | Away | March 29, 1974 | Division 1 |
| St Helens v Oldham | Away | March 31, 1974 | Division 1 |
| Castleford v Oldham | Away | April 7, 1974 | Division 1 |
| Oldham v Salford | Home | April 13, 1974 | Division 1 |
| Rochdale Hornets v Oldham | Away | April 15, 1974 | Division 1 |
| Oldham v Rochdale Hornets | Home | August 17, 1974 | Law Cup |
| Oldham v Blackpool Borough | Home | August 24, 1974 | Division 2 |
| Oldham v Widnes | Home | September 1, 1974 | Lancashire Cup |
| Blackpool Borough v Oldham | Away | September 8, 1974 | Division 2 |
| Oldham v Hull Kingston Rovers | Home | September 10, 1974 | BBC |
| Oldham v Huddersfield | Home | September 14, 1974 | Division 2 |
| Hull Kingston Rovers v Oldham | Away | September 17, 1974 | BBC |
| Hull Kingston Rovers v Oldham | Away | September 20, 1974 | Division 2 |
| Oldham v Workington Town | Home | September 29, 1974 | Players No.6 Cup |
| New Hunslet v Oldham | Away | October 6, 1974 | Division 2 |
| Oldham v Hull FC | Home | October 12, 1974 | Division 2 |
| Oldham v Huyton | Home | October 26, 1974 | Division 2 |
| Swinton v Oldham | Away | November 3, 1974 | Division 2 |
| Oldham v Bradford Northern | Home | November 9, 1974 | Players No.6 Cup |
| Oldham v Workington Town | Home | November 16, 1974 | Division 2 |
| Doncaster v Oldham | Away | November 24, 1974 | Division 2 |
| Oldham v Batley | Home | November 30, 1974 | Division 2 |
| Workington Town v Oldham | Away | December 8, 1974 | Division 2 |
| Oldham v Hull Kingston Rovers | Home | December 15, 1974 | Division 2 |
| Huddersfield v Oldham | Away | December 26, 1974 | Division 2 |
| Huyton v Oldham | Away | December 29, 1974 | Division 2 |
| Oldham v New Hunslet | Home | January 5, 1975 | Division 2 |
| Oldham v Doncaster | Home | January 12, 1975 | Division 2 |
| Barrow v Oldham | Away | January 17, 1975 | Division 2 |
| Oldham v Swinton | Home | February 2, 1975 | Division 2 |
| Oldham v Blackpool Borough | Home | February 9, 1975 | Rugby League Challenge Cup |
| Leigh v Oldham | Away | February 16, 1975 | Division 2 |
| Rochdale Hornets v Oldham | Away | February 23, 1975 | Rugby League Challenge Cup |
| Oldham v Rochdale Hornets | Home | February 26, 1975 | Rugby League Challenge Cup |
| Oldham v Whitehaven | Home | March 2, 1975 | Division 2 |
| Oldham v Widnes | Home | March 9, 1975 | Rugby League Challenge Cup |
| Oldham v Leigh | Home | March 15, 1975 | Division 2 |
| Batley v Oldham | Away | March 23, 1975 | Division 2 |
| Oldham v Barrow | Home | April 6, 1975 | Division 2 |
| Oldham v England | Home | April 22, 1975 | Benefit Match |
| St Helens v Oldham | Away | April 25, 1975 | Premiership |
| Rochdale Hornets v Oldham | Away | August 10, 1975 | Law Cup |
| Oldham v Keighley | Home | August 24, 1975 | Division 1 |
| Oldham v St Helens | Home | August 31, 1975 | Lancashire Cup |
| Featherstone Rovers v Oldham | Away | September 7, 1975 | Division 1 |
| Huyton v Oldham | Away | September 28, 1975 | Players No.6 Cup |
| Oldham v Widnes | Home | September 30, 1975 | BBC |
| Keighley v Oldham | Away | October 5, 1975 | Division 1 |
| Oldham v Huddersfield | Home | October 12, 1975 | Division 1 |
| Wakefield Trinity v Oldham | Away | October 26, 1975 | Division 1 |
| Salford v Oldham | Away | November 9, 1975 | Players No.6 Cup |
| Oldham v Dewsbury | Home | November 11, 1975 | BBC |
| Oldham v Salford | Home | November 16, 1975 | Division 1 |
| Oldham v Leeds | Home | November 30, 1975 | Division 1 |
| Huddersfield v Oldham | Away | December 7, 1975 | Division 1 |
| Oldham v St Helens | Home | December 14, 1975 | Division 1 |
| Bradford Northern v Oldham | Away | December 21, 1975 | Division 1 |
| Oldham v Hull Kingston Rovers | Home | January 11, 1976 | Division 1 |
| Dewsbury v Oldham | Away | January 18, 1976 | Division 1 |
| St Helens v Oldham | Away | February 8, 1976 | Division 1 |
| Huyton v Oldham | Away | February 15, 1976 | Rugby League Challenge Cup |
| Wigan v Oldham | Away | February 22, 1976 | Division 1 |
| Oldham v York | Home | February 29, 1976 | Rugby League Challenge Cup |
| Oldham v Wakefield Trinity | Home | March 7, 1976 | Division 1 |
| St Helens v Oldham | Away | March 14, 1976 | Rugby League Challenge Cup |
| Widnes v Oldham | Away | March 21, 1976 | Division 1 |
| Oldham v St Helens | Home | March 24, 1976 | Division 1 |
| Warrington v Oldham | Away | March 30, 1976 | Division 1 |
| Castleford v Oldham | Away | April 2, 1976 | Division 1 |
| Oldham v Featherstone Rovers | Home | April 4, 1976 | Division 1 |
| Oldham v Warrington | Home | April 7, 1976 | Division 1 |
| Oldham v Bradford Northern | Home | April 11, 1976 | Division 1 |
| Hull Kingston Rovers v Oldham | Away | April 16, 1976 | Division 1 |
| Swinton v Oldham | Away | April 19, 1976 | Division 1 |
| Oldham v Widnes | Home | April 25, 1976 | Division 1 |
| Oldham v Rochdale Hornets | Home | August 15, 1976 | Law Cup |
| Blackpool Borough v Oldham | Away | August 22, 1976 | Lancashire Cup |
| Widnes v Oldham | Away | September 5, 1976 | Division 1 |
| Oldham v Leeds | Home | September 12, 1976 | Division 1 |
| Leigh v Oldham | Away | September 19, 1976 | Division 1 |
| Oldham v Wigan | Home | September 26, 1976 | Division 1 |
| Wakefield Trinity v Oldham | Away | October 3, 1976 | Division 1 |
| Whitehaven v Oldham | Away | October 5, 1976 | BBC |
| Oldham v Barrow | Home | October 10, 1976 | Division 1 |
| Castleford v Oldham | Away | October 15, 1976 | Division 1 |
| Oldham v Batley | Home | October 24, 1976 | Players No.6 Cup |
| Oldham v Bradford Northern | Home | October 31, 1976 | Division 1 |
| Oldham v Leigh | Home | November 7, 1976 | Players No.6 Cup |
| Oldham v Featherstone Rovers | Home | December 12, 1976 | Division 1 |
| Wigan v Oldham | Away | December 19, 1976 | Division 1 |
| Oldham v Rochdale Hornets | Home | December 26, 1976 | Division 1 |
| Salford v Oldham | Away | January 2, 1977 | Division 1 |
| St Helens v Oldham | Away | January 9, 1977 | Division 1 |
| Workington Town v Oldham | Away | January 31, 1977 | Division 1 |
| Hull Kingston Rovers v Oldham | Away | February 6, 1977 | Division 1 |
| Oldham v Dewsbury | Home | February 13, 1977 | Rugby League Challenge Cup |
| Oldham v Warrington | Home | February 27, 1977 | Division 1 |
| Featherstone Rovers v Oldham | Away | March 6, 1977 | Division 1 |
| Leeds v Oldham | Away | March 16, 1977 | Division 1 |
| Oldham v Castleford | Home | March 20, 1977 | Division 1 |