Joe Lawton
Profile
Born locally in Scouthead, Joe Lawton first played for the Highmoor club and later moved on to Mayfield. He was invited to turn out for Oldham "A" team on an occasion when Gwynn and McCutcheon had been selected for Lancashire and the regular "A" teamers were promoted to the senior side. He joined Oldham in 1892 just one week after his famous half back partner Arthur Lees. The first honour he attained was in helping the "A" team win the "Advertiser Cup" in 1893.
After the retirement of Harry Varley, Joe took his place at stand off for the commencement of the 1897-98 season. This was the beginning of a remarkable run of consecutive games that saw him play in every match between September 4th, 1897 and November 2nd, 1901. The total of 134, remains the club record.
It was during this time that he established the half back pairing with Arthur Lees that would reap rich rewards for the club. Although it was Lees who usually worked the base of the scrum, sometimes he and Lawton would swap places to confuse the opposition. Both players captained the Lancashire county team. On one occasion, to much local amusement, when they were each selected for a "Red Rose" encounter, Joe was chosen to lead the county in preference to Arthur who at the time was the Oldham club captain. One of Joe's greatest assets was his speed of delivery of the ball and as a result the threequarters flourished, particularly Sam Williams and Tom Davies. He was, of course, stand off half in the team that won the Challenge Cup in 1899.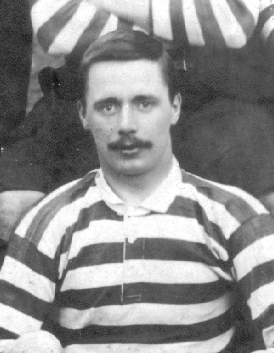 Career Games
| | | | |
| --- | --- | --- | --- |
| Huddersfield v Oldham | Away | September 23, 1895 | Northern Union |
| Oldham v Batley | Home | October 5, 1895 | Northern Union |
| Oldham v Wakefield Trinity | Home | October 7, 1895 | Northern Union |
| Hull FC v Oldham | Away | October 12, 1895 | Northern Union |
| Oldham v Bradford | Home | October 19, 1895 | Northern Union |
| Widnes v Oldham | Away | October 26, 1895 | Northern Union |
| Leigh v Oldham | Away | November 9, 1895 | Northern Union |
| Oldham v Stockport | Home | November 16, 1895 | Northern Union |
| Oldham v St Helens | Home | December 14, 1895 | Northern Union |
| Batley v Oldham | Away | February 8, 1896 | Northern Union |
| Bradford v Oldham | Away | February 18, 1896 | Northern Union |
| Wigan v Oldham | Away | April 3, 1896 | Northern Union |
| Oldham v Brighouse Rangers | Home | April 4, 1896 | Northern Union |
| Oldham v Liversedge | Home | April 6, 1896 | Northern Union |
| Halifax v Oldham | Away | September 28, 1896 | Friendly |
| Warrington v Oldham | Away | December 5, 1896 | Lancashire Senior Competition |
| St Helens v Oldham | Away | January 1, 1897 | Lancashire Senior Competition |
| Broughton Rangers v Oldham | Away | January 2, 1897 | Lancashire Senior Competition |
| Oldham v Swinton | Home | January 9, 1897 | Friendly |
| Stockport v Oldham | Away | January 30, 1897 | Lancashire Senior Competition |
| Widnes v Oldham | Away | February 6, 1897 | Lancashire Senior Competition |
| Oldham v Wigan | Home | February 13, 1897 | Lancashire Senior Competition |
| Oldham v Warrington | Home | February 20, 1897 | Lancashire Senior Competition |
| Oldham v Swinton | Home | March 2, 1897 | Lancashire Senior Competition |
| Oldham v St Helens Recs | Home | March 6, 1897 | Friendly |
| Tyldesley v Oldham | Away | March 13, 1897 | Lancashire Senior Competition |
| Oldham v Broughton Rangers | Home | March 27, 1897 | Friendly |
| Broughton Rangers v Oldham | Away | April 3, 1897 | Friendly |
| Oldham v Manningham | Home | April 10, 1897 | Friendly |
| Oldham v Huddersfield | Home | April 19, 1897 | Friendly |
| Oldham v Halifax | Home | April 26, 1897 | Friendly |
| Oldham v Crompton | Home | April 30, 1897 | Friendly |
| Morecambe v Oldham | Away | September 4, 1897 | Lancashire Senior Competition |
| Oldham v Crompton | Home | September 6, 1897 | Friendly |
| Stockport v Oldham | Away | September 11, 1897 | Lancashire Senior Competition |
| Crompton v Oldham | Away | September 13, 1897 | Friendly |
| Oldham v Runcorn | Home | September 18, 1897 | Lancashire Senior Competition |
| Oldham v Salford | Home | September 25, 1897 | Lancashire Senior Competition |
| Swinton v Oldham | Away | October 1, 1897 | Lancashire Senior Competition |
| Rochdale Hornets v Oldham | Away | October 9, 1897 | Lancashire Senior Competition |
| Bradford v Oldham | Away | October 16, 1897 | Friendly |
| Oldham v Wigan | Home | October 23, 1897 | Lancashire Senior Competition |
| Oldham v Morecambe | Home | October 30, 1897 | Lancashire Senior Competition |
| Widnes v Oldham | Away | November 6, 1897 | Lancashire Senior Competition |
| Oldham v Leigh | Home | November 13, 1897 | Lancashire Senior Competition |
| St Helens Recs v Oldham | Away | November 20, 1897 | Friendly |
| St Helens v Oldham | Away | November 27, 1897 | Lancashire Senior Competition |
| Oldham v Halifax | Home | December 4, 1897 | Friendly |
| Oldham v Warrington | Home | December 11, 1897 | Lancashire Senior Competition |
| Leigh v Oldham | Away | December 18, 1897 | Lancashire Senior Competition |
| Oldham v Rochdale Hornets | Home | December 25, 1897 | Lancashire Senior Competition |
| Broughton Rangers v Oldham | Away | December 27, 1897 | Lancashire Senior Competition |
| Oldham v Tyldesley | Home | January 1, 1898 | Lancashire Senior Competition |
| Oldham v Widnes | Home | January 8, 1898 | Lancashire Senior Competition |
| Warrington v Oldham | Away | January 15, 1898 | Lancashire Senior Competition |
| Oldham v Stockport | Home | January 22, 1898 | Lancashire Senior Competition |
| Wigan v Oldham | Away | January 29, 1898 | Lancashire Senior Competition |
| Salford v Oldham | Away | February 5, 1898 | Lancashire Senior Competition |
| Oldham v St Helens | Home | February 12, 1898 | Lancashire Senior Competition |
| Oldham v Swinton | Home | February 19, 1898 | Lancashire Senior Competition |
| Oldham v Leeds | Home | February 26, 1898 | Rugby League Challenge Cup |
| Halifax v Oldham | Away | March 5, 1898 | Rugby League Challenge Cup |
| Oldham v Runcorn | Home | March 19, 1898 | Rugby League Challenge Cup |
| Batley v Oldham | Away | March 26, 1898 | Rugby League Challenge Cup |
| Runcorn v Oldham | Away | April 2, 1898 | Lancashire Senior Competition |
| Oldham v Broughton Rangers | Home | April 11, 1898 | Lancashire Senior Competition |
| Oldham v Tyldesley | Home | April 16, 1898 | Lancashire Senior Competition |
| Manningham v Oldham | Away | April 19, 1898 | Friendly |
| Halifax v Oldham | Away | April 25, 1898 | Friendly |
| Oldham v Rest Of Lancs | Home | April 30, 1898 | Champs v Rest |
| Morecambe v Oldham | Away | September 3, 1898 | Lancashire Senior Competition |
| Warrington v Oldham | Away | September 10, 1898 | Lancashire Senior Competition |
| Oldham v Tyldesley | Home | September 17, 1898 | Lancashire Senior Competition |
| Oldham v Runcorn | Home | September 24, 1898 | Lancashire Senior Competition |
| Huddersfield v Oldham | Away | September 26, 1898 | Friendly |
| St Helens v Oldham | Away | October 1, 1898 | Lancashire Senior Competition |
| Oldham v Broughton Rangers | Home | October 8, 1898 | Lancashire Senior Competition |
| Oldham v Workington | Home | October 15, 1898 | Friendly |
| Salford v Oldham | Away | October 22, 1898 | Lancashire Senior Competition |
| Oldham v Swinton | Home | October 29, 1898 | Lancashire Senior Competition |
| Rochdale Hornets v Oldham | Away | November 12, 1898 | Lancashire Senior Competition |
| Oldham v Warrington | Home | November 19, 1898 | Lancashire Senior Competition |
| Leigh v Oldham | Away | November 26, 1898 | Lancashire Senior Competition |
| Oldham v Widnes | Home | December 10, 1898 | Lancashire Senior Competition |
| Wigan v Oldham | Away | December 17, 1898 | Lancashire Senior Competition |
| Stockport v Oldham | Away | December 24, 1898 | Lancashire Senior Competition |
| Oldham v Rochdale Hornets | Home | December 26, 1898 | Lancashire Senior Competition |
| Broughton Rangers v Oldham | Away | December 31, 1898 | Lancashire Senior Competition |
| Oldham v Hunslet | Home | January 2, 1899 | Friendly |
| Oldham v Morecambe | Home | January 7, 1899 | Lancashire Senior Competition |
| Tyldesley v Oldham | Away | January 14, 1899 | Lancashire Senior Competition |
| Oldham v Leigh | Home | January 21, 1899 | Lancashire Senior Competition |
| Oldham v St Helens | Home | January 28, 1899 | Lancashire Senior Competition |
| Swinton v Oldham | Away | February 4, 1899 | Lancashire Senior Competition |
| Oldham v Stockport | Home | February 11, 1899 | Lancashire Senior Competition |
| Oldham v Salford | Home | February 18, 1899 | Lancashire Senior Competition |
| Widnes v Oldham | Away | February 25, 1899 | Lancashire Senior Competition |
| Runcorn v Oldham | Away | March 4, 1899 | Lancashire Senior Competition |
| Oldham v Wigan | Home | March 11, 1899 | Lancashire Senior Competition |
| Oldham v Goole | Home | March 18, 1899 | Rugby League Challenge Cup |
| Oldham v Warrington | Home | March 25, 1899 | Rugby League Challenge Cup |
| Bradford v Oldham | Away | April 1, 1899 | Rugby League Challenge Cup |
| Oldham v Widnes | Home | April 8, 1899 | Rugby League Challenge Cup |
| Leigh v Oldham | Neutral | April 15, 1899 | Rugby League Challenge Cup |
| Hunslet v Oldham | Neutral | April 29, 1899 | Rugby League Challenge Cup |
| Morecambe v Oldham | Away | September 2, 1899 | Friendly |
| Millom v Oldham | Away | September 9, 1899 | Lancashire Senior Competition |
| Oldham v Tyldesley | Home | September 16, 1899 | Lancashire Senior Competition |
| Oldham v Runcorn | Home | September 23, 1899 | Lancashire Senior Competition |
| Stockport v Oldham | Away | September 25, 1899 | Lancashire Senior Competition |
| Widnes v Oldham | Away | October 7, 1899 | Lancashire Senior Competition |
| Rochdale Hornets v Oldham | Away | October 14, 1899 | Lancashire Senior Competition |
| Oldham v Stockport | Home | October 17, 1899 | Lancashire Senior Competition |
| Oldham v Salford | Home | October 28, 1899 | Lancashire Senior Competition |
| Swinton v Oldham | Away | November 11, 1899 | Lancashire Senior Competition |
| Oldham v Warrington | Home | November 18, 1899 | Lancashire Senior Competition |
| Wigan v Oldham | Away | November 25, 1899 | Lancashire Senior Competition |
| St Helens v Oldham | Away | December 9, 1899 | Lancashire Senior Competition |
| Broughton Rangers v Oldham | Away | December 23, 1899 | Lancashire Senior Competition |
| Oldham v Rochdale Hornets | Home | December 25, 1899 | Lancashire Senior Competition |
| Oldham v Millom | Home | December 30, 1899 | Lancashire Senior Competition |
| Oldham v Bradford | Home | January 1, 1900 | Friendly |
| Oldham v Leigh | Home | January 6, 1900 | Lancashire Senior Competition |
| Oldham v Widnes | Home | January 13, 1900 | Lancashire Senior Competition |
| Oldham v Wigan | Home | January 20, 1900 | Lancashire Senior Competition |
| Salford v Oldham | Away | January 27, 1900 | Lancashire Senior Competition |
| Oldham v Swinton | Home | February 3, 1900 | Lancashire Senior Competition |
| Oldham v Broughton Rangers | Home | February 17, 1900 | Lancashire Senior Competition |
| Warrington v Oldham | Away | February 21, 1900 | Lancashire Senior Competition |
| Leigh v Oldham | Away | February 24, 1900 | Lancashire Senior Competition |
| Tyldesley v Oldham | Away | February 27, 1900 | Lancashire Senior Competition |
| Oldham v St Helens | Home | March 3, 1900 | Lancashire Senior Competition |
| Runcorn v Oldham | Away | March 10, 1900 | Lancashire Senior Competition |
| Manningham v Oldham | Away | March 17, 1900 | Rugby League Challenge Cup |
| Oldham v Manningham | Home | March 20, 1900 | Rugby League Challenge Cup |
| Halifax v Oldham | Away | March 24, 1900 | Rugby League Challenge Cup |
| Swinton v Oldham | Away | March 31, 1900 | Rugby League Challenge Cup |
| Hull Kingston Rovers v Oldham | Away | April 7, 1900 | Friendly |
| Oldham v Brighouse Rangers | Home | April 16, 1900 | Friendly |
| Workington v Oldham | Away | September 1, 1900 | Friendly |
| Barrow v Oldham | Away | September 8, 1900 | Lancashire Senior Competition |
| Oldham v Wigan | Home | September 15, 1900 | Lancashire Senior Competition |
| Oldham v Barrow | Home | September 22, 1900 | Lancashire Senior Competition |
| Swinton v Oldham | Away | September 29, 1900 | Lancashire Senior Competition |
| Runcorn v Oldham | Away | October 6, 1900 | Lancashire Senior Competition |
| Oldham v St Helens | Home | October 13, 1900 | Lancashire Senior Competition |
| Oldham v Workington | Home | October 20, 1900 | Friendly |
| Oldham v Leigh | Home | October 27, 1900 | Lancashire Senior Competition |
| Birkenhead Wanderers v Oldham | Away | November 3, 1900 | Friendly |
| Salford v Oldham | Away | November 10, 1900 | Lancashire Senior Competition |
| Oldham v Widnes | Home | November 17, 1900 | Lancashire Senior Competition |
| Oldham v Rochdale Hornets | Home | November 24, 1900 | Lancashire Senior Competition |
| Oldham v Millom | Home | December 1, 1900 | Lancashire Senior Competition |
| Halifax v Oldham | Away | December 8, 1900 | Friendly |
| St Helens v Oldham | Away | December 15, 1900 | Lancashire Senior Competition |
| Warrington v Oldham | Away | December 22, 1900 | Lancashire Senior Competition |
| Rochdale Hornets v Oldham | Away | December 25, 1900 | Lancashire Senior Competition |
| Oldham v Broughton Rangers | Home | December 29, 1900 | Lancashire Senior Competition |
| Oldham v Halifax | Home | January 1, 1901 | Friendly |
| Widnes v Oldham | Away | January 5, 1901 | Lancashire Senior Competition |
| Oldham v Swinton | Home | January 12, 1901 | Lancashire Senior Competition |
| Stockport v Oldham | Away | January 19, 1901 | Lancashire Senior Competition |
| Broughton Rangers v Oldham | Away | January 26, 1901 | Lancashire Senior Competition |
| Oldham v Stockport | Home | February 9, 1901 | Lancashire Senior Competition |
| Oldham v Warrington | Home | February 19, 1901 | Lancashire Senior Competition |
| Oldham v Runcorn | Home | February 23, 1901 | Lancashire Senior Competition |
| Oldham v Swinton | Home | February 25, 1901 | Lancashire Senior Competition |
| Oldham v Otley | Home | March 2, 1901 | Rugby League Challenge Cup |
| Bramley v Oldham | Away | March 9, 1901 | Rugby League Challenge Cup |
| Wigan v Oldham | Away | March 16, 1901 | Lancashire Senior Competition |
| Broughton Rangers v Oldham | Away | March 23, 1901 | Rugby League Challenge Cup |
| Widnes v Oldham | Away | March 30, 1901 | Rugby League Challenge Cup |
| Leigh v Oldham | Away | April 2, 1901 | Lancashire Senior Competition |
| Oldham v Salford | Home | April 6, 1901 | Lancashire Senior Competition |
| Millom v Oldham | Away | April 8, 1901 | Lancashire Senior Competition |
| Batley v Oldham | Neutral | April 13, 1901 | Rugby League Challenge Cup |
| Oldham v The Rest | Home | April 20, 1901 | Champs v Rest |
| Werneth v Oldham | Away | April 26, 1901 | Friendly |
| Leigh v Oldham | Away | September 7, 1901 | Northern RL |
| Batley v Oldham | Away | September 14, 1901 | Northern RL |
| Oldham v Huddersfield | Home | September 21, 1901 | Northern RL |
| Bradford v Oldham | Away | September 28, 1901 | Northern RL |
| Oldham v Brighouse Rangers | Home | October 5, 1901 | Northern RL |
| Oldham v Runcorn | Home | October 12, 1901 | Northern RL |
| Warrington v Oldham | Away | October 19, 1901 | Northern RL |
| Oldham v South Shields | Home | October 26, 1901 | Friendly |
| Rochdale Hornets v Oldham | Away | November 2, 1901 | South East Lancashire League |
| Huddersfield v Oldham | Away | November 23, 1901 | Northern RL |
| Hunslet v Oldham | Away | November 30, 1901 | Northern RL |
| Oldham v Leigh | Home | December 7, 1901 | Northern RL |
| Oldham v Stockport | Home | December 10, 1901 | South East Lancashire League |
| Oldham v Warrington | Home | December 14, 1901 | Northern RL |
| Oldham v Rochdale Hornets | Home | December 25, 1901 | South East Lancashire League |
| Oldham v Hull FC | Home | December 31, 1901 | Northern RL |
| Swinton v Oldham | Away | January 1, 1902 | Northern RL |
| Oldham v Salford | Home | January 4, 1902 | Northern RL |
| Oldham v Hunslet | Home | January 11, 1902 | Northern RL |
| Salford v Oldham | Away | January 25, 1902 | Northern RL |
| Oldham v Halifax | Home | January 28, 1902 | Northern RL |
| Brighouse Rangers v Oldham | Away | February 11, 1902 | Northern RL |
| Oldham v Batley | Home | February 15, 1902 | Northern RL |
| Oldham v Bradford | Home | February 22, 1902 | Northern RL |
| Oldham v Broughton Rangers | Home | February 25, 1902 | Northern RL |
| Maryport v Oldham | Away | March 15, 1902 | Rugby League Challenge Cup |
| Runcorn v Oldham | Away | March 22, 1902 | Rugby League Challenge Cup |
| Brighouse Rangers v Oldham | Away | March 14, 1903 | Division 1 |
| Oldham v Hunslet | Home | March 21, 1903 | Rugby League Challenge Cup |
| Oldham v Warrington | Home | March 24, 1903 | Division 1 |
| Oldham v Runcorn | Home | March 28, 1903 | Division 1 |
| Oldham v St Helens | Home | March 31, 1903 | Division 1 |
| Salford v Oldham | Neutral | April 4, 1903 | Rugby League Challenge Cup |
| Salford v Oldham | Neutral | April 8, 1903 | Rugby League Challenge Cup |
| Oldham v Warrington | Home | October 15, 1904 | Division 1 |
| Wakefield Trinity v Oldham | Away | October 22, 1904 | Division 1 |
| Oldham v Leigh | Home | October 29, 1904 | Division 1 |
| Oldham v Halifax | Home | November 5, 1904 | Division 1 |
| Bradford v Oldham | Away | November 19, 1904 | Division 1 |
| Oldham v Leeds | Home | November 26, 1904 | Division 1 |
| Runcorn v Oldham | Away | December 3, 1904 | Division 1 |
| Oldham v Broughton Rangers | Home | December 10, 1904 | Division 1 |
| Oldham v Hunslet | Home | January 21, 1905 | Division 1 |
| Widnes v Oldham | Away | January 28, 1905 | Division 1 |