Mike Ford
Profile
Mike Ford signed for his home town club in January 1988 from Leigh, after having first had a successful spell with Wigan, tasting Wembley glory in the 1985 victory over Hull. This was his second game in the famous stadium, his first being for the Oldham under-11's schoolboy side in the curtain-raiser to the 1977 final.
A scrum half of real pace, Mike played with the local St Anne's club before his move to Central Park, toured New Zealand with the BARLA Under 18's and won Great Britain Colts honours. His first season with Oldham ended in promotion and that thrilling win over Featherstone at Old Trafford. This was supplemented by being selected for the 1988 tour "down under", with Mike acting as Great Britain captain in some of the club matches.
1989-90 saw Oldham in the semi final of the Challenge Cup, Mike was in inspired form in the match and who could forget that last gasp kick for the corner that he placed to perfection, for Paul Lord to score, only for referee Holdsworth to rule the wingman offside denying Oldham at least a replay and sending Warrington on their way to the final.
In the same season he also played a vital part in the Lancashire Cup semi final victory over Wigan, but here again the "Wire" would prove a stumbling block at the last hurdle. There was however some consolation for Mike when he picked up the man of the match in the Second Division Premiership Final after skippering the team in that remarkable come back against Hull K.R. in 1990.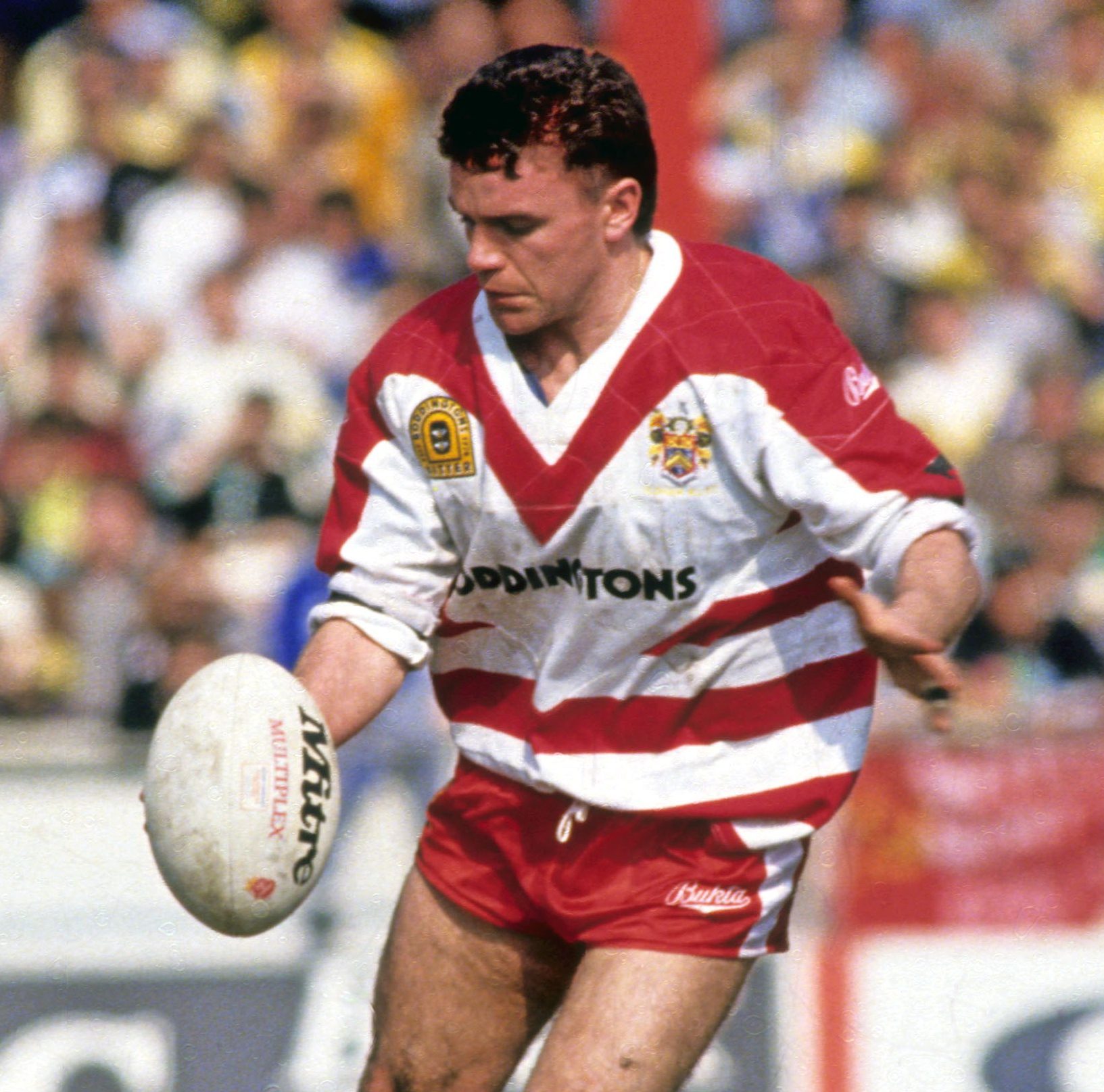 Career Games
| | | | |
| --- | --- | --- | --- |
| Oldham v Whitehaven | Home | January 10, 1988 | Division 2 |
| Runcorn Highfield v Oldham | Away | January 17, 1988 | Division 2 |
| Oldham v Wakefield Trinity | Home | January 24, 1988 | Division 2 |
| Warrington v Oldham | Away | January 31, 1988 | Rugby League Challenge Cup |
| Workington Town v Oldham | Away | February 7, 1988 | Division 2 |
| Oldham v Carlisle | Home | February 14, 1988 | Division 2 |
| Featherstone Rovers v Oldham | Away | February 21, 1988 | Division 2 |
| Oldham v Featherstone Rovers | Home | February 28, 1988 | Division 2 |
| Oldham v Workington Town | Home | March 6, 1988 | Division 2 |
| Bramley v Oldham | Away | March 13, 1988 | Division 2 |
| Oldham v Huddersfield | Home | March 20, 1988 | Division 2 |
| Sheffield Eagles v Oldham | Away | March 27, 1988 | Division 2 |
| Rochdale Hornets v Oldham | Away | April 1, 1988 | Division 2 |
| Oldham v Runcorn Highfield | Home | April 4, 1988 | Division 2 |
| Wakefield Trinity v Oldham | Away | April 10, 1988 | Division 2 |
| Carlisle v Oldham | Away | April 17, 1988 | Division 2 |
| Oldham v Keighley | Home | April 24, 1988 | 2nd Division Premiership |
| Oldham v Springfield Borough | Home | May 8, 1988 | 2nd Division Premiership |
| Featherstone Rovers v Oldham | Neutral | May 15, 1988 | 2nd Division Premiership |
| Wigan v Oldham | Away | August 28, 1988 | Division 1 |
| Oldham v Leeds | Home | September 4, 1988 | Division 1 |
| Featherstone Rovers v Oldham | Away | September 11, 1988 | Division 1 |
| Oldham v Workington Town | Home | September 18, 1988 | Lancashire Cup |
| Castleford v Oldham | Away | September 25, 1988 | Division 1 |
| Oldham v Salford | Home | September 28, 1988 | Lancashire Cup |
| Oldham v Hull Kingston Rovers | Home | October 2, 1988 | Division 1 |
| Wakefield Trinity v Oldham | Away | October 9, 1988 | Division 1 |
| Salford v Oldham | Away | October 16, 1988 | Division 1 |
| Warrington v Oldham | Away | November 13, 1988 | John Player Cup |
| Oldham v Halifax | Home | November 20, 1988 | Division 1 |
| Halifax v Oldham | Away | December 4, 1988 | Division 1 |
| Oldham v Warrington | Home | December 11, 1988 | Division 1 |
| Hull FC v Oldham | Away | December 18, 1988 | Division 1 |
| Oldham v Salford | Home | December 26, 1988 | Division 1 |
| Leeds v Oldham | Away | January 1, 1989 | Division 1 |
| Hull Kingston Rovers v Oldham | Away | January 15, 1989 | Division 1 |
| Dewsbury v Oldham | Away | January 29, 1989 | Rugby League Challenge Cup |
| Widnes v Oldham | Away | February 5, 1989 | Division 1 |
| Sheffield Eagles v Oldham | Away | February 12, 1989 | Rugby League Challenge Cup |
| Oldham v Hull FC | Home | February 19, 1989 | Division 1 |
| Oldham v Featherstone Rovers | Home | March 5, 1989 | Division 1 |
| Oldham v Wakefield Trinity | Home | March 19, 1989 | Division 1 |
| Oldham v Widnes | Home | March 22, 1989 | Division 1 |
| Oldham v Wigan | Home | March 27, 1989 | Division 1 |
| Oldham v Castleford | Home | April 9, 1989 | Division 1 |
| Bradford Northern v Oldham | Away | April 12, 1989 | Division 1 |
| Oldham v Wakefield Trinity | Home | August 20, 1989 | Benefit Match |
| Oldham v Workington Town | Home | September 3, 1989 | Division 2 |
| Halifax v Oldham | Away | September 10, 1989 | Division 2 |
| Barrow v Oldham | Away | September 17, 1989 | Lancashire Cup |
| St Helens v Oldham | Away | September 27, 1989 | Lancashire Cup |
| Oldham v Hull Kingston Rovers | Home | October 1, 1989 | Division 2 |
| Oldham v Wigan | Home | October 5, 1989 | Lancashire Cup |
| Warrington v Oldham | Neutral | October 14, 1989 | Lancashire Cup |
| Oldham v Halifax | Home | October 18, 1989 | Division 2 |
| Carlisle v Oldham | Away | October 22, 1989 | Division 2 |
| Oldham v Batley | Home | October 29, 1989 | Division 2 |
| Doncaster v Oldham | Away | November 5, 1989 | Division 2 |
| Oldham v Keighley | Home | November 12, 1989 | Division 2 |
| Fulham v Oldham | Away | November 19, 1989 | Division 2 |
| Oldham v Doncaster | Home | November 26, 1989 | Division 2 |
| Bramley v Oldham | Away | December 3, 1989 | Regal Trophy |
| Oldham v Huddersfield | Home | December 10, 1989 | Regal Trophy |
| St Helens v Oldham | Away | December 17, 1989 | Regal Trophy |
| Rochdale Hornets v Oldham | Away | December 26, 1989 | Division 2 |
| Oldham v Swinton | Home | January 1, 1990 | Division 2 |
| Oldham v Hunslet | Home | January 7, 1990 | Division 2 |
| Oldham v Huddersfield | Home | January 14, 1990 | Rugby League Challenge Cup |
| Hull Kingston Rovers v Oldham | Away | January 17, 1990 | Division 2 |
| Chorley Borough v Oldham | Away | January 21, 1990 | Division 2 |
| Oldham v Workington Town | Home | January 28, 1990 | Rugby League Challenge Cup |
| Oldham v Fulham | Home | February 4, 1990 | Division 2 |
| Salford v Oldham | Away | February 11, 1990 | Rugby League Challenge Cup |
| Widnes v Oldham | Away | February 25, 1990 | Rugby League Challenge Cup |
| Keighley v Oldham | Away | March 7, 1990 | Division 2 |
| Batley v Oldham | Away | March 11, 1990 | Division 2 |
| Oldham v Runcorn Highfield | Home | March 18, 1990 | Division 2 |
| Warrington v Oldham | Neutral | March 31, 1990 | Rugby League Challenge Cup |
| Workington Town v Oldham | Away | April 4, 1990 | Division 2 |
| Oldham v Rochdale Hornets | Home | April 16, 1990 | Division 2 |
| Oldham v Swinton | Home | April 22, 1990 | 2nd Division Premiership |
| Oldham v Ryedale-York | Home | May 6, 1990 | 2nd Division Premiership |
| Hull Kingston Rovers v Oldham | Neutral | May 13, 1990 | 2nd Division Premiership |
| Oldham v Bradford Northern | Home | August 12, 1990 | Benefit Match |
| Salford v Oldham | Away | August 26, 1990 | Lancashire Cup |
| Oldham v Leeds | Home | September 9, 1990 | Division 1 |
| Wakefield Trinity v Oldham | Away | September 16, 1990 | Division 1 |
| Oldham v Castleford | Home | September 26, 1990 | Division 1 |
| Widnes v Oldham | Away | October 2, 1990 | Division 1 |
| Oldham v Hull Kingston Rovers | Home | October 7, 1990 | Division 1 |
| Sheffield Eagles v Oldham | Away | October 14, 1990 | Division 1 |
| Oldham v Warrington | Home | October 20, 1990 | Division 1 |
| Wigan v Oldham | Away | November 4, 1990 | Division 1 |
| Oldham v Bradford Northern | Home | November 11, 1990 | Division 1 |
| Castleford v Oldham | Away | November 18, 1990 | Division 1 |
| Oldham v Widnes | Home | November 25, 1990 | Division 1 |
| Oldham v Salford | Home | December 2, 1990 | Regal Trophy |
| Batley v Oldham | Away | December 9, 1990 | Regal Trophy |
| Hull FC v Oldham | Away | December 16, 1990 | Division 1 |
| Oldham v Rochdale Hornets | Home | December 26, 1990 | Division 1 |
| Leeds v Oldham | Away | January 1, 1991 | Division 1 |
| Oldham v Featherstone Rovers | Home | January 6, 1991 | Division 1 |
| Hull Kingston Rovers v Oldham | Away | January 13, 1991 | Division 1 |
| Oldham v Wakefield Trinity | Home | January 20, 1991 | Division 1 |
| Featherstone Rovers v Oldham | Away | January 27, 1991 | Division 1 |
| Oldham v St Helens | Home | February 3, 1991 | Division 1 |
| Bramley v Oldham | Away | February 17, 1991 | Rugby League Challenge Cup |
| Workington Town v Oldham | Away | February 24, 1991 | Rugby League Challenge Cup |
| Bradford Northern v Oldham | Away | March 3, 1991 | Division 1 |
| Oldham v Salford | Home | March 10, 1991 | Rugby League Challenge Cup |
| St Helens v Oldham | Away | March 13, 1991 | Division 1 |
| Oldham v Sheffield Eagles | Home | March 17, 1991 | Division 1 |
| Wigan v Oldham | Neutral | March 23, 1991 | Rugby League Challenge Cup |
| Rochdale Hornets v Oldham | Away | March 29, 1991 | Division 1 |
| Oldham v Wigan | Home | April 1, 1991 | Division 1 |
| Warrington v Oldham | Away | April 7, 1991 | Division 1 |
| Oldham v Hull FC | Home | April 14, 1991 | Division 1 |
| Rochdale Hornets v Oldham | Away | December 12, 1999 | Law Cup |
| Oldham v Rochdale Hornets | Home | December 27, 1999 | Northern Ford Premiership |
| Swinton Lions v Oldham | Away | January 2, 2000 | Northern Ford Premiership |
| Oldham v Whitehaven Warriors | Home | January 9, 2000 | Northern Ford Premiership |
| Barrow Border Raiders v Oldham | Away | January 16, 2000 | Northern Ford Premiership |
| Oldham v Workington Town | Home | January 23, 2000 | Northern Ford Premiership |
| Doncaster Dragons v Oldham | Away | February 6, 2000 | Northern Ford Premiership |
| Leigh Centurions v Oldham | Away | February 20, 2000 | Northern Ford Premiership |
| Oldham v Lancashire Lynx | Home | March 5, 2000 | Northern Ford Premiership |
| Widnes Vikings v Oldham | Away | March 12, 2000 | Northern Ford Premiership |
| Oldham v Dewsbury Rams | Home | March 19, 2000 | Northern Ford Premiership |
| Featherstone Rovers v Oldham | Away | March 26, 2000 | Northern Ford Premiership |
| Sheffield Eagles v Oldham | Away | April 2, 2000 | Northern Ford Premiership |
| Oldham v Hunslet Hawks | Home | April 9, 2000 | Northern Ford Premiership |
| Batley Bulldogs v Oldham | Away | April 16, 2000 | Northern Ford Premiership |
| Rochdale Hornets v Oldham | Away | April 21, 2000 | Northern Ford Premiership |
| Oldham v Doncaster Dragons | Home | May 29, 2000 | Northern Ford Premiership |
| Oldham v Leigh Centurions | Home | June 4, 2000 | Northern Ford Premiership |
| Oldham v Widnes Vikings | Home | June 18, 2000 | Northern Ford Premiership |
| Dewsbury Rams v Oldham | Away | June 25, 2000 | Northern Ford Premiership |
| Oldham v Featherstone Rovers | Home | July 2, 2000 | Northern Ford Premiership |
| Oldham v Hull Kingston Rovers | Home | July 9, 2000 | Northern Ford Premiership |
| Doncaster Dragons v Oldham | Away | July 16, 2000 | Northern Ford Premiership |
| Leigh Centurions v Oldham | Away | July 23, 2000 | Northern Ford Premiership |
| Barrow Raiders v Oldham | Away | December 3, 2000 | Northern Ford Premiership |
| Workington Town v Oldham | Away | December 17, 2000 | Northern Ford Premiership |
| Rochdale Hornets v Oldham | Away | December 24, 2000 | Northern Ford Premiership |
| Oldham v Widnes Vikings | Home | January 1, 2001 | Northern Ford Premiership |
| Oldham v Leigh Centurions | Home | January 14, 2001 | Northern Ford Premiership |
| Oldham v Hull Kingston Rovers | Home | February 13, 2001 | Rugby League Challenge Cup |
| Oldham v Wakefield Trinity Wildcats | Home | February 25, 2001 | Rugby League Challenge Cup |
| Dewsbury Rams v Oldham | Away | March 11, 2001 | Northern Ford Premiership |
| Oldham v Whitehaven Warriors | Home | March 14, 2001 | Northern Ford Premiership |
| Oldham v Hunslet Hawks | Home | March 28, 2001 | Northern Ford Premiership |
| Widnes Vikings v Oldham | Away | April 16, 2001 | Northern Ford Premiership |
| Batley Bulldogs v Oldham | Away | April 22, 2001 | Northern Ford Premiership |
| Oldham v Doncaster Dragons | Home | April 25, 2001 | Northern Ford Premiership |
| Oldham v Workington Town | Home | May 20, 2001 | Northern Ford Premiership |
| Whitehaven Warriors v Oldham | Away | June 16, 2001 | Northern Ford Premiership |
| Keighley Cougars v Oldham | Away | June 23, 2001 | Northern Ford Premiership |
| Hull Kingston Rovers v Oldham | Away | July 1, 2001 | Northern Ford Premiership |
| Leigh Centurions v Oldham | Away | July 8, 2001 | Northern Ford Premiership |
| Rochdale Hornets v Oldham | Away | July 22, 2001 | Northern Ford Premiership |
| Widnes Vikings v Oldham | Neutral | July 28, 2001 | Northern Ford Premiership |