Alf Wood
Profile
Although born in Wolverhampton, Alf Wood played his first rugby down in the West Country and was full back for the Newton Abbott Rugby Union club at the tender age of 16. He later went to play for Bristol and Cheltenham, gaining county honours for both Devon and Gloucestershire before being capped by England in the 1907-08 season.
The third test of the first ever Rugby League tour, by the famous New Zealand "All Golds", happened to be played in Cheltenham and Alf was in attendance. An Oldham deputation approached him at the match and by the following season he had switched codes to play for the Watersheddings club. He set the standard for a glittering career, by kicking seven goals on his debut at St Helens.
The most famous game of his career was reserved for the International arena and perhaps the most famous Rugby League test match of all time. Having been selected for the 1914 tour to Australia and New Zealand, Alf was one of the walking wounded when it came to select the side to play in the third and deciding test in Sydney. He was in fact suffering from a broken nose and an injured ankle, but such was the extent of the tourists' sick list, he volunteered to turn out, no doubt in response to the famous "England expects" telegram received from Northern Union H.Q., which urged the team to fulfil the fixture.
The injury crisis got worse as the match progressed and for a time the Lions were down to only nine men, but Alf emerged the hero in what was to become known as the "Rorke's Drift" test, kicking four vital goals and providing a formidable last line of defence that won him handsome praise in the Sydney press. Great Britain won the match 14 – 6 and his place in RL history was assured. On that same tour Alf kicked 15 goals and scored a try in the match against South Australia.
He won every major honour with Oldham, except the Challenge Cup and toured again in 1920, being the oldest player ever to do so when aged 36, although he did not add to his four caps. If his career had not been interrupted by the First World War he would have been well up among the club's top appearance makers. Alf is also one of only two Oldham RL players to play in a match for Oldham Athletic, the other being Welshman Frank Holbrook.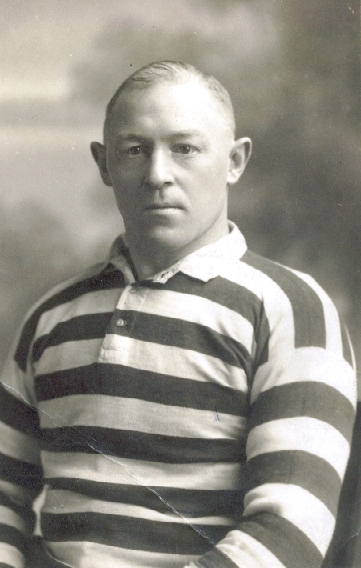 Career Games
| | | | |
| --- | --- | --- | --- |
| St Helens v Oldham | Away | September 5, 1908 | League Championship |
| Oldham v Salford | Home | September 12, 1908 | League Championship |
| Widnes v Oldham | Away | September 19, 1908 | League Championship |
| Oldham v Swinton | Home | September 26, 1908 | League Championship |
| Rochdale Hornets v Oldham | Away | October 3, 1908 | League Championship |
| Oldham v Leigh | Home | October 10, 1908 | League Championship |
| Hull Kingston Rovers v Oldham | Away | October 17, 1908 | League Championship |
| Oldham v Barrow | Home | October 24, 1908 | League Championship |
| Barry v Oldham | Away | October 31, 1908 | League Championship |
| Oldham v Salford | Home | November 7, 1908 | Lancashire Cup |
| Broughton Rangers v Oldham | Away | November 14, 1908 | League Championship |
| Oldham v Rochdale Hornets | Home | November 21, 1908 | Lancashire Cup |
| Warrington v Oldham | Away | November 23, 1908 | League Championship |
| Oldham v Broughton Rangers | Home | November 28, 1908 | League Championship |
| Oldham v Runcorn | Home | December 5, 1908 | Lancashire Cup |
| Leigh v Oldham | Away | December 9, 1908 | League Championship |
| Wigan v Oldham | Neutral | December 19, 1908 | Lancashire Cup |
| Oldham v Hull Kingston Rovers | Home | December 25, 1908 | League Championship |
| Oldham v Australia | Home | December 26, 1908 | Tour Match |
| Oldham v Barry | Home | January 1, 1909 | League Championship |
| Oldham v Leeds | Home | January 2, 1909 | League Championship |
| Runcorn v Oldham | Away | January 9, 1909 | League Championship |
| Oldham v Halifax | Home | January 16, 1909 | League Championship |
| Oldham v Rochdale Hornets | Home | January 23, 1909 | League Championship |
| Wigan v Oldham | Away | January 30, 1909 | League Championship |
| Halifax v Oldham | Away | February 13, 1909 | League Championship |
| Oldham v Warrington | Home | February 20, 1909 | League Championship |
| Oldham v Hull Kingston Rovers | Home | February 27, 1909 | Rugby League Challenge Cup |
| Swinton v Oldham | Away | March 13, 1909 | Rugby League Challenge Cup |
| Oldham v Swinton | Home | March 16, 1909 | Rugby League Challenge Cup |
| Oldham v Wigan | Home | March 20, 1909 | League Championship |
| Oldham v Hull FC | Home | March 27, 1909 | Rugby League Challenge Cup |
| Barrow v Oldham | Away | April 1, 1909 | League Championship |
| Oldham v Runcorn | Home | April 3, 1909 | League Championship |
| Leeds v Oldham | Away | April 10, 1909 | League Championship |
| Halifax v Oldham | Away | April 17, 1909 | League Championship |
| Oldham v Halifax | Home | April 21, 1909 | League Championship |
| Wigan v Oldham | Neutral | May 1, 1909 | League Championship |
| Hull Kingston Rovers v Oldham | Away | September 4, 1909 | League Championship |
| Salford v Oldham | Away | September 11, 1909 | League Championship |
| Oldham v Halifax | Home | September 18, 1909 | League Championship |
| Oldham v Wigan | Home | September 25, 1909 | League Championship |
| Treherbert v Oldham | Away | October 2, 1909 | League Championship |
| Ebbw Vale v Oldham | Away | October 4, 1909 | League Championship |
| Oldham v Runcorn | Home | October 9, 1909 | League Championship |
| Rochdale Hornets v Oldham | Away | October 16, 1909 | Lancashire Cup |
| Oldham v Hull FC | Home | October 23, 1909 | League Championship |
| Runcorn v Oldham | Away | October 30, 1909 | Lancashire Cup |
| Oldham v Warrington | Home | November 6, 1909 | League Championship |
| Widnes v Oldham | Away | November 13, 1909 | League Championship |
| Oldham v Swinton | Home | November 20, 1909 | League Championship |
| St Helens v Oldham | Away | November 27, 1909 | League Championship |
| Oldham v Leeds | Home | December 4, 1909 | League Championship |
| Huddersfield v Oldham | Neutral | December 13, 1909 | Friendly |
| Oldham v St Helens | Home | December 18, 1909 | League Championship |
| Oldham v Hull Kingston Rovers | Home | December 25, 1909 | League Championship |
| Hull FC v Oldham | Away | January 1, 1910 | League Championship |
| Oldham v Ebbw Vale | Home | January 3, 1910 | League Championship |
| Broughton Rangers v Oldham | Away | January 4, 1910 | League Championship |
| Wigan v Oldham | Away | January 8, 1910 | League Championship |
| Runcorn v Oldham | Away | January 15, 1910 | League Championship |
| Oldham v Rochdale Hornets | Home | January 22, 1910 | League Championship |
| Leigh v Oldham | Away | January 26, 1910 | League Championship |
| Oldham v Leigh | Home | January 29, 1910 | League Championship |
| Oldham v Broughton Rangers | Home | February 12, 1910 | League Championship |
| Leeds v Oldham | Away | February 19, 1910 | League Championship |
| Huddersfield v Oldham | Away | February 26, 1910 | Rugby League Challenge Cup |
| Oldham v Salford | Home | March 5, 1910 | League Championship |
| Barrow v Oldham | Away | March 12, 1910 | League Championship |
| Swinton v Oldham | Away | March 25, 1910 | League Championship |
| Oldham v Widnes | Home | March 26, 1910 | League Championship |
| Halifax v Oldham | Away | March 28, 1910 | League Championship |
| Rochdale Hornets v Oldham | Away | April 2, 1910 | League Championship |
| Warrington v Oldham | Away | April 4, 1910 | League Championship |
| Oldham v Treherbert | Home | April 9, 1910 | League Championship |
| Oldham v Wakefield Trinity | Home | April 16, 1910 | League Championship |
| Wigan v Oldham | Neutral | April 23, 1910 | League Championship |
| St Helens v Oldham | Away | September 3, 1910 | League Championship |
| Hull Kingston Rovers v Oldham | Away | September 10, 1910 | League Championship |
| Oldham v Coventry | Home | September 24, 1910 | League Championship |
| Oldham v Ebbw Vale | Home | October 1, 1910 | League Championship |
| Rochdale Hornets v Oldham | Away | October 8, 1910 | League Championship |
| Oldham v Wigan | Home | October 15, 1910 | League Championship |
| Warrington v Oldham | Away | October 22, 1910 | League Championship |
| Oldham v Salford | Home | October 29, 1910 | League Championship |
| Widnes v Oldham | Away | November 5, 1910 | Lancashire Cup |
| Oldham v Halifax | Home | November 12, 1910 | League Championship |
| Rochdale Hornets v Oldham | Away | November 19, 1910 | Lancashire Cup |
| Oldham v Huddersfield | Home | November 26, 1910 | League Championship |
| Swinton v Oldham | Neutral | December 3, 1910 | Lancashire Cup |
| Widnes v Oldham | Away | December 7, 1910 | League Championship |
| Oldham v St Helens | Home | December 10, 1910 | League Championship |
| Leigh v Oldham | Away | December 13, 1910 | League Championship |
| Huddersfield v Oldham | Away | December 17, 1910 | League Championship |
| Oldham v Hull Kingston Rovers | Home | December 24, 1910 | League Championship |
| Oldham v Swinton | Home | December 26, 1910 | League Championship |
| Leeds v Oldham | Away | December 31, 1910 | League Championship |
| Barrow v Oldham | Away | January 2, 1911 | League Championship |
| Oldham v Widnes | Home | January 7, 1911 | League Championship |
| Halifax v Oldham | Away | January 14, 1911 | League Championship |
| Runcorn v Oldham | Away | January 21, 1911 | League Championship |
| Oldham v Warrington | Home | January 28, 1911 | League Championship |
| Salford v Oldham | Away | February 4, 1911 | League Championship |
| Oldham v Runcorn | Home | February 11, 1911 | League Championship |
| Hull Kingston Rovers v Oldham | Away | February 18, 1911 | Rugby League Challenge Cup |
| Oldham v Rochdale Hornets | Home | February 25, 1911 | League Championship |
| Oldham v Wakefield Trinity | Home | March 4, 1911 | Rugby League Challenge Cup |
| Oldham v Barrow | Home | March 11, 1911 | League Championship |
| Oldham v Rochdale Hornets | Home | March 18, 1911 | Rugby League Challenge Cup |
| Rochdale Hornets v Oldham | Away | March 21, 1911 | Rugby League Challenge Cup |
| Coventry v Oldham | Away | March 23, 1911 | League Championship |
| Oldham v Leigh | Home | March 25, 1911 | League Championship |
| Wigan v Oldham | Away | March 29, 1911 | League Championship |
| Swinton v Oldham | Away | April 1, 1911 | League Championship |
| Wigan v Oldham | Neutral | April 19, 1911 | League Championship |
| Oldham v Wakefield Trinity | Home | April 22, 1911 | League Championship |
| Hull Kingston Rovers v Oldham | Away | September 2, 1911 | League Championship |
| Leigh v Oldham | Away | September 9, 1911 | League Championship |
| Bradford Northern v Oldham | Away | September 12, 1911 | League Championship |
| Oldham v Leeds | Home | September 16, 1911 | League Championship |
| Oldham v Rochdale Hornets | Home | September 30, 1911 | League Championship |
| Broughton Rangers v Oldham | Away | October 7, 1911 | League Championship |
| Oldham v Halifax | Home | October 14, 1911 | League Championship |
| Barrow v Oldham | Away | October 21, 1911 | Lancashire Cup |
| Oldham v Swinton | Home | October 28, 1911 | League Championship |
| Oldham v Leigh | Home | November 4, 1911 | Lancashire Cup |
| Runcorn v Oldham | Away | November 8, 1911 | League Championship |
| Oldham v Australia | Home | November 11, 1911 | Tour Match |
| Wigan v Oldham | Away | November 18, 1911 | Lancashire Cup |
| Oldham v Widnes | Home | November 25, 1911 | League Championship |
| Rochdale Hornets v Oldham | Neutral | December 2, 1911 | Lancashire Cup |
| St Helens v Oldham | Away | December 7, 1911 | League Championship |
| Oldham v Broughton Rangers | Home | December 9, 1911 | League Championship |
| Barrow v Oldham | Away | December 11, 1911 | League Championship |
| Oldham v Leigh | Home | December 23, 1911 | League Championship |
| Oldham v Hull Kingston Rovers | Home | December 25, 1911 | League Championship |
| Oldham v Bradford Northern | Home | December 26, 1911 | League Championship |
| Oldham v St Helens | Home | December 30, 1911 | League Championship |
| Salford v Oldham | Away | January 6, 1912 | League Championship |
| Oldham v Warrington | Home | January 13, 1912 | League Championship |
| Leeds v Oldham | Away | February 10, 1912 | League Championship |
| Coventry v Oldham | Away | February 17, 1912 | Rugby League Challenge Cup |
| Oldham v Huddersfield | Home | February 24, 1912 | League Championship |
| Oldham v Wigan | Home | March 2, 1912 | Rugby League Challenge Cup |
| Oldham v Wigan | Home | March 9, 1912 | League Championship |
| Widnes v Oldham | Away | March 13, 1912 | League Championship |
| Rochdale Hornets v Oldham | Away | March 16, 1912 | League Championship |
| Oldham v Huddersfield | Home | March 23, 1912 | Rugby League Challenge Cup |
| Swinton v Oldham | Away | March 27, 1912 | League Championship |
| Wakefield Trinity v Oldham | Neutral | April 13, 1912 | Rugby League Challenge Cup |
| Dewsbury v Oldham | Neutral | April 27, 1912 | Rugby League Challenge Cup |
| Oldham v Dewsbury | Home | September 7, 1912 | League Championship |
| Hull Kingston Rovers v Oldham | Away | September 14, 1912 | League Championship |
| Leeds v Oldham | Away | September 21, 1912 | League Championship |
| Oldham v St Helens | Home | September 28, 1912 | League Championship |
| Runcorn v Oldham | Away | October 19, 1912 | Lancashire Cup |
| Oldham v Wigan | Home | October 26, 1912 | League Championship |
| Oldham v Salford | Home | November 23, 1912 | League Championship |
| Oldham v Barrow | Home | December 7, 1912 | League Championship |
| Oldham v Swinton | Home | December 12, 1912 | League Championship |
| Halifax v Oldham | Away | December 14, 1912 | League Championship |
| Wigan v Oldham | Away | December 21, 1912 | League Championship |
| Oldham v Hull Kingston Rovers | Home | December 25, 1912 | League Championship |
| Oldham v Huddersfield | Home | March 22, 1913 | League Championship |
| Oldham v Broughton Rangers | Home | March 24, 1913 | League Championship |
| St Helens v Oldham | Away | September 13, 1913 | League Championship |
| Wigan v Oldham | Away | September 20, 1913 | League Championship |
| Oldham v Halifax | Home | September 27, 1913 | League Championship |
| Huddersfield v Oldham | Away | October 4, 1913 | League Championship |
| Oldham v Warrington | Home | October 11, 1913 | League Championship |
| Broughton Rangers v Oldham | Away | October 18, 1913 | Lancashire Cup |
| Oldham v Widnes | Home | October 25, 1913 | League Championship |
| Oldham v Widnes | Home | November 1, 1913 | Lancashire Cup |
| Oldham v Rochdale Hornets | Home | November 8, 1913 | League Championship |
| Oldham v St Helens | Home | November 15, 1913 | Lancashire Cup |
| Oldham v Hull FC | Home | November 22, 1913 | League Championship |
| Widnes v Oldham | Away | November 25, 1913 | League Championship |
| Broughton Rangers v Oldham | Away | November 29, 1913 | League Championship |
| Wigan v Oldham | Neutral | December 6, 1913 | Lancashire Cup |
| Rochdale Hornets v Oldham | Away | January 24, 1914 | League Championship |
| Oldham v Runcorn | Home | January 31, 1914 | League Championship |
| Oldham v Huddersfield | Home | February 7, 1914 | League Championship |
| Runcorn v Oldham | Away | February 21, 1914 | League Championship |
| Leigh v Oldham | Away | February 28, 1914 | Rugby League Challenge Cup |
| Oldham v Leigh | Home | March 7, 1914 | League Championship |
| Widnes v Oldham | Away | March 14, 1914 | Rugby League Challenge Cup |
| Wakefield Trinity v Oldham | Away | March 23, 1914 | League Championship |
| Oldham v Barrow | Home | March 28, 1914 | League Championship |
| Halifax v Oldham | Away | March 30, 1914 | League Championship |
| Swinton v Oldham | Away | April 10, 1914 | League Championship |
| Oldham v Wakefield Trinity | Home | April 11, 1914 | League Championship |
| Barrow v Oldham | Away | April 13, 1914 | League Championship |
| Oldham v Broughton Rangers | Home | October 10, 1914 | League Championship |
| Wigan v Oldham | Away | October 17, 1914 | Lancashire Cup |
| Oldham v Leeds | Home | October 24, 1914 | League Championship |
| Barrow v Oldham | Away | October 31, 1914 | League Championship |
| Oldham v Hull FC | Home | November 7, 1914 | League Championship |
| Rochdale Hornets v Oldham | Away | November 28, 1914 | League Championship |
| Leigh v Oldham | Away | December 5, 1914 | League Championship |
| Oldham v St Helens | Home | December 12, 1914 | League Championship |
| Halifax v Oldham | Away | January 16, 1915 | League Championship |
| Oldham v Widnes | Home | January 23, 1915 | League Championship |
| Warrington v Oldham | Away | January 30, 1915 | League Championship |
| Oldham v Salford | Home | September 11, 1915 | Wartime Friendly |
| Wigan v Oldham | Away | September 18, 1915 | Wartime Friendly |
| Oldham v Huddersfield | Home | September 25, 1915 | Wartime Friendly |
| Oldham v Leigh | Home | October 2, 1915 | Wartime Friendly |
| Oldham v St Helens | Home | October 16, 1915 | Wartime Friendly |
| Broughton Rangers v Oldham | Away | October 23, 1915 | Wartime Friendly |
| Oldham v Bradford Northern | Home | October 30, 1915 | Wartime Friendly |
| Leigh v Oldham | Away | November 6, 1915 | Wartime Friendly |
| Oldham v Rochdale Hornets | Home | November 13, 1915 | Wartime Friendly |
| Oldham v Wigan | Home | December 4, 1915 | Wartime Friendly |
| Salford v Oldham | Away | December 11, 1915 | Wartime Friendly |
| Oldham v Halifax | Home | December 18, 1915 | Wartime Friendly |
| Oldham v Swinton | Home | December 25, 1915 | Wartime Friendly |
| Huddersfield v Oldham | Away | December 27, 1915 | Wartime Friendly |
| Hull FC v Oldham | Away | January 1, 1916 | Wartime Friendly |
| Oldham v Oldham Present | Home | January 3, 1916 | Special Friendly |
| Rochdale Hornets v Oldham | Away | January 8, 1916 | Wartime Friendly |
| Wigan v Oldham | Away | January 15, 1916 | Wartime Friendly |
| Oldham v Broughton Rangers | Home | January 22, 1916 | Wartime Friendly |
| Swinton v Oldham | Away | January 29, 1916 | Wartime Friendly |
| Oldham v Leeds | Home | February 5, 1916 | Wartime Friendly |
| Batley v Oldham | Away | February 12, 1916 | Wartime Friendly |
| Oldham v Rochdale Hornets | Home | February 19, 1916 | Wartime Friendly |
| Oldham v Dewsbury | Home | March 4, 1916 | Wartime Friendly |
| Oldham v Wigan | Home | March 18, 1916 | Wartime Friendly |
| Halifax v Oldham | Away | March 25, 1916 | Wartime Friendly |
| Oldham v Batley | Home | April 1, 1916 | Wartime Friendly |
| Oldham v Hull FC | Home | April 15, 1916 | Wartime Friendly |
| Oldham v Rochdale Hornets | Home | April 29, 1916 | Wartime Friendly |
| Oldham v Rochdale Hornets | Home | December 25, 1918 | Friendly |
| Broughton Rangers v Oldham | Away | January 11, 1919 | Friendly |
| Oldham v Rochdale Hornets | Home | January 18, 1919 | Lancashire League |
| Oldham v Swinton | Home | February 8, 1919 | Lancashire League |
| Warrington v Oldham | Away | February 15, 1919 | Lancashire League |
| Oldham v Barrow | Home | March 1, 1919 | Lancashire League |
| Barrow v Oldham | Away | March 8, 1919 | Lancashire League |
| Oldham v St Helens Recs | Home | March 15, 1919 | Lancashire League |
| Rochdale Hornets v Oldham | Away | March 22, 1919 | Lancashire League |
| Wigan v Oldham | Away | March 29, 1919 | Lancashire League |
| Oldham v Wigan | Home | April 5, 1919 | Lancashire League |
| Oldham v St Helens | Home | April 12, 1919 | Lancashire Cup |
| Swinton v Oldham | Away | April 18, 1919 | Lancashire League |
| Oldham v Swinton | Home | April 19, 1919 | Lancashire League |
| Oldham v Broughton Rangers | Home | April 21, 1919 | Lancashire League |
| Barrow v Oldham | Away | April 26, 1919 | Lancashire Cup |
| Rochdale Hornets v Oldham | Neutral | May 10, 1919 | Lancashire Cup |
| Oldham v Warrington | Home | May 17, 1919 | Lancashire League |
| Warrington v Oldham | Away | August 23, 1919 | League Championship |
| Oldham v Rochdale Hornets | Home | August 30, 1919 | League Championship |
| St Helens v Oldham | Away | September 6, 1919 | League Championship |
| Oldham v Halifax | Home | October 11, 1919 | League Championship |
| Oldham v Wakefield Trinity | Home | November 8, 1919 | League Championship |
| Oldham v Swinton | Home | December 25, 1919 | League Championship |
| Oldham v Broughton Rangers | Home | December 26, 1919 | League Championship |
| Rochdale Hornets v Oldham | Away | December 27, 1919 | League Championship |
| Oldham v Warrington | Home | January 1, 1920 | League Championship |
| Oldham v Leigh | Home | January 3, 1920 | League Championship |
| Leigh v Oldham | Away | January 14, 1920 | League Championship |
| St Helens Recs v Oldham | Away | January 17, 1920 | League Championship |
| Halifax v Oldham | Away | January 24, 1920 | League Championship |
| Oldham v Leeds | Home | January 31, 1920 | League Championship |
| Hull FC v Oldham | Away | February 14, 1920 | League Championship |
| Bradford Northern v Oldham | Away | February 21, 1920 | Rugby League Challenge Cup |
| Oldham v Bradford Northern | Home | February 23, 1920 | Rugby League Challenge Cup |
| Oldham v Warrington | Home | February 28, 1920 | Rugby League Challenge Cup |
| Salford v Oldham | Away | March 6, 1920 | League Championship |
| Oldham v Leeds | Home | March 13, 1920 | Rugby League Challenge Cup |
| Widnes v Oldham | Away | March 17, 1920 | League Championship |
| Oldham v Barrow | Home | March 23, 1920 | League Championship |
| Huddersfield v Oldham | Neutral | March 27, 1920 | Rugby League Challenge Cup |
| Swinton v Oldham | Away | April 2, 1920 | League Championship |
| Oldham v Salford | Home | April 3, 1920 | League Championship |
| Huddersfield v Oldham | Away | October 30, 1920 | Friendly |
| Oldham v Barrow | Home | November 6, 1920 | League Championship |
| Wigan v Oldham | Away | November 13, 1920 | League Championship |
| Widnes v Oldham | Away | November 20, 1920 | League Championship |
| Barrow v Oldham | Away | December 18, 1920 | League Championship |
| Oldham v Swinton | Home | December 25, 1920 | League Championship |