Frank Pitchford
Profile
Frank Pitchford was yet another of the great 1950's team to hail from Leigh. He was spotted playing for Leigh St Joseph's amateur team and signed for Oldham at the start of the 1952-53 season, making his debut at Liverpool on Boxing Day.
As tricky a scrum half as ever played for the club, Frank was famous for his lightning bursts away from the scrum and the ability to exploit the slightest flaw in the opponents' defence, by darting through the gap himself or delivering a pin-point pass to a colleague. He remains the only scrum half to score more than 100 tries for the club.
By the 1954-55 season he was the regular first choice No 7 and would remain so for the next seven years. He scored the only points for Oldham in the 1955 Championship Final defeat (7- 3) at Maine Road, in the mud against Warrington. The disappointment of that day was offset when Frank played a starring role in the success against Hull two years later.
He represented Lancashire and won two full Great Britain caps, one against France in 1962 and the other against New Zealand in Auckland on the 1958 tour "Down Under". Frank left to join Wigan in 1962 and like so many of his colleagues, he went on to play at Wembley, after leaving Watersheddings, but it is as an elusive scrum half in the red and white of Oldham, that he will always be remembered.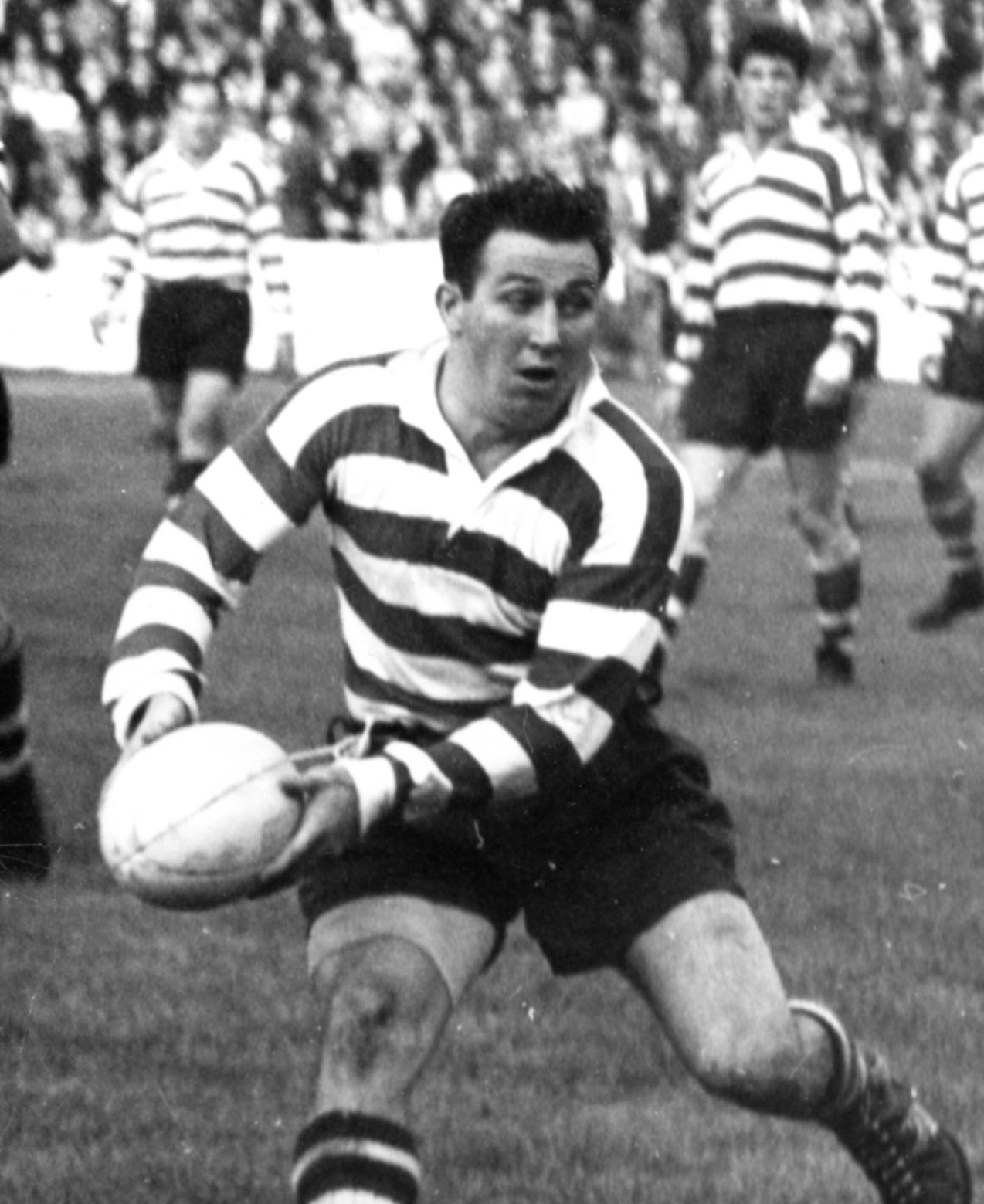 Career Games
| | | | |
| --- | --- | --- | --- |
| Liverpool City v Oldham | Away | December 26, 1952 | League Championship |
| Rochdale Hornets v Oldham | Away | February 21, 1953 | League Championship |
| Oldham v Leeds | Home | August 29, 1953 | League Championship |
| Widnes v Oldham | Away | September 2, 1953 | League Championship |
| Whitehaven v Oldham | Away | September 5, 1953 | Lancashire Cup |
| Oldham v Liverpool City | Home | September 19, 1953 | League Championship |
| Oldham v St Helens | Home | November 7, 1953 | League Championship |
| Belle Vue Rangers v Oldham | Away | November 28, 1953 | League Championship |
| Oldham v Barrow | Home | December 5, 1953 | League Championship |
| St Helens v Oldham | Away | December 12, 1953 | League Championship |
| Oldham v Workington Town | Home | December 19, 1953 | League Championship |
| Oldham v Swinton | Home | December 25, 1953 | League Championship |
| Workington Town v Oldham | Away | December 26, 1953 | League Championship |
| Hull FC v Oldham | Away | January 2, 1954 | League Championship |
| Oldham v Salford | Home | January 9, 1954 | League Championship |
| Oldham v Warrington | Home | April 8, 1954 | League Championship |
| Oldham v Whitehaven | Home | April 12, 1954 | League Championship |
| Swinton v Oldham | Away | April 16, 1954 | League Championship |
| Oldham v Belle Vue Rangers | Home | April 17, 1954 | League Championship |
| Rochdale Hornets v Oldham | Away | April 19, 1954 | League Championship |
| Wakefield Trinity v Oldham | Away | August 14, 1954 | League Championship |
| Oldham v Batley | Home | August 21, 1954 | League Championship |
| St Helens v Oldham | Away | August 28, 1954 | League Championship |
| Barrow v Oldham | Away | September 4, 1954 | League Championship |
| Oldham v Lancs County Amateurs | Home | September 11, 1954 | Lancashire Cup |
| Oldham v Liverpool City | Home | September 14, 1954 | League Championship |
| Oldham v St Helens | Home | September 20, 1954 | Lancashire Cup |
| Oldham v Wakefield Trinity | Home | September 25, 1954 | League Championship |
| Workington Town v Oldham | Away | September 30, 1954 | Lancashire Cup |
| Blackpool Borough v Oldham | Away | October 2, 1954 | League Championship |
| Oldham v Workington Town | Home | October 9, 1954 | League Championship |
| Rochdale Hornets v Oldham | Away | October 16, 1954 | League Championship |
| Barrow v Oldham | Neutral | October 23, 1954 | Lancashire Cup |
| Liverpool City v Oldham | Away | October 30, 1954 | League Championship |
| Widnes v Oldham | Away | November 13, 1954 | League Championship |
| Oldham v Whitehaven | Home | November 20, 1954 | League Championship |
| Wigan v Oldham | Away | November 27, 1954 | League Championship |
| Whitehaven v Oldham | Away | December 11, 1954 | League Championship |
| Keighley v Oldham | Away | December 18, 1954 | League Championship |
| Oldham v Swinton | Home | December 25, 1954 | League Championship |
| Oldham v Salford | Home | December 28, 1954 | League Championship |
| Oldham v Belle Vue Rangers | Home | January 1, 1955 | League Championship |
| Leigh v Oldham | Away | January 8, 1955 | League Championship |
| Oldham v Warrington | Home | January 15, 1955 | League Championship |
| Workington Town v Oldham | Away | January 22, 1955 | League Championship |
| Oldham v Rochdale Hornets | Home | January 29, 1955 | League Championship |
| Oldham v Barrow | Home | February 5, 1955 | League Championship |
| Oldham v Wigan | Home | February 12, 1955 | Rugby League Challenge Cup |
| Oldham v St Helens | Home | February 19, 1955 | League Championship |
| Leigh v Oldham | Away | March 5, 1955 | Rugby League Challenge Cup |
| Belle Vue Rangers v Oldham | Away | March 12, 1955 | League Championship |
| Oldham v Widnes | Home | March 19, 1955 | League Championship |
| Warrington v Oldham | Away | March 26, 1955 | League Championship |
| Oldham v Wigan | Home | April 2, 1955 | League Championship |
| Swinton v Oldham | Away | April 8, 1955 | League Championship |
| Hull FC v Oldham | Away | April 9, 1955 | League Championship |
| Oldham v Keighley | Home | April 11, 1955 | League Championship |
| Oldham v Leigh | Home | April 16, 1955 | League Championship |
| Oldham v Leeds | Home | April 23, 1955 | League Championship |
| Warrington v Oldham | Neutral | May 14, 1955 | League Championship |
| Rochdale Hornets v Oldham | Away | August 13, 1955 | Law Cup |
| Oldham v Keighley | Home | August 20, 1955 | Friendly |
| Blackpool Borough v Oldham | Away | August 27, 1955 | Lancashire Cup |
| Rochdale Hornets v Oldham | Away | August 30, 1955 | League Championship |
| Oldham v Hunslet | Home | September 3, 1955 | League Championship |
| Oldham v Leigh | Home | September 7, 1955 | Lancashire Cup |
| Leeds v Oldham | Away | September 10, 1955 | League Championship |
| Oldham v Warrington | Home | September 17, 1955 | League Championship |
| York v Oldham | Away | September 24, 1955 | League Championship |
| Warrington v Oldham | Away | October 22, 1955 | League Championship |
| Oldham v New Zealand | Home | October 29, 1955 | Tour Match |
| Leigh v Oldham | Away | November 5, 1955 | League Championship |
| Oldham v Liverpool City | Home | November 12, 1955 | League Championship |
| Wigan v Oldham | Away | November 19, 1955 | League Championship |
| Oldham v Widnes | Home | November 26, 1955 | League Championship |
| Liverpool City v Oldham | Away | December 3, 1955 | League Championship |
| Salford v Oldham | Away | December 10, 1955 | League Championship |
| Oldham v Salford | Home | December 17, 1955 | League Championship |
| St Helens v Oldham | Away | December 24, 1955 | League Championship |
| Oldham v Swinton | Home | December 26, 1955 | League Championship |
| Oldham v Whitehaven | Home | December 31, 1955 | League Championship |
| Workington Town v Oldham | Away | January 2, 1956 | League Championship |
| Whitehaven v Oldham | Away | January 7, 1956 | League Championship |
| Widnes v Oldham | Away | January 21, 1956 | League Championship |
| Oldham v Wigan | Home | February 18, 1956 | League Championship |
| Oldham v York | Home | March 10, 1956 | League Championship |
| Oldham v Blackpool Borough | Home | March 17, 1956 | League Championship |
| Oldham v Leigh | Home | March 24, 1956 | League Championship |
| Swinton v Oldham | Away | March 30, 1956 | League Championship |
| Oldham v Leeds | Home | March 31, 1956 | League Championship |
| Barrow v Oldham | Away | April 2, 1956 | League Championship |
| Oldham v St Helens | Home | April 14, 1956 | League Championship |
| Oldham v Workington Town | Home | April 21, 1956 | League Championship |
| Oldham v Rochdale Hornets | Home | August 11, 1956 | Law Cup |
| Oldham v Bramley | Home | August 18, 1956 | League Championship |
| Halifax v Oldham | Away | August 20, 1956 | League Championship |
| Rochdale Hornets v Oldham | Away | August 25, 1956 | League Championship |
| Oldham v Leigh | Home | August 28, 1956 | League Championship |
| Wigan v Oldham | Away | September 1, 1956 | Lancashire Cup |
| St Helens v Oldham | Away | September 8, 1956 | League Championship |
| Salford v Oldham | Away | September 11, 1956 | Lancashire Cup |
| Oldham v Wakefield Trinity | Home | September 15, 1956 | League Championship |
| Leigh v Oldham | Away | September 19, 1956 | Lancashire Cup |
| Oldham v Barrow | Home | September 22, 1956 | League Championship |
| Wigan v Oldham | Away | October 6, 1956 | League Championship |
| St Helens v Oldham | Neutral | October 20, 1956 | Lancashire Cup |
| Oldham v Keighley | Home | October 27, 1956 | League Championship |
| Workington Town v Oldham | Away | November 3, 1956 | League Championship |
| Oldham v Australia | Home | November 7, 1956 | Tour Match |
| Oldham v Workington Town | Home | November 10, 1956 | League Championship |
| Keighley v Oldham | Away | November 17, 1956 | League Championship |
| Barrow v Oldham | Away | November 21, 1956 | League Championship |
| Oldham v Blackpool Borough | Home | November 24, 1956 | League Championship |
| Oldham v York | Home | December 1, 1956 | League Championship |
| Oldham v St Helens | Home | December 8, 1956 | League Championship |
| Wakefield Trinity v Oldham | Away | December 15, 1956 | League Championship |
| Warrington v Oldham | Away | December 22, 1956 | League Championship |
| Widnes v Oldham | Away | December 29, 1956 | League Championship |
| Blackpool Borough v Oldham | Away | January 1, 1957 | League Championship |
| Oldham v Hunslet | Home | January 5, 1957 | League Championship |
| Oldham v Salford | Home | January 12, 1957 | League Championship |
| Whitehaven v Oldham | Away | January 19, 1957 | League Championship |
| Oldham v Warrington | Home | January 26, 1957 | League Championship |
| Salford v Oldham | Away | February 2, 1957 | League Championship |
| Workington Town v Oldham | Away | February 9, 1957 | Rugby League Challenge Cup |
| Leigh v Oldham | Away | February 23, 1957 | Rugby League Challenge Cup |
| Oldham v Liverpool City | Home | March 2, 1957 | League Championship |
| York v Oldham | Away | March 9, 1957 | League Championship |
| Oldham v Whitehaven | Home | March 16, 1957 | League Championship |
| Oldham v Wigan | Home | March 30, 1957 | League Championship |
| Leigh v Oldham | Away | April 4, 1957 | League Championship |
| Oldham v Swinton | Home | April 15, 1957 | League Championship |
| Swinton v Oldham | Away | April 19, 1957 | League Championship |
| Oldham v Rochdale Hornets | Home | April 22, 1957 | League Championship |
| Oldham v Leeds | Home | May 4, 1957 | League Championship |
| Hull FC v Oldham | Neutral | May 18, 1957 | League Championship |
| Rochdale Hornets v Oldham | Away | August 10, 1957 | Law Cup |
| Oldham v Halifax | Home | August 17, 1957 | League Championship |
| Barrow v Oldham | Away | August 22, 1957 | League Championship |
| Wakefield Trinity v Oldham | Away | August 24, 1957 | League Championship |
| Oldham v St Helens | Home | August 26, 1957 | League Championship |
| Oldham v Barrow | Home | August 31, 1957 | Lancashire Cup |
| Huddersfield v Oldham | Away | September 2, 1957 | League Championship |
| Halifax v Oldham | Away | September 7, 1957 | League Championship |
| Oldham v Warrington | Home | September 10, 1957 | Lancashire Cup |
| Oldham v Warrington | Home | September 14, 1957 | League Championship |
| Workington Town v Oldham | Away | September 28, 1957 | League Championship |
| St Helens v Oldham | Away | October 2, 1957 | Lancashire Cup |
| Rochdale Hornets v Oldham | Away | October 12, 1957 | League Championship |
| Wigan v Oldham | Neutral | October 19, 1957 | Lancashire Cup |
| Blackpool Borough v Oldham | Away | October 26, 1957 | League Championship |
| Oldham v Wakefield Trinity | Home | November 2, 1957 | League Championship |
| Salford v Oldham | Away | November 9, 1957 | League Championship |
| Oldham v Liverpool City | Home | November 16, 1957 | League Championship |
| Leigh v Oldham | Away | November 23, 1957 | League Championship |
| Oldham v Salford | Home | November 30, 1957 | League Championship |
| Hunslet v Oldham | Away | December 7, 1957 | League Championship |
| Liverpool City v Oldham | Away | December 14, 1957 | League Championship |
| Oldham v Whitehaven | Home | December 21, 1957 | League Championship |
| Oldham v Swinton | Home | December 25, 1957 | League Championship |
| Oldham v Leeds | Home | January 4, 1958 | League Championship |
| Oldham v Barrow | Home | January 11, 1958 | League Championship |
| Widnes v Oldham | Away | January 18, 1958 | League Championship |
| Wigan v Oldham | Away | February 1, 1958 | League Championship |
| Oldham v Hull Kingston Rovers | Home | February 8, 1958 | Rugby League Challenge Cup |
| St Helens v Oldham | Away | February 15, 1958 | League Championship |
| Blackpool Borough v Oldham | Away | February 22, 1958 | Rugby League Challenge Cup |
| Oldham v Blackpool Borough | Home | March 1, 1958 | League Championship |
| Oldham v Wigan | Home | March 8, 1958 | Rugby League Challenge Cup |
| Whitehaven v Oldham | Away | March 15, 1958 | League Championship |
| Oldham v Rochdale Hornets | Home | March 22, 1958 | League Championship |
| Oldham v Widnes | Home | March 25, 1958 | League Championship |
| Swinton v Oldham | Away | April 4, 1958 | League Championship |
| Oldham v Wigan | Home | April 5, 1958 | League Championship |
| Oldham v Huddersfield | Home | April 7, 1958 | League Championship |
| Oldham v Hunslet | Home | April 12, 1958 | League Championship |
| Oldham v Hull FC | Home | April 16, 1958 | League Championship |
| Leeds v Oldham | Away | April 19, 1958 | League Championship |
| Oldham v Workington Town | Home | April 26, 1958 | League Championship |
| Oldham v Hull FC | Home | May 3, 1958 | League Championship |
| Oldham v Wigan | Home | September 16, 1958 | Lancashire Cup |
| Rochdale Hornets v Oldham | Away | September 20, 1958 | League Championship |
| Oldham v Widnes | Home | September 30, 1958 | Lancashire Cup |
| Warrington v Oldham | Away | October 4, 1958 | League Championship |
| Oldham v Rochdale Hornets | Home | October 11, 1958 | League Championship |
| St Helens v Oldham | Neutral | October 25, 1958 | Lancashire Cup |
| Featherstone Rovers v Oldham | Away | November 1, 1958 | League Championship |
| Oldham v Featherstone Rovers | Home | November 8, 1958 | League Championship |
| Salford v Oldham | Away | November 15, 1958 | League Championship |
| Oldham v Leeds | Home | November 22, 1958 | League Championship |
| Wigan v Oldham | Away | November 29, 1958 | League Championship |
| Oldham v Widnes | Home | December 6, 1958 | League Championship |
| Workington Town v Oldham | Away | December 13, 1958 | League Championship |
| Oldham v Wigan | Home | December 20, 1958 | League Championship |
| Oldham v Swinton | Home | December 25, 1958 | League Championship |
| Hunslet v Oldham | Away | December 26, 1958 | League Championship |
| St Helens v Oldham | Away | December 27, 1958 | League Championship |
| Oldham v Leigh | Home | January 3, 1959 | League Championship |
| Leeds v Oldham | Away | January 31, 1959 | League Championship |
| Oldham v Warrington | Home | February 7, 1959 | League Championship |
| Leigh v Oldham | Away | February 14, 1959 | League Championship |
| Oldham v St Helens | Home | February 21, 1959 | Rugby League Challenge Cup |
| Whitehaven v Oldham | Away | February 28, 1959 | League Championship |
| Hull FC v Oldham | Away | March 14, 1959 | League Championship |
| Oldham v Barrow | Home | March 21, 1959 | League Championship |
| Swinton v Oldham | Away | March 27, 1959 | League Championship |
| Oldham v Hull FC | Home | March 30, 1959 | League Championship |
| Oldham v Liverpool City | Home | April 4, 1959 | League Championship |
| Oldham v Salford | Home | April 7, 1959 | League Championship |
| Widnes v Oldham | Away | April 11, 1959 | League Championship |
| Oldham v Hunslet | Home | April 14, 1959 | League Championship |
| Oldham v Whitehaven | Home | April 18, 1959 | League Championship |
| Barrow v Oldham | Away | April 20, 1959 | League Championship |
| Oldham v St Helens | Home | April 27, 1959 | League Championship |
| St Helens v Oldham | Away | May 2, 1959 | League Championship |
| Whitehaven v Oldham | Away | August 29, 1959 | Lancashire Cup |
| Halifax v Oldham | Away | September 5, 1959 | League Championship |
| Oldham v Halifax | Home | September 8, 1959 | League Championship |
| Oldham v Hunslet | Home | September 12, 1959 | League Championship |
| Oldham v Widnes | Home | September 19, 1959 | League Championship |
| Blackpool Borough v Oldham | Away | September 26, 1959 | League Championship |
| Oldham v Australia | Home | October 3, 1959 | Tour Match |
| Warrington v Oldham | Away | October 24, 1959 | League Championship |
| Oldham v Barrow | Home | October 31, 1959 | League Championship |
| Rochdale Hornets v Oldham | Away | November 7, 1959 | League Championship |
| Oldham v Blackpool Borough | Home | November 14, 1959 | League Championship |
| Whitehaven v Oldham | Away | November 21, 1959 | League Championship |
| Oldham v Rochdale Hornets | Home | November 28, 1959 | League Championship |
| Wigan v Oldham | Away | December 5, 1959 | League Championship |
| Oldham v Dewsbury | Home | December 19, 1959 | League Championship |
| Oldham v Swinton | Home | December 25, 1959 | League Championship |
| Oldham v Hull FC | Home | December 28, 1959 | League Championship |
| Liverpool City v Oldham | Away | January 2, 1960 | League Championship |
| Oldham v Wakefield Trinity | Home | January 9, 1960 | League Championship |
| Oldham v Leigh | Home | January 16, 1960 | League Championship |
| Widnes v Oldham | Away | January 30, 1960 | League Championship |
| Oldham v Salford | Home | February 6, 1960 | League Championship |
| Oldham v Huddersfield | Home | February 13, 1960 | Rugby League Challenge Cup |
| Wakefield Trinity v Oldham | Away | February 20, 1960 | League Championship |
| Oldham v Walney Central | Home | February 27, 1960 | Rugby League Challenge Cup |
| Leeds v Oldham | Away | March 5, 1960 | League Championship |
| Oldham v Bramley | Home | March 19, 1960 | Rugby League Challenge Cup |
| Hunslet v Oldham | Away | March 26, 1960 | League Championship |
| Hull FC v Oldham | Neutral | April 9, 1960 | Rugby League Challenge Cup |
| Rochdale Hornets v Oldham | Away | August 6, 1960 | Law Cup |
| Oldham v St Helens | Home | August 13, 1960 | League Championship |
| Warrington v Oldham | Away | August 17, 1960 | League Championship |
| Leeds v Oldham | Away | August 20, 1960 | League Championship |
| Wigan v Oldham | Away | August 27, 1960 | Lancashire Cup |
| Oldham v Leigh | Home | August 30, 1960 | League Championship |
| Featherstone Rovers v Oldham | Away | September 3, 1960 | League Championship |
| Oldham v Featherstone Rovers | Home | September 20, 1960 | League Championship |
| Blackpool Borough v Oldham | Away | September 27, 1960 | League Championship |
| Hull Kingston Rovers v Oldham | Away | October 15, 1960 | League Championship |
| Oldham v Widnes | Home | October 22, 1960 | League Championship |
| Rochdale Hornets v Oldham | Away | October 29, 1960 | League Championship |
| Oldham v Liverpool City | Home | November 5, 1960 | League Championship |
| Keighley v Oldham | Away | November 12, 1960 | League Championship |
| Oldham v Salford | Home | November 19, 1960 | League Championship |
| Whitehaven v Oldham | Away | November 26, 1960 | League Championship |
| Oldham v Leeds | Home | December 3, 1960 | League Championship |
| Oldham v Blackpool Borough | Home | December 17, 1960 | League Championship |
| Leigh v Oldham | Away | December 24, 1960 | League Championship |
| Workington Town v Oldham | Away | January 2, 1961 | League Championship |
| Liverpool City v Oldham | Away | January 21, 1961 | League Championship |
| Oldham v Blackpool Borough | Home | April 11, 1961 | League Championship |
| Oldham v Warrington | Home | April 15, 1961 | League Championship |
| Halifax v Oldham | Away | April 26, 1961 | League Championship |
| Oldham v Keighley | Home | April 29, 1961 | League Championship |
| Oldham v Rochdale Hornets | Home | August 12, 1961 | Law Cup |
| Oldham v Halifax | Home | August 19, 1961 | League Championship |
| Barrow v Oldham | Away | August 21, 1961 | League Championship |
| Blackpool Borough v Oldham | Away | August 26, 1961 | League Championship |
| Oldham v York | Home | August 28, 1961 | League Championship |
| Barrow v Oldham | Away | September 2, 1961 | Lancashire Cup |
| Oldham & Rochdale v New Zealand | Home | September 4, 1961 | Tour Match |
| Halifax v Oldham | Away | September 9, 1961 | League Championship |
| Oldham v Rochdale Hornets | Home | September 16, 1961 | League Championship |
| Hunslet v Oldham | Away | September 23, 1961 | League Championship |
| Oldham v Barrow | Home | September 30, 1961 | League Championship |
| St Helens v Oldham | Away | October 2, 1961 | Lancashire Cup |
| Oldham v Workington Town | Home | October 7, 1961 | League Championship |
| York v Oldham | Away | October 14, 1961 | League Championship |
| Oldham v Warrington | Home | October 21, 1961 | League Championship |
| Huddersfield v Oldham | Away | October 28, 1961 | League Championship |
| Whitehaven v Oldham | Away | November 4, 1961 | League Championship |
| Oldham v Hull FC | Home | November 18, 1961 | League Championship |
| Salford v Oldham | Away | November 25, 1961 | League Championship |
| Oldham v Whitehaven | Home | December 2, 1961 | League Championship |
| Workington Town v Oldham | Away | December 9, 1961 | League Championship |
| St Helens v Oldham | Away | December 16, 1961 | League Championship |
| Warrington v Oldham | Away | January 6, 1962 | League Championship |
| Wigan v Oldham | Away | January 13, 1962 | League Championship |
| Oldham v Wigan | Home | January 20, 1962 | League Championship |
| Rochdale Hornets v Oldham | Away | January 27, 1962 | League Championship |
| Liverpool City v Oldham | Away | February 3, 1962 | League Championship |
| Oldham v Hull FC | Home | February 10, 1962 | Rugby League Challenge Cup |
| Oldham v Leigh | Home | February 17, 1962 | League Championship |
| Oldham v Workington Town | Home | March 3, 1962 | Rugby League Challenge Cup |
| Oldham v St Helens | Home | March 17, 1962 | League Championship |
| Hull FC v Oldham | Away | March 24, 1962 | League Championship |
| Oldham v Liverpool City | Home | March 31, 1962 | League Championship |
| Oldham v Salford | Home | April 5, 1962 | League Championship |
| Oldham v Hunslet | Home | April 7, 1962 | League Championship |
| Swinton v Oldham | Away | April 20, 1962 | League Championship |
| Oldham v Huddersfield | Home | April 23, 1962 | League Championship |
| Oldham v Swinton | Home | April 28, 1962 | League Championship |
| Rochdale Hornets v Oldham | Away | August 11, 1962 | Law Cup |
| Whitehaven v Oldham | Away | August 18, 1962 | Western Division |
| Oldham v Leigh | Home | August 25, 1962 | Western Division |
| Rochdale Hornets v Oldham | Away | August 28, 1962 | Western Division |