Rothwell Marlor
Profile
Rothwell "Rod" Marlor, signed for Oldham from the Salem Rangers club in December 1913. This being just after the capture of Herman Hilton, it is safe to say that never have the club been so dually fortunate in plundering the local amateur ranks, as with these two fine forwards.
Rod was an uncompromising prop forward, renowned for bone crunching tackles, but also noted for good field kicking. Indeed he was often entrusted with the job of taking the restart kicks, so adept was he at precisely despatching the oval leather.
After the resumption of competitive Rugby after the First World War, he quickly established himself as a regular member of the Oldham front row, picking up England and Lancashire honours along the way. His enthusiasm in support play was always a feature of his game, a talent which saw him second top try scorer with 13 in the 1920-21 season. A fantastic figure for a prop in those days, only the emerging Reg Farrar did better.
A vigorous and forceful scrummager throughout his career, Rod played in the last three of the club's four consecutive Challenge Cup Final appearances in the 1920's. The match against Wigan Highfield on October 24th, 1925 was declared as his benefit game. He played his last senior game for Oldham at Pontypridd in October, 1927.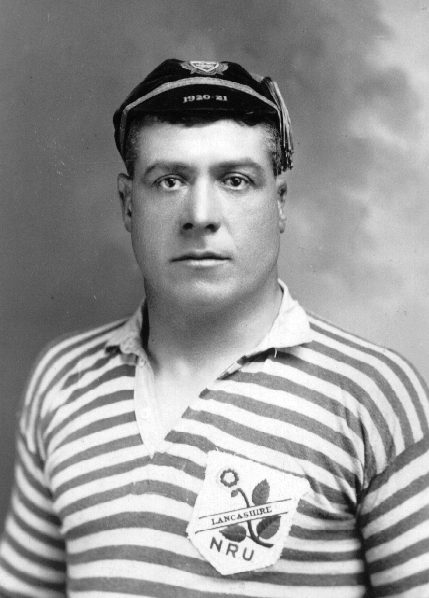 Career Games
| | | | |
| --- | --- | --- | --- |
| Wakefield Trinity v Oldham | Away | March 23, 1914 | League Championship |
| Oldham v Barrow | Home | March 28, 1914 | League Championship |
| Halifax v Oldham | Away | March 30, 1914 | League Championship |
| Oldham v Wakefield Trinity | Home | April 11, 1914 | League Championship |
| Barrow v Oldham | Away | April 13, 1914 | League Championship |
| Wakefield Trinity v Oldham | Away | September 5, 1914 | League Championship |
| Oldham v Leigh | Home | September 12, 1914 | League Championship |
| St Helens v Oldham | Away | September 19, 1914 | League Championship |
| Oldham v Warrington | Home | September 26, 1914 | League Championship |
| Widnes v Oldham | Away | October 3, 1914 | League Championship |
| Oldham v Batley | Home | October 5, 1914 | League Championship |
| Oldham v Broughton Rangers | Home | October 10, 1914 | League Championship |
| Wigan v Oldham | Away | October 17, 1914 | Lancashire Cup |
| Oldham v Leeds | Home | October 24, 1914 | League Championship |
| Oldham v Wakefield Trinity | Home | February 6, 1915 | League Championship |
| Wigan v Oldham | Away | February 20, 1915 | League Championship |
| Oldham v Wigan | Home | February 27, 1915 | Rugby League Challenge Cup |
| Oldham v Halifax | Home | March 6, 1915 | League Championship |
| Oldham v Rochdale Hornets | Home | March 16, 1915 | League Championship |
| Oldham v Huddersfield | Home | March 20, 1915 | League Championship |
| Swinton v Oldham | Away | April 2, 1915 | League Championship |
| Oldham v Salford | Home | September 11, 1915 | Wartime Friendly |
| Wigan v Oldham | Away | September 18, 1915 | Wartime Friendly |
| Oldham v Huddersfield | Home | September 25, 1915 | Wartime Friendly |
| Oldham v Leigh | Home | October 2, 1915 | Wartime Friendly |
| Oldham v St Helens | Home | October 16, 1915 | Wartime Friendly |
| Broughton Rangers v Oldham | Away | October 23, 1915 | Wartime Friendly |
| Oldham v Bradford Northern | Home | October 30, 1915 | Wartime Friendly |
| Leigh v Oldham | Away | November 6, 1915 | Wartime Friendly |
| Oldham v Rochdale Hornets | Home | November 13, 1915 | Wartime Friendly |
| Oldham v Wigan | Home | December 4, 1915 | Wartime Friendly |
| Salford v Oldham | Away | December 11, 1915 | Wartime Friendly |
| Oldham v Halifax | Home | December 18, 1915 | Wartime Friendly |
| Oldham v Swinton | Home | December 25, 1915 | Wartime Friendly |
| Huddersfield v Oldham | Away | December 27, 1915 | Wartime Friendly |
| Hull FC v Oldham | Away | January 1, 1916 | Wartime Friendly |
| Oldham v Oldham Present | Home | January 3, 1916 | Special Friendly |
| Wigan v Oldham | Away | January 15, 1916 | Wartime Friendly |
| Oldham v Broughton Rangers | Home | January 22, 1916 | Wartime Friendly |
| Oldham v Leeds | Home | September 30, 1916 | Wartime Friendly |
| Oldham v Rochdale Hornets | Home | January 18, 1919 | Lancashire League |
| Swinton v Oldham | Away | January 25, 1919 | Lancashire League |
| Oldham v Swinton | Home | February 8, 1919 | Lancashire League |
| Warrington v Oldham | Away | February 15, 1919 | Lancashire League |
| Oldham v Barrow | Home | March 1, 1919 | Lancashire League |
| Barrow v Oldham | Away | March 8, 1919 | Lancashire League |
| Oldham v St Helens Recs | Home | March 15, 1919 | Lancashire League |
| Rochdale Hornets v Oldham | Away | March 22, 1919 | Lancashire League |
| Wigan v Oldham | Away | March 29, 1919 | Lancashire League |
| Oldham v Wigan | Home | April 5, 1919 | Lancashire League |
| Oldham v St Helens | Home | April 12, 1919 | Lancashire Cup |
| Swinton v Oldham | Away | April 18, 1919 | Lancashire League |
| Oldham v Swinton | Home | April 19, 1919 | Lancashire League |
| Oldham v Broughton Rangers | Home | April 21, 1919 | Lancashire League |
| Barrow v Oldham | Away | April 26, 1919 | Lancashire Cup |
| Rochdale Hornets v Oldham | Neutral | May 10, 1919 | Lancashire Cup |
| Oldham v Warrington | Home | May 17, 1919 | Lancashire League |
| Warrington v Oldham | Away | August 23, 1919 | League Championship |
| Oldham v Rochdale Hornets | Home | August 30, 1919 | League Championship |
| Oldham v Halifax | Home | October 11, 1919 | League Championship |
| Oldham v St Helens | Home | October 25, 1919 | League Championship |
| Oldham v Wakefield Trinity | Home | November 8, 1919 | League Championship |
| Leeds v Oldham | Away | November 19, 1919 | League Championship |
| Leigh v Oldham | Away | January 14, 1920 | League Championship |
| St Helens Recs v Oldham | Away | January 17, 1920 | League Championship |
| Halifax v Oldham | Away | January 24, 1920 | League Championship |
| Oldham v Leeds | Home | January 31, 1920 | League Championship |
| Oldham v Hull Kingston Rovers | Home | February 7, 1920 | League Championship |
| Hull FC v Oldham | Away | February 14, 1920 | League Championship |
| Bradford Northern v Oldham | Away | February 21, 1920 | Rugby League Challenge Cup |
| Oldham v Bradford Northern | Home | February 23, 1920 | Rugby League Challenge Cup |
| Oldham v Warrington | Home | February 28, 1920 | Rugby League Challenge Cup |
| Salford v Oldham | Away | March 6, 1920 | League Championship |
| Oldham v Leeds | Home | March 13, 1920 | Rugby League Challenge Cup |
| Widnes v Oldham | Away | March 17, 1920 | League Championship |
| Oldham v Barrow | Home | March 23, 1920 | League Championship |
| Huddersfield v Oldham | Neutral | March 27, 1920 | Rugby League Challenge Cup |
| Swinton v Oldham | Away | April 2, 1920 | League Championship |
| Oldham v Salford | Home | April 3, 1920 | League Championship |
| Huddersfield v Oldham | Away | April 5, 1920 | League Championship |
| Warrington v Oldham | Away | August 28, 1920 | League Championship |
| Rochdale Hornets v Oldham | Away | September 4, 1920 | League Championship |
| Oldham v Halifax | Home | September 11, 1920 | League Championship |
| Broughton Rangers v Oldham | Away | September 18, 1920 | League Championship |
| Oldham v Leigh | Home | September 25, 1920 | League Championship |
| Batley v Oldham | Away | October 2, 1920 | League Championship |
| Oldham v Dewsbury | Home | October 9, 1920 | League Championship |
| Hull FC v Oldham | Away | October 11, 1920 | League Championship |
| Oldham v Leigh | Home | October 16, 1920 | Lancashire Cup |
| Oldham v Huddersfield | Home | October 23, 1920 | League Championship |
| Huddersfield v Oldham | Away | October 30, 1920 | Friendly |
| Oldham v Barrow | Home | November 6, 1920 | League Championship |
| Wigan v Oldham | Away | November 13, 1920 | League Championship |
| Widnes v Oldham | Away | November 20, 1920 | League Championship |
| Oldham v Widnes | Home | November 27, 1920 | League Championship |
| Dewsbury v Oldham | Away | November 30, 1920 | League Championship |
| St Helens Recs v Oldham | Away | December 4, 1920 | League Championship |
| Oldham v Wigan | Home | December 11, 1920 | League Championship |
| Barrow v Oldham | Away | December 18, 1920 | League Championship |
| Oldham v Swinton | Home | December 25, 1920 | League Championship |
| Oldham v Broughton Rangers | Home | December 27, 1920 | Friendly |
| Oldham v Warrington | Home | January 1, 1921 | League Championship |
| Oldham v Hull FC | Home | January 3, 1921 | League Championship |
| Oldham v Salford | Home | January 8, 1921 | League Championship |
| Oldham v Rochdale Hornets | Home | January 22, 1921 | League Championship |
| Salford v Oldham | Away | January 29, 1921 | League Championship |
| Halifax v Oldham | Away | February 12, 1921 | League Championship |
| Oldham v St Helens Recs | Home | February 19, 1921 | League Championship |
| Oldham v Elland Wanderers | Home | February 26, 1921 | Rugby League Challenge Cup |
| St Helens v Oldham | Away | March 5, 1921 | League Championship |
| Huddersfield v Oldham | Away | March 12, 1921 | Rugby League Challenge Cup |
| Oldham v Broughton Rangers | Home | March 19, 1921 | League Championship |
| Leigh v Oldham | Away | March 23, 1921 | League Championship |
| Swinton v Oldham | Away | March 25, 1921 | League Championship |
| Oldham v St Helens | Home | March 26, 1921 | League Championship |
| Huddersfield v Oldham | Away | March 28, 1921 | League Championship |
| Wigan v Oldham | Away | April 2, 1921 | Friendly |
| Cumberland League v Oldham | Away | April 9, 1921 | Friendly |
| Oldham v Leeds | Home | April 11, 1921 | League Championship |
| Leeds v Oldham | Away | April 23, 1921 | League Championship |
| Rochdale Hornets v Oldham | Away | May 7, 1921 | Infirmary Cup |
| Oldham v Rochdale Hornets | Home | May 13, 1921 | Infirmary Cup |
| St Helens v Oldham | Away | August 27, 1921 | League Championship |
| Oldham v Broughton Rangers | Home | September 3, 1921 | League Championship |
| Oldham v Leigh | Home | September 10, 1921 | League Championship |
| Oldham v Rochdale Hornets | Home | October 3, 1921 | League Championship |
| Oldham v Salford | Home | October 8, 1921 | League Championship |
| Hull FC v Oldham | Away | October 10, 1921 | League Championship |
| St Helens Recs v Oldham | Away | October 15, 1921 | League Championship |
| Salford v Oldham | Away | December 7, 1921 | League Championship |
| Oldham v Barrow | Home | December 10, 1921 | League Championship |
| Keighley v Oldham | Away | December 17, 1921 | League Championship |
| Oldham v Swinton | Home | December 24, 1921 | League Championship |
| Broughton Rangers v Oldham | Away | December 26, 1921 | League Championship |
| Warrington v Oldham | Away | December 31, 1921 | League Championship |
| Oldham v Hull FC | Home | January 2, 1922 | League Championship |
| Oldham v Bradford Northern | Home | January 7, 1922 | League Championship |
| Oldham v Australia | Home | January 16, 1922 | Tour Match |
| Rochdale Hornets v Oldham | Away | January 21, 1922 | League Championship |
| Oldham v Halifax | Home | January 28, 1922 | League Championship |
| Barrow v Oldham | Away | February 4, 1922 | League Championship |
| Oldham v St Helens | Home | February 11, 1922 | League Championship |
| Oldham v Featherstone Rovers | Home | February 18, 1922 | League Championship |
| Elland v Oldham | Away | February 25, 1922 | Rugby League Challenge Cup |
| Bradford Northern v Oldham | Away | March 1, 1922 | League Championship |
| Leigh v Oldham | Away | March 4, 1922 | League Championship |
| Oldham v Huddersfield | Home | March 11, 1922 | Rugby League Challenge Cup |
| Featherstone Rovers v Oldham | Away | March 15, 1922 | League Championship |
| Oldham v Warrington | Home | March 18, 1922 | League Championship |
| Rochdale Hornets v Oldham | Away | March 25, 1922 | Rugby League Challenge Cup |
| Oldham v Widnes | Home | April 1, 1922 | League Championship |
| Swinton v Oldham | Away | April 14, 1922 | League Championship |
| Huddersfield v Oldham | Away | April 17, 1922 | League Championship |
| Oldham v Huddersfield | Home | April 22, 1922 | League Championship |
| Wigan v Oldham | Neutral | May 6, 1922 | League Championship |
| Oldham v Leeds | Home | September 23, 1922 | League Championship |
| Hull FC v Oldham | Away | September 30, 1922 | League Championship |
| Wigan Highfield v Oldham | Away | October 14, 1922 | Lancashire Cup |
| Oldham v Wigan Highfield | Home | October 16, 1922 | Lancashire Cup |
| Batley v Oldham | Away | October 21, 1922 | League Championship |
| Leigh v Oldham | Away | October 28, 1922 | Lancashire Cup |
| Oldham v Hull FC | Home | December 2, 1922 | League Championship |
| Warrington v Oldham | Away | December 9, 1922 | League Championship |
| Oldham v Halifax | Home | December 16, 1922 | League Championship |
| Halifax v Oldham | Away | December 23, 1922 | League Championship |
| Oldham v Swinton | Home | December 25, 1922 | League Championship |
| Broughton Rangers v Oldham | Away | December 26, 1922 | League Championship |
| Oldham v Rochdale Hornets | Home | December 30, 1922 | League Championship |
| Oldham v Hunslet | Home | January 1, 1923 | League Championship |
| Leigh v Oldham | Away | January 6, 1923 | League Championship |
| Oldham v Barrow | Home | January 13, 1923 | League Championship |
| Widnes v Oldham | Away | January 20, 1923 | League Championship |
| Wigan v Oldham | Away | February 3, 1923 | League Championship |
| Oldham v Wigan | Home | February 10, 1923 | League Championship |
| Batley v Oldham | Away | February 17, 1923 | Rugby League Challenge Cup |
| Oldham v Batley | Home | February 19, 1923 | Rugby League Challenge Cup |
| Oldham v Batley | Home | February 24, 1923 | League Championship |
| St Helens v Oldham | Away | March 3, 1923 | Rugby League Challenge Cup |
| Oldham v Wigan Highfield | Home | March 10, 1923 | League Championship |
| Barrow v Oldham | Away | March 17, 1923 | Rugby League Challenge Cup |
| Oldham v Leigh | Home | March 19, 1923 | League Championship |
| Rochdale Hornets v Oldham | Away | March 24, 1923 | League Championship |
| Swinton v Oldham | Away | March 30, 1923 | League Championship |
| Salford v Oldham | Away | March 31, 1923 | League Championship |
| Huddersfield v Oldham | Away | April 2, 1923 | League Championship |
| Leeds v Oldham | Away | April 4, 1923 | League Championship |
| Oldham v St Helens Recs | Home | April 9, 1923 | League Championship |
| Hull FC v Oldham | Away | September 1, 1923 | League Championship |
| Rochdale Hornets v Oldham | Away | September 8, 1923 | Infirmary Cup |
| Oldham v Huddersfield | Home | September 29, 1923 | League Championship |
| Wigan Highfield v Oldham | Away | October 6, 1923 | League Championship |
| Leeds v Oldham | Away | October 20, 1923 | League Championship |
| Widnes v Oldham | Away | November 24, 1923 | League Championship |
| Oldham v Wigan | Home | December 1, 1923 | League Championship |
| York v Oldham | Away | December 8, 1923 | League Championship |
| Oldham v St Helens Recs | Home | December 15, 1923 | League Championship |
| Halifax v Oldham | Away | December 22, 1923 | League Championship |
| Oldham v Swinton | Home | December 25, 1923 | League Championship |
| Barrow v Oldham | Away | December 26, 1923 | League Championship |
| Oldham v Widnes | Home | December 29, 1923 | League Championship |
| Oldham v Leeds | Home | January 1, 1924 | League Championship |
| Leigh v Oldham | Away | January 5, 1924 | League Championship |
| Warrington v Oldham | Away | January 12, 1924 | League Championship |
| St Helens Recs v Oldham | Away | February 23, 1924 | League Championship |
| Oldham v Wigan Highfield | Home | April 5, 1924 | League Championship |
| Oldham v York | Home | April 14, 1924 | League Championship |
| Swinton v Oldham | Away | April 18, 1924 | League Championship |
| Oldham v Featherstone Rovers | Home | April 19, 1924 | League Championship |
| Huddersfield v Oldham | Away | April 21, 1924 | League Championship |
| Batley v Oldham | Away | April 26, 1924 | League Championship |
| Oldham v Leigh | Home | August 30, 1924 | League Championship |
| Wigan Highfield v Oldham | Away | September 6, 1924 | League Championship |
| Oldham v Rochdale Hornets | Home | September 13, 1924 | Infirmary Cup |
| Salford v Oldham | Away | September 20, 1924 | League Championship |
| Wigan v Oldham | Away | October 4, 1924 | League Championship |
| Oldham v Barrow | Home | October 11, 1924 | League Championship |
| Hull FC v Oldham | Away | October 18, 1924 | League Championship |
| Oldham v Rochdale Hornets | Home | October 25, 1924 | Lancashire Cup |
| Widnes v Oldham | Away | November 1, 1924 | League Championship |
| St Helens v Oldham | Away | November 8, 1924 | Lancashire Cup |
| Batley v Oldham | Away | November 15, 1924 | League Championship |
| St Helens Recs v Oldham | Neutral | November 22, 1924 | Lancashire Cup |
| St Helens Recs v Oldham | Away | November 29, 1924 | League Championship |
| Oldham v Wigan | Home | December 6, 1924 | League Championship |
| Warrington v Oldham | Away | December 13, 1924 | League Championship |
| Oldham v York | Home | December 15, 1924 | League Championship |
| Oldham v Warrington | Home | December 20, 1924 | League Championship |
| Oldham v Swinton | Home | December 25, 1924 | League Championship |
| Broughton Rangers v Oldham | Away | December 26, 1924 | League Championship |
| Halifax v Oldham | Away | December 27, 1924 | League Championship |
| Rochdale Hornets v Oldham | Away | January 31, 1925 | League Championship |
| Oldham v St Helens | Home | February 7, 1925 | League Championship |
| Oldham v Batley | Home | March 7, 1925 | League Championship |
| Oldham v Salford | Home | March 21, 1925 | League Championship |
| Oldham v Huddersfield | Home | March 23, 1925 | League Championship |
| York v Oldham | Away | March 28, 1925 | League Championship |
| Rochdale Hornets v Oldham | Neutral | April 4, 1925 | Rugby League Challenge Cup |
| Oldham v St Helens Recs | Home | April 11, 1925 | League Championship |
| Huddersfield v Oldham | Away | April 13, 1925 | League Championship |
| Hull Kingston Rovers v Oldham | Neutral | April 25, 1925 | Rugby League Challenge Cup |
| Dewsbury v Oldham | Away | August 29, 1925 | League Championship |
| Oldham v Salford | Home | September 5, 1925 | League Championship |
| Rochdale Hornets v Oldham | Away | September 12, 1925 | Infirmary Cup |
| Oldham v Warrington | Home | September 19, 1925 | League Championship |
| Rest Of Lancs v Oldham | Neutral | September 22, 1925 | Friendly |
| Leigh v Oldham | Away | September 26, 1925 | League Championship |
| Oldham v Hunslet | Home | October 3, 1925 | League Championship |
| Oldham v Rochdale Hornets | Home | October 10, 1925 | Lancashire Cup |
| Hull FC v Oldham | Away | October 12, 1925 | League Championship |
| St Helens v Oldham | Away | October 17, 1925 | League Championship |
| Oldham v Salford | Home | October 19, 1925 | Lancashire Cup |
| Oldham v Wigan Highfield | Home | October 24, 1925 | League Championship |
| Wigan v Oldham | Away | November 11, 1925 | Lancashire Cup |
| Rochdale Hornets v Oldham | Away | January 30, 1926 | League Championship |
| Oldham v Batley | Home | February 6, 1926 | League Championship |
| Leigh v Oldham | Away | February 13, 1926 | Rugby League Challenge Cup |
| Huddersfield v Oldham | Away | February 20, 1926 | League Championship |
| Oldham v Rochdale Hornets | Home | February 27, 1926 | Rugby League Challenge Cup |
| Hunslet v Oldham | Away | March 6, 1926 | League Championship |
| Oldham v Halifax | Home | March 13, 1926 | Rugby League Challenge Cup |
| Wigan Highfield v Oldham | Away | March 17, 1926 | League Championship |
| Wigan v Oldham | Away | March 20, 1926 | League Championship |
| Wigan Highfield v Oldham | Neutral | March 27, 1926 | Rugby League Challenge Cup |
| Swinton v Oldham | Away | April 2, 1926 | League Championship |
| Oldham v Huddersfield | Home | April 5, 1926 | League Championship |
| Oldham v Wigan | Home | April 10, 1926 | League Championship |
| Oldham v St Helens Recs | Home | April 17, 1926 | League Championship |
| Salford v Oldham | Away | April 21, 1926 | League Championship |
| Oldham v Rochdale Hornets | Home | April 24, 1926 | League Championship |
| Swinton v Oldham | Neutral | May 1, 1926 | Rugby League Challenge Cup |
| Oldham v Rochdale Hornets | Home | August 21, 1926 | Infirmary Cup |
| Oldham v Leeds | Home | August 28, 1926 | League Championship |
| Pontypridd v Oldham | Away | September 4, 1926 | League Championship |
| Oldham v Wakefield Trinity | Home | September 6, 1926 | League Championship |
| Broughton Rangers v Oldham | Away | September 11, 1926 | League Championship |
| Hull FC v Oldham | Away | December 27, 1926 | League Championship |
| Oldham v Wigan Highfield | Home | January 1, 1927 | League Championship |
| Oldham v Hull FC | Home | January 3, 1927 | League Championship |
| Leigh v Oldham | Away | January 8, 1927 | League Championship |
| Leeds v Oldham | Away | February 5, 1927 | League Championship |
| Oldham v Salford | Home | February 12, 1927 | Rugby League Challenge Cup |
| York v Oldham | Away | February 19, 1927 | League Championship |
| Oldham v Wigan | Home | March 19, 1927 | League Championship |
| Batley v Oldham | Away | March 26, 1927 | League Championship |
| Oldham v St Helens Recs | Home | April 11, 1927 | League Championship |
| Swinton v Oldham | Away | April 15, 1927 | League Championship |
| Oldham v Rochdale Hornets | Home | April 16, 1927 | League Championship |
| Huddersfield v Oldham | Away | April 18, 1927 | League Championship |
| Oldham v Leigh | Home | April 19, 1927 | League Championship |
| Widnes v Oldham | Away | April 23, 1927 | League Championship |
| Oldham v Pontypridd | Home | April 25, 1927 | League Championship |
| Oldham v Warrington | Home | April 30, 1927 | League Championship |
| Swinton v Oldham | Neutral | May 7, 1927 | Rugby League Challenge Cup |
| Oldham v York | Home | October 1, 1927 | League Championship |
| Oldham v Wigan Highfield | Home | October 8, 1927 | Lancashire Cup |
| Wigan v Oldham | Away | October 15, 1927 | League Championship |
| Swinton v Oldham | Away | October 19, 1927 | Lancashire Cup |
| Pontypridd v Oldham | Away | October 22, 1927 | League Championship |