Herman Hilton
Profile
Herman Hilton was one of the greatest forwards ever to play for Oldham RLFC.
A local man, he joined the club from the local "Healey Street" team in November 1913, making his senior debut on December 15th against Leeds at Watersheddings.
In his younger days he was a vigorous, robust player with a deceptive turn of speed and capable of crunching tackles. As he matured he would go on to become a fine loose or second row forward, excelling in both the domestic and international arenas. In later years the bulkier Hilton would fill in at prop forward, but retained the skills and fitness to still shine in the back row when required.
Selected for the 1920 tour, he enjoyed a marvellous trip and is probably the Oldham player to make the biggest impact "Down Under".
Herman played in all six tests, scoring two tries, in the "Ashes" winning third Australian match in Sydney and adding a further score in the second Kiwi test, in Christchurch. His personal favourite international appearance came in the match that decided the "Ashes" once again, when the Kangaroos of 1921-22 came to Britain. This was the third test at Salford on January 14th, 1922. A bruising encounter which the "Lions" won 6 – 0. Herman was again on the score sheet, taking a pass from the "prince of centres", Harold Wagstaff to dive over, taking two Australians with him as he crossed the line.
In 1924-25 having played prop for most of the season he was reinstated at loose forward to great effect and from that position captained the team to success in the Challenge Cup final against Hull K.R. He then suffered a serious illness in the close season and, although attempting a short comeback, he decided to call it a day, having played his last match in November 1925, against Wigan.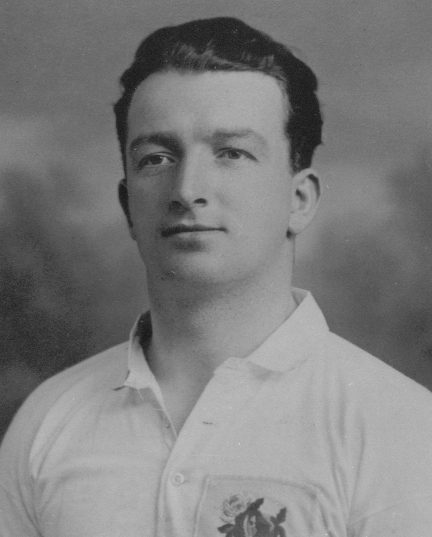 Career Games
| | | | |
| --- | --- | --- | --- |
| Oldham v Leeds | Home | December 15, 1913 | League Championship |
| Oldham v Runcorn | Home | January 31, 1914 | League Championship |
| Oldham v Huddersfield | Home | February 7, 1914 | League Championship |
| Hull FC v Oldham | Away | February 14, 1914 | League Championship |
| Leigh v Oldham | Away | February 28, 1914 | Rugby League Challenge Cup |
| Oldham v Leigh | Home | March 7, 1914 | League Championship |
| Widnes v Oldham | Away | March 14, 1914 | Rugby League Challenge Cup |
| Oldham v Widnes | Home | January 23, 1915 | League Championship |
| Warrington v Oldham | Away | January 30, 1915 | League Championship |
| Oldham v Wakefield Trinity | Home | February 6, 1915 | League Championship |
| Oldham v Rochdale Hornets | Home | February 13, 1915 | League Championship |
| Wigan v Oldham | Away | February 20, 1915 | League Championship |
| Oldham v Wigan | Home | February 27, 1915 | Rugby League Challenge Cup |
| Swinton v Oldham | Away | April 2, 1915 | League Championship |
| Leeds v Oldham | Away | April 3, 1915 | League Championship |
| Oldham v Salford | Home | April 5, 1915 | League Championship |
| Oldham v Barrow | Home | April 10, 1915 | League Championship |
| Hull FC v Oldham | Away | April 24, 1915 | League Championship |
| Oldham v St Helens | Home | October 16, 1915 | Wartime Friendly |
| Hull FC v Oldham | Away | January 1, 1916 | Wartime Friendly |
| Oldham v Oldham Present | Home | January 3, 1916 | Special Friendly |
| Oldham v Leeds | Home | September 30, 1916 | Wartime Friendly |
| Oldham v Halifax | Home | October 7, 1916 | Wartime Friendly |
| Oldham v Rochdale Hornets | Home | December 25, 1918 | Friendly |
| Warrington v Oldham | Away | February 15, 1919 | Lancashire League |
| Oldham v Barrow | Home | March 1, 1919 | Lancashire League |
| Barrow v Oldham | Away | March 8, 1919 | Lancashire League |
| Oldham v St Helens Recs | Home | March 15, 1919 | Lancashire League |
| Rochdale Hornets v Oldham | Away | March 22, 1919 | Lancashire League |
| Oldham v Wigan | Home | April 5, 1919 | Lancashire League |
| Oldham v St Helens | Home | April 12, 1919 | Lancashire Cup |
| Swinton v Oldham | Away | April 18, 1919 | Lancashire League |
| Oldham v Swinton | Home | April 19, 1919 | Lancashire League |
| Oldham v Broughton Rangers | Home | April 21, 1919 | Lancashire League |
| Barrow v Oldham | Away | April 26, 1919 | Lancashire Cup |
| Rochdale Hornets v Oldham | Neutral | May 10, 1919 | Lancashire Cup |
| Oldham v Warrington | Home | May 17, 1919 | Lancashire League |
| Warrington v Oldham | Away | August 23, 1919 | League Championship |
| Oldham v Rochdale Hornets | Home | August 30, 1919 | League Championship |
| St Helens v Oldham | Away | September 6, 1919 | League Championship |
| Oldham v Huddersfield | Home | September 13, 1919 | League Championship |
| Wakefield Trinity v Oldham | Away | September 20, 1919 | League Championship |
| Oldham v St Helens Recs | Home | September 27, 1919 | League Championship |
| Broughton Rangers v Oldham | Away | November 1, 1919 | Lancashire Cup |
| Oldham v Wakefield Trinity | Home | November 8, 1919 | League Championship |
| Swinton v Oldham | Away | November 15, 1919 | Lancashire Cup |
| Oldham v Swinton | Home | November 17, 1919 | Lancashire Cup |
| Leeds v Oldham | Away | November 19, 1919 | League Championship |
| Barrow v Oldham | Away | November 22, 1919 | League Championship |
| Oldham v Hull FC | Home | November 29, 1919 | League Championship |
| Rochdale Hornets v Oldham | Neutral | December 6, 1919 | Lancashire Cup |
| Oldham v Widnes | Home | December 13, 1919 | League Championship |
| Oldham v Wigan | Home | December 20, 1919 | League Championship |
| Oldham v Swinton | Home | December 25, 1919 | League Championship |
| Oldham v Broughton Rangers | Home | December 26, 1919 | League Championship |
| Rochdale Hornets v Oldham | Away | December 27, 1919 | League Championship |
| Oldham v Warrington | Home | January 1, 1920 | League Championship |
| Oldham v Leigh | Home | January 3, 1920 | League Championship |
| Leigh v Oldham | Away | January 14, 1920 | League Championship |
| St Helens Recs v Oldham | Away | January 17, 1920 | League Championship |
| Halifax v Oldham | Away | January 24, 1920 | League Championship |
| Oldham v Leeds | Home | January 31, 1920 | League Championship |
| Oldham v Hull Kingston Rovers | Home | February 7, 1920 | League Championship |
| Hull FC v Oldham | Away | February 14, 1920 | League Championship |
| Bradford Northern v Oldham | Away | February 21, 1920 | Rugby League Challenge Cup |
| Oldham v Bradford Northern | Home | February 23, 1920 | Rugby League Challenge Cup |
| Oldham v Warrington | Home | February 28, 1920 | Rugby League Challenge Cup |
| Salford v Oldham | Away | March 6, 1920 | League Championship |
| Oldham v Leeds | Home | March 13, 1920 | Rugby League Challenge Cup |
| Widnes v Oldham | Away | March 17, 1920 | League Championship |
| Oldham v Barrow | Home | March 23, 1920 | League Championship |
| Huddersfield v Oldham | Neutral | March 27, 1920 | Rugby League Challenge Cup |
| Swinton v Oldham | Away | April 2, 1920 | League Championship |
| Oldham v Salford | Home | April 3, 1920 | League Championship |
| Huddersfield v Oldham | Away | April 5, 1920 | League Championship |
| Oldham v Leigh | Home | October 16, 1920 | Lancashire Cup |
| Oldham v Huddersfield | Home | October 23, 1920 | League Championship |
| Huddersfield v Oldham | Away | October 30, 1920 | Friendly |
| Oldham v Barrow | Home | November 6, 1920 | League Championship |
| Wigan v Oldham | Away | November 13, 1920 | League Championship |
| Widnes v Oldham | Away | November 20, 1920 | League Championship |
| St Helens Recs v Oldham | Away | December 4, 1920 | League Championship |
| Oldham v Wigan | Home | December 11, 1920 | League Championship |
| Barrow v Oldham | Away | December 18, 1920 | League Championship |
| Oldham v Swinton | Home | December 25, 1920 | League Championship |
| Oldham v Broughton Rangers | Home | December 27, 1920 | Friendly |
| Oldham v Hull FC | Home | January 3, 1921 | League Championship |
| Oldham v Salford | Home | January 8, 1921 | League Championship |
| Oldham v Rochdale Hornets | Home | January 22, 1921 | League Championship |
| Salford v Oldham | Away | January 29, 1921 | League Championship |
| Halifax v Oldham | Away | February 12, 1921 | League Championship |
| Oldham v Elland Wanderers | Home | February 26, 1921 | Rugby League Challenge Cup |
| St Helens v Oldham | Away | March 5, 1921 | League Championship |
| Huddersfield v Oldham | Away | March 12, 1921 | Rugby League Challenge Cup |
| Oldham v Broughton Rangers | Home | March 19, 1921 | League Championship |
| Leigh v Oldham | Away | March 23, 1921 | League Championship |
| Swinton v Oldham | Away | March 25, 1921 | League Championship |
| Oldham v St Helens | Home | March 26, 1921 | League Championship |
| Huddersfield v Oldham | Away | March 28, 1921 | League Championship |
| Wigan v Oldham | Away | April 2, 1921 | Friendly |
| Cumberland League v Oldham | Away | April 9, 1921 | Friendly |
| Oldham v Leeds | Home | April 11, 1921 | League Championship |
| Leeds v Oldham | Away | April 23, 1921 | League Championship |
| Rochdale Hornets v Oldham | Away | May 7, 1921 | Infirmary Cup |
| Oldham v Rochdale Hornets | Home | May 13, 1921 | Infirmary Cup |
| St Helens v Oldham | Away | August 27, 1921 | League Championship |
| Oldham v Broughton Rangers | Home | September 3, 1921 | League Championship |
| Oldham v Leigh | Home | September 10, 1921 | League Championship |
| Widnes v Oldham | Away | September 17, 1921 | League Championship |
| Oldham v Hunslet | Home | September 24, 1921 | League Championship |
| Wigan v Oldham | Away | October 1, 1921 | League Championship |
| Oldham v Rochdale Hornets | Home | October 3, 1921 | League Championship |
| Oldham v Salford | Home | October 8, 1921 | League Championship |
| St Helens Recs v Oldham | Away | October 15, 1921 | League Championship |
| Rochdale Hornets v Oldham | Away | October 22, 1921 | Lancashire Cup |
| Oldham v Keighley | Home | October 29, 1921 | League Championship |
| St Helens v Oldham | Away | November 5, 1921 | Lancashire Cup |
| Halifax v Oldham | Away | November 12, 1921 | League Championship |
| Oldham v Barrow | Home | November 19, 1921 | Lancashire Cup |
| Oldham v Australia | Home | November 26, 1921 | Tour Match |
| Oldham v Barrow | Home | December 10, 1921 | League Championship |
| Keighley v Oldham | Away | December 17, 1921 | League Championship |
| Oldham v Swinton | Home | December 24, 1921 | League Championship |
| Broughton Rangers v Oldham | Away | December 26, 1921 | League Championship |
| Warrington v Oldham | Away | December 31, 1921 | League Championship |
| Oldham v Hull FC | Home | January 2, 1922 | League Championship |
| Oldham v Bradford Northern | Home | January 7, 1922 | League Championship |
| Oldham v St Helens | Home | February 11, 1922 | League Championship |
| Oldham v Featherstone Rovers | Home | February 18, 1922 | League Championship |
| Elland v Oldham | Away | February 25, 1922 | Rugby League Challenge Cup |
| Bradford Northern v Oldham | Away | March 1, 1922 | League Championship |
| Leigh v Oldham | Away | March 4, 1922 | League Championship |
| Oldham v Huddersfield | Home | March 11, 1922 | Rugby League Challenge Cup |
| Featherstone Rovers v Oldham | Away | March 15, 1922 | League Championship |
| Oldham v Huddersfield | Home | March 20, 1922 | League Championship |
| Rochdale Hornets v Oldham | Away | March 25, 1922 | Rugby League Challenge Cup |
| Oldham v Widnes | Home | April 1, 1922 | League Championship |
| Oldham v Wigan | Home | April 3, 1922 | League Championship |
| Hunslet v Oldham | Away | April 5, 1922 | League Championship |
| Oldham v St Helens Recs | Home | April 8, 1922 | League Championship |
| Huddersfield v Oldham | Away | April 17, 1922 | League Championship |
| Oldham v Huddersfield | Home | April 22, 1922 | League Championship |
| Wigan v Oldham | Neutral | May 6, 1922 | League Championship |
| St Helens Recs v Oldham | Away | August 26, 1922 | League Championship |
| Oldham v Broughton Rangers | Home | September 2, 1922 | League Championship |
| Hunslet v Oldham | Away | September 6, 1922 | League Championship |
| Oldham v Rochdale Hornets | Home | September 9, 1922 | Infirmary Cup |
| Oldham v Huddersfield | Home | September 16, 1922 | League Championship |
| Oldham v Leeds | Home | September 23, 1922 | League Championship |
| Hull FC v Oldham | Away | September 30, 1922 | League Championship |
| Wigan Highfield v Oldham | Away | October 7, 1922 | League Championship |
| Wigan Highfield v Oldham | Away | October 14, 1922 | Lancashire Cup |
| Oldham v Wigan Highfield | Home | October 16, 1922 | Lancashire Cup |
| Batley v Oldham | Away | October 21, 1922 | League Championship |
| Leigh v Oldham | Away | October 28, 1922 | Lancashire Cup |
| Oldham v Widnes | Home | November 4, 1922 | League Championship |
| Oldham v St Helens | Home | November 11, 1922 | League Championship |
| Barrow v Oldham | Away | November 25, 1922 | League Championship |
| Oldham v Hull FC | Home | December 2, 1922 | League Championship |
| Warrington v Oldham | Away | December 9, 1922 | League Championship |
| Oldham v Halifax | Home | December 16, 1922 | League Championship |
| Halifax v Oldham | Away | December 23, 1922 | League Championship |
| Oldham v Swinton | Home | December 25, 1922 | League Championship |
| Broughton Rangers v Oldham | Away | December 26, 1922 | League Championship |
| Oldham v Rochdale Hornets | Home | December 30, 1922 | League Championship |
| Oldham v Hunslet | Home | January 1, 1923 | League Championship |
| Leigh v Oldham | Away | January 6, 1923 | League Championship |
| Oldham v Barrow | Home | January 13, 1923 | League Championship |
| Oldham v Warrington | Home | January 27, 1923 | League Championship |
| Wigan v Oldham | Away | February 3, 1923 | League Championship |
| Oldham v Wigan | Home | February 10, 1923 | League Championship |
| Batley v Oldham | Away | February 17, 1923 | Rugby League Challenge Cup |
| Oldham v Batley | Home | February 19, 1923 | Rugby League Challenge Cup |
| Oldham v Batley | Home | February 24, 1923 | League Championship |
| St Helens v Oldham | Away | March 3, 1923 | Rugby League Challenge Cup |
| Oldham v Wigan Highfield | Home | March 10, 1923 | League Championship |
| Barrow v Oldham | Away | March 17, 1923 | Rugby League Challenge Cup |
| Salford v Oldham | Away | March 31, 1923 | League Championship |
| Huddersfield v Oldham | Away | April 2, 1923 | League Championship |
| Leeds v Oldham | Away | April 4, 1923 | League Championship |
| Oldham v St Helens Recs | Home | April 9, 1923 | League Championship |
| St Helens v Oldham | Away | April 14, 1923 | League Championship |
| Oldham v Broughton Rangers | Home | August 25, 1923 | League Championship |
| Hull FC v Oldham | Away | September 1, 1923 | League Championship |
| Rochdale Hornets v Oldham | Away | September 8, 1923 | Infirmary Cup |
| St Helens v Oldham | Away | September 22, 1923 | League Championship |
| Oldham v Huddersfield | Home | September 29, 1923 | League Championship |
| Wigan Highfield v Oldham | Away | October 6, 1923 | League Championship |
| Leeds v Oldham | Away | October 20, 1923 | League Championship |
| Oldham v Wigan | Home | October 27, 1923 | Lancashire Cup |
| Rochdale Hornets v Oldham | Away | November 3, 1923 | League Championship |
| St Helens Recs v Oldham | Away | November 10, 1923 | Lancashire Cup |
| Oldham v Leigh | Home | November 17, 1923 | League Championship |
| Oldham v Warrington | Home | November 19, 1923 | League Championship |
| Widnes v Oldham | Away | November 24, 1923 | League Championship |
| Oldham v Wigan | Home | December 1, 1923 | League Championship |
| Oldham v St Helens Recs | Home | December 15, 1923 | League Championship |
| Halifax v Oldham | Away | December 22, 1923 | League Championship |
| Oldham v Swinton | Home | December 25, 1923 | League Championship |
| Oldham v Widnes | Home | December 29, 1923 | League Championship |
| Warrington v Oldham | Away | January 12, 1924 | League Championship |
| Oldham v Barrow | Home | January 19, 1924 | League Championship |
| Wigan v Oldham | Away | January 26, 1924 | League Championship |
| Oldham v Hull FC | Home | February 2, 1924 | League Championship |
| Broughton Rangers v Oldham | Away | February 9, 1924 | League Championship |
| Oldham v Rochdale Hornets | Home | February 16, 1924 | Rugby League Challenge Cup |
| St Helens Recs v Oldham | Away | February 23, 1924 | League Championship |
| Oldham v Dewsbury | Home | March 1, 1924 | Rugby League Challenge Cup |
| Oldham v Rochdale Hornets | Home | March 4, 1924 | League Championship |
| Oldham v Halifax | Home | March 8, 1924 | League Championship |
| Oldham v Wakefield Trinity | Home | March 15, 1924 | Rugby League Challenge Cup |
| Oldham v St Helens | Home | March 22, 1924 | League Championship |
| Huddersfield v Oldham | Neutral | March 29, 1924 | Rugby League Challenge Cup |
| Featherstone Rovers v Oldham | Away | March 31, 1924 | League Championship |
| Salford v Oldham | Away | April 3, 1924 | League Championship |
| Oldham v Wigan Highfield | Home | April 5, 1924 | League Championship |
| Wigan v Oldham | Neutral | April 12, 1924 | Rugby League Challenge Cup |
| Oldham v York | Home | April 14, 1924 | League Championship |
| Oldham v Featherstone Rovers | Home | April 19, 1924 | League Championship |
| Huddersfield v Oldham | Away | April 21, 1924 | League Championship |
| Oldham v Leigh | Home | August 30, 1924 | League Championship |
| Wigan Highfield v Oldham | Away | September 6, 1924 | League Championship |
| Oldham v Rochdale Hornets | Home | September 13, 1924 | Infirmary Cup |
| Salford v Oldham | Away | September 20, 1924 | League Championship |
| Oldham v Halifax | Home | September 27, 1924 | League Championship |
| Wigan v Oldham | Away | October 4, 1924 | League Championship |
| Oldham v Barrow | Home | October 11, 1924 | League Championship |
| Hull FC v Oldham | Away | October 18, 1924 | League Championship |
| Oldham v Rochdale Hornets | Home | October 25, 1924 | Lancashire Cup |
| Widnes v Oldham | Away | November 1, 1924 | League Championship |
| St Helens v Oldham | Away | November 8, 1924 | Lancashire Cup |
| Batley v Oldham | Away | November 15, 1924 | League Championship |
| St Helens Recs v Oldham | Neutral | November 22, 1924 | Lancashire Cup |
| St Helens Recs v Oldham | Away | November 29, 1924 | League Championship |
| Oldham v Wigan | Home | December 6, 1924 | League Championship |
| Warrington v Oldham | Away | December 13, 1924 | League Championship |
| Oldham v York | Home | December 15, 1924 | League Championship |
| Oldham v Warrington | Home | December 20, 1924 | League Championship |
| Oldham v Swinton | Home | December 25, 1924 | League Championship |
| Broughton Rangers v Oldham | Away | December 26, 1924 | League Championship |
| Halifax v Oldham | Away | December 27, 1924 | League Championship |
| Oldham v Hull FC | Home | January 1, 1925 | League Championship |
| Oldham v Wigan Highfield | Home | January 3, 1925 | League Championship |
| Leigh v Oldham | Away | January 10, 1925 | League Championship |
| St Helens v Oldham | Away | January 17, 1925 | League Championship |
| Oldham v Rochdale Hornets | Home | January 24, 1925 | League Championship |
| Rochdale Hornets v Oldham | Away | January 31, 1925 | League Championship |
| Oldham v St Helens | Home | February 7, 1925 | League Championship |
| Leigh v Oldham | Away | February 14, 1925 | Rugby League Challenge Cup |
| Oldham v Widnes | Home | February 21, 1925 | League Championship |
| Oldham v Warrington | Home | February 28, 1925 | Rugby League Challenge Cup |
| Barrow v Oldham | Away | March 5, 1925 | League Championship |
| Oldham v Batley | Home | March 7, 1925 | League Championship |
| Oldham v Featherstone Rovers | Home | March 14, 1925 | Rugby League Challenge Cup |
| Oldham v Salford | Home | March 21, 1925 | League Championship |
| Oldham v Huddersfield | Home | March 23, 1925 | League Championship |
| Rochdale Hornets v Oldham | Neutral | April 4, 1925 | Rugby League Challenge Cup |
| Oldham v Broughton Rangers | Home | April 7, 1925 | League Championship |
| Swinton v Oldham | Away | April 10, 1925 | League Championship |
| Oldham v St Helens Recs | Home | April 11, 1925 | League Championship |
| Huddersfield v Oldham | Away | April 13, 1925 | League Championship |
| Hull Kingston Rovers v Oldham | Neutral | April 25, 1925 | Rugby League Challenge Cup |
| Rest Of Lancs v Oldham | Neutral | September 22, 1925 | Friendly |
| Leigh v Oldham | Away | September 26, 1925 | League Championship |
| Oldham v Hunslet | Home | October 3, 1925 | League Championship |
| Oldham v Rochdale Hornets | Home | October 10, 1925 | Lancashire Cup |
| Hull FC v Oldham | Away | October 12, 1925 | League Championship |
| St Helens v Oldham | Away | October 17, 1925 | League Championship |
| Oldham v Salford | Home | October 19, 1925 | Lancashire Cup |
| Oldham v Wigan Highfield | Home | October 24, 1925 | League Championship |
| Broughton Rangers v Oldham | Away | October 31, 1925 | League Championship |
| Oldham v Wigan | Home | November 2, 1925 | Lancashire Cup |
| Oldham v Dewsbury | Home | November 7, 1925 | League Championship |
| Wigan v Oldham | Away | November 11, 1925 | Lancashire Cup |