Albert Avery
Profile
A.E. (Bert) "Slosher" Avery came to Oldham from the Plymouth Devonport club in October, 1905. A robust forward with an amazing turn of speed, he would be a mainstay of the Oldham pack for the next eight seasons.
Famed for his rampaging charges down the field, fending off would be defenders with a mighty hand-off, Bert was also an adept ball handler and once enjoyed an extended spell in the stand off half position. A further experiment saw him play centre to a certain James Miller on October 31st, 1908. The occasion marked the young winger's debut game at Barry in South Wales. Here he proved to be more than a handful for the hapless Welshmen as he paved the way for young Miller to create a club record by crossing for seven tries.
In the 1909-10 season, in which he played all his 36 appearances in the forwards, Bert hit absolute top form which saw him cross for 16 tries. In those days this was a fantastic figure for a member of the pack. His efforts were recognised by the selectors for the first tour to Australia and New Zealand in 1910 and he had the honour to be the club's first ever player to play "down under". Continuing his good form, he scored a hat trick in the 52-20 test victory over New Zealand in Auckland.
After the tour he kept his place in the Oldham team right up to the 1913-14 season, when he played 35 out of a possible 40 games. In the close season he fell ill and, by way of a benefit, a match between the 1910 Tourists and a Colonial Xlll was played at Watersheddings on September 14th, 1914. Sadly Bert died on November 14th, exactly one year after his brother Claude died in similar circumstances, back in Plymouth.
He was regarded as a keen competitor but a perfect gentleman both on and off the field. In an article shortly after his death the famous Oldham official, George Hutchins, had this to say about the likeable West Countryman; "…the passing of so genial a giant from our midst has made a wound in our hearts which time will be long in healing…"
Eloquent words directed from one legendary club figure to another.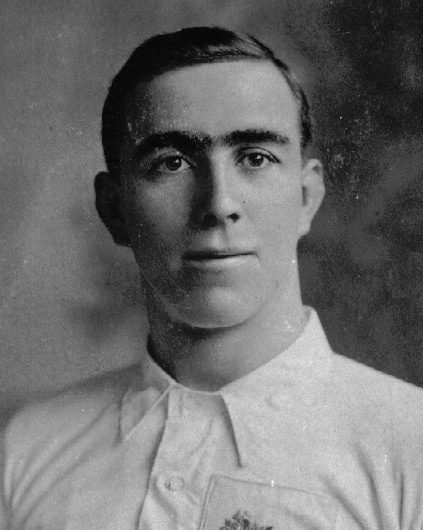 Career Games
| | | | |
| --- | --- | --- | --- |
| Oldham v Broughton Rangers | Home | October 14, 1905 | RL Championship |
| Oldham v Warrington | Home | October 21, 1905 | RL Championship |
| Oldham v Widnes | Home | November 4, 1905 | RL Championship |
| Swinton v Oldham | Away | December 16, 1905 | RL Championship |
| Oldham v Leeds | Home | December 23, 1905 | RL Championship |
| Oldham v Rochdale Hornets | Home | December 25, 1905 | RL Championship |
| Leeds v Oldham | Away | December 30, 1905 | RL Championship |
| Oldham v Hull FC | Home | January 1, 1906 | RL Championship |
| Oldham v Runcorn | Home | January 2, 1906 | RL Championship |
| Oldham v Swinton | Home | January 6, 1906 | RL Championship |
| Oldham v Leigh | Home | January 13, 1906 | RL Championship |
| Broughton Rangers v Oldham | Away | January 20, 1906 | RL Championship |
| Oldham v Salford | Home | February 10, 1906 | RL Championship |
| Oldham v Millom | Home | February 12, 1906 | RL Championship |
| Oldham v Dewsbury | Home | February 17, 1906 | RL Championship |
| Pontefract v Oldham | Away | March 3, 1906 | Rugby League Challenge Cup |
| Oldham v Bradford | Home | March 10, 1906 | RL Championship |
| Oldham v Halifax | Home | March 17, 1906 | Rugby League Challenge Cup |
| Oldham v Halifax | Home | March 24, 1906 | RL Championship |
| Wakefield Trinity v Oldham | Away | March 31, 1906 | RL Championship |
| Leigh v Oldham | Away | April 4, 1906 | RL Championship |
| Bradford v Oldham | Away | April 7, 1906 | RL Championship |
| Oldham v Hull Kingston Rovers | Home | April 14, 1906 | RL Championship |
| Wigan v Oldham | Away | April 16, 1906 | RL Championship |
| Oldham v Chadderton | Home | April 19, 1906 | Friendly |
| Barrow v Oldham | Away | April 21, 1906 | RL Championship |
| Widnes v Oldham | Away | April 26, 1906 | RL Championship |
| Dewsbury v Oldham | Away | April 28, 1906 | RL Championship |
| Oldham v Runcorn | Home | September 1, 1906 | League Championship |
| Oldham v Wigan | Home | September 8, 1906 | League Championship |
| Oldham v Hull Kingston Rovers | Home | September 15, 1906 | League Championship |
| Swinton v Oldham | Away | September 22, 1906 | League Championship |
| Huddersfield v Oldham | Away | September 24, 1906 | League Championship |
| Oldham v Rochdale Hornets | Home | September 29, 1906 | League Championship |
| Oldham v Huddersfield | Home | October 6, 1906 | League Championship |
| St Helens v Oldham | Away | October 13, 1906 | Lancashire Cup |
| Hunslet v Oldham | Away | October 20, 1906 | League Championship |
| Oldham v Rochdale Hornets | Home | October 27, 1906 | Lancashire Cup |
| Barrow v Oldham | Away | November 5, 1906 | League Championship |
| Broughton Rangers v Oldham | Away | November 10, 1906 | League Championship |
| Halifax v Oldham | Away | November 12, 1906 | League Championship |
| Warrington v Oldham | Away | November 17, 1906 | Lancashire Cup |
| Oldham v Salford | Home | November 24, 1906 | League Championship |
| Oldham v Salford | Home | December 3, 1906 | League Championship |
| Oldham v Broughton Rangers | Home | December 8, 1906 | League Championship |
| Oldham v Leeds | Home | December 15, 1906 | League Championship |
| Bradford v Oldham | Away | December 18, 1906 | League Championship |
| Rochdale Hornets v Oldham | Away | December 22, 1906 | League Championship |
| Oldham v Swinton | Home | December 25, 1906 | League Championship |
| Runcorn v Oldham | Away | December 26, 1906 | League Championship |
| Oldham v Hunslet | Home | December 29, 1906 | League Championship |
| Oldham v Barrow | Home | January 1, 1907 | League Championship |
| Leeds v Oldham | Away | January 5, 1907 | League Championship |
| Salford v Oldham | Away | January 12, 1907 | League Championship |
| Oldham v Hull FC | Home | January 19, 1907 | League Championship |
| Oldham v Warrington | Home | February 4, 1907 | League Championship |
| Hull Kingston Rovers v Oldham | Away | February 9, 1907 | League Championship |
| Warrington v Oldham | Away | February 16, 1907 | League Championship |
| Oldham v Wakefield Trinity | Home | February 23, 1907 | League Championship |
| Oldham v Bradford | Home | March 2, 1907 | League Championship |
| Oldham v Halifax | Home | March 9, 1907 | League Championship |
| Wakefield Trinity v Oldham | Away | March 11, 1907 | League Championship |
| Oldham v Runcorn | Home | March 16, 1907 | Rugby League Challenge Cup |
| Halifax v Oldham | Away | March 23, 1907 | Rugby League Challenge Cup |
| Leigh v Oldham | Away | March 27, 1907 | League Championship |
| Wakefield Trinity v Oldham | Away | March 30, 1907 | Rugby League Challenge Cup |
| Wigan v Oldham | Away | April 1, 1907 | League Championship |
| Hull FC v Oldham | Away | April 2, 1907 | League Championship |
| Oldham v Runcorn | Home | April 6, 1907 | League Championship |
| Salford v Oldham | Neutral | April 13, 1907 | Rugby League Challenge Cup |
| Halifax v Oldham | Neutral | April 20, 1907 | League Championship |
| Warrington v Oldham | Neutral | April 27, 1907 | Rugby League Challenge Cup |
| Oldham v Ebbw Vale | Home | September 21, 1907 | League Championship |
| Huddersfield v Oldham | Away | September 23, 1907 | League Championship |
| Warrington v Oldham | Away | October 5, 1907 | League Championship |
| Oldham v Barrow | Home | October 12, 1907 | Lancashire Cup |
| Oldham v Leigh | Home | October 19, 1907 | League Championship |
| Oldham v Swinton | Home | October 26, 1907 | Lancashire Cup |
| Oldham v St Helens | Home | November 9, 1907 | League Championship |
| Salford v Oldham | Away | November 16, 1907 | Lancashire Cup |
| Oldham v New Zealand | Home | November 23, 1907 | Tour Match |
| Broughton Rangers v Oldham | Neutral | November 30, 1907 | Lancashire Cup |
| Broughton Rangers v Oldham | Away | December 7, 1907 | League Championship |
| Halifax v Oldham | Away | December 9, 1907 | League Championship |
| Oldham v Warrington | Home | December 14, 1907 | League Championship |
| Oldham v Salford | Home | December 21, 1907 | League Championship |
| Oldham v Huddersfield | Home | December 25, 1907 | League Championship |
| Oldham v Swinton | Home | December 28, 1907 | League Championship |
| Leeds v Oldham | Away | January 1, 1908 | League Championship |
| Oldham v Merthyr Tydfil | Home | January 25, 1908 | League Championship |
| Oldham v Broughton Rangers | Home | February 1, 1908 | League Championship |
| Leigh v Oldham | Away | February 8, 1908 | League Championship |
| Oldham v Rochdale Hornets | Home | February 15, 1908 | League Championship |
| Wigan v Oldham | Away | February 19, 1908 | League Championship |
| Salford v Oldham | Away | February 22, 1908 | League Championship |
| Dewsbury v Oldham | Away | February 29, 1908 | Rugby League Challenge Cup |
| Oldham v Leeds | Home | March 7, 1908 | League Championship |
| Hunslet v Oldham | Away | March 14, 1908 | Rugby League Challenge Cup |
| St Helens v Oldham | Away | March 21, 1908 | League Championship |
| Ebbw Vale v Oldham | Away | March 25, 1908 | League Championship |
| Widnes v Oldham | Away | April 11, 1908 | League Championship |
| Oldham v Wigan | Home | April 18, 1908 | League Championship |
| Hunslet v Oldham | Neutral | May 2, 1908 | League Championship |
| Hunslet v Oldham | Neutral | May 9, 1908 | League Championship |
| St Helens v Oldham | Away | September 5, 1908 | League Championship |
| Oldham v Salford | Home | September 12, 1908 | League Championship |
| Widnes v Oldham | Away | September 19, 1908 | League Championship |
| Oldham v Leigh | Home | October 10, 1908 | League Championship |
| Hull Kingston Rovers v Oldham | Away | October 17, 1908 | League Championship |
| Oldham v Barrow | Home | October 24, 1908 | League Championship |
| Barry v Oldham | Away | October 31, 1908 | League Championship |
| Oldham v Salford | Home | November 7, 1908 | Lancashire Cup |
| Broughton Rangers v Oldham | Away | November 14, 1908 | League Championship |
| Oldham v Rochdale Hornets | Home | November 21, 1908 | Lancashire Cup |
| Warrington v Oldham | Away | November 23, 1908 | League Championship |
| Oldham v Broughton Rangers | Home | November 28, 1908 | League Championship |
| Oldham v Runcorn | Home | December 5, 1908 | Lancashire Cup |
| Leigh v Oldham | Away | December 9, 1908 | League Championship |
| Oldham v Hunslet | Home | December 12, 1908 | League Championship |
| Wigan v Oldham | Neutral | December 19, 1908 | Lancashire Cup |
| Oldham v Hull Kingston Rovers | Home | December 25, 1908 | League Championship |
| Oldham v Barry | Home | January 1, 1909 | League Championship |
| Oldham v Leeds | Home | January 2, 1909 | League Championship |
| Swinton v Oldham | Away | January 4, 1909 | League Championship |
| Runcorn v Oldham | Away | January 9, 1909 | League Championship |
| Oldham v Halifax | Home | January 16, 1909 | League Championship |
| Oldham v Rochdale Hornets | Home | January 23, 1909 | League Championship |
| Wigan v Oldham | Away | January 30, 1909 | League Championship |
| Oldham v Widnes | Home | February 6, 1909 | League Championship |
| Oldham v Warrington | Home | February 20, 1909 | League Championship |
| Oldham v Hull Kingston Rovers | Home | February 27, 1909 | Rugby League Challenge Cup |
| Oldham v St Helens | Home | March 6, 1909 | League Championship |
| Swinton v Oldham | Away | March 13, 1909 | Rugby League Challenge Cup |
| Oldham v Swinton | Home | March 16, 1909 | Rugby League Challenge Cup |
| Oldham v Wigan | Home | March 20, 1909 | League Championship |
| Hunslet v Oldham | Away | March 22, 1909 | League Championship |
| Oldham v Hull FC | Home | March 27, 1909 | Rugby League Challenge Cup |
| Barrow v Oldham | Away | April 1, 1909 | League Championship |
| Halifax v Oldham | Away | April 17, 1909 | League Championship |
| Oldham v Halifax | Home | April 21, 1909 | League Championship |
| Wigan v Oldham | Neutral | May 1, 1909 | League Championship |
| Hull Kingston Rovers v Oldham | Away | September 4, 1909 | League Championship |
| Salford v Oldham | Away | September 11, 1909 | League Championship |
| Oldham v Halifax | Home | September 18, 1909 | League Championship |
| Oldham v Wigan | Home | September 25, 1909 | League Championship |
| Treherbert v Oldham | Away | October 2, 1909 | League Championship |
| Ebbw Vale v Oldham | Away | October 4, 1909 | League Championship |
| Oldham v Runcorn | Home | October 9, 1909 | League Championship |
| Rochdale Hornets v Oldham | Away | October 16, 1909 | Lancashire Cup |
| Oldham v Hull FC | Home | October 23, 1909 | League Championship |
| Runcorn v Oldham | Away | October 30, 1909 | Lancashire Cup |
| Oldham v Warrington | Home | November 6, 1909 | League Championship |
| Widnes v Oldham | Away | November 13, 1909 | League Championship |
| Oldham v Swinton | Home | November 20, 1909 | League Championship |
| St Helens v Oldham | Away | November 27, 1909 | League Championship |
| Oldham v Leeds | Home | December 4, 1909 | League Championship |
| Huddersfield v Oldham | Neutral | December 13, 1909 | Friendly |
| Oldham v St Helens | Home | December 18, 1909 | League Championship |
| Oldham v Hull Kingston Rovers | Home | December 25, 1909 | League Championship |
| Oldham v Barrow | Home | December 27, 1909 | League Championship |
| Hull FC v Oldham | Away | January 1, 1910 | League Championship |
| Oldham v Ebbw Vale | Home | January 3, 1910 | League Championship |
| Broughton Rangers v Oldham | Away | January 4, 1910 | League Championship |
| Wigan v Oldham | Away | January 8, 1910 | League Championship |
| Runcorn v Oldham | Away | January 15, 1910 | League Championship |
| Oldham v Rochdale Hornets | Home | January 22, 1910 | League Championship |
| Leigh v Oldham | Away | January 26, 1910 | League Championship |
| Oldham v Broughton Rangers | Home | February 12, 1910 | League Championship |
| Leeds v Oldham | Away | February 19, 1910 | League Championship |
| Huddersfield v Oldham | Away | February 26, 1910 | Rugby League Challenge Cup |
| Oldham v Salford | Home | March 5, 1910 | League Championship |
| Barrow v Oldham | Away | March 12, 1910 | League Championship |
| Swinton v Oldham | Away | March 25, 1910 | League Championship |
| Oldham v Widnes | Home | March 26, 1910 | League Championship |
| Halifax v Oldham | Away | March 28, 1910 | League Championship |
| Rochdale Hornets v Oldham | Away | April 2, 1910 | League Championship |
| Warrington v Oldham | Away | April 4, 1910 | League Championship |
| Wigan v Oldham | Neutral | April 23, 1910 | League Championship |
| Oldham v Coventry | Home | September 24, 1910 | League Championship |
| Oldham v Wigan | Home | October 15, 1910 | League Championship |
| Warrington v Oldham | Away | October 22, 1910 | League Championship |
| Oldham v Salford | Home | October 29, 1910 | League Championship |
| Widnes v Oldham | Away | November 5, 1910 | Lancashire Cup |
| Oldham v Halifax | Home | November 12, 1910 | League Championship |
| Rochdale Hornets v Oldham | Away | November 19, 1910 | Lancashire Cup |
| Oldham v Huddersfield | Home | November 26, 1910 | League Championship |
| Swinton v Oldham | Neutral | December 3, 1910 | Lancashire Cup |
| Widnes v Oldham | Away | December 7, 1910 | League Championship |
| Leigh v Oldham | Away | December 13, 1910 | League Championship |
| Leeds v Oldham | Away | December 31, 1910 | League Championship |
| Barrow v Oldham | Away | January 2, 1911 | League Championship |
| Oldham v Widnes | Home | January 7, 1911 | League Championship |
| Halifax v Oldham | Away | January 14, 1911 | League Championship |
| Runcorn v Oldham | Away | January 21, 1911 | League Championship |
| Oldham v Warrington | Home | January 28, 1911 | League Championship |
| Salford v Oldham | Away | February 4, 1911 | League Championship |
| Oldham v Runcorn | Home | February 11, 1911 | League Championship |
| Hull Kingston Rovers v Oldham | Away | February 18, 1911 | Rugby League Challenge Cup |
| Oldham v Rochdale Hornets | Home | February 25, 1911 | League Championship |
| Oldham v Rochdale Hornets | Home | March 18, 1911 | Rugby League Challenge Cup |
| Rochdale Hornets v Oldham | Away | March 21, 1911 | Rugby League Challenge Cup |
| Coventry v Oldham | Away | March 23, 1911 | League Championship |
| Oldham v Wakefield Trinity | Home | April 22, 1911 | League Championship |
| Wigan v Oldham | Neutral | May 6, 1911 | League Championship |
| Hull Kingston Rovers v Oldham | Away | September 2, 1911 | League Championship |
| Leigh v Oldham | Away | September 9, 1911 | League Championship |
| Bradford Northern v Oldham | Away | September 12, 1911 | League Championship |
| Oldham v Leeds | Home | September 16, 1911 | League Championship |
| Oldham v Rochdale Hornets | Home | September 30, 1911 | League Championship |
| Broughton Rangers v Oldham | Away | October 7, 1911 | League Championship |
| Oldham v Halifax | Home | October 14, 1911 | League Championship |
| Barrow v Oldham | Away | October 21, 1911 | Lancashire Cup |
| Oldham v Swinton | Home | October 28, 1911 | League Championship |
| Oldham v Leigh | Home | November 4, 1911 | Lancashire Cup |
| Oldham v Australia | Home | November 11, 1911 | Tour Match |
| Wigan v Oldham | Away | November 18, 1911 | Lancashire Cup |
| Rochdale Hornets v Oldham | Neutral | December 2, 1911 | Lancashire Cup |
| St Helens v Oldham | Away | December 7, 1911 | League Championship |
| Oldham v Broughton Rangers | Home | December 9, 1911 | League Championship |
| Barrow v Oldham | Away | December 11, 1911 | League Championship |
| Oldham v Leigh | Home | December 23, 1911 | League Championship |
| Oldham v Hull Kingston Rovers | Home | December 25, 1911 | League Championship |
| Oldham v Bradford Northern | Home | December 26, 1911 | League Championship |
| Oldham v St Helens | Home | December 30, 1911 | League Championship |
| Salford v Oldham | Away | January 6, 1912 | League Championship |
| Oldham v Warrington | Home | January 13, 1912 | League Championship |
| Oldham v Barrow | Home | January 27, 1912 | League Championship |
| Leeds v Oldham | Away | February 10, 1912 | League Championship |
| Coventry v Oldham | Away | February 17, 1912 | Rugby League Challenge Cup |
| Oldham v Huddersfield | Home | February 24, 1912 | League Championship |
| Oldham v Wigan | Home | March 2, 1912 | Rugby League Challenge Cup |
| Oldham v Wigan | Home | March 9, 1912 | League Championship |
| Widnes v Oldham | Away | March 13, 1912 | League Championship |
| Rochdale Hornets v Oldham | Away | March 16, 1912 | League Championship |
| Oldham v Huddersfield | Home | March 23, 1912 | Rugby League Challenge Cup |
| Swinton v Oldham | Away | March 27, 1912 | League Championship |
| Warrington v Oldham | Away | April 1, 1912 | League Championship |
| Halifax v Oldham | Away | April 5, 1912 | League Championship |
| Oldham v Salford | Home | April 6, 1912 | League Championship |
| Wakefield Trinity v Oldham | Neutral | April 13, 1912 | Rugby League Challenge Cup |
| Dewsbury v Oldham | Neutral | April 27, 1912 | Rugby League Challenge Cup |
| Huddersfield v Oldham | Neutral | May 11, 1912 | Friendly |
| Leeds v Oldham | Away | September 21, 1912 | League Championship |
| Oldham v St Helens | Home | September 28, 1912 | League Championship |
| Rochdale Hornets v Oldham | Away | October 5, 1912 | League Championship |
| Runcorn v Oldham | Away | October 19, 1912 | Lancashire Cup |
| Oldham v Wigan | Home | October 26, 1912 | League Championship |
| Wigan v Oldham | Away | November 2, 1912 | Lancashire Cup |
| Oldham v Runcorn | Home | November 9, 1912 | League Championship |
| Oldham v Swinton | Home | December 12, 1912 | League Championship |
| Wigan v Oldham | Away | December 21, 1912 | League Championship |
| Oldham v Hull Kingston Rovers | Home | December 25, 1912 | League Championship |
| Oldham v Warrington | Home | December 26, 1912 | League Championship |
| Broughton Rangers v Oldham | Away | December 28, 1912 | League Championship |
| Dewsbury v Oldham | Away | January 1, 1913 | League Championship |
| Warrington v Oldham | Away | March 21, 1913 | League Championship |
| Oldham v Broughton Rangers | Home | March 24, 1913 | League Championship |
| Oldham v Dewsbury | Home | September 6, 1913 | League Championship |
| St Helens v Oldham | Away | September 13, 1913 | League Championship |
| Wigan v Oldham | Away | September 20, 1913 | League Championship |
| Oldham v Halifax | Home | September 27, 1913 | League Championship |
| Broughton Rangers v Oldham | Away | October 18, 1913 | Lancashire Cup |
| Oldham v Widnes | Home | October 25, 1913 | League Championship |
| Oldham v Widnes | Home | November 1, 1913 | Lancashire Cup |
| Oldham v Rochdale Hornets | Home | November 8, 1913 | League Championship |
| Oldham v Hull FC | Home | November 22, 1913 | League Championship |
| Widnes v Oldham | Away | November 25, 1913 | League Championship |
| Broughton Rangers v Oldham | Away | November 29, 1913 | League Championship |
| Wigan v Oldham | Neutral | December 6, 1913 | Lancashire Cup |
| Leigh v Oldham | Away | December 13, 1913 | League Championship |
| Oldham v Leeds | Home | December 15, 1913 | League Championship |
| Oldham v Salford | Home | December 20, 1913 | League Championship |
| Oldham v Swinton | Home | December 25, 1913 | League Championship |
| Warrington v Oldham | Away | December 26, 1913 | League Championship |
| Leeds v Oldham | Away | December 27, 1913 | League Championship |
| Dewsbury v Oldham | Away | January 1, 1914 | League Championship |
| Oldham v Wigan | Home | January 3, 1914 | League Championship |
| Salford v Oldham | Away | January 10, 1914 | League Championship |
| Oldham v Broughton Rangers | Home | January 17, 1914 | League Championship |
| Oldham v Runcorn | Home | January 31, 1914 | League Championship |
| Oldham v Huddersfield | Home | February 7, 1914 | League Championship |
| Hull FC v Oldham | Away | February 14, 1914 | League Championship |
| Leigh v Oldham | Away | February 28, 1914 | Rugby League Challenge Cup |
| Oldham v Leigh | Home | March 7, 1914 | League Championship |
| Widnes v Oldham | Away | March 14, 1914 | Rugby League Challenge Cup |
| Wakefield Trinity v Oldham | Away | March 23, 1914 | League Championship |
| Oldham v Barrow | Home | March 28, 1914 | League Championship |
| Halifax v Oldham | Away | March 30, 1914 | League Championship |
| Oldham v St Helens | Home | April 4, 1914 | League Championship |
| Swinton v Oldham | Away | April 10, 1914 | League Championship |
| Oldham v Wakefield Trinity | Home | April 11, 1914 | League Championship |
| Barrow v Oldham | Away | April 13, 1914 | League Championship |