Bryn Goldswain
Profile
Bryn Vernon Goldswain was born in Merthyr Tydfil. When he was four years old the family moved to the small mining village of Abercrave and it was with the local village team that he played his first rugby, eventually going on to play for the famous Neath club. During the war he volunteered for the R.A.F. and here he alternated between playing soccer and rugby and actually had a trial with Wolverhampton Wanderers.
It was whilst in the forces that he made the acquaintance of Ted Bedford of Hull Kingston Rovers and at the conclusion of the war he was invited to go for a trial at Craven Park, on Ted's recommendation. One "A" team game was enough to convince the Rovers administration to promote him straight to the first team and within a few weeks he was a professional player.
His transfer to Oldham came in July 1949, where he was immediately installed as club captain. This was the beginning of the moulding together of the side that would bring the success of the 1950's. A superb footballer, Bryn was a skilful ball handler and possessed a fine kicking game, being able to wallop the leather enormous distances off either foot. His own enthusiasm and leadership qualities provided the perfect example for his colleagues to follow. These talents did not go unrewarded and he was to add to the Welsh caps he had already won while at Hull K.R. Under Goldswain's captaincy Oldham began to gain a reputation for an entertaining style of play, not that he was alone responsible for this development, and he himself was quick to acknowledge the influence of Stirrup, Daley, Keith and others among his contemporaries.
Bryn missed out on the major honours that came to the club at the end of the fifties, picking up just two "runners up" medals from the 1954-55 Lancashire Cup and League Championship Finals. He retired at the end of the 1955-56 season and must have taken comfort in the knowledge that his preferred brand of entertaining, top quality Rugby League Football became the hallmark of the Oldham team. Definitely one of the most influential players in the history of the club.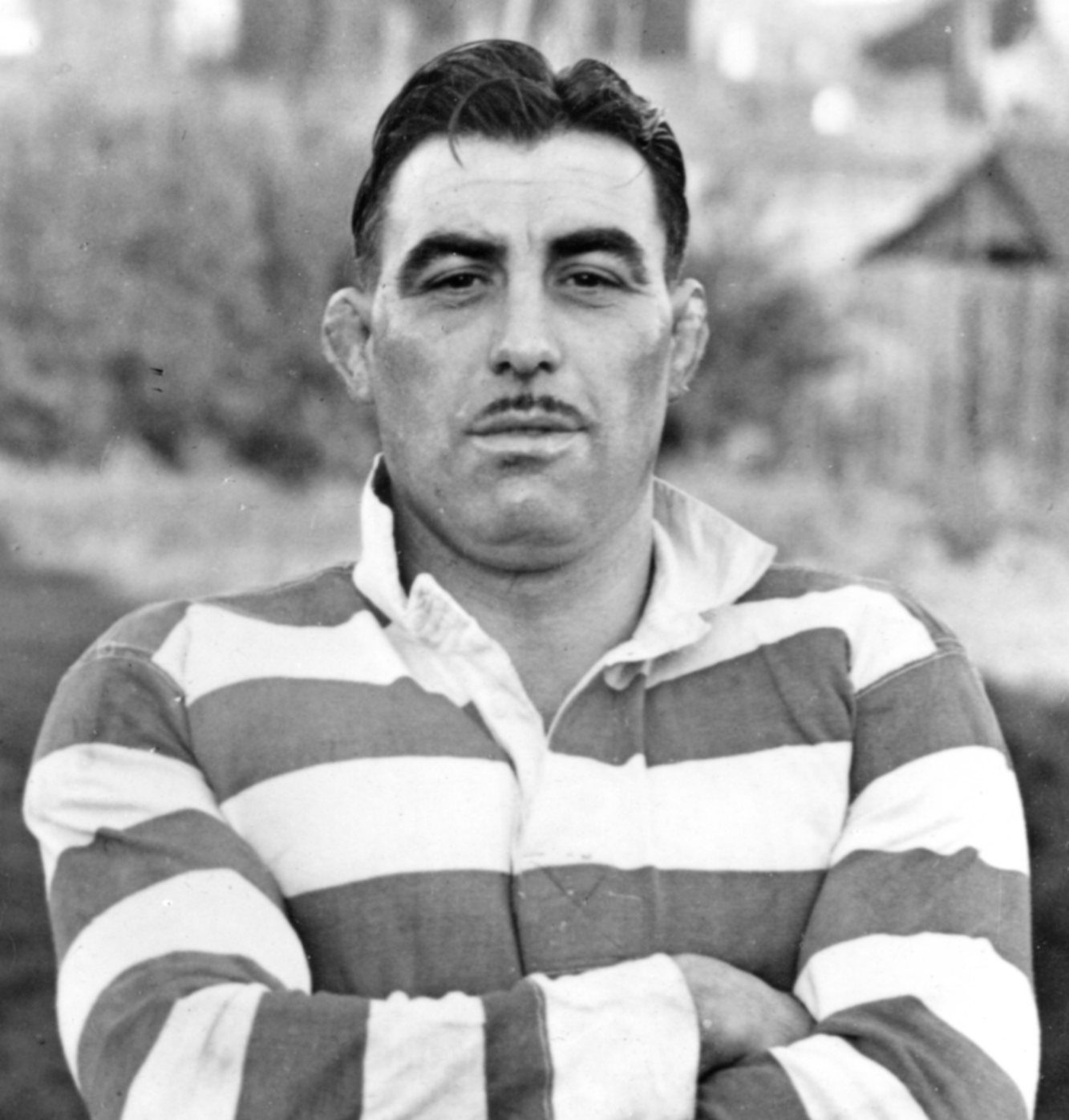 Career Games
| | | | |
| --- | --- | --- | --- |
| Rochdale Hornets v Oldham | Away | August 13, 1949 | Law Cup |
| Leigh v Oldham | Away | August 20, 1949 | League Championship |
| Wigan v Oldham | Away | August 27, 1949 | Lancashire Cup |
| Oldham v Wigan | Home | August 31, 1949 | Lancashire Cup |
| Oldham v Hunslet | Home | September 3, 1949 | League Championship |
| Hull Kingston Rovers v Oldham | Away | September 5, 1949 | League Championship |
| St Helens v Oldham | Away | September 10, 1949 | League Championship |
| Bramley v Oldham | Away | September 24, 1949 | League Championship |
| Liverpool Stanley v Oldham | Away | October 1, 1949 | League Championship |
| Oldham v Featherstone Rovers | Home | October 8, 1949 | League Championship |
| Wigan v Oldham | Away | October 15, 1949 | League Championship |
| Oldham v Hull Kingston Rovers | Home | November 5, 1949 | League Championship |
| Oldham v Castleford | Home | November 19, 1949 | League Championship |
| Widnes v Oldham | Away | November 26, 1949 | League Championship |
| Oldham v Warrington | Home | December 3, 1949 | League Championship |
| Oldham v Barrow | Home | December 10, 1949 | League Championship |
| Workington Town v Oldham | Away | December 17, 1949 | League Championship |
| Oldham v Liverpool Stanley | Home | December 24, 1949 | League Championship |
| Hunslet v Oldham | Away | December 26, 1949 | League Championship |
| Salford v Oldham | Away | December 27, 1949 | League Championship |
| Belle Vue Rangers v Oldham | Away | December 31, 1949 | League Championship |
| Oldham v Wigan | Home | January 7, 1950 | League Championship |
| Oldham v Swinton | Home | January 14, 1950 | League Championship |
| Barrow v Oldham | Away | January 21, 1950 | League Championship |
| Oldham v Bradford Northern | Home | February 4, 1950 | Rugby League Challenge Cup |
| Bradford Northern v Oldham | Away | February 11, 1950 | Rugby League Challenge Cup |
| Oldham v Whitehaven | Home | February 18, 1950 | League Championship |
| Oldham v Belle Vue Rangers | Home | March 4, 1950 | League Championship |
| Swinton v Oldham | Away | March 11, 1950 | League Championship |
| Oldham v Widnes | Home | March 18, 1950 | League Championship |
| Oldham v Castleford | Home | March 25, 1950 | League Championship |
| Oldham v Bramley | Home | April 1, 1950 | League Championship |
| Oldham v Salford | Home | April 7, 1950 | League Championship |
| Oldham v Bordeaux & Villeneuve | Home | April 10, 1950 | Friendly |
| Warrington v Oldham | Away | April 11, 1950 | League Championship |
| Oldham v Workington Town | Home | April 15, 1950 | League Championship |
| Castleford v Oldham | Away | April 19, 1950 | League Championship |
| Featherstone Rovers v Oldham | Away | April 22, 1950 | League Championship |
| Oldham v Rochdale Hornets | Home | August 12, 1950 | Law Cup |
| Whitehaven v Oldham | Away | August 19, 1950 | League Championship |
| Oldham v Warrington | Home | August 21, 1950 | League Championship |
| Oldham v York | Home | August 26, 1950 | League Championship |
| Belle Vue Rangers v Oldham | Away | August 30, 1950 | League Championship |
| Oldham v Rochdale Hornets | Home | September 2, 1950 | Lancashire Cup |
| Oldham v Wakefield Trinity | Home | September 9, 1950 | League Championship |
| Rochdale Hornets v Oldham | Away | September 12, 1950 | Lancashire Cup |
| Batley v Oldham | Away | September 16, 1950 | League Championship |
| Oldham v Barrow | Home | September 23, 1950 | League Championship |
| Workington Town v Oldham | Away | September 25, 1950 | Lancashire Cup |
| Bramley v Oldham | Away | September 30, 1950 | League Championship |
| Oldham v Salford | Home | October 7, 1950 | League Championship |
| Oldham v Warrington | Home | October 10, 1950 | Lancashire Cup |
| Oldham v Leigh | Home | October 21, 1950 | League Championship |
| Oldham v Batley | Home | November 4, 1950 | League Championship |
| St Helens v Oldham | Away | November 11, 1950 | League Championship |
| Oldham v Widnes | Home | November 18, 1950 | League Championship |
| Salford v Oldham | Away | November 25, 1950 | League Championship |
| Oldham v Keighley | Home | December 2, 1950 | League Championship |
| Liverpool Stanley v Oldham | Away | December 9, 1950 | League Championship |
| Oldham v Swinton | Home | December 25, 1950 | League Championship |
| York v Oldham | Away | December 26, 1950 | League Championship |
| Warrington v Oldham | Away | January 6, 1951 | League Championship |
| Oldham v Belle Vue Rangers | Home | January 20, 1951 | League Championship |
| Leeds v Oldham | Away | February 10, 1951 | Rugby League Challenge Cup |
| Oldham v Leeds | Home | February 17, 1951 | Rugby League Challenge Cup |
| Rochdale Hornets v Oldham | Away | February 24, 1951 | League Championship |
| Oldham v Liverpool Stanley | Home | March 3, 1951 | League Championship |
| Widnes v Oldham | Away | March 10, 1951 | League Championship |
| Oldham v Workington Town | Home | March 17, 1951 | League Championship |
| Swinton v Oldham | Away | March 23, 1951 | League Championship |
| Oldham v Whitehaven | Home | March 24, 1951 | League Championship |
| Oldham v St Helens | Home | March 26, 1951 | League Championship |
| Oldham v St Helens | Home | April 7, 1951 | League Championship |
| Oldham v Bramley | Home | April 21, 1951 | League Championship |
| Oldham v Wigan | Home | April 23, 1951 | League Championship |
| Oldham v Rochdale Hornets | Home | April 30, 1951 | League Championship |
| Oldham v Halifax | Home | May 8, 1951 | Benefit Match |
| Rochdale Hornets v Oldham | Away | August 11, 1951 | Law Cup |
| Oldham v Bradford Northern | Home | August 18, 1951 | League Championship |
| Belle Vue Rangers v Oldham | Away | August 22, 1951 | League Championship |
| Keighley v Oldham | Away | August 25, 1951 | League Championship |
| Oldham v Liverpool City | Home | August 28, 1951 | League Championship |
| Rochdale Hornets v Oldham | Away | September 1, 1951 | Lancashire Cup |
| Oldham v Rochdale Hornets | Home | September 4, 1951 | Lancashire Cup |
| Widnes v Oldham | Away | September 22, 1951 | League Championship |
| Oldham v Widnes | Home | September 24, 1951 | Lancashire Cup |
| Oldham v New Zealand | Home | September 29, 1951 | Tour Match |
| Oldham v Warrington | Home | October 6, 1951 | League Championship |
| Liverpool City v Oldham | Away | October 13, 1951 | League Championship |
| Oldham v Leigh | Home | October 16, 1951 | Lancashire Cup |
| Oldham v Leigh | Home | October 20, 1951 | League Championship |
| Salford v Oldham | Away | October 27, 1951 | League Championship |
| Oldham v Bramley | Home | November 3, 1951 | League Championship |
| Workington Town v Oldham | Away | November 10, 1951 | League Championship |
| Oldham v Wigan | Home | November 17, 1951 | League Championship |
| Barrow v Oldham | Away | November 24, 1951 | League Championship |
| Halifax v Oldham | Away | December 8, 1951 | League Championship |
| Whitehaven v Oldham | Away | December 15, 1951 | League Championship |
| Oldham v Keighley | Home | December 22, 1951 | League Championship |
| Oldham v Swinton | Home | December 25, 1951 | League Championship |
| Oldham v Workington Town | Home | December 26, 1951 | League Championship |
| Bradford Northern v Oldham | Away | December 29, 1951 | League Championship |
| Oldham v Barrow | Home | January 3, 1952 | League Championship |
| Oldham v Widnes | Home | January 5, 1952 | League Championship |
| Oldham v Salford | Home | January 12, 1952 | League Championship |
| Warrington v Oldham | Away | February 2, 1952 | League Championship |
| Hull FC v Oldham | Away | February 9, 1952 | Rugby League Challenge Cup |
| Oldham v Hull FC | Home | February 16, 1952 | Rugby League Challenge Cup |
| Leeds v Oldham | Away | March 1, 1952 | Rugby League Challenge Cup |
| Bramley v Oldham | Away | March 8, 1952 | League Championship |
| Leigh v Oldham | Away | March 22, 1952 | League Championship |
| St Helens v Oldham | Away | March 29, 1952 | League Championship |
| Swinton v Oldham | Away | April 11, 1952 | League Championship |
| Oldham v Rochdale Hornets | Home | April 12, 1952 | League Championship |
| Oldham v Halifax | Home | April 14, 1952 | League Championship |
| Hull Kingston Rovers v Oldham | Away | April 26, 1952 | League Championship |
| Oldham v RL XIII | Home | May 6, 1952 | Benefit Match |
| Oldham v Rochdale Hornets | Home | August 16, 1952 | Law Cup |
| Oldham v Featherstone Rovers | Home | August 23, 1952 | League Championship |
| Oldham v Swinton | Home | August 30, 1952 | Lancashire Cup |
| Swinton v Oldham | Away | September 3, 1952 | Lancashire Cup |
| Oldham v Leeds | Home | September 6, 1952 | League Championship |
| St Helens v Oldham | Away | September 10, 1952 | League Championship |
| Barrow v Oldham | Away | September 13, 1952 | League Championship |
| Oldham v Wakefield Trinity | Home | September 20, 1952 | League Championship |
| Workington Town v Oldham | Away | September 24, 1952 | Lancashire Cup |
| Leeds v Oldham | Away | September 27, 1952 | League Championship |
| Workington Town v Oldham | Away | October 4, 1952 | League Championship |
| Oldham v Widnes | Home | October 11, 1952 | League Championship |
| Warrington v Oldham | Away | October 18, 1952 | League Championship |
| Bramley v Oldham | Away | November 1, 1952 | League Championship |
| Oldham v Leigh | Home | November 8, 1952 | League Championship |
| Wakefield Trinity v Oldham | Away | November 15, 1952 | League Championship |
| Oldham v Salford | Home | November 22, 1952 | League Championship |
| Oldham v Belle Vue Rangers | Home | December 6, 1952 | League Championship |
| Bradford Northern v Oldham | Away | December 20, 1952 | League Championship |
| Oldham v Swinton | Home | December 25, 1952 | League Championship |
| Liverpool City v Oldham | Away | December 26, 1952 | League Championship |
| Oldham v Wigan | Home | December 27, 1952 | League Championship |
| Wigan v Oldham | Away | January 10, 1953 | League Championship |
| Salford v Oldham | Away | January 17, 1953 | League Championship |
| Rochdale Hornets v Oldham | Away | August 8, 1953 | Law Cup |
| Oldham v Wigan | Home | August 15, 1953 | League Championship |
| Huddersfield v Oldham | Away | August 22, 1953 | League Championship |
| Bramley v Oldham | Away | August 26, 1953 | League Championship |
| Oldham v Leeds | Home | August 29, 1953 | League Championship |
| Widnes v Oldham | Away | September 2, 1953 | League Championship |
| Whitehaven v Oldham | Away | September 5, 1953 | Lancashire Cup |
| Oldham v Whitehaven | Home | September 7, 1953 | Lancashire Cup |
| Leigh v Oldham | Away | September 12, 1953 | League Championship |
| Oldham v Liverpool City | Home | September 19, 1953 | League Championship |
| Warrington v Oldham | Away | September 24, 1953 | Lancashire Cup |
| Leeds v Oldham | Away | September 26, 1953 | League Championship |
| Oldham v Widnes | Home | October 3, 1953 | League Championship |
| Oldham v Dewsbury | Home | October 10, 1953 | League Championship |
| Salford v Oldham | Away | October 17, 1953 | League Championship |
| Oldham v Rochdale Hornets | Home | October 24, 1953 | League Championship |
| Dewsbury v Oldham | Away | October 31, 1953 | League Championship |
| Oldham v St Helens | Home | November 7, 1953 | League Championship |
| Whitehaven v Oldham | Away | November 14, 1953 | League Championship |
| Oldham v Bramley | Home | November 21, 1953 | League Championship |
| Belle Vue Rangers v Oldham | Away | November 28, 1953 | League Championship |
| St Helens v Oldham | Away | December 12, 1953 | League Championship |
| Oldham v Workington Town | Home | December 19, 1953 | League Championship |
| Oldham v Swinton | Home | December 25, 1953 | League Championship |
| Workington Town v Oldham | Away | December 26, 1953 | League Championship |
| Hull FC v Oldham | Away | January 2, 1954 | League Championship |
| Oldham v Salford | Home | January 9, 1954 | League Championship |
| Oldham v Huddersfield | Home | January 16, 1954 | League Championship |
| Liverpool City v Oldham | Away | January 23, 1954 | League Championship |
| Liverpool City v Oldham | Away | February 6, 1954 | Rugby League Challenge Cup |
| Oldham v Liverpool City | Home | February 13, 1954 | Rugby League Challenge Cup |
| Warrington v Oldham | Away | February 20, 1954 | League Championship |
| Oldham v Warrington | Home | March 6, 1954 | Rugby League Challenge Cup |
| Barrow v Oldham | Away | March 13, 1954 | League Championship |
| Oldham v Hull FC | Home | March 20, 1954 | League Championship |
| Leigh v Oldham | Neutral | April 3, 1954 | Exhibition Match |
| Oldham v Warrington | Home | April 8, 1954 | League Championship |
| Wigan v Oldham | Away | April 10, 1954 | League Championship |
| Oldham v Whitehaven | Home | April 12, 1954 | League Championship |
| Swinton v Oldham | Away | April 16, 1954 | League Championship |
| Oldham v Belle Vue Rangers | Home | April 17, 1954 | League Championship |
| Rochdale Hornets v Oldham | Away | April 19, 1954 | League Championship |
| Halifax v Oldham | Away | May 15, 1954 | Benefit Match |
| Oldham v Rochdale Hornets | Home | August 7, 1954 | Law Cup |
| Wakefield Trinity v Oldham | Away | August 14, 1954 | League Championship |
| Oldham v Batley | Home | August 21, 1954 | League Championship |
| Salford v Oldham | Away | August 25, 1954 | League Championship |
| Oldham v Liverpool City | Home | September 14, 1954 | League Championship |
| Batley v Oldham | Away | September 18, 1954 | League Championship |
| Oldham v St Helens | Home | September 20, 1954 | Lancashire Cup |
| Oldham v Wakefield Trinity | Home | September 25, 1954 | League Championship |
| Workington Town v Oldham | Away | September 30, 1954 | Lancashire Cup |
| Blackpool Borough v Oldham | Away | October 2, 1954 | League Championship |
| Oldham v Workington Town | Home | October 9, 1954 | League Championship |
| Rochdale Hornets v Oldham | Away | October 16, 1954 | League Championship |
| Barrow v Oldham | Neutral | October 23, 1954 | Lancashire Cup |
| Liverpool City v Oldham | Away | October 30, 1954 | League Championship |
| Widnes v Oldham | Away | November 13, 1954 | League Championship |
| Oldham v Whitehaven | Home | November 20, 1954 | League Championship |
| Wigan v Oldham | Away | November 27, 1954 | League Championship |
| Whitehaven v Oldham | Away | December 11, 1954 | League Championship |
| Keighley v Oldham | Away | December 18, 1954 | League Championship |
| Oldham v Swinton | Home | December 25, 1954 | League Championship |
| Oldham v Salford | Home | December 28, 1954 | League Championship |
| Oldham v Belle Vue Rangers | Home | January 1, 1955 | League Championship |
| Leigh v Oldham | Away | January 8, 1955 | League Championship |
| Oldham v Warrington | Home | January 15, 1955 | League Championship |
| Workington Town v Oldham | Away | January 22, 1955 | League Championship |
| Belle Vue Rangers v Oldham | Away | March 12, 1955 | League Championship |
| Oldham v Widnes | Home | March 19, 1955 | League Championship |
| Warrington v Oldham | Away | March 26, 1955 | League Championship |
| Oldham v Wigan | Home | April 2, 1955 | League Championship |
| Swinton v Oldham | Away | April 8, 1955 | League Championship |
| Hull FC v Oldham | Away | April 9, 1955 | League Championship |
| Oldham v Keighley | Home | April 11, 1955 | League Championship |
| Oldham v Leigh | Home | April 16, 1955 | League Championship |
| Oldham v Leeds | Home | April 23, 1955 | League Championship |
| Warrington v Oldham | Neutral | May 14, 1955 | League Championship |
| Rochdale Hornets v Oldham | Away | August 13, 1955 | Law Cup |
| Oldham v Keighley | Home | August 20, 1955 | Friendly |
| Leeds v Oldham | Away | September 10, 1955 | League Championship |
| Oldham v Warrington | Home | September 17, 1955 | League Championship |
| York v Oldham | Away | September 24, 1955 | League Championship |
| Oldham v Featherstone Rovers | Home | October 1, 1955 | League Championship |
| Hunslet v Oldham | Away | October 8, 1955 | League Championship |
| Oldham v Barrow | Home | October 15, 1955 | League Championship |
| Warrington v Oldham | Away | October 22, 1955 | League Championship |
| Oldham v New Zealand | Home | October 29, 1955 | Tour Match |
| Leigh v Oldham | Away | November 5, 1955 | League Championship |
| Oldham v Liverpool City | Home | November 12, 1955 | League Championship |
| Wigan v Oldham | Away | November 19, 1955 | League Championship |
| Oldham v Widnes | Home | November 26, 1955 | League Championship |
| Liverpool City v Oldham | Away | December 3, 1955 | League Championship |
| Salford v Oldham | Away | December 10, 1955 | League Championship |
| Oldham v Salford | Home | December 17, 1955 | League Championship |
| St Helens v Oldham | Away | December 24, 1955 | League Championship |
| Blackpool Borough v Oldham | Away | December 27, 1955 | League Championship |
| Workington Town v Oldham | Away | January 2, 1956 | League Championship |
| Whitehaven v Oldham | Away | January 7, 1956 | League Championship |
| Barrow v Oldham | Away | April 2, 1956 | League Championship |