Syd Rix
Profile
Originally from Irlam O'th Heights in Manchester, Sid joined Oldham at the end of the First World War, making his debut against Rochdale on March 22nd, 1919. It would take another three years before he became a regular first team player, but once he had established himself in the side in the 1922-23 season he went on to become an automatic selection and play well over 300 games for the club.
A speedy and determined winger, he soon gained Lancashire county honours and represented his country in nine test matches, including all six on the 1924 tour to Australia and New Zealand, scoring a try in the first Australian test in Sydney and the second Kiwi match at Wellington. His other three caps were against the New Zealand tourists to this country in 1926-27.
Sid was also a useful centre and played in that position in three of the four consecutive Challenge Cup Finals the club reached in the 1920's. He did play in his more usual wing position in the 1924 final against Wigan and is one of only four players to appear in all four games, scoring a try in the 1927 victory over Swinton. He became club captain before moving on in 1932 to spend a season with Broughton Rangers.
Sid is second to Alan Davies on the all time Oldham try list and acknowledged as one of the greatest threequarters ever to play for the club.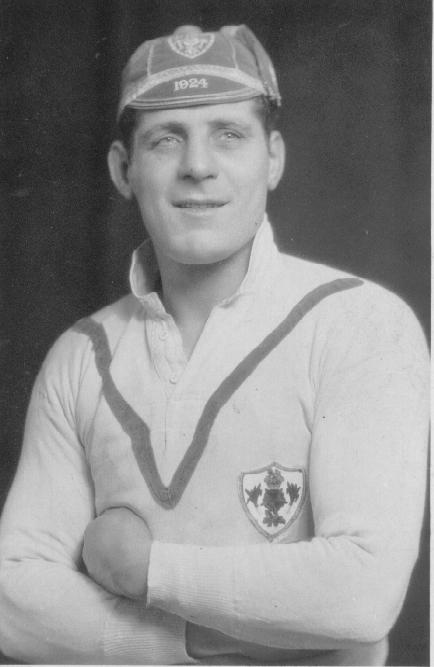 Career Games
| | | | |
| --- | --- | --- | --- |
| Rochdale Hornets v Oldham | Away | March 22, 1919 | Lancashire League |
| Barrow v Oldham | Away | April 26, 1919 | Lancashire Cup |
| Oldham v Warrington | Home | May 17, 1919 | Lancashire League |
| Warrington v Oldham | Away | August 23, 1919 | League Championship |
| Broughton Rangers v Oldham | Away | April 10, 1920 | League Championship |
| Warrington v Oldham | Away | August 28, 1920 | League Championship |
| Oldham v Halifax | Home | September 11, 1920 | League Championship |
| Broughton Rangers v Oldham | Away | September 18, 1920 | League Championship |
| Oldham v Rochdale Hornets | Home | May 13, 1921 | Infirmary Cup |
| Oldham v Gwyn Thomas's Team | Home | April 10, 1922 | Benefit Match |
| St Helens Recs v Oldham | Away | August 26, 1922 | League Championship |
| Oldham v Broughton Rangers | Home | September 2, 1922 | League Championship |
| Hunslet v Oldham | Away | September 6, 1922 | League Championship |
| Oldham v Rochdale Hornets | Home | September 9, 1922 | Infirmary Cup |
| Oldham v Huddersfield | Home | September 16, 1922 | League Championship |
| Oldham v Leeds | Home | September 23, 1922 | League Championship |
| Hull FC v Oldham | Away | September 30, 1922 | League Championship |
| Wigan Highfield v Oldham | Away | October 7, 1922 | League Championship |
| Wigan Highfield v Oldham | Away | October 14, 1922 | Lancashire Cup |
| Oldham v Wigan Highfield | Home | October 16, 1922 | Lancashire Cup |
| Batley v Oldham | Away | October 21, 1922 | League Championship |
| Leigh v Oldham | Away | October 28, 1922 | Lancashire Cup |
| Oldham v Widnes | Home | November 4, 1922 | League Championship |
| Oldham v St Helens | Home | November 11, 1922 | League Championship |
| Barrow v Oldham | Away | November 25, 1922 | League Championship |
| Oldham v Hull FC | Home | December 2, 1922 | League Championship |
| Warrington v Oldham | Away | December 9, 1922 | League Championship |
| Oldham v Halifax | Home | December 16, 1922 | League Championship |
| Halifax v Oldham | Away | December 23, 1922 | League Championship |
| Oldham v Swinton | Home | December 25, 1922 | League Championship |
| Broughton Rangers v Oldham | Away | December 26, 1922 | League Championship |
| Oldham v Rochdale Hornets | Home | December 30, 1922 | League Championship |
| Oldham v Hunslet | Home | January 1, 1923 | League Championship |
| Leigh v Oldham | Away | January 6, 1923 | League Championship |
| Oldham v Barrow | Home | January 13, 1923 | League Championship |
| Widnes v Oldham | Away | January 20, 1923 | League Championship |
| Oldham v Warrington | Home | January 27, 1923 | League Championship |
| Wigan v Oldham | Away | February 3, 1923 | League Championship |
| Oldham v Wigan | Home | February 10, 1923 | League Championship |
| Batley v Oldham | Away | February 17, 1923 | Rugby League Challenge Cup |
| Oldham v Batley | Home | February 19, 1923 | Rugby League Challenge Cup |
| Oldham v Batley | Home | February 24, 1923 | League Championship |
| Oldham v Wigan Highfield | Home | March 10, 1923 | League Championship |
| Barrow v Oldham | Away | March 17, 1923 | Rugby League Challenge Cup |
| Oldham v Leigh | Home | March 19, 1923 | League Championship |
| Salford v Oldham | Away | March 31, 1923 | League Championship |
| Oldham v Salford | Home | September 15, 1923 | League Championship |
| St Helens v Oldham | Away | September 22, 1923 | League Championship |
| Oldham v Huddersfield | Home | September 29, 1923 | League Championship |
| Wigan Highfield v Oldham | Away | October 6, 1923 | League Championship |
| Leeds v Oldham | Away | October 20, 1923 | League Championship |
| Oldham v Wigan | Home | October 27, 1923 | Lancashire Cup |
| Rochdale Hornets v Oldham | Away | November 3, 1923 | League Championship |
| St Helens Recs v Oldham | Away | November 10, 1923 | Lancashire Cup |
| Oldham v Leigh | Home | November 17, 1923 | League Championship |
| Oldham v Warrington | Home | November 19, 1923 | League Championship |
| Widnes v Oldham | Away | November 24, 1923 | League Championship |
| Oldham v Wigan | Home | December 1, 1923 | League Championship |
| York v Oldham | Away | December 8, 1923 | League Championship |
| Oldham v Swinton | Home | December 25, 1923 | League Championship |
| Oldham v Hull FC | Home | February 2, 1924 | League Championship |
| Broughton Rangers v Oldham | Away | February 9, 1924 | League Championship |
| Oldham v Rochdale Hornets | Home | February 16, 1924 | Rugby League Challenge Cup |
| St Helens Recs v Oldham | Away | February 23, 1924 | League Championship |
| Oldham v Dewsbury | Home | March 1, 1924 | Rugby League Challenge Cup |
| Oldham v Halifax | Home | March 8, 1924 | League Championship |
| Oldham v Wakefield Trinity | Home | March 15, 1924 | Rugby League Challenge Cup |
| Oldham v Wigan Highfield | Home | April 5, 1924 | League Championship |
| Wigan v Oldham | Neutral | April 12, 1924 | Rugby League Challenge Cup |
| Oldham v Halifax | Home | September 27, 1924 | League Championship |
| Wigan v Oldham | Away | October 4, 1924 | League Championship |
| Oldham v Barrow | Home | October 11, 1924 | League Championship |
| Hull FC v Oldham | Away | October 18, 1924 | League Championship |
| Oldham v Rochdale Hornets | Home | October 25, 1924 | Lancashire Cup |
| Widnes v Oldham | Away | November 1, 1924 | League Championship |
| St Helens v Oldham | Away | November 8, 1924 | Lancashire Cup |
| Batley v Oldham | Away | November 15, 1924 | League Championship |
| St Helens Recs v Oldham | Neutral | November 22, 1924 | Lancashire Cup |
| Oldham v Wigan | Home | December 6, 1924 | League Championship |
| Warrington v Oldham | Away | December 13, 1924 | League Championship |
| Oldham v York | Home | December 15, 1924 | League Championship |
| Oldham v Warrington | Home | December 20, 1924 | League Championship |
| Oldham v Swinton | Home | December 25, 1924 | League Championship |
| Broughton Rangers v Oldham | Away | December 26, 1924 | League Championship |
| Halifax v Oldham | Away | December 27, 1924 | League Championship |
| Oldham v Hull FC | Home | January 1, 1925 | League Championship |
| Oldham v Wigan Highfield | Home | January 3, 1925 | League Championship |
| Leigh v Oldham | Away | January 10, 1925 | League Championship |
| St Helens v Oldham | Away | January 17, 1925 | League Championship |
| Oldham v Rochdale Hornets | Home | January 24, 1925 | League Championship |
| Rochdale Hornets v Oldham | Away | January 31, 1925 | League Championship |
| Leigh v Oldham | Away | February 14, 1925 | Rugby League Challenge Cup |
| Oldham v Widnes | Home | February 21, 1925 | League Championship |
| Oldham v Warrington | Home | February 28, 1925 | Rugby League Challenge Cup |
| Barrow v Oldham | Away | March 5, 1925 | League Championship |
| Oldham v Batley | Home | March 7, 1925 | League Championship |
| Oldham v Featherstone Rovers | Home | March 14, 1925 | Rugby League Challenge Cup |
| Oldham v Salford | Home | March 21, 1925 | League Championship |
| York v Oldham | Away | March 28, 1925 | League Championship |
| Rochdale Hornets v Oldham | Neutral | April 4, 1925 | Rugby League Challenge Cup |
| Oldham v Broughton Rangers | Home | April 7, 1925 | League Championship |
| Swinton v Oldham | Away | April 10, 1925 | League Championship |
| Oldham v St Helens Recs | Home | April 11, 1925 | League Championship |
| Huddersfield v Oldham | Away | April 13, 1925 | League Championship |
| Hull Kingston Rovers v Oldham | Neutral | April 25, 1925 | Rugby League Challenge Cup |
| Oldham v Salford | Home | September 5, 1925 | League Championship |
| Rochdale Hornets v Oldham | Away | September 12, 1925 | Infirmary Cup |
| Oldham v Warrington | Home | September 19, 1925 | League Championship |
| Rest Of Lancs v Oldham | Neutral | September 22, 1925 | Friendly |
| Oldham v Rochdale Hornets | Home | October 10, 1925 | Lancashire Cup |
| Hull FC v Oldham | Away | October 12, 1925 | League Championship |
| St Helens v Oldham | Away | October 17, 1925 | League Championship |
| Oldham v Salford | Home | October 19, 1925 | Lancashire Cup |
| Oldham v Wigan Highfield | Home | October 24, 1925 | League Championship |
| Broughton Rangers v Oldham | Away | October 31, 1925 | League Championship |
| Oldham v Wigan | Home | November 2, 1925 | Lancashire Cup |
| Oldham v Dewsbury | Home | November 7, 1925 | League Championship |
| Wigan v Oldham | Away | November 11, 1925 | Lancashire Cup |
| Batley v Oldham | Away | November 21, 1925 | League Championship |
| Oldham v Widnes | Home | November 28, 1925 | League Championship |
| Oldham v Leigh | Home | December 19, 1925 | League Championship |
| Oldham v Swinton | Home | December 25, 1925 | League Championship |
| Barrow v Oldham | Away | December 26, 1925 | League Championship |
| Oldham v Hull FC | Home | January 1, 1926 | League Championship |
| Oldham v St Helens | Home | January 2, 1926 | League Championship |
| Widnes v Oldham | Away | January 9, 1926 | League Championship |
| Oldham v Broughton Rangers | Home | January 23, 1926 | League Championship |
| Rochdale Hornets v Oldham | Away | January 30, 1926 | League Championship |
| Oldham v Batley | Home | February 6, 1926 | League Championship |
| Leigh v Oldham | Away | February 13, 1926 | Rugby League Challenge Cup |
| Huddersfield v Oldham | Away | February 20, 1926 | League Championship |
| Oldham v Rochdale Hornets | Home | February 27, 1926 | Rugby League Challenge Cup |
| Oldham v Halifax | Home | March 13, 1926 | Rugby League Challenge Cup |
| Wigan Highfield v Oldham | Away | March 17, 1926 | League Championship |
| Wigan Highfield v Oldham | Neutral | March 27, 1926 | Rugby League Challenge Cup |
| Swinton v Oldham | Away | April 2, 1926 | League Championship |
| Oldham v Wigan | Home | April 10, 1926 | League Championship |
| Oldham v St Helens Recs | Home | April 17, 1926 | League Championship |
| Oldham v Rochdale Hornets | Home | April 24, 1926 | League Championship |
| Swinton v Oldham | Neutral | May 1, 1926 | Rugby League Challenge Cup |
| Oldham v Rochdale Hornets | Home | August 21, 1926 | Infirmary Cup |
| Oldham v Leeds | Home | August 28, 1926 | League Championship |
| Pontypridd v Oldham | Away | September 4, 1926 | League Championship |
| Oldham v Wakefield Trinity | Home | September 6, 1926 | League Championship |
| Broughton Rangers v Oldham | Away | September 11, 1926 | League Championship |
| Oldham v Widnes | Home | September 18, 1926 | League Championship |
| Oldham v Huddersfield | Home | September 20, 1926 | League Championship |
| St Helens Recs v Oldham | Away | September 25, 1926 | League Championship |
| Oldham v Salford | Home | October 9, 1926 | Lancashire Cup |
| Rochdale Hornets v Oldham | Away | October 16, 1926 | League Championship |
| Oldham v New Zealand | Home | October 23, 1926 | Tour Match |
| Oldham v St Helens | Home | December 4, 1926 | League Championship |
| Wakefield Trinity v Oldham | Away | December 11, 1926 | League Championship |
| Oldham v Swinton | Home | December 25, 1926 | League Championship |
| Hull FC v Oldham | Away | December 27, 1926 | League Championship |
| Oldham v Wigan Highfield | Home | January 1, 1927 | League Championship |
| Leigh v Oldham | Away | January 8, 1927 | League Championship |
| Wigan Highfield v Oldham | Away | January 29, 1927 | League Championship |
| Leeds v Oldham | Away | February 5, 1927 | League Championship |
| Oldham v Salford | Home | February 12, 1927 | Rugby League Challenge Cup |
| York v Oldham | Away | February 19, 1927 | League Championship |
| Hunslet v Oldham | Away | February 26, 1927 | Rugby League Challenge Cup |
| Oldham v Broughton Rangers | Home | March 5, 1927 | League Championship |
| Leeds v Oldham | Away | March 12, 1927 | Rugby League Challenge Cup |
| St Helens v Oldham | Away | March 16, 1927 | League Championship |
| Oldham v Wigan | Home | March 19, 1927 | League Championship |
| Batley v Oldham | Away | March 26, 1927 | League Championship |
| Wakefield Trinity v Oldham | Neutral | April 2, 1927 | Rugby League Challenge Cup |
| Wigan v Oldham | Away | April 9, 1927 | League Championship |
| Oldham v St Helens Recs | Home | April 11, 1927 | League Championship |
| Swinton v Oldham | Away | April 15, 1927 | League Championship |
| Huddersfield v Oldham | Away | April 18, 1927 | League Championship |
| Oldham v Warrington | Home | April 30, 1927 | League Championship |
| Swinton v Oldham | Neutral | May 7, 1927 | Rugby League Challenge Cup |
| Oldham v Hull FC | Home | January 2, 1928 | League Championship |
| Halifax v Oldham | Away | January 7, 1928 | League Championship |
| Oldham v Warrington | Home | January 14, 1928 | League Championship |
| Hull FC v Oldham | Away | January 28, 1928 | League Championship |
| Oldham v St Helens Recs | Home | February 4, 1928 | League Championship |
| Oldham v St Helens | Home | February 11, 1928 | Rugby League Challenge Cup |
| St Helens v Oldham | Away | February 18, 1928 | League Championship |
| Oldham v Broughton Rangers | Home | February 21, 1928 | League Championship |
| Barrow v Oldham | Away | February 25, 1928 | Rugby League Challenge Cup |
| Oldham v Rochdale Hornets | Home | March 3, 1928 | League Championship |
| Leeds v Oldham | Away | March 10, 1928 | Rugby League Challenge Cup |
| Widnes v Oldham | Away | March 17, 1928 | League Championship |
| Oldham v Leeds | Home | March 24, 1928 | League Championship |
| Oldham v Wigan Highfield | Home | March 31, 1928 | League Championship |
| Swinton v Oldham | Away | April 6, 1928 | League Championship |
| Broughton Rangers v Oldham | Away | April 7, 1928 | League Championship |
| Oldham v Widnes | Home | April 9, 1928 | League Championship |
| Hull FC v Oldham | Away | April 14, 1928 | League Championship |
| Rochdale Hornets v Oldham | Away | April 16, 1928 | League Championship |
| Oldham v Wigan | Home | April 23, 1928 | League Championship |
| Oldham v Salford | Home | August 25, 1928 | League Championship |
| Wigan Highfield v Oldham | Away | September 1, 1928 | League Championship |
| Halifax v Oldham | Away | September 3, 1928 | League Championship |
| Oldham v Halifax | Home | September 8, 1928 | League Championship |
| Hull FC v Oldham | Away | September 15, 1928 | League Championship |
| Oldham v Warrington | Home | September 22, 1928 | League Championship |
| Oldham v Featherstone Rovers | Home | September 29, 1928 | League Championship |
| Hunslet v Oldham | Away | October 6, 1928 | League Championship |
| Oldham v Rochdale Hornets | Home | October 13, 1928 | Infirmary Cup |
| Huddersfield v Oldham | Away | October 20, 1928 | League Championship |
| Oldham v Salford | Home | October 24, 1928 | Lancashire Cup |
| Oldham v Leigh | Home | October 27, 1928 | League Championship |
| Oldham v Wigan | Home | November 5, 1928 | Lancashire Cup |
| Wigan v Oldham | Away | November 7, 1928 | Lancashire Cup |
| Oldham v Wigan | Home | November 10, 1928 | League Championship |
| Salford v Oldham | Away | November 17, 1928 | League Championship |
| Oldham v Hunslet | Home | November 24, 1928 | League Championship |
| St Helens v Oldham | Away | December 1, 1928 | League Championship |
| Wigan v Oldham | Away | December 15, 1928 | League Championship |
| Broughton Rangers v Oldham | Away | December 22, 1928 | League Championship |
| Oldham v Swinton | Home | December 25, 1928 | League Championship |
| Oldham v Wigan Highfield | Home | January 26, 1929 | League Championship |
| Rochdale Hornets v Oldham | Away | February 2, 1929 | League Championship |
| Bramley v Oldham | Away | February 9, 1929 | Rugby League Challenge Cup |
| Warrington v Oldham | Away | February 23, 1929 | Rugby League Challenge Cup |
| Oldham v Huddersfield | Home | March 2, 1929 | League Championship |
| Featherstone Rovers v Oldham | Away | March 9, 1929 | League Championship |
| Oldham v Hull FC | Home | March 16, 1929 | League Championship |
| Oldham v St Helens Recs | Home | March 23, 1929 | League Championship |
| Swinton v Oldham | Away | March 29, 1929 | League Championship |
| Oldham v Rochdale Hornets | Home | March 30, 1929 | League Championship |
| Leeds v Oldham | Away | April 1, 1929 | League Championship |
| Oldham v Broughton Rangers | Home | April 6, 1929 | League Championship |
| Oldham v Barrow | Home | April 13, 1929 | League Championship |
| St Helens Recs v Oldham | Away | April 22, 1929 | League Championship |
| Oldham v Hunslet | Home | August 31, 1929 | League Championship |
| Huddersfield v Oldham | Away | September 4, 1929 | League Championship |
| Dewsbury v Oldham | Away | September 7, 1929 | League Championship |
| Oldham v Broughton Rangers | Home | September 9, 1929 | League Championship |
| Oldham v Huddersfield | Home | September 14, 1929 | League Championship |
| Widnes v Oldham | Away | September 21, 1929 | League Championship |
| St Helens v Oldham | Away | September 28, 1929 | League Championship |
| Oldham v Hull FC | Home | October 5, 1929 | League Championship |
| Wigan v Oldham | Away | October 12, 1929 | Lancashire Cup |
| Oldham v Wigan | Home | October 19, 1929 | League Championship |
| Oldham v St Helens Recs | Home | October 21, 1929 | Lancashire Cup |
| Hunslet v Oldham | Away | October 26, 1929 | League Championship |
| Oldham v Australia | Home | November 2, 1929 | Tour Match |
| Leigh v Oldham | Away | November 9, 1929 | League Championship |
| Oldham v Wigan Highfield | Home | November 16, 1929 | League Championship |
| Rochdale Hornets v Oldham | Away | November 23, 1929 | Infirmary Cup |
| Oldham v Halifax | Home | November 30, 1929 | League Championship |
| Hull FC v Oldham | Away | December 7, 1929 | League Championship |
| Oldham v Salford | Home | December 14, 1929 | League Championship |
| Wakefield Trinity v Oldham | Away | December 21, 1929 | League Championship |
| Oldham v Swinton | Home | December 25, 1929 | League Championship |
| Rochdale Hornets v Oldham | Away | December 26, 1929 | League Championship |
| Oldham v Widnes | Home | December 28, 1929 | League Championship |
| Barrow v Oldham | Away | January 1, 1930 | League Championship |
| Oldham v St Helens | Home | January 4, 1930 | League Championship |
| Warrington v Oldham | Away | January 11, 1930 | League Championship |
| Oldham v Leigh | Home | January 18, 1930 | League Championship |
| Oldham v Barrow | Home | January 25, 1930 | League Championship |
| Salford v Oldham | Away | February 1, 1930 | League Championship |
| Hunslet v Oldham | Away | February 8, 1930 | Rugby League Challenge Cup |
| Oldham v Dewsbury | Home | March 1, 1930 | League Championship |
| St Helens Recs v Oldham | Away | March 6, 1930 | League Championship |
| Oldham v Wakefield Trinity | Home | March 15, 1930 | League Championship |
| Halifax v Oldham | Away | March 22, 1930 | League Championship |
| Oldham v Warrington | Home | March 29, 1930 | League Championship |
| Broughton Rangers v Oldham | Away | April 5, 1930 | League Championship |
| Wigan Highfield v Oldham | Away | April 7, 1930 | League Championship |
| Oldham v Leeds | Home | April 12, 1930 | League Championship |
| Swinton v Oldham | Away | April 18, 1930 | League Championship |
| Oldham v St Helens Recs | Home | April 19, 1930 | League Championship |
| Leeds v Oldham | Away | April 21, 1930 | League Championship |
| Oldham v Rochdale Hornets | Home | August 25, 1930 | Infirmary Cup |
| Wigan v Oldham | Away | August 30, 1930 | League Championship |
| Oldham v Leigh | Home | September 6, 1930 | League Championship |
| Huddersfield v Oldham | Away | September 10, 1930 | Friendly |
| St Helens Recs v Oldham | Away | September 13, 1930 | League Championship |
| Oldham v Huddersfield | Home | September 15, 1930 | Friendly |
| Oldham v Hull Kingston Rovers | Home | September 20, 1930 | League Championship |
| Oldham v Salford | Home | September 22, 1930 | League Championship |
| Oldham v Barrow | Home | September 27, 1930 | League Championship |
| Rochdale Hornets v Oldham | Away | October 4, 1930 | League Championship |
| Oldham v Salford | Home | October 11, 1930 | Lancashire Cup |
| Hull Kingston Rovers v Oldham | Away | November 1, 1930 | League Championship |
| Oldham v Bradford Northern | Home | November 8, 1930 | League Championship |
| Halifax v Oldham | Away | November 15, 1930 | League Championship |
| Oldham v Broughton Rangers | Home | November 22, 1930 | League Championship |
| Keighley v Oldham | Away | November 29, 1930 | League Championship |
| Oldham v Wigan | Home | December 8, 1930 | League Championship |
| St Helens v Oldham | Away | December 13, 1930 | League Championship |
| Oldham v Widnes | Home | December 20, 1930 | League Championship |
| Oldham v Swinton | Home | December 25, 1930 | League Championship |
| Wigan Highfield v Oldham | Away | December 26, 1930 | League Championship |
| Oldham v York | Home | December 27, 1930 | League Championship |
| Oldham v St Helens Recs | Home | January 17, 1931 | League Championship |
| Hull FC v Oldham | Away | January 24, 1931 | League Championship |
| Oldham v Widnes | Home | February 7, 1931 | Rugby League Challenge Cup |
| Bramley v Oldham | Away | February 21, 1931 | Rugby League Challenge Cup |
| Halifax v Oldham | Away | March 7, 1931 | Rugby League Challenge Cup |
| Oldham v Halifax | Home | March 9, 1931 | Rugby League Challenge Cup |
| Widnes v Oldham | Away | March 14, 1931 | League Championship |
| Halifax v Oldham | Neutral | March 16, 1931 | Rugby League Challenge Cup |
| Oldham v Hull FC | Home | March 21, 1931 | League Championship |
| Bradford Northern v Oldham | Away | March 28, 1931 | League Championship |
| Swinton v Oldham | Away | April 3, 1931 | League Championship |
| Oldham v St Helens | Home | April 4, 1931 | League Championship |
| Oldham v Keighley | Home | April 6, 1931 | League Championship |
| Warrington v Oldham | Away | April 7, 1931 | League Championship |
| Oldham v Wigan Highfield | Home | April 11, 1931 | League Championship |
| Salford v Oldham | Away | April 13, 1931 | League Championship |
| York v Oldham | Away | April 18, 1931 | League Championship |
| Oldham v Halifax | Home | April 20, 1931 | League Championship |
| Swinton v Oldham | Away | April 25, 1931 | League Championship |
| Rochdale Hornets v Oldham | Away | August 22, 1931 | Infirmary Cup |
| Salford v Oldham | Away | August 29, 1931 | League Championship |
| Oldham v Wigan Highfield | Home | September 5, 1931 | League Championship |
| Warrington v Oldham | Away | September 12, 1931 | League Championship |
| Hunslet v Oldham | Away | September 16, 1931 | League Championship |
| Oldham v Halifax | Home | September 19, 1931 | League Championship |
| Batley v Oldham | Away | September 26, 1931 | League Championship |
| Oldham v St Helens | Home | October 3, 1931 | League Championship |
| Oldham v Barrow | Home | October 10, 1931 | Lancashire Cup |
| St Helens v Oldham | Away | October 17, 1931 | League Championship |
| Oldham v Bramley | Home | October 24, 1931 | League Championship |
| Rochdale Hornets v Oldham | Away | October 31, 1931 | League Championship |
| Oldham v Hull FC | Home | November 7, 1931 | League Championship |
| Widnes v Oldham | Away | November 14, 1931 | League Championship |
| York v Oldham | Away | November 28, 1931 | League Championship |
| Oldham v Leigh | Home | December 5, 1931 | League Championship |
| Bramley v Oldham | Away | December 12, 1931 | League Championship |
| Oldham v Batley | Home | December 19, 1931 | League Championship |
| Oldham v Swinton | Home | December 25, 1931 | League Championship |
| Barrow v Oldham | Away | December 26, 1931 | League Championship |
| Oldham v Hunslet | Home | January 2, 1932 | League Championship |
| Hull FC v Oldham | Away | January 9, 1932 | League Championship |
| Wigan v Oldham | Away | January 16, 1932 | League Championship |
| Oldham v Salford | Home | January 23, 1932 | League Championship |
| Oldham v Rochdale Hornets | Home | February 6, 1932 | Rugby League Challenge Cup |
| Oldham v Hunslet | Home | February 8, 1932 | League Championship |
| Halifax v Oldham | Away | February 13, 1932 | League Championship |
| Oldham v Widnes | Home | February 20, 1932 | League Championship |
| Oldham v Leeds | Home | February 27, 1932 | League Championship |
| Swinton v Oldham | Away | March 25, 1932 | League Championship |
| Oldham v Rochdale Hornets | Home | March 26, 1932 | League Championship |