Evan Davies
Profile
Born in Ammanford, South Wales, Evan Davies first played for the local Trimble club, before moving on to Llanelli. During his time with the "scarlets" he made it to the Welsh trial game of 1911. He was approached by Oldham and agreed to come North only if a place could also be found for his friend Tom Williams. This was agreed and the two of them made their debut in the wing positions against Broughton Rangers on December 9th, 1911.
Whereas Williams would continue to become a successful winger, Davies would convert to be one of the greatest centres in the history of the club. He became a first team regular, but fell victim to a serious illness that almost ended his career in 1913. Happily he recovered only for the first World War to again temporarily interrupt his progress. On returning to first team football in 1919, Evan then displayed his best form and won a place on the 1920 tour. He suffered from a "poisoned" toe on the outward journey and had to sit out the Australian section, but recovered to play in all the New Zealand leg of the tour, except for one match, including all three tests. In 1921-22 he was centre to Reg Farrar and the combined skills of the elusive Davies with the well timed pass and the pacy, determined, Farrar produced 67 tries for the Oldham left wing partnership.
Very much a veteran, he was still in the team that won the Challenge Cup in 1925 and showed a touch of his old form when sweeping in for the final try of the match in the 16 – 3 victory over Hull K.R. Thirty years on and another "Davies" would thrill the Watersheddings crowds and I'm sure as young Alan made his way into the senior side, the older supporters would have drawn comparison between the two.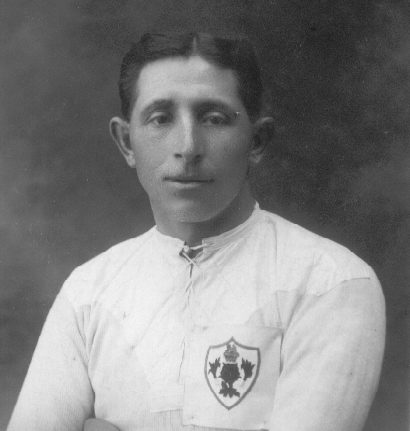 Career Games
| | | | |
| --- | --- | --- | --- |
| Oldham v Broughton Rangers | Home | December 9, 1911 | League Championship |
| Barrow v Oldham | Away | December 11, 1911 | League Championship |
| Wigan v Oldham | Away | December 16, 1911 | League Championship |
| Oldham v Leigh | Home | December 23, 1911 | League Championship |
| Oldham v Hull Kingston Rovers | Home | December 25, 1911 | League Championship |
| Oldham v Bradford Northern | Home | December 26, 1911 | League Championship |
| Oldham v St Helens | Home | December 30, 1911 | League Championship |
| Oldham v Coventry | Home | January 1, 1912 | League Championship |
| Salford v Oldham | Away | January 6, 1912 | League Championship |
| Oldham v Warrington | Home | January 13, 1912 | League Championship |
| Oldham v Barrow | Home | January 27, 1912 | League Championship |
| Leeds v Oldham | Away | February 10, 1912 | League Championship |
| Coventry v Oldham | Away | February 17, 1912 | Rugby League Challenge Cup |
| Oldham v Huddersfield | Home | February 24, 1912 | League Championship |
| Oldham v Wigan | Home | March 2, 1912 | Rugby League Challenge Cup |
| Oldham v Wigan | Home | March 9, 1912 | League Championship |
| Widnes v Oldham | Away | March 13, 1912 | League Championship |
| Rochdale Hornets v Oldham | Away | March 16, 1912 | League Championship |
| Oldham v Huddersfield | Home | March 23, 1912 | Rugby League Challenge Cup |
| Swinton v Oldham | Away | March 27, 1912 | League Championship |
| Oldham v Runcorn | Home | March 30, 1912 | League Championship |
| Warrington v Oldham | Away | April 1, 1912 | League Championship |
| Halifax v Oldham | Away | April 5, 1912 | League Championship |
| Oldham v Salford | Home | April 6, 1912 | League Championship |
| Coventry v Oldham | Away | April 8, 1912 | League Championship |
| Wakefield Trinity v Oldham | Neutral | April 13, 1912 | Rugby League Challenge Cup |
| Dewsbury v Oldham | Neutral | April 27, 1912 | Rugby League Challenge Cup |
| Huddersfield v Oldham | Neutral | May 11, 1912 | Friendly |
| Oldham v Dewsbury | Home | September 7, 1912 | League Championship |
| Hull Kingston Rovers v Oldham | Away | September 14, 1912 | League Championship |
| Leeds v Oldham | Away | September 21, 1912 | League Championship |
| Oldham v St Helens | Home | September 28, 1912 | League Championship |
| Rochdale Hornets v Oldham | Away | October 5, 1912 | League Championship |
| Runcorn v Oldham | Away | October 19, 1912 | Lancashire Cup |
| Oldham v Wigan | Home | October 26, 1912 | League Championship |
| Wigan v Oldham | Away | November 2, 1912 | Lancashire Cup |
| Oldham v Runcorn | Home | November 9, 1912 | League Championship |
| Oldham v Salford | Home | November 23, 1912 | League Championship |
| Oldham v Barrow | Home | December 7, 1912 | League Championship |
| Oldham v Swinton | Home | December 12, 1912 | League Championship |
| Halifax v Oldham | Away | December 14, 1912 | League Championship |
| Wigan v Oldham | Away | December 21, 1912 | League Championship |
| Oldham v Hull Kingston Rovers | Home | December 25, 1912 | League Championship |
| Oldham v Warrington | Home | December 26, 1912 | League Championship |
| Broughton Rangers v Oldham | Away | December 28, 1912 | League Championship |
| Dewsbury v Oldham | Away | January 1, 1913 | League Championship |
| Oldham v Halifax | Home | January 4, 1913 | League Championship |
| Oldham v Widnes | Home | January 18, 1913 | League Championship |
| Huddersfield v Oldham | Away | January 25, 1913 | League Championship |
| Oldham v Rochdale Hornets | Home | February 1, 1913 | League Championship |
| Oldham v Leeds | Home | February 8, 1913 | League Championship |
| Runcorn v Oldham | Away | February 12, 1913 | League Championship |
| Oldham v Leigh | Home | February 22, 1913 | League Championship |
| Oldham v Huddersfield | Home | March 22, 1913 | League Championship |
| Oldham v Broughton Rangers | Home | March 24, 1913 | League Championship |
| Swinton v Oldham | Away | March 29, 1913 | League Championship |
| Runcorn v Oldham | Away | April 2, 1913 | League Championship |
| Barrow v Oldham | Away | April 5, 1913 | League Championship |
| Salford v Oldham | Away | April 7, 1913 | League Championship |
| Leigh v Oldham | Away | April 12, 1913 | League Championship |
| Oldham v Dewsbury | Home | September 6, 1913 | League Championship |
| St Helens v Oldham | Away | September 13, 1913 | League Championship |
| Wigan v Oldham | Away | September 20, 1913 | League Championship |
| Oldham v Halifax | Home | September 27, 1913 | League Championship |
| Rochdale Hornets v Oldham | Away | January 24, 1914 | League Championship |
| Oldham v Runcorn | Home | January 31, 1914 | League Championship |
| Oldham v Huddersfield | Home | February 7, 1914 | League Championship |
| Wakefield Trinity v Oldham | Away | March 23, 1914 | League Championship |
| Oldham v Barrow | Home | March 28, 1914 | League Championship |
| Halifax v Oldham | Away | March 30, 1914 | League Championship |
| Oldham v St Helens | Home | April 4, 1914 | League Championship |
| Swinton v Oldham | Away | April 10, 1914 | League Championship |
| Oldham v Wakefield Trinity | Home | April 11, 1914 | League Championship |
| Barrow v Oldham | Away | April 13, 1914 | League Championship |
| Wakefield Trinity v Oldham | Away | September 5, 1914 | League Championship |
| Oldham v Leigh | Home | September 12, 1914 | League Championship |
| St Helens v Oldham | Away | September 19, 1914 | League Championship |
| Oldham v Warrington | Home | September 26, 1914 | League Championship |
| Widnes v Oldham | Away | October 3, 1914 | League Championship |
| Oldham v Batley | Home | October 5, 1914 | League Championship |
| Oldham v Broughton Rangers | Home | October 10, 1914 | League Championship |
| Wigan v Oldham | Away | October 17, 1914 | Lancashire Cup |
| Oldham v Leeds | Home | October 24, 1914 | League Championship |
| Runcorn v Oldham | Away | November 14, 1914 | League Championship |
| Oldham v Wigan | Home | November 21, 1914 | League Championship |
| Rochdale Hornets v Oldham | Away | November 28, 1914 | League Championship |
| Leigh v Oldham | Away | December 5, 1914 | League Championship |
| Oldham v St Helens | Home | December 12, 1914 | League Championship |
| Salford v Oldham | Away | December 19, 1914 | League Championship |
| Oldham v Swinton | Home | December 25, 1914 | League Championship |
| Broughton Rangers v Oldham | Away | December 26, 1914 | League Championship |
| Batley v Oldham | Away | January 1, 1915 | League Championship |
| Oldham v Runcorn | Home | January 2, 1915 | League Championship |
| Huddersfield v Oldham | Away | January 9, 1915 | League Championship |
| Halifax v Oldham | Away | January 16, 1915 | League Championship |
| Oldham v Widnes | Home | January 23, 1915 | League Championship |
| Warrington v Oldham | Away | January 30, 1915 | League Championship |
| Oldham v Wakefield Trinity | Home | February 6, 1915 | League Championship |
| Oldham v Rochdale Hornets | Home | February 13, 1915 | League Championship |
| Wigan v Oldham | Away | February 20, 1915 | League Championship |
| Oldham v Wigan | Home | February 27, 1915 | Rugby League Challenge Cup |
| Oldham v Halifax | Home | March 6, 1915 | League Championship |
| Oldham v Rochdale Hornets | Home | March 16, 1915 | League Championship |
| Oldham v Huddersfield | Home | March 20, 1915 | League Championship |
| Swinton v Oldham | Away | April 2, 1915 | League Championship |
| Leeds v Oldham | Away | April 3, 1915 | League Championship |
| Oldham v Salford | Home | April 5, 1915 | League Championship |
| Oldham v Barrow | Home | April 10, 1915 | League Championship |
| Hull FC v Oldham | Away | April 24, 1915 | League Championship |
| Oldham v Swinton | Home | April 19, 1919 | Lancashire League |
| Oldham v Broughton Rangers | Home | April 21, 1919 | Lancashire League |
| Barrow v Oldham | Away | April 26, 1919 | Lancashire Cup |
| Rochdale Hornets v Oldham | Neutral | May 10, 1919 | Lancashire Cup |
| Warrington v Oldham | Away | August 23, 1919 | League Championship |
| Oldham v Rochdale Hornets | Home | August 30, 1919 | League Championship |
| St Helens v Oldham | Away | September 6, 1919 | League Championship |
| Oldham v Huddersfield | Home | September 13, 1919 | League Championship |
| Wakefield Trinity v Oldham | Away | September 20, 1919 | League Championship |
| Oldham v St Helens Recs | Home | September 27, 1919 | League Championship |
| Oldham v Halifax | Home | October 11, 1919 | League Championship |
| Hull Kingston Rovers v Oldham | Away | October 13, 1919 | League Championship |
| Wigan v Oldham | Away | October 18, 1919 | League Championship |
| Oldham v St Helens | Home | October 25, 1919 | League Championship |
| Broughton Rangers v Oldham | Away | November 1, 1919 | Lancashire Cup |
| Oldham v Wakefield Trinity | Home | November 8, 1919 | League Championship |
| Swinton v Oldham | Away | November 15, 1919 | Lancashire Cup |
| Oldham v Swinton | Home | November 17, 1919 | Lancashire Cup |
| Leeds v Oldham | Away | November 19, 1919 | League Championship |
| Barrow v Oldham | Away | November 22, 1919 | League Championship |
| Rochdale Hornets v Oldham | Neutral | December 6, 1919 | Lancashire Cup |
| Oldham v Widnes | Home | December 13, 1919 | League Championship |
| Oldham v Wigan | Home | December 20, 1919 | League Championship |
| Oldham v Swinton | Home | December 25, 1919 | League Championship |
| Oldham v Broughton Rangers | Home | December 26, 1919 | League Championship |
| Rochdale Hornets v Oldham | Away | December 27, 1919 | League Championship |
| Oldham v Warrington | Home | January 1, 1920 | League Championship |
| Oldham v Leigh | Home | January 3, 1920 | League Championship |
| Leigh v Oldham | Away | January 14, 1920 | League Championship |
| St Helens Recs v Oldham | Away | January 17, 1920 | League Championship |
| Halifax v Oldham | Away | January 24, 1920 | League Championship |
| Oldham v Leeds | Home | January 31, 1920 | League Championship |
| Oldham v Hull Kingston Rovers | Home | February 7, 1920 | League Championship |
| Hull FC v Oldham | Away | February 14, 1920 | League Championship |
| Bradford Northern v Oldham | Away | February 21, 1920 | Rugby League Challenge Cup |
| Oldham v Bradford Northern | Home | February 23, 1920 | Rugby League Challenge Cup |
| Oldham v Warrington | Home | February 28, 1920 | Rugby League Challenge Cup |
| Salford v Oldham | Away | March 6, 1920 | League Championship |
| Oldham v Leeds | Home | March 13, 1920 | Rugby League Challenge Cup |
| Widnes v Oldham | Away | March 17, 1920 | League Championship |
| Oldham v Barrow | Home | March 23, 1920 | League Championship |
| Huddersfield v Oldham | Neutral | March 27, 1920 | Rugby League Challenge Cup |
| Swinton v Oldham | Away | April 2, 1920 | League Championship |
| Oldham v Salford | Home | April 3, 1920 | League Championship |
| Huddersfield v Oldham | Away | April 5, 1920 | League Championship |
| Oldham v Leigh | Home | October 16, 1920 | Lancashire Cup |
| Oldham v Huddersfield | Home | October 23, 1920 | League Championship |
| Huddersfield v Oldham | Away | October 30, 1920 | Friendly |
| Oldham v Barrow | Home | November 6, 1920 | League Championship |
| Wigan v Oldham | Away | November 13, 1920 | League Championship |
| Widnes v Oldham | Away | November 20, 1920 | League Championship |
| Oldham v Widnes | Home | November 27, 1920 | League Championship |
| Dewsbury v Oldham | Away | November 30, 1920 | League Championship |
| St Helens Recs v Oldham | Away | December 4, 1920 | League Championship |
| Oldham v Wigan | Home | December 11, 1920 | League Championship |
| Barrow v Oldham | Away | December 18, 1920 | League Championship |
| Oldham v Swinton | Home | December 25, 1920 | League Championship |
| Oldham v Broughton Rangers | Home | December 27, 1920 | Friendly |
| Oldham v Warrington | Home | January 1, 1921 | League Championship |
| Oldham v Hull FC | Home | January 3, 1921 | League Championship |
| Oldham v Salford | Home | January 8, 1921 | League Championship |
| Oldham v Rochdale Hornets | Home | January 22, 1921 | League Championship |
| Salford v Oldham | Away | January 29, 1921 | League Championship |
| Oldham v Batley | Home | February 5, 1921 | League Championship |
| Halifax v Oldham | Away | February 12, 1921 | League Championship |
| Oldham v Elland Wanderers | Home | February 26, 1921 | Rugby League Challenge Cup |
| St Helens v Oldham | Away | March 5, 1921 | League Championship |
| Huddersfield v Oldham | Away | March 12, 1921 | Rugby League Challenge Cup |
| Oldham v Broughton Rangers | Home | March 19, 1921 | League Championship |
| Leigh v Oldham | Away | March 23, 1921 | League Championship |
| Swinton v Oldham | Away | March 25, 1921 | League Championship |
| Oldham v St Helens | Home | March 26, 1921 | League Championship |
| Huddersfield v Oldham | Away | March 28, 1921 | League Championship |
| Wigan v Oldham | Away | April 2, 1921 | Friendly |
| Leeds v Oldham | Away | April 23, 1921 | League Championship |
| St Helens v Oldham | Away | August 27, 1921 | League Championship |
| Oldham v Broughton Rangers | Home | September 3, 1921 | League Championship |
| Oldham v Leigh | Home | September 10, 1921 | League Championship |
| Widnes v Oldham | Away | September 17, 1921 | League Championship |
| Oldham v Hunslet | Home | September 24, 1921 | League Championship |
| Wigan v Oldham | Away | October 1, 1921 | League Championship |
| Oldham v Rochdale Hornets | Home | October 3, 1921 | League Championship |
| Oldham v Salford | Home | October 8, 1921 | League Championship |
| Hull FC v Oldham | Away | October 10, 1921 | League Championship |
| St Helens Recs v Oldham | Away | October 15, 1921 | League Championship |
| Rochdale Hornets v Oldham | Away | October 22, 1921 | Lancashire Cup |
| Oldham v Keighley | Home | October 29, 1921 | League Championship |
| St Helens v Oldham | Away | November 5, 1921 | Lancashire Cup |
| Halifax v Oldham | Away | November 12, 1921 | League Championship |
| Oldham v Barrow | Home | November 19, 1921 | Lancashire Cup |
| Oldham v Australia | Home | November 26, 1921 | Tour Match |
| Warrington v Oldham | Neutral | December 3, 1921 | Lancashire Cup |
| Salford v Oldham | Away | December 7, 1921 | League Championship |
| Oldham v Barrow | Home | December 10, 1921 | League Championship |
| Keighley v Oldham | Away | December 17, 1921 | League Championship |
| Oldham v Swinton | Home | December 24, 1921 | League Championship |
| Warrington v Oldham | Away | December 31, 1921 | League Championship |
| Oldham v Hull FC | Home | January 2, 1922 | League Championship |
| Oldham v Australia | Home | January 16, 1922 | Tour Match |
| Rochdale Hornets v Oldham | Away | January 21, 1922 | League Championship |
| Oldham v Halifax | Home | January 28, 1922 | League Championship |
| Barrow v Oldham | Away | February 4, 1922 | League Championship |
| Oldham v St Helens | Home | February 11, 1922 | League Championship |
| Oldham v Featherstone Rovers | Home | February 18, 1922 | League Championship |
| Elland v Oldham | Away | February 25, 1922 | Rugby League Challenge Cup |
| Bradford Northern v Oldham | Away | March 1, 1922 | League Championship |
| Leigh v Oldham | Away | March 4, 1922 | League Championship |
| Oldham v Huddersfield | Home | March 11, 1922 | Rugby League Challenge Cup |
| Featherstone Rovers v Oldham | Away | March 15, 1922 | League Championship |
| Oldham v Warrington | Home | March 18, 1922 | League Championship |
| Oldham v Huddersfield | Home | March 20, 1922 | League Championship |
| Rochdale Hornets v Oldham | Away | March 25, 1922 | Rugby League Challenge Cup |
| Oldham v Widnes | Home | April 1, 1922 | League Championship |
| Oldham v Wigan | Home | April 3, 1922 | League Championship |
| Hunslet v Oldham | Away | April 5, 1922 | League Championship |
| Oldham v St Helens Recs | Home | April 8, 1922 | League Championship |
| Oldham v Huddersfield | Home | April 22, 1922 | League Championship |
| Wigan v Oldham | Neutral | May 6, 1922 | League Championship |
| Oldham v Huddersfield | Home | September 16, 1922 | League Championship |
| Oldham v Leeds | Home | September 23, 1922 | League Championship |
| Hull FC v Oldham | Away | September 30, 1922 | League Championship |
| Wigan Highfield v Oldham | Away | October 7, 1922 | League Championship |
| Wigan Highfield v Oldham | Away | October 14, 1922 | Lancashire Cup |
| Oldham v Wigan Highfield | Home | October 16, 1922 | Lancashire Cup |
| Batley v Oldham | Away | October 21, 1922 | League Championship |
| Leigh v Oldham | Away | October 28, 1922 | Lancashire Cup |
| Oldham v Hull FC | Home | December 2, 1922 | League Championship |
| Warrington v Oldham | Away | December 9, 1922 | League Championship |
| Oldham v Halifax | Home | December 16, 1922 | League Championship |
| Halifax v Oldham | Away | December 23, 1922 | League Championship |
| Oldham v Swinton | Home | December 25, 1922 | League Championship |
| Broughton Rangers v Oldham | Away | December 26, 1922 | League Championship |
| Oldham v Rochdale Hornets | Home | December 30, 1922 | League Championship |
| Oldham v Hunslet | Home | January 1, 1923 | League Championship |
| Leigh v Oldham | Away | January 6, 1923 | League Championship |
| Oldham v Barrow | Home | January 13, 1923 | League Championship |
| Widnes v Oldham | Away | January 20, 1923 | League Championship |
| Oldham v Warrington | Home | January 27, 1923 | League Championship |
| Wigan v Oldham | Away | February 3, 1923 | League Championship |
| Oldham v Wigan | Home | February 10, 1923 | League Championship |
| Batley v Oldham | Away | February 17, 1923 | Rugby League Challenge Cup |
| Oldham v Batley | Home | February 19, 1923 | Rugby League Challenge Cup |
| Oldham v Batley | Home | February 24, 1923 | League Championship |
| St Helens v Oldham | Away | March 3, 1923 | Rugby League Challenge Cup |
| Oldham v Wigan Highfield | Home | March 10, 1923 | League Championship |
| Barrow v Oldham | Away | March 17, 1923 | Rugby League Challenge Cup |
| Oldham v Leigh | Home | March 19, 1923 | League Championship |
| Rochdale Hornets v Oldham | Away | March 24, 1923 | League Championship |
| Swinton v Oldham | Away | March 30, 1923 | League Championship |
| Salford v Oldham | Away | March 31, 1923 | League Championship |
| Huddersfield v Oldham | Away | April 2, 1923 | League Championship |
| Leeds v Oldham | Away | April 4, 1923 | League Championship |
| Oldham v Broughton Rangers | Home | August 25, 1923 | League Championship |
| Hull FC v Oldham | Away | September 1, 1923 | League Championship |
| Rochdale Hornets v Oldham | Away | September 8, 1923 | Infirmary Cup |
| Oldham v Salford | Home | September 15, 1923 | League Championship |
| St Helens v Oldham | Away | September 22, 1923 | League Championship |
| Oldham v Huddersfield | Home | September 29, 1923 | League Championship |
| Wigan Highfield v Oldham | Away | October 6, 1923 | League Championship |
| Leeds v Oldham | Away | October 20, 1923 | League Championship |
| Oldham v Wigan | Home | October 27, 1923 | Lancashire Cup |
| Rochdale Hornets v Oldham | Away | November 3, 1923 | League Championship |
| St Helens Recs v Oldham | Away | November 10, 1923 | Lancashire Cup |
| Oldham v Leigh | Home | November 17, 1923 | League Championship |
| Oldham v Warrington | Home | November 19, 1923 | League Championship |
| Oldham v Wigan | Home | December 1, 1923 | League Championship |
| York v Oldham | Away | December 8, 1923 | League Championship |
| Oldham v St Helens Recs | Home | December 15, 1923 | League Championship |
| Leigh v Oldham | Away | January 5, 1924 | League Championship |
| Oldham v Barrow | Home | January 19, 1924 | League Championship |
| Oldham v Leigh | Home | August 30, 1924 | League Championship |
| Wigan Highfield v Oldham | Away | September 6, 1924 | League Championship |
| Oldham v Rochdale Hornets | Home | September 13, 1924 | Infirmary Cup |
| Salford v Oldham | Away | September 20, 1924 | League Championship |
| Oldham v Halifax | Home | September 27, 1924 | League Championship |
| Wigan v Oldham | Away | October 4, 1924 | League Championship |
| Oldham v Barrow | Home | October 11, 1924 | League Championship |
| Hull FC v Oldham | Away | October 18, 1924 | League Championship |
| Oldham v Rochdale Hornets | Home | October 25, 1924 | Lancashire Cup |
| St Helens v Oldham | Away | November 8, 1924 | Lancashire Cup |
| Batley v Oldham | Away | November 15, 1924 | League Championship |
| St Helens Recs v Oldham | Neutral | November 22, 1924 | Lancashire Cup |
| St Helens Recs v Oldham | Away | November 29, 1924 | League Championship |
| Oldham v Wigan | Home | December 6, 1924 | League Championship |
| Warrington v Oldham | Away | December 13, 1924 | League Championship |
| Oldham v York | Home | December 15, 1924 | League Championship |
| Oldham v Warrington | Home | December 20, 1924 | League Championship |
| Oldham v Swinton | Home | December 25, 1924 | League Championship |
| Broughton Rangers v Oldham | Away | December 26, 1924 | League Championship |
| Halifax v Oldham | Away | December 27, 1924 | League Championship |
| Oldham v Hull FC | Home | January 1, 1925 | League Championship |
| Oldham v Wigan Highfield | Home | January 3, 1925 | League Championship |
| Leigh v Oldham | Away | January 10, 1925 | League Championship |
| St Helens v Oldham | Away | January 17, 1925 | League Championship |
| Oldham v Rochdale Hornets | Home | January 24, 1925 | League Championship |
| Rochdale Hornets v Oldham | Away | January 31, 1925 | League Championship |
| Oldham v St Helens | Home | February 7, 1925 | League Championship |
| Leigh v Oldham | Away | February 14, 1925 | Rugby League Challenge Cup |
| Oldham v Widnes | Home | February 21, 1925 | League Championship |
| Oldham v Warrington | Home | February 28, 1925 | Rugby League Challenge Cup |
| Barrow v Oldham | Away | March 5, 1925 | League Championship |
| Oldham v Batley | Home | March 7, 1925 | League Championship |
| Oldham v Featherstone Rovers | Home | March 14, 1925 | Rugby League Challenge Cup |
| Oldham v Salford | Home | March 21, 1925 | League Championship |
| Oldham v Huddersfield | Home | March 23, 1925 | League Championship |
| York v Oldham | Away | March 28, 1925 | League Championship |
| Rochdale Hornets v Oldham | Neutral | April 4, 1925 | Rugby League Challenge Cup |
| Oldham v Broughton Rangers | Home | April 7, 1925 | League Championship |
| Swinton v Oldham | Away | April 10, 1925 | League Championship |
| Oldham v St Helens Recs | Home | April 11, 1925 | League Championship |
| Huddersfield v Oldham | Away | April 13, 1925 | League Championship |
| Hull Kingston Rovers v Oldham | Neutral | April 25, 1925 | Rugby League Challenge Cup |
| Dewsbury v Oldham | Away | August 29, 1925 | League Championship |
| Oldham v Salford | Home | September 5, 1925 | League Championship |
| Rochdale Hornets v Oldham | Away | September 12, 1925 | Infirmary Cup |
| Oldham v Warrington | Home | September 19, 1925 | League Championship |
| Leigh v Oldham | Away | September 26, 1925 | League Championship |
| Oldham v Hunslet | Home | October 3, 1925 | League Championship |
| Oldham v Rochdale Hornets | Home | October 10, 1925 | Lancashire Cup |
| Wigan v Oldham | Away | November 11, 1925 | Lancashire Cup |
| Wigan v Oldham | Away | March 20, 1926 | League Championship |