Alex Givvons
Profile
Born in Newport, Alex Givvons came to Oldham from the Cross Keys union club in 1933.
A speedy, agile and enthusiastic halfback who eventually made the transition to loose forward and gained Welsh international honours. Six times he represented his country (always finishing on the winning side) and twice toured France with the British R.L. Xlll. After a spell with Huddersfield, Alex returned to Watersheddings where he ended his playing days.
He played in a total of 241 first class matches for the Roughyeds, continuing to give many more years service as a member of both the coaching and back room staff. In January 1995, sixty-two years after his arrival in Oldham, he performed the unveiling of the initial Oldham R.L. Hall of Fame.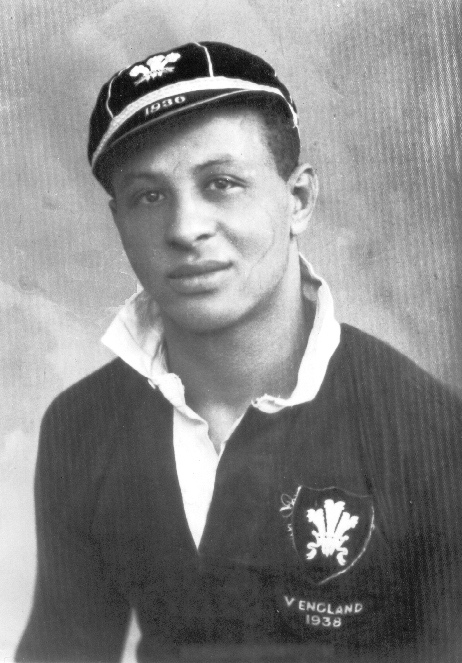 Career Games
| | | | |
| --- | --- | --- | --- |
| Oldham v Barrow | Home | January 21, 1933 | League Championship |
| York v Oldham | Away | January 28, 1933 | League Championship |
| Oldham v Broughton Rangers | Home | February 4, 1933 | League Championship |
| Hull Kingston Rovers v Oldham | Away | March 25, 1933 | League Championship |
| Oldham v York | Home | April 8, 1933 | League Championship |
| Swinton v Oldham | Away | April 14, 1933 | League Championship |
| Oldham v Rochdale Hornets | Home | April 15, 1933 | League Championship |
| Halifax v Oldham | Away | April 17, 1933 | League Championship |
| Oldham v Broughton Rangers | Home | August 26, 1933 | League Championship |
| Rochdale Hornets v Oldham | Away | September 2, 1933 | League Championship |
| Oldham v Australia | Home | September 9, 1933 | Tour Match |
| Broughton Rangers v Oldham | Away | October 11, 1933 | Lancashire Cup |
| Salford v Oldham | Away | October 14, 1933 | League Championship |
| Oldham v Keighley | Home | October 21, 1933 | League Championship |
| Wigan v Oldham | Away | October 25, 1933 | Lancashire Cup |
| Warrington v Oldham | Away | October 28, 1933 | League Championship |
| Oldham v Widnes | Home | November 4, 1933 | League Championship |
| Barrow v Oldham | Away | November 11, 1933 | League Championship |
| Wakefield Trinity v Oldham | Away | December 9, 1933 | League Championship |
| Oldham v Barrow | Home | December 16, 1933 | League Championship |
| London Highfield v Oldham | Away | December 20, 1933 | League Championship |
| Oldham v Swinton | Home | December 25, 1933 | League Championship |
| Hull Kingston Rovers v Oldham | Away | December 26, 1933 | League Championship |
| Wigan v Oldham | Away | December 30, 1933 | League Championship |
| Oldham v London Highfield | Home | January 27, 1934 | League Championship |
| Oldham v Dewsbury | Home | February 10, 1934 | Rugby League Challenge Cup |
| Keighley v Oldham | Away | February 17, 1934 | League Championship |
| St Helens Recs v Oldham | Away | February 24, 1934 | Rugby League Challenge Cup |
| Oldham v St Helens Recs | Home | February 28, 1934 | Rugby League Challenge Cup |
| Widnes v Oldham | Away | March 3, 1934 | League Championship |
| Oldham v Wakefield Trinity | Home | March 5, 1934 | League Championship |
| Oldham v Bramley | Home | March 10, 1934 | Rugby League Challenge Cup |
| Oldham v Salford | Home | March 14, 1934 | League Championship |
| Widnes v Oldham | Neutral | March 24, 1934 | Rugby League Challenge Cup |
| Swinton v Oldham | Away | March 30, 1934 | League Championship |
| Halifax v Oldham | Away | March 31, 1934 | League Championship |
| Leeds v Oldham | Away | April 3, 1934 | League Championship |
| Oldham v Rochdale Hornets | Home | April 7, 1934 | League Championship |
| Oldham v Wigan | Home | April 10, 1934 | League Championship |
| Broughton Rangers v Oldham | Away | April 21, 1934 | League Championship |
| Halifax v Oldham | Neutral | May 12, 1934 | Lancaster Cup |
| Oldham v Rochdale Hornets | Home | August 18, 1934 | Infirmary Cup |
| Oldham v Bramley | Home | September 1, 1934 | League Championship |
| Oldham v Widnes | Home | September 8, 1934 | Lancashire Cup |
| Oldham v Warrington | Home | September 15, 1934 | League Championship |
| Oldham v Villeneuve | Home | September 17, 1934 | Friendly |
| Oldham v Wigan | Home | September 25, 1934 | Lancashire Cup |
| Oldham v Rochdale Hornets | Home | September 29, 1934 | League Championship |
| Keighley v Oldham | Away | October 6, 1934 | League Championship |
| Oldham v Salford | Home | October 13, 1934 | League Championship |
| Broughton Rangers v Oldham | Away | October 27, 1934 | League Championship |
| Oldham v Broughton Rangers | Home | November 3, 1934 | League Championship |
| Oldham v Barrow | Home | December 1, 1934 | League Championship |
| Halifax v Oldham | Away | December 8, 1934 | League Championship |
| Oldham v Keighley | Home | December 15, 1934 | League Championship |
| Rochdale Hornets v Oldham | Away | December 22, 1934 | League Championship |
| Oldham v Swinton | Home | December 25, 1934 | League Championship |
| Hull Kingston Rovers v Oldham | Away | December 26, 1934 | League Championship |
| Oldham v York | Home | December 29, 1934 | League Championship |
| Oldham v Widnes | Home | January 1, 1935 | League Championship |
| Huddersfield v Oldham | Away | January 5, 1935 | League Championship |
| Oldham v Liverpool Stanley | Home | January 12, 1935 | League Championship |
| Oldham v Batley | Home | January 19, 1935 | League Championship |
| St Helens Recs v Oldham | Away | January 26, 1935 | League Championship |
| Oldham v St Helens | Home | February 2, 1935 | League Championship |
| Oldham v St Helens | Home | February 9, 1935 | Rugby League Challenge Cup |
| Oldham v Hull Kingston Rovers | Home | February 16, 1935 | League Championship |
| Huddersfield v Oldham | Away | February 23, 1935 | Rugby League Challenge Cup |
| Batley v Oldham | Away | March 2, 1935 | League Championship |
| Warrington v Oldham | Away | March 6, 1935 | League Championship |
| Oldham v Leigh | Home | March 9, 1935 | League Championship |
| Liverpool Stanley v Oldham | Away | March 16, 1935 | League Championship |
| York v Oldham | Away | March 23, 1935 | League Championship |
| Leigh v Oldham | Away | April 6, 1935 | League Championship |
| Oldham v Huddersfield | Home | April 9, 1935 | League Championship |
| Bramley v Oldham | Away | April 13, 1935 | League Championship |
| Swinton v Oldham | Away | April 19, 1935 | League Championship |
| Oldham v Halifax | Home | April 20, 1935 | League Championship |
| St Helens v Oldham | Away | April 22, 1935 | League Championship |
| Rochdale Hornets v Oldham | Away | August 24, 1935 | Infirmary Cup |
| Oldham v Hull Kingston Rovers | Home | August 31, 1935 | League Championship |
| Streatham & Mitcham v Oldham | Away | September 7, 1935 | League Championship |
| Rochdale Hornets v Oldham | Away | September 14, 1935 | Lancashire Cup |
| Oldham v Broughton Rangers | Home | September 16, 1935 | League Championship |
| Warrington v Oldham | Away | September 21, 1935 | League Championship |
| St Helens Recs v Oldham | Away | September 28, 1935 | League Championship |
| Wigan v Oldham | Away | October 2, 1935 | Lancashire Cup |
| Oldham v Wigan | Home | October 5, 1935 | League Championship |
| Hull Kingston Rovers v Oldham | Away | October 12, 1935 | League Championship |
| Oldham v Leigh | Home | October 19, 1935 | League Championship |
| Rochdale Hornets v Oldham | Away | October 26, 1935 | League Championship |
| Oldham v Dewsbury | Home | November 2, 1935 | League Championship |
| Wigan v Oldham | Away | November 23, 1935 | League Championship |
| Oldham v Widnes | Home | November 30, 1935 | League Championship |
| Oldham v Rochdale Hornets | Home | December 14, 1935 | League Championship |
| Broughton Rangers v Oldham | Away | December 25, 1935 | League Championship |
| Oldham v Swinton | Home | December 26, 1935 | League Championship |
| Leigh v Oldham | Away | December 28, 1935 | League Championship |
| Oldham v Wakefield Trinity | Home | January 1, 1936 | League Championship |
| Oldham v St Helens | Home | January 4, 1936 | League Championship |
| Halifax v Oldham | Away | January 11, 1936 | League Championship |
| Oldham v Liverpool Stanley | Home | January 25, 1936 | League Championship |
| Oldham v Salford | Home | February 1, 1936 | League Championship |
| Oldham v Higginshaw | Home | February 8, 1936 | Rugby League Challenge Cup |
| Oldham v Wigan | Home | February 22, 1936 | Rugby League Challenge Cup |
| Liverpool Stanley v Oldham | Away | February 26, 1936 | League Championship |
| Oldham v Hunslet | Home | February 29, 1936 | League Championship |
| Dewsbury v Oldham | Away | March 7, 1936 | League Championship |
| Keighley v Oldham | Away | March 10, 1936 | League Championship |
| Barrow v Oldham | Away | March 14, 1936 | League Championship |
| Oldham v Streatham & Mitcham | Home | March 21, 1936 | League Championship |
| Oldham v Warrington | Home | March 24, 1936 | League Championship |
| Oldham v Keighley | Home | March 28, 1936 | League Championship |
| Widnes v Oldham | Away | April 4, 1936 | League Championship |
| Swinton v Oldham | Away | April 10, 1936 | League Championship |
| Oldham v St Helens Recs | Home | April 11, 1936 | League Championship |
| Oldham v Halifax | Home | April 13, 1936 | League Championship |
| Hunslet v Oldham | Away | April 25, 1936 | League Championship |
| Wakefield Trinity v Oldham | Away | May 2, 1936 | League Championship |
| Oldham v Rochdale Hornets | Home | August 22, 1936 | Infirmary Cup |
| Wigan v Oldham | Away | August 29, 1936 | League Championship |
| Oldham v St Helens Recs | Home | September 5, 1936 | League Championship |
| Salford v Oldham | Away | September 12, 1936 | Lancashire Cup |
| Barrow v Oldham | Away | September 17, 1936 | League Championship |
| Oldham v Widnes | Home | September 19, 1936 | League Championship |
| Warrington v Oldham | Away | September 26, 1936 | League Championship |
| Oldham v Liverpool Stanley | Home | September 28, 1936 | League Championship |
| Oldham v Salford | Home | October 3, 1936 | League Championship |
| Widnes v Oldham | Away | October 10, 1936 | League Championship |
| Oldham v Halifax | Home | October 31, 1936 | League Championship |
| Oldham v St Helens | Home | November 14, 1936 | League Championship |
| Hunslet v Oldham | Away | November 21, 1936 | League Championship |
| Oldham v Barrow | Home | November 28, 1936 | League Championship |
| Oldham v Broughton Rangers | Home | December 12, 1936 | League Championship |
| Hunslet v Oldham | Away | December 14, 1936 | League Championship |
| Liverpool Stanley v Oldham | Away | December 19, 1936 | League Championship |
| Oldham v Swinton | Home | December 25, 1936 | League Championship |
| Rochdale Hornets v Oldham | Away | December 26, 1936 | League Championship |
| Oldham v Wakefield Trinity | Home | January 1, 1937 | League Championship |
| Salford v Oldham | Away | January 2, 1937 | League Championship |
| Oldham v Streatham & Mitcham | Home | January 9, 1937 | League Championship |
| Oldham v Batley | Home | January 16, 1937 | League Championship |
| Wakefield Trinity v Oldham | Away | January 23, 1937 | League Championship |
| Keighley v Oldham | Away | February 6, 1937 | League Championship |
| Oldham v Leigh | Home | February 20, 1937 | League Championship |
| St Helens Recs v Oldham | Away | March 20, 1937 | League Championship |
| Leigh v Oldham | Away | April 10, 1937 | League Championship |
| Oldham v Broughton Rangers | Home | April 24, 1937 | League Championship |
| Warrington v Oldham | Away | August 28, 1937 | League Championship |
| Oldham v Halifax | Home | September 4, 1937 | League Championship |
| Oldham v Warrington | Home | September 11, 1937 | Lancashire Cup |
| Dewsbury v Oldham | Away | September 15, 1937 | League Championship |
| Oldham v York | Home | September 18, 1937 | League Championship |
| Oldham v Wigan | Home | September 20, 1937 | League Championship |
| Barrow v Oldham | Away | September 25, 1937 | League Championship |
| Oldham v Broughton Rangers | Home | October 2, 1937 | League Championship |
| St Helens v Oldham | Away | October 9, 1937 | League Championship |
| Leigh v Oldham | Away | October 16, 1937 | League Championship |
| Oldham v St Helens Recs | Home | October 23, 1937 | League Championship |
| Halifax v Oldham | Away | October 30, 1937 | League Championship |
| Oldham v Australia | Home | November 6, 1937 | Tour Match |
| York v Oldham | Away | November 13, 1937 | League Championship |
| Oldham v Hull Kingston Rovers | Home | November 20, 1937 | League Championship |
| Broughton Rangers v Oldham | Away | November 27, 1937 | League Championship |
| Oldham v St Helens | Home | December 4, 1937 | League Championship |
| Hunslet v Oldham | Away | December 11, 1937 | League Championship |
| Oldham v Widnes | Home | December 18, 1937 | League Championship |
| Oldham v Swinton | Home | December 25, 1937 | League Championship |
| Oldham v Barrow | Home | January 1, 1938 | League Championship |
| St Helens Recs v Oldham | Away | January 8, 1938 | League Championship |
| Salford v Oldham | Away | January 15, 1938 | League Championship |
| Oldham v Hunslet | Home | January 22, 1938 | League Championship |
| Oldham v Huddersfield | Home | February 5, 1938 | League Championship |
| Huddersfield v Oldham | Away | February 12, 1938 | League Championship |
| Oldham v Batley | Home | February 19, 1938 | Rugby League Challenge Cup |
| Oldham v Salford | Home | February 26, 1938 | League Championship |
| Oldham v Dewsbury | Home | March 12, 1938 | League Championship |
| Oldham v Warrington | Home | March 26, 1938 | League Championship |
| Rochdale Hornets v Oldham | Away | April 5, 1938 | League Championship |
| Wigan v Oldham | Away | April 9, 1938 | League Championship |
| Oldham v Liverpool Stanley | Home | April 11, 1938 | League Championship |
| Swinton v Oldham | Away | April 15, 1938 | League Championship |
| Hull Kingston Rovers v Oldham | Away | April 16, 1938 | League Championship |
| Oldham v Rochdale Hornets | Home | April 18, 1938 | League Championship |
| Oldham v Rochdale Hornets | Home | August 20, 1938 | Infirmary Cup |
| Salford v Oldham | Away | August 27, 1938 | League Championship |
| Oldham v Liverpool Stanley | Home | September 3, 1938 | League Championship |
| Oldham v Wigan | Home | September 21, 1938 | Lancashire Cup |
| Oldham v Hunslet | Home | September 24, 1938 | League Championship |
| Liverpool Stanley v Oldham | Away | October 1, 1938 | League Championship |
| Oldham v Hull FC | Home | October 8, 1938 | League Championship |
| Rochdale Hornets v Oldham | Away | October 15, 1938 | League Championship |
| Oldham v St Helens Recs | Home | October 22, 1938 | League Championship |
| Oldham v Broughton Rangers | Home | November 19, 1938 | League Championship |
| Hunslet v Oldham | Away | November 26, 1938 | League Championship |
| Oldham v Wigan | Home | December 3, 1938 | League Championship |
| Widnes v Oldham | Away | December 10, 1938 | League Championship |
| Oldham v Castleford | Home | December 17, 1938 | League Championship |
| Bradford Northern v Oldham | Away | February 18, 1939 | Rugby League Challenge Cup |
| Leigh v Oldham | Away | February 25, 1939 | League Championship |
| Oldham v Bradford Northern | Home | March 4, 1939 | League Championship |
| Halifax v Oldham | Away | March 18, 1939 | League Championship |
| Oldham v St Helens | Home | March 25, 1939 | League Championship |
| Oldham v Wakefield Trinity | Home | April 1, 1939 | League Championship |
| Keighley v Oldham | Away | April 10, 1939 | League Championship |
| Warrington v Oldham | Away | April 29, 1939 | League Championship |
| Hull FC v Oldham | Away | August 26, 1939 | League Championship |
| Salford v Oldham | Away | August 30, 1939 | League Championship |
| Oldham v Broughton Rangers | Home | September 2, 1939 | League Championship |
| Rochdale Hornets v Oldham | Away | September 23, 1939 | Friendly |
| Oldham v Salford | Home | September 30, 1939 | Lancashire League |
| Liverpool Stanley v Oldham | Away | October 21, 1939 | Lancashire League |
| Oldham v Broughton Rangers | Home | October 28, 1939 | Lancashire League |
| Salford v Oldham | Away | November 4, 1939 | Lancashire League |
| Leigh v Oldham | Away | November 11, 1939 | Lancashire League |
| Oldham v Barrow | Home | December 9, 1939 | Lancashire League |
| Oldham v Broughton Rangers | Home | December 16, 1939 | Lancashire League |
| Oldham v Swinton | Home | December 25, 1939 | Lancashire League |
| Oldham v Liverpool Stanley | Home | December 26, 1939 | Lancashire League |
| Wigan v Oldham | Away | February 24, 1940 | Lancashire League |
| Oldham v Rochdale Hornets | Home | March 2, 1940 | Lancashire Cup |
| Rochdale Hornets v Oldham | Away | March 9, 1940 | Lancashire Cup |
| Oldham v Warrington | Home | March 16, 1940 | Lancashire League |
| Swinton v Oldham | Away | March 22, 1940 | Lancashire League |
| Warrington v Oldham | Away | March 25, 1940 | Lancashire League |
| Halifax v Oldham | Away | March 30, 1940 | Friendly |
| Wigan v Oldham | Away | April 6, 1940 | Friendly |
| Oldham v Hunslet | Home | April 13, 1940 | Friendly |
| Warrington v Oldham | Away | April 20, 1940 | Friendly |
| Oldham v Widnes | Home | May 11, 1940 | Lancashire League |
| Oldham v Leeds | Home | May 18, 1940 | Friendly |
| Oldham v Halifax | Home | May 25, 1940 | Friendly |
| Oldham v Huddersfield | Home | June 1, 1940 | Friendly |
| Oldham v Liverpool Stanley | Home | December 7, 1940 | Lancashire League |
| Featherstone Rovers v Oldham | Away | December 6, 1941 | War Emergency League |
| Oldham v Wakefield Trinity | Home | December 13, 1941 | War Emergency League |
| Hunslet v Oldham | Away | December 20, 1941 | War Emergency League |
| Oldham v Halifax | Home | December 27, 1941 | War Emergency League |
| Castleford v Oldham | Away | January 10, 1942 | War Emergency League |
| Oldham v St Helens | Home | March 21, 1942 | War Emergency League |
| Leeds v Oldham | Away | April 6, 1942 | War Emergency League |
| Oldham v Wakefield Trinity | Home | January 31, 1948 | League Championship |
| Hull Kingston Rovers v Oldham | Away | February 7, 1948 | Rugby League Challenge Cup |
| Oldham v Hull Kingston Rovers | Home | February 14, 1948 | Rugby League Challenge Cup |
| Oldham v St Helens | Home | February 28, 1948 | Rugby League Challenge Cup |
| Oldham v Leigh | Home | March 6, 1948 | League Championship |
| Bradford Northern v Oldham | Away | March 13, 1948 | Rugby League Challenge Cup |
| Swinton v Oldham | Away | March 26, 1948 | League Championship |
| Rochdale Hornets v Oldham | Away | March 27, 1948 | League Championship |
| Oldham v Hunslet | Home | March 29, 1948 | League Championship |
| Oldham v Belle Vue Rangers | Home | April 3, 1948 | League Championship |
| Leigh v Oldham | Away | April 7, 1948 | League Championship |
| Oldham v Leeds | Home | April 13, 1948 | League Championship |
| Keighley v Oldham | Away | August 21, 1948 | League Championship |