Andrew Goodway
Profile
Andy Goodway came to the club early in 1979, after being spotted playing for Castleford amateur team Redhill against Saddleworth Rangers. This was when Oldham were recruiting the lads that were to become the all-conquering Colts team.
He made his debut at Bramley in the last game of the 1979-80 season, but did not play in the first team again until the Second Division Championship winning 1981-82 campaign, when he gained a reputation as a rugged "tearaway" of a second row forward. Andy was quite at home in the higher league and won Great Britain Under 24 honours in January 1983. Full international selection soon followed and he went on to win 11 caps during his first spell with Oldham, including all the tests on the 1984 tour and had the honour of being Great Britain captain in 1985.
He left for Central Park later that year, where he enjoyed tremendous success in the Wigan team of "all stars". Later he had a short spell at Leeds, before returning to Watersheddings for the 1993-94 season. Andy's experience was to prove a vital factor in the club surviving that term back in the first division and he finished the season as assistant coach to Bob Lindner. When the famous Australian decided his future lay back home, Andy was offered the job of first team coach at Oldham. This he accepted, hanging up his boots in the process and on very limited resources he steered the club into a position in "Super League".
Andy was one of seven players chosen to be original members of the Oldham Rugby League "Hall of Fame", when it was first opened in November 1995.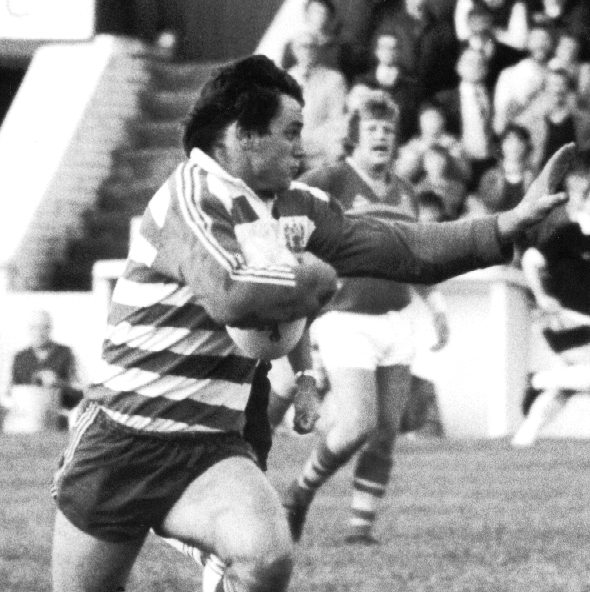 Career Games
| | | | |
| --- | --- | --- | --- |
| Bramley v Oldham | Away | April 20, 1980 | Division 2 |
| St Helens v Oldham | Away | August 10, 1980 | Friendly |
| Oldham v Dewsbury | Home | September 13, 1981 | Division 2 |
| Huddersfield v Oldham | Away | September 20, 1981 | Division 2 |
| Oldham v Swinton | Home | September 23, 1981 | Division 2 |
| Oldham v Doncaster | Home | September 27, 1981 | Division 2 |
| Halifax v Oldham | Away | October 4, 1981 | Division 2 |
| Oldham v Keighley | Home | October 11, 1981 | Division 2 |
| Oldham v Doncaster | Home | October 18, 1981 | John Player Cup |
| Dewsbury v Oldham | Away | October 25, 1981 | Division 2 |
| Oldham v Huddersfield | Home | November 1, 1981 | John Player Cup |
| Oldham v Carlisle | Home | November 8, 1981 | Division 2 |
| Oldham v Leeds | Home | November 15, 1981 | John Player Cup |
| Oldham v Halifax | Home | November 22, 1981 | Division 2 |
| Hull FC v Oldham | Neutral | November 29, 1981 | John Player Cup |
| Keighley v Oldham | Away | February 21, 1982 | Division 2 |
| Oldham v Blackpool Borough | Home | March 28, 1982 | Division 2 |
| Swinton v Oldham | Away | April 4, 1982 | Division 2 |
| Oldham v Rochdale Hornets | Home | April 9, 1982 | Division 2 |
| Oldham v Salford | Home | April 12, 1982 | Division 2 |
| Rochdale Hornets v Oldham | Away | April 15, 1982 | Division 2 |
| Huyton v Oldham | Away | April 18, 1982 | Division 2 |
| Carlisle v Oldham | Away | April 25, 1982 | Division 2 |
| Bramley v Oldham | Away | April 28, 1982 | Division 2 |
| Doncaster v Oldham | Away | May 3, 1982 | Division 2 |
| Hunslet v Oldham | Away | May 6, 1982 | Division 2 |
| Oldham v Workington Town | Home | May 9, 1982 | Division 2 |
| St Helens v Oldham | Away | August 15, 1982 | Friendly |
| Oldham v Widnes | Home | August 22, 1982 | Division 1 |
| Oldham v Leeds | Home | August 25, 1982 | Division 1 |
| Bradford Northern v Oldham | Away | August 29, 1982 | Division 1 |
| Blackpool Borough v Oldham | Away | September 5, 1982 | Lancashire Cup |
| St Helens v Oldham | Away | September 12, 1982 | Division 1 |
| Oldham v Warrington | Home | September 15, 1982 | Division 1 |
| Warrington v Oldham | Away | September 19, 1982 | Lancashire Cup |
| Halifax v Oldham | Away | September 26, 1982 | Division 1 |
| Oldham v Featherstone Rovers | Home | September 29, 1982 | Division 1 |
| Oldham v Wigan | Home | October 3, 1982 | Division 1 |
| Workington Town v Oldham | Away | October 10, 1982 | Division 1 |
| Castleford v Oldham | Away | October 24, 1982 | Division 1 |
| Oldham v Carlisle | Home | October 31, 1982 | Division 1 |
| Oldham v Hull FC | Home | November 7, 1982 | Division 1 |
| Barrow v Oldham | Away | November 14, 1982 | Division 1 |
| Leigh v Oldham | Away | December 5, 1982 | John Player Cup |
| Oldham v Workington Town | Home | December 12, 1982 | Division 1 |
| Hull FC v Oldham | Away | December 19, 1982 | Division 1 |
| Oldham v Hull Kingston Rovers | Home | December 27, 1982 | Division 1 |
| Leeds v Oldham | Away | January 3, 1983 | Division 1 |
| Featherstone Rovers v Oldham | Away | January 9, 1983 | Division 1 |
| Oldham v Bradford Northern | Home | January 19, 1983 | Division 1 |
| Warrington v Oldham | Away | January 23, 1983 | Division 1 |
| Oldham v St Helens | Home | February 6, 1983 | Division 1 |
| Oldham v Workington Town | Home | February 16, 1983 | Rugby League Challenge Cup |
| Hull Kingston Rovers v Oldham | Away | February 27, 1983 | Division 1 |
| Widnes v Oldham | Away | March 13, 1983 | Division 1 |
| Oldham v Halifax | Home | March 20, 1983 | Division 1 |
| Leigh v Oldham | Away | March 27, 1983 | Division 1 |
| Oldham v Barrow | Home | April 4, 1983 | Division 1 |
| Wigan v Oldham | Away | April 10, 1983 | Division 1 |
| Oldham v Castleford | Home | April 17, 1983 | Division 1 |
| Hull FC v Oldham | Away | April 24, 1983 | Premiership |
| Oldham v Workington Town | Home | September 4, 1983 | Lancashire Cup |
| Featherstone Rovers v Oldham | Away | September 11, 1983 | Division 1 |
| Swinton v Oldham | Away | September 14, 1983 | Lancashire Cup |
| Oldham v Fulham | Home | September 18, 1983 | Division 1 |
| Hull Kingston Rovers v Oldham | Away | September 25, 1983 | Division 1 |
| Fulham v Oldham | Away | November 20, 1983 | Division 1 |
| Oldham v Hull Kingston Rovers | Home | November 27, 1983 | Division 1 |
| Wakefield Trinity v Oldham | Away | December 18, 1983 | Division 1 |
| Oldham v Salford | Home | December 26, 1983 | Division 1 |
| Leeds v Oldham | Away | January 2, 1984 | Division 1 |
| Oldham v Leigh | Home | January 8, 1984 | Division 1 |
| Oldham v Featherstone Rovers | Home | February 1, 1984 | Division 1 |
| Hull FC v Oldham | Away | February 5, 1984 | Division 1 |
| Oldham v Bradford Northern | Home | March 4, 1984 | Division 1 |
| Oldham v Leigh | Home | March 11, 1984 | Division 1 |
| Wigan v Oldham | Away | March 14, 1984 | Division 1 |
| Oldham v Warrington | Home | March 18, 1984 | Division 1 |
| Leigh v Oldham | Away | March 21, 1984 | Division 1 |
| Oldham v Whitehaven | Home | March 25, 1984 | Division 1 |
| St Helens v Oldham | Away | April 1, 1984 | Division 1 |
| Widnes v Oldham | Away | April 8, 1984 | Division 1 |
| Oldham v Castleford | Home | April 11, 1984 | Division 1 |
| Oldham v Wakefield Trinity | Home | April 15, 1984 | Division 1 |
| Salford v Oldham | Away | April 20, 1984 | Division 1 |
| Oldham v Hunslet | Home | September 2, 1984 | Division 1 |
| Workington Town v Oldham | Away | September 9, 1984 | Division 1 |
| Oldham v Widnes | Home | September 12, 1984 | Division 1 |
| Oldham v Blackpool Borough | Home | September 16, 1984 | Lancashire Cup |
| Leeds v Oldham | Away | September 23, 1984 | Division 1 |
| Oldham v Leigh | Home | September 30, 1984 | Division 1 |
| Barrow v Oldham | Away | October 7, 1984 | Division 1 |
| Oldham v Featherstone Rovers | Home | October 28, 1984 | Division 1 |
| Bradford Northern v Oldham | Away | November 4, 1984 | Division 1 |
| Oldham v Hull Kingston Rovers | Home | November 11, 1984 | Division 1 |
| York v Oldham | Away | November 18, 1984 | John Player Cup |
| Warrington v Oldham | Away | November 25, 1984 | Division 1 |
| Hull FC v Oldham | Away | December 2, 1984 | John Player Cup |
| Oldham v Barrow | Home | December 9, 1984 | Division 1 |
| Hull Kingston Rovers v Oldham | Away | December 16, 1984 | Division 1 |
| Widnes v Oldham | Away | December 26, 1984 | Division 1 |
| Oldham v Halifax | Home | January 1, 1985 | Division 1 |
| Featherstone Rovers v Oldham | Away | January 6, 1985 | Division 1 |
| Oldham v Bradford Northern | Home | January 29, 1985 | Division 1 |
| Oldham v Hull FC | Home | February 3, 1985 | Division 1 |
| Oldham v Castleford | Home | February 17, 1985 | Rugby League Challenge Cup |
| Oldham v Leeds | Home | March 3, 1985 | Division 1 |
| Leeds v Oldham | Away | April 28, 1985 | Premiership |
| Oldham v Rochdale Hornets | Home | August 22, 1993 | Law Cup |
| Halifax v Oldham | Away | August 29, 1993 | Division 1 |
| Oldham v Bradford Northern | Home | September 3, 1993 | Division 1 |
| Hull Kingston Rovers v Oldham | Away | September 12, 1993 | Division 1 |
| Oldham v Warrington | Home | September 19, 1993 | Division 1 |
| Oldham v Sheffield Eagles | Home | September 26, 1993 | Division 1 |
| Widnes v Oldham | Away | October 3, 1993 | Division 1 |
| Oldham v Leeds | Home | October 10, 1993 | Division 1 |
| Hull FC v Oldham | Away | October 24, 1993 | Division 1 |
| Wakefield Trinity v Oldham | Away | October 31, 1993 | Division 1 |
| Featherstone Rovers v Oldham | Away | November 7, 1993 | Division 1 |
| Oldham v St Helens | Home | November 21, 1993 | Division 1 |
| Wigan v Oldham | Away | November 28, 1993 | Division 1 |
| Oldham v Wigan | Home | December 12, 1993 | Regal Trophy |
| Oldham v Halifax | Home | December 19, 1993 | Division 1 |
| Oldham v Salford | Home | December 26, 1993 | Division 1 |
| Bradford Northern v Oldham | Away | January 9, 1994 | Division 1 |
| Oldham v Hull Kingston Rovers | Home | January 16, 1994 | Division 1 |
| Warrington v Oldham | Away | January 23, 1994 | Division 1 |
| Hunslet v Oldham | Away | January 30, 1994 | Rugby League Challenge Cup |
| Sheffield Eagles v Oldham | Away | February 6, 1994 | Division 1 |
| Doncaster v Oldham | Away | February 13, 1994 | Rugby League Challenge Cup |
| Oldham v Widnes | Home | February 20, 1994 | Division 1 |
| Leeds v Oldham | Away | March 6, 1994 | Division 1 |
| Oldham v Hull FC | Home | March 13, 1994 | Division 1 |
| Oldham v Wakefield Trinity | Home | March 20, 1994 | Division 1 |
| Oldham v Featherstone Rovers | Home | March 27, 1994 | Division 1 |
| Oldham v Castleford | Home | April 4, 1994 | Division 1 |
| Leigh v Oldham | Away | April 10, 1994 | Division 1 |
| St Helens v Oldham | Away | April 17, 1994 | Division 1 |
| Oldham v Wigan | Home | April 24, 1994 | Division 1 |