Mick Worrall
Profile
Mick Worrall was part of the successful youth recruitment programme of the late 1970's and played a starring role as the Oldham Colts team swept all before them.
A tall, powerful second row forward, he came to Oldham from the Crosfields amateur club in Warrington, making an immediate impression with his long striding runs, safe defensive work and could be called upon as a reserve goal kicker. Mick was still only 17 when he made his debut on April 20th 1980 at Bramley. This was the last match of the 1979-80 season and also provided Andy Goodway with his first taste of senior Rugby.
It was Worrall, however, who was the first to establish himself in the first team and after the second division title was won in 1981-82, he proved that he could compete at the highest level and subsequently was selected for the 1984 tour. Playing well in the opening club games, Mick was selected for the first two test matches in Australia and performed most impressively, before knee problems caused him to miss the last half of the tour.
Mick would have one more game against the Aussies when the Kangaroos played at Oldham in 1986 and again he relished the challenge, making a brilliant break through the "green and golds" defence to lay on the opening Oldham try for Colin Hawkyard.
More niggling injuries punctuated his time at Oldham before he left to join Salford in 1987. Since the end of his playing days, Mick retained his interest in the game locally by becoming coach to Saddleworth Rangers.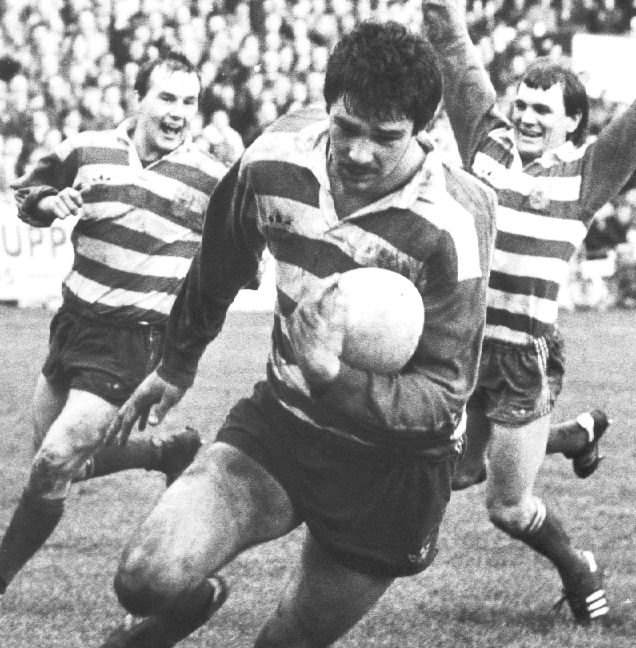 Career Games
| | | | |
| --- | --- | --- | --- |
| Bramley v Oldham | Away | April 20, 1980 | Division 2 |
| Oldham v Rochdale Hornets | Home | August 3, 1980 | Law Cup |
| St Helens v Oldham | Away | August 10, 1980 | Friendly |
| Swinton v Oldham | Away | August 17, 1980 | Lancashire Cup |
| Oldham v Salford | Home | August 24, 1980 | Lancashire Cup |
| Oldham v Castleford | Home | August 31, 1980 | Division 1 |
| Oldham v Warrington | Home | September 10, 1980 | Lancashire Cup |
| Oldham v Hull FC | Home | December 28, 1980 | Division 1 |
| Warrington v Oldham | Away | January 1, 1981 | Division 1 |
| Barrow v Oldham | Away | January 4, 1981 | Division 1 |
| Hull Kingston Rovers v Oldham | Away | April 8, 1981 | Division 1 |
| Oldham v St Helens | Home | April 17, 1981 | Division 1 |
| Oldham v Salford | Home | April 20, 1981 | Division 1 |
| Blackpool Borough v Oldham | Away | September 6, 1981 | Division 2 |
| Oldham v Dewsbury | Home | September 13, 1981 | Division 2 |
| Huddersfield v Oldham | Away | September 20, 1981 | Division 2 |
| Oldham v Swinton | Home | September 23, 1981 | Division 2 |
| Oldham v Doncaster | Home | September 27, 1981 | Division 2 |
| Oldham v Keighley | Home | October 11, 1981 | Division 2 |
| Oldham v Doncaster | Home | October 18, 1981 | John Player Cup |
| Dewsbury v Oldham | Away | October 25, 1981 | Division 2 |
| Oldham v Huddersfield | Home | November 1, 1981 | John Player Cup |
| Oldham v Carlisle | Home | November 8, 1981 | Division 2 |
| Salford v Oldham | Away | January 3, 1982 | Division 2 |
| Oldham v Batley | Home | January 10, 1982 | Division 2 |
| Cardiff City Blue Dragons v Oldham | Away | January 31, 1982 | Division 2 |
| Oldham v Cardiff City Blue Dragons | Home | February 7, 1982 | Division 2 |
| Swinton v Oldham | Away | February 14, 1982 | Rugby League Challenge Cup |
| Keighley v Oldham | Away | February 21, 1982 | Division 2 |
| Wakefield Trinity v Oldham | Away | February 28, 1982 | Rugby League Challenge Cup |
| Workington Town v Oldham | Away | March 7, 1982 | Division 2 |
| Oldham v Bramley | Home | March 14, 1982 | Division 2 |
| Batley v Oldham | Away | March 21, 1982 | Division 2 |
| Oldham v Blackpool Borough | Home | March 28, 1982 | Division 2 |
| Swinton v Oldham | Away | April 4, 1982 | Division 2 |
| Oldham v Rochdale Hornets | Home | April 9, 1982 | Division 2 |
| Rochdale Hornets v Oldham | Away | April 15, 1982 | Division 2 |
| Huyton v Oldham | Away | April 18, 1982 | Division 2 |
| Bramley v Oldham | Away | April 28, 1982 | Division 2 |
| Doncaster v Oldham | Away | May 3, 1982 | Division 2 |
| Hunslet v Oldham | Away | May 6, 1982 | Division 2 |
| Oldham v Workington Town | Home | May 9, 1982 | Division 2 |
| St Helens v Oldham | Away | August 15, 1982 | Friendly |
| Blackpool Borough v Oldham | Away | September 5, 1982 | Lancashire Cup |
| Oldham v Warrington | Home | September 15, 1982 | Division 1 |
| Warrington v Oldham | Away | September 19, 1982 | Lancashire Cup |
| Halifax v Oldham | Away | September 26, 1982 | Division 1 |
| Oldham v Featherstone Rovers | Home | September 29, 1982 | Division 1 |
| Oldham v Wigan | Home | October 3, 1982 | Division 1 |
| Workington Town v Oldham | Away | October 10, 1982 | Division 1 |
| Castleford v Oldham | Away | October 24, 1982 | Division 1 |
| Oldham v Carlisle | Home | October 31, 1982 | Division 1 |
| Oldham v Hull FC | Home | November 7, 1982 | Division 1 |
| Leigh v Oldham | Away | December 5, 1982 | John Player Cup |
| Oldham v Workington Town | Home | December 12, 1982 | Division 1 |
| Hull FC v Oldham | Away | December 19, 1982 | Division 1 |
| Oldham v Hull Kingston Rovers | Home | December 27, 1982 | Division 1 |
| Leeds v Oldham | Away | January 3, 1983 | Division 1 |
| Featherstone Rovers v Oldham | Away | January 9, 1983 | Division 1 |
| Oldham v Bradford Northern | Home | January 19, 1983 | Division 1 |
| Warrington v Oldham | Away | January 23, 1983 | Division 1 |
| Oldham v Workington Town | Home | February 16, 1983 | Rugby League Challenge Cup |
| Carlisle v Oldham | Away | February 20, 1983 | Division 1 |
| Hull Kingston Rovers v Oldham | Away | February 27, 1983 | Division 1 |
| Oldham v Leigh | Home | March 6, 1983 | Division 1 |
| Widnes v Oldham | Away | March 13, 1983 | Division 1 |
| Oldham v Halifax | Home | March 20, 1983 | Division 1 |
| Leigh v Oldham | Away | March 27, 1983 | Division 1 |
| Oldham v Barrow | Home | April 4, 1983 | Division 1 |
| Wigan v Oldham | Away | April 10, 1983 | Division 1 |
| Oldham v Castleford | Home | April 17, 1983 | Division 1 |
| Hull FC v Oldham | Away | April 24, 1983 | Premiership |
| Oldham v St Helens | Home | August 14, 1983 | Friendly |
| Oldham v Leeds | Home | August 21, 1983 | Division 1 |
| Bradford Northern v Oldham | Away | August 28, 1983 | Division 1 |
| Oldham v Workington Town | Home | September 4, 1983 | Lancashire Cup |
| Swinton v Oldham | Away | September 14, 1983 | Lancashire Cup |
| Oldham v Fulham | Home | September 18, 1983 | Division 1 |
| Hull Kingston Rovers v Oldham | Away | September 25, 1983 | Division 1 |
| Oldham v St Helens | Home | October 2, 1983 | Division 1 |
| Oldham v Widnes | Home | October 9, 1983 | Division 1 |
| Castleford v Oldham | Away | October 19, 1983 | Division 1 |
| Oldham v Hull FC | Home | October 23, 1983 | Division 1 |
| Warrington v Oldham | Away | October 30, 1983 | Division 1 |
| Oldham v Leigh | Home | November 6, 1983 | John Player Cup |
| Oldham v Wigan | Home | November 13, 1983 | Division 1 |
| Fulham v Oldham | Away | November 20, 1983 | Division 1 |
| Wakefield Trinity v Oldham | Away | December 18, 1983 | Division 1 |
| Oldham v Salford | Home | December 26, 1983 | Division 1 |
| Leeds v Oldham | Away | January 2, 1984 | Division 1 |
| Oldham v Featherstone Rovers | Home | February 1, 1984 | Division 1 |
| Hull FC v Oldham | Away | February 5, 1984 | Division 1 |
| Oldham v Huyton | Home | February 12, 1984 | Rugby League Challenge Cup |
| Whitehaven v Oldham | Away | February 19, 1984 | Division 1 |
| Wigan v Oldham | Away | February 26, 1984 | Rugby League Challenge Cup |
| Oldham v Bradford Northern | Home | March 4, 1984 | Division 1 |
| Wigan v Oldham | Away | March 14, 1984 | Division 1 |
| Oldham v Warrington | Home | March 18, 1984 | Division 1 |
| Leigh v Oldham | Away | March 21, 1984 | Division 1 |
| St Helens v Oldham | Away | April 1, 1984 | Division 1 |
| Widnes v Oldham | Away | April 8, 1984 | Division 1 |
| Oldham v Castleford | Home | April 11, 1984 | Division 1 |
| Salford v Oldham | Away | April 20, 1984 | Division 1 |
| Oldham v Featherstone Rovers | Home | October 28, 1984 | Division 1 |
| Bradford Northern v Oldham | Away | November 4, 1984 | Division 1 |
| Oldham v Hull Kingston Rovers | Home | November 11, 1984 | Division 1 |
| Hull FC v Oldham | Away | December 2, 1984 | John Player Cup |
| Oldham v Barrow | Home | December 9, 1984 | Division 1 |
| Hull Kingston Rovers v Oldham | Away | December 16, 1984 | Division 1 |
| Widnes v Oldham | Away | December 26, 1984 | Division 1 |
| Oldham v Halifax | Home | January 1, 1985 | Division 1 |
| Featherstone Rovers v Oldham | Away | January 6, 1985 | Division 1 |
| Oldham v Bradford Northern | Home | January 29, 1985 | Division 1 |
| Oldham v Hull FC | Home | February 3, 1985 | Division 1 |
| Oldham v Castleford | Home | February 17, 1985 | Rugby League Challenge Cup |
| Leigh v Oldham | Away | March 20, 1985 | Division 1 |
| Hunslet v Oldham | Away | March 24, 1985 | Division 1 |
| Wigan v Oldham | Away | March 26, 1985 | Division 1 |
| Oldham v Workington Town | Home | March 31, 1985 | Division 1 |
| Halifax v Oldham | Away | April 5, 1985 | Division 1 |
| Oldham v Wigan | Home | April 8, 1985 | Division 1 |
| Castleford v Oldham | Away | April 12, 1985 | Division 1 |
| Leeds v Oldham | Away | April 28, 1985 | Premiership |
| Oldham v St Helens | Home | August 25, 1985 | Friendly |
| Bramley v Oldham | Away | November 24, 1985 | John Player Cup |
| Hull Kingston Rovers v Oldham | Away | December 1, 1985 | John Player Cup |
| Oldham v Salford | Home | December 8, 1985 | Division 1 |
| Oldham v Dewsbury | Home | December 15, 1985 | Division 1 |
| Oldham v Widnes | Home | December 26, 1985 | Division 1 |
| Oldham v York | Home | January 12, 1986 | Division 1 |
| Warrington v Oldham | Away | February 2, 1986 | Division 1 |
| Oldham v Carlisle | Home | February 9, 1986 | Rugby League Challenge Cup |
| Oldham v Halifax | Home | February 16, 1986 | Division 1 |
| Oldham v Hull Kingston Rovers | Home | March 2, 1986 | Division 1 |
| Oldham v Warrington | Home | March 9, 1986 | Rugby League Challenge Cup |
| Oldham v Bradford Northern | Home | March 16, 1986 | Rugby League Challenge Cup |
| Castleford v Oldham | Neutral | March 22, 1986 | Rugby League Challenge Cup |
| Swinton v Oldham | Away | March 28, 1986 | Division 1 |
| Wigan v Oldham | Away | March 31, 1986 | Division 1 |
| Oldham v St Helens | Home | April 2, 1986 | Division 1 |
| Oldham v Bradford Northern | Home | April 6, 1986 | Division 1 |
| Oldham v Featherstone Rovers | Home | April 9, 1986 | Division 1 |
| Oldham v Hull FC | Home | April 16, 1986 | Division 1 |
| Hull Kingston Rovers v Oldham | Away | April 18, 1986 | Division 1 |
| St Helens v Oldham | Away | April 20, 1986 | Division 1 |
| Oldham v Leeds | Home | August 31, 1986 | Division 1 |
| Halifax v Oldham | Away | September 3, 1986 | Division 1 |
| Warrington v Oldham | Away | September 7, 1986 | Division 1 |
| Oldham v Leigh | Home | September 14, 1986 | Lancashire Cup |
| Oldham v Hull Kingston Rovers | Home | September 21, 1986 | Division 1 |
| Oldham v Workington Town | Home | September 24, 1986 | Lancashire Cup |
| Leigh v Oldham | Away | September 28, 1986 | Division 1 |
| Oldham v Widnes | Home | October 1, 1986 | Lancashire Cup |
| Oldham v Widnes | Home | October 5, 1986 | Division 1 |
| Wigan v Oldham | Neutral | October 19, 1986 | Lancashire Cup |
| Wakefield Trinity v Oldham | Away | October 26, 1986 | Division 1 |
| Oldham v Barrow | Home | November 2, 1986 | Division 1 |
| Oldham v Australia | Home | November 4, 1986 | Tour Match |
| Hull Kingston Rovers v Oldham | Away | November 9, 1986 | Division 1 |
| Oldham v St Helens | Home | November 16, 1986 | Division 1 |
| Bradford Northern v Oldham | Away | November 23, 1986 | Division 1 |
| Oldham v Bradford Northern | Home | November 30, 1986 | John Player Cup |
| Oldham v Halifax | Home | December 14, 1986 | Division 1 |
| St Helens v Oldham | Away | December 21, 1986 | Division 1 |
| Oldham v Salford | Home | December 26, 1986 | Division 1 |
| Leeds v Oldham | Away | January 1, 1987 | Division 1 |
| Hull FC v Oldham | Away | January 4, 1987 | Division 1 |
| Oldham v Wigan | Home | February 4, 1987 | Rugby League Challenge Cup |
| Oldham v St Helens | Home | February 14, 1987 | Rugby League Challenge Cup |
| Castleford v Oldham | Away | March 1, 1987 | Division 1 |
| Featherstone Rovers v Oldham | Away | March 8, 1987 | Division 1 |
| Oldham v Warrington | Home | March 11, 1987 | Division 1 |
| Oldham v Bradford Northern | Home | March 15, 1987 | Division 1 |
| Oldham v Wakefield Trinity | Home | March 25, 1987 | Division 1 |
| Oldham v Castleford | Home | March 29, 1987 | Division 1 |
| Swinton v Oldham | Away | August 16, 1987 | Friendly |
| Whitehaven v Oldham | Away | August 30, 1987 | Division 2 |
| Oldham v Keighley | Home | September 2, 1987 | Division 2 |
| Oldham v Bramley | Home | September 6, 1987 | Division 2 |
| Warrington v Oldham | Away | September 13, 1987 | Lancashire Cup |
| Oldham v Springfield Borough | Home | September 20, 1987 | Division 2 |
| Doncaster v Oldham | Away | September 27, 1987 | Division 2 |