Paddy Kirwan
Profile
"Paddy" Kirwan, played his first rugby at the local St Mary's primary school continuing his development at St Anselm's secondary, before joining Saddleworth Rangers. He joined Oldham in 1979, when the club adopted a progressive youth policy that would produce the all-conquering Colts team. A traditional scrum half, he skippered the Oldham youngsters to success in the league and Premiership Final in 1980 and was twice selected for the Great Britain Colts team. He was also making an impact at a higher level in the "A" team, which he again captained to success in the 1980 Lancashire Shield.
For a place in the senior side he would be in competition with Ray Ashton, although on a number of occasions the two of them would form the half back pairing, with Ray at stand off and Paddy at the base of the scrum. One thing is certain, Paddy never gave less than 100 % effort in the cause of Oldham RLFC and the level of such commitment took its toll with injuries, which would restrict his senior appearances. Indeed in his 1990 benefit brochure there is listed a catalogue of damage sustained by the Kirwan body that would have much earlier curtailed the career of a lesser man.
Paddy, however, continued to bounce back and always with the same enthusiasm for the game. When Ashton was sold to Leeds early in 1987, he made the No 7 shirt his own and would soon after be the hero of one of the most dramatic Oldham victories.
I refer, of course, to his last minute match clinching try against the 1987 Wigan wonder team. Few people gave Oldham any chance on that cold February evening but the side played "out of their skin" and when Paddy sneaked in by the posts, leaving Mick Burke to do the necessary with the conversion, it was no more than the team deserved and earned for Michael Patrick Kirwan an everlasting place in Watersheddings folklore.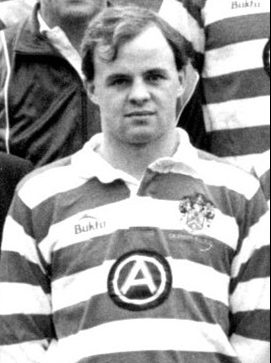 Career Games
| | | | |
| --- | --- | --- | --- |
| Huddersfield v Oldham | Away | November 4, 1979 | Division 2 |
| Rochdale Hornets v Oldham | Away | April 4, 1980 | Division 2 |
| Bramley v Oldham | Away | April 20, 1980 | Division 2 |
| Oldham v Rochdale Hornets | Home | August 3, 1980 | Law Cup |
| St Helens v Oldham | Away | August 10, 1980 | Friendly |
| Halifax v Oldham | Away | February 8, 1981 | Division 1 |
| Blackpool Borough v Oldham | Away | February 15, 1981 | Rugby League Challenge Cup |
| Oldham v Workington Town | Home | March 1, 1981 | Rugby League Challenge Cup |
| Oldham v Warrington | Home | March 8, 1981 | Division 1 |
| Oldham v St Helens | Home | March 15, 1981 | Rugby League Challenge Cup |
| Oldham v Widnes | Home | March 17, 1981 | Division 1 |
| Oldham v Halifax | Home | March 22, 1981 | Division 1 |
| Leigh v Oldham | Away | March 29, 1981 | Division 1 |
| Oldham v Wakefield Trinity | Home | April 5, 1981 | Division 1 |
| Hull Kingston Rovers v Oldham | Away | April 8, 1981 | Division 1 |
| Oldham v St Helens | Home | April 17, 1981 | Division 1 |
| Oldham v Salford | Home | April 20, 1981 | Division 1 |
| Rochdale Hornets v Oldham | Away | August 2, 1981 | Law Cup |
| Oldham v St Helens | Home | August 9, 1981 | Friendly |
| Oldham v Salford | Home | August 14, 1981 | Lancashire Cup |
| Oldham v Hunslet | Home | August 30, 1981 | Division 2 |
| Blackpool Borough v Oldham | Away | September 6, 1981 | Division 2 |
| Oldham v Dewsbury | Home | September 13, 1981 | Division 2 |
| Huddersfield v Oldham | Away | September 20, 1981 | Division 2 |
| Oldham v Swinton | Home | September 23, 1981 | Division 2 |
| Oldham v Doncaster | Home | September 27, 1981 | Division 2 |
| Halifax v Oldham | Away | October 4, 1981 | Division 2 |
| Oldham v Keighley | Home | October 11, 1981 | Division 2 |
| Oldham v Doncaster | Home | October 18, 1981 | John Player Cup |
| Dewsbury v Oldham | Away | October 25, 1981 | Division 2 |
| Oldham v Huddersfield | Home | November 1, 1981 | John Player Cup |
| Oldham v Carlisle | Home | November 8, 1981 | Division 2 |
| Oldham v Leeds | Home | November 15, 1981 | John Player Cup |
| Oldham v Halifax | Home | November 22, 1981 | Division 2 |
| Hull FC v Oldham | Neutral | November 29, 1981 | John Player Cup |
| Oldham v Huyton | Home | December 6, 1981 | Division 2 |
| Salford v Oldham | Away | January 3, 1982 | Division 2 |
| Oldham v Batley | Home | January 10, 1982 | Division 2 |
| Oldham v Huddersfield | Home | January 24, 1982 | Division 2 |
| Cardiff City Blue Dragons v Oldham | Away | January 31, 1982 | Division 2 |
| Oldham v Cardiff City Blue Dragons | Home | February 7, 1982 | Division 2 |
| Swinton v Oldham | Away | February 14, 1982 | Rugby League Challenge Cup |
| Wakefield Trinity v Oldham | Away | February 28, 1982 | Rugby League Challenge Cup |
| Workington Town v Oldham | Away | March 7, 1982 | Division 2 |
| Oldham v Bramley | Home | March 14, 1982 | Division 2 |
| Swinton v Oldham | Away | April 4, 1982 | Division 2 |
| Oldham v Rochdale Hornets | Home | April 9, 1982 | Division 2 |
| Oldham v Salford | Home | April 12, 1982 | Division 2 |
| Rochdale Hornets v Oldham | Away | April 15, 1982 | Division 2 |
| Huyton v Oldham | Away | April 18, 1982 | Division 2 |
| Carlisle v Oldham | Away | April 25, 1982 | Division 2 |
| Bramley v Oldham | Away | April 28, 1982 | Division 2 |
| Doncaster v Oldham | Away | May 3, 1982 | Division 2 |
| Hunslet v Oldham | Away | May 6, 1982 | Division 2 |
| Oldham v Workington Town | Home | May 9, 1982 | Division 2 |
| Oldham v Widnes | Home | August 22, 1982 | Division 1 |
| Oldham v Leeds | Home | August 25, 1982 | Division 1 |
| Blackpool Borough v Oldham | Away | September 5, 1982 | Lancashire Cup |
| St Helens v Oldham | Away | September 12, 1982 | Division 1 |
| Oldham v Warrington | Home | September 15, 1982 | Division 1 |
| Warrington v Oldham | Away | September 19, 1982 | Lancashire Cup |
| Oldham v French XIII | Home | September 22, 1982 | Friendly |
| Halifax v Oldham | Away | September 26, 1982 | Division 1 |
| Leigh v Oldham | Away | December 5, 1982 | John Player Cup |
| Oldham v Workington Town | Home | December 12, 1982 | Division 1 |
| Oldham v St Helens | Home | August 14, 1983 | Friendly |
| Oldham v Workington Town | Home | September 4, 1983 | Lancashire Cup |
| Featherstone Rovers v Oldham | Away | September 11, 1983 | Division 1 |
| Swinton v Oldham | Away | September 14, 1983 | Lancashire Cup |
| Oldham v Leigh | Home | January 8, 1984 | Division 1 |
| Oldham v Huyton | Home | February 12, 1984 | Rugby League Challenge Cup |
| Whitehaven v Oldham | Away | February 19, 1984 | Division 1 |
| Wigan v Oldham | Away | February 26, 1984 | Rugby League Challenge Cup |
| Oldham v Bradford Northern | Home | March 4, 1984 | Division 1 |
| Oldham v Leigh | Home | March 11, 1984 | Division 1 |
| Wigan v Oldham | Away | March 14, 1984 | Division 1 |
| Oldham v Warrington | Home | March 18, 1984 | Division 1 |
| Leigh v Oldham | Away | March 21, 1984 | Division 1 |
| Oldham v Whitehaven | Home | March 25, 1984 | Division 1 |
| St Helens v Oldham | Away | April 1, 1984 | Division 1 |
| Widnes v Oldham | Away | April 8, 1984 | Division 1 |
| Oldham v Castleford | Home | April 11, 1984 | Division 1 |
| Oldham v Wakefield Trinity | Home | April 15, 1984 | Division 1 |
| Salford v Oldham | Away | April 20, 1984 | Division 1 |
| St Helens v Oldham | Away | August 26, 1984 | Friendly |
| Oldham v Hunslet | Home | September 2, 1984 | Division 1 |
| Workington Town v Oldham | Away | September 9, 1984 | Division 1 |
| Oldham v Widnes | Home | September 12, 1984 | Division 1 |
| Oldham v Blackpool Borough | Home | September 16, 1984 | Lancashire Cup |
| Leeds v Oldham | Away | September 23, 1984 | Division 1 |
| Oldham v Leigh | Home | September 30, 1984 | Division 1 |
| Barrow v Oldham | Away | October 7, 1984 | Division 1 |
| Oldham v Warrington | Home | October 14, 1984 | Division 1 |
| St Helens v Oldham | Away | October 21, 1984 | Division 1 |
| Oldham v Featherstone Rovers | Home | October 28, 1984 | Division 1 |
| Bradford Northern v Oldham | Away | November 4, 1984 | Division 1 |
| Oldham v Hull Kingston Rovers | Home | November 11, 1984 | Division 1 |
| York v Oldham | Away | November 18, 1984 | John Player Cup |
| Warrington v Oldham | Away | November 25, 1984 | Division 1 |
| Hull FC v Oldham | Away | December 2, 1984 | John Player Cup |
| Oldham v Barrow | Home | December 9, 1984 | Division 1 |
| Hull Kingston Rovers v Oldham | Away | December 16, 1984 | Division 1 |
| Widnes v Oldham | Away | December 26, 1984 | Division 1 |
| Hull FC v Oldham | Away | March 17, 1985 | Division 1 |
| Leigh v Oldham | Away | March 20, 1985 | Division 1 |
| Hunslet v Oldham | Away | March 24, 1985 | Division 1 |
| Wigan v Oldham | Away | March 26, 1985 | Division 1 |
| Oldham v Workington Town | Home | March 31, 1985 | Division 1 |
| Halifax v Oldham | Away | April 5, 1985 | Division 1 |
| Oldham v Wigan | Home | April 8, 1985 | Division 1 |
| Castleford v Oldham | Away | April 12, 1985 | Division 1 |
| Leeds v Oldham | Away | April 28, 1985 | Premiership |
| Oldham v Great Britain | Home | August 21, 1985 | Benefit Match |
| Oldham v St Helens | Home | August 25, 1985 | Friendly |
| Halifax v Oldham | Away | September 1, 1985 | Division 1 |
| Oldham v Swinton | Home | September 4, 1985 | Division 1 |
| Oldham v Leeds | Home | September 8, 1985 | Division 1 |
| Leigh v Oldham | Away | September 15, 1985 | Lancashire Cup |
| Hull FC v Oldham | Away | September 22, 1985 | Division 1 |
| Oldham v Warrington | Home | September 29, 1985 | Division 1 |
| Featherstone Rovers v Oldham | Away | October 6, 1985 | Division 1 |
| Oldham v Castleford | Home | October 20, 1985 | Division 1 |
| Widnes v Oldham | Away | October 27, 1985 | Division 1 |
| Bradford Northern v Oldham | Away | November 3, 1985 | Division 1 |
| York v Oldham | Away | November 10, 1985 | Division 1 |
| Dewsbury v Oldham | Away | November 17, 1985 | Division 1 |
| Hull Kingston Rovers v Oldham | Away | December 1, 1985 | John Player Cup |
| Oldham v Salford | Home | December 8, 1985 | Division 1 |
| Oldham v Dewsbury | Home | December 15, 1985 | Division 1 |
| Oldham v Widnes | Home | December 26, 1985 | Division 1 |
| Leeds v Oldham | Away | January 1, 1986 | Division 1 |
| Oldham v York | Home | January 12, 1986 | Division 1 |
| Castleford v Oldham | Away | January 19, 1986 | Division 1 |
| Warrington v Oldham | Away | February 2, 1986 | Division 1 |
| Oldham v Carlisle | Home | February 9, 1986 | Rugby League Challenge Cup |
| Oldham v Halifax | Home | February 16, 1986 | Division 1 |
| Swinton v Oldham | Away | March 28, 1986 | Division 1 |
| Wigan v Oldham | Away | March 31, 1986 | Division 1 |
| Oldham v St Helens | Home | April 2, 1986 | Division 1 |
| Oldham v Bradford Northern | Home | April 6, 1986 | Division 1 |
| Oldham v Featherstone Rovers | Home | April 9, 1986 | Division 1 |
| Oldham v Hull FC | Home | April 16, 1986 | Division 1 |
| Hull Kingston Rovers v Oldham | Away | April 18, 1986 | Division 1 |
| St Helens v Oldham | Away | April 20, 1986 | Division 1 |
| Oldham v Wigan | Home | April 22, 1986 | Division 1 |
| Oldham v Oldham Amateur Select | Home | August 24, 1986 | Benefit Match |
| Oldham v Leeds | Home | August 31, 1986 | Division 1 |
| Halifax v Oldham | Away | September 3, 1986 | Division 1 |
| Warrington v Oldham | Away | September 7, 1986 | Division 1 |
| Oldham v Widnes | Home | October 1, 1986 | Lancashire Cup |
| Oldham v Widnes | Home | October 5, 1986 | Division 1 |
| Wigan v Oldham | Neutral | October 19, 1986 | Lancashire Cup |
| Hull FC v Oldham | Away | January 4, 1987 | Division 1 |
| Oldham v Featherstone Rovers | Home | January 18, 1987 | Division 1 |
| Widnes v Oldham | Away | January 21, 1987 | Division 1 |
| Oldham v Wigan | Home | February 4, 1987 | Rugby League Challenge Cup |
| Oldham v St Helens | Home | February 14, 1987 | Rugby League Challenge Cup |
| Oldham v Hull FC | Home | February 22, 1987 | Division 1 |
| Castleford v Oldham | Away | March 1, 1987 | Division 1 |
| Featherstone Rovers v Oldham | Away | March 8, 1987 | Division 1 |
| Oldham v Warrington | Home | March 11, 1987 | Division 1 |
| Oldham v Bradford Northern | Home | March 15, 1987 | Division 1 |
| Oldham v Castleford | Home | March 29, 1987 | Division 1 |
| Barrow v Oldham | Away | April 5, 1987 | Division 1 |
| Wigan v Oldham | Away | April 8, 1987 | Division 1 |
| Oldham v Leigh | Home | April 12, 1987 | Division 1 |
| Whitehaven v Oldham | Away | August 30, 1987 | Division 2 |
| Oldham v Keighley | Home | September 2, 1987 | Division 2 |
| Oldham v Bramley | Home | September 6, 1987 | Division 2 |
| Warrington v Oldham | Away | September 13, 1987 | Lancashire Cup |
| Huddersfield v Oldham | Away | October 4, 1987 | Division 2 |
| Oldham v Sheffield Eagles | Home | October 11, 1987 | Division 2 |
| Oldham v Barrow | Home | October 25, 1987 | Division 2 |
| Keighley v Oldham | Away | November 1, 1987 | Division 2 |
| Oldham v Fulham | Home | November 8, 1987 | John Player Cup |
| Oldham v Bradford Northern | Home | August 12, 1990 | Benefit Match |