Jack Scaife
Profile
Originally from the village of Helperby, near Easingwold in the Yorkshire Dales, Jack Scaife came to Oldham from Bradford Northern in 1926, making his debut in the away victory (15 – 9) over Rochdale on October 16th.
A most consistent hooker, he would make the Oldham No 9 shirt his own for the next seven and a half years. This would include winners medals for Jack in the 1927 Challenge Cup victory over Swinton and the 1933 Lancashire Cup Final success against St Helens Recs. This was an era of incessant scrimmaging with the hooker's job a demanding cycle of packing down, in a seemingly never ending sequence of scrums.
A legacy of this workload was that Jack would not often make an impression on the score sheet, registering only seven tries in well over 300 games for the club.
Jack played his last game for the club at Barrow on November 10th, 1934. After his retirement he put his considerable experience to good use by becoming a first class referee.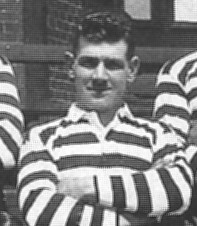 Career Games
| | | | |
| --- | --- | --- | --- |
| Rochdale Hornets v Oldham | Away | October 16, 1926 | League Championship |
| Oldham v New Zealand | Home | October 23, 1926 | Tour Match |
| Warrington v Oldham | Away | October 30, 1926 | League Championship |
| Oldham v York | Home | November 6, 1926 | League Championship |
| Barrow v Oldham | Away | November 13, 1926 | League Championship |
| Oldham v St Helens | Home | December 4, 1926 | League Championship |
| Wakefield Trinity v Oldham | Away | December 11, 1926 | League Championship |
| Oldham v Batley | Home | December 18, 1926 | League Championship |
| Oldham v Swinton | Home | December 25, 1926 | League Championship |
| Hull FC v Oldham | Away | December 27, 1926 | League Championship |
| Oldham v Wigan Highfield | Home | January 1, 1927 | League Championship |
| Oldham v Hull FC | Home | January 3, 1927 | League Championship |
| Leigh v Oldham | Away | January 8, 1927 | League Championship |
| Salford v Oldham | Away | January 15, 1927 | League Championship |
| Wigan Highfield v Oldham | Away | January 29, 1927 | League Championship |
| Oldham v Salford | Home | February 12, 1927 | Rugby League Challenge Cup |
| York v Oldham | Away | February 19, 1927 | League Championship |
| Hunslet v Oldham | Away | February 26, 1927 | Rugby League Challenge Cup |
| Oldham v Broughton Rangers | Home | March 5, 1927 | League Championship |
| Leeds v Oldham | Away | March 12, 1927 | Rugby League Challenge Cup |
| St Helens v Oldham | Away | March 16, 1927 | League Championship |
| Oldham v Wigan | Home | March 19, 1927 | League Championship |
| Oldham v Salford | Home | March 21, 1927 | League Championship |
| Batley v Oldham | Away | March 26, 1927 | League Championship |
| Wakefield Trinity v Oldham | Neutral | April 2, 1927 | Rugby League Challenge Cup |
| Wigan v Oldham | Away | April 9, 1927 | League Championship |
| Oldham v St Helens Recs | Home | April 11, 1927 | League Championship |
| Swinton v Oldham | Away | April 15, 1927 | League Championship |
| Oldham v Rochdale Hornets | Home | April 16, 1927 | League Championship |
| Huddersfield v Oldham | Away | April 18, 1927 | League Championship |
| Oldham v Leigh | Home | April 19, 1927 | League Championship |
| Widnes v Oldham | Away | April 23, 1927 | League Championship |
| Oldham v Pontypridd | Home | April 25, 1927 | League Championship |
| Oldham v Warrington | Home | April 30, 1927 | League Championship |
| Swinton v Oldham | Neutral | May 7, 1927 | Rugby League Challenge Cup |
| Salford v Oldham | Away | August 27, 1927 | League Championship |
| Huddersfield v Oldham | Away | August 31, 1927 | League Championship |
| Oldham v Wakefield Trinity | Home | September 3, 1927 | League Championship |
| Rochdale Hornets v Oldham | Away | September 6, 1927 | Infirmary Cup |
| York v Oldham | Away | September 10, 1927 | League Championship |
| Oldham v Huddersfield | Home | September 12, 1927 | League Championship |
| Oldham v Leigh | Home | September 17, 1927 | League Championship |
| Leeds v Oldham | Away | September 24, 1927 | League Championship |
| Wigan Highfield v Oldham | Away | September 28, 1927 | League Championship |
| Oldham v York | Home | October 1, 1927 | League Championship |
| Oldham v Wigan Highfield | Home | October 8, 1927 | Lancashire Cup |
| Wigan v Oldham | Away | October 15, 1927 | League Championship |
| Swinton v Oldham | Away | October 19, 1927 | Lancashire Cup |
| Pontypridd v Oldham | Away | October 22, 1927 | League Championship |
| Oldham v Salford | Home | October 29, 1927 | League Championship |
| St Helens Recs v Oldham | Away | November 5, 1927 | League Championship |
| Oldham v Halifax | Home | November 12, 1927 | League Championship |
| Warrington v Oldham | Away | November 19, 1927 | League Championship |
| Oldham v St Helens | Home | November 26, 1927 | League Championship |
| Wakefield Trinity v Oldham | Away | December 3, 1927 | League Championship |
| Oldham v Swinton | Home | December 10, 1927 | League Championship |
| Barrow v Oldham | Away | December 24, 1927 | League Championship |
| Leigh v Oldham | Away | December 27, 1927 | League Championship |
| Oldham v Barrow | Home | December 31, 1927 | League Championship |
| Oldham v Hull FC | Home | January 2, 1928 | League Championship |
| Halifax v Oldham | Away | January 7, 1928 | League Championship |
| Oldham v Warrington | Home | January 14, 1928 | League Championship |
| Hull FC v Oldham | Away | January 28, 1928 | League Championship |
| Oldham v St Helens Recs | Home | February 4, 1928 | League Championship |
| Oldham v St Helens | Home | February 11, 1928 | Rugby League Challenge Cup |
| St Helens v Oldham | Away | February 18, 1928 | League Championship |
| Oldham v Broughton Rangers | Home | February 21, 1928 | League Championship |
| Barrow v Oldham | Away | February 25, 1928 | Rugby League Challenge Cup |
| Oldham v Rochdale Hornets | Home | March 3, 1928 | League Championship |
| Leeds v Oldham | Away | March 10, 1928 | Rugby League Challenge Cup |
| Widnes v Oldham | Away | March 17, 1928 | League Championship |
| Oldham v Leeds | Home | March 24, 1928 | League Championship |
| Oldham v Wigan Highfield | Home | March 31, 1928 | League Championship |
| Swinton v Oldham | Away | April 6, 1928 | League Championship |
| Broughton Rangers v Oldham | Away | April 7, 1928 | League Championship |
| Oldham v Widnes | Home | April 9, 1928 | League Championship |
| Hull FC v Oldham | Away | April 14, 1928 | League Championship |
| Rochdale Hornets v Oldham | Away | April 16, 1928 | League Championship |
| Oldham v Salford | Home | August 25, 1928 | League Championship |
| Wigan Highfield v Oldham | Away | September 1, 1928 | League Championship |
| Halifax v Oldham | Away | September 3, 1928 | League Championship |
| Oldham v Halifax | Home | September 8, 1928 | League Championship |
| Hull FC v Oldham | Away | September 15, 1928 | League Championship |
| Oldham v Warrington | Home | September 22, 1928 | League Championship |
| Oldham v Featherstone Rovers | Home | September 29, 1928 | League Championship |
| Hunslet v Oldham | Away | October 6, 1928 | League Championship |
| Oldham v Rochdale Hornets | Home | October 13, 1928 | Infirmary Cup |
| Huddersfield v Oldham | Away | October 20, 1928 | League Championship |
| Oldham v Salford | Home | October 24, 1928 | Lancashire Cup |
| Oldham v Leigh | Home | October 27, 1928 | League Championship |
| Barrow v Oldham | Away | November 3, 1928 | League Championship |
| Oldham v Wigan | Home | November 5, 1928 | Lancashire Cup |
| Wigan v Oldham | Away | November 7, 1928 | Lancashire Cup |
| Oldham v Wigan | Home | November 10, 1928 | League Championship |
| Salford v Oldham | Away | November 17, 1928 | League Championship |
| Oldham v Hunslet | Home | November 24, 1928 | League Championship |
| St Helens v Oldham | Away | December 1, 1928 | League Championship |
| Oldham v St Helens | Home | December 8, 1928 | League Championship |
| Broughton Rangers v Oldham | Away | December 22, 1928 | League Championship |
| Oldham v Swinton | Home | December 25, 1928 | League Championship |
| Oldham v Widnes | Home | December 29, 1928 | League Championship |
| Leigh v Oldham | Away | January 1, 1929 | League Championship |
| Oldham v Leeds | Home | January 6, 1929 | League Championship |
| Warrington v Oldham | Away | January 12, 1929 | League Championship |
| Widnes v Oldham | Away | January 19, 1929 | League Championship |
| Oldham v Wigan Highfield | Home | January 26, 1929 | League Championship |
| Bramley v Oldham | Away | February 9, 1929 | Rugby League Challenge Cup |
| Warrington v Oldham | Away | February 23, 1929 | Rugby League Challenge Cup |
| Oldham v Huddersfield | Home | March 2, 1929 | League Championship |
| Featherstone Rovers v Oldham | Away | March 9, 1929 | League Championship |
| Oldham v Hull FC | Home | March 16, 1929 | League Championship |
| Oldham v St Helens Recs | Home | March 23, 1929 | League Championship |
| Swinton v Oldham | Away | March 29, 1929 | League Championship |
| Oldham v Rochdale Hornets | Home | March 30, 1929 | League Championship |
| Leeds v Oldham | Away | April 1, 1929 | League Championship |
| Oldham v Broughton Rangers | Home | April 6, 1929 | League Championship |
| Oldham v Barrow | Home | April 13, 1929 | League Championship |
| St Helens Recs v Oldham | Away | April 22, 1929 | League Championship |
| Oldham v Hunslet | Home | August 31, 1929 | League Championship |
| Huddersfield v Oldham | Away | September 4, 1929 | League Championship |
| Dewsbury v Oldham | Away | September 7, 1929 | League Championship |
| Oldham v Broughton Rangers | Home | September 9, 1929 | League Championship |
| Widnes v Oldham | Away | September 21, 1929 | League Championship |
| St Helens v Oldham | Away | September 28, 1929 | League Championship |
| Oldham v Hull FC | Home | October 5, 1929 | League Championship |
| Wigan v Oldham | Away | October 12, 1929 | Lancashire Cup |
| Oldham v Wigan | Home | October 19, 1929 | League Championship |
| Oldham v St Helens Recs | Home | October 21, 1929 | Lancashire Cup |
| Hunslet v Oldham | Away | October 26, 1929 | League Championship |
| Oldham v Australia | Home | November 2, 1929 | Tour Match |
| Leigh v Oldham | Away | November 9, 1929 | League Championship |
| Oldham v Warrington | Home | November 11, 1929 | Lancashire Cup |
| Oldham v Wigan Highfield | Home | November 16, 1929 | League Championship |
| Rochdale Hornets v Oldham | Away | November 23, 1929 | Infirmary Cup |
| Oldham v Halifax | Home | November 30, 1929 | League Championship |
| Hull FC v Oldham | Away | December 7, 1929 | League Championship |
| Oldham v Salford | Home | December 14, 1929 | League Championship |
| Wakefield Trinity v Oldham | Away | December 21, 1929 | League Championship |
| Oldham v Swinton | Home | December 25, 1929 | League Championship |
| Rochdale Hornets v Oldham | Away | December 26, 1929 | League Championship |
| Oldham v Widnes | Home | December 28, 1929 | League Championship |
| Barrow v Oldham | Away | January 1, 1930 | League Championship |
| Oldham v St Helens | Home | January 4, 1930 | League Championship |
| Warrington v Oldham | Away | January 11, 1930 | League Championship |
| Oldham v Leigh | Home | January 18, 1930 | League Championship |
| Oldham v Barrow | Home | January 25, 1930 | League Championship |
| Salford v Oldham | Away | February 1, 1930 | League Championship |
| Hunslet v Oldham | Away | February 8, 1930 | Rugby League Challenge Cup |
| Oldham v Rochdale Hornets | Home | February 15, 1930 | League Championship |
| Oldham v Dewsbury | Home | March 1, 1930 | League Championship |
| St Helens Recs v Oldham | Away | March 6, 1930 | League Championship |
| Oldham v Wakefield Trinity | Home | March 15, 1930 | League Championship |
| Oldham v Widnes | Home | March 17, 1930 | League Championship |
| Halifax v Oldham | Away | March 22, 1930 | League Championship |
| Oldham v Warrington | Home | March 29, 1930 | League Championship |
| Broughton Rangers v Oldham | Away | April 5, 1930 | League Championship |
| Wigan Highfield v Oldham | Away | April 7, 1930 | League Championship |
| Oldham v Leeds | Home | April 12, 1930 | League Championship |
| Swinton v Oldham | Away | April 18, 1930 | League Championship |
| Oldham v St Helens Recs | Home | April 19, 1930 | League Championship |
| Leeds v Oldham | Away | April 21, 1930 | League Championship |
| Wigan v Oldham | Away | April 26, 1930 | League Championship |
| Oldham v Rochdale Hornets | Home | August 25, 1930 | Infirmary Cup |
| Wigan v Oldham | Away | August 30, 1930 | League Championship |
| Oldham v Leigh | Home | September 6, 1930 | League Championship |
| Huddersfield v Oldham | Away | September 10, 1930 | Friendly |
| St Helens Recs v Oldham | Away | September 13, 1930 | League Championship |
| Oldham v Huddersfield | Home | September 15, 1930 | Friendly |
| Oldham v Barrow | Home | September 27, 1930 | League Championship |
| Rochdale Hornets v Oldham | Away | October 4, 1930 | League Championship |
| Oldham v Salford | Home | October 11, 1930 | Lancashire Cup |
| Hunslet v Oldham | Away | October 18, 1930 | League Championship |
| Rochdale Hornets v Oldham | Away | October 21, 1930 | Lancashire Cup |
| Oldham v Warrington | Home | October 25, 1930 | League Championship |
| Hull Kingston Rovers v Oldham | Away | November 1, 1930 | League Championship |
| St Helens Recs v Oldham | Away | November 6, 1930 | Lancashire Cup |
| Oldham v Bradford Northern | Home | November 8, 1930 | League Championship |
| Halifax v Oldham | Away | November 15, 1930 | League Championship |
| Oldham v Broughton Rangers | Home | November 22, 1930 | League Championship |
| Keighley v Oldham | Away | November 29, 1930 | League Championship |
| Oldham v Wigan | Home | December 8, 1930 | League Championship |
| St Helens v Oldham | Away | December 13, 1930 | League Championship |
| Oldham v Widnes | Home | December 20, 1930 | League Championship |
| Oldham v Swinton | Home | December 25, 1930 | League Championship |
| Oldham v York | Home | December 27, 1930 | League Championship |
| Leigh v Oldham | Away | January 3, 1931 | League Championship |
| Oldham v St Helens Recs | Home | January 17, 1931 | League Championship |
| Hull FC v Oldham | Away | January 24, 1931 | League Championship |
| Oldham v Widnes | Home | February 7, 1931 | Rugby League Challenge Cup |
| Broughton Rangers v Oldham | Away | February 14, 1931 | League Championship |
| Oldham v Hunslet | Home | February 16, 1931 | League Championship |
| Bramley v Oldham | Away | February 21, 1931 | Rugby League Challenge Cup |
| Halifax v Oldham | Away | March 7, 1931 | Rugby League Challenge Cup |
| Oldham v Halifax | Home | March 9, 1931 | Rugby League Challenge Cup |
| Oldham v Rochdale Hornets | Home | March 10, 1931 | League Championship |
| Widnes v Oldham | Away | March 14, 1931 | League Championship |
| Halifax v Oldham | Neutral | March 16, 1931 | Rugby League Challenge Cup |
| Bradford Northern v Oldham | Away | March 28, 1931 | League Championship |
| Swinton v Oldham | Away | April 3, 1931 | League Championship |
| Oldham v St Helens | Home | April 4, 1931 | League Championship |
| Oldham v Keighley | Home | April 6, 1931 | League Championship |
| Warrington v Oldham | Away | April 7, 1931 | League Championship |
| Oldham v Wigan Highfield | Home | April 11, 1931 | League Championship |
| Salford v Oldham | Away | April 13, 1931 | League Championship |
| Barrow v Oldham | Away | April 16, 1931 | League Championship |
| Oldham v Halifax | Home | April 20, 1931 | League Championship |
| Swinton v Oldham | Away | April 25, 1931 | League Championship |
| Rochdale Hornets v Oldham | Away | August 22, 1931 | Infirmary Cup |
| Salford v Oldham | Away | August 29, 1931 | League Championship |
| Oldham v Wigan Highfield | Home | September 5, 1931 | League Championship |
| Warrington v Oldham | Away | September 12, 1931 | League Championship |
| Hunslet v Oldham | Away | September 16, 1931 | League Championship |
| Oldham v Halifax | Home | September 19, 1931 | League Championship |
| Oldham v St Helens Recs | Home | September 21, 1931 | League Championship |
| Batley v Oldham | Away | September 26, 1931 | League Championship |
| Oldham v St Helens | Home | October 3, 1931 | League Championship |
| Oldham v Bramley | Home | October 24, 1931 | League Championship |
| Rochdale Hornets v Oldham | Away | October 31, 1931 | League Championship |
| Oldham v Hull FC | Home | November 7, 1931 | League Championship |
| Widnes v Oldham | Away | November 14, 1931 | League Championship |
| Oldham v Broughton Rangers | Home | November 21, 1931 | League Championship |
| York v Oldham | Away | November 28, 1931 | League Championship |
| Oldham v Leigh | Home | December 5, 1931 | League Championship |
| Bramley v Oldham | Away | December 12, 1931 | League Championship |
| Oldham v Batley | Home | December 19, 1931 | League Championship |
| Oldham v Swinton | Home | December 25, 1931 | League Championship |
| Barrow v Oldham | Away | December 26, 1931 | League Championship |
| Oldham v Hunslet | Home | January 2, 1932 | League Championship |
| Hull FC v Oldham | Away | January 9, 1932 | League Championship |
| Wigan v Oldham | Away | January 16, 1932 | League Championship |
| Oldham v Salford | Home | January 23, 1932 | League Championship |
| Oldham v Widnes | Home | February 20, 1932 | League Championship |
| Oldham v Leeds | Home | February 27, 1932 | League Championship |
| Broughton Rangers v Oldham | Away | March 5, 1932 | League Championship |
| Oldham v York | Home | March 12, 1932 | League Championship |
| St Helens Recs v Oldham | Away | March 19, 1932 | League Championship |
| Swinton v Oldham | Away | March 25, 1932 | League Championship |
| Oldham v Rochdale Hornets | Home | March 26, 1932 | League Championship |
| Oldham v Barrow | Home | March 28, 1932 | League Championship |
| Leeds v Oldham | Away | April 2, 1932 | League Championship |
| Oldham v Wigan | Home | April 9, 1932 | League Championship |
| Wigan Highfield v Oldham | Away | April 16, 1932 | League Championship |
| Oldham v Warrington | Home | April 23, 1932 | League Championship |
| Hull FC v Oldham | Away | August 27, 1932 | League Championship |
| Oldham v St Helens Recs | Home | September 3, 1932 | League Championship |
| Featherstone Rovers v Oldham | Away | September 10, 1932 | League Championship |
| St Helens Recs v Oldham | Away | September 12, 1932 | League Championship |
| Oldham v Wakefield Trinity | Home | September 17, 1932 | League Championship |
| Wigan v Oldham | Away | September 24, 1932 | League Championship |
| Oldham v Widnes | Home | October 1, 1932 | League Championship |
| St Helens Recs v Oldham | Away | October 8, 1932 | Lancashire Cup |
| Oldham v St Helens Recs | Home | October 10, 1932 | Lancashire Cup |
| Oldham v St Helens Recs | Home | October 13, 1932 | Lancashire Cup |
| Oldham v Halifax | Home | October 15, 1932 | League Championship |
| St Helens Recs v Oldham | Neutral | October 17, 1932 | Lancashire Cup |
| Barrow v Oldham | Away | October 22, 1932 | League Championship |
| Oldham v Wigan Highfield | Home | October 29, 1932 | League Championship |
| Castleford v Oldham | Away | November 5, 1932 | League Championship |
| Oldham v Warrington | Home | November 12, 1932 | League Championship |
| Wigan Highfield v Oldham | Away | November 19, 1932 | League Championship |
| Oldham v Hull FC | Home | November 26, 1932 | League Championship |
| Warrington v Oldham | Away | December 3, 1932 | League Championship |
| Oldham v Hull Kingston Rovers | Home | December 10, 1932 | League Championship |
| Widnes v Oldham | Away | December 17, 1932 | League Championship |
| Oldham v St Helens | Home | December 24, 1932 | League Championship |
| Oldham v Swinton | Home | December 26, 1932 | League Championship |
| Oldham v Castleford | Home | December 27, 1932 | League Championship |
| Wakefield Trinity v Oldham | Away | December 31, 1932 | League Championship |
| Oldham v Leigh | Home | January 2, 1933 | League Championship |
| Leigh v Oldham | Away | January 7, 1933 | League Championship |
| Oldham v Rochdale Hornets | Home | February 11, 1933 | Rugby League Challenge Cup |
| St Helens v Oldham | Away | February 18, 1933 | League Championship |
| Wigan v Oldham | Away | March 1, 1933 | Rugby League Challenge Cup |
| Oldham v Salford | Home | March 4, 1933 | League Championship |
| Salford v Oldham | Away | March 11, 1933 | League Championship |
| Oldham v Featherstone Rovers | Home | March 18, 1933 | League Championship |
| Hull Kingston Rovers v Oldham | Away | March 25, 1933 | League Championship |
| Oldham v Wigan | Home | March 27, 1933 | League Championship |
| Rochdale Hornets v Oldham | Away | April 1, 1933 | League Championship |
| Oldham v York | Home | April 8, 1933 | League Championship |
| Swinton v Oldham | Away | April 14, 1933 | League Championship |
| Oldham v Rochdale Hornets | Home | April 15, 1933 | League Championship |
| Halifax v Oldham | Away | April 17, 1933 | League Championship |
| Oldham v Broughton Rangers | Home | August 26, 1933 | League Championship |
| Rochdale Hornets v Oldham | Away | September 2, 1933 | League Championship |
| Oldham v Australia | Home | September 9, 1933 | Tour Match |
| St Helens v Oldham | Away | September 16, 1933 | League Championship |
| Oldham v St Helens | Home | September 18, 1933 | League Championship |
| Oldham v Leeds | Home | September 23, 1933 | League Championship |
| Oldham v Widnes | Home | September 30, 1933 | Lancashire Cup |
| Rochdale Hornets v Oldham | Away | October 3, 1933 | Infirmary Cup |
| Oldham v Hunslet | Home | October 7, 1933 | League Championship |
| Broughton Rangers v Oldham | Away | October 11, 1933 | Lancashire Cup |
| Salford v Oldham | Away | October 14, 1933 | League Championship |
| Oldham v Keighley | Home | October 21, 1933 | League Championship |
| Wigan v Oldham | Away | October 25, 1933 | Lancashire Cup |
| Warrington v Oldham | Away | October 28, 1933 | League Championship |
| Oldham v Widnes | Home | November 4, 1933 | League Championship |
| Barrow v Oldham | Away | November 11, 1933 | League Championship |
| St Helens Recs v Oldham | Neutral | November 18, 1933 | Lancashire Cup |
| Leigh v Oldham | Away | November 25, 1933 | League Championship |
| Oldham v Batley | Home | December 2, 1933 | League Championship |
| Wakefield Trinity v Oldham | Away | December 9, 1933 | League Championship |
| Oldham v Barrow | Home | December 16, 1933 | League Championship |
| London Highfield v Oldham | Away | December 20, 1933 | League Championship |
| Oldham v Swinton | Home | December 25, 1933 | League Championship |
| Hull Kingston Rovers v Oldham | Away | December 26, 1933 | League Championship |
| Wigan v Oldham | Away | December 30, 1933 | League Championship |
| Oldham v Hull Kingston Rovers | Home | January 1, 1934 | League Championship |
| Oldham v Warrington | Home | January 6, 1934 | League Championship |
| Hunslet v Oldham | Away | February 3, 1934 | League Championship |
| Oldham v Dewsbury | Home | February 10, 1934 | Rugby League Challenge Cup |
| Keighley v Oldham | Away | February 17, 1934 | League Championship |
| St Helens Recs v Oldham | Away | February 24, 1934 | Rugby League Challenge Cup |
| Oldham v St Helens Recs | Home | February 28, 1934 | Rugby League Challenge Cup |
| Widnes v Oldham | Away | March 3, 1934 | League Championship |
| Oldham v Bramley | Home | March 10, 1934 | Rugby League Challenge Cup |
| Oldham v Salford | Home | March 14, 1934 | League Championship |
| St Helens Recs v Oldham | Away | March 17, 1934 | League Championship |
| Oldham v Halifax | Home | March 19, 1934 | League Championship |
| Widnes v Oldham | Neutral | March 24, 1934 | Rugby League Challenge Cup |
| Swinton v Oldham | Away | March 30, 1934 | League Championship |
| Halifax v Oldham | Away | March 31, 1934 | League Championship |
| Leeds v Oldham | Away | April 3, 1934 | League Championship |
| Oldham v Wigan | Home | April 10, 1934 | League Championship |
| Broughton Rangers v Oldham | Away | April 21, 1934 | League Championship |
| Halifax v Oldham | Neutral | May 12, 1934 | Lancaster Cup |
| Oldham v Rochdale Hornets | Home | August 18, 1934 | Infirmary Cup |
| Wigan v Oldham | Away | August 25, 1934 | League Championship |
| Oldham v Widnes | Home | September 8, 1934 | Lancashire Cup |
| Oldham v Warrington | Home | September 15, 1934 | League Championship |
| Oldham v Villeneuve | Home | September 17, 1934 | Friendly |
| Broughton Rangers v Oldham | Away | October 27, 1934 | League Championship |
| Oldham v Broughton Rangers | Home | November 3, 1934 | League Championship |
| Barrow v Oldham | Away | November 10, 1934 | League Championship |