Billy Hall
Profile
Billy Hall was born in Gloucester and started his rugby career with the local West End team, before graduating to the full Gloucester side. The youngest of seven rugby playing brothers, he followed in all of their footsteps by gaining county honours for Gloucestershire and this was followed by an appearance for an England XV against France in 1912. He had toured France with the Gloucester team and Perpignan attempted to acquire his services, but after returning home to consider their offer, he switched allegiance to the Coventry club and was snapped up by Oldham on the recommendation of ex-player Tommy Cash.
He commenced the 1913-14 season at Watersheddings proving to be a tricky and elusive player in the centre or stand off position and so impressed in the new code that he was selected for the 1914 tour to Australia and New Zealand. He played in all three tests in Australia, including the famous third "Rorke's Drift" encounter, where he had to leave the field with concussion.
As his career progressed after the First World War, he would be utilised more and more in the centre position and along with Evan Davies formed a tremendous pair of inside threequarters. He went on to give great service to the club until his last match in the Challenge Cup quarter final against Featherstone at Watersheddings on March 14th, 1925, helping Oldham towards their eventual final triumph against Hull K.R.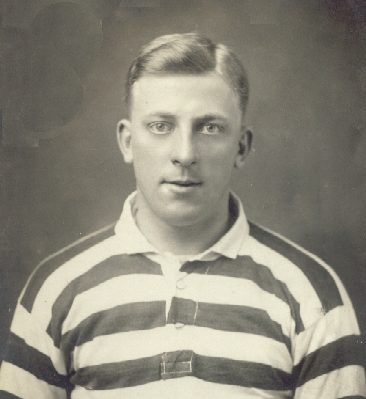 Career Games
| | | | |
| --- | --- | --- | --- |
| Oldham v Dewsbury | Home | September 6, 1913 | League Championship |
| St Helens v Oldham | Away | September 13, 1913 | League Championship |
| Wigan v Oldham | Away | September 20, 1913 | League Championship |
| Oldham v Halifax | Home | September 27, 1913 | League Championship |
| Huddersfield v Oldham | Away | October 4, 1913 | League Championship |
| Oldham v Warrington | Home | October 11, 1913 | League Championship |
| Broughton Rangers v Oldham | Away | October 18, 1913 | Lancashire Cup |
| Oldham v Widnes | Home | October 25, 1913 | League Championship |
| Oldham v Widnes | Home | November 1, 1913 | Lancashire Cup |
| Oldham v Rochdale Hornets | Home | November 8, 1913 | League Championship |
| Oldham v St Helens | Home | November 15, 1913 | Lancashire Cup |
| Oldham v Hull FC | Home | November 22, 1913 | League Championship |
| Widnes v Oldham | Away | November 25, 1913 | League Championship |
| Broughton Rangers v Oldham | Away | November 29, 1913 | League Championship |
| Wigan v Oldham | Neutral | December 6, 1913 | Lancashire Cup |
| Leigh v Oldham | Away | December 13, 1913 | League Championship |
| Oldham v Leeds | Home | December 15, 1913 | League Championship |
| Oldham v Salford | Home | December 20, 1913 | League Championship |
| Oldham v Swinton | Home | December 25, 1913 | League Championship |
| Warrington v Oldham | Away | December 26, 1913 | League Championship |
| Leeds v Oldham | Away | December 27, 1913 | League Championship |
| Dewsbury v Oldham | Away | January 1, 1914 | League Championship |
| Oldham v Wigan | Home | January 3, 1914 | League Championship |
| Salford v Oldham | Away | January 10, 1914 | League Championship |
| Oldham v Broughton Rangers | Home | January 17, 1914 | League Championship |
| Rochdale Hornets v Oldham | Away | January 24, 1914 | League Championship |
| Oldham v Runcorn | Home | January 31, 1914 | League Championship |
| Oldham v Huddersfield | Home | February 7, 1914 | League Championship |
| Runcorn v Oldham | Away | February 21, 1914 | League Championship |
| Leigh v Oldham | Away | February 28, 1914 | Rugby League Challenge Cup |
| Widnes v Oldham | Away | March 14, 1914 | Rugby League Challenge Cup |
| Wakefield Trinity v Oldham | Away | March 23, 1914 | League Championship |
| Oldham v Barrow | Home | March 28, 1914 | League Championship |
| Halifax v Oldham | Away | March 30, 1914 | League Championship |
| Oldham v St Helens | Home | April 4, 1914 | League Championship |
| Swinton v Oldham | Away | April 10, 1914 | League Championship |
| Oldham v Wakefield Trinity | Home | April 11, 1914 | League Championship |
| Barrow v Oldham | Away | April 13, 1914 | League Championship |
| Oldham v Batley | Home | October 5, 1914 | League Championship |
| Oldham v Broughton Rangers | Home | October 10, 1914 | League Championship |
| Wigan v Oldham | Away | October 17, 1914 | Lancashire Cup |
| Barrow v Oldham | Away | October 31, 1914 | League Championship |
| Oldham v Hull FC | Home | November 7, 1914 | League Championship |
| Runcorn v Oldham | Away | November 14, 1914 | League Championship |
| Oldham v Wigan | Home | November 21, 1914 | League Championship |
| Warrington v Oldham | Away | January 30, 1915 | League Championship |
| Oldham v Rochdale Hornets | Home | February 13, 1915 | League Championship |
| Wigan v Oldham | Away | February 20, 1915 | League Championship |
| Oldham v Wigan | Home | February 27, 1915 | Rugby League Challenge Cup |
| Oldham v Halifax | Home | March 6, 1915 | League Championship |
| Oldham v Rochdale Hornets | Home | March 16, 1915 | League Championship |
| Oldham v Huddersfield | Home | March 20, 1915 | League Championship |
| Swinton v Oldham | Away | April 2, 1915 | League Championship |
| Leeds v Oldham | Away | April 3, 1915 | League Championship |
| Oldham v Salford | Home | April 5, 1915 | League Championship |
| Oldham v Barrow | Home | April 10, 1915 | League Championship |
| Hull FC v Oldham | Away | April 24, 1915 | League Championship |
| Oldham v Salford | Home | September 11, 1915 | Wartime Friendly |
| Wigan v Oldham | Away | September 18, 1915 | Wartime Friendly |
| Oldham v Huddersfield | Home | September 25, 1915 | Wartime Friendly |
| Oldham v Leigh | Home | October 2, 1915 | Wartime Friendly |
| Rochdale Hornets v Oldham | Away | October 9, 1915 | Wartime Friendly |
| Broughton Rangers v Oldham | Away | October 23, 1915 | Wartime Friendly |
| Oldham v Bradford Northern | Home | October 30, 1915 | Wartime Friendly |
| Leigh v Oldham | Away | November 6, 1915 | Wartime Friendly |
| Oldham v Wigan | Home | December 4, 1915 | Wartime Friendly |
| Salford v Oldham | Away | December 11, 1915 | Wartime Friendly |
| Oldham v Halifax | Home | December 18, 1915 | Wartime Friendly |
| Oldham v Swinton | Home | December 25, 1915 | Wartime Friendly |
| Huddersfield v Oldham | Away | December 27, 1915 | Wartime Friendly |
| Hull FC v Oldham | Away | January 1, 1916 | Wartime Friendly |
| Rochdale Hornets v Oldham | Away | January 8, 1916 | Wartime Friendly |
| Oldham v Broughton Rangers | Home | January 22, 1916 | Wartime Friendly |
| Swinton v Oldham | Away | January 29, 1916 | Wartime Friendly |
| Oldham v Leeds | Home | February 5, 1916 | Wartime Friendly |
| Batley v Oldham | Away | February 12, 1916 | Wartime Friendly |
| Oldham v Rochdale Hornets | Home | February 19, 1916 | Wartime Friendly |
| Oldham v Dewsbury | Home | March 4, 1916 | Wartime Friendly |
| Dewsbury v Oldham | Away | March 11, 1916 | Wartime Friendly |
| Oldham v Wigan | Home | March 18, 1916 | Wartime Friendly |
| Halifax v Oldham | Away | March 25, 1916 | Wartime Friendly |
| Oldham v Batley | Home | April 1, 1916 | Wartime Friendly |
| Bradford Northern v Oldham | Away | April 8, 1916 | Wartime Friendly |
| Oldham v Hull FC | Home | April 15, 1916 | Wartime Friendly |
| Oldham v Rochdale Hornets | Home | April 29, 1916 | Wartime Friendly |
| Oldham v Leeds | Home | September 30, 1916 | Wartime Friendly |
| Oldham v Halifax | Home | October 7, 1916 | Wartime Friendly |
| Oldham v St Helens Recs | Home | October 28, 1916 | Wartime Friendly |
| Warrington v Oldham | Away | November 18, 1916 | Wartime Friendly |
| Leeds v Oldham | Away | December 9, 1916 | Wartime Friendly |
| Oldham v Wigan | Home | December 23, 1916 | Wartime Friendly |
| Oldham v Swinton | Home | December 25, 1916 | Wartime Friendly |
| Oldham v 2nd/10th Manchester Regiment | Home | December 30, 1916 | Wartime Friendly |
| Oldham v Broughton Rangers | Home | January 1, 1917 | Wartime Friendly |
| Oldham v Warrington | Home | January 6, 1917 | Wartime Friendly |
| Broughton Rangers v Oldham | Away | January 13, 1917 | Wartime Friendly |
| Oldham v Huddersfield | Home | January 20, 1917 | Wartime Friendly |
| Rochdale Hornets v Oldham | Away | February 24, 1917 | Wartime Friendly |
| Oldham v Rochdale Hornets | Home | March 17, 1917 | Wartime Friendly |
| Oldham v Broughton Rangers | Home | March 24, 1917 | Wartime Friendly |
| Halifax v Oldham | Away | March 31, 1917 | Wartime Friendly |
| Salford v Oldham | Away | April 14, 1917 | Wartime Friendly |
| Leeds v Oldham | Away | April 28, 1917 | Wartime Friendly |
| St Helens Recs v Oldham | Away | May 5, 1917 | Wartime Friendly |
| Oldham v Rochdale Hornets | Home | December 25, 1918 | Friendly |
| Oldham v Rochdale Hornets | Home | January 18, 1919 | Lancashire League |
| Swinton v Oldham | Away | January 25, 1919 | Lancashire League |
| Oldham v Swinton | Home | February 8, 1919 | Lancashire League |
| Warrington v Oldham | Away | February 15, 1919 | Lancashire League |
| Oldham v Barrow | Home | March 1, 1919 | Lancashire League |
| Barrow v Oldham | Away | March 8, 1919 | Lancashire League |
| Oldham v St Helens Recs | Home | March 15, 1919 | Lancashire League |
| Rochdale Hornets v Oldham | Away | March 22, 1919 | Lancashire League |
| Oldham v Wigan | Home | April 5, 1919 | Lancashire League |
| Oldham v St Helens | Home | April 12, 1919 | Lancashire Cup |
| Swinton v Oldham | Away | April 18, 1919 | Lancashire League |
| Rochdale Hornets v Oldham | Neutral | May 10, 1919 | Lancashire Cup |
| Oldham v Huddersfield | Home | September 13, 1919 | League Championship |
| Wakefield Trinity v Oldham | Away | September 20, 1919 | League Championship |
| Oldham v St Helens Recs | Home | September 27, 1919 | League Championship |
| Hull Kingston Rovers v Oldham | Away | October 13, 1919 | League Championship |
| Wigan v Oldham | Away | October 18, 1919 | League Championship |
| Oldham v St Helens | Home | October 25, 1919 | League Championship |
| Broughton Rangers v Oldham | Away | November 1, 1919 | Lancashire Cup |
| Oldham v Wakefield Trinity | Home | November 8, 1919 | League Championship |
| Swinton v Oldham | Away | November 15, 1919 | Lancashire Cup |
| Oldham v Swinton | Home | November 17, 1919 | Lancashire Cup |
| Leeds v Oldham | Away | November 19, 1919 | League Championship |
| Barrow v Oldham | Away | November 22, 1919 | League Championship |
| Oldham v Hull FC | Home | November 29, 1919 | League Championship |
| Rochdale Hornets v Oldham | Neutral | December 6, 1919 | Lancashire Cup |
| Oldham v Widnes | Home | December 13, 1919 | League Championship |
| Oldham v Wigan | Home | December 20, 1919 | League Championship |
| Oldham v Swinton | Home | December 25, 1919 | League Championship |
| Oldham v Broughton Rangers | Home | December 26, 1919 | League Championship |
| Rochdale Hornets v Oldham | Away | December 27, 1919 | League Championship |
| Oldham v Warrington | Home | January 1, 1920 | League Championship |
| Oldham v Leigh | Home | January 3, 1920 | League Championship |
| Leigh v Oldham | Away | January 14, 1920 | League Championship |
| St Helens Recs v Oldham | Away | January 17, 1920 | League Championship |
| Halifax v Oldham | Away | January 24, 1920 | League Championship |
| Bradford Northern v Oldham | Away | February 21, 1920 | Rugby League Challenge Cup |
| Oldham v Warrington | Home | February 28, 1920 | Rugby League Challenge Cup |
| Oldham v Leeds | Home | March 13, 1920 | Rugby League Challenge Cup |
| Widnes v Oldham | Away | March 17, 1920 | League Championship |
| Oldham v Barrow | Home | March 23, 1920 | League Championship |
| Swinton v Oldham | Away | April 2, 1920 | League Championship |
| Oldham v Salford | Home | April 3, 1920 | League Championship |
| Huddersfield v Oldham | Away | April 5, 1920 | League Championship |
| Broughton Rangers v Oldham | Away | April 10, 1920 | League Championship |
| Warrington v Oldham | Away | August 28, 1920 | League Championship |
| Rochdale Hornets v Oldham | Away | September 4, 1920 | League Championship |
| Oldham v Halifax | Home | September 11, 1920 | League Championship |
| Broughton Rangers v Oldham | Away | September 18, 1920 | League Championship |
| Oldham v Leigh | Home | September 25, 1920 | League Championship |
| Batley v Oldham | Away | October 2, 1920 | League Championship |
| Oldham v Dewsbury | Home | October 9, 1920 | League Championship |
| Hull FC v Oldham | Away | October 11, 1920 | League Championship |
| Oldham v Leigh | Home | October 16, 1920 | Lancashire Cup |
| Oldham v Huddersfield | Home | October 23, 1920 | League Championship |
| Huddersfield v Oldham | Away | October 30, 1920 | Friendly |
| Oldham v Barrow | Home | November 6, 1920 | League Championship |
| Wigan v Oldham | Away | November 13, 1920 | League Championship |
| Widnes v Oldham | Away | November 20, 1920 | League Championship |
| Oldham v Widnes | Home | November 27, 1920 | League Championship |
| Dewsbury v Oldham | Away | November 30, 1920 | League Championship |
| St Helens Recs v Oldham | Away | December 4, 1920 | League Championship |
| Oldham v Wigan | Home | December 11, 1920 | League Championship |
| Barrow v Oldham | Away | December 18, 1920 | League Championship |
| Oldham v Swinton | Home | December 25, 1920 | League Championship |
| Oldham v Broughton Rangers | Home | December 27, 1920 | Friendly |
| Oldham v Warrington | Home | January 1, 1921 | League Championship |
| Oldham v Hull FC | Home | January 3, 1921 | League Championship |
| Oldham v Salford | Home | January 8, 1921 | League Championship |
| Oldham v Rochdale Hornets | Home | January 22, 1921 | League Championship |
| Salford v Oldham | Away | January 29, 1921 | League Championship |
| Oldham v Batley | Home | February 5, 1921 | League Championship |
| Halifax v Oldham | Away | February 12, 1921 | League Championship |
| Oldham v St Helens Recs | Home | February 19, 1921 | League Championship |
| Oldham v Elland Wanderers | Home | February 26, 1921 | Rugby League Challenge Cup |
| St Helens v Oldham | Away | March 5, 1921 | League Championship |
| Huddersfield v Oldham | Away | March 12, 1921 | Rugby League Challenge Cup |
| Oldham v Broughton Rangers | Home | March 19, 1921 | League Championship |
| Oldham v St Helens | Home | March 26, 1921 | League Championship |
| Huddersfield v Oldham | Away | March 28, 1921 | League Championship |
| Wigan v Oldham | Away | April 2, 1921 | Friendly |
| Cumberland League v Oldham | Away | April 9, 1921 | Friendly |
| Oldham v Leeds | Home | April 11, 1921 | League Championship |
| Leeds v Oldham | Away | April 23, 1921 | League Championship |
| Rochdale Hornets v Oldham | Away | May 7, 1921 | Infirmary Cup |
| Oldham v Rochdale Hornets | Home | May 13, 1921 | Infirmary Cup |
| St Helens v Oldham | Away | August 27, 1921 | League Championship |
| Oldham v Broughton Rangers | Home | September 3, 1921 | League Championship |
| Oldham v Leigh | Home | September 10, 1921 | League Championship |
| Widnes v Oldham | Away | September 17, 1921 | League Championship |
| Oldham v Hunslet | Home | September 24, 1921 | League Championship |
| Wigan v Oldham | Away | October 1, 1921 | League Championship |
| Oldham v Rochdale Hornets | Home | October 3, 1921 | League Championship |
| Oldham v Salford | Home | October 8, 1921 | League Championship |
| St Helens Recs v Oldham | Away | October 15, 1921 | League Championship |
| Rochdale Hornets v Oldham | Away | October 22, 1921 | Lancashire Cup |
| Oldham v Keighley | Home | October 29, 1921 | League Championship |
| St Helens v Oldham | Away | November 5, 1921 | Lancashire Cup |
| Halifax v Oldham | Away | November 12, 1921 | League Championship |
| Oldham v Barrow | Home | November 19, 1921 | Lancashire Cup |
| Oldham v Australia | Home | November 26, 1921 | Tour Match |
| Warrington v Oldham | Neutral | December 3, 1921 | Lancashire Cup |
| Salford v Oldham | Away | December 7, 1921 | League Championship |
| Keighley v Oldham | Away | December 17, 1921 | League Championship |
| Oldham v Swinton | Home | December 24, 1921 | League Championship |
| Broughton Rangers v Oldham | Away | December 26, 1921 | League Championship |
| Warrington v Oldham | Away | December 31, 1921 | League Championship |
| Oldham v Hull FC | Home | January 2, 1922 | League Championship |
| Oldham v Bradford Northern | Home | January 7, 1922 | League Championship |
| Oldham v Australia | Home | January 16, 1922 | Tour Match |
| Rochdale Hornets v Oldham | Away | January 21, 1922 | League Championship |
| Oldham v Halifax | Home | January 28, 1922 | League Championship |
| Barrow v Oldham | Away | February 4, 1922 | League Championship |
| Oldham v St Helens | Home | February 11, 1922 | League Championship |
| Oldham v Featherstone Rovers | Home | February 18, 1922 | League Championship |
| Elland v Oldham | Away | February 25, 1922 | Rugby League Challenge Cup |
| Bradford Northern v Oldham | Away | March 1, 1922 | League Championship |
| Leigh v Oldham | Away | March 4, 1922 | League Championship |
| Oldham v Huddersfield | Home | March 11, 1922 | Rugby League Challenge Cup |
| Featherstone Rovers v Oldham | Away | March 15, 1922 | League Championship |
| Oldham v Warrington | Home | March 18, 1922 | League Championship |
| Oldham v Huddersfield | Home | March 20, 1922 | League Championship |
| Rochdale Hornets v Oldham | Away | March 25, 1922 | Rugby League Challenge Cup |
| Oldham v Widnes | Home | April 1, 1922 | League Championship |
| Oldham v Wigan | Home | April 3, 1922 | League Championship |
| Hunslet v Oldham | Away | April 5, 1922 | League Championship |
| Oldham v St Helens Recs | Home | April 8, 1922 | League Championship |
| Oldham v Huddersfield | Home | April 22, 1922 | League Championship |
| Wigan v Oldham | Neutral | May 6, 1922 | League Championship |
| St Helens Recs v Oldham | Away | August 26, 1922 | League Championship |
| Hunslet v Oldham | Away | September 6, 1922 | League Championship |
| Oldham v Rochdale Hornets | Home | September 9, 1922 | Infirmary Cup |
| Oldham v Huddersfield | Home | September 16, 1922 | League Championship |
| Oldham v Leeds | Home | September 23, 1922 | League Championship |
| Hull FC v Oldham | Away | September 30, 1922 | League Championship |
| Wigan Highfield v Oldham | Away | October 7, 1922 | League Championship |
| Wigan Highfield v Oldham | Away | October 14, 1922 | Lancashire Cup |
| Oldham v Wigan Highfield | Home | October 16, 1922 | Lancashire Cup |
| Batley v Oldham | Away | October 21, 1922 | League Championship |
| Oldham v Widnes | Home | November 4, 1922 | League Championship |
| Oldham v St Helens | Home | November 11, 1922 | League Championship |
| Oldham v Salford | Home | November 18, 1922 | League Championship |
| Barrow v Oldham | Away | November 25, 1922 | League Championship |
| Warrington v Oldham | Away | December 9, 1922 | League Championship |
| Oldham v Wigan Highfield | Home | March 10, 1923 | League Championship |
| Barrow v Oldham | Away | March 17, 1923 | Rugby League Challenge Cup |
| Oldham v Leigh | Home | March 19, 1923 | League Championship |
| Rochdale Hornets v Oldham | Away | March 24, 1923 | League Championship |
| Huddersfield v Oldham | Away | April 2, 1923 | League Championship |
| Oldham v Salford | Home | September 15, 1923 | League Championship |
| St Helens v Oldham | Away | September 22, 1923 | League Championship |
| Oldham v Huddersfield | Home | September 29, 1923 | League Championship |
| Wigan Highfield v Oldham | Away | October 6, 1923 | League Championship |
| Leeds v Oldham | Away | October 20, 1923 | League Championship |
| Oldham v Wigan | Home | October 27, 1923 | Lancashire Cup |
| Rochdale Hornets v Oldham | Away | November 3, 1923 | League Championship |
| St Helens Recs v Oldham | Away | November 10, 1923 | Lancashire Cup |
| Oldham v Leigh | Home | November 17, 1923 | League Championship |
| Oldham v Warrington | Home | November 19, 1923 | League Championship |
| Widnes v Oldham | Away | November 24, 1923 | League Championship |
| Oldham v Wigan | Home | December 1, 1923 | League Championship |
| York v Oldham | Away | December 8, 1923 | League Championship |
| Oldham v St Helens Recs | Home | December 15, 1923 | League Championship |
| Halifax v Oldham | Away | December 22, 1923 | League Championship |
| Oldham v Swinton | Home | December 25, 1923 | League Championship |
| Barrow v Oldham | Away | December 26, 1923 | League Championship |
| Oldham v Widnes | Home | December 29, 1923 | League Championship |
| Oldham v Leeds | Home | January 1, 1924 | League Championship |
| Warrington v Oldham | Away | January 12, 1924 | League Championship |
| Oldham v Barrow | Home | January 19, 1924 | League Championship |
| Wigan v Oldham | Away | January 26, 1924 | League Championship |
| Oldham v Hull FC | Home | February 2, 1924 | League Championship |
| Broughton Rangers v Oldham | Away | February 9, 1924 | League Championship |
| Oldham v Rochdale Hornets | Home | February 16, 1924 | Rugby League Challenge Cup |
| Oldham v Dewsbury | Home | March 1, 1924 | Rugby League Challenge Cup |
| Oldham v Rochdale Hornets | Home | March 4, 1924 | League Championship |
| Oldham v Halifax | Home | March 8, 1924 | League Championship |
| Oldham v Wakefield Trinity | Home | March 15, 1924 | Rugby League Challenge Cup |
| Oldham v St Helens | Home | March 22, 1924 | League Championship |
| Huddersfield v Oldham | Neutral | March 29, 1924 | Rugby League Challenge Cup |
| Wigan v Oldham | Neutral | April 12, 1924 | Rugby League Challenge Cup |
| Oldham v York | Home | April 14, 1924 | League Championship |
| Swinton v Oldham | Away | April 18, 1924 | League Championship |
| Batley v Oldham | Away | April 26, 1924 | League Championship |
| Oldham v Leigh | Home | August 30, 1924 | League Championship |
| Oldham v Rochdale Hornets | Home | September 13, 1924 | Infirmary Cup |
| Salford v Oldham | Away | September 20, 1924 | League Championship |
| Widnes v Oldham | Away | November 1, 1924 | League Championship |
| St Helens Recs v Oldham | Away | November 29, 1924 | League Championship |
| Broughton Rangers v Oldham | Away | December 26, 1924 | League Championship |
| Halifax v Oldham | Away | December 27, 1924 | League Championship |
| Oldham v Featherstone Rovers | Home | March 14, 1925 | Rugby League Challenge Cup |