Herbert Ellis
Profile
A native of Ravensthorpe, near Dewsbury, Herbert played his early rugby for the local village team before joining one of the Northern Union founder members Liversedge F.C.
A fine forward, Herbert made his Oldham debut on January 23rd 1897 and remained a major presence amongst the Roughyeds pack for the next eight years including the Challenge Cup final victory of 1899 against Hunslet.
In later life he was a successful bookmaker.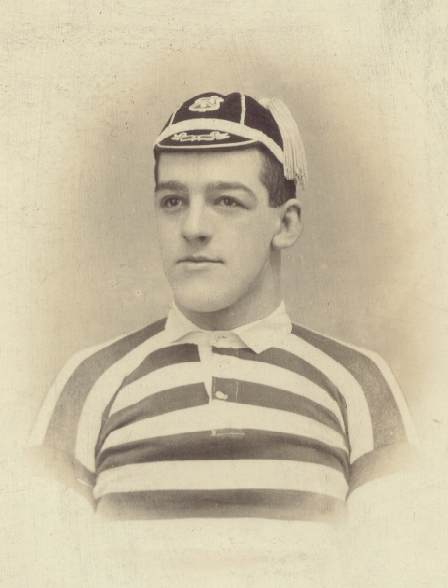 Career Games
| | | | |
| --- | --- | --- | --- |
| Oldham v Rochdale Hornets | Home | January 23, 1897 | Lancashire Senior Competition |
| Stockport v Oldham | Away | January 30, 1897 | Lancashire Senior Competition |
| Widnes v Oldham | Away | February 6, 1897 | Lancashire Senior Competition |
| Oldham v Wigan | Home | February 13, 1897 | Lancashire Senior Competition |
| Oldham v Warrington | Home | February 20, 1897 | Lancashire Senior Competition |
| Runcorn v Oldham | Away | February 27, 1897 | Lancashire Senior Competition |
| Oldham v Swinton | Home | March 2, 1897 | Lancashire Senior Competition |
| Oldham v St Helens Recs | Home | March 6, 1897 | Friendly |
| Tyldesley v Oldham | Away | March 13, 1897 | Lancashire Senior Competition |
| Broughton Rangers v Oldham | Away | April 3, 1897 | Friendly |
| Oldham v Manningham | Home | April 10, 1897 | Friendly |
| St Helens Recs v Oldham | Away | April 17, 1897 | Friendly |
| Oldham v Huddersfield | Home | April 19, 1897 | Friendly |
| Oldham v Halifax | Home | April 26, 1897 | Friendly |
| Oldham v Crompton | Home | April 30, 1897 | Friendly |
| Oldham v Crompton | Home | September 6, 1897 | Friendly |
| Oldham v Salford | Home | September 25, 1897 | Lancashire Senior Competition |
| Bradford v Oldham | Away | October 16, 1897 | Friendly |
| Oldham v Wigan | Home | October 23, 1897 | Lancashire Senior Competition |
| Oldham v Morecambe | Home | October 30, 1897 | Lancashire Senior Competition |
| Widnes v Oldham | Away | November 6, 1897 | Lancashire Senior Competition |
| Oldham v Leigh | Home | November 13, 1897 | Lancashire Senior Competition |
| St Helens Recs v Oldham | Away | November 20, 1897 | Friendly |
| St Helens v Oldham | Away | November 27, 1897 | Lancashire Senior Competition |
| Leigh v Oldham | Away | December 18, 1897 | Lancashire Senior Competition |
| Broughton Rangers v Oldham | Away | December 27, 1897 | Lancashire Senior Competition |
| Oldham v Tyldesley | Home | January 1, 1898 | Lancashire Senior Competition |
| Oldham v Manningham | Home | January 3, 1898 | Friendly |
| Warrington v Oldham | Away | January 15, 1898 | Lancashire Senior Competition |
| Oldham v Stockport | Home | January 22, 1898 | Lancashire Senior Competition |
| Wigan v Oldham | Away | January 29, 1898 | Lancashire Senior Competition |
| Salford v Oldham | Away | February 5, 1898 | Lancashire Senior Competition |
| Bradford v Oldham | Away | March 12, 1898 | Friendly |
| Oldham v Runcorn | Home | March 19, 1898 | Rugby League Challenge Cup |
| Batley v Oldham | Away | March 26, 1898 | Rugby League Challenge Cup |
| Oldham v Broughton Rangers | Home | April 11, 1898 | Lancashire Senior Competition |
| Oldham v Tyldesley | Home | April 16, 1898 | Lancashire Senior Competition |
| Manningham v Oldham | Away | April 19, 1898 | Friendly |
| Halifax v Oldham | Away | April 25, 1898 | Friendly |
| Oldham v Rest Of Lancs | Home | April 30, 1898 | Champs v Rest |
| Oldham v Broughton Rangers | Home | October 8, 1898 | Lancashire Senior Competition |
| Oldham v Workington | Home | October 15, 1898 | Friendly |
| Salford v Oldham | Away | October 22, 1898 | Lancashire Senior Competition |
| Oldham v Swinton | Home | October 29, 1898 | Lancashire Senior Competition |
| Oldham v Seaton | Home | November 5, 1898 | Friendly |
| Rochdale Hornets v Oldham | Away | November 12, 1898 | Lancashire Senior Competition |
| Oldham v Warrington | Home | November 19, 1898 | Lancashire Senior Competition |
| Oldham v Widnes | Home | December 10, 1898 | Lancashire Senior Competition |
| Wigan v Oldham | Away | December 17, 1898 | Lancashire Senior Competition |
| Stockport v Oldham | Away | December 24, 1898 | Lancashire Senior Competition |
| Oldham v Rochdale Hornets | Home | December 26, 1898 | Lancashire Senior Competition |
| Broughton Rangers v Oldham | Away | December 31, 1898 | Lancashire Senior Competition |
| Oldham v Morecambe | Home | January 7, 1899 | Lancashire Senior Competition |
| Tyldesley v Oldham | Away | January 14, 1899 | Lancashire Senior Competition |
| Oldham v Leigh | Home | January 21, 1899 | Lancashire Senior Competition |
| Oldham v St Helens | Home | January 28, 1899 | Lancashire Senior Competition |
| Swinton v Oldham | Away | February 4, 1899 | Lancashire Senior Competition |
| Oldham v Stockport | Home | February 11, 1899 | Lancashire Senior Competition |
| Oldham v Salford | Home | February 18, 1899 | Lancashire Senior Competition |
| Widnes v Oldham | Away | February 25, 1899 | Lancashire Senior Competition |
| Oldham v Warrington | Home | March 25, 1899 | Rugby League Challenge Cup |
| Bradford v Oldham | Away | April 1, 1899 | Rugby League Challenge Cup |
| Oldham v Widnes | Home | April 8, 1899 | Rugby League Challenge Cup |
| Leigh v Oldham | Neutral | April 15, 1899 | Rugby League Challenge Cup |
| Hunslet v Oldham | Neutral | April 29, 1899 | Rugby League Challenge Cup |
| Morecambe v Oldham | Away | September 2, 1899 | Friendly |
| Millom v Oldham | Away | September 9, 1899 | Lancashire Senior Competition |
| Oldham v Tyldesley | Home | September 16, 1899 | Lancashire Senior Competition |
| Oldham v Runcorn | Home | September 23, 1899 | Lancashire Senior Competition |
| Stockport v Oldham | Away | September 25, 1899 | Lancashire Senior Competition |
| Widnes v Oldham | Away | October 7, 1899 | Lancashire Senior Competition |
| Rochdale Hornets v Oldham | Away | October 14, 1899 | Lancashire Senior Competition |
| Oldham v Stockport | Home | October 17, 1899 | Lancashire Senior Competition |
| Oldham v Salford | Home | October 28, 1899 | Lancashire Senior Competition |
| Swinton v Oldham | Away | November 11, 1899 | Lancashire Senior Competition |
| Oldham v Warrington | Home | November 18, 1899 | Lancashire Senior Competition |
| Wigan v Oldham | Away | November 25, 1899 | Lancashire Senior Competition |
| Oldham v Morecambe | Home | December 2, 1899 | Friendly |
| St Helens v Oldham | Away | December 9, 1899 | Lancashire Senior Competition |
| Broughton Rangers v Oldham | Away | December 23, 1899 | Lancashire Senior Competition |
| Oldham v Rochdale Hornets | Home | December 25, 1899 | Lancashire Senior Competition |
| Oldham v Millom | Home | December 30, 1899 | Lancashire Senior Competition |
| Oldham v Bradford | Home | January 1, 1900 | Friendly |
| Oldham v Leigh | Home | January 6, 1900 | Lancashire Senior Competition |
| Oldham v Widnes | Home | January 13, 1900 | Lancashire Senior Competition |
| Oldham v Wigan | Home | January 20, 1900 | Lancashire Senior Competition |
| Oldham v Swinton | Home | February 3, 1900 | Lancashire Senior Competition |
| Halifax v Oldham | Away | March 24, 1900 | Rugby League Challenge Cup |
| Swinton v Oldham | Away | March 31, 1900 | Rugby League Challenge Cup |
| Hull Kingston Rovers v Oldham | Away | April 7, 1900 | Friendly |
| Oldham v Brighouse Rangers | Home | April 16, 1900 | Friendly |
| Workington v Oldham | Away | September 1, 1900 | Friendly |
| Barrow v Oldham | Away | September 8, 1900 | Lancashire Senior Competition |
| Oldham v Wigan | Home | September 15, 1900 | Lancashire Senior Competition |
| Oldham v Barrow | Home | September 22, 1900 | Lancashire Senior Competition |
| Halifax v Oldham | Away | December 8, 1900 | Friendly |
| St Helens v Oldham | Away | December 15, 1900 | Lancashire Senior Competition |
| Warrington v Oldham | Away | December 22, 1900 | Lancashire Senior Competition |
| Rochdale Hornets v Oldham | Away | December 25, 1900 | Lancashire Senior Competition |
| Oldham v Halifax | Home | January 1, 1901 | Friendly |
| Widnes v Oldham | Away | January 5, 1901 | Lancashire Senior Competition |
| Oldham v Swinton | Home | January 12, 1901 | Lancashire Senior Competition |
| Stockport v Oldham | Away | January 19, 1901 | Lancashire Senior Competition |
| Broughton Rangers v Oldham | Away | January 26, 1901 | Lancashire Senior Competition |
| Oldham v Warrington | Home | February 19, 1901 | Lancashire Senior Competition |
| Oldham v Runcorn | Home | February 23, 1901 | Lancashire Senior Competition |
| Oldham v Swinton | Home | February 25, 1901 | Lancashire Senior Competition |
| Millom v Oldham | Away | April 8, 1901 | Lancashire Senior Competition |
| Leigh v Oldham | Away | September 7, 1901 | Northern RL |
| Batley v Oldham | Away | September 14, 1901 | Northern RL |
| Oldham v Huddersfield | Home | September 21, 1901 | Northern RL |
| Bradford v Oldham | Away | September 28, 1901 | Northern RL |
| Oldham v Brighouse Rangers | Home | October 5, 1901 | Northern RL |
| Oldham v Runcorn | Home | October 12, 1901 | Northern RL |
| Warrington v Oldham | Away | October 19, 1901 | Northern RL |
| Oldham v South Shields | Home | October 26, 1901 | Friendly |
| Rochdale Hornets v Oldham | Away | November 2, 1901 | South East Lancashire League |
| Hull FC v Oldham | Away | November 9, 1901 | Northern RL |
| Huddersfield v Oldham | Away | November 23, 1901 | Northern RL |
| Oldham v Halifax | Home | January 28, 1902 | Northern RL |
| Brighouse Rangers v Oldham | Away | February 11, 1902 | Northern RL |
| Oldham v Batley | Home | February 15, 1902 | Northern RL |
| Oldham v Bradford | Home | February 22, 1902 | Northern RL |
| Oldham v Broughton Rangers | Home | February 25, 1902 | Northern RL |
| Oldham v Swinton | Home | March 1, 1902 | Northern RL |
| Oldham v St Helens | Home | March 29, 1902 | Friendly |
| Stockport v Oldham | Away | March 31, 1902 | South East Lancashire League |
| Hunslet v Oldham | Away | April 14, 1902 | Northern RL |
| Hull FC v Oldham | Away | September 6, 1902 | Division 1 |
| Oldham v Broughton Rangers | Home | September 20, 1902 | Division 1 |
| Hull Kingston Rovers v Oldham | Away | September 27, 1902 | Division 1 |
| Oldham v Hunslet | Home | October 4, 1902 | Division 1 |
| Wigan v Oldham | Away | October 11, 1902 | Division 1 |
| Oldham v Widnes | Home | October 18, 1902 | Division 1 |
| Bradford v Oldham | Away | October 25, 1902 | Division 1 |
| Oldham v Huddersfield | Home | November 1, 1902 | Division 1 |
| Warrington v Oldham | Away | November 8, 1902 | Division 1 |
| Oldham v Brighouse Rangers | Home | November 15, 1902 | Division 1 |
| Oldham v Salford | Home | December 13, 1902 | Division 1 |
| Oldham v Halifax | Home | December 20, 1902 | Division 1 |
| Oldham v Swinton | Home | December 25, 1902 | Division 1 |
| Oldham v Leigh | Home | December 27, 1902 | Division 1 |
| Widnes v Oldham | Away | January 1, 1903 | Division 1 |
| Oldham v Hull FC | Home | January 3, 1903 | Division 1 |
| Broughton Rangers v Oldham | Away | January 17, 1903 | Division 1 |
| Oldham v Hull Kingston Rovers | Home | January 24, 1903 | Division 1 |
| Hunslet v Oldham | Away | January 31, 1903 | Division 1 |
| Batley v Oldham | Away | February 3, 1903 | Division 1 |
| Broughton Rangers v Oldham | Away | February 14, 1903 | Rugby League Challenge Cup |
| Oldham v Wigan | Home | February 21, 1903 | Rugby League Challenge Cup |
| Huddersfield v Oldham | Away | February 28, 1903 | Division 1 |
| Bradford v Oldham | Away | March 7, 1903 | Rugby League Challenge Cup |
| Oldham v Bradford | Home | March 10, 1903 | Division 1 |
| Brighouse Rangers v Oldham | Away | March 14, 1903 | Division 1 |
| Runcorn v Oldham | Away | March 17, 1903 | Division 1 |
| Oldham v Hunslet | Home | March 21, 1903 | Rugby League Challenge Cup |
| Oldham v Warrington | Home | March 24, 1903 | Division 1 |
| Oldham v Runcorn | Home | March 28, 1903 | Division 1 |
| Oldham v St Helens | Home | March 31, 1903 | Division 1 |
| Salford v Oldham | Neutral | April 4, 1903 | Rugby League Challenge Cup |
| Salford v Oldham | Neutral | April 8, 1903 | Rugby League Challenge Cup |
| Salford v Oldham | Away | April 11, 1903 | Division 1 |
| Oldham v Swinton | Home | April 13, 1903 | Division 1 |
| Oldham v Batley | Home | April 14, 1903 | Division 1 |
| Oldham v Hull FC | Home | September 5, 1903 | Division 1 |
| Halifax v Oldham | Away | September 12, 1903 | Division 1 |
| Oldham v Huddersfield | Home | September 19, 1903 | Division 1 |
| Bradford v Oldham | Away | September 26, 1903 | Division 1 |
| Oldham v Wigan | Home | October 3, 1903 | Division 1 |
| Leeds v Oldham | Away | October 10, 1903 | Division 1 |
| Oldham v Runcorn | Home | October 17, 1903 | Division 1 |
| Salford v Oldham | Away | October 24, 1903 | Division 1 |
| Oldham v Leigh | Home | October 31, 1903 | Division 1 |
| Warrington v Oldham | Away | November 7, 1903 | Division 1 |
| Batley v Oldham | Away | November 14, 1903 | Division 1 |
| Keighley v Oldham | Away | November 21, 1903 | Division 1 |
| Oldham v Broughton Rangers | Home | November 28, 1903 | Division 1 |
| Hunslet v Oldham | Away | December 5, 1903 | Division 1 |
| Oldham v Widnes | Home | December 12, 1903 | Division 1 |
| Huddersfield v Oldham | Away | January 16, 1904 | Division 1 |
| Oldham v Leeds | Home | February 6, 1904 | Division 1 |
| Runcorn v Oldham | Away | February 13, 1904 | Division 1 |
| Oldham v Salford | Home | February 20, 1904 | Division 1 |
| Leigh v Oldham | Away | February 27, 1904 | Division 1 |
| Oldham v Warrington | Home | March 5, 1904 | Division 1 |
| Batley v Oldham | Away | March 12, 1904 | Rugby League Challenge Cup |
| Oldham v Swinton | Home | March 19, 1904 | Friendly |
| Broughton Rangers v Oldham | Away | March 26, 1904 | Division 1 |
| Oldham v Swinton | Home | April 4, 1904 | Division 1 |
| Widnes v Oldham | Away | April 9, 1904 | Division 1 |
| Oldham v Keighley | Home | April 12, 1904 | Division 1 |
| Oldham v Hunslet | Home | April 19, 1904 | Division 1 |
| Hull Kingston Rovers v Oldham | Away | April 23, 1904 | Division 1 |
| St Helens v Oldham | Away | September 3, 1904 | Division 1 |
| Hull Kingston Rovers v Oldham | Away | September 10, 1904 | Division 1 |
| Oldham v Widnes | Home | September 10, 1904 | Division 1 |
| Oldham v Batley | Home | September 17, 1904 | Division 1 |
| Hunslet v Oldham | Away | September 24, 1904 | Division 1 |
| Salford v Oldham | Away | October 8, 1904 | Division 1 |
| Oldham v Warrington | Home | October 15, 1904 | Division 1 |
| Wakefield Trinity v Oldham | Away | October 22, 1904 | Division 1 |
| Oldham v Leigh | Home | October 29, 1904 | Division 1 |
| Oldham v Halifax | Home | November 5, 1904 | Division 1 |
| Bradford v Oldham | Away | November 19, 1904 | Division 1 |
| Oldham v Leeds | Home | November 26, 1904 | Division 1 |
| Runcorn v Oldham | Away | December 3, 1904 | Division 1 |
| Oldham v Broughton Rangers | Home | December 10, 1904 | Division 1 |
| Oldham v Wigan | Home | December 17, 1904 | Division 1 |
| Halifax v Oldham | Away | January 2, 1905 | Division 1 |
| Oldham v Hull Kingston Rovers | Home | January 7, 1905 | Division 1 |
| Batley v Oldham | Away | January 14, 1905 | Division 1 |
| Oldham v Hunslet | Home | January 21, 1905 | Division 1 |
| Oldham v Salford | Home | February 4, 1905 | Division 1 |
| Warrington v Oldham | Away | February 11, 1905 | Division 1 |
| Oldham v Wakefield Trinity | Home | February 18, 1905 | Division 1 |
| Leigh v Oldham | Away | February 25, 1905 | Division 1 |
| Oldham v Normanton | Home | March 4, 1905 | Rugby League Challenge Cup |
| Hull FC v Oldham | Away | March 11, 1905 | Division 1 |
| Batley v Oldham | Away | March 18, 1905 | Rugby League Challenge Cup |
| Oldham v Bradford | Home | March 20, 1905 | Division 1 |
| Leeds v Oldham | Away | March 25, 1905 | Division 1 |
| Oldham v Bradford | Home | April 1, 1905 | Rugby League Challenge Cup |
| Bradford v Oldham | | April 5, 1905 | Rugby League Challenge Cup |
| Broughton Rangers v Oldham | Away | April 8, 1905 | Division 1 |
| Wigan v Oldham | Away | April 15, 1905 | Division 1 |
| Oldham v Runcorn | Home | April 22, 1905 | Division 1 |
| Oldham v Hull FC | Home | April 24, 1905 | Division 1 |
| Millom v Oldham | Away | September 1, 1905 | RL Championship |
| Morecambe v Oldham | Away | September 2, 1905 | RL Championship |
| Warrington v Oldham | Away | September 9, 1905 | RL Championship |
| Oldham v Wigan | Home | September 16, 1905 | RL Championship |
| Runcorn v Oldham | Away | September 20, 1905 | RL Championship |
| Salford v Oldham | Away | October 28, 1905 | Lancashire Cup |
| St Helens v Oldham | Away | December 2, 1905 | RL Championship |
| Hull FC v Oldham | Away | December 9, 1905 | RL Championship |
| Swinton v Oldham | Away | December 16, 1905 | RL Championship |
| Oldham v Leeds | Home | December 23, 1905 | RL Championship |
| Oldham v Rochdale Hornets | Home | December 25, 1905 | RL Championship |
| Leeds v Oldham | Away | December 30, 1905 | RL Championship |
| Oldham v Hull FC | Home | January 1, 1906 | RL Championship |
| Oldham v Runcorn | Home | January 2, 1906 | RL Championship |
| Oldham v Swinton | Home | January 6, 1906 | RL Championship |
| Oldham v Leigh | Home | January 13, 1906 | RL Championship |
| Broughton Rangers v Oldham | Away | January 20, 1906 | RL Championship |
| Oldham v St Helens | Home | January 27, 1906 | RL Championship |
| Hull Kingston Rovers v Oldham | Away | February 3, 1906 | RL Championship |
| Oldham v Salford | Home | February 10, 1906 | RL Championship |
| Oldham v Millom | Home | February 12, 1906 | RL Championship |
| Oldham v Dewsbury | Home | February 17, 1906 | RL Championship |
| Halifax v Oldham | Away | February 24, 1906 | RL Championship |
| Oldham v Bradford | Home | March 10, 1906 | RL Championship |
| Oldham v Halifax | Home | March 17, 1906 | Rugby League Challenge Cup |
| Oldham v Halifax | Home | March 24, 1906 | RL Championship |
| Leigh v Oldham | Away | April 4, 1906 | RL Championship |
| Bradford v Oldham | Away | April 7, 1906 | RL Championship |
| Oldham v Hull Kingston Rovers | Home | April 14, 1906 | RL Championship |
| Wigan v Oldham | Away | April 16, 1906 | RL Championship |
| Oldham v Chadderton | Home | April 19, 1906 | Friendly |
| Barrow v Oldham | Away | April 21, 1906 | RL Championship |
| Widnes v Oldham | Away | April 26, 1906 | RL Championship |
| Dewsbury v Oldham | Away | April 28, 1906 | RL Championship |