Jack Keith
Profile
Jack "Rubberlegs" Keith, joined Oldham from junior rugby in Hunslet in 1949. This was at the time when the veteran hooker Edgar Brooks was coming to the end of his career and soon Jack was installed as the first choice Watersheddings "striker".
One of the game's real characters, Jack was never short of self-confidence and would back himself against any opponent. At nearly six feet, he was tall for a hooker, but an excellent ball provider all the same. In loose play he was always a handful, having a good supporting game which brought him over 60 tries. One of his favourite tricks was, when near the opponents line, he would make as if to pass and then swing right round in a circle and crash over for a try.
Apart from being selected for a "Rugby League Xlll" against the 1956 touring Australians, representative honours eluded Jack. Perhaps being a "Tyke" playing in Lancashire did not do his county chances much good. He did, of course, figure strongly in the success of his club, playing in all the finals during the 1950's glory days.
He was transferred to Halifax in January 1960, but still shared a benefit with Ken Jackson and Charlie Winslade in that year.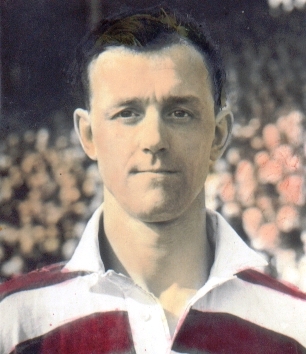 Career Games
| | | | |
| --- | --- | --- | --- |
| Wigan v Oldham | Away | October 15, 1949 | League Championship |
| Oldham v St Helens | Home | October 22, 1949 | League Championship |
| Oldham v Hull Kingston Rovers | Home | November 5, 1949 | League Championship |
| Oldham v Castleford | Home | November 19, 1949 | League Championship |
| Workington Town v Oldham | Away | December 17, 1949 | League Championship |
| Salford v Oldham | Away | December 27, 1949 | League Championship |
| Oldham v Widnes | Home | March 18, 1950 | League Championship |
| Oldham v Bramley | Home | April 1, 1950 | League Championship |
| Oldham v Salford | Home | April 7, 1950 | League Championship |
| Rochdale Hornets v Oldham | Away | April 8, 1950 | League Championship |
| Oldham v Bordeaux & Villeneuve | Home | April 10, 1950 | Friendly |
| Oldham v Workington Town | Home | April 15, 1950 | League Championship |
| Castleford v Oldham | Away | April 19, 1950 | League Championship |
| Featherstone Rovers v Oldham | Away | April 22, 1950 | League Championship |
| Whitehaven v Oldham | Away | April 29, 1950 | League Championship |
| Bramley v Oldham | Away | September 30, 1950 | League Championship |
| Oldham v Salford | Home | October 7, 1950 | League Championship |
| Oldham v Warrington | Home | October 10, 1950 | Lancashire Cup |
| Keighley v Oldham | Away | October 14, 1950 | League Championship |
| Oldham v Leigh | Home | October 21, 1950 | League Championship |
| Wakefield Trinity v Oldham | Away | October 28, 1950 | League Championship |
| Oldham v Batley | Home | November 4, 1950 | League Championship |
| St Helens v Oldham | Away | November 11, 1950 | League Championship |
| Oldham v Keighley | Home | December 2, 1950 | League Championship |
| Liverpool Stanley v Oldham | Away | December 9, 1950 | League Championship |
| Oldham v Swinton | Home | December 25, 1950 | League Championship |
| York v Oldham | Away | December 26, 1950 | League Championship |
| Oldham v Leeds | Home | February 17, 1951 | Rugby League Challenge Cup |
| Rochdale Hornets v Oldham | Away | February 24, 1951 | League Championship |
| Oldham v Liverpool Stanley | Home | March 3, 1951 | League Championship |
| Widnes v Oldham | Away | March 10, 1951 | League Championship |
| Oldham v Workington Town | Home | March 17, 1951 | League Championship |
| Swinton v Oldham | Away | March 23, 1951 | League Championship |
| Oldham v Whitehaven | Home | March 24, 1951 | League Championship |
| Oldham v St Helens | Home | March 26, 1951 | League Championship |
| Oldham v St Helens | Home | April 7, 1951 | League Championship |
| Barrow v Oldham | Away | April 14, 1951 | League Championship |
| Leigh v Oldham | Away | April 16, 1951 | League Championship |
| Oldham v Bramley | Home | April 21, 1951 | League Championship |
| Oldham v Wigan | Home | April 23, 1951 | League Championship |
| Oldham v Rochdale Hornets | Home | April 30, 1951 | League Championship |
| Rochdale Hornets v Oldham | Away | August 11, 1951 | Law Cup |
| Oldham v Bradford Northern | Home | August 18, 1951 | League Championship |
| Belle Vue Rangers v Oldham | Away | August 22, 1951 | League Championship |
| Keighley v Oldham | Away | August 25, 1951 | League Championship |
| Oldham v Liverpool City | Home | August 28, 1951 | League Championship |
| Rochdale Hornets v Oldham | Away | September 1, 1951 | Lancashire Cup |
| Oldham v Rochdale Hornets | Home | September 4, 1951 | Lancashire Cup |
| Wigan v Oldham | Away | September 8, 1951 | League Championship |
| Oldham v Whitehaven | Home | September 10, 1951 | League Championship |
| Oldham v St Helens | Home | September 15, 1951 | League Championship |
| Liverpool City v Oldham | Away | October 13, 1951 | League Championship |
| Oldham v Leigh | Home | October 16, 1951 | Lancashire Cup |
| Workington Town v Oldham | Away | November 10, 1951 | League Championship |
| Oldham v Wigan | Home | November 17, 1951 | League Championship |
| Barrow v Oldham | Away | November 24, 1951 | League Championship |
| Oldham v Barrow | Home | December 1, 1951 | League Championship |
| Halifax v Oldham | Away | December 8, 1951 | League Championship |
| Whitehaven v Oldham | Away | December 15, 1951 | League Championship |
| Oldham v Keighley | Home | December 22, 1951 | League Championship |
| Oldham v Swinton | Home | December 25, 1951 | League Championship |
| Bradford Northern v Oldham | Away | December 29, 1951 | League Championship |
| Oldham v Barrow | Home | January 3, 1952 | League Championship |
| Oldham v Widnes | Home | January 5, 1952 | League Championship |
| Oldham v Salford | Home | January 12, 1952 | League Championship |
| Warrington v Oldham | Away | February 2, 1952 | League Championship |
| Hull FC v Oldham | Away | February 9, 1952 | Rugby League Challenge Cup |
| Oldham v Hull FC | Home | February 16, 1952 | Rugby League Challenge Cup |
| Leeds v Oldham | Away | March 1, 1952 | Rugby League Challenge Cup |
| Bramley v Oldham | Away | March 8, 1952 | League Championship |
| Leigh v Oldham | Away | March 22, 1952 | League Championship |
| St Helens v Oldham | Away | March 29, 1952 | League Championship |
| Rochdale Hornets v Oldham | Away | April 1, 1952 | League Championship |
| Oldham v Belle Vue Rangers | Home | April 5, 1952 | League Championship |
| Swinton v Oldham | Away | April 11, 1952 | League Championship |
| Oldham v Rochdale Hornets | Home | April 12, 1952 | League Championship |
| Oldham v Halifax | Home | April 14, 1952 | League Championship |
| Hull Kingston Rovers v Oldham | Away | April 26, 1952 | League Championship |
| Oldham v RL XIII | Home | May 6, 1952 | Benefit Match |
| Oldham v Rochdale Hornets | Home | August 16, 1952 | Law Cup |
| Oldham v Featherstone Rovers | Home | August 23, 1952 | League Championship |
| Oldham v Swinton | Home | August 30, 1952 | Lancashire Cup |
| Swinton v Oldham | Away | September 3, 1952 | Lancashire Cup |
| Oldham v Leeds | Home | September 6, 1952 | League Championship |
| St Helens v Oldham | Away | September 10, 1952 | League Championship |
| Oldham v Australia | Home | September 15, 1952 | Tour Match |
| Oldham v Wakefield Trinity | Home | September 20, 1952 | League Championship |
| Workington Town v Oldham | Away | September 24, 1952 | Lancashire Cup |
| Leeds v Oldham | Away | September 27, 1952 | League Championship |
| Workington Town v Oldham | Away | October 4, 1952 | League Championship |
| Oldham v Widnes | Home | October 11, 1952 | League Championship |
| Warrington v Oldham | Away | October 18, 1952 | League Championship |
| Oldham v Warrington | Home | October 25, 1952 | League Championship |
| Bradford Northern v Oldham | Away | December 20, 1952 | League Championship |
| Oldham v Swinton | Home | December 25, 1952 | League Championship |
| Liverpool City v Oldham | Away | December 26, 1952 | League Championship |
| Oldham v Wigan | Home | December 27, 1952 | League Championship |
| Wigan v Oldham | Away | January 10, 1953 | League Championship |
| Salford v Oldham | Away | January 17, 1953 | League Championship |
| Oldham v Rochdale Hornets | Home | January 24, 1953 | League Championship |
| Oldham v Bramley | Home | January 31, 1953 | League Championship |
| Oldham v Liverpool City | Home | September 19, 1953 | League Championship |
| Oldham v Dewsbury | Home | October 10, 1953 | League Championship |
| Oldham v Rochdale Hornets | Home | October 24, 1953 | League Championship |
| Dewsbury v Oldham | Away | October 31, 1953 | League Championship |
| Oldham v St Helens | Home | November 7, 1953 | League Championship |
| Oldham v Bramley | Home | November 21, 1953 | League Championship |
| Belle Vue Rangers v Oldham | Away | November 28, 1953 | League Championship |
| Oldham v Barrow | Home | December 5, 1953 | League Championship |
| Oldham v Swinton | Home | December 25, 1953 | League Championship |
| Workington Town v Oldham | Away | December 26, 1953 | League Championship |
| Hull FC v Oldham | Away | January 2, 1954 | League Championship |
| Oldham v Salford | Home | January 9, 1954 | League Championship |
| Oldham v Huddersfield | Home | January 16, 1954 | League Championship |
| Liverpool City v Oldham | Away | January 23, 1954 | League Championship |
| Liverpool City v Oldham | Away | February 6, 1954 | Rugby League Challenge Cup |
| Oldham v Liverpool City | Home | February 13, 1954 | Rugby League Challenge Cup |
| Warrington v Oldham | Away | February 20, 1954 | League Championship |
| Oldham v Leigh | Home | February 27, 1954 | League Championship |
| Oldham v Warrington | Home | March 6, 1954 | Rugby League Challenge Cup |
| Barrow v Oldham | Away | March 13, 1954 | League Championship |
| Oldham v Hull FC | Home | March 20, 1954 | League Championship |
| Oldham v Warrington | Home | April 8, 1954 | League Championship |
| Wigan v Oldham | Away | April 10, 1954 | League Championship |
| Oldham v Whitehaven | Home | April 12, 1954 | League Championship |
| Swinton v Oldham | Away | April 16, 1954 | League Championship |
| Oldham v Belle Vue Rangers | Home | April 17, 1954 | League Championship |
| Rochdale Hornets v Oldham | Away | April 19, 1954 | League Championship |
| Halifax v Oldham | Away | May 15, 1954 | Benefit Match |
| Oldham v Rochdale Hornets | Home | August 7, 1954 | Law Cup |
| Wakefield Trinity v Oldham | Away | August 14, 1954 | League Championship |
| Oldham v Batley | Home | August 21, 1954 | League Championship |
| Salford v Oldham | Away | August 25, 1954 | League Championship |
| St Helens v Oldham | Away | August 28, 1954 | League Championship |
| Barrow v Oldham | Away | September 4, 1954 | League Championship |
| Oldham v Lancs County Amateurs | Home | September 11, 1954 | Lancashire Cup |
| Oldham v Liverpool City | Home | September 14, 1954 | League Championship |
| Batley v Oldham | Away | September 18, 1954 | League Championship |
| Oldham v St Helens | Home | September 20, 1954 | Lancashire Cup |
| Oldham v Wakefield Trinity | Home | September 25, 1954 | League Championship |
| Workington Town v Oldham | Away | September 30, 1954 | Lancashire Cup |
| Blackpool Borough v Oldham | Away | October 2, 1954 | League Championship |
| Oldham v Workington Town | Home | October 9, 1954 | League Championship |
| Rochdale Hornets v Oldham | Away | October 16, 1954 | League Championship |
| Barrow v Oldham | Neutral | October 23, 1954 | Lancashire Cup |
| Liverpool City v Oldham | Away | October 30, 1954 | League Championship |
| Oldham v Blackpool Borough | Home | November 6, 1954 | League Championship |
| Widnes v Oldham | Away | November 13, 1954 | League Championship |
| Oldham v Whitehaven | Home | November 20, 1954 | League Championship |
| Wigan v Oldham | Away | November 27, 1954 | League Championship |
| Whitehaven v Oldham | Away | December 11, 1954 | League Championship |
| Keighley v Oldham | Away | December 18, 1954 | League Championship |
| Oldham v Swinton | Home | December 25, 1954 | League Championship |
| Oldham v Salford | Home | December 28, 1954 | League Championship |
| Oldham v Belle Vue Rangers | Home | January 1, 1955 | League Championship |
| Leigh v Oldham | Away | January 8, 1955 | League Championship |
| Oldham v Warrington | Home | January 15, 1955 | League Championship |
| Workington Town v Oldham | Away | January 22, 1955 | League Championship |
| Oldham v Rochdale Hornets | Home | January 29, 1955 | League Championship |
| Oldham v Barrow | Home | February 5, 1955 | League Championship |
| Oldham v Wigan | Home | February 12, 1955 | Rugby League Challenge Cup |
| Oldham v St Helens | Home | February 19, 1955 | League Championship |
| Leigh v Oldham | Away | March 5, 1955 | Rugby League Challenge Cup |
| Belle Vue Rangers v Oldham | Away | March 12, 1955 | League Championship |
| Warrington v Oldham | Away | March 26, 1955 | League Championship |
| Oldham v Wigan | Home | April 2, 1955 | League Championship |
| Swinton v Oldham | Away | April 8, 1955 | League Championship |
| Hull FC v Oldham | Away | April 9, 1955 | League Championship |
| Oldham v Keighley | Home | April 11, 1955 | League Championship |
| Oldham v Leigh | Home | April 16, 1955 | League Championship |
| Oldham v Hull FC | Home | April 18, 1955 | League Championship |
| Oldham v Leeds | Home | April 23, 1955 | League Championship |
| Warrington v Oldham | Neutral | May 14, 1955 | League Championship |
| Rochdale Hornets v Oldham | Away | August 13, 1955 | Law Cup |
| Oldham v Keighley | Home | August 20, 1955 | Friendly |
| Blackpool Borough v Oldham | Away | August 27, 1955 | Lancashire Cup |
| Rochdale Hornets v Oldham | Away | August 30, 1955 | League Championship |
| Oldham v Hunslet | Home | September 3, 1955 | League Championship |
| Oldham v Leigh | Home | September 7, 1955 | Lancashire Cup |
| Leeds v Oldham | Away | September 10, 1955 | League Championship |
| Oldham v Warrington | Home | September 17, 1955 | League Championship |
| York v Oldham | Away | September 24, 1955 | League Championship |
| Oldham v Featherstone Rovers | Home | October 1, 1955 | League Championship |
| Hunslet v Oldham | Away | October 8, 1955 | League Championship |
| Oldham v Barrow | Home | October 15, 1955 | League Championship |
| Warrington v Oldham | Away | October 22, 1955 | League Championship |
| Oldham v New Zealand | Home | October 29, 1955 | Tour Match |
| Featherstone Rovers v Oldham | Neutral | November 2, 1955 | Independent Television Floodlit Trophy |
| Leigh v Oldham | Away | November 5, 1955 | League Championship |
| Oldham v Liverpool City | Home | November 12, 1955 | League Championship |
| Wigan v Oldham | Away | November 19, 1955 | League Championship |
| Oldham v Widnes | Home | November 26, 1955 | League Championship |
| Liverpool City v Oldham | Away | December 3, 1955 | League Championship |
| Salford v Oldham | Away | December 10, 1955 | League Championship |
| Oldham v Salford | Home | December 17, 1955 | League Championship |
| St Helens v Oldham | Away | December 24, 1955 | League Championship |
| Oldham v Swinton | Home | December 26, 1955 | League Championship |
| Blackpool Borough v Oldham | Away | December 27, 1955 | League Championship |
| Oldham v Whitehaven | Home | December 31, 1955 | League Championship |
| Workington Town v Oldham | Away | January 2, 1956 | League Championship |
| Widnes v Oldham | Away | January 21, 1956 | League Championship |
| Oldham v Rochdale Hornets | Home | January 28, 1956 | League Championship |
| Oldham v Dewsbury | Home | February 11, 1956 | Rugby League Challenge Cup |
| Oldham v Wigan | Home | February 18, 1956 | League Championship |
| Featherstone Rovers v Oldham | Away | February 25, 1956 | League Championship |
| Leeds v Oldham | Away | March 3, 1956 | Rugby League Challenge Cup |
| Oldham v York | Home | March 10, 1956 | League Championship |
| Oldham v Blackpool Borough | Home | March 17, 1956 | League Championship |
| Oldham v Leigh | Home | March 24, 1956 | League Championship |
| Swinton v Oldham | Away | March 30, 1956 | League Championship |
| Oldham v Leeds | Home | March 31, 1956 | League Championship |
| Oldham v Rochdale Hornets | Home | August 11, 1956 | Law Cup |
| Oldham v Bramley | Home | August 18, 1956 | League Championship |
| Halifax v Oldham | Away | August 20, 1956 | League Championship |
| Rochdale Hornets v Oldham | Away | August 25, 1956 | League Championship |
| Oldham v Leigh | Home | August 28, 1956 | League Championship |
| Wigan v Oldham | Away | September 1, 1956 | Lancashire Cup |
| St Helens v Oldham | Away | September 8, 1956 | League Championship |
| Salford v Oldham | Away | September 11, 1956 | Lancashire Cup |
| Oldham v Wakefield Trinity | Home | September 15, 1956 | League Championship |
| Leigh v Oldham | Away | September 19, 1956 | Lancashire Cup |
| Oldham v Barrow | Home | September 22, 1956 | League Championship |
| Liverpool City v Oldham | Away | September 29, 1956 | League Championship |
| Wigan v Oldham | Away | October 6, 1956 | League Championship |
| Leigh v Oldham | Neutral | October 8, 1956 | Rules trial game |
| Oldham v Halifax | Home | October 13, 1956 | League Championship |
| St Helens v Oldham | Neutral | October 20, 1956 | Lancashire Cup |
| Workington Town v Oldham | Away | November 3, 1956 | League Championship |
| Oldham v Australia | Home | November 7, 1956 | Tour Match |
| Keighley v Oldham | Away | November 17, 1956 | League Championship |
| Barrow v Oldham | Away | November 21, 1956 | League Championship |
| Oldham v Blackpool Borough | Home | November 24, 1956 | League Championship |
| Oldham v York | Home | December 1, 1956 | League Championship |
| Oldham v St Helens | Home | December 8, 1956 | League Championship |
| Wakefield Trinity v Oldham | Away | December 15, 1956 | League Championship |
| Warrington v Oldham | Away | December 22, 1956 | League Championship |
| Widnes v Oldham | Away | December 29, 1956 | League Championship |
| Blackpool Borough v Oldham | Away | January 1, 1957 | League Championship |
| Oldham v Hunslet | Home | January 5, 1957 | League Championship |
| Oldham v Salford | Home | January 12, 1957 | League Championship |
| Whitehaven v Oldham | Away | January 19, 1957 | League Championship |
| Oldham v Warrington | Home | January 26, 1957 | League Championship |
| Salford v Oldham | Away | February 2, 1957 | League Championship |
| Workington Town v Oldham | Away | February 9, 1957 | Rugby League Challenge Cup |
| Oldham v Widnes | Home | February 16, 1957 | League Championship |
| Leigh v Oldham | Away | February 23, 1957 | Rugby League Challenge Cup |
| Oldham v Liverpool City | Home | March 2, 1957 | League Championship |
| York v Oldham | Away | March 9, 1957 | League Championship |
| Oldham v Whitehaven | Home | March 16, 1957 | League Championship |
| Bramley v Oldham | Away | March 23, 1957 | League Championship |
| Oldham v Wigan | Home | March 30, 1957 | League Championship |
| Leigh v Oldham | Away | April 4, 1957 | League Championship |
| Oldham v Swinton | Home | April 15, 1957 | League Championship |
| Swinton v Oldham | Away | April 19, 1957 | League Championship |
| Hunslet v Oldham | Away | April 20, 1957 | League Championship |
| Oldham v Rochdale Hornets | Home | April 22, 1957 | League Championship |
| Oldham v Leeds | Home | May 4, 1957 | League Championship |
| Hull FC v Oldham | Neutral | May 18, 1957 | League Championship |
| Rochdale Hornets v Oldham | Away | August 10, 1957 | Law Cup |
| Oldham v Halifax | Home | August 17, 1957 | League Championship |
| Barrow v Oldham | Away | August 22, 1957 | League Championship |
| Wakefield Trinity v Oldham | Away | August 24, 1957 | League Championship |
| Oldham v St Helens | Home | August 26, 1957 | League Championship |
| Halifax v Oldham | Away | September 7, 1957 | League Championship |
| Oldham v Warrington | Home | September 10, 1957 | Lancashire Cup |
| Oldham v Warrington | Home | September 14, 1957 | League Championship |
| Oldham v Leigh | Home | September 21, 1957 | League Championship |
| Workington Town v Oldham | Away | September 28, 1957 | League Championship |
| St Helens v Oldham | Away | October 2, 1957 | Lancashire Cup |
| Rochdale Hornets v Oldham | Away | October 12, 1957 | League Championship |
| Wigan v Oldham | Neutral | October 19, 1957 | Lancashire Cup |
| Blackpool Borough v Oldham | Away | October 26, 1957 | League Championship |
| Oldham v Wakefield Trinity | Home | November 2, 1957 | League Championship |
| Salford v Oldham | Away | November 9, 1957 | League Championship |
| Oldham v Liverpool City | Home | November 16, 1957 | League Championship |
| Leigh v Oldham | Away | November 23, 1957 | League Championship |
| Oldham v Salford | Home | November 30, 1957 | League Championship |
| Hunslet v Oldham | Away | December 7, 1957 | League Championship |
| Liverpool City v Oldham | Away | December 14, 1957 | League Championship |
| Oldham v Whitehaven | Home | December 21, 1957 | League Championship |
| Oldham v Swinton | Home | December 25, 1957 | League Championship |
| Hull FC v Oldham | Away | December 26, 1957 | League Championship |
| Warrington v Oldham | Away | December 28, 1957 | League Championship |
| Oldham v Leeds | Home | January 4, 1958 | League Championship |
| Oldham v Barrow | Home | January 11, 1958 | League Championship |
| Widnes v Oldham | Away | January 18, 1958 | League Championship |
| Wigan v Oldham | Away | February 1, 1958 | League Championship |
| Oldham v Hull Kingston Rovers | Home | February 8, 1958 | Rugby League Challenge Cup |
| St Helens v Oldham | Away | February 15, 1958 | League Championship |
| Blackpool Borough v Oldham | Away | February 22, 1958 | Rugby League Challenge Cup |
| Oldham v Wigan | Home | March 8, 1958 | Rugby League Challenge Cup |
| Whitehaven v Oldham | Away | March 15, 1958 | League Championship |
| Oldham v Widnes | Home | March 25, 1958 | League Championship |
| Oldham v Wigan | Home | April 5, 1958 | League Championship |
| Oldham v Huddersfield | Home | April 7, 1958 | League Championship |
| Oldham v Hunslet | Home | April 12, 1958 | League Championship |
| Oldham v Hull FC | Home | April 16, 1958 | League Championship |
| Leeds v Oldham | Away | April 19, 1958 | League Championship |
| Oldham v Workington Town | Home | April 26, 1958 | League Championship |
| Oldham v Hull FC | Home | May 3, 1958 | League Championship |
| Rochdale Hornets v Oldham | Away | August 9, 1958 | Law Cup |
| Oldham v Halifax | Home | August 16, 1958 | League Championship |
| Blackpool Borough v Oldham | Away | August 19, 1958 | League Championship |
| Wakefield Trinity v Oldham | Away | August 23, 1958 | League Championship |
| Oldham v Whitehaven | Home | August 30, 1958 | Lancashire Cup |
| Oldham v Workington Town | Home | September 2, 1958 | League Championship |
| Halifax v Oldham | Away | September 6, 1958 | League Championship |
| Oldham v Wakefield Trinity | Home | September 13, 1958 | League Championship |
| Oldham v Wigan | Home | September 16, 1958 | Lancashire Cup |
| Rochdale Hornets v Oldham | Away | September 20, 1958 | League Championship |
| Oldham v Blackpool Borough | Home | September 27, 1958 | League Championship |
| Oldham v Widnes | Home | September 30, 1958 | Lancashire Cup |
| Warrington v Oldham | Away | October 4, 1958 | League Championship |
| Oldham v Rochdale Hornets | Home | October 11, 1958 | League Championship |
| Liverpool City v Oldham | Away | October 18, 1958 | League Championship |
| St Helens v Oldham | Neutral | October 25, 1958 | Lancashire Cup |
| Featherstone Rovers v Oldham | Away | November 1, 1958 | League Championship |
| Oldham v Featherstone Rovers | Home | November 8, 1958 | League Championship |
| Salford v Oldham | Away | November 15, 1958 | League Championship |
| Oldham v Leeds | Home | November 22, 1958 | League Championship |
| Wigan v Oldham | Away | November 29, 1958 | League Championship |
| Oldham v Widnes | Home | December 6, 1958 | League Championship |
| Workington Town v Oldham | Away | December 13, 1958 | League Championship |
| Oldham v Wigan | Home | December 20, 1958 | League Championship |
| Oldham v Swinton | Home | December 25, 1958 | League Championship |
| Oldham v Leigh | Home | January 3, 1959 | League Championship |
| Leeds v Oldham | Away | January 31, 1959 | League Championship |
| Oldham v Warrington | Home | February 7, 1959 | League Championship |
| Oldham v St Helens | Home | February 21, 1959 | Rugby League Challenge Cup |
| Hull FC v Oldham | Away | March 14, 1959 | League Championship |
| Oldham v Barrow | Home | March 21, 1959 | League Championship |
| Swinton v Oldham | Away | March 27, 1959 | League Championship |
| Oldham v Hull FC | Home | March 30, 1959 | League Championship |
| Oldham v Liverpool City | Home | April 4, 1959 | League Championship |
| Oldham v Salford | Home | April 7, 1959 | League Championship |
| Widnes v Oldham | Away | April 11, 1959 | League Championship |
| Oldham v Hunslet | Home | April 14, 1959 | League Championship |
| Oldham v Whitehaven | Home | April 18, 1959 | League Championship |
| Barrow v Oldham | Away | April 20, 1959 | League Championship |
| Oldham v St Helens | Home | April 27, 1959 | League Championship |
| St Helens v Oldham | Away | May 2, 1959 | League Championship |
| Dewsbury v Oldham | Away | August 18, 1959 | League Championship |
| Salford v Oldham | Away | August 22, 1959 | League Championship |
| Halifax v Oldham | Away | September 5, 1959 | League Championship |
| Oldham v Halifax | Home | September 8, 1959 | League Championship |
| Oldham v Hunslet | Home | September 12, 1959 | League Championship |
| Oldham v Widnes | Home | September 19, 1959 | League Championship |
| Blackpool Borough v Oldham | Away | September 26, 1959 | League Championship |
| Oldham v Australia | Home | October 3, 1959 | Tour Match |
| Barrow v Oldham | Away | October 10, 1959 | League Championship |
| Oldham v Workington Town | Home | October 17, 1959 | League Championship |
| Warrington v Oldham | Away | October 24, 1959 | League Championship |
| Oldham v Barrow | Home | October 31, 1959 | League Championship |
| Whitehaven v Oldham | Away | November 21, 1959 | League Championship |
| Oldham v Rochdale Hornets | Home | November 28, 1959 | League Championship |