Joe Wilkinson
Profile
Joe Wilkinson was born in Birkenhead, but his family moved to the Oldham area when he was very young and as a consequence all his rugby career was played out in the town. His first association was with the Glodwick Albion team, where his good form was noticed by the more senior Lees F.C., whose fixtures included games against the Oldham second XV. It was after such a match that he was signed by the premier club, making his debut in the team in some friendly games at the end of the 1896-97 season.
Joe was a forward in the days when the members of the pack would follow the play from scrum to mauls and rucks in an endless endeavour of trying to secure the ball for the half backs and threequarters. Not the tallest of players, he played in the reserve team until the abolition of the line-out. After this Joe's powerful running made him a first team regular. He played in the record victory over Goole, in the Challenge Cup, in 1899, but during the game he suffered a badly sprained ankle that ruled him out for the rest of the season, thus causing him to miss out on a Challenge Cup winners medal.
Joe has twice contributed his own little piece of rugby history, once for his club for whom he became the first ever recognised "hooker", after the specialised ball winning position had evolved. This was after the number of players in a side was reduced to thirteen in 1906. However, it was not until January 16th 1909 that an Oldham team sheet included the hooker slot and Joe was the man in said position. Also he was the first person to score a try in Wales, in a league match, when the new Merthyr Tydfil club entertained Oldham in their opening fixture on September 7th, 1907. His early score set Oldham on the way to a 25 – 6 victory. After his retirement, Joe continued to take a keen interest in the club, becoming a life member and was regularly seen cheering on the team from his favourite viewing position near the Watersheddings tunnel.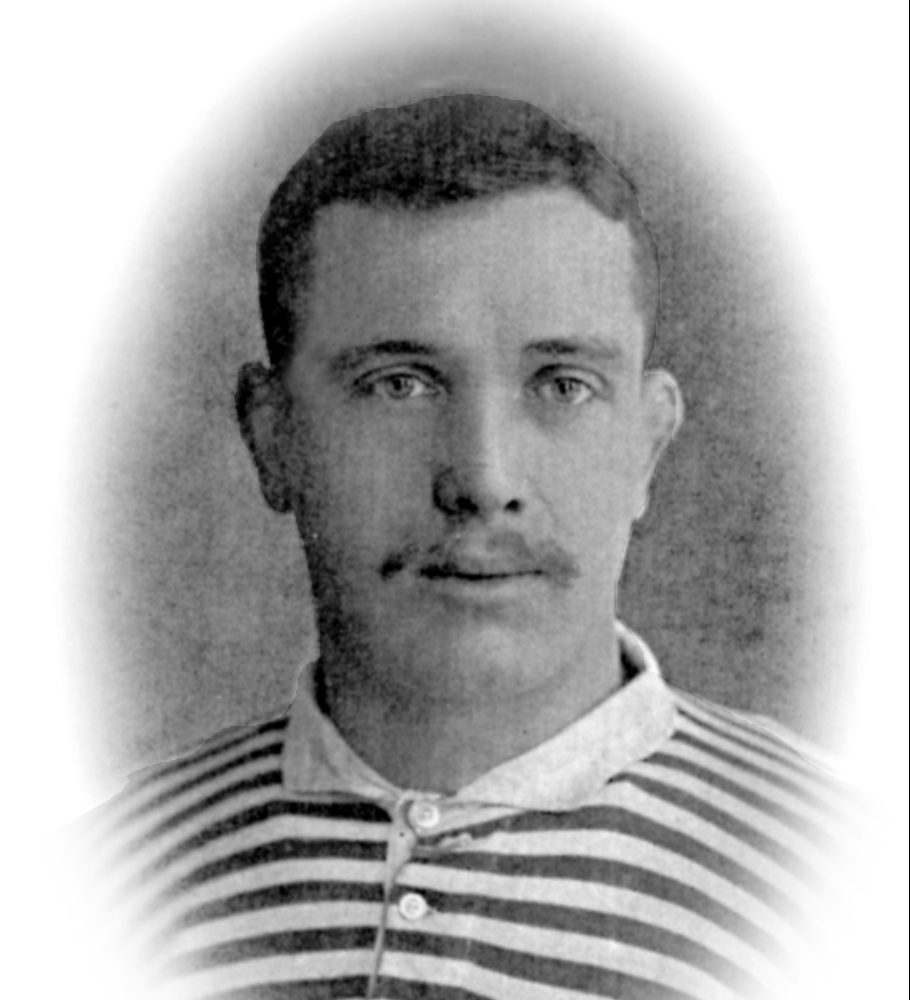 Career Games
| | | | |
| --- | --- | --- | --- |
| St Helens Recs v Oldham | Away | April 17, 1897 | Friendly |
| Oldham v Huddersfield | Home | April 19, 1897 | Friendly |
| Oldham v Halifax | Home | April 26, 1897 | Friendly |
| Oldham v Crompton | Home | April 30, 1897 | Friendly |
| St Helens Recs v Oldham | Away | November 20, 1897 | Friendly |
| Oldham v Halifax | Home | December 4, 1897 | Friendly |
| Oldham v Manningham | Home | January 3, 1898 | Friendly |
| Bradford v Oldham | Away | March 12, 1898 | Friendly |
| Oldham v Elland | Home | December 3, 1898 | Friendly |
| Oldham v Hunslet | Home | January 2, 1899 | Friendly |
| Tyldesley v Oldham | Away | January 14, 1899 | Lancashire Senior Competition |
| Oldham v Leigh | Home | January 21, 1899 | Lancashire Senior Competition |
| Oldham v St Helens | Home | January 28, 1899 | Lancashire Senior Competition |
| Oldham v Salford | Home | February 18, 1899 | Lancashire Senior Competition |
| Widnes v Oldham | Away | February 25, 1899 | Lancashire Senior Competition |
| Runcorn v Oldham | Away | March 4, 1899 | Lancashire Senior Competition |
| Oldham v Wigan | Home | March 11, 1899 | Lancashire Senior Competition |
| Oldham v Goole | Home | March 18, 1899 | Rugby League Challenge Cup |
| Seaton v Oldham | Away | September 30, 1899 | Friendly |
| Oldham v Stockport | Home | October 17, 1899 | Lancashire Senior Competition |
| Oldham v Hunslet | Home | November 4, 1899 | Friendly |
| Swinton v Oldham | Away | November 11, 1899 | Lancashire Senior Competition |
| Oldham v Warrington | Home | November 18, 1899 | Lancashire Senior Competition |
| Oldham v Morecambe | Home | December 2, 1899 | Friendly |
| St Helens v Oldham | Away | December 9, 1899 | Lancashire Senior Competition |
| Broughton Rangers v Oldham | Away | December 23, 1899 | Lancashire Senior Competition |
| Oldham v Rochdale Hornets | Home | December 25, 1899 | Lancashire Senior Competition |
| Oldham v Millom | Home | December 30, 1899 | Lancashire Senior Competition |
| Oldham v Bradford | Home | January 1, 1900 | Friendly |
| Salford v Oldham | Away | January 27, 1900 | Lancashire Senior Competition |
| Oldham v Broughton Rangers | Home | February 17, 1900 | Lancashire Senior Competition |
| Warrington v Oldham | Away | February 21, 1900 | Lancashire Senior Competition |
| Leigh v Oldham | Away | February 24, 1900 | Lancashire Senior Competition |
| Tyldesley v Oldham | Away | February 27, 1900 | Lancashire Senior Competition |
| Oldham v St Helens | Home | March 3, 1900 | Lancashire Senior Competition |
| Runcorn v Oldham | Away | March 10, 1900 | Lancashire Senior Competition |
| Manningham v Oldham | Away | March 17, 1900 | Rugby League Challenge Cup |
| Oldham v Manningham | Home | March 20, 1900 | Rugby League Challenge Cup |
| Halifax v Oldham | Away | March 24, 1900 | Rugby League Challenge Cup |
| Swinton v Oldham | Away | March 31, 1900 | Rugby League Challenge Cup |
| Hull Kingston Rovers v Oldham | Away | April 7, 1900 | Friendly |
| Oldham v Brighouse Rangers | Home | April 16, 1900 | Friendly |
| Workington v Oldham | Away | September 1, 1900 | Friendly |
| Barrow v Oldham | Away | September 8, 1900 | Lancashire Senior Competition |
| Oldham v Wigan | Home | September 15, 1900 | Lancashire Senior Competition |
| Oldham v Barrow | Home | September 22, 1900 | Lancashire Senior Competition |
| Swinton v Oldham | Away | September 29, 1900 | Lancashire Senior Competition |
| Runcorn v Oldham | Away | October 6, 1900 | Lancashire Senior Competition |
| Oldham v St Helens | Home | October 13, 1900 | Lancashire Senior Competition |
| Oldham v Workington | Home | October 20, 1900 | Friendly |
| Oldham v Leigh | Home | October 27, 1900 | Lancashire Senior Competition |
| Birkenhead Wanderers v Oldham | Away | November 3, 1900 | Friendly |
| Salford v Oldham | Away | November 10, 1900 | Lancashire Senior Competition |
| Oldham v Widnes | Home | November 17, 1900 | Lancashire Senior Competition |
| Oldham v Rochdale Hornets | Home | November 24, 1900 | Lancashire Senior Competition |
| Oldham v Millom | Home | December 1, 1900 | Lancashire Senior Competition |
| Halifax v Oldham | Away | December 8, 1900 | Friendly |
| St Helens v Oldham | Away | December 15, 1900 | Lancashire Senior Competition |
| Warrington v Oldham | Away | December 22, 1900 | Lancashire Senior Competition |
| Rochdale Hornets v Oldham | Away | December 25, 1900 | Lancashire Senior Competition |
| Oldham v Broughton Rangers | Home | December 29, 1900 | Lancashire Senior Competition |
| Oldham v Halifax | Home | January 1, 1901 | Friendly |
| Widnes v Oldham | Away | January 5, 1901 | Lancashire Senior Competition |
| Oldham v Swinton | Home | January 12, 1901 | Lancashire Senior Competition |
| Stockport v Oldham | Away | January 19, 1901 | Lancashire Senior Competition |
| Oldham v Stockport | Home | February 9, 1901 | Lancashire Senior Competition |
| Oldham v Warrington | Home | February 19, 1901 | Lancashire Senior Competition |
| Oldham v Runcorn | Home | February 23, 1901 | Lancashire Senior Competition |
| Oldham v Swinton | Home | February 25, 1901 | Lancashire Senior Competition |
| Bramley v Oldham | Away | March 9, 1901 | Rugby League Challenge Cup |
| Wigan v Oldham | Away | March 16, 1901 | Lancashire Senior Competition |
| Broughton Rangers v Oldham | Away | March 23, 1901 | Rugby League Challenge Cup |
| Widnes v Oldham | Away | March 30, 1901 | Rugby League Challenge Cup |
| Leigh v Oldham | Away | April 2, 1901 | Lancashire Senior Competition |
| Oldham v Salford | Home | April 6, 1901 | Lancashire Senior Competition |
| Millom v Oldham | Away | April 8, 1901 | Lancashire Senior Competition |
| Batley v Oldham | Neutral | April 13, 1901 | Rugby League Challenge Cup |
| Oldham v The Rest | Home | April 20, 1901 | Champs v Rest |
| Werneth v Oldham | Away | April 26, 1901 | Friendly |
| Leigh v Oldham | Away | September 7, 1901 | Northern RL |
| Batley v Oldham | Away | September 14, 1901 | Northern RL |
| Oldham v Huddersfield | Home | September 21, 1901 | Northern RL |
| Bradford v Oldham | Away | September 28, 1901 | Northern RL |
| Oldham v Brighouse Rangers | Home | October 5, 1901 | Northern RL |
| Oldham v Runcorn | Home | October 12, 1901 | Northern RL |
| Warrington v Oldham | Away | October 19, 1901 | Northern RL |
| Rochdale Hornets v Oldham | Away | November 2, 1901 | South East Lancashire League |
| Hunslet v Oldham | Away | November 30, 1901 | Northern RL |
| Oldham v Leigh | Home | December 7, 1901 | Northern RL |
| Oldham v Stockport | Home | December 10, 1901 | South East Lancashire League |
| Oldham v Warrington | Home | December 14, 1901 | Northern RL |
| Oldham v Rochdale Hornets | Home | December 25, 1901 | South East Lancashire League |
| Oldham v Hunslet | Home | January 11, 1902 | Northern RL |
| Hull FC v Oldham | Away | September 6, 1902 | Division 1 |
| Swinton v Oldham | Away | September 13, 1902 | Division 1 |
| Oldham v Broughton Rangers | Home | September 20, 1902 | Division 1 |
| Hull Kingston Rovers v Oldham | Away | September 27, 1902 | Division 1 |
| Oldham v Hunslet | Home | October 4, 1902 | Division 1 |
| Oldham v Widnes | Home | October 18, 1902 | Division 1 |
| Bradford v Oldham | Away | October 25, 1902 | Division 1 |
| Oldham v Huddersfield | Home | November 1, 1902 | Division 1 |
| Warrington v Oldham | Away | November 8, 1902 | Division 1 |
| Oldham v Brighouse Rangers | Home | November 15, 1902 | Division 1 |
| St Helens v Oldham | Away | November 22, 1902 | Division 1 |
| Oldham v Salford | Home | December 13, 1902 | Division 1 |
| Oldham v Halifax | Home | December 20, 1902 | Division 1 |
| Oldham v Swinton | Home | December 25, 1902 | Division 1 |
| Oldham v Leigh | Home | December 27, 1902 | Division 1 |
| Widnes v Oldham | Away | January 1, 1903 | Division 1 |
| Oldham v Hull FC | Home | January 3, 1903 | Division 1 |
| Broughton Rangers v Oldham | Away | January 17, 1903 | Division 1 |
| Oldham v Hull Kingston Rovers | Home | January 24, 1903 | Division 1 |
| Hunslet v Oldham | Away | January 31, 1903 | Division 1 |
| Batley v Oldham | Away | February 3, 1903 | Division 1 |
| Oldham v Wigan | Home | February 7, 1903 | Division 1 |
| Broughton Rangers v Oldham | Away | February 14, 1903 | Rugby League Challenge Cup |
| Oldham v Wigan | Home | February 21, 1903 | Rugby League Challenge Cup |
| Huddersfield v Oldham | Away | February 28, 1903 | Division 1 |
| Bradford v Oldham | Away | March 7, 1903 | Rugby League Challenge Cup |
| Runcorn v Oldham | Away | March 17, 1903 | Division 1 |
| Oldham v Hunslet | Home | March 21, 1903 | Rugby League Challenge Cup |
| Oldham v Warrington | Home | March 24, 1903 | Division 1 |
| Oldham v Runcorn | Home | March 28, 1903 | Division 1 |
| Oldham v St Helens | Home | March 31, 1903 | Division 1 |
| Salford v Oldham | Neutral | April 4, 1903 | Rugby League Challenge Cup |
| Salford v Oldham | Neutral | April 8, 1903 | Rugby League Challenge Cup |
| Salford v Oldham | Away | April 11, 1903 | Division 1 |
| Oldham v Swinton | Home | April 13, 1903 | Division 1 |
| Oldham v Batley | Home | April 14, 1903 | Division 1 |
| Halifax v Oldham | Away | April 18, 1903 | Division 1 |
| Leigh v Oldham | Away | April 25, 1903 | Division 1 |
| Halifax v Oldham | Away | September 12, 1903 | Division 1 |
| Oldham v Huddersfield | Home | September 19, 1903 | Division 1 |
| Bradford v Oldham | Away | September 26, 1903 | Division 1 |
| Oldham v Wigan | Home | October 3, 1903 | Division 1 |
| Leeds v Oldham | Away | October 10, 1903 | Division 1 |
| Oldham v Runcorn | Home | October 17, 1903 | Division 1 |
| Salford v Oldham | Away | October 24, 1903 | Division 1 |
| Oldham v Leigh | Home | October 31, 1903 | Division 1 |
| Warrington v Oldham | Away | November 7, 1903 | Division 1 |
| Batley v Oldham | Away | November 14, 1903 | Division 1 |
| Keighley v Oldham | Away | November 21, 1903 | Division 1 |
| Oldham v Broughton Rangers | Home | November 28, 1903 | Division 1 |
| Hunslet v Oldham | Away | December 5, 1903 | Division 1 |
| Oldham v Widnes | Home | December 12, 1903 | Division 1 |
| Swinton v Oldham | Away | December 19, 1903 | Division 1 |
| Oldham v Batley | Home | December 25, 1903 | Division 1 |
| Oldham v Hull Kingston Rovers | Home | December 26, 1903 | Division 1 |
| Hull FC v Oldham | Away | January 2, 1904 | Division 1 |
| Oldham v Halifax | Home | January 9, 1904 | Division 1 |
| Huddersfield v Oldham | Away | January 16, 1904 | Division 1 |
| Oldham v Bradford | Home | January 23, 1904 | Division 1 |
| Wigan v Oldham | Away | January 30, 1904 | Division 1 |
| Oldham v Leeds | Home | February 6, 1904 | Division 1 |
| Runcorn v Oldham | Away | February 13, 1904 | Division 1 |
| Oldham v Salford | Home | February 20, 1904 | Division 1 |
| Leigh v Oldham | Away | February 27, 1904 | Division 1 |
| Oldham v Warrington | Home | March 5, 1904 | Division 1 |
| Batley v Oldham | Away | March 12, 1904 | Rugby League Challenge Cup |
| Oldham v Swinton | Home | March 19, 1904 | Friendly |
| Broughton Rangers v Oldham | Away | March 26, 1904 | Division 1 |
| Oldham v Oldham A | Home | April 2, 1904 | Friendly |
| Oldham v Swinton | Home | April 4, 1904 | Division 1 |
| Widnes v Oldham | Away | April 9, 1904 | Division 1 |
| Oldham v Keighley | Home | April 12, 1904 | Division 1 |
| Oldham v Hunslet | Home | April 19, 1904 | Division 1 |
| Hull Kingston Rovers v Oldham | Away | April 23, 1904 | Division 1 |
| Hull Kingston Rovers v Oldham | Away | September 10, 1904 | Division 1 |
| Oldham v Widnes | Home | September 10, 1904 | Division 1 |
| Oldham v Batley | Home | September 17, 1904 | Division 1 |
| Hunslet v Oldham | Away | September 24, 1904 | Division 1 |
| Salford v Oldham | Away | October 8, 1904 | Division 1 |
| Oldham v Warrington | Home | October 15, 1904 | Division 1 |
| Wakefield Trinity v Oldham | Away | October 22, 1904 | Division 1 |
| Oldham v Leigh | Home | October 29, 1904 | Division 1 |
| Oldham v Halifax | Home | November 5, 1904 | Division 1 |
| Runcorn v Oldham | Away | December 3, 1904 | Division 1 |
| Oldham v Broughton Rangers | Home | December 10, 1904 | Division 1 |
| Oldham v Wigan | Home | December 17, 1904 | Division 1 |
| Swinton v Oldham | Away | December 24, 1904 | Division 1 |
| Oldham v Swinton | Home | December 26, 1904 | Division 1 |
| Oldham v St Helens | Home | December 31, 1904 | Division 1 |
| Halifax v Oldham | Away | January 2, 1905 | Division 1 |
| Oldham v Hunslet | Home | January 21, 1905 | Division 1 |
| Widnes v Oldham | Away | January 28, 1905 | Division 1 |
| Oldham v Salford | Home | February 4, 1905 | Division 1 |
| Oldham v Normanton | Home | March 4, 1905 | Rugby League Challenge Cup |
| Hull FC v Oldham | Away | March 11, 1905 | Division 1 |
| Leeds v Oldham | Away | March 25, 1905 | Division 1 |
| Wigan v Oldham | Away | April 15, 1905 | Division 1 |
| Millom v Oldham | Away | September 1, 1905 | RL Championship |
| Morecambe v Oldham | Away | September 2, 1905 | RL Championship |
| Oldham v Barrow | Home | September 23, 1905 | RL Championship |
| Rochdale Hornets v Oldham | Away | September 30, 1905 | RL Championship |
| Oldham v Morecambe | Home | October 7, 1905 | RL Championship |
| Oldham v Warrington | Home | October 21, 1905 | RL Championship |
| Salford v Oldham | Away | October 28, 1905 | Lancashire Cup |
| Salford v Oldham | Away | November 11, 1905 | RL Championship |
| Oldham v Wigan | Home | November 18, 1905 | Lancashire Cup |
| Oldham v Wakefield Trinity | Home | November 25, 1905 | RL Championship |
| St Helens v Oldham | Away | December 2, 1905 | RL Championship |
| Hull FC v Oldham | Away | December 9, 1905 | RL Championship |
| Oldham v Hull FC | Home | January 1, 1906 | RL Championship |
| Oldham v Millom | Home | February 12, 1906 | RL Championship |
| Halifax v Oldham | Away | February 24, 1906 | RL Championship |
| Pontefract v Oldham | Away | March 3, 1906 | Rugby League Challenge Cup |
| Leigh v Oldham | Away | April 4, 1906 | RL Championship |
| Oldham v Chadderton | Home | April 19, 1906 | Friendly |
| Dewsbury v Oldham | Away | April 28, 1906 | RL Championship |
| Oldham v Wigan | Home | September 8, 1906 | League Championship |
| Oldham v Hull Kingston Rovers | Home | September 15, 1906 | League Championship |
| Swinton v Oldham | Away | September 22, 1906 | League Championship |
| Huddersfield v Oldham | Away | September 24, 1906 | League Championship |
| Oldham v Rochdale Hornets | Home | September 29, 1906 | League Championship |
| Oldham v Huddersfield | Home | October 6, 1906 | League Championship |
| St Helens v Oldham | Away | October 13, 1906 | Lancashire Cup |
| Oldham v Leigh | Home | November 3, 1906 | League Championship |
| Barrow v Oldham | Away | November 5, 1906 | League Championship |
| Oldham v Salford | Home | November 24, 1906 | League Championship |
| Oldham v Salford | Home | December 3, 1906 | League Championship |
| Runcorn v Oldham | Away | December 26, 1906 | League Championship |
| Oldham v Barrow | Home | January 1, 1907 | League Championship |
| Leeds v Oldham | Away | January 5, 1907 | League Championship |
| Salford v Oldham | Away | January 12, 1907 | League Championship |
| Oldham v Warrington | Home | February 4, 1907 | League Championship |
| Oldham v Wakefield Trinity | Home | February 23, 1907 | League Championship |
| Oldham v Bradford | Home | March 2, 1907 | League Championship |
| Oldham v Runcorn | Home | March 16, 1907 | Rugby League Challenge Cup |
| Halifax v Oldham | Away | March 23, 1907 | Rugby League Challenge Cup |
| Wigan v Oldham | Away | April 1, 1907 | League Championship |
| Hull FC v Oldham | Away | April 2, 1907 | League Championship |
| Oldham v Runcorn | Home | April 6, 1907 | League Championship |
| Salford v Oldham | Neutral | April 13, 1907 | Rugby League Challenge Cup |
| Halifax v Oldham | Neutral | April 20, 1907 | League Championship |
| Warrington v Oldham | Neutral | April 27, 1907 | Rugby League Challenge Cup |
| Merthyr Tydfil v Oldham | Away | September 7, 1907 | League Championship |
| Oldham v Wigan | Home | September 14, 1907 | League Championship |
| Oldham v Ebbw Vale | Home | September 21, 1907 | League Championship |
| Huddersfield v Oldham | Away | September 23, 1907 | League Championship |
| Warrington v Oldham | Away | October 5, 1907 | League Championship |
| Oldham v Barrow | Home | October 12, 1907 | Lancashire Cup |
| Oldham v Leigh | Home | October 19, 1907 | League Championship |
| Oldham v Swinton | Home | October 26, 1907 | Lancashire Cup |
| Oldham v Runcorn | Home | November 2, 1907 | League Championship |
| Oldham v St Helens | Home | November 9, 1907 | League Championship |
| Salford v Oldham | Away | November 16, 1907 | Lancashire Cup |
| Oldham v New Zealand | Home | November 23, 1907 | Tour Match |
| Broughton Rangers v Oldham | Neutral | November 30, 1907 | Lancashire Cup |
| Broughton Rangers v Oldham | Away | December 7, 1907 | League Championship |
| Halifax v Oldham | Away | December 9, 1907 | League Championship |
| Oldham v Warrington | Home | December 14, 1907 | League Championship |
| Oldham v Salford | Home | December 21, 1907 | League Championship |
| Oldham v Huddersfield | Home | December 25, 1907 | League Championship |
| Swinton v Oldham | Away | December 26, 1907 | League Championship |
| Leeds v Oldham | Away | January 1, 1908 | League Championship |
| Oldham v Halifax | Home | January 4, 1908 | League Championship |
| Oldham v Widnes | Home | January 11, 1908 | League Championship |
| Barrow v Oldham | Away | January 18, 1908 | League Championship |
| Oldham v Merthyr Tydfil | Home | January 25, 1908 | League Championship |
| Oldham v Broughton Rangers | Home | February 1, 1908 | League Championship |
| Oldham v Rochdale Hornets | Home | February 15, 1908 | League Championship |
| Wigan v Oldham | Away | February 19, 1908 | League Championship |
| Dewsbury v Oldham | Away | February 29, 1908 | Rugby League Challenge Cup |
| Oldham v Leeds | Home | March 7, 1908 | League Championship |
| Hunslet v Oldham | Away | March 14, 1908 | Rugby League Challenge Cup |
| St Helens v Oldham | Away | March 21, 1908 | League Championship |
| Ebbw Vale v Oldham | Away | March 25, 1908 | League Championship |
| Runcorn v Oldham | Away | March 28, 1908 | League Championship |
| Oldham v Barrow | Home | April 4, 1908 | League Championship |
| Widnes v Oldham | Away | April 11, 1908 | League Championship |
| Oldham v Wigan | Home | April 18, 1908 | League Championship |
| Oldham v Oldham Past | Home | April 20, 1908 | Friendly |
| Hunslet v Oldham | Neutral | May 2, 1908 | League Championship |
| Hunslet v Oldham | Neutral | May 9, 1908 | League Championship |
| Rochdale Hornets v Oldham | Away | October 3, 1908 | League Championship |
| Oldham v Leigh | Home | October 10, 1908 | League Championship |
| Hull Kingston Rovers v Oldham | Away | October 17, 1908 | League Championship |
| Oldham v Barrow | Home | October 24, 1908 | League Championship |
| Barry v Oldham | Away | October 31, 1908 | League Championship |
| Oldham v Rochdale Hornets | Home | November 21, 1908 | Lancashire Cup |
| Oldham v Runcorn | Home | December 5, 1908 | Lancashire Cup |
| Leigh v Oldham | Away | December 9, 1908 | League Championship |
| Oldham v Hunslet | Home | December 12, 1908 | League Championship |
| Oldham v Hull Kingston Rovers | Home | December 25, 1908 | League Championship |
| Oldham v Australia | Home | December 26, 1908 | Tour Match |
| Oldham v Barry | Home | January 1, 1909 | League Championship |
| Oldham v Leeds | Home | January 2, 1909 | League Championship |
| Swinton v Oldham | Away | January 4, 1909 | League Championship |
| Oldham v Halifax | Home | January 16, 1909 | League Championship |
| Oldham v Rochdale Hornets | Home | January 23, 1909 | League Championship |
| Wigan v Oldham | Away | January 30, 1909 | League Championship |
| Oldham v Widnes | Home | February 6, 1909 | League Championship |
| Halifax v Oldham | Away | February 13, 1909 | League Championship |
| Oldham v Warrington | Home | February 20, 1909 | League Championship |
| Oldham v Hull Kingston Rovers | Home | February 27, 1909 | Rugby League Challenge Cup |
| Oldham v St Helens | Home | March 6, 1909 | League Championship |
| Swinton v Oldham | Away | March 13, 1909 | Rugby League Challenge Cup |
| Oldham v Swinton | Home | March 16, 1909 | Rugby League Challenge Cup |
| Oldham v Wigan | Home | March 20, 1909 | League Championship |
| Oldham v Runcorn | Home | April 3, 1909 | League Championship |
| Ebbw Vale v Oldham | Away | October 4, 1909 | League Championship |