Billy Mitchell
Profile
Billy Mitchell joined Oldham from the local St Mary's club originally as an amateur due to the fact that he was still only fifteen. On reaching his sixteenth birthday he duly signed professional forms, which began a seventeen year association with the club for this skilful centre.
Billy was held in high regard by the Oldham fans and his fellow professionals, so much so that when Terry O'Grady was selected for the 1954 tour to Australia and New Zealand, he made a point of saying how much Billy had helped to further his career. More praise came from ex Oldham wingman, Joe Warham who, when asked which was the best centre he had ever partnered, without hesitation replied, "Billy Mitchell, he was a real winger's centre".
After his debut at Widnes in 1938, he soon established himself in the first team and, but for the disruption of the Second World War, his already impressive total of over 300 games for the club would have been many more. It is interesting to note that when Billy first broke into the Oldham first team, his team mates included such old time favourites as Jack Read, Fred Ashworth and Ray Smith and by the time he played his last match against Salford on December 28th, 1954, the 1950's wonder team was well on the way with Ganley, Davies, Jackson, Winslade etc.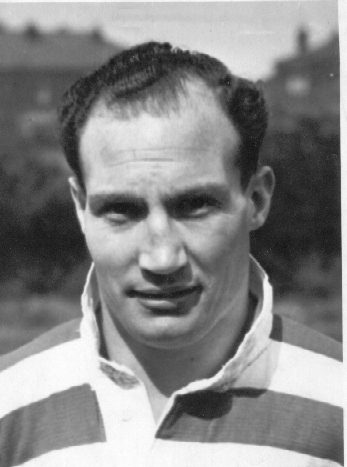 Career Games
| | | | |
| --- | --- | --- | --- |
| Widnes v Oldham | Away | December 10, 1938 | League Championship |
| Broughton Rangers v Oldham | Away | December 24, 1938 | League Championship |
| Oldham v Rochdale Hornets | Home | December 29, 1938 | League Championship |
| Batley v Oldham | Away | December 31, 1938 | League Championship |
| Oldham v Batley | Home | January 2, 1939 | League Championship |
| Castleford v Oldham | Away | January 7, 1939 | League Championship |
| Oldham v Keighley | Home | January 14, 1939 | League Championship |
| Leigh v Oldham | Away | February 25, 1939 | League Championship |
| Warrington v Oldham | Away | April 29, 1939 | League Championship |
| Oldham v Rochdale Hornets | Home | September 16, 1939 | Friendly |
| Oldham v Salford | Home | September 30, 1939 | Lancashire League |
| Barrow v Oldham | Away | October 7, 1939 | Lancashire League |
| Oldham v Wigan | Home | October 14, 1939 | Lancashire League |
| Liverpool Stanley v Oldham | Away | October 21, 1939 | Lancashire League |
| Oldham v Broughton Rangers | Home | October 28, 1939 | Lancashire League |
| Salford v Oldham | Away | November 4, 1939 | Lancashire League |
| Leigh v Oldham | Away | November 11, 1939 | Lancashire League |
| Oldham v St Helens | Home | November 18, 1939 | Lancashire League |
| Widnes v Oldham | Away | November 25, 1939 | Lancashire League |
| Oldham v Leigh | Home | December 2, 1939 | Lancashire League |
| Oldham v Swinton | Home | December 25, 1939 | Lancashire League |
| Oldham v Liverpool Stanley | Home | December 26, 1939 | Lancashire League |
| Wigan v Oldham | Away | February 24, 1940 | Lancashire League |
| Oldham v Rochdale Hornets | Home | March 2, 1940 | Lancashire Cup |
| Rochdale Hornets v Oldham | Away | March 9, 1940 | Lancashire Cup |
| Oldham v Warrington | Home | March 16, 1940 | Lancashire League |
| Swinton v Oldham | Away | March 22, 1940 | Lancashire League |
| Oldham v Rochdale Hornets | Home | March 23, 1940 | Lancashire League |
| Warrington v Oldham | Away | March 25, 1940 | Lancashire League |
| Halifax v Oldham | Away | March 30, 1940 | Friendly |
| Wigan v Oldham | Away | April 6, 1940 | Friendly |
| Oldham v Hunslet | Home | April 13, 1940 | Friendly |
| Warrington v Oldham | Away | April 20, 1940 | Friendly |
| Oldham v Salford | Home | April 27, 1940 | Friendly |
| St Helens v Oldham | Away | May 4, 1940 | Lancashire League |
| Oldham v Widnes | Home | May 11, 1940 | Lancashire League |
| Oldham v Leeds | Home | May 18, 1940 | Friendly |
| Oldham v Huddersfield | Home | June 1, 1940 | Friendly |
| Liverpool Stanley v Oldham | Away | September 14, 1940 | Lancashire League |
| Oldham v Wigan | Home | September 21, 1940 | Lancashire League |
| Oldham v St Helens | Home | September 28, 1940 | Lancashire League |
| Oldham v Leigh | Home | March 8, 1941 | Friendly |
| Wakefield Trinity v Oldham | Away | March 15, 1941 | Yorkshire Cup |
| Oldham v Halifax | Home | April 5, 1941 | Friendly |
| Oldham v Dewsbury | Home | April 12, 1941 | Rugby League Challenge Cup |
| Huddersfield v Oldham | Away | August 23, 1941 | Friendly |
| Halifax v Oldham | Away | September 6, 1941 | War Emergency League |
| Wakefield Trinity v Oldham | Away | September 13, 1941 | War Emergency League |
| Oldham v Bradford Northern | Home | September 20, 1941 | War Emergency League |
| Oldham v Castleford | Home | September 27, 1941 | War Emergency League |
| Hull FC v Oldham | Away | October 4, 1941 | War Emergency League |
| Keighley v Oldham | Away | October 11, 1941 | War Emergency League |
| Oldham v Hull FC | Home | October 18, 1941 | War Emergency League |
| York v Oldham | Away | October 22, 1941 | Yorkshire Cup |
| Oldham v York | Home | November 1, 1941 | Yorkshire Cup |
| Oldham v Bradford Northern | Home | November 8, 1941 | Yorkshire Cup |
| Bradford Northern v Oldham | Away | November 15, 1941 | Yorkshire Cup |
| Batley v Oldham | Away | November 22, 1941 | War Emergency League |
| Featherstone Rovers v Oldham | Away | December 6, 1941 | War Emergency League |
| Oldham v Wakefield Trinity | Home | December 13, 1941 | War Emergency League |
| Hunslet v Oldham | Away | December 20, 1941 | War Emergency League |
| Oldham v Halifax | Home | December 27, 1941 | War Emergency League |
| Oldham v St Helens | Home | March 21, 1942 | War Emergency League |
| Huddersfield v Oldham | Away | March 28, 1942 | War Emergency League |
| Oldham v Wigan | Home | April 4, 1942 | War Emergency League |
| Oldham v Leeds | Home | April 18, 1942 | War Emergency League |
| Oldham v Castleford | Home | April 25, 1942 | Rugby League Challenge Cup |
| Castleford v Oldham | Away | May 2, 1942 | Rugby League Challenge Cup |
| Oldham v Hunslet | Home | May 9, 1942 | Rugby League Challenge Cup |
| Hunslet v Oldham | Away | May 16, 1942 | Rugby League Challenge Cup |
| Leeds v Oldham | Away | May 23, 1942 | Rugby League Challenge Cup |
| Oldham v Leeds | Home | May 30, 1942 | Rugby League Challenge Cup |
| Oldham v Halifax | Home | October 24, 1942 | Yorkshire Cup |
| Oldham v Huddersfield | Home | January 23, 1943 | War Emergency League |
| Oldham v Keighley | Home | February 6, 1943 | War Emergency League |
| Keighley v Oldham | Away | February 13, 1943 | War Emergency League |
| St Helens v Oldham | Away | March 6, 1943 | War Emergency League |
| Oldham v St Helens | Home | March 27, 1943 | Rugby League Challenge Cup |
| St Helens v Oldham | Away | April 3, 1943 | Rugby League Challenge Cup |
| Oldham v Dewsbury | Home | April 10, 1943 | Rugby League Challenge Cup |
| Wigan v Oldham | Away | September 25, 1943 | War Emergency League |
| Warrington v Oldham | Away | November 17, 1945 | League Championship |
| Oldham v Salford | Home | March 22, 1947 | League Championship |
| Oldham v Hull FC | Home | March 29, 1947 | League Championship |
| Swinton v Oldham | Away | April 4, 1947 | League Championship |
| Keighley v Oldham | Away | April 5, 1947 | League Championship |
| Oldham v Barrow | Home | April 7, 1947 | League Championship |
| St Helens v Oldham | Away | April 12, 1947 | League Championship |
| Featherstone Rovers v Oldham | Away | April 19, 1947 | League Championship |
| Oldham v Jim Sullivans Team | Home | April 22, 1947 | Benefit Match |
| Oldham v Halifax | Home | April 26, 1947 | League Championship |
| Rochdale Hornets v Oldham | Away | May 10, 1947 | League Championship |
| Oldham v Leigh | Home | May 17, 1947 | League Championship |
| Belle Vue Rangers v Oldham | Away | May 24, 1947 | League Championship |
| Oldham v Belle Vue Rangers | Home | May 30, 1947 | League Championship |
| Oldham v Liverpool Stanley | Home | June 3, 1947 | League Championship |
| Oldham v Oldham Athletic Afc | Home | June 5, 1947 | Friendly |
| Oldham v Warrington | Home | August 23, 1947 | League Championship |
| Liverpool Stanley v Oldham | Away | August 30, 1947 | Lancashire Cup |
| Oldham v Salford | Home | September 15, 1947 | League Championship |
| Oldham v Widnes | Home | September 20, 1947 | League Championship |
| Oldham v Halifax | Home | September 27, 1947 | League Championship |
| Wigan v Oldham | Away | October 4, 1947 | League Championship |
| Oldham v Barrow | Home | October 11, 1947 | League Championship |
| Castleford v Oldham | Away | October 18, 1947 | League Championship |
| Widnes v Oldham | Away | November 8, 1947 | League Championship |
| Oldham v Castleford | Home | November 23, 1947 | League Championship |
| Workington Town v Oldham | Away | December 6, 1947 | League Championship |
| Wakefield Trinity v Oldham | Away | December 20, 1947 | League Championship |
| Oldham v Swinton | Home | December 25, 1947 | League Championship |
| Salford v Oldham | Away | December 26, 1947 | League Championship |
| Belle Vue Rangers v Oldham | Away | December 27, 1947 | League Championship |
| Oldham v Rochdale Hornets | Home | January 1, 1948 | League Championship |
| Liverpool Stanley v Oldham | Away | January 3, 1948 | League Championship |
| Oldham v Wigan | Home | January 10, 1948 | League Championship |
| Barrow v Oldham | Away | January 17, 1948 | League Championship |
| Leeds v Oldham | Away | January 24, 1948 | League Championship |
| Hull Kingston Rovers v Oldham | Away | February 7, 1948 | Rugby League Challenge Cup |
| Oldham v Hull Kingston Rovers | Home | February 14, 1948 | Rugby League Challenge Cup |
| Oldham v St Helens | Home | February 28, 1948 | Rugby League Challenge Cup |
| Oldham v Leigh | Home | March 6, 1948 | League Championship |
| Oldham v St Helens | Home | March 20, 1948 | League Championship |
| Swinton v Oldham | Away | March 26, 1948 | League Championship |
| Rochdale Hornets v Oldham | Away | March 27, 1948 | League Championship |
| Warrington v Oldham | Away | April 17, 1948 | League Championship |
| Oldham v St Helens | Home | August 28, 1948 | League Championship |
| Salford v Oldham | Away | September 11, 1948 | League Championship |
| Warrington v Oldham | Away | September 28, 1948 | Lancashire Cup |
| Oldham v Warrington | Home | October 2, 1948 | League Championship |
| Oldham v Wakefield Trinity | Home | October 9, 1948 | League Championship |
| Wakefield Trinity v Oldham | Away | October 16, 1948 | League Championship |
| Oldham v Leigh | Home | October 23, 1948 | League Championship |
| Batley v Oldham | Away | November 6, 1948 | League Championship |
| Oldham v Halifax | Home | November 13, 1948 | League Championship |
| Oldham v Castleford | Home | November 20, 1948 | League Championship |
| St Helens v Oldham | Away | November 27, 1948 | League Championship |
| Oldham v Australia | Home | December 4, 1948 | Tour Match |
| Oldham v Wigan | Home | December 11, 1948 | League Championship |
| Oldham v Barrow | Home | January 22, 1949 | League Championship |
| Liverpool Stanley v Oldham | Away | January 29, 1949 | League Championship |
| Wigan v Oldham | Away | February 5, 1949 | League Championship |
| Oldham v Broughton Moor | Home | February 12, 1949 | Rugby League Challenge Cup |
| Broughton Moor v Oldham | Away | February 19, 1949 | Rugby League Challenge Cup |
| York v Oldham | Away | March 5, 1949 | Rugby League Challenge Cup |
| Oldham v Workington Town | Home | March 12, 1949 | League Championship |
| Oldham v Halifax | Home | March 19, 1949 | Rugby League Challenge Cup |
| Oldham v Keighley | Home | March 26, 1949 | League Championship |
| Oldham v Halifax | Home | April 11, 1949 | League Championship |
| Hull Kingston Rovers v Oldham | Away | April 23, 1949 | League Championship |
| Workington Town v Oldham | Away | April 30, 1949 | League Championship |
| Oldham v Invitation XIII | Home | May 4, 1949 | Benefit Match |
| Oldham v Oldham Athletic Afc | Home | May 9, 1949 | Charity Match |
| Wigan v Oldham | Away | August 27, 1949 | Lancashire Cup |
| Wigan v Oldham | Away | October 15, 1949 | League Championship |
| Oldham v St Helens | Home | October 22, 1949 | League Championship |
| Oldham v Hull Kingston Rovers | Home | November 5, 1949 | League Championship |
| Oldham v Castleford | Home | November 19, 1949 | League Championship |
| Widnes v Oldham | Away | November 26, 1949 | League Championship |
| Oldham v Warrington | Home | December 3, 1949 | League Championship |
| Oldham v Barrow | Home | December 10, 1949 | League Championship |
| Workington Town v Oldham | Away | December 17, 1949 | League Championship |
| Oldham v Liverpool Stanley | Home | December 24, 1949 | League Championship |
| Hunslet v Oldham | Away | December 26, 1949 | League Championship |
| Salford v Oldham | Away | December 27, 1949 | League Championship |
| Belle Vue Rangers v Oldham | Away | December 31, 1949 | League Championship |
| Oldham v Rochdale Hornets | Home | January 2, 1950 | League Championship |
| Oldham v Wigan | Home | January 7, 1950 | League Championship |
| Oldham v Swinton | Home | January 14, 1950 | League Championship |
| Barrow v Oldham | Away | January 21, 1950 | League Championship |
| Oldham v Bradford Northern | Home | February 4, 1950 | Rugby League Challenge Cup |
| Bradford Northern v Oldham | Away | February 11, 1950 | Rugby League Challenge Cup |
| Oldham v Whitehaven | Home | February 18, 1950 | League Championship |
| Oldham v Belle Vue Rangers | Home | March 4, 1950 | League Championship |
| Swinton v Oldham | Away | March 11, 1950 | League Championship |
| Oldham v Widnes | Home | March 18, 1950 | League Championship |
| Oldham v Castleford | Home | March 25, 1950 | League Championship |
| Oldham v Bramley | Home | April 1, 1950 | League Championship |
| Oldham v Salford | Home | April 7, 1950 | League Championship |
| Rochdale Hornets v Oldham | Away | April 8, 1950 | League Championship |
| Oldham v Bordeaux & Villeneuve | Home | April 10, 1950 | Friendly |
| Castleford v Oldham | Away | April 19, 1950 | League Championship |
| Featherstone Rovers v Oldham | Away | April 22, 1950 | League Championship |
| Whitehaven v Oldham | Away | April 29, 1950 | League Championship |
| Oldham v Rochdale Hornets | Home | August 12, 1950 | Law Cup |
| Whitehaven v Oldham | Away | August 19, 1950 | League Championship |
| Oldham v Warrington | Home | August 21, 1950 | League Championship |
| Oldham v York | Home | August 26, 1950 | League Championship |
| Belle Vue Rangers v Oldham | Away | August 30, 1950 | League Championship |
| Oldham v Rochdale Hornets | Home | September 2, 1950 | Lancashire Cup |
| Oldham v Wakefield Trinity | Home | September 9, 1950 | League Championship |
| Rochdale Hornets v Oldham | Away | September 12, 1950 | Lancashire Cup |
| Oldham v Barrow | Home | September 23, 1950 | League Championship |
| Workington Town v Oldham | Away | September 25, 1950 | Lancashire Cup |
| Bramley v Oldham | Away | September 30, 1950 | League Championship |
| Oldham v Salford | Home | October 7, 1950 | League Championship |
| Oldham v Warrington | Home | October 10, 1950 | Lancashire Cup |
| Keighley v Oldham | Away | October 14, 1950 | League Championship |
| Oldham v Leigh | Home | October 21, 1950 | League Championship |
| Wakefield Trinity v Oldham | Away | October 28, 1950 | League Championship |
| Salford v Oldham | Away | November 25, 1950 | League Championship |
| Oldham v Keighley | Home | December 2, 1950 | League Championship |
| Liverpool Stanley v Oldham | Away | December 9, 1950 | League Championship |
| Oldham v Swinton | Home | December 25, 1950 | League Championship |
| York v Oldham | Away | December 26, 1950 | League Championship |
| Warrington v Oldham | Away | January 6, 1951 | League Championship |
| Oldham v Belle Vue Rangers | Home | January 20, 1951 | League Championship |
| Leeds v Oldham | Away | February 10, 1951 | Rugby League Challenge Cup |
| Oldham v Leeds | Home | February 17, 1951 | Rugby League Challenge Cup |
| Rochdale Hornets v Oldham | Away | February 24, 1951 | League Championship |
| Oldham v Workington Town | Home | March 17, 1951 | League Championship |
| Barrow v Oldham | Away | April 14, 1951 | League Championship |
| Leigh v Oldham | Away | April 16, 1951 | League Championship |
| Oldham v Bramley | Home | April 21, 1951 | League Championship |
| Oldham v Wigan | Home | April 23, 1951 | League Championship |
| Oldham v Rochdale Hornets | Home | April 30, 1951 | League Championship |
| Oldham v Halifax | Home | May 8, 1951 | Benefit Match |
| Rochdale Hornets v Oldham | Away | August 11, 1951 | Law Cup |
| Keighley v Oldham | Away | August 25, 1951 | League Championship |
| Oldham v Liverpool City | Home | August 28, 1951 | League Championship |
| Rochdale Hornets v Oldham | Away | September 1, 1951 | Lancashire Cup |
| Oldham v Rochdale Hornets | Home | September 4, 1951 | Lancashire Cup |
| Oldham v St Helens | Home | September 15, 1951 | League Championship |
| Widnes v Oldham | Away | September 22, 1951 | League Championship |
| Oldham v Widnes | Home | September 24, 1951 | Lancashire Cup |
| Oldham v New Zealand | Home | September 29, 1951 | Tour Match |
| Oldham v Warrington | Home | October 6, 1951 | League Championship |
| Liverpool City v Oldham | Away | October 13, 1951 | League Championship |
| Oldham v Leigh | Home | October 16, 1951 | Lancashire Cup |
| Oldham v Leigh | Home | October 20, 1951 | League Championship |
| Salford v Oldham | Away | October 27, 1951 | League Championship |
| Workington Town v Oldham | Away | November 10, 1951 | League Championship |
| Oldham v Wigan | Home | November 17, 1951 | League Championship |
| Barrow v Oldham | Away | November 24, 1951 | League Championship |
| Oldham v Barrow | Home | December 1, 1951 | League Championship |
| Halifax v Oldham | Away | December 8, 1951 | League Championship |
| Whitehaven v Oldham | Away | December 15, 1951 | League Championship |
| Oldham v Swinton | Home | December 25, 1951 | League Championship |
| Oldham v Workington Town | Home | December 26, 1951 | League Championship |
| Bradford Northern v Oldham | Away | December 29, 1951 | League Championship |
| Oldham v Barrow | Home | January 3, 1952 | League Championship |
| Oldham v Widnes | Home | January 5, 1952 | League Championship |
| Warrington v Oldham | Away | February 2, 1952 | League Championship |
| Hull FC v Oldham | Away | February 9, 1952 | Rugby League Challenge Cup |
| Oldham v Hull FC | Home | February 16, 1952 | Rugby League Challenge Cup |
| Oldham v Hull Kingston Rovers | Home | February 23, 1952 | League Championship |
| Leeds v Oldham | Away | March 1, 1952 | Rugby League Challenge Cup |
| Bramley v Oldham | Away | March 8, 1952 | League Championship |
| Leigh v Oldham | Away | March 22, 1952 | League Championship |
| St Helens v Oldham | Away | March 29, 1952 | League Championship |
| Rochdale Hornets v Oldham | Away | April 1, 1952 | League Championship |
| Oldham v Belle Vue Rangers | Home | April 5, 1952 | League Championship |
| Swinton v Oldham | Away | April 11, 1952 | League Championship |
| Oldham v Rochdale Hornets | Home | April 12, 1952 | League Championship |
| Oldham v Halifax | Home | April 14, 1952 | League Championship |
| Hull Kingston Rovers v Oldham | Away | April 26, 1952 | League Championship |
| Oldham v RL XIII | Home | May 6, 1952 | Benefit Match |
| Oldham v Rochdale Hornets | Home | August 16, 1952 | Law Cup |
| Oldham v Featherstone Rovers | Home | August 23, 1952 | League Championship |
| Oldham v Swinton | Home | August 30, 1952 | Lancashire Cup |
| Oldham v Leeds | Home | September 6, 1952 | League Championship |
| St Helens v Oldham | Away | September 10, 1952 | League Championship |
| Barrow v Oldham | Away | September 13, 1952 | League Championship |
| Oldham v Australia | Home | September 15, 1952 | Tour Match |
| Oldham v Wakefield Trinity | Home | September 20, 1952 | League Championship |
| Workington Town v Oldham | Away | September 24, 1952 | Lancashire Cup |
| Leeds v Oldham | Away | September 27, 1952 | League Championship |
| Workington Town v Oldham | Away | October 4, 1952 | League Championship |
| Warrington v Oldham | Away | October 18, 1952 | League Championship |
| Oldham v Warrington | Home | October 25, 1952 | League Championship |
| Bramley v Oldham | Away | November 1, 1952 | League Championship |
| Oldham v Leigh | Home | November 8, 1952 | League Championship |
| Wakefield Trinity v Oldham | Away | November 15, 1952 | League Championship |
| Oldham v Salford | Home | November 22, 1952 | League Championship |
| Oldham v Belle Vue Rangers | Home | December 6, 1952 | League Championship |
| Bradford Northern v Oldham | Away | December 20, 1952 | League Championship |
| Oldham v Swinton | Home | December 25, 1952 | League Championship |
| Liverpool City v Oldham | Away | December 26, 1952 | League Championship |
| Oldham v Wigan | Home | December 27, 1952 | League Championship |
| Wigan v Oldham | Away | January 10, 1953 | League Championship |
| Salford v Oldham | Away | January 17, 1953 | League Championship |
| Oldham v Bramley | Home | January 31, 1953 | League Championship |
| St Helens v Oldham | Away | February 7, 1953 | Rugby League Challenge Cup |
| Oldham v St Helens | Home | February 14, 1953 | Rugby League Challenge Cup |
| Rochdale Hornets v Oldham | Away | February 21, 1953 | League Championship |
| Whitehaven v Oldham | Away | February 28, 1953 | League Championship |
| Oldham v Bradford Northern | Home | March 7, 1953 | League Championship |
| Widnes v Oldham | Away | March 14, 1953 | League Championship |
| Oldham v Workington Town | Home | March 21, 1953 | League Championship |
| Featherstone Rovers v Oldham | Away | March 28, 1953 | League Championship |
| Swinton v Oldham | Away | April 3, 1953 | League Championship |
| Belle Vue Rangers v Oldham | Away | April 4, 1953 | League Championship |
| Oldham v Whitehaven | Home | April 6, 1953 | League Championship |
| Oldham v Liverpool City | Home | April 11, 1953 | League Championship |
| Oldham v St Helens | Home | April 18, 1953 | League Championship |
| Leigh v Oldham | Away | April 22, 1953 | League Championship |
| Oldham v Huddersfield | Home | May 16, 1953 | Benefit Match |
| Rochdale Hornets v Oldham | Away | August 8, 1953 | Law Cup |
| Oldham v Wigan | Home | August 15, 1953 | League Championship |
| Huddersfield v Oldham | Away | August 22, 1953 | League Championship |
| Bramley v Oldham | Away | August 26, 1953 | League Championship |
| Oldham v Leeds | Home | August 29, 1953 | League Championship |
| Widnes v Oldham | Away | September 2, 1953 | League Championship |
| Whitehaven v Oldham | Away | September 5, 1953 | Lancashire Cup |
| Oldham v Whitehaven | Home | September 7, 1953 | Lancashire Cup |
| Leigh v Oldham | Away | September 12, 1953 | League Championship |
| Oldham v Liverpool City | Home | September 19, 1953 | League Championship |
| Warrington v Oldham | Away | September 24, 1953 | Lancashire Cup |
| Leeds v Oldham | Away | September 26, 1953 | League Championship |
| Oldham v Dewsbury | Home | October 10, 1953 | League Championship |
| Oldham v Rochdale Hornets | Home | October 24, 1953 | League Championship |
| Dewsbury v Oldham | Away | October 31, 1953 | League Championship |
| Oldham v St Helens | Home | November 7, 1953 | League Championship |
| Whitehaven v Oldham | Away | November 14, 1953 | League Championship |
| St Helens v Oldham | Away | December 12, 1953 | League Championship |
| Oldham v Workington Town | Home | December 19, 1953 | League Championship |
| Oldham v Swinton | Home | December 25, 1953 | League Championship |
| Workington Town v Oldham | Away | December 26, 1953 | League Championship |
| Hull FC v Oldham | Away | January 2, 1954 | League Championship |
| Oldham v Salford | Home | January 9, 1954 | League Championship |
| Oldham v Hull FC | Home | March 20, 1954 | League Championship |
| Leigh v Oldham | Neutral | April 3, 1954 | Exhibition Match |
| Oldham v Warrington | Home | April 8, 1954 | League Championship |
| Wigan v Oldham | Away | April 10, 1954 | League Championship |
| Oldham v Whitehaven | Home | April 12, 1954 | League Championship |
| Swinton v Oldham | Away | April 16, 1954 | League Championship |
| Oldham v Belle Vue Rangers | Home | April 17, 1954 | League Championship |
| Rochdale Hornets v Oldham | Away | April 19, 1954 | League Championship |
| St Helens v Oldham | Away | August 28, 1954 | League Championship |
| Workington Town v Oldham | Away | September 30, 1954 | Lancashire Cup |
| Widnes v Oldham | Away | November 13, 1954 | League Championship |
| Oldham v Whitehaven | Home | November 20, 1954 | League Championship |
| Wigan v Oldham | Away | November 27, 1954 | League Championship |
| Whitehaven v Oldham | Away | December 11, 1954 | League Championship |
| Oldham v Salford | Home | December 28, 1954 | League Championship |