Alan Davies
Profile
Alan Davies is regarded by many supporters as the best player ever to have played for Oldham RLFC and the fact that he is the most capped player in the history of the club would certainly add weight to the argument.
Alan joined Oldham from Leigh amateur club Dootsons in July 1950 and made his senior debut on September 9th in the 35 – 8 victory over Wakefield, on the left wing.
However, it was as a centre that Alan would build his reputation – one of the GREATEST centres the game has ever known. He lacked nothing in confidence, having great belief in his own ability. Apparently when he first got into the side some of the more senior players gave him the nickname, "Waggy", after the legendary Huddersfield captain Harold Wagstaff. The association between the two, though probably originated in jest to bring the precocious youth down to size, was not out of place.
He was the complete Rugby League player, capable of displaying all the skills associated with top class threequarter play. He had a good eye for an opening and enough pace to capitalise on the opportunity and also a good handler and passer of the ball with strength and determination to make the half chance into a score. On defence he was equally resolute with great timing allied to hard and decisive tackling.
Alan played in all the successes of the 1950's for Oldham and captained the side in the 1954-55, Championship final at Maine Road against Warrington. Considered extremely unlucky to miss out on the 1954 tour, he won 20 Great Britain caps, scoring eight tries and strangely enough two goals for his country (one more than he kicked for Oldham), played many times for Lancashire and got his deserved place on the 1958 tour "Down Under". Add to this the fact that he is the leading, all time, try scorer for the club and it is easy to see why he was elected as an original member to the Oldham RLFC "Hall of Fame".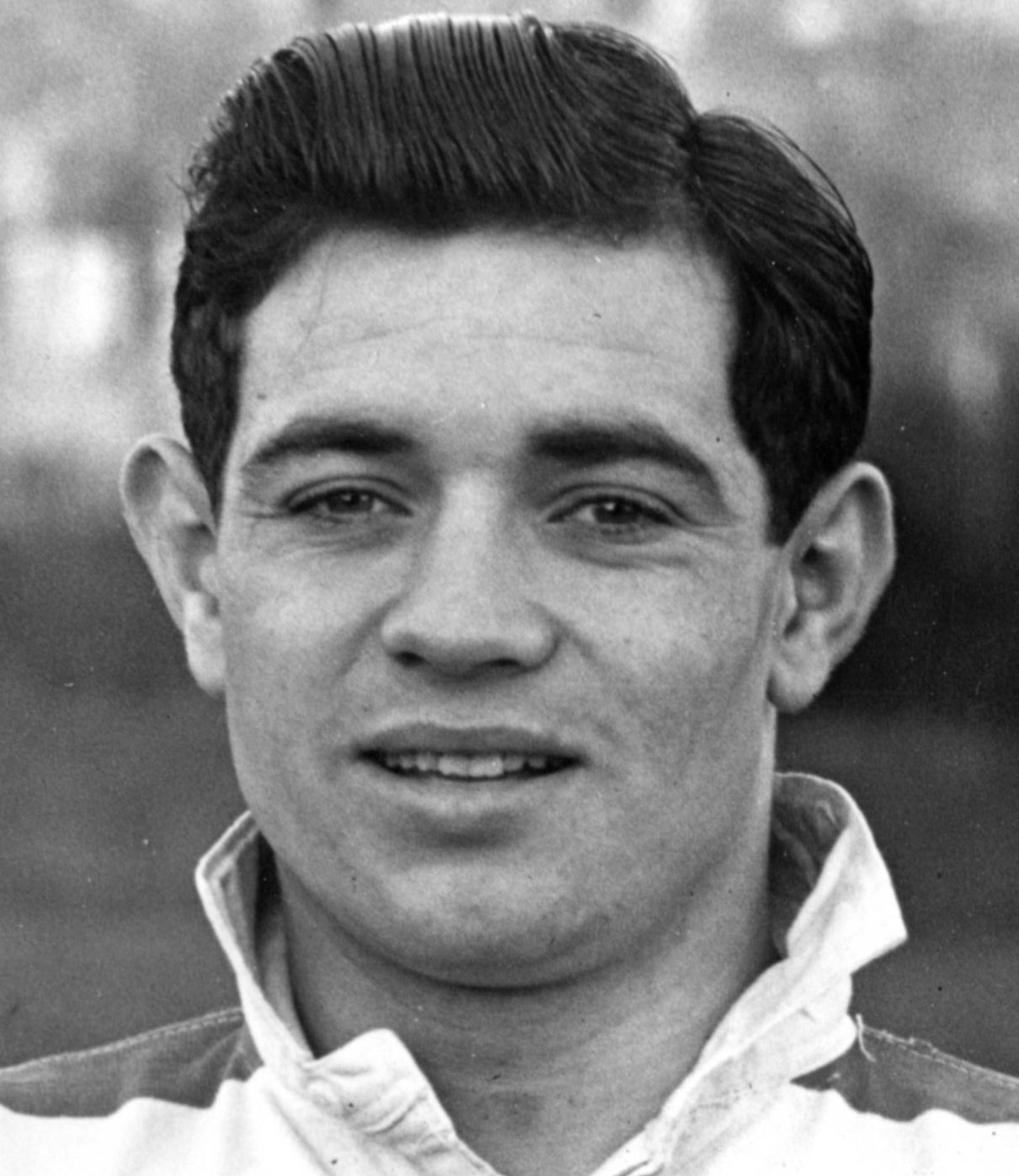 Career Games
| | | | |
| --- | --- | --- | --- |
| Oldham v Wakefield Trinity | Home | September 9, 1950 | League Championship |
| Rochdale Hornets v Oldham | Away | September 12, 1950 | Lancashire Cup |
| Batley v Oldham | Away | September 16, 1950 | League Championship |
| Workington Town v Oldham | Away | September 25, 1950 | Lancashire Cup |
| Oldham v Warrington | Home | October 10, 1950 | Lancashire Cup |
| Oldham v Leigh | Home | October 21, 1950 | League Championship |
| Oldham v Batley | Home | November 4, 1950 | League Championship |
| St Helens v Oldham | Away | November 11, 1950 | League Championship |
| Oldham v Widnes | Home | November 18, 1950 | League Championship |
| Salford v Oldham | Away | November 25, 1950 | League Championship |
| Oldham v Keighley | Home | December 2, 1950 | League Championship |
| Liverpool Stanley v Oldham | Away | December 9, 1950 | League Championship |
| Oldham v Swinton | Home | December 25, 1950 | League Championship |
| York v Oldham | Away | December 26, 1950 | League Championship |
| Warrington v Oldham | Away | January 6, 1951 | League Championship |
| Oldham v Belle Vue Rangers | Home | January 20, 1951 | League Championship |
| Wigan v Oldham | Away | January 27, 1951 | League Championship |
| Workington Town v Oldham | Away | February 3, 1951 | League Championship |
| Leeds v Oldham | Away | February 10, 1951 | Rugby League Challenge Cup |
| Oldham v Leeds | Home | February 17, 1951 | Rugby League Challenge Cup |
| Rochdale Hornets v Oldham | Away | February 24, 1951 | League Championship |
| Oldham v Liverpool Stanley | Home | March 3, 1951 | League Championship |
| Oldham v Workington Town | Home | March 17, 1951 | League Championship |
| Swinton v Oldham | Away | March 23, 1951 | League Championship |
| Oldham v Whitehaven | Home | March 24, 1951 | League Championship |
| Oldham v St Helens | Home | March 26, 1951 | League Championship |
| Oldham v St Helens | Home | April 7, 1951 | League Championship |
| Leigh v Oldham | Away | April 16, 1951 | League Championship |
| Oldham v Bramley | Home | April 21, 1951 | League Championship |
| Oldham v Wigan | Home | April 23, 1951 | League Championship |
| Oldham v Rochdale Hornets | Home | April 30, 1951 | League Championship |
| Rochdale Hornets v Oldham | Away | August 11, 1951 | Law Cup |
| Oldham v Bradford Northern | Home | August 18, 1951 | League Championship |
| Belle Vue Rangers v Oldham | Away | August 22, 1951 | League Championship |
| Keighley v Oldham | Away | August 25, 1951 | League Championship |
| Oldham v Liverpool City | Home | August 28, 1951 | League Championship |
| Rochdale Hornets v Oldham | Away | September 1, 1951 | Lancashire Cup |
| Oldham v Rochdale Hornets | Home | September 4, 1951 | Lancashire Cup |
| Wigan v Oldham | Away | September 8, 1951 | League Championship |
| Oldham v Whitehaven | Home | September 10, 1951 | League Championship |
| Oldham v St Helens | Home | September 15, 1951 | League Championship |
| Widnes v Oldham | Away | September 22, 1951 | League Championship |
| Oldham v Widnes | Home | September 24, 1951 | Lancashire Cup |
| Oldham v New Zealand | Home | September 29, 1951 | Tour Match |
| Liverpool City v Oldham | Away | October 13, 1951 | League Championship |
| Oldham v Leigh | Home | October 20, 1951 | League Championship |
| Salford v Oldham | Away | October 27, 1951 | League Championship |
| Oldham v Bramley | Home | November 3, 1951 | League Championship |
| Workington Town v Oldham | Away | November 10, 1951 | League Championship |
| Oldham v Wigan | Home | November 17, 1951 | League Championship |
| Halifax v Oldham | Away | December 8, 1951 | League Championship |
| Whitehaven v Oldham | Away | December 15, 1951 | League Championship |
| Oldham v Keighley | Home | December 22, 1951 | League Championship |
| Oldham v Swinton | Home | December 25, 1951 | League Championship |
| Oldham v Workington Town | Home | December 26, 1951 | League Championship |
| Bradford Northern v Oldham | Away | December 29, 1951 | League Championship |
| Oldham v Barrow | Home | January 3, 1952 | League Championship |
| Oldham v Widnes | Home | January 5, 1952 | League Championship |
| Oldham v Salford | Home | January 12, 1952 | League Championship |
| Oldham v Hull Kingston Rovers | Home | February 23, 1952 | League Championship |
| Bramley v Oldham | Away | March 8, 1952 | League Championship |
| Leigh v Oldham | Away | March 22, 1952 | League Championship |
| St Helens v Oldham | Away | March 29, 1952 | League Championship |
| Rochdale Hornets v Oldham | Away | April 1, 1952 | League Championship |
| Oldham v Belle Vue Rangers | Home | April 5, 1952 | League Championship |
| Swinton v Oldham | Away | April 11, 1952 | League Championship |
| Oldham v Rochdale Hornets | Home | April 12, 1952 | League Championship |
| Oldham v Halifax | Home | April 14, 1952 | League Championship |
| Hull Kingston Rovers v Oldham | Away | April 26, 1952 | League Championship |
| Oldham v RL XIII | Home | May 6, 1952 | Benefit Match |
| Oldham v Rochdale Hornets | Home | August 16, 1952 | Law Cup |
| Oldham v Featherstone Rovers | Home | August 23, 1952 | League Championship |
| Oldham v Swinton | Home | August 30, 1952 | Lancashire Cup |
| Swinton v Oldham | Away | September 3, 1952 | Lancashire Cup |
| Oldham v Leeds | Home | September 6, 1952 | League Championship |
| St Helens v Oldham | Away | September 10, 1952 | League Championship |
| Barrow v Oldham | Away | September 13, 1952 | League Championship |
| Oldham v Australia | Home | September 15, 1952 | Tour Match |
| Oldham v Wakefield Trinity | Home | September 20, 1952 | League Championship |
| Workington Town v Oldham | Away | September 24, 1952 | Lancashire Cup |
| Leeds v Oldham | Away | September 27, 1952 | League Championship |
| Workington Town v Oldham | Away | October 4, 1952 | League Championship |
| Oldham v Widnes | Home | October 11, 1952 | League Championship |
| Warrington v Oldham | Away | October 18, 1952 | League Championship |
| Oldham v Warrington | Home | October 25, 1952 | League Championship |
| Bramley v Oldham | Away | November 1, 1952 | League Championship |
| Oldham v Leigh | Home | November 8, 1952 | League Championship |
| Wakefield Trinity v Oldham | Away | November 15, 1952 | League Championship |
| Oldham v Salford | Home | November 22, 1952 | League Championship |
| Oldham v Belle Vue Rangers | Home | December 6, 1952 | League Championship |
| Bradford Northern v Oldham | Away | December 20, 1952 | League Championship |
| Oldham v Swinton | Home | December 25, 1952 | League Championship |
| Liverpool City v Oldham | Away | December 26, 1952 | League Championship |
| Oldham v Wigan | Home | December 27, 1952 | League Championship |
| Wigan v Oldham | Away | January 10, 1953 | League Championship |
| Salford v Oldham | Away | January 17, 1953 | League Championship |
| Oldham v Rochdale Hornets | Home | January 24, 1953 | League Championship |
| St Helens v Oldham | Away | February 7, 1953 | Rugby League Challenge Cup |
| Oldham v St Helens | Home | February 14, 1953 | Rugby League Challenge Cup |
| Whitehaven v Oldham | Away | February 28, 1953 | League Championship |
| Oldham v Bradford Northern | Home | March 7, 1953 | League Championship |
| Widnes v Oldham | Away | March 14, 1953 | League Championship |
| Oldham v Workington Town | Home | March 21, 1953 | League Championship |
| Belle Vue Rangers v Oldham | Away | April 4, 1953 | League Championship |
| Oldham v Whitehaven | Home | April 6, 1953 | League Championship |
| Oldham v Liverpool City | Home | April 11, 1953 | League Championship |
| Oldham v St Helens | Home | April 18, 1953 | League Championship |
| Leigh v Oldham | Away | April 22, 1953 | League Championship |
| Oldham v Huddersfield | Home | May 16, 1953 | Benefit Match |
| Rochdale Hornets v Oldham | Away | August 8, 1953 | Law Cup |
| Oldham v Wigan | Home | August 15, 1953 | League Championship |
| Huddersfield v Oldham | Away | August 22, 1953 | League Championship |
| Bramley v Oldham | Away | August 26, 1953 | League Championship |
| Oldham v Leeds | Home | August 29, 1953 | League Championship |
| Widnes v Oldham | Away | September 2, 1953 | League Championship |
| Whitehaven v Oldham | Away | September 5, 1953 | Lancashire Cup |
| Oldham v Whitehaven | Home | September 7, 1953 | Lancashire Cup |
| Leigh v Oldham | Away | September 12, 1953 | League Championship |
| Warrington v Oldham | Away | September 24, 1953 | Lancashire Cup |
| Leeds v Oldham | Away | September 26, 1953 | League Championship |
| Oldham v Widnes | Home | October 3, 1953 | League Championship |
| Salford v Oldham | Away | October 17, 1953 | League Championship |
| Oldham v Rochdale Hornets | Home | October 24, 1953 | League Championship |
| Dewsbury v Oldham | Away | October 31, 1953 | League Championship |
| Oldham v St Helens | Home | November 7, 1953 | League Championship |
| Whitehaven v Oldham | Away | November 14, 1953 | League Championship |
| Oldham v Bramley | Home | November 21, 1953 | League Championship |
| Belle Vue Rangers v Oldham | Away | November 28, 1953 | League Championship |
| Oldham v Barrow | Home | December 5, 1953 | League Championship |
| St Helens v Oldham | Away | December 12, 1953 | League Championship |
| Oldham v Workington Town | Home | December 19, 1953 | League Championship |
| Oldham v Swinton | Home | December 25, 1953 | League Championship |
| Workington Town v Oldham | Away | December 26, 1953 | League Championship |
| Hull FC v Oldham | Away | January 2, 1954 | League Championship |
| Oldham v Salford | Home | January 9, 1954 | League Championship |
| Oldham v Huddersfield | Home | January 16, 1954 | League Championship |
| Liverpool City v Oldham | Away | January 23, 1954 | League Championship |
| Liverpool City v Oldham | Away | February 6, 1954 | Rugby League Challenge Cup |
| Oldham v Liverpool City | Home | February 13, 1954 | Rugby League Challenge Cup |
| Warrington v Oldham | Away | February 20, 1954 | League Championship |
| Oldham v Leigh | Home | February 27, 1954 | League Championship |
| Oldham v Warrington | Home | March 6, 1954 | Rugby League Challenge Cup |
| Barrow v Oldham | Away | March 13, 1954 | League Championship |
| Oldham v Hull FC | Home | March 20, 1954 | League Championship |
| Wigan v Oldham | Away | April 10, 1954 | League Championship |
| Oldham v Whitehaven | Home | April 12, 1954 | League Championship |
| Swinton v Oldham | Away | April 16, 1954 | League Championship |
| Oldham v Belle Vue Rangers | Home | April 17, 1954 | League Championship |
| Rochdale Hornets v Oldham | Away | April 19, 1954 | League Championship |
| Halifax v Oldham | Away | May 15, 1954 | Benefit Match |
| Oldham v Rochdale Hornets | Home | August 7, 1954 | Law Cup |
| Wakefield Trinity v Oldham | Away | August 14, 1954 | League Championship |
| Oldham v Batley | Home | August 21, 1954 | League Championship |
| Salford v Oldham | Away | August 25, 1954 | League Championship |
| St Helens v Oldham | Away | August 28, 1954 | League Championship |
| Barrow v Oldham | Away | September 4, 1954 | League Championship |
| Oldham v Lancs County Amateurs | Home | September 11, 1954 | Lancashire Cup |
| Oldham v Liverpool City | Home | September 14, 1954 | League Championship |
| Batley v Oldham | Away | September 18, 1954 | League Championship |
| Oldham v St Helens | Home | September 20, 1954 | Lancashire Cup |
| Oldham v Wakefield Trinity | Home | September 25, 1954 | League Championship |
| Workington Town v Oldham | Away | September 30, 1954 | Lancashire Cup |
| Blackpool Borough v Oldham | Away | October 2, 1954 | League Championship |
| Oldham v Workington Town | Home | October 9, 1954 | League Championship |
| Rochdale Hornets v Oldham | Away | October 16, 1954 | League Championship |
| Barrow v Oldham | Neutral | October 23, 1954 | Lancashire Cup |
| Liverpool City v Oldham | Away | October 30, 1954 | League Championship |
| Oldham v Blackpool Borough | Home | November 6, 1954 | League Championship |
| Widnes v Oldham | Away | November 13, 1954 | League Championship |
| Wigan v Oldham | Away | November 27, 1954 | League Championship |
| Whitehaven v Oldham | Away | December 11, 1954 | League Championship |
| Keighley v Oldham | Away | December 18, 1954 | League Championship |
| Oldham v Swinton | Home | December 25, 1954 | League Championship |
| Oldham v Salford | Home | December 28, 1954 | League Championship |
| Oldham v Belle Vue Rangers | Home | January 1, 1955 | League Championship |
| Leigh v Oldham | Away | January 8, 1955 | League Championship |
| Oldham v Warrington | Home | January 15, 1955 | League Championship |
| Workington Town v Oldham | Away | January 22, 1955 | League Championship |
| Oldham v Rochdale Hornets | Home | January 29, 1955 | League Championship |
| Oldham v Barrow | Home | February 5, 1955 | League Championship |
| Oldham v Wigan | Home | February 12, 1955 | Rugby League Challenge Cup |
| Oldham v St Helens | Home | February 19, 1955 | League Championship |
| Leigh v Oldham | Away | March 5, 1955 | Rugby League Challenge Cup |
| Belle Vue Rangers v Oldham | Away | March 12, 1955 | League Championship |
| Oldham v Widnes | Home | March 19, 1955 | League Championship |
| Warrington v Oldham | Away | March 26, 1955 | League Championship |
| Oldham v Wigan | Home | April 2, 1955 | League Championship |
| Swinton v Oldham | Away | April 8, 1955 | League Championship |
| Hull FC v Oldham | Away | April 9, 1955 | League Championship |
| Oldham v Leeds | Home | April 23, 1955 | League Championship |
| Warrington v Oldham | Neutral | May 14, 1955 | League Championship |
| Rochdale Hornets v Oldham | Away | August 13, 1955 | Law Cup |
| Oldham v Keighley | Home | August 20, 1955 | Friendly |
| Blackpool Borough v Oldham | Away | August 27, 1955 | Lancashire Cup |
| Oldham v Leigh | Home | September 7, 1955 | Lancashire Cup |
| Leeds v Oldham | Away | September 10, 1955 | League Championship |
| Oldham v Warrington | Home | September 17, 1955 | League Championship |
| York v Oldham | Away | September 24, 1955 | League Championship |
| Oldham v Featherstone Rovers | Home | October 1, 1955 | League Championship |
| Warrington v Oldham | Away | October 22, 1955 | League Championship |
| Oldham v New Zealand | Home | October 29, 1955 | Tour Match |
| Leigh v Oldham | Away | November 5, 1955 | League Championship |
| Oldham v Liverpool City | Home | November 12, 1955 | League Championship |
| Wigan v Oldham | Away | November 19, 1955 | League Championship |
| Oldham v Widnes | Home | November 26, 1955 | League Championship |
| Liverpool City v Oldham | Away | December 3, 1955 | League Championship |
| St Helens v Oldham | Away | December 24, 1955 | League Championship |
| Oldham v Swinton | Home | December 26, 1955 | League Championship |
| Blackpool Borough v Oldham | Away | December 27, 1955 | League Championship |
| Oldham v Whitehaven | Home | December 31, 1955 | League Championship |
| Workington Town v Oldham | Away | January 2, 1956 | League Championship |
| Widnes v Oldham | Away | January 21, 1956 | League Championship |
| Oldham v Rochdale Hornets | Home | January 28, 1956 | League Championship |
| Oldham v Dewsbury | Home | February 11, 1956 | Rugby League Challenge Cup |
| Oldham v Wigan | Home | February 18, 1956 | League Championship |
| Featherstone Rovers v Oldham | Away | February 25, 1956 | League Championship |
| Leeds v Oldham | Away | March 3, 1956 | Rugby League Challenge Cup |
| Oldham v York | Home | March 10, 1956 | League Championship |
| Oldham v Blackpool Borough | Home | March 17, 1956 | League Championship |
| Oldham v Leigh | Home | March 24, 1956 | League Championship |
| Swinton v Oldham | Away | March 30, 1956 | League Championship |
| Oldham v Leeds | Home | March 31, 1956 | League Championship |
| Barrow v Oldham | Away | April 2, 1956 | League Championship |
| Oldham v St Helens | Home | April 14, 1956 | League Championship |
| Oldham v Workington Town | Home | April 21, 1956 | League Championship |
| Oldham v Rochdale Hornets | Home | August 11, 1956 | Law Cup |
| Oldham v Bramley | Home | August 18, 1956 | League Championship |
| Halifax v Oldham | Away | August 20, 1956 | League Championship |
| Rochdale Hornets v Oldham | Away | August 25, 1956 | League Championship |
| Oldham v Leigh | Home | August 28, 1956 | League Championship |
| Wigan v Oldham | Away | September 1, 1956 | Lancashire Cup |
| St Helens v Oldham | Away | September 8, 1956 | League Championship |
| Salford v Oldham | Away | September 11, 1956 | Lancashire Cup |
| Oldham v Wakefield Trinity | Home | September 15, 1956 | League Championship |
| Leigh v Oldham | Away | September 19, 1956 | Lancashire Cup |
| Oldham v Barrow | Home | September 22, 1956 | League Championship |
| Liverpool City v Oldham | Away | September 29, 1956 | League Championship |
| Wigan v Oldham | Away | October 6, 1956 | League Championship |
| Leigh v Oldham | Neutral | October 8, 1956 | Rules trial game |
| Oldham v Halifax | Home | October 13, 1956 | League Championship |
| St Helens v Oldham | Neutral | October 20, 1956 | Lancashire Cup |
| Oldham v Keighley | Home | October 27, 1956 | League Championship |
| Workington Town v Oldham | Away | November 3, 1956 | League Championship |
| Oldham v Australia | Home | November 7, 1956 | Tour Match |
| Oldham v Workington Town | Home | November 10, 1956 | League Championship |
| Oldham v Blackpool Borough | Home | November 24, 1956 | League Championship |
| Oldham v St Helens | Home | December 8, 1956 | League Championship |
| Warrington v Oldham | Away | December 22, 1956 | League Championship |
| Oldham v Hunslet | Home | January 5, 1957 | League Championship |
| Oldham v Salford | Home | January 12, 1957 | League Championship |
| Whitehaven v Oldham | Away | January 19, 1957 | League Championship |
| Salford v Oldham | Away | February 2, 1957 | League Championship |
| Workington Town v Oldham | Away | February 9, 1957 | Rugby League Challenge Cup |
| Oldham v Widnes | Home | February 16, 1957 | League Championship |
| Leigh v Oldham | Away | February 23, 1957 | Rugby League Challenge Cup |
| York v Oldham | Away | March 9, 1957 | League Championship |
| Oldham v Whitehaven | Home | March 16, 1957 | League Championship |
| Oldham v Wigan | Home | March 30, 1957 | League Championship |
| Leigh v Oldham | Away | April 4, 1957 | League Championship |
| Oldham v Swinton | Home | April 15, 1957 | League Championship |
| Swinton v Oldham | Away | April 19, 1957 | League Championship |
| Hunslet v Oldham | Away | April 20, 1957 | League Championship |
| Oldham v Rochdale Hornets | Home | April 22, 1957 | League Championship |
| Oldham v Leeds | Home | May 4, 1957 | League Championship |
| Hull FC v Oldham | Neutral | May 18, 1957 | League Championship |
| Oldham v Leigh | Home | September 21, 1957 | League Championship |
| Workington Town v Oldham | Away | September 28, 1957 | League Championship |
| St Helens v Oldham | Away | October 2, 1957 | Lancashire Cup |
| Wigan v Oldham | Neutral | October 19, 1957 | Lancashire Cup |
| Blackpool Borough v Oldham | Away | October 26, 1957 | League Championship |
| Oldham v Liverpool City | Home | November 16, 1957 | League Championship |
| Oldham v Salford | Home | November 30, 1957 | League Championship |
| Hunslet v Oldham | Away | December 7, 1957 | League Championship |
| Liverpool City v Oldham | Away | December 14, 1957 | League Championship |
| Oldham v Whitehaven | Home | December 21, 1957 | League Championship |
| Oldham v Swinton | Home | December 25, 1957 | League Championship |
| Hull FC v Oldham | Away | December 26, 1957 | League Championship |
| Oldham v Leeds | Home | January 4, 1958 | League Championship |
| Oldham v Barrow | Home | January 11, 1958 | League Championship |
| Widnes v Oldham | Away | January 18, 1958 | League Championship |
| Wigan v Oldham | Away | February 1, 1958 | League Championship |
| Oldham v Hull Kingston Rovers | Home | February 8, 1958 | Rugby League Challenge Cup |
| St Helens v Oldham | Away | February 15, 1958 | League Championship |
| Blackpool Borough v Oldham | Away | February 22, 1958 | Rugby League Challenge Cup |
| Oldham v Wigan | Home | March 8, 1958 | Rugby League Challenge Cup |
| Swinton v Oldham | Away | April 4, 1958 | League Championship |
| Oldham v Wigan | Home | April 5, 1958 | League Championship |
| Oldham v Huddersfield | Home | April 7, 1958 | League Championship |
| Oldham v Hunslet | Home | April 12, 1958 | League Championship |
| Oldham v Hull FC | Home | April 16, 1958 | League Championship |
| Leeds v Oldham | Away | April 19, 1958 | League Championship |
| Oldham v Workington Town | Home | April 26, 1958 | League Championship |
| Oldham v Hull FC | Home | May 3, 1958 | League Championship |
| Oldham v Whitehaven | Home | August 30, 1958 | Lancashire Cup |
| Oldham v Workington Town | Home | September 2, 1958 | League Championship |
| Halifax v Oldham | Away | September 6, 1958 | League Championship |
| Oldham v Wakefield Trinity | Home | September 13, 1958 | League Championship |
| Oldham v Wigan | Home | September 16, 1958 | Lancashire Cup |
| Rochdale Hornets v Oldham | Away | September 20, 1958 | League Championship |
| Oldham v Blackpool Borough | Home | September 27, 1958 | League Championship |
| Oldham v Widnes | Home | September 30, 1958 | Lancashire Cup |
| Warrington v Oldham | Away | October 4, 1958 | League Championship |
| Oldham v Rochdale Hornets | Home | October 11, 1958 | League Championship |
| Liverpool City v Oldham | Away | October 18, 1958 | League Championship |
| St Helens v Oldham | Neutral | October 25, 1958 | Lancashire Cup |
| Featherstone Rovers v Oldham | Away | November 1, 1958 | League Championship |
| Oldham v Featherstone Rovers | Home | November 8, 1958 | League Championship |
| Salford v Oldham | Away | November 15, 1958 | League Championship |
| Oldham v Leeds | Home | November 22, 1958 | League Championship |
| Wigan v Oldham | Away | November 29, 1958 | League Championship |
| Oldham v Widnes | Home | December 6, 1958 | League Championship |
| Workington Town v Oldham | Away | December 13, 1958 | League Championship |
| Oldham v Wigan | Home | December 20, 1958 | League Championship |
| Oldham v Swinton | Home | December 25, 1958 | League Championship |
| Hunslet v Oldham | Away | December 26, 1958 | League Championship |
| St Helens v Oldham | Away | December 27, 1958 | League Championship |
| Oldham v Leigh | Home | January 3, 1959 | League Championship |
| Oldham v St Helens | Home | February 21, 1959 | Rugby League Challenge Cup |
| Whitehaven v Oldham | Away | February 28, 1959 | League Championship |
| Oldham v Barrow | Home | March 21, 1959 | League Championship |
| Swinton v Oldham | Away | March 27, 1959 | League Championship |
| Oldham v Hull FC | Home | March 30, 1959 | League Championship |
| Oldham v Salford | Home | April 7, 1959 | League Championship |
| Widnes v Oldham | Away | April 11, 1959 | League Championship |
| Oldham v Hunslet | Home | April 14, 1959 | League Championship |
| Oldham v Whitehaven | Home | April 18, 1959 | League Championship |
| Barrow v Oldham | Away | April 20, 1959 | League Championship |
| Oldham v St Helens | Home | April 27, 1959 | League Championship |
| St Helens v Oldham | Away | May 2, 1959 | League Championship |
| Oldham v Leeds | Home | August 15, 1959 | League Championship |
| Dewsbury v Oldham | Away | August 18, 1959 | League Championship |
| Salford v Oldham | Away | August 22, 1959 | League Championship |
| Oldham v Warrington | Home | August 25, 1959 | League Championship |
| Whitehaven v Oldham | Away | August 29, 1959 | Lancashire Cup |
| Halifax v Oldham | Away | September 5, 1959 | League Championship |
| Oldham v Halifax | Home | September 8, 1959 | League Championship |
| Oldham v Hunslet | Home | September 12, 1959 | League Championship |
| Oldham v Widnes | Home | September 19, 1959 | League Championship |
| Oldham v Australia | Home | October 3, 1959 | Tour Match |
| Barrow v Oldham | Away | October 10, 1959 | League Championship |
| Warrington v Oldham | Away | October 24, 1959 | League Championship |
| Oldham v Barrow | Home | October 31, 1959 | League Championship |
| Rochdale Hornets v Oldham | Away | November 7, 1959 | League Championship |
| Oldham v Blackpool Borough | Home | November 14, 1959 | League Championship |
| Whitehaven v Oldham | Away | November 21, 1959 | League Championship |
| Oldham v Rochdale Hornets | Home | November 28, 1959 | League Championship |
| Wigan v Oldham | Away | December 5, 1959 | League Championship |
| Oldham v Dewsbury | Home | December 19, 1959 | League Championship |
| Oldham v Swinton | Home | December 25, 1959 | League Championship |
| Oldham v Hull FC | Home | December 28, 1959 | League Championship |
| Liverpool City v Oldham | Away | January 2, 1960 | League Championship |
| Oldham v Wakefield Trinity | Home | January 9, 1960 | League Championship |
| Oldham v Leigh | Home | January 16, 1960 | League Championship |
| St Helens v Oldham | Away | January 23, 1960 | League Championship |
| Widnes v Oldham | Away | January 30, 1960 | League Championship |
| Oldham v Salford | Home | February 6, 1960 | League Championship |
| Oldham v Huddersfield | Home | February 13, 1960 | Rugby League Challenge Cup |
| Wakefield Trinity v Oldham | Away | February 20, 1960 | League Championship |
| Oldham v Walney Central | Home | February 27, 1960 | Rugby League Challenge Cup |
| Oldham v Wigan | Home | March 12, 1960 | League Championship |
| Oldham v Bramley | Home | March 19, 1960 | Rugby League Challenge Cup |
| Hunslet v Oldham | Away | March 26, 1960 | League Championship |
| Oldham v Liverpool City | Home | April 2, 1960 | League Championship |
| Hull FC v Oldham | Neutral | April 9, 1960 | Rugby League Challenge Cup |
| Swinton v Oldham | Away | April 15, 1960 | League Championship |
| Oldham v Whitehaven | Home | April 18, 1960 | League Championship |
| Hull FC v Oldham | Away | April 23, 1960 | League Championship |
| Oldham v St Helens | Home | April 26, 1960 | League Championship |
| Leigh v Oldham | Away | April 30, 1960 | League Championship |
| Rochdale Hornets v Oldham | Away | August 6, 1960 | Law Cup |
| Leeds v Oldham | Away | August 20, 1960 | League Championship |
| Wigan v Oldham | Away | August 27, 1960 | Lancashire Cup |
| Oldham v Leigh | Home | August 30, 1960 | League Championship |
| Featherstone Rovers v Oldham | Away | September 3, 1960 | League Championship |
| Oldham v Halifax | Home | September 10, 1960 | League Championship |
| St Helens v Oldham | Away | September 17, 1960 | League Championship |
| Hull Kingston Rovers v Oldham | Away | October 15, 1960 | League Championship |
| Oldham v Widnes | Home | October 22, 1960 | League Championship |
| Rochdale Hornets v Oldham | Away | October 29, 1960 | League Championship |
| Oldham v Liverpool City | Home | November 5, 1960 | League Championship |
| Keighley v Oldham | Away | November 12, 1960 | League Championship |
| Oldham v Salford | Home | November 19, 1960 | League Championship |
| Whitehaven v Oldham | Away | November 26, 1960 | League Championship |
| Oldham v Leeds | Home | December 3, 1960 | League Championship |
| Oldham v Blackpool Borough | Home | December 17, 1960 | League Championship |
| Leigh v Oldham | Away | December 24, 1960 | League Championship |
| Oldham v Swinton | Home | December 26, 1960 | League Championship |
| Barrow v Oldham | Away | December 31, 1960 | League Championship |
| Workington Town v Oldham | Away | January 2, 1961 | League Championship |
| Liverpool City v Oldham | Away | January 21, 1961 | League Championship |
| Oldham v Wigan | Home | January 28, 1961 | League Championship |
| Oldham v Barrow | Home | February 4, 1961 | League Championship |
| Hull FC v Oldham | Away | February 11, 1961 | Rugby League Challenge Cup |
| Oldham v Hull Kingston Rovers | Home | February 18, 1961 | League Championship |
| Salford v Oldham | Away | March 4, 1961 | League Championship |
| Widnes v Oldham | Away | March 11, 1961 | League Championship |
| Oldham v Workington Town | Home | March 18, 1961 | League Championship |
| Swinton v Oldham | Away | March 31, 1961 | League Championship |
| Oldham v Whitehaven | Home | April 1, 1961 | League Championship |
| Oldham v Warrington | Home | April 15, 1961 | League Championship |
| Halifax v Oldham | Away | April 26, 1961 | League Championship |
| Oldham v Keighley | Home | April 29, 1961 | League Championship |
| Oldham v Rochdale Hornets | Home | August 12, 1961 | Law Cup |
| Oldham v Halifax | Home | August 19, 1961 | League Championship |