George Frater
Profile
Although there has always been a steady flow of players from Wales into Rugby League, back in the early days, after the initial formation of the "Northern Union", Oldham would often cast the net North of the border to bring some of the top Scottish players to the club. Never were they more fortunate than when Melrose forward George Frater was tempted to leave the land of the thistle.
George came to the club for the start of the 1896-97 season and for eight years would be a cornerstone of the Oldham pack. A grafting, tireless packman, he was always to be found in the thick of the action and was, when required, a useful relief goal kicker.
As was the custom at the time George qualified to play for Lancashire while playing for Oldham and was duly capped by the red rose county. He also captained the "Other Nationalities" side against England in the very first Northern Union International.
The highlight of his career was to play in the 1899 Challenge Cup winning side, where he was accompanied in the winning team by fellow Scottish forwards, Jim Moffatt and E.W. Telfer. His last match was in the Championship clinching 23 – 0 win against Hull at Watersheddings on April 24th, 1905.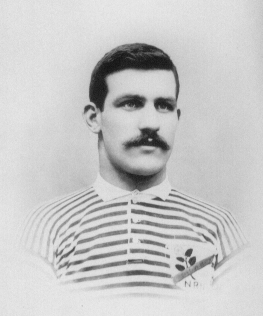 Career Games
| | | | |
| --- | --- | --- | --- |
| Manningham v Oldham | Away | September 5, 1896 | Friendly |
| Salford v Oldham | Away | September 12, 1896 | Lancashire Senior Competition |
| Oldham v Tyldesley | Home | September 19, 1896 | Lancashire Senior Competition |
| Swinton v Oldham | Away | September 26, 1896 | Lancashire Senior Competition |
| Halifax v Oldham | Away | September 28, 1896 | Friendly |
| Oldham v St Helens | Home | October 3, 1896 | Lancashire Senior Competition |
| Wigan v Oldham | Away | October 24, 1896 | Lancashire Senior Competition |
| Oldham v Leigh | Home | October 31, 1896 | Lancashire Senior Competition |
| Morecambe v Oldham | Away | November 7, 1896 | Lancashire Senior Competition |
| Oldham v Runcorn | Home | November 28, 1896 | Lancashire Senior Competition |
| Warrington v Oldham | Away | December 5, 1896 | Lancashire Senior Competition |
| Oldham v Salford | Home | December 19, 1896 | Lancashire Senior Competition |
| Oldham v Stockport | Home | December 25, 1896 | Lancashire Senior Competition |
| Oldham v Broughton Rangers | Home | December 26, 1896 | Lancashire Senior Competition |
| St Helens v Oldham | Away | January 1, 1897 | Lancashire Senior Competition |
| Broughton Rangers v Oldham | Away | January 2, 1897 | Lancashire Senior Competition |
| Oldham v Swinton | Home | January 9, 1897 | Friendly |
| Stockport v Oldham | Away | January 30, 1897 | Lancashire Senior Competition |
| Widnes v Oldham | Away | February 6, 1897 | Lancashire Senior Competition |
| Oldham v Wigan | Home | February 13, 1897 | Lancashire Senior Competition |
| Oldham v Warrington | Home | February 20, 1897 | Lancashire Senior Competition |
| Runcorn v Oldham | Away | February 27, 1897 | Lancashire Senior Competition |
| Oldham v Swinton | Home | March 2, 1897 | Lancashire Senior Competition |
| Oldham v St Helens Recs | Home | March 6, 1897 | Friendly |
| Tyldesley v Oldham | Away | March 13, 1897 | Lancashire Senior Competition |
| Bradford v Oldham | Away | March 20, 1897 | Rugby League Challenge Cup |
| Oldham v Broughton Rangers | Home | March 27, 1897 | Friendly |
| Broughton Rangers v Oldham | Away | April 3, 1897 | Friendly |
| Oldham v Crompton | Home | September 6, 1897 | Friendly |
| Stockport v Oldham | Away | September 11, 1897 | Lancashire Senior Competition |
| Crompton v Oldham | Away | September 13, 1897 | Friendly |
| Oldham v Runcorn | Home | September 18, 1897 | Lancashire Senior Competition |
| Oldham v Salford | Home | September 25, 1897 | Lancashire Senior Competition |
| Swinton v Oldham | Away | October 1, 1897 | Lancashire Senior Competition |
| Rochdale Hornets v Oldham | Away | October 9, 1897 | Lancashire Senior Competition |
| Bradford v Oldham | Away | October 16, 1897 | Friendly |
| Oldham v Morecambe | Home | October 30, 1897 | Lancashire Senior Competition |
| Widnes v Oldham | Away | November 6, 1897 | Lancashire Senior Competition |
| Oldham v Leigh | Home | November 13, 1897 | Lancashire Senior Competition |
| St Helens Recs v Oldham | Away | November 20, 1897 | Friendly |
| St Helens v Oldham | Away | November 27, 1897 | Lancashire Senior Competition |
| Oldham v Halifax | Home | December 4, 1897 | Friendly |
| Oldham v Warrington | Home | December 11, 1897 | Lancashire Senior Competition |
| Leigh v Oldham | Away | December 18, 1897 | Lancashire Senior Competition |
| Oldham v Rochdale Hornets | Home | December 25, 1897 | Lancashire Senior Competition |
| Broughton Rangers v Oldham | Away | December 27, 1897 | Lancashire Senior Competition |
| Oldham v Widnes | Home | January 8, 1898 | Lancashire Senior Competition |
| Warrington v Oldham | Away | January 15, 1898 | Lancashire Senior Competition |
| Oldham v Stockport | Home | January 22, 1898 | Lancashire Senior Competition |
| Wigan v Oldham | Away | January 29, 1898 | Lancashire Senior Competition |
| Salford v Oldham | Away | February 5, 1898 | Lancashire Senior Competition |
| Oldham v St Helens | Home | February 12, 1898 | Lancashire Senior Competition |
| Oldham v Leeds | Home | February 26, 1898 | Rugby League Challenge Cup |
| Halifax v Oldham | Away | March 5, 1898 | Rugby League Challenge Cup |
| Oldham v Runcorn | Home | March 19, 1898 | Rugby League Challenge Cup |
| Batley v Oldham | Away | March 26, 1898 | Rugby League Challenge Cup |
| Runcorn v Oldham | Away | April 2, 1898 | Lancashire Senior Competition |
| Oldham v Broughton Rangers | Home | April 11, 1898 | Lancashire Senior Competition |
| Oldham v Tyldesley | Home | April 16, 1898 | Lancashire Senior Competition |
| Manningham v Oldham | Away | April 19, 1898 | Friendly |
| Halifax v Oldham | Away | April 25, 1898 | Friendly |
| Oldham v Rest Of Lancs | Home | April 30, 1898 | Champs v Rest |
| Morecambe v Oldham | Away | September 3, 1898 | Lancashire Senior Competition |
| Warrington v Oldham | Away | September 10, 1898 | Lancashire Senior Competition |
| Oldham v Tyldesley | Home | September 17, 1898 | Lancashire Senior Competition |
| Oldham v Runcorn | Home | September 24, 1898 | Lancashire Senior Competition |
| Huddersfield v Oldham | Away | September 26, 1898 | Friendly |
| St Helens v Oldham | Away | October 1, 1898 | Lancashire Senior Competition |
| Oldham v Broughton Rangers | Home | October 8, 1898 | Lancashire Senior Competition |
| Oldham v Workington | Home | October 15, 1898 | Friendly |
| Salford v Oldham | Away | October 22, 1898 | Lancashire Senior Competition |
| Oldham v Swinton | Home | October 29, 1898 | Lancashire Senior Competition |
| Oldham v Seaton | Home | November 5, 1898 | Friendly |
| Rochdale Hornets v Oldham | Away | November 12, 1898 | Lancashire Senior Competition |
| Oldham v Warrington | Home | November 19, 1898 | Lancashire Senior Competition |
| Leigh v Oldham | Away | November 26, 1898 | Lancashire Senior Competition |
| Oldham v Widnes | Home | December 10, 1898 | Lancashire Senior Competition |
| Wigan v Oldham | Away | December 17, 1898 | Lancashire Senior Competition |
| Stockport v Oldham | Away | December 24, 1898 | Lancashire Senior Competition |
| Oldham v Rochdale Hornets | Home | December 26, 1898 | Lancashire Senior Competition |
| Broughton Rangers v Oldham | Away | December 31, 1898 | Lancashire Senior Competition |
| Oldham v Hunslet | Home | January 2, 1899 | Friendly |
| Oldham v Morecambe | Home | January 7, 1899 | Lancashire Senior Competition |
| Tyldesley v Oldham | Away | January 14, 1899 | Lancashire Senior Competition |
| Oldham v Leigh | Home | January 21, 1899 | Lancashire Senior Competition |
| Oldham v St Helens | Home | January 28, 1899 | Lancashire Senior Competition |
| Swinton v Oldham | Away | February 4, 1899 | Lancashire Senior Competition |
| Oldham v Stockport | Home | February 11, 1899 | Lancashire Senior Competition |
| Runcorn v Oldham | Away | March 4, 1899 | Lancashire Senior Competition |
| Oldham v Wigan | Home | March 11, 1899 | Lancashire Senior Competition |
| Bradford v Oldham | Away | April 1, 1899 | Rugby League Challenge Cup |
| Oldham v Widnes | Home | April 8, 1899 | Rugby League Challenge Cup |
| Leigh v Oldham | Neutral | April 15, 1899 | Rugby League Challenge Cup |
| Hunslet v Oldham | Neutral | April 29, 1899 | Rugby League Challenge Cup |
| Morecambe v Oldham | Away | September 2, 1899 | Friendly |
| Millom v Oldham | Away | September 9, 1899 | Lancashire Senior Competition |
| Oldham v Tyldesley | Home | September 16, 1899 | Lancashire Senior Competition |
| Oldham v Runcorn | Home | September 23, 1899 | Lancashire Senior Competition |
| Stockport v Oldham | Away | September 25, 1899 | Lancashire Senior Competition |
| Seaton v Oldham | Away | September 30, 1899 | Friendly |
| Widnes v Oldham | Away | October 7, 1899 | Lancashire Senior Competition |
| Rochdale Hornets v Oldham | Away | October 14, 1899 | Lancashire Senior Competition |
| Oldham v Stockport | Home | October 17, 1899 | Lancashire Senior Competition |
| Oldham v Salford | Home | October 28, 1899 | Lancashire Senior Competition |
| Swinton v Oldham | Away | November 11, 1899 | Lancashire Senior Competition |
| Oldham v Warrington | Home | November 18, 1899 | Lancashire Senior Competition |
| Wigan v Oldham | Away | November 25, 1899 | Lancashire Senior Competition |
| St Helens v Oldham | Away | December 9, 1899 | Lancashire Senior Competition |
| Broughton Rangers v Oldham | Away | December 23, 1899 | Lancashire Senior Competition |
| Oldham v Rochdale Hornets | Home | December 25, 1899 | Lancashire Senior Competition |
| Oldham v Millom | Home | December 30, 1899 | Lancashire Senior Competition |
| Oldham v Bradford | Home | January 1, 1900 | Friendly |
| Oldham v Leigh | Home | January 6, 1900 | Lancashire Senior Competition |
| Oldham v Widnes | Home | January 13, 1900 | Lancashire Senior Competition |
| Oldham v Wigan | Home | January 20, 1900 | Lancashire Senior Competition |
| Salford v Oldham | Away | January 27, 1900 | Lancashire Senior Competition |
| Oldham v Swinton | Home | February 3, 1900 | Lancashire Senior Competition |
| Oldham v Broughton Rangers | Home | February 17, 1900 | Lancashire Senior Competition |
| Warrington v Oldham | Away | February 21, 1900 | Lancashire Senior Competition |
| Leigh v Oldham | Away | February 24, 1900 | Lancashire Senior Competition |
| Tyldesley v Oldham | Away | February 27, 1900 | Lancashire Senior Competition |
| Oldham v St Helens | Home | March 3, 1900 | Lancashire Senior Competition |
| Runcorn v Oldham | Away | March 10, 1900 | Lancashire Senior Competition |
| Halifax v Oldham | Away | March 24, 1900 | Rugby League Challenge Cup |
| Swinton v Oldham | Away | March 31, 1900 | Rugby League Challenge Cup |
| Hull Kingston Rovers v Oldham | Away | April 7, 1900 | Friendly |
| Workington v Oldham | Away | September 1, 1900 | Friendly |
| Barrow v Oldham | Away | September 8, 1900 | Lancashire Senior Competition |
| Oldham v Wigan | Home | September 15, 1900 | Lancashire Senior Competition |
| Swinton v Oldham | Away | September 29, 1900 | Lancashire Senior Competition |
| Runcorn v Oldham | Away | October 6, 1900 | Lancashire Senior Competition |
| Oldham v St Helens | Home | October 13, 1900 | Lancashire Senior Competition |
| Oldham v Leigh | Home | October 27, 1900 | Lancashire Senior Competition |
| Salford v Oldham | Away | November 10, 1900 | Lancashire Senior Competition |
| Oldham v Widnes | Home | November 17, 1900 | Lancashire Senior Competition |
| Oldham v Rochdale Hornets | Home | November 24, 1900 | Lancashire Senior Competition |
| Oldham v Millom | Home | December 1, 1900 | Lancashire Senior Competition |
| Rochdale Hornets v Oldham | Away | December 25, 1900 | Lancashire Senior Competition |
| Oldham v Broughton Rangers | Home | December 29, 1900 | Lancashire Senior Competition |
| Oldham v Halifax | Home | January 1, 1901 | Friendly |
| Widnes v Oldham | Away | January 5, 1901 | Lancashire Senior Competition |
| Stockport v Oldham | Away | January 19, 1901 | Lancashire Senior Competition |
| Broughton Rangers v Oldham | Away | January 26, 1901 | Lancashire Senior Competition |
| Oldham v Stockport | Home | February 9, 1901 | Lancashire Senior Competition |
| Oldham v Warrington | Home | February 19, 1901 | Lancashire Senior Competition |
| Oldham v Runcorn | Home | February 23, 1901 | Lancashire Senior Competition |
| Oldham v Swinton | Home | February 25, 1901 | Lancashire Senior Competition |
| Oldham v Otley | Home | March 2, 1901 | Rugby League Challenge Cup |
| Bramley v Oldham | Away | March 9, 1901 | Rugby League Challenge Cup |
| Wigan v Oldham | Away | March 16, 1901 | Lancashire Senior Competition |
| Broughton Rangers v Oldham | Away | March 23, 1901 | Rugby League Challenge Cup |
| Widnes v Oldham | Away | March 30, 1901 | Rugby League Challenge Cup |
| Leigh v Oldham | Away | April 2, 1901 | Lancashire Senior Competition |
| Oldham v Salford | Home | April 6, 1901 | Lancashire Senior Competition |
| Millom v Oldham | Away | April 8, 1901 | Lancashire Senior Competition |
| Batley v Oldham | Neutral | April 13, 1901 | Rugby League Challenge Cup |
| Oldham v The Rest | Home | April 20, 1901 | Champs v Rest |
| Werneth v Oldham | Away | April 26, 1901 | Friendly |
| Leigh v Oldham | Away | September 7, 1901 | Northern RL |
| Batley v Oldham | Away | September 14, 1901 | Northern RL |
| Oldham v Huddersfield | Home | September 21, 1901 | Northern RL |
| Bradford v Oldham | Away | September 28, 1901 | Northern RL |
| Oldham v Brighouse Rangers | Home | October 5, 1901 | Northern RL |
| Oldham v Runcorn | Home | October 12, 1901 | Northern RL |
| Warrington v Oldham | Away | October 19, 1901 | Northern RL |
| Oldham v South Shields | Home | October 26, 1901 | Friendly |
| Hull FC v Oldham | Away | November 9, 1901 | Northern RL |
| Huddersfield v Oldham | Away | November 23, 1901 | Northern RL |
| Hunslet v Oldham | Away | November 30, 1901 | Northern RL |
| Oldham v Leigh | Home | December 7, 1901 | Northern RL |
| Oldham v Rochdale Hornets | Home | December 25, 1901 | South East Lancashire League |
| Oldham v Hull FC | Home | December 31, 1901 | Northern RL |
| Swinton v Oldham | Away | January 1, 1902 | Northern RL |
| Oldham v Salford | Home | January 4, 1902 | Northern RL |
| Oldham v Hunslet | Home | January 11, 1902 | Northern RL |
| Halifax v Oldham | Away | January 18, 1902 | Northern RL |
| Salford v Oldham | Away | January 25, 1902 | Northern RL |
| Oldham v Halifax | Home | January 28, 1902 | Northern RL |
| Oldham v Broughton Rangers | Home | February 25, 1902 | Northern RL |
| Oldham v Swinton | Home | March 1, 1902 | Northern RL |
| Broughton Rangers v Oldham | Away | March 8, 1902 | Northern RL |
| Maryport v Oldham | Away | March 15, 1902 | Rugby League Challenge Cup |
| Runcorn v Oldham | Away | March 22, 1902 | Rugby League Challenge Cup |
| Stockport v Oldham | Away | March 31, 1902 | South East Lancashire League |
| Hunslet v Oldham | Away | April 14, 1902 | Northern RL |
| South Shields v Oldham | Away | April 19, 1902 | Friendly |
| Salford & Swinton v Broughton Rangers and Oldham | Away | April 29, 1902 | Benefit Match |
| Hull FC v Oldham | Away | September 6, 1902 | Division 1 |
| Swinton v Oldham | Away | September 13, 1902 | Division 1 |
| Oldham v Broughton Rangers | Home | September 20, 1902 | Division 1 |
| Hull Kingston Rovers v Oldham | Away | September 27, 1902 | Division 1 |
| Oldham v Hunslet | Home | October 4, 1902 | Division 1 |
| Wigan v Oldham | Away | October 11, 1902 | Division 1 |
| Oldham v Widnes | Home | October 18, 1902 | Division 1 |
| Oldham v Huddersfield | Home | November 1, 1902 | Division 1 |
| Warrington v Oldham | Away | November 8, 1902 | Division 1 |
| Oldham v Salford | Home | December 13, 1902 | Division 1 |
| Oldham v Halifax | Home | December 20, 1902 | Division 1 |
| Oldham v Swinton | Home | December 25, 1902 | Division 1 |
| Oldham v Leigh | Home | December 27, 1902 | Division 1 |
| Widnes v Oldham | Away | January 1, 1903 | Division 1 |
| Oldham v Hull FC | Home | January 3, 1903 | Division 1 |
| Broughton Rangers v Oldham | Away | January 17, 1903 | Division 1 |
| Oldham v Hull Kingston Rovers | Home | January 24, 1903 | Division 1 |
| Hunslet v Oldham | Away | January 31, 1903 | Division 1 |
| Batley v Oldham | Away | February 3, 1903 | Division 1 |
| Oldham v Wigan | Home | February 7, 1903 | Division 1 |
| Broughton Rangers v Oldham | Away | February 14, 1903 | Rugby League Challenge Cup |
| Oldham v Wigan | Home | February 21, 1903 | Rugby League Challenge Cup |
| Huddersfield v Oldham | Away | February 28, 1903 | Division 1 |
| Bradford v Oldham | Away | March 7, 1903 | Rugby League Challenge Cup |
| Oldham v Bradford | Home | March 10, 1903 | Division 1 |
| Oldham v Hunslet | Home | March 21, 1903 | Rugby League Challenge Cup |
| Oldham v Warrington | Home | March 24, 1903 | Division 1 |
| Oldham v Runcorn | Home | March 28, 1903 | Division 1 |
| Oldham v St Helens | Home | March 31, 1903 | Division 1 |
| Salford v Oldham | Neutral | April 4, 1903 | Rugby League Challenge Cup |
| Salford v Oldham | Neutral | April 8, 1903 | Rugby League Challenge Cup |
| Salford v Oldham | Away | April 11, 1903 | Division 1 |
| Oldham v Swinton | Home | April 13, 1903 | Division 1 |
| Oldham v Batley | Home | April 14, 1903 | Division 1 |
| Halifax v Oldham | Away | April 18, 1903 | Division 1 |
| Leigh v Oldham | Away | April 25, 1903 | Division 1 |
| Oldham v Hull FC | Home | September 5, 1903 | Division 1 |
| Halifax v Oldham | Away | September 12, 1903 | Division 1 |
| Oldham v Huddersfield | Home | September 19, 1903 | Division 1 |
| Bradford v Oldham | Away | September 26, 1903 | Division 1 |
| Oldham v Wigan | Home | October 3, 1903 | Division 1 |
| Leeds v Oldham | Away | October 10, 1903 | Division 1 |
| Oldham v Runcorn | Home | October 17, 1903 | Division 1 |
| Salford v Oldham | Away | October 24, 1903 | Division 1 |
| Oldham v Leigh | Home | October 31, 1903 | Division 1 |
| Warrington v Oldham | Away | November 7, 1903 | Division 1 |
| Keighley v Oldham | Away | November 21, 1903 | Division 1 |
| Oldham v Broughton Rangers | Home | November 28, 1903 | Division 1 |
| Hunslet v Oldham | Away | December 5, 1903 | Division 1 |
| Oldham v Widnes | Home | December 12, 1903 | Division 1 |
| Swinton v Oldham | Away | December 19, 1903 | Division 1 |
| Oldham v Batley | Home | December 25, 1903 | Division 1 |
| Oldham v Hull Kingston Rovers | Home | December 26, 1903 | Division 1 |
| Hull FC v Oldham | Away | January 2, 1904 | Division 1 |
| Oldham v Halifax | Home | January 9, 1904 | Division 1 |
| Oldham v Bradford | Home | January 23, 1904 | Division 1 |
| Wigan v Oldham | Away | January 30, 1904 | Division 1 |
| Oldham v Leeds | Home | February 6, 1904 | Division 1 |
| Runcorn v Oldham | Away | February 13, 1904 | Division 1 |
| Oldham v Salford | Home | February 20, 1904 | Division 1 |
| Leigh v Oldham | Away | February 27, 1904 | Division 1 |
| Oldham v Warrington | Home | March 5, 1904 | Division 1 |
| Batley v Oldham | Away | March 12, 1904 | Rugby League Challenge Cup |
| Broughton Rangers v Oldham | Away | March 26, 1904 | Division 1 |
| Oldham v Oldham A | Home | April 2, 1904 | Friendly |
| Oldham v Swinton | Home | April 4, 1904 | Division 1 |
| Widnes v Oldham | Away | April 9, 1904 | Division 1 |
| Oldham v Keighley | Home | April 12, 1904 | Division 1 |
| Oldham v Hunslet | Home | April 19, 1904 | Division 1 |
| St Helens v Oldham | Away | September 3, 1904 | Division 1 |
| Hull Kingston Rovers v Oldham | Away | September 10, 1904 | Division 1 |
| Oldham v Widnes | Home | September 10, 1904 | Division 1 |
| Oldham v Batley | Home | September 17, 1904 | Division 1 |
| Hunslet v Oldham | Away | September 24, 1904 | Division 1 |
| Salford v Oldham | Away | October 8, 1904 | Division 1 |
| Oldham v Warrington | Home | October 15, 1904 | Division 1 |
| Oldham v Halifax | Home | November 5, 1904 | Division 1 |
| Bradford v Oldham | Away | November 19, 1904 | Division 1 |
| Oldham v Leeds | Home | November 26, 1904 | Division 1 |
| Runcorn v Oldham | Away | December 3, 1904 | Division 1 |
| Oldham v Broughton Rangers | Home | December 10, 1904 | Division 1 |
| Oldham v Wigan | Home | December 17, 1904 | Division 1 |
| Swinton v Oldham | Away | December 24, 1904 | Division 1 |
| Oldham v Swinton | Home | December 26, 1904 | Division 1 |
| Oldham v St Helens | Home | December 31, 1904 | Division 1 |
| Halifax v Oldham | Away | January 2, 1905 | Division 1 |
| Oldham v Hull Kingston Rovers | Home | January 7, 1905 | Division 1 |
| Batley v Oldham | Away | January 14, 1905 | Division 1 |
| Oldham v Hunslet | Home | January 21, 1905 | Division 1 |
| Widnes v Oldham | Away | January 28, 1905 | Division 1 |
| Oldham v Salford | Home | February 4, 1905 | Division 1 |
| Warrington v Oldham | Away | February 11, 1905 | Division 1 |
| Oldham v Wakefield Trinity | Home | February 18, 1905 | Division 1 |
| Leigh v Oldham | Away | February 25, 1905 | Division 1 |
| Oldham v Normanton | Home | March 4, 1905 | Rugby League Challenge Cup |
| Hull FC v Oldham | Away | March 11, 1905 | Division 1 |
| Batley v Oldham | Away | March 18, 1905 | Rugby League Challenge Cup |
| Oldham v Bradford | Home | March 20, 1905 | Division 1 |
| Oldham v Bradford | Home | April 1, 1905 | Rugby League Challenge Cup |
| Bradford v Oldham | | April 5, 1905 | Rugby League Challenge Cup |
| Broughton Rangers v Oldham | Away | April 8, 1905 | Division 1 |
| Oldham v Runcorn | Home | April 22, 1905 | Division 1 |
| Oldham v Hull FC | Home | April 24, 1905 | Division 1 |