Charlie Winslade
Profile
One of the most popular members of the great 1950s Oldham team, Charlie Winslade, was a powerful forward who formed a dynamic second row partnership with team mate Sid Little.
Charlie signed for Oldham from the Welsh RU club Maesteg in January 1950. Before "Going North" he had represented Wales at schoolboy level, been capped four times by Glamorgan County and was thought to be on the verge of full international honours. After breaking into the Oldham first team in the 1950-51 season he was virtually an ever present for the next decade. A robust performer on both attack and defence, his hallmarks were the long one handed pass and the shoulder charge tackle.
His first representative game in Rugby League was for a Commonwealth XIII. This was followed by inclusion in the Welsh side and one appearance for the full Great Britain team. At club level Charlie figured prominently in the success of the 1950s and, like many of his team mates, only a Challenge Cup winner's medal eluded him.
After eleven years' sterling service to the "Roughyeds", Charlie moved on to Warrington, but he always had the best interests of his former club at heart. After his death in 1993, his ashes were scattered at Watersheddings, showing the depth of affection felt for Oldham RLFC by this great servant of the club.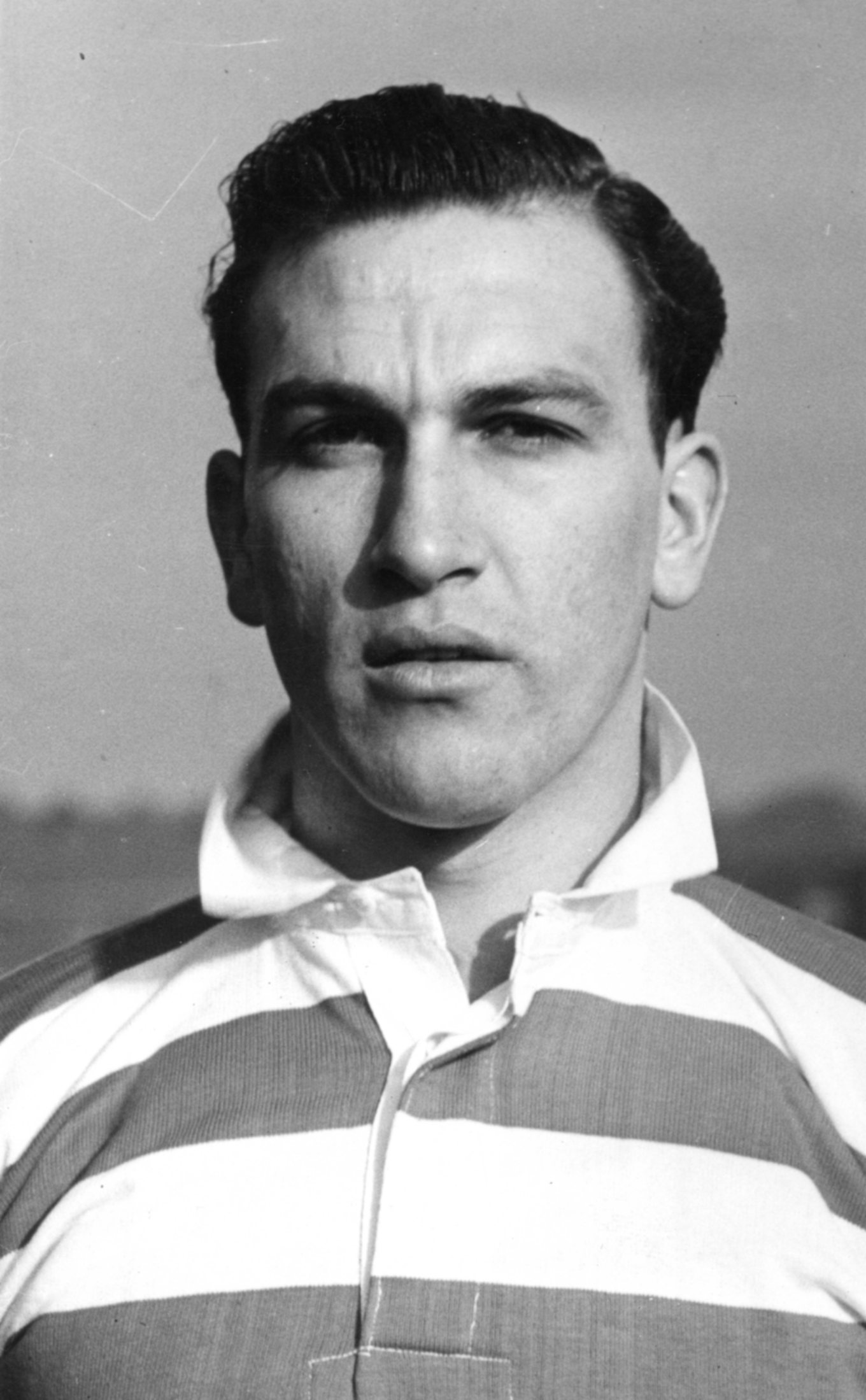 Career Games
| | | | |
| --- | --- | --- | --- |
| Oldham v Leigh | Home | October 21, 1950 | League Championship |
| Oldham v Batley | Home | November 4, 1950 | League Championship |
| Oldham v Keighley | Home | December 2, 1950 | League Championship |
| York v Oldham | Away | December 26, 1950 | League Championship |
| Warrington v Oldham | Away | January 6, 1951 | League Championship |
| Oldham v Belle Vue Rangers | Home | January 20, 1951 | League Championship |
| Wigan v Oldham | Away | January 27, 1951 | League Championship |
| Workington Town v Oldham | Away | February 3, 1951 | League Championship |
| Leeds v Oldham | Away | February 10, 1951 | Rugby League Challenge Cup |
| Oldham v Leeds | Home | February 17, 1951 | Rugby League Challenge Cup |
| Rochdale Hornets v Oldham | Away | February 24, 1951 | League Championship |
| Oldham v Liverpool Stanley | Home | March 3, 1951 | League Championship |
| Widnes v Oldham | Away | March 10, 1951 | League Championship |
| Oldham v Workington Town | Home | March 17, 1951 | League Championship |
| Swinton v Oldham | Away | March 23, 1951 | League Championship |
| Oldham v Whitehaven | Home | March 24, 1951 | League Championship |
| Oldham v St Helens | Home | March 26, 1951 | League Championship |
| Oldham v St Helens | Home | April 7, 1951 | League Championship |
| Barrow v Oldham | Away | April 14, 1951 | League Championship |
| Leigh v Oldham | Away | April 16, 1951 | League Championship |
| Oldham v Bramley | Home | April 21, 1951 | League Championship |
| Oldham v Wigan | Home | April 23, 1951 | League Championship |
| Oldham v Halifax | Home | May 8, 1951 | Benefit Match |
| Rochdale Hornets v Oldham | Away | August 11, 1951 | Law Cup |
| Oldham v Bradford Northern | Home | August 18, 1951 | League Championship |
| Belle Vue Rangers v Oldham | Away | August 22, 1951 | League Championship |
| Keighley v Oldham | Away | August 25, 1951 | League Championship |
| Oldham v Liverpool City | Home | August 28, 1951 | League Championship |
| Rochdale Hornets v Oldham | Away | September 1, 1951 | Lancashire Cup |
| Oldham v Rochdale Hornets | Home | September 4, 1951 | Lancashire Cup |
| Wigan v Oldham | Away | September 8, 1951 | League Championship |
| Oldham v Whitehaven | Home | September 10, 1951 | League Championship |
| Oldham v St Helens | Home | September 15, 1951 | League Championship |
| Oldham v Widnes | Home | September 24, 1951 | Lancashire Cup |
| Oldham v New Zealand | Home | September 29, 1951 | Tour Match |
| Oldham v Warrington | Home | October 6, 1951 | League Championship |
| Liverpool City v Oldham | Away | October 13, 1951 | League Championship |
| Oldham v Leigh | Home | October 16, 1951 | Lancashire Cup |
| Oldham v Leigh | Home | October 20, 1951 | League Championship |
| Salford v Oldham | Away | October 27, 1951 | League Championship |
| Barrow v Oldham | Away | November 24, 1951 | League Championship |
| Oldham v Barrow | Home | December 1, 1951 | League Championship |
| Halifax v Oldham | Away | December 8, 1951 | League Championship |
| Whitehaven v Oldham | Away | December 15, 1951 | League Championship |
| Oldham v Keighley | Home | December 22, 1951 | League Championship |
| Oldham v Swinton | Home | December 25, 1951 | League Championship |
| Oldham v Workington Town | Home | December 26, 1951 | League Championship |
| Bradford Northern v Oldham | Away | December 29, 1951 | League Championship |
| Oldham v Barrow | Home | January 3, 1952 | League Championship |
| Oldham v Widnes | Home | January 5, 1952 | League Championship |
| Oldham v Salford | Home | January 12, 1952 | League Championship |
| Warrington v Oldham | Away | February 2, 1952 | League Championship |
| Hull FC v Oldham | Away | February 9, 1952 | Rugby League Challenge Cup |
| Oldham v Hull FC | Home | February 16, 1952 | Rugby League Challenge Cup |
| Oldham v Hull Kingston Rovers | Home | February 23, 1952 | League Championship |
| Leeds v Oldham | Away | March 1, 1952 | Rugby League Challenge Cup |
| Bramley v Oldham | Away | March 8, 1952 | League Championship |
| St Helens v Oldham | Away | March 29, 1952 | League Championship |
| Rochdale Hornets v Oldham | Away | April 1, 1952 | League Championship |
| Swinton v Oldham | Away | April 11, 1952 | League Championship |
| Oldham v Rochdale Hornets | Home | April 12, 1952 | League Championship |
| Oldham v Halifax | Home | April 14, 1952 | League Championship |
| Hull Kingston Rovers v Oldham | Away | April 26, 1952 | League Championship |
| Oldham v RL XIII | Home | May 6, 1952 | Benefit Match |
| Oldham v Rochdale Hornets | Home | August 16, 1952 | Law Cup |
| Oldham v Featherstone Rovers | Home | August 23, 1952 | League Championship |
| Bramley v Oldham | Away | November 1, 1952 | League Championship |
| Oldham v Leigh | Home | November 8, 1952 | League Championship |
| Wakefield Trinity v Oldham | Away | November 15, 1952 | League Championship |
| Oldham v Salford | Home | November 22, 1952 | League Championship |
| Oldham v Belle Vue Rangers | Home | December 6, 1952 | League Championship |
| Bradford Northern v Oldham | Away | December 20, 1952 | League Championship |
| Oldham v Swinton | Home | December 25, 1952 | League Championship |
| Liverpool City v Oldham | Away | December 26, 1952 | League Championship |
| Oldham v Wigan | Home | December 27, 1952 | League Championship |
| Wigan v Oldham | Away | January 10, 1953 | League Championship |
| Salford v Oldham | Away | January 17, 1953 | League Championship |
| Oldham v Rochdale Hornets | Home | January 24, 1953 | League Championship |
| Oldham v Bramley | Home | January 31, 1953 | League Championship |
| St Helens v Oldham | Away | February 7, 1953 | Rugby League Challenge Cup |
| Oldham v St Helens | Home | February 14, 1953 | Rugby League Challenge Cup |
| Whitehaven v Oldham | Away | February 28, 1953 | League Championship |
| Oldham v Bradford Northern | Home | March 7, 1953 | League Championship |
| Widnes v Oldham | Away | March 14, 1953 | League Championship |
| Oldham v Workington Town | Home | March 21, 1953 | League Championship |
| Featherstone Rovers v Oldham | Away | March 28, 1953 | League Championship |
| Swinton v Oldham | Away | April 3, 1953 | League Championship |
| Belle Vue Rangers v Oldham | Away | April 4, 1953 | League Championship |
| Oldham v St Helens | Home | April 18, 1953 | League Championship |
| Leigh v Oldham | Away | April 22, 1953 | League Championship |
| Oldham v Huddersfield | Home | May 16, 1953 | Benefit Match |
| Oldham v Leeds | Home | August 29, 1953 | League Championship |
| Oldham v Whitehaven | Home | September 7, 1953 | Lancashire Cup |
| Leigh v Oldham | Away | September 12, 1953 | League Championship |
| Oldham v Liverpool City | Home | September 19, 1953 | League Championship |
| Warrington v Oldham | Away | September 24, 1953 | Lancashire Cup |
| Oldham v Widnes | Home | October 3, 1953 | League Championship |
| Dewsbury v Oldham | Away | October 31, 1953 | League Championship |
| Oldham v St Helens | Home | November 7, 1953 | League Championship |
| Whitehaven v Oldham | Away | November 14, 1953 | League Championship |
| Belle Vue Rangers v Oldham | Away | November 28, 1953 | League Championship |
| St Helens v Oldham | Away | December 12, 1953 | League Championship |
| Oldham v Workington Town | Home | December 19, 1953 | League Championship |
| Oldham v Swinton | Home | December 25, 1953 | League Championship |
| Workington Town v Oldham | Away | December 26, 1953 | League Championship |
| Hull FC v Oldham | Away | January 2, 1954 | League Championship |
| Oldham v Salford | Home | January 9, 1954 | League Championship |
| Oldham v Huddersfield | Home | January 16, 1954 | League Championship |
| Liverpool City v Oldham | Away | January 23, 1954 | League Championship |
| Liverpool City v Oldham | Away | February 6, 1954 | Rugby League Challenge Cup |
| Warrington v Oldham | Away | February 20, 1954 | League Championship |
| Oldham v Leigh | Home | February 27, 1954 | League Championship |
| Oldham v Warrington | Home | March 6, 1954 | Rugby League Challenge Cup |
| Barrow v Oldham | Away | March 13, 1954 | League Championship |
| Oldham v Hull FC | Home | March 20, 1954 | League Championship |
| Leigh v Oldham | Neutral | April 3, 1954 | Exhibition Match |
| Oldham v Warrington | Home | April 8, 1954 | League Championship |
| Oldham v Whitehaven | Home | April 12, 1954 | League Championship |
| Oldham v Belle Vue Rangers | Home | April 17, 1954 | League Championship |
| Oldham v Rochdale Hornets | Home | August 7, 1954 | Law Cup |
| Wakefield Trinity v Oldham | Away | August 14, 1954 | League Championship |
| Oldham v Batley | Home | August 21, 1954 | League Championship |
| Salford v Oldham | Away | August 25, 1954 | League Championship |
| St Helens v Oldham | Away | August 28, 1954 | League Championship |
| Barrow v Oldham | Away | September 4, 1954 | League Championship |
| Oldham v Lancs County Amateurs | Home | September 11, 1954 | Lancashire Cup |
| Oldham v Liverpool City | Home | September 14, 1954 | League Championship |
| Batley v Oldham | Away | September 18, 1954 | League Championship |
| Oldham v St Helens | Home | September 20, 1954 | Lancashire Cup |
| Oldham v Wakefield Trinity | Home | September 25, 1954 | League Championship |
| Workington Town v Oldham | Away | September 30, 1954 | Lancashire Cup |
| Blackpool Borough v Oldham | Away | October 2, 1954 | League Championship |
| Oldham v Workington Town | Home | October 9, 1954 | League Championship |
| Rochdale Hornets v Oldham | Away | October 16, 1954 | League Championship |
| Barrow v Oldham | Neutral | October 23, 1954 | Lancashire Cup |
| Liverpool City v Oldham | Away | October 30, 1954 | League Championship |
| Oldham v Blackpool Borough | Home | November 6, 1954 | League Championship |
| Widnes v Oldham | Away | November 13, 1954 | League Championship |
| Oldham v Whitehaven | Home | November 20, 1954 | League Championship |
| Wigan v Oldham | Away | November 27, 1954 | League Championship |
| Whitehaven v Oldham | Away | December 11, 1954 | League Championship |
| Keighley v Oldham | Away | December 18, 1954 | League Championship |
| Oldham v Swinton | Home | December 25, 1954 | League Championship |
| Oldham v Salford | Home | December 28, 1954 | League Championship |
| Oldham v Belle Vue Rangers | Home | January 1, 1955 | League Championship |
| Leigh v Oldham | Away | January 8, 1955 | League Championship |
| Oldham v Warrington | Home | January 15, 1955 | League Championship |
| Workington Town v Oldham | Away | January 22, 1955 | League Championship |
| Oldham v Rochdale Hornets | Home | January 29, 1955 | League Championship |
| Oldham v Barrow | Home | February 5, 1955 | League Championship |
| Oldham v Wigan | Home | February 12, 1955 | Rugby League Challenge Cup |
| Leigh v Oldham | Away | March 5, 1955 | Rugby League Challenge Cup |
| Belle Vue Rangers v Oldham | Away | March 12, 1955 | League Championship |
| Oldham v Widnes | Home | March 19, 1955 | League Championship |
| Warrington v Oldham | Away | March 26, 1955 | League Championship |
| Oldham v Wigan | Home | April 2, 1955 | League Championship |
| Swinton v Oldham | Away | April 8, 1955 | League Championship |
| Hull FC v Oldham | Away | April 9, 1955 | League Championship |
| Oldham v Keighley | Home | April 11, 1955 | League Championship |
| Oldham v Leigh | Home | April 16, 1955 | League Championship |
| Oldham v Leeds | Home | April 23, 1955 | League Championship |
| Warrington v Oldham | Neutral | May 14, 1955 | League Championship |
| Oldham v Keighley | Home | August 20, 1955 | Friendly |
| Blackpool Borough v Oldham | Away | August 27, 1955 | Lancashire Cup |
| Oldham v Leigh | Home | September 7, 1955 | Lancashire Cup |
| Warrington v Oldham | Away | October 22, 1955 | League Championship |
| Oldham v New Zealand | Home | October 29, 1955 | Tour Match |
| Oldham v Blackpool Borough | Home | March 17, 1956 | League Championship |
| Oldham v Leigh | Home | March 24, 1956 | League Championship |
| Swinton v Oldham | Away | March 30, 1956 | League Championship |
| Oldham v Leeds | Home | March 31, 1956 | League Championship |
| Oldham v Bramley | Home | August 18, 1956 | League Championship |
| Halifax v Oldham | Away | August 20, 1956 | League Championship |
| Rochdale Hornets v Oldham | Away | August 25, 1956 | League Championship |
| Oldham v Leigh | Home | August 28, 1956 | League Championship |
| Wigan v Oldham | Away | September 1, 1956 | Lancashire Cup |
| St Helens v Oldham | Away | September 8, 1956 | League Championship |
| Salford v Oldham | Away | September 11, 1956 | Lancashire Cup |
| Oldham v Wakefield Trinity | Home | September 15, 1956 | League Championship |
| Leigh v Oldham | Away | September 19, 1956 | Lancashire Cup |
| Oldham v Barrow | Home | September 22, 1956 | League Championship |
| Liverpool City v Oldham | Away | September 29, 1956 | League Championship |
| Wigan v Oldham | Away | October 6, 1956 | League Championship |
| Leigh v Oldham | Neutral | October 8, 1956 | Rules trial game |
| Oldham v Halifax | Home | October 13, 1956 | League Championship |
| St Helens v Oldham | Neutral | October 20, 1956 | Lancashire Cup |
| Oldham v Keighley | Home | October 27, 1956 | League Championship |
| Workington Town v Oldham | Away | November 3, 1956 | League Championship |
| Oldham v Australia | Home | November 7, 1956 | Tour Match |
| Oldham v Workington Town | Home | November 10, 1956 | League Championship |
| Barrow v Oldham | Away | November 21, 1956 | League Championship |
| Oldham v Blackpool Borough | Home | November 24, 1956 | League Championship |
| Oldham v York | Home | December 1, 1956 | League Championship |
| Oldham v St Helens | Home | December 8, 1956 | League Championship |
| Wakefield Trinity v Oldham | Away | December 15, 1956 | League Championship |
| Warrington v Oldham | Away | December 22, 1956 | League Championship |
| Widnes v Oldham | Away | December 29, 1956 | League Championship |
| Oldham v Hunslet | Home | January 5, 1957 | League Championship |
| Oldham v Salford | Home | January 12, 1957 | League Championship |
| Whitehaven v Oldham | Away | January 19, 1957 | League Championship |
| Oldham v Warrington | Home | January 26, 1957 | League Championship |
| Salford v Oldham | Away | February 2, 1957 | League Championship |
| Workington Town v Oldham | Away | February 9, 1957 | Rugby League Challenge Cup |
| Oldham v Widnes | Home | February 16, 1957 | League Championship |
| Leigh v Oldham | Away | February 23, 1957 | Rugby League Challenge Cup |
| Oldham v Liverpool City | Home | March 2, 1957 | League Championship |
| York v Oldham | Away | March 9, 1957 | League Championship |
| Oldham v Whitehaven | Home | March 16, 1957 | League Championship |
| Bramley v Oldham | Away | March 23, 1957 | League Championship |
| Oldham v Wigan | Home | March 30, 1957 | League Championship |
| Leigh v Oldham | Away | April 4, 1957 | League Championship |
| Oldham v Swinton | Home | April 15, 1957 | League Championship |
| Swinton v Oldham | Away | April 19, 1957 | League Championship |
| Hunslet v Oldham | Away | April 20, 1957 | League Championship |
| Oldham v Rochdale Hornets | Home | April 22, 1957 | League Championship |
| Oldham v Leeds | Home | May 4, 1957 | League Championship |
| Hull FC v Oldham | Neutral | May 18, 1957 | League Championship |
| Oldham v Barrow | Home | August 31, 1957 | Lancashire Cup |
| Huddersfield v Oldham | Away | September 2, 1957 | League Championship |
| Halifax v Oldham | Away | September 7, 1957 | League Championship |
| Oldham v Warrington | Home | September 10, 1957 | Lancashire Cup |
| Oldham v Warrington | Home | September 14, 1957 | League Championship |
| Workington Town v Oldham | Away | September 28, 1957 | League Championship |
| St Helens v Oldham | Away | October 2, 1957 | Lancashire Cup |
| Rochdale Hornets v Oldham | Away | October 12, 1957 | League Championship |
| Wigan v Oldham | Neutral | October 19, 1957 | Lancashire Cup |
| Oldham v Wakefield Trinity | Home | November 2, 1957 | League Championship |
| Salford v Oldham | Away | November 9, 1957 | League Championship |
| Oldham v Liverpool City | Home | November 16, 1957 | League Championship |
| Leigh v Oldham | Away | November 23, 1957 | League Championship |
| Oldham v Salford | Home | November 30, 1957 | League Championship |
| Hunslet v Oldham | Away | December 7, 1957 | League Championship |
| Oldham v Leeds | Home | January 4, 1958 | League Championship |
| Oldham v Barrow | Home | January 11, 1958 | League Championship |
| Widnes v Oldham | Away | January 18, 1958 | League Championship |
| Wigan v Oldham | Away | February 1, 1958 | League Championship |
| Oldham v Hull Kingston Rovers | Home | February 8, 1958 | Rugby League Challenge Cup |
| St Helens v Oldham | Away | February 15, 1958 | League Championship |
| Blackpool Borough v Oldham | Away | February 22, 1958 | Rugby League Challenge Cup |
| Oldham v Blackpool Borough | Home | March 1, 1958 | League Championship |
| Oldham v Wigan | Home | March 8, 1958 | Rugby League Challenge Cup |
| Oldham v Rochdale Hornets | Home | March 22, 1958 | League Championship |
| Oldham v Widnes | Home | March 25, 1958 | League Championship |
| Swinton v Oldham | Away | April 4, 1958 | League Championship |
| Oldham v Wigan | Home | April 5, 1958 | League Championship |
| Oldham v Huddersfield | Home | April 7, 1958 | League Championship |
| Oldham v Hunslet | Home | April 12, 1958 | League Championship |
| Oldham v Hull FC | Home | April 16, 1958 | League Championship |
| Leeds v Oldham | Away | April 19, 1958 | League Championship |
| Oldham v Workington Town | Home | April 26, 1958 | League Championship |
| Oldham v Hull FC | Home | May 3, 1958 | League Championship |
| Rochdale Hornets v Oldham | Away | August 9, 1958 | Law Cup |
| Oldham v Halifax | Home | August 16, 1958 | League Championship |
| Blackpool Borough v Oldham | Away | August 19, 1958 | League Championship |
| Wakefield Trinity v Oldham | Away | August 23, 1958 | League Championship |
| Oldham v Whitehaven | Home | August 30, 1958 | Lancashire Cup |
| Oldham v Workington Town | Home | September 2, 1958 | League Championship |
| Halifax v Oldham | Away | September 6, 1958 | League Championship |
| Oldham v Wakefield Trinity | Home | September 13, 1958 | League Championship |
| Oldham v Wigan | Home | September 16, 1958 | Lancashire Cup |
| Rochdale Hornets v Oldham | Away | September 20, 1958 | League Championship |
| Oldham v Widnes | Home | September 30, 1958 | Lancashire Cup |
| Warrington v Oldham | Away | October 4, 1958 | League Championship |
| Oldham v Rochdale Hornets | Home | October 11, 1958 | League Championship |
| Liverpool City v Oldham | Away | October 18, 1958 | League Championship |
| St Helens v Oldham | Neutral | October 25, 1958 | Lancashire Cup |
| Featherstone Rovers v Oldham | Away | November 1, 1958 | League Championship |
| Oldham v Featherstone Rovers | Home | November 8, 1958 | League Championship |
| Salford v Oldham | Away | November 15, 1958 | League Championship |
| Oldham v Leeds | Home | November 22, 1958 | League Championship |
| Wigan v Oldham | Away | November 29, 1958 | League Championship |
| Oldham v Widnes | Home | December 6, 1958 | League Championship |
| Workington Town v Oldham | Away | December 13, 1958 | League Championship |
| Oldham v Wigan | Home | December 20, 1958 | League Championship |
| Oldham v Swinton | Home | December 25, 1958 | League Championship |
| Hunslet v Oldham | Away | December 26, 1958 | League Championship |
| St Helens v Oldham | Away | December 27, 1958 | League Championship |
| Oldham v Leigh | Home | January 3, 1959 | League Championship |
| Leeds v Oldham | Away | January 31, 1959 | League Championship |
| Oldham v Warrington | Home | February 7, 1959 | League Championship |
| Leigh v Oldham | Away | February 14, 1959 | League Championship |
| Oldham v St Helens | Home | February 21, 1959 | Rugby League Challenge Cup |
| Hull FC v Oldham | Away | March 14, 1959 | League Championship |
| Oldham v Barrow | Home | March 21, 1959 | League Championship |
| Swinton v Oldham | Away | March 27, 1959 | League Championship |
| Oldham v Hunslet | Home | April 14, 1959 | League Championship |
| Oldham v Whitehaven | Home | April 18, 1959 | League Championship |
| Barrow v Oldham | Away | April 20, 1959 | League Championship |
| Oldham v St Helens | Home | April 27, 1959 | League Championship |
| St Helens v Oldham | Away | May 2, 1959 | League Championship |
| Oldham v Rochdale Hornets | Home | August 8, 1959 | Law Cup |
| Oldham v Leeds | Home | August 15, 1959 | League Championship |
| Salford v Oldham | Away | August 22, 1959 | League Championship |
| Oldham v Warrington | Home | August 25, 1959 | League Championship |
| Oldham v Hunslet | Home | September 12, 1959 | League Championship |
| Oldham v Widnes | Home | September 19, 1959 | League Championship |
| Blackpool Borough v Oldham | Away | September 26, 1959 | League Championship |
| Oldham v Australia | Home | October 3, 1959 | Tour Match |
| Barrow v Oldham | Away | October 10, 1959 | League Championship |
| Oldham v Workington Town | Home | October 17, 1959 | League Championship |
| Warrington v Oldham | Away | October 24, 1959 | League Championship |
| Oldham v Barrow | Home | October 31, 1959 | League Championship |
| Rochdale Hornets v Oldham | Away | November 7, 1959 | League Championship |
| Oldham v Blackpool Borough | Home | November 14, 1959 | League Championship |
| Wigan v Oldham | Away | December 5, 1959 | League Championship |
| Oldham v Dewsbury | Home | December 19, 1959 | League Championship |
| Oldham v Swinton | Home | December 25, 1959 | League Championship |
| Oldham v Hull FC | Home | December 28, 1959 | League Championship |
| Liverpool City v Oldham | Away | January 2, 1960 | League Championship |
| Oldham v Wakefield Trinity | Home | January 9, 1960 | League Championship |
| Oldham v Leigh | Home | January 16, 1960 | League Championship |
| St Helens v Oldham | Away | January 23, 1960 | League Championship |
| Widnes v Oldham | Away | January 30, 1960 | League Championship |
| Oldham v Salford | Home | February 6, 1960 | League Championship |
| Oldham v Huddersfield | Home | February 13, 1960 | Rugby League Challenge Cup |
| Wakefield Trinity v Oldham | Away | February 20, 1960 | League Championship |
| Oldham v Walney Central | Home | February 27, 1960 | Rugby League Challenge Cup |
| Leeds v Oldham | Away | March 5, 1960 | League Championship |
| Oldham v Wigan | Home | March 12, 1960 | League Championship |
| Oldham v Bramley | Home | March 19, 1960 | Rugby League Challenge Cup |
| Hunslet v Oldham | Away | March 26, 1960 | League Championship |
| Hull FC v Oldham | Neutral | April 9, 1960 | Rugby League Challenge Cup |
| Oldham v Whitehaven | Home | April 18, 1960 | League Championship |
| Leeds v Oldham | Away | August 20, 1960 | League Championship |
| Wigan v Oldham | Away | August 27, 1960 | Lancashire Cup |
| Oldham v Leigh | Home | August 30, 1960 | League Championship |
| Featherstone Rovers v Oldham | Away | September 3, 1960 | League Championship |
| Oldham v Halifax | Home | September 10, 1960 | League Championship |
| St Helens v Oldham | Away | September 17, 1960 | League Championship |
| Oldham v Featherstone Rovers | Home | September 20, 1960 | League Championship |
| Blackpool Borough v Oldham | Away | September 27, 1960 | League Championship |
| Hull Kingston Rovers v Oldham | Away | October 15, 1960 | League Championship |
| Oldham v Widnes | Home | October 22, 1960 | League Championship |
| Rochdale Hornets v Oldham | Away | October 29, 1960 | League Championship |
| Oldham v Liverpool City | Home | November 5, 1960 | League Championship |
| Keighley v Oldham | Away | November 12, 1960 | League Championship |
| Oldham v Salford | Home | November 19, 1960 | League Championship |
| Whitehaven v Oldham | Away | November 26, 1960 | League Championship |
| Oldham v Leeds | Home | December 3, 1960 | League Championship |
| Oldham v Blackpool Borough | Home | December 17, 1960 | League Championship |
| Leigh v Oldham | Away | December 24, 1960 | League Championship |
| Oldham v Swinton | Home | December 26, 1960 | League Championship |
| Barrow v Oldham | Away | December 31, 1960 | League Championship |
| Workington Town v Oldham | Away | January 2, 1961 | League Championship |
| Liverpool City v Oldham | Away | January 21, 1961 | League Championship |
| Oldham v Wigan | Home | January 28, 1961 | League Championship |
| Oldham v Barrow | Home | February 4, 1961 | League Championship |
| Hull FC v Oldham | Away | February 11, 1961 | Rugby League Challenge Cup |
| Oldham v Hull Kingston Rovers | Home | February 18, 1961 | League Championship |
| Salford v Oldham | Away | March 4, 1961 | League Championship |
| Widnes v Oldham | Away | March 11, 1961 | League Championship |
| Oldham v Workington Town | Home | March 18, 1961 | League Championship |
| Wigan v Oldham | Away | March 25, 1961 | League Championship |
| Swinton v Oldham | Away | March 31, 1961 | League Championship |
| Oldham v Whitehaven | Home | April 1, 1961 | League Championship |
| Oldham v Blackpool Borough | Home | April 11, 1961 | League Championship |
| Oldham v Warrington | Home | April 15, 1961 | League Championship |
| Halifax v Oldham | Away | April 26, 1961 | League Championship |
| Oldham v Keighley | Home | April 29, 1961 | League Championship |
| Oldham v Rochdale Hornets | Home | August 12, 1961 | Law Cup |
| Oldham v Halifax | Home | August 19, 1961 | League Championship |
| Barrow v Oldham | Away | August 21, 1961 | League Championship |
| Blackpool Borough v Oldham | Away | August 26, 1961 | League Championship |
| Oldham v York | Home | August 28, 1961 | League Championship |
| Barrow v Oldham | Away | September 2, 1961 | Lancashire Cup |
| Oldham & Rochdale v New Zealand | Home | September 4, 1961 | Tour Match |
| Halifax v Oldham | Away | September 9, 1961 | League Championship |
| Oldham v Barrow | Home | September 30, 1961 | League Championship |
| St Helens v Oldham | Away | October 2, 1961 | Lancashire Cup |
| Oldham v Workington Town | Home | October 7, 1961 | League Championship |
| York v Oldham | Away | October 14, 1961 | League Championship |