Edgar Brooks
Profile
Local lad Edgar Brooks signed from the Watersheddings junior club in the summer of 1933, becoming the successor to Yorkshire born Jack Scaife as the Oldham hooker.
His debut was something of a baptism of fire on January 10th, 1934 against the touring Australians. This was the second time Oldham played the "Kangaroos" on the tour and they were walloped both times (6 – 38 & 5 – 38).
A consistent and reliable "striker", he was to suffer from recurring knee problems, which first came to light in the match against Wigan on October 5th, 1935. That injury would put him out of action for a year, but the next season he was happily back in the team and by 1939 he had won the first of three England caps. The Second World War meant the cancellation of the 1940 tour, for which Edgar was an almost certain choice, and the Lancashire county call he received in the same year was scant consolation. The Rugby League did announce a "shadow" squad and staged a match for "probables" against the 1936 tour squad played at Salford on February 10th, 1940, Edgar played for the former giving an impressive display and scoring a try.
After being demobbed by the army, he returned to the Oldham team, but the knee went again in early 1947 and another spell out of the game followed. His determination to keep on playing despite the set back was realised and he would go on to captain the club in the 1948-49 season. He played his last match in a first round cup tie at Leeds on February 10th, 1951, with almost 300 appearances for the club under his belt, a remarkable figure considering his injuries and the war time disruption.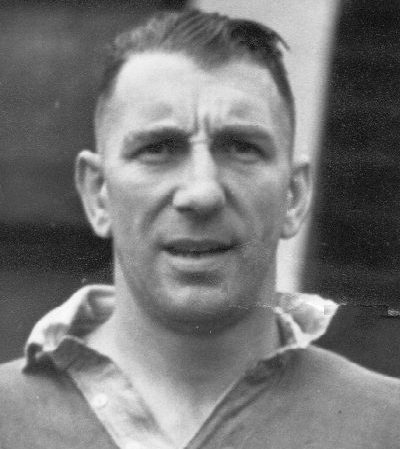 Career Games
| | | | |
| --- | --- | --- | --- |
| Oldham v Australia | Home | January 10, 1934 | Tour Match |
| Oldham v Leigh | Home | January 13, 1934 | League Championship |
| Batley v Oldham | Away | January 20, 1934 | League Championship |
| Oldham v London Highfield | Home | January 27, 1934 | League Championship |
| Oldham v Wakefield Trinity | Home | March 5, 1934 | League Championship |
| Oldham v St Helens Recs | Home | April 2, 1934 | League Championship |
| Oldham v Bramley | Home | September 1, 1934 | League Championship |
| Salford v Oldham | Away | September 22, 1934 | League Championship |
| Oldham v Wigan | Home | September 25, 1934 | Lancashire Cup |
| Oldham v Rochdale Hornets | Home | September 29, 1934 | League Championship |
| Keighley v Oldham | Away | October 6, 1934 | League Championship |
| Oldham v Salford | Home | October 13, 1934 | League Championship |
| Oldham v Wigan | Home | November 17, 1934 | League Championship |
| Widnes v Oldham | Away | November 24, 1934 | League Championship |
| Halifax v Oldham | Away | December 8, 1934 | League Championship |
| Oldham v Keighley | Home | December 15, 1934 | League Championship |
| Rochdale Hornets v Oldham | Away | December 22, 1934 | League Championship |
| Oldham v Swinton | Home | December 25, 1934 | League Championship |
| Hull Kingston Rovers v Oldham | Away | December 26, 1934 | League Championship |
| Oldham v York | Home | December 29, 1934 | League Championship |
| Oldham v Widnes | Home | January 1, 1935 | League Championship |
| Huddersfield v Oldham | Away | January 5, 1935 | League Championship |
| Oldham v Liverpool Stanley | Home | January 12, 1935 | League Championship |
| Oldham v Batley | Home | January 19, 1935 | League Championship |
| St Helens Recs v Oldham | Away | January 26, 1935 | League Championship |
| Oldham v St Helens | Home | February 2, 1935 | League Championship |
| Oldham v St Helens | Home | February 9, 1935 | Rugby League Challenge Cup |
| Oldham v Hull Kingston Rovers | Home | February 16, 1935 | League Championship |
| Huddersfield v Oldham | Away | February 23, 1935 | Rugby League Challenge Cup |
| Batley v Oldham | Away | March 2, 1935 | League Championship |
| Warrington v Oldham | Away | March 6, 1935 | League Championship |
| Oldham v Leigh | Home | March 9, 1935 | League Championship |
| Liverpool Stanley v Oldham | Away | March 16, 1935 | League Championship |
| York v Oldham | Away | March 23, 1935 | League Championship |
| Leigh v Oldham | Away | April 6, 1935 | League Championship |
| Oldham v Huddersfield | Home | April 9, 1935 | League Championship |
| Bramley v Oldham | Away | April 13, 1935 | League Championship |
| Swinton v Oldham | Away | April 19, 1935 | League Championship |
| Oldham v Halifax | Home | April 20, 1935 | League Championship |
| St Helens v Oldham | Away | April 22, 1935 | League Championship |
| Rochdale Hornets v Oldham | Away | August 24, 1935 | Infirmary Cup |
| Oldham v Hull Kingston Rovers | Home | August 31, 1935 | League Championship |
| Streatham & Mitcham v Oldham | Away | September 7, 1935 | League Championship |
| Rochdale Hornets v Oldham | Away | September 14, 1935 | Lancashire Cup |
| Oldham v Broughton Rangers | Home | September 16, 1935 | League Championship |
| Warrington v Oldham | Away | September 21, 1935 | League Championship |
| St Helens Recs v Oldham | Away | September 28, 1935 | League Championship |
| Wigan v Oldham | Away | October 2, 1935 | Lancashire Cup |
| Oldham v Wigan | Home | October 5, 1935 | League Championship |
| Barrow v Oldham | Away | September 17, 1936 | League Championship |
| Oldham v Widnes | Home | September 19, 1936 | League Championship |
| Warrington v Oldham | Away | September 26, 1936 | League Championship |
| Oldham v Liverpool Stanley | Home | September 28, 1936 | League Championship |
| Oldham v Salford | Home | October 3, 1936 | League Championship |
| Widnes v Oldham | Away | October 10, 1936 | League Championship |
| Oldham v Keighley | Home | October 17, 1936 | League Championship |
| Broughton Rangers v Oldham | Away | October 24, 1936 | League Championship |
| Oldham v Halifax | Home | October 31, 1936 | League Championship |
| St Helens v Oldham | Away | November 7, 1936 | League Championship |
| Oldham v St Helens | Home | November 14, 1936 | League Championship |
| Hunslet v Oldham | Away | November 21, 1936 | League Championship |
| Oldham v Barrow | Home | November 28, 1936 | League Championship |
| Halifax v Oldham | Away | December 5, 1936 | League Championship |
| Oldham v Broughton Rangers | Home | December 12, 1936 | League Championship |
| Hunslet v Oldham | Away | December 14, 1936 | League Championship |
| Liverpool Stanley v Oldham | Away | December 19, 1936 | League Championship |
| Oldham v Swinton | Home | December 25, 1936 | League Championship |
| Rochdale Hornets v Oldham | Away | December 26, 1936 | League Championship |
| Oldham v Wakefield Trinity | Home | January 1, 1937 | League Championship |
| Salford v Oldham | Away | January 2, 1937 | League Championship |
| Oldham v Streatham & Mitcham | Home | January 9, 1937 | League Championship |
| Oldham v Batley | Home | January 16, 1937 | League Championship |
| Wakefield Trinity v Oldham | Away | January 23, 1937 | League Championship |
| Keighley v Oldham | Away | February 6, 1937 | League Championship |
| Oldham v Wigan | Home | February 13, 1937 | Rugby League Challenge Cup |
| Oldham v Leigh | Home | February 20, 1937 | League Championship |
| St Helens Recs v Oldham | Away | March 20, 1937 | League Championship |
| Swinton v Oldham | Away | March 26, 1937 | League Championship |
| Oldham v Rochdale Hornets | Home | March 27, 1937 | League Championship |
| Batley v Oldham | Away | March 29, 1937 | League Championship |
| Oldham v Warrington | Home | April 5, 1937 | League Championship |
| Leigh v Oldham | Away | April 10, 1937 | League Championship |
| Oldham v Wigan | Home | April 12, 1937 | League Championship |
| Oldham v Hunslet | Home | April 17, 1937 | League Championship |
| Oldham v Broughton Rangers | Home | April 24, 1937 | League Championship |
| Rochdale Hornets v Oldham | Away | August 21, 1937 | Infirmary Cup |
| Warrington v Oldham | Away | August 28, 1937 | League Championship |
| Oldham v Halifax | Home | September 4, 1937 | League Championship |
| Oldham v Warrington | Home | September 11, 1937 | Lancashire Cup |
| Oldham v York | Home | September 18, 1937 | League Championship |
| Oldham v Wigan | Home | September 20, 1937 | League Championship |
| Barrow v Oldham | Away | September 25, 1937 | League Championship |
| Oldham v Broughton Rangers | Home | October 2, 1937 | League Championship |
| St Helens v Oldham | Away | October 9, 1937 | League Championship |
| Leigh v Oldham | Away | October 16, 1937 | League Championship |
| Oldham v St Helens Recs | Home | October 23, 1937 | League Championship |
| Halifax v Oldham | Away | October 30, 1937 | League Championship |
| Oldham v Australia | Home | November 6, 1937 | Tour Match |
| York v Oldham | Away | November 13, 1937 | League Championship |
| Oldham v Hull Kingston Rovers | Home | November 20, 1937 | League Championship |
| Broughton Rangers v Oldham | Away | November 27, 1937 | League Championship |
| Oldham v St Helens | Home | December 4, 1937 | League Championship |
| Hunslet v Oldham | Away | December 11, 1937 | League Championship |
| Oldham v Widnes | Home | December 18, 1937 | League Championship |
| Oldham v Swinton | Home | December 25, 1937 | League Championship |
| Oldham v Barrow | Home | January 1, 1938 | League Championship |
| St Helens Recs v Oldham | Away | January 8, 1938 | League Championship |
| Salford v Oldham | Away | January 15, 1938 | League Championship |
| Oldham v Hunslet | Home | January 22, 1938 | League Championship |
| Liverpool Stanley v Oldham | Away | January 29, 1938 | League Championship |
| Oldham v Huddersfield | Home | February 5, 1938 | League Championship |
| Huddersfield v Oldham | Away | February 12, 1938 | League Championship |
| Oldham v Batley | Home | February 19, 1938 | Rugby League Challenge Cup |
| Oldham v Dewsbury | Home | March 12, 1938 | League Championship |
| Oldham v Warrington | Home | March 26, 1938 | League Championship |
| Oldham v Leigh | Home | April 2, 1938 | League Championship |
| Rochdale Hornets v Oldham | Away | April 5, 1938 | League Championship |
| Wigan v Oldham | Away | April 9, 1938 | League Championship |
| Oldham v Liverpool Stanley | Home | April 11, 1938 | League Championship |
| Swinton v Oldham | Away | April 15, 1938 | League Championship |
| Hull Kingston Rovers v Oldham | Away | April 16, 1938 | League Championship |
| Oldham v Rochdale Hornets | Home | April 18, 1938 | League Championship |
| Oldham v Gf Hutchins International Team | Home | April 30, 1938 | Benefit Match |
| Oldham v Rochdale Hornets | Home | August 20, 1938 | Infirmary Cup |
| Salford v Oldham | Away | August 27, 1938 | League Championship |
| Oldham v Liverpool Stanley | Home | September 3, 1938 | League Championship |
| Wakefield Trinity v Oldham | Away | September 10, 1938 | League Championship |
| St Helens Recs v Oldham | Away | September 17, 1938 | League Championship |
| Oldham v Wigan | Home | September 21, 1938 | Lancashire Cup |
| Oldham v Hunslet | Home | September 24, 1938 | League Championship |
| Liverpool Stanley v Oldham | Away | October 1, 1938 | League Championship |
| Oldham v Hull FC | Home | October 8, 1938 | League Championship |
| Rochdale Hornets v Oldham | Away | October 15, 1938 | League Championship |
| Oldham v St Helens Recs | Home | October 22, 1938 | League Championship |
| Wigan v Oldham | Away | October 29, 1938 | League Championship |
| Oldham v Widnes | Home | November 5, 1938 | League Championship |
| Bradford Northern v Oldham | Away | November 12, 1938 | League Championship |
| Oldham v Warrington | Home | November 14, 1938 | League Championship |
| Oldham v Broughton Rangers | Home | November 19, 1938 | League Championship |
| Hunslet v Oldham | Away | November 26, 1938 | League Championship |
| Oldham v Wigan | Home | December 3, 1938 | League Championship |
| Widnes v Oldham | Away | December 10, 1938 | League Championship |
| Oldham v Castleford | Home | December 17, 1938 | League Championship |
| Broughton Rangers v Oldham | Away | December 24, 1938 | League Championship |
| Oldham v Rochdale Hornets | Home | December 29, 1938 | League Championship |
| Batley v Oldham | Away | December 31, 1938 | League Championship |
| Oldham v Batley | Home | January 2, 1939 | League Championship |
| Castleford v Oldham | Away | January 7, 1939 | League Championship |
| Oldham v Keighley | Home | January 14, 1939 | League Championship |
| Oldham v Leigh | Home | January 21, 1939 | League Championship |
| Barrow v Oldham | Away | January 28, 1939 | League Championship |
| Oldham v Castleford | Home | February 4, 1939 | Rugby League Challenge Cup |
| Oldham v Salford | Home | February 11, 1939 | League Championship |
| Bradford Northern v Oldham | Away | February 18, 1939 | Rugby League Challenge Cup |
| Oldham v Swinton | Home | February 20, 1939 | League Championship |
| Oldham v Bradford Northern | Home | March 4, 1939 | League Championship |
| Halifax v Oldham | Away | March 18, 1939 | League Championship |
| Oldham v St Helens | Home | March 25, 1939 | League Championship |
| Oldham v Wakefield Trinity | Home | April 1, 1939 | League Championship |
| Swinton v Oldham | Away | April 7, 1939 | League Championship |
| Oldham v Barrow | Home | April 8, 1939 | League Championship |
| Keighley v Oldham | Away | April 10, 1939 | League Championship |
| St Helens v Oldham | Away | April 15, 1939 | League Championship |
| Oldham v Halifax | Home | April 18, 1939 | League Championship |
| Hull FC v Oldham | Away | April 22, 1939 | League Championship |
| Warrington v Oldham | Away | April 29, 1939 | League Championship |
| Hull FC v Oldham | Away | August 26, 1939 | League Championship |
| Salford v Oldham | Away | August 30, 1939 | League Championship |
| Oldham v Broughton Rangers | Home | September 2, 1939 | League Championship |
| Oldham v Rochdale Hornets | Home | September 16, 1939 | Friendly |
| Rochdale Hornets v Oldham | Away | September 23, 1939 | Friendly |
| Oldham v Salford | Home | September 30, 1939 | Lancashire League |
| Barrow v Oldham | Away | October 7, 1939 | Lancashire League |
| Oldham v Wigan | Home | October 14, 1939 | Lancashire League |
| Liverpool Stanley v Oldham | Away | October 21, 1939 | Lancashire League |
| Oldham v Broughton Rangers | Home | October 28, 1939 | Lancashire League |
| Salford v Oldham | Away | November 4, 1939 | Lancashire League |
| Oldham v St Helens | Home | November 18, 1939 | Lancashire League |
| Widnes v Oldham | Away | November 25, 1939 | Lancashire League |
| Oldham v Leigh | Home | December 2, 1939 | Lancashire League |
| Oldham v Barrow | Home | December 9, 1939 | Lancashire League |
| Oldham v Broughton Rangers | Home | December 16, 1939 | Lancashire League |
| Wigan v Oldham | Away | February 24, 1940 | Lancashire League |
| Oldham v Rochdale Hornets | Home | March 2, 1940 | Lancashire Cup |
| Rochdale Hornets v Oldham | Away | March 9, 1940 | Lancashire Cup |
| Oldham v Warrington | Home | March 16, 1940 | Lancashire League |
| Swinton v Oldham | Away | March 22, 1940 | Lancashire League |
| Oldham v Rochdale Hornets | Home | March 23, 1940 | Lancashire League |
| Warrington v Oldham | Away | March 25, 1940 | Lancashire League |
| Halifax v Oldham | Away | March 30, 1940 | Friendly |
| Wigan v Oldham | Away | April 6, 1940 | Friendly |
| Oldham v Hunslet | Home | April 13, 1940 | Friendly |
| Warrington v Oldham | Away | April 20, 1940 | Friendly |
| Oldham v Salford | Home | April 27, 1940 | Friendly |
| Oldham v Widnes | Home | May 11, 1940 | Lancashire League |
| Oldham v Leeds | Home | May 18, 1940 | Friendly |
| Oldham v Halifax | Home | May 25, 1940 | Friendly |
| Liverpool Stanley v Oldham | Away | September 14, 1940 | Lancashire League |
| Oldham v Wigan | Home | September 21, 1940 | Lancashire League |
| Oldham v St Helens | Home | September 28, 1940 | Lancashire League |
| Oldham v Broughton Rangers | Home | October 5, 1940 | Lancashire League |
| Oldham v Leigh | Home | October 19, 1940 | Lancashire League |
| Oldham v Broughton Rangers | Home | October 26, 1940 | Lancashire League |
| Oldham v Wigan | Home | February 15, 1941 | Friendly |
| Wakefield Trinity v Oldham | Away | March 15, 1941 | Yorkshire Cup |
| Oldham v Dewsbury | Home | April 12, 1941 | Rugby League Challenge Cup |
| Oldham v Bradford Northern | Home | November 8, 1941 | Yorkshire Cup |
| Bradford Northern v Oldham | Away | November 15, 1941 | Yorkshire Cup |
| Oldham v Wakefield Trinity | Home | December 13, 1941 | War Emergency League |
| Oldham v Dewsbury | Home | January 3, 1942 | War Emergency League |
| Wigan v Oldham | Away | April 11, 1942 | War Emergency League |
| Oldham v Leeds | Home | April 18, 1942 | War Emergency League |
| Oldham v Hunslet | Home | May 9, 1942 | Rugby League Challenge Cup |
| Leeds v Oldham | Away | May 23, 1942 | Rugby League Challenge Cup |
| Workington Town v Oldham | Away | September 7, 1946 | Lancashire Cup |
| Oldham v Workington Town | Home | September 14, 1946 | Lancashire Cup |
| Oldham v Leigh | Home | September 24, 1946 | Lancashire Cup |
| Oldham v Wigan | Home | October 12, 1946 | League Championship |
| Oldham v Wigan | Home | October 15, 1946 | Lancashire Cup |
| Oldham v Dewsbury | Home | October 19, 1946 | League Championship |
| Oldham v St Helens | Home | November 2, 1946 | League Championship |
| Leigh v Oldham | Away | November 9, 1946 | League Championship |
| Oldham v Castleford | Home | November 16, 1946 | League Championship |
| Workington Town v Oldham | Away | November 23, 1946 | League Championship |
| Wigan v Oldham | Away | December 21, 1946 | League Championship |
| Oldham v Swinton | Home | December 25, 1946 | League Championship |
| Salford v Oldham | Away | December 26, 1946 | League Championship |
| Widnes v Oldham | Away | January 11, 1947 | League Championship |
| Oldham v Workington Town | Home | January 18, 1947 | League Championship |
| Barrow v Oldham | Away | January 25, 1947 | League Championship |
| Oldham v Belle Vue Rangers | Home | February 22, 1947 | Rugby League Challenge Cup |
| Belle Vue Rangers v Oldham | Away | March 8, 1947 | Rugby League Challenge Cup |
| Oldham v Leigh | Home | March 6, 1948 | League Championship |
| Bradford Northern v Oldham | Away | March 13, 1948 | Rugby League Challenge Cup |
| Oldham v St Helens | Home | March 20, 1948 | League Championship |
| Swinton v Oldham | Away | March 26, 1948 | League Championship |
| Rochdale Hornets v Oldham | Away | March 27, 1948 | League Championship |
| Oldham v Hunslet | Home | March 29, 1948 | League Championship |
| Oldham v Belle Vue Rangers | Home | April 3, 1948 | League Championship |
| Leigh v Oldham | Away | April 7, 1948 | League Championship |
| Hull FC v Oldham | Away | April 10, 1948 | League Championship |
| Oldham v Leeds | Home | April 13, 1948 | League Championship |
| Warrington v Oldham | Away | April 17, 1948 | League Championship |
| Halifax v Oldham | Away | April 19, 1948 | League Championship |
| Rochdale Hornets v Oldham | Away | August 14, 1948 | Infirmary Cup |
| Keighley v Oldham | Away | August 21, 1948 | League Championship |
| Oldham v St Helens | Home | August 28, 1948 | League Championship |
| Oldham v Liverpool Stanley | Home | August 31, 1948 | League Championship |
| Oldham v Widnes | Home | September 4, 1948 | Lancashire Cup |
| Widnes v Oldham | Away | September 9, 1948 | Lancashire Cup |
| Salford v Oldham | Away | September 11, 1948 | League Championship |
| Oldham v Belle Vue Rangers | Home | September 13, 1948 | League Championship |
| Oldham v Hull Kingston Rovers | Home | September 18, 1948 | League Championship |
| Oldham v Widnes | Home | September 21, 1948 | League Championship |
| Halifax v Oldham | Away | September 25, 1948 | League Championship |
| Warrington v Oldham | Away | September 28, 1948 | Lancashire Cup |
| Oldham v Warrington | Home | October 2, 1948 | League Championship |
| Oldham v Wakefield Trinity | Home | October 9, 1948 | League Championship |
| Wakefield Trinity v Oldham | Away | October 16, 1948 | League Championship |
| Oldham v Leigh | Home | October 23, 1948 | League Championship |
| Oldham v Castleford | Home | November 20, 1948 | League Championship |
| St Helens v Oldham | Away | November 27, 1948 | League Championship |
| Oldham v Australia | Home | December 4, 1948 | Tour Match |
| Oldham v Wigan | Home | December 11, 1948 | League Championship |
| Leigh v Oldham | Away | December 18, 1948 | League Championship |
| Oldham v Swinton | Home | December 25, 1948 | League Championship |
| Castleford v Oldham | Away | December 28, 1948 | League Championship |
| Rochdale Hornets v Oldham | Away | January 1, 1949 | League Championship |
| Liverpool Stanley v Oldham | Away | January 29, 1949 | League Championship |
| Wigan v Oldham | Away | February 5, 1949 | League Championship |
| Oldham v Broughton Moor | Home | February 12, 1949 | Rugby League Challenge Cup |
| Broughton Moor v Oldham | Away | February 19, 1949 | Rugby League Challenge Cup |
| Warrington v Oldham | Away | February 26, 1949 | League Championship |
| York v Oldham | Away | March 5, 1949 | Rugby League Challenge Cup |
| Oldham v Workington Town | Home | March 12, 1949 | League Championship |
| Rochdale Hornets v Oldham | Away | August 13, 1949 | Law Cup |
| Leigh v Oldham | Away | August 20, 1949 | League Championship |
| Wigan v Oldham | Away | August 27, 1949 | Lancashire Cup |
| Oldham v Wigan | Home | August 31, 1949 | Lancashire Cup |
| Oldham v Hunslet | Home | September 3, 1949 | League Championship |
| Hull Kingston Rovers v Oldham | Away | September 5, 1949 | League Championship |
| St Helens v Oldham | Away | September 10, 1949 | League Championship |
| Oldham v Leigh | Home | September 17, 1949 | League Championship |
| Bramley v Oldham | Away | September 24, 1949 | League Championship |
| Liverpool Stanley v Oldham | Away | October 1, 1949 | League Championship |
| Oldham v Featherstone Rovers | Home | October 8, 1949 | League Championship |
| Oldham v Castleford | Home | November 19, 1949 | League Championship |
| Widnes v Oldham | Away | November 26, 1949 | League Championship |
| Oldham v Warrington | Home | December 3, 1949 | League Championship |
| Oldham v Barrow | Home | December 10, 1949 | League Championship |
| Oldham v Liverpool Stanley | Home | December 24, 1949 | League Championship |
| Hunslet v Oldham | Away | December 26, 1949 | League Championship |
| Featherstone Rovers v Oldham | Away | April 22, 1950 | League Championship |
| Oldham v Rochdale Hornets | Home | August 12, 1950 | Law Cup |
| Whitehaven v Oldham | Away | August 19, 1950 | League Championship |
| Oldham v Warrington | Home | August 21, 1950 | League Championship |
| Oldham v York | Home | August 26, 1950 | League Championship |
| Belle Vue Rangers v Oldham | Away | August 30, 1950 | League Championship |
| Oldham v Rochdale Hornets | Home | September 2, 1950 | Lancashire Cup |
| Oldham v Wakefield Trinity | Home | September 9, 1950 | League Championship |
| Rochdale Hornets v Oldham | Away | September 12, 1950 | Lancashire Cup |
| Batley v Oldham | Away | September 16, 1950 | League Championship |
| Oldham v Barrow | Home | September 23, 1950 | League Championship |
| Workington Town v Oldham | Away | September 25, 1950 | Lancashire Cup |
| Salford v Oldham | Away | November 25, 1950 | League Championship |
| Warrington v Oldham | Away | January 6, 1951 | League Championship |
| Oldham v Belle Vue Rangers | Home | January 20, 1951 | League Championship |
| Wigan v Oldham | Away | January 27, 1951 | League Championship |
| Workington Town v Oldham | Away | February 3, 1951 | League Championship |
| Leeds v Oldham | Away | February 10, 1951 | Rugby League Challenge Cup |