Arthur Lees
Profile
Arthur Lees was born in Lees village in 1874 and played his first football with the Leesfield Trinity club, which was founded by his namesake, Sam. He joined Oldham during the 1892-93 season in the midst of a 20 week cotton strike. He was employed in "King Cotton" and recalled in an interview in the 19205, "I had nowt to do but play football everyday".
He made his senior debut at the age of eighteen and by the time of the formation of the Northern Union, he was the regular half back partner to skipper Harry Varley, who he regarded as the best half back to have ever played the game. Later he would form a great partnership with stand off Joe Lawton.
Arthur was promoted to club captain part way through the 1898-99 season, leading his team to the Northern Union Final and had the honour of being the first Lancashire captain to hold aloft the Challenge Cup, after the victory over Hunslet at Fallowfield.
He was a regular for Lancashire and captained the red rose outfit to the County Championship in 1900.
The Lees brand of half back play give rise to many a trick in order to outwit the opposition. One of Arthur's favourite ploys was to make a big fuss about telling his stand off exactly where to position himself at a scrum near the opposition try line and then when the possession was won, his partner would scamper off without the ball drawing away the defenders, while Arthur would keep the leather and burrow through the pack to score. This manoeuvre brought about a last minute try and conversion to win a second round cup tie l4 -10 at Batley in 1905.
Arthur was very proud of his achievements with the club and kept as souvenirs the ball from the 1899 Cup Final and also the ball from a 23 – 0 victory over Hull at Watersheddings in April 1905, which clinched the Championship,' both of which were inscribed with the match details in gold ink. (Where are they now, I wonder?)
His last game for the club was in the Challenge Cup Final against Warrington on April 27th 1907. He kept up his involvement with the club by coaching the "A" team for a year and was then elected to the committee.
Without doubt he was one of the greatest figures in the history of the club.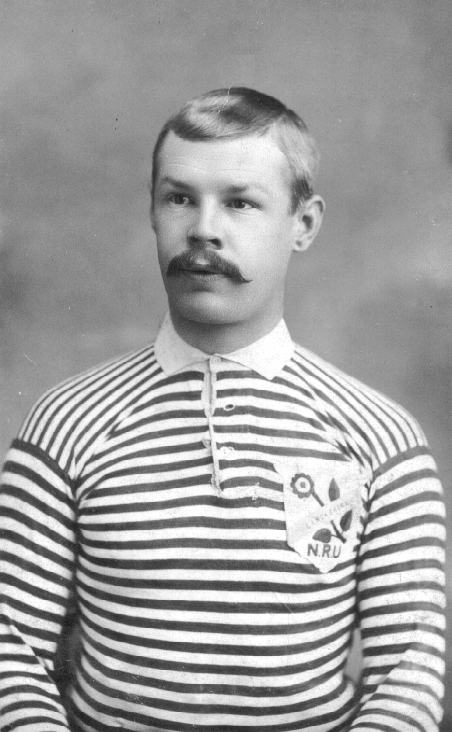 Career Games
| | | | |
| --- | --- | --- | --- |
| Hunslet v Oldham | Away | September 14, 1895 | Northern Union |
| Oldham v Tyldesley | Home | September 21, 1895 | Northern Union |
| Huddersfield v Oldham | Away | September 23, 1895 | Northern Union |
| Halifax v Oldham | Away | September 28, 1895 | Northern Union |
| Oldham v Batley | Home | October 5, 1895 | Northern Union |
| Oldham v Wakefield Trinity | Home | October 7, 1895 | Northern Union |
| Hull FC v Oldham | Away | October 12, 1895 | Northern Union |
| Oldham v Bradford | Home | October 19, 1895 | Northern Union |
| Widnes v Oldham | Away | October 26, 1895 | Northern Union |
| Oldham v Manningham | Home | November 2, 1895 | Northern Union |
| Warrington v Oldham | Away | November 23, 1895 | Northern Union |
| Oldham v Rochdale Hornets | Home | November 30, 1895 | Northern Union |
| Liversedge v Oldham | Away | December 10, 1895 | Northern Union |
| Oldham v St Helens | Home | December 14, 1895 | Northern Union |
| Oldham v Wigan | Home | December 21, 1895 | Northern Union |
| Oldham v Broughton Rangers | Home | December 25, 1895 | Northern Union |
| Leeds v Oldham | Away | December 26, 1895 | Northern Union |
| Oldham v Warrington | Home | December 28, 1895 | Northern Union |
| Brighouse Rangers v Oldham | Away | January 1, 1896 | Northern Union |
| Runcorn v Oldham | Away | January 4, 1896 | Northern Union |
| Oldham v Huddersfield | Home | January 11, 1896 | Northern Union |
| Oldham v Hunslet | Home | January 18, 1896 | Northern Union |
| Tyldesley v Oldham | Away | January 25, 1896 | Northern Union |
| Oldham v Halifax | Home | February 1, 1896 | Northern Union |
| Oldham v Widnes | Home | February 15, 1896 | Northern Union |
| Oldham v Hull FC | Home | February 22, 1896 | Northern Union |
| Manningham v Oldham | Away | March 7, 1896 | Northern Union |
| Stockport v Oldham | Away | March 14, 1896 | Northern Union |
| Oldham v Rochdale Hornets | Home | March 21, 1896 | Northern Union |
| Oldham v Leeds | Home | March 28, 1896 | Northern Union |
| Wigan v Oldham | Away | April 3, 1896 | Northern Union |
| Oldham v Brighouse Rangers | Home | April 4, 1896 | Northern Union |
| Oldham v Liversedge | Home | April 6, 1896 | Northern Union |
| Oldham v Runcorn | Home | April 11, 1896 | Northern Union |
| Oldham v Leigh | Home | April 13, 1896 | Northern Union |
| St Helens v Oldham | Away | April 18, 1896 | Northern Union |
| Wakefield Trinity v Oldham | Away | April 22, 1896 | Northern Union |
| Broughton Rangers v Oldham | Away | April 25, 1896 | Northern Union |
| Runcorn v Oldham | Neutral | April 29, 1896 | Northern Union |
| Werneth v Oldham | Away | April 30, 1896 | Friendly |
| Manningham v Oldham | Away | September 5, 1896 | Friendly |
| Crompton v Oldham | Away | September 7, 1896 | Friendly |
| Salford v Oldham | Away | September 12, 1896 | Lancashire Senior Competition |
| Oldham v Tyldesley | Home | September 19, 1896 | Lancashire Senior Competition |
| Huddersfield v Oldham | Away | September 21, 1896 | Friendly |
| Swinton v Oldham | Away | September 26, 1896 | Lancashire Senior Competition |
| Oldham v St Helens | Home | October 3, 1896 | Lancashire Senior Competition |
| Oldham v Widnes | Home | October 10, 1896 | Lancashire Senior Competition |
| Wigan v Oldham | Away | October 24, 1896 | Lancashire Senior Competition |
| Oldham v Leigh | Home | October 31, 1896 | Lancashire Senior Competition |
| Morecambe v Oldham | Away | November 7, 1896 | Lancashire Senior Competition |
| Rochdale Hornets v Oldham | Away | November 14, 1896 | Lancashire Senior Competition |
| Oldham v Runcorn | Home | November 28, 1896 | Lancashire Senior Competition |
| Warrington v Oldham | Away | December 5, 1896 | Lancashire Senior Competition |
| Leigh v Oldham | Away | December 12, 1896 | Lancashire Senior Competition |
| Oldham v Salford | Home | December 19, 1896 | Lancashire Senior Competition |
| Oldham v Stockport | Home | December 25, 1896 | Lancashire Senior Competition |
| Oldham v Broughton Rangers | Home | December 26, 1896 | Lancashire Senior Competition |
| St Helens v Oldham | Away | January 1, 1897 | Lancashire Senior Competition |
| Broughton Rangers v Oldham | Away | January 2, 1897 | Lancashire Senior Competition |
| Oldham v Swinton | Home | January 9, 1897 | Friendly |
| Oldham v Morecambe | Home | January 16, 1897 | Lancashire Senior Competition |
| Oldham v Rochdale Hornets | Home | January 23, 1897 | Lancashire Senior Competition |
| Stockport v Oldham | Away | January 30, 1897 | Lancashire Senior Competition |
| Oldham v Wigan | Home | February 13, 1897 | Lancashire Senior Competition |
| Oldham v Warrington | Home | February 20, 1897 | Lancashire Senior Competition |
| Runcorn v Oldham | Away | February 27, 1897 | Lancashire Senior Competition |
| Bradford v Oldham | Away | March 20, 1897 | Rugby League Challenge Cup |
| Broughton Rangers v Oldham | Away | April 3, 1897 | Friendly |
| Oldham v Manningham | Home | April 10, 1897 | Friendly |
| St Helens Recs v Oldham | Away | April 17, 1897 | Friendly |
| Oldham v Huddersfield | Home | April 19, 1897 | Friendly |
| Oldham v Crompton | Home | April 30, 1897 | Friendly |
| Oldham v Crompton | Home | September 6, 1897 | Friendly |
| Stockport v Oldham | Away | September 11, 1897 | Lancashire Senior Competition |
| Crompton v Oldham | Away | September 13, 1897 | Friendly |
| Oldham v Runcorn | Home | September 18, 1897 | Lancashire Senior Competition |
| Oldham v Salford | Home | September 25, 1897 | Lancashire Senior Competition |
| Swinton v Oldham | Away | October 1, 1897 | Lancashire Senior Competition |
| Rochdale Hornets v Oldham | Away | October 9, 1897 | Lancashire Senior Competition |
| Oldham v Wigan | Home | October 23, 1897 | Lancashire Senior Competition |
| Oldham v Morecambe | Home | October 30, 1897 | Lancashire Senior Competition |
| Widnes v Oldham | Away | November 6, 1897 | Lancashire Senior Competition |
| Oldham v Leigh | Home | November 13, 1897 | Lancashire Senior Competition |
| St Helens v Oldham | Away | November 27, 1897 | Lancashire Senior Competition |
| Oldham v Warrington | Home | December 11, 1897 | Lancashire Senior Competition |
| Leigh v Oldham | Away | December 18, 1897 | Lancashire Senior Competition |
| Oldham v Rochdale Hornets | Home | December 25, 1897 | Lancashire Senior Competition |
| Broughton Rangers v Oldham | Away | December 27, 1897 | Lancashire Senior Competition |
| Oldham v Tyldesley | Home | January 1, 1898 | Lancashire Senior Competition |
| Oldham v Manningham | Home | January 3, 1898 | Friendly |
| Oldham v Widnes | Home | January 8, 1898 | Lancashire Senior Competition |
| Warrington v Oldham | Away | January 15, 1898 | Lancashire Senior Competition |
| Oldham v Stockport | Home | January 22, 1898 | Lancashire Senior Competition |
| Wigan v Oldham | Away | January 29, 1898 | Lancashire Senior Competition |
| Salford v Oldham | Away | February 5, 1898 | Lancashire Senior Competition |
| Oldham v St Helens | Home | February 12, 1898 | Lancashire Senior Competition |
| Oldham v Swinton | Home | February 19, 1898 | Lancashire Senior Competition |
| Oldham v Leeds | Home | February 26, 1898 | Rugby League Challenge Cup |
| Halifax v Oldham | Away | March 5, 1898 | Rugby League Challenge Cup |
| Oldham v Runcorn | Home | March 19, 1898 | Rugby League Challenge Cup |
| Batley v Oldham | Away | March 26, 1898 | Rugby League Challenge Cup |
| Runcorn v Oldham | Away | April 2, 1898 | Lancashire Senior Competition |
| Oldham v Broughton Rangers | Home | April 11, 1898 | Lancashire Senior Competition |
| Oldham v Tyldesley | Home | April 16, 1898 | Lancashire Senior Competition |
| Manningham v Oldham | Away | April 19, 1898 | Friendly |
| Halifax v Oldham | Away | April 25, 1898 | Friendly |
| Oldham v Rest Of Lancs | Home | April 30, 1898 | Champs v Rest |
| Morecambe v Oldham | Away | September 3, 1898 | Lancashire Senior Competition |
| Warrington v Oldham | Away | September 10, 1898 | Lancashire Senior Competition |
| Oldham v Workington | Home | October 15, 1898 | Friendly |
| Salford v Oldham | Away | October 22, 1898 | Lancashire Senior Competition |
| Oldham v Swinton | Home | October 29, 1898 | Lancashire Senior Competition |
| Oldham v Seaton | Home | November 5, 1898 | Friendly |
| Rochdale Hornets v Oldham | Away | November 12, 1898 | Lancashire Senior Competition |
| Oldham v Warrington | Home | November 19, 1898 | Lancashire Senior Competition |
| Leigh v Oldham | Away | November 26, 1898 | Lancashire Senior Competition |
| Oldham v Widnes | Home | December 10, 1898 | Lancashire Senior Competition |
| Wigan v Oldham | Away | December 17, 1898 | Lancashire Senior Competition |
| Stockport v Oldham | Away | December 24, 1898 | Lancashire Senior Competition |
| Oldham v Rochdale Hornets | Home | December 26, 1898 | Lancashire Senior Competition |
| Broughton Rangers v Oldham | Away | December 31, 1898 | Lancashire Senior Competition |
| Oldham v Hunslet | Home | January 2, 1899 | Friendly |
| Oldham v Morecambe | Home | January 7, 1899 | Lancashire Senior Competition |
| Tyldesley v Oldham | Away | January 14, 1899 | Lancashire Senior Competition |
| Oldham v Leigh | Home | January 21, 1899 | Lancashire Senior Competition |
| Oldham v St Helens | Home | January 28, 1899 | Lancashire Senior Competition |
| Swinton v Oldham | Away | February 4, 1899 | Lancashire Senior Competition |
| Oldham v Stockport | Home | February 11, 1899 | Lancashire Senior Competition |
| Oldham v Salford | Home | February 18, 1899 | Lancashire Senior Competition |
| Widnes v Oldham | Away | February 25, 1899 | Lancashire Senior Competition |
| Runcorn v Oldham | Away | March 4, 1899 | Lancashire Senior Competition |
| Oldham v Wigan | Home | March 11, 1899 | Lancashire Senior Competition |
| Oldham v Goole | Home | March 18, 1899 | Rugby League Challenge Cup |
| Oldham v Warrington | Home | March 25, 1899 | Rugby League Challenge Cup |
| Bradford v Oldham | Away | April 1, 1899 | Rugby League Challenge Cup |
| Oldham v Widnes | Home | April 8, 1899 | Rugby League Challenge Cup |
| Leigh v Oldham | Neutral | April 15, 1899 | Rugby League Challenge Cup |
| Hunslet v Oldham | Neutral | April 29, 1899 | Rugby League Challenge Cup |
| Morecambe v Oldham | Away | September 2, 1899 | Friendly |
| Millom v Oldham | Away | September 9, 1899 | Lancashire Senior Competition |
| Oldham v Tyldesley | Home | September 16, 1899 | Lancashire Senior Competition |
| Oldham v Runcorn | Home | September 23, 1899 | Lancashire Senior Competition |
| Stockport v Oldham | Away | September 25, 1899 | Lancashire Senior Competition |
| Seaton v Oldham | Away | September 30, 1899 | Friendly |
| Widnes v Oldham | Away | October 7, 1899 | Lancashire Senior Competition |
| Rochdale Hornets v Oldham | Away | October 14, 1899 | Lancashire Senior Competition |
| Oldham v Stockport | Home | October 17, 1899 | Lancashire Senior Competition |
| Oldham v Salford | Home | October 28, 1899 | Lancashire Senior Competition |
| Swinton v Oldham | Away | November 11, 1899 | Lancashire Senior Competition |
| Oldham v Warrington | Home | November 18, 1899 | Lancashire Senior Competition |
| Wigan v Oldham | Away | November 25, 1899 | Lancashire Senior Competition |
| St Helens v Oldham | Away | December 9, 1899 | Lancashire Senior Competition |
| Broughton Rangers v Oldham | Away | December 23, 1899 | Lancashire Senior Competition |
| Oldham v Rochdale Hornets | Home | December 25, 1899 | Lancashire Senior Competition |
| Oldham v Millom | Home | December 30, 1899 | Lancashire Senior Competition |
| Oldham v Bradford | Home | January 1, 1900 | Friendly |
| Oldham v Leigh | Home | January 6, 1900 | Lancashire Senior Competition |
| Oldham v Widnes | Home | January 13, 1900 | Lancashire Senior Competition |
| Oldham v Wigan | Home | January 20, 1900 | Lancashire Senior Competition |
| Salford v Oldham | Away | January 27, 1900 | Lancashire Senior Competition |
| Oldham v Swinton | Home | February 3, 1900 | Lancashire Senior Competition |
| Oldham v Broughton Rangers | Home | February 17, 1900 | Lancashire Senior Competition |
| Warrington v Oldham | Away | February 21, 1900 | Lancashire Senior Competition |
| Leigh v Oldham | Away | February 24, 1900 | Lancashire Senior Competition |
| Tyldesley v Oldham | Away | February 27, 1900 | Lancashire Senior Competition |
| Oldham v St Helens | Home | March 3, 1900 | Lancashire Senior Competition |
| Runcorn v Oldham | Away | March 10, 1900 | Lancashire Senior Competition |
| Manningham v Oldham | Away | March 17, 1900 | Rugby League Challenge Cup |
| Oldham v Manningham | Home | March 20, 1900 | Rugby League Challenge Cup |
| Halifax v Oldham | Away | March 24, 1900 | Rugby League Challenge Cup |
| Swinton v Oldham | Away | March 31, 1900 | Rugby League Challenge Cup |
| Hull Kingston Rovers v Oldham | Away | April 7, 1900 | Friendly |
| Oldham v Brighouse Rangers | Home | April 16, 1900 | Friendly |
| Workington v Oldham | Away | September 1, 1900 | Friendly |
| Barrow v Oldham | Away | September 8, 1900 | Lancashire Senior Competition |
| Oldham v Wigan | Home | September 15, 1900 | Lancashire Senior Competition |
| Oldham v Barrow | Home | September 22, 1900 | Lancashire Senior Competition |
| Swinton v Oldham | Away | September 29, 1900 | Lancashire Senior Competition |
| Runcorn v Oldham | Away | October 6, 1900 | Lancashire Senior Competition |
| Oldham v St Helens | Home | October 13, 1900 | Lancashire Senior Competition |
| Oldham v Leigh | Home | October 27, 1900 | Lancashire Senior Competition |
| Salford v Oldham | Away | November 10, 1900 | Lancashire Senior Competition |
| Oldham v Widnes | Home | November 17, 1900 | Lancashire Senior Competition |
| Oldham v Rochdale Hornets | Home | November 24, 1900 | Lancashire Senior Competition |
| Oldham v Millom | Home | December 1, 1900 | Lancashire Senior Competition |
| St Helens v Oldham | Away | December 15, 1900 | Lancashire Senior Competition |
| Warrington v Oldham | Away | December 22, 1900 | Lancashire Senior Competition |
| Rochdale Hornets v Oldham | Away | December 25, 1900 | Lancashire Senior Competition |
| Oldham v Broughton Rangers | Home | December 29, 1900 | Lancashire Senior Competition |
| Widnes v Oldham | Away | January 5, 1901 | Lancashire Senior Competition |
| Oldham v Swinton | Home | January 12, 1901 | Lancashire Senior Competition |
| Stockport v Oldham | Away | January 19, 1901 | Lancashire Senior Competition |
| Broughton Rangers v Oldham | Away | January 26, 1901 | Lancashire Senior Competition |
| Oldham v Warrington | Home | February 19, 1901 | Lancashire Senior Competition |
| Oldham v Runcorn | Home | February 23, 1901 | Lancashire Senior Competition |
| Oldham v Swinton | Home | February 25, 1901 | Lancashire Senior Competition |
| Oldham v Otley | Home | March 2, 1901 | Rugby League Challenge Cup |
| Bramley v Oldham | Away | March 9, 1901 | Rugby League Challenge Cup |
| Wigan v Oldham | Away | March 16, 1901 | Lancashire Senior Competition |
| Broughton Rangers v Oldham | Away | March 23, 1901 | Rugby League Challenge Cup |
| Widnes v Oldham | Away | March 30, 1901 | Rugby League Challenge Cup |
| Leigh v Oldham | Away | April 2, 1901 | Lancashire Senior Competition |
| Oldham v Salford | Home | April 6, 1901 | Lancashire Senior Competition |
| Batley v Oldham | Neutral | April 13, 1901 | Rugby League Challenge Cup |
| Oldham v The Rest | Home | April 20, 1901 | Champs v Rest |
| Werneth v Oldham | Away | April 26, 1901 | Friendly |
| Leigh v Oldham | Away | September 7, 1901 | Northern RL |
| Batley v Oldham | Away | September 14, 1901 | Northern RL |
| Oldham v Huddersfield | Home | September 21, 1901 | Northern RL |
| Bradford v Oldham | Away | September 28, 1901 | Northern RL |
| Oldham v Brighouse Rangers | Home | October 5, 1901 | Northern RL |
| Oldham v Runcorn | Home | October 12, 1901 | Northern RL |
| Warrington v Oldham | Away | October 19, 1901 | Northern RL |
| Rochdale Hornets v Oldham | Away | November 2, 1901 | South East Lancashire League |
| Hull FC v Oldham | Away | November 9, 1901 | Northern RL |
| Huddersfield v Oldham | Away | November 23, 1901 | Northern RL |
| Hunslet v Oldham | Away | November 30, 1901 | Northern RL |
| Oldham v Leigh | Home | December 7, 1901 | Northern RL |
| Oldham v Stockport | Home | December 10, 1901 | South East Lancashire League |
| Oldham v Warrington | Home | December 14, 1901 | Northern RL |
| Oldham v Hull FC | Home | December 31, 1901 | Northern RL |
| Swinton v Oldham | Away | January 1, 1902 | Northern RL |
| Oldham v Salford | Home | January 4, 1902 | Northern RL |
| Oldham v Hunslet | Home | January 11, 1902 | Northern RL |
| Halifax v Oldham | Away | January 18, 1902 | Northern RL |
| Brighouse Rangers v Oldham | Away | February 11, 1902 | Northern RL |
| Oldham v Batley | Home | February 15, 1902 | Northern RL |
| Oldham v Bradford | Home | February 22, 1902 | Northern RL |
| Oldham v Broughton Rangers | Home | February 25, 1902 | Northern RL |
| Maryport v Oldham | Away | March 15, 1902 | Rugby League Challenge Cup |
| Runcorn v Oldham | Away | March 22, 1902 | Rugby League Challenge Cup |
| Oldham v St Helens | Home | March 29, 1902 | Friendly |
| Stockport v Oldham | Away | March 31, 1902 | South East Lancashire League |
| Salford & Swinton v Broughton Rangers and Oldham | Away | April 29, 1902 | Benefit Match |
| Hull FC v Oldham | Away | September 6, 1902 | Division 1 |
| Swinton v Oldham | Away | September 13, 1902 | Division 1 |
| Oldham v Broughton Rangers | Home | September 20, 1902 | Division 1 |
| Hull Kingston Rovers v Oldham | Away | September 27, 1902 | Division 1 |
| Oldham v Hunslet | Home | October 4, 1902 | Division 1 |
| Wigan v Oldham | Away | October 11, 1902 | Division 1 |
| Bradford v Oldham | Away | October 25, 1902 | Division 1 |
| Oldham v Huddersfield | Home | November 1, 1902 | Division 1 |
| Warrington v Oldham | Away | November 8, 1902 | Division 1 |
| Oldham v Brighouse Rangers | Home | November 15, 1902 | Division 1 |
| St Helens v Oldham | Away | November 22, 1902 | Division 1 |
| Oldham v Salford | Home | December 13, 1902 | Division 1 |
| Oldham v Halifax | Home | December 20, 1902 | Division 1 |
| Oldham v Swinton | Home | December 25, 1902 | Division 1 |
| Oldham v Leigh | Home | December 27, 1902 | Division 1 |
| Widnes v Oldham | Away | January 1, 1903 | Division 1 |
| Oldham v Hull FC | Home | January 3, 1903 | Division 1 |
| Oldham v Hull Kingston Rovers | Home | January 24, 1903 | Division 1 |
| Hunslet v Oldham | Away | January 31, 1903 | Division 1 |
| Batley v Oldham | Away | February 3, 1903 | Division 1 |
| Oldham v Wigan | Home | February 7, 1903 | Division 1 |
| Oldham v Wigan | Home | February 21, 1903 | Rugby League Challenge Cup |
| Huddersfield v Oldham | Away | February 28, 1903 | Division 1 |
| Bradford v Oldham | Away | March 7, 1903 | Rugby League Challenge Cup |
| Brighouse Rangers v Oldham | Away | March 14, 1903 | Division 1 |
| Oldham v Runcorn | Home | March 28, 1903 | Division 1 |
| Oldham v St Helens | Home | March 31, 1903 | Division 1 |
| Salford v Oldham | Neutral | April 4, 1903 | Rugby League Challenge Cup |
| Salford v Oldham | Neutral | April 8, 1903 | Rugby League Challenge Cup |
| Salford v Oldham | Away | April 11, 1903 | Division 1 |
| Oldham v Swinton | Home | April 13, 1903 | Division 1 |
| Oldham v Batley | Home | April 14, 1903 | Division 1 |
| Halifax v Oldham | Away | April 18, 1903 | Division 1 |
| Leigh v Oldham | Away | April 25, 1903 | Division 1 |
| Oldham v Runcorn | Home | October 17, 1903 | Division 1 |
| Hunslet v Oldham | Away | December 5, 1903 | Division 1 |
| Oldham v Widnes | Home | December 12, 1903 | Division 1 |
| Swinton v Oldham | Away | December 19, 1903 | Division 1 |
| Oldham v Batley | Home | December 25, 1903 | Division 1 |
| Oldham v Hull Kingston Rovers | Home | December 26, 1903 | Division 1 |
| Hull FC v Oldham | Away | January 2, 1904 | Division 1 |
| Oldham v Halifax | Home | January 9, 1904 | Division 1 |
| Huddersfield v Oldham | Away | January 16, 1904 | Division 1 |
| Oldham v Bradford | Home | January 23, 1904 | Division 1 |
| Wigan v Oldham | Away | January 30, 1904 | Division 1 |
| Oldham v Leeds | Home | February 6, 1904 | Division 1 |
| Oldham v Salford | Home | February 20, 1904 | Division 1 |
| Leigh v Oldham | Away | February 27, 1904 | Division 1 |
| Oldham v Warrington | Home | March 5, 1904 | Division 1 |
| Batley v Oldham | Away | March 12, 1904 | Rugby League Challenge Cup |
| Oldham v Swinton | Home | March 19, 1904 | Friendly |
| Broughton Rangers v Oldham | Away | March 26, 1904 | Division 1 |
| Oldham v Oldham A | Home | April 2, 1904 | Friendly |
| Oldham v Swinton | Home | April 4, 1904 | Division 1 |
| Widnes v Oldham | Away | April 9, 1904 | Division 1 |
| Oldham v Keighley | Home | April 12, 1904 | Division 1 |
| Oldham v Hunslet | Home | April 19, 1904 | Division 1 |
| St Helens v Oldham | Away | September 3, 1904 | Division 1 |
| Hull Kingston Rovers v Oldham | Away | September 10, 1904 | Division 1 |
| Oldham v Widnes | Home | September 10, 1904 | Division 1 |
| Oldham v Batley | Home | September 17, 1904 | Division 1 |
| Hunslet v Oldham | Away | September 24, 1904 | Division 1 |
| Salford v Oldham | Away | October 8, 1904 | Division 1 |
| Oldham v Warrington | Home | October 15, 1904 | Division 1 |
| Wakefield Trinity v Oldham | Away | October 22, 1904 | Division 1 |
| Oldham v Leigh | Home | October 29, 1904 | Division 1 |
| Oldham v Halifax | Home | November 5, 1904 | Division 1 |
| Oldham v Broughton Rangers | Home | December 10, 1904 | Division 1 |
| Oldham v Wigan | Home | December 17, 1904 | Division 1 |
| Swinton v Oldham | Away | December 24, 1904 | Division 1 |
| Oldham v Swinton | Home | December 26, 1904 | Division 1 |
| Oldham v St Helens | Home | December 31, 1904 | Division 1 |
| Halifax v Oldham | Away | January 2, 1905 | Division 1 |
| Oldham v Hull Kingston Rovers | Home | January 7, 1905 | Division 1 |
| Batley v Oldham | Away | January 14, 1905 | Division 1 |
| Oldham v Hunslet | Home | January 21, 1905 | Division 1 |
| Oldham v Salford | Home | February 4, 1905 | Division 1 |
| Warrington v Oldham | Away | February 11, 1905 | Division 1 |
| Oldham v Wakefield Trinity | Home | February 18, 1905 | Division 1 |
| Leigh v Oldham | Away | February 25, 1905 | Division 1 |
| Oldham v Normanton | Home | March 4, 1905 | Rugby League Challenge Cup |
| Hull FC v Oldham | Away | March 11, 1905 | Division 1 |
| Batley v Oldham | Away | March 18, 1905 | Rugby League Challenge Cup |
| Oldham v Bradford | Home | March 20, 1905 | Division 1 |
| Leeds v Oldham | Away | March 25, 1905 | Division 1 |
| Oldham v Bradford | Home | April 1, 1905 | Rugby League Challenge Cup |
| Bradford v Oldham | | April 5, 1905 | Rugby League Challenge Cup |
| Broughton Rangers v Oldham | Away | April 8, 1905 | Division 1 |
| Wigan v Oldham | Away | April 15, 1905 | Division 1 |
| Oldham v Runcorn | Home | April 22, 1905 | Division 1 |
| Oldham v Hull FC | Home | April 24, 1905 | Division 1 |
| Millom v Oldham | Away | September 1, 1905 | RL Championship |
| Morecambe v Oldham | Away | September 2, 1905 | RL Championship |
| Warrington v Oldham | Away | September 9, 1905 | RL Championship |
| Oldham v Wigan | Home | September 16, 1905 | RL Championship |
| Runcorn v Oldham | Away | September 20, 1905 | RL Championship |
| Oldham v Swinton | Home | January 6, 1906 | RL Championship |
| Oldham v Leigh | Home | January 13, 1906 | RL Championship |
| Broughton Rangers v Oldham | Away | January 20, 1906 | RL Championship |
| Oldham v Halifax | Home | March 24, 1906 | RL Championship |
| Wakefield Trinity v Oldham | Away | March 31, 1906 | RL Championship |
| Leigh v Oldham | Away | April 4, 1906 | RL Championship |
| Bradford v Oldham | Away | April 7, 1906 | RL Championship |
| Oldham v Hull Kingston Rovers | Home | April 14, 1906 | RL Championship |
| Wigan v Oldham | Away | April 16, 1906 | RL Championship |
| Oldham v Chadderton | Home | April 19, 1906 | Friendly |
| Barrow v Oldham | Away | April 21, 1906 | RL Championship |
| Widnes v Oldham | Away | April 26, 1906 | RL Championship |
| Dewsbury v Oldham | Away | April 28, 1906 | RL Championship |
| Oldham v Runcorn | Home | September 1, 1906 | League Championship |
| Oldham v Wigan | Home | September 8, 1906 | League Championship |
| Oldham v Hull Kingston Rovers | Home | September 15, 1906 | League Championship |
| Swinton v Oldham | Away | September 22, 1906 | League Championship |
| Oldham v Rochdale Hornets | Home | September 29, 1906 | League Championship |
| Oldham v Huddersfield | Home | October 6, 1906 | League Championship |
| St Helens v Oldham | Away | October 13, 1906 | Lancashire Cup |
| Hunslet v Oldham | Away | October 20, 1906 | League Championship |
| Oldham v Rochdale Hornets | Home | October 27, 1906 | Lancashire Cup |
| Oldham v Leigh | Home | November 3, 1906 | League Championship |
| Barrow v Oldham | Away | November 5, 1906 | League Championship |
| Broughton Rangers v Oldham | Away | November 10, 1906 | League Championship |
| Halifax v Oldham | Away | November 12, 1906 | League Championship |
| Warrington v Oldham | Away | November 17, 1906 | Lancashire Cup |
| Oldham v Salford | Home | November 24, 1906 | League Championship |
| Oldham v Broughton Rangers | Home | December 8, 1906 | League Championship |
| Oldham v Leeds | Home | December 15, 1906 | League Championship |
| Bradford v Oldham | Away | December 18, 1906 | League Championship |
| Rochdale Hornets v Oldham | Away | December 22, 1906 | League Championship |
| Oldham v Swinton | Home | December 25, 1906 | League Championship |
| Runcorn v Oldham | Away | December 26, 1906 | League Championship |
| Oldham v Hunslet | Home | December 29, 1906 | League Championship |
| Leeds v Oldham | Away | January 5, 1907 | League Championship |
| Salford v Oldham | Away | January 12, 1907 | League Championship |
| Oldham v Hull FC | Home | January 19, 1907 | League Championship |
| Oldham v Warrington | Home | February 4, 1907 | League Championship |
| Hull Kingston Rovers v Oldham | Away | February 9, 1907 | League Championship |
| Warrington v Oldham | Away | February 16, 1907 | League Championship |
| Oldham v Wakefield Trinity | Home | February 23, 1907 | League Championship |
| Oldham v Bradford | Home | March 2, 1907 | League Championship |
| Oldham v Halifax | Home | March 9, 1907 | League Championship |
| Wakefield Trinity v Oldham | Away | March 11, 1907 | League Championship |
| Oldham v Runcorn | Home | March 16, 1907 | Rugby League Challenge Cup |
| Halifax v Oldham | Away | March 23, 1907 | Rugby League Challenge Cup |
| Leigh v Oldham | Away | March 27, 1907 | League Championship |
| Wakefield Trinity v Oldham | Away | March 30, 1907 | Rugby League Challenge Cup |
| Wigan v Oldham | Away | April 1, 1907 | League Championship |
| Hull FC v Oldham | Away | April 2, 1907 | League Championship |
| Oldham v Runcorn | Home | April 6, 1907 | League Championship |
| Salford v Oldham | Neutral | April 13, 1907 | Rugby League Challenge Cup |
| Halifax v Oldham | Neutral | April 20, 1907 | League Championship |
| Warrington v Oldham | Neutral | April 27, 1907 | Rugby League Challenge Cup |
| Oldham v Oldham Present | Home | January 3, 1916 | Special Friendly |
| Oldham v Leeds | Home | February 5, 1916 | Wartime Friendly |