Geoff Munro
Profile
Local born, Geoff Munro worked his way up through the club "B" team, playing initially in the second row. He would eventually convert to the back division playing centre and stand off, but is best remembered as a winger.
Throughout the 1970's Geoff was switched from one position to another until an extended run on the flank proved that this was his best spot. A strong forceful runner, he topped the clubs try scorers in 1979-80 with 29, which was the best total in the whole of the second division and only one behind the two players (Keith Fielding of Salford and Steve Hubbard of Hull K.R.) who were the joint top in the first division.
In the following year, Geoff was again the Oldham top try scorer registering 14 before an ankle injury cut short his season. He was back for the 1981-82 campaign helping the club to the second division title with 13 tries.
When Geoff finished in the senior side he assisted the club for many years in the "A" team and at the time of writing is still involved in the amateur game locally, having turned out in 1997 for Watersheddings Wanderers.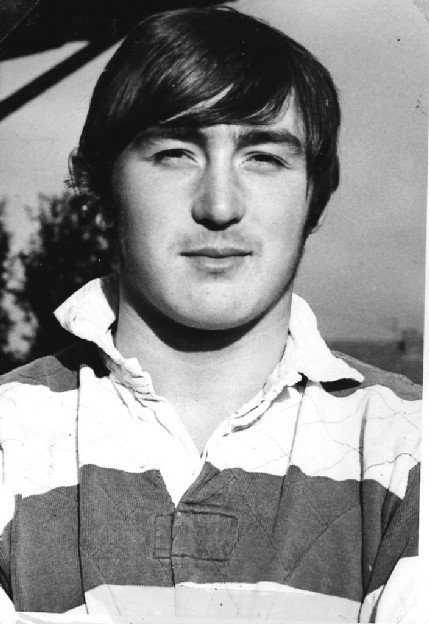 Career Games
| | | | |
| --- | --- | --- | --- |
| Whitehaven v Oldham | Away | November 14, 1971 | Players No.6 Cup |
| Barrow v Oldham | Away | January 1, 1972 | League Championship |
| Oldham v Swinton | Home | January 8, 1972 | League Championship |
| Whitehaven v Oldham | Away | January 15, 1972 | League Championship |
| Oldham v Rochdale Hornets | Home | August 12, 1972 | Law Cup |
| Huddersfield v Oldham | Away | August 19, 1972 | League Championship |
| Oldham v Whitehaven | Home | August 23, 1972 | League Championship |
| Oldham v Workington Town | Home | August 26, 1972 | League Championship |
| York v Oldham | Away | August 28, 1972 | League Championship |
| Salford v Oldham | Away | September 1, 1972 | Lancashire Cup |
| Oldham v Hull FC | Home | September 10, 1972 | League Championship |
| Huyton v Oldham | Away | September 17, 1972 | League Championship |
| Hull FC v Oldham | Away | September 24, 1972 | Players No.6 Cup |
| Oldham v Salford | Home | October 3, 1972 | BBC |
| Oldham v St Helens | Home | October 7, 1972 | League Championship |
| Workington Town v Oldham | Away | October 14, 1972 | League Championship |
| Oldham v Great Britain | Home | October 18, 1972 | Friendly |
| Oldham v Widnes | Home | October 21, 1972 | League Championship |
| Oldham v Huddersfield | Home | November 4, 1972 | League Championship |
| Oldham v Castleford | Home | November 7, 1972 | BBC |
| Oldham v Huyton | Home | November 12, 1972 | League Championship |
| Oldham v Dewsbury | Home | August 25, 1973 | Division 1 |
| Oldham v Wigan | Home | September 1, 1973 | Lancashire Cup |
| Oldham v Bramley | Home | September 8, 1973 | Division 1 |
| Oldham v Wigan | Home | September 11, 1973 | BBC |
| Warrington v Oldham | Away | September 16, 1973 | Players No.6 Cup |
| Wigan v Oldham | Away | September 18, 1973 | BBC |
| Wakefield Trinity v Oldham | Away | September 23, 1973 | Division 1 |
| Wigan v Oldham | Away | September 29, 1973 | Division 1 |
| Oldham v Whitehaven | Home | October 6, 1973 | Division 1 |
| Oldham v Rochdale Hornets | Home | October 10, 1973 | BBC |
| Dewsbury v Oldham | Away | October 14, 1973 | Division 1 |
| Oldham v Australia | Home | October 19, 1973 | Tour Match |
| Oldham v Castleford | Home | October 24, 1973 | Division 1 |
| Oldham v Featherstone Rovers | Home | November 7, 1973 | Division 1 |
| Oldham v Widnes | Home | November 11, 1973 | Division 1 |
| Oldham v Wigan | Home | November 25, 1973 | Division 1 |
| Oldham v St Helens | Home | December 8, 1973 | Division 1 |
| Featherstone Rovers v Oldham | Away | December 15, 1973 | Division 1 |
| Oldham v Leigh | Home | December 23, 1973 | Division 1 |
| Oldham v Rochdale Hornets | Home | December 26, 1973 | Division 1 |
| Whitehaven v Oldham | Away | December 30, 1973 | Division 1 |
| Salford v Oldham | Away | January 1, 1974 | Division 1 |
| Oldham v Rochdale Hornets | Home | August 17, 1974 | Law Cup |
| Oldham v Blackpool Borough | Home | August 24, 1974 | Division 2 |
| Oldham v Widnes | Home | September 1, 1974 | Lancashire Cup |
| Huddersfield v Oldham | Away | December 26, 1974 | Division 2 |
| Oldham v England | Home | April 22, 1975 | Benefit Match |
| St Helens v Oldham | Away | April 25, 1975 | Premiership |
| Oldham v Wakefield Trinity | Home | March 7, 1976 | Division 1 |
| Oldham v Bradford Northern | Home | April 11, 1976 | Division 1 |
| Hull Kingston Rovers v Oldham | Away | April 16, 1976 | Division 1 |
| Swinton v Oldham | Away | April 19, 1976 | Division 1 |
| Oldham v Widnes | Home | April 25, 1976 | Division 1 |
| Whitehaven v Oldham | Away | October 5, 1976 | BBC |
| Oldham v Batley | Home | October 24, 1976 | Players No.6 Cup |
| Oldham v Bradford Northern | Home | October 31, 1976 | Division 1 |
| Hull FC v Oldham | Away | November 2, 1976 | BBC |
| Oldham v Leigh | Home | November 7, 1976 | Players No.6 Cup |
| Barrow v Oldham | Away | November 14, 1976 | Division 1 |
| Oldham v Workington Town | Home | November 28, 1976 | Division 1 |
| St Helens v Oldham | Away | January 9, 1977 | Division 1 |
| Workington Town v Oldham | Away | January 31, 1977 | Division 1 |
| Featherstone Rovers v Oldham | Away | March 6, 1977 | Division 1 |
| Leeds v Oldham | Away | March 16, 1977 | Division 1 |
| Oldham v Castleford | Home | March 20, 1977 | Division 1 |
| Bradford Northern v Oldham | Away | March 27, 1977 | Division 1 |
| Oldham v Wakefield Trinity | Home | March 30, 1977 | Division 1 |
| Oldham v Salford | Home | April 3, 1977 | Division 1 |
| Rochdale Hornets v Oldham | Away | April 8, 1977 | Division 1 |
| Oldham v Leigh | Home | April 11, 1977 | Division 1 |
| Warrington v Oldham | Away | April 17, 1977 | Division 1 |
| Oldham v Widnes | Home | April 24, 1977 | Division 1 |
| Rochdale Hornets v Oldham | Away | August 7, 1977 | Law Cup |
| Wigan v Oldham | Away | August 21, 1977 | Lancashire Cup |
| Keighley v Oldham | Away | September 4, 1977 | Division 2 |
| Oldham v Huyton | Home | September 25, 1977 | Division 2 |
| Oldham v Warrington | Home | October 5, 1977 | BBC |
| Oldham v Swinton | Home | October 9, 1977 | Division 2 |
| Huyton v Oldham | Away | October 16, 1977 | Division 2 |
| Oldham v Whitehaven | Home | October 30, 1977 | Division 2 |
| Salford v Oldham | Away | November 1, 1977 | BBC |
| Swinton v Oldham | Away | November 27, 1977 | Division 2 |
| Barrow v Oldham | Away | December 4, 1977 | Division 2 |
| Oldham v Batley | Home | December 11, 1977 | Division 2 |
| Oldham v Rochdale Hornets | Home | December 26, 1977 | Division 2 |
| Huddersfield v Oldham | Away | January 2, 1978 | Division 2 |
| York v Oldham | Away | January 8, 1978 | Division 2 |
| Oldham v Rochdale Hornets | Home | August 6, 1978 | Law Cup |
| St Helens v Oldham | Away | August 13, 1978 | Friendly |
| Salford v Oldham | Away | August 18, 1978 | Lancashire Cup |
| Barrow v Oldham | Away | August 27, 1978 | BBC |
| Oldham v Keighley | Home | September 3, 1978 | Division 2 |
| Hull FC v Oldham | Away | September 10, 1978 | Division 2 |
| Oldham v Dewsbury | Home | September 17, 1978 | Division 2 |
| Hull Kingston Rovers v Oldham | Away | September 24, 1978 | John Player Cup |
| Keighley v Oldham | Away | October 1, 1978 | Division 2 |
| Oldham v New Hunslet | Home | October 8, 1978 | Division 2 |
| Doncaster v Oldham | Away | October 15, 1978 | Division 2 |
| Halifax v Oldham | Away | October 22, 1978 | Division 2 |
| Oldham v Batley | Home | October 29, 1978 | Division 2 |
| Oldham v York | Home | November 12, 1978 | Division 2 |
| Whitehaven v Oldham | Away | November 19, 1978 | Division 2 |
| Oldham v Blackpool Borough | Home | November 26, 1978 | Division 2 |
| Oldham v Halifax | Home | December 10, 1978 | Division 2 |
| Huyton v Oldham | Away | December 17, 1978 | Division 2 |
| Oldham v Swinton | Home | December 26, 1978 | Division 2 |
| Oldham v Ace Amateurs | Home | February 28, 1979 | Rugby League Challenge Cup |
| Oldham v Wakefield Trinity | Home | March 4, 1979 | Rugby League Challenge Cup |
| Oldham v Huyton | Home | March 11, 1979 | Division 2 |
| Oldham v Bramley | Home | March 25, 1979 | Division 2 |
| Blackpool Borough v Oldham | Away | April 1, 1979 | Division 2 |
| Oldham v Doncaster | Home | April 8, 1979 | Division 2 |
| Swinton v Oldham | Away | April 13, 1979 | Division 2 |
| Batley v Oldham | Away | April 15, 1979 | Division 2 |
| New Hunslet v Oldham | Away | April 22, 1979 | Division 2 |
| Dewsbury v Oldham | Away | April 25, 1979 | Division 2 |
| Oldham v Whitehaven | Home | April 29, 1979 | Division 2 |
| Oldham v Hull FC | Home | May 7, 1979 | Division 2 |
| Bramley v Oldham | Away | May 13, 1979 | Division 2 |
| York v Oldham | Away | May 20, 1979 | Division 2 |
| Rochdale Hornets v Oldham | Away | August 3, 1979 | Law Cup |
| Oldham v St Helens | Home | August 12, 1979 | Friendly |
| Swinton v Oldham | Away | August 19, 1979 | Lancashire Cup |
| Oldham v Warrington | Home | August 26, 1979 | Lancashire Cup |
| Doncaster v Oldham | Away | September 2, 1979 | Division 2 |
| Oldham v Huyton | Home | September 9, 1979 | Division 2 |
| Oldham v Leeds | Home | September 16, 1979 | John Player Cup |
| Oldham v St Helens | Home | September 19, 1979 | BBC |
| Batley v Oldham | Away | September 23, 1979 | Division 2 |
| Oldham v Featherstone Rovers | Home | October 7, 1979 | Division 2 |
| Whitehaven v Oldham | Away | October 14, 1979 | Division 2 |
| Oldham v Bramley | Home | October 21, 1979 | Division 2 |
| Huddersfield v Oldham | Away | November 4, 1979 | Division 2 |
| Oldham v Barrow | Home | November 11, 1979 | Division 2 |
| Swinton v Oldham | Away | November 18, 1979 | Division 2 |
| Oldham v Dewsbury | Home | November 25, 1979 | Division 2 |
| Huyton v Oldham | Away | December 2, 1979 | Division 2 |
| Oldham v Batley | Home | December 9, 1979 | Division 2 |
| Dewsbury v Oldham | Away | December 16, 1979 | Division 2 |
| Oldham v Rochdale Hornets | Home | December 26, 1979 | Division 2 |
| Featherstone Rovers v Oldham | Away | December 30, 1979 | Division 2 |
| Oldham v Swinton | Home | January 6, 1980 | Division 2 |
| Keighley v Oldham | Away | January 13, 1980 | Division 2 |
| Halifax v Oldham | Away | January 20, 1980 | Division 2 |
| Dewsbury v Oldham | Away | February 10, 1980 | Rugby League Challenge Cup |
| Oldham v Huddersfield | Home | February 17, 1980 | Division 2 |
| Oldham v Wakefield Trinity | Home | February 24, 1980 | Rugby League Challenge Cup |
| Barrow v Oldham | Away | March 2, 1980 | Division 2 |
| Oldham v Whitehaven | Home | March 9, 1980 | Division 2 |
| Oldham v Doncaster | Home | March 30, 1980 | Division 2 |
| Rochdale Hornets v Oldham | Away | April 4, 1980 | Division 2 |
| Oldham v Halifax | Home | April 9, 1980 | Division 2 |
| Bramley v Oldham | Away | April 20, 1980 | Division 2 |
| Oldham v Rl Select | Home | April 27, 1980 | Benefit Match |
| Oldham v Rochdale Hornets | Home | August 3, 1980 | Law Cup |
| St Helens v Oldham | Away | August 10, 1980 | Friendly |
| Swinton v Oldham | Away | August 17, 1980 | Lancashire Cup |
| Oldham v Salford | Home | August 24, 1980 | Lancashire Cup |
| Oldham v Castleford | Home | August 31, 1980 | Division 1 |
| Bradford Northern v Oldham | Away | September 7, 1980 | Division 1 |
| Oldham v Warrington | Home | September 10, 1980 | Lancashire Cup |
| Oldham v Featherstone Rovers | Home | September 14, 1980 | Division 1 |
| Hull FC v Oldham | Away | September 21, 1980 | Division 1 |
| Leeds v Oldham | Away | September 28, 1980 | Division 1 |
| Oldham v Leigh | Home | October 5, 1980 | Division 1 |
| Widnes v Oldham | Away | October 19, 1980 | Division 1 |
| Oldham v Workington Town | Home | October 26, 1980 | Division 1 |
| Featherstone Rovers v Oldham | Away | November 9, 1980 | Division 1 |
| Oldham v Bradford Northern | Home | November 16, 1980 | Division 1 |
| Salford v Oldham | Away | November 19, 1980 | Division 1 |
| York v Oldham | Away | November 23, 1980 | John Player Cup |
| Wakefield Trinity v Oldham | Away | November 30, 1980 | Division 1 |
| Workington Town v Oldham | Away | December 14, 1980 | Division 1 |
| Oldham v Hull Kingston Rovers | Home | December 21, 1980 | Division 1 |
| St Helens v Oldham | Away | December 26, 1980 | Division 1 |
| Oldham v Hull FC | Home | December 28, 1980 | Division 1 |
| Warrington v Oldham | Away | January 1, 1981 | Division 1 |
| Barrow v Oldham | Away | January 4, 1981 | Division 1 |
| Castleford v Oldham | Away | January 18, 1981 | Division 1 |
| Oldham v Leeds | Home | January 27, 1981 | Division 1 |
| Oldham v Barrow | Home | February 1, 1981 | Division 1 |
| Halifax v Oldham | Away | February 8, 1981 | Division 1 |
| Blackpool Borough v Oldham | Away | February 15, 1981 | Rugby League Challenge Cup |
| Oldham v Workington Town | Home | March 1, 1981 | Rugby League Challenge Cup |
| Oldham v Warrington | Home | March 8, 1981 | Division 1 |
| Oldham v St Helens | Home | March 15, 1981 | Rugby League Challenge Cup |
| Oldham v Widnes | Home | March 17, 1981 | Division 1 |
| Oldham v Halifax | Home | March 22, 1981 | Division 1 |
| Leigh v Oldham | Away | March 29, 1981 | Division 1 |
| Oldham v Wakefield Trinity | Home | April 5, 1981 | Division 1 |
| Halifax v Oldham | Away | October 4, 1981 | Division 2 |
| Oldham v Huyton | Home | December 6, 1981 | Division 2 |
| Oldham v Batley | Home | January 10, 1982 | Division 2 |
| Oldham v Huddersfield | Home | January 24, 1982 | Division 2 |
| Cardiff City Blue Dragons v Oldham | Away | January 31, 1982 | Division 2 |
| Oldham v Cardiff City Blue Dragons | Home | February 7, 1982 | Division 2 |
| Swinton v Oldham | Away | February 14, 1982 | Rugby League Challenge Cup |
| Keighley v Oldham | Away | February 21, 1982 | Division 2 |
| Wakefield Trinity v Oldham | Away | February 28, 1982 | Rugby League Challenge Cup |
| Workington Town v Oldham | Away | March 7, 1982 | Division 2 |
| Oldham v Bramley | Home | March 14, 1982 | Division 2 |
| Batley v Oldham | Away | March 21, 1982 | Division 2 |
| Oldham v Blackpool Borough | Home | March 28, 1982 | Division 2 |
| Swinton v Oldham | Away | April 4, 1982 | Division 2 |
| Oldham v Rochdale Hornets | Home | April 9, 1982 | Division 2 |
| Oldham v Salford | Home | April 12, 1982 | Division 2 |
| Rochdale Hornets v Oldham | Away | April 15, 1982 | Division 2 |
| Huyton v Oldham | Away | April 18, 1982 | Division 2 |
| Carlisle v Oldham | Away | April 25, 1982 | Division 2 |
| Bramley v Oldham | Away | April 28, 1982 | Division 2 |
| Doncaster v Oldham | Away | May 3, 1982 | Division 2 |
| Hunslet v Oldham | Away | May 6, 1982 | Division 2 |
| Oldham v Workington Town | Home | May 9, 1982 | Division 2 |
| St Helens v Oldham | Away | August 15, 1982 | Friendly |
| Oldham v Widnes | Home | August 22, 1982 | Division 1 |
| Oldham v Leeds | Home | August 25, 1982 | Division 1 |
| Oldham v French XIII | Home | September 22, 1982 | Friendly |
| Fulham v Oldham | Away | November 20, 1983 | Division 1 |
| Hull FC v Oldham | Away | September 22, 1985 | Division 1 |