Dickie Thomas
Profile
Richard Llewellyn Thomas was the great Oldham full back at the turn of the century. Known as "Dickie" or "R.L.", he first played for the Pill Harriers club before being invited to join the famous Newport team, his home town club. He came to Oldham in August, 1897 when thought to be on the verge of full Welsh Rugby Union honours, after playing in the East v West trial match in the 1896-97 season.
Although his first few games under the new code were played on the wing, he soon settled into his regular full back position. Famed for being a determined tackler, with an excellent kicking game, he would for over a decade provide a formidable last line of the Oldham defence. A most durable character he missed only four games in his first four seasons with the club and went on to appear in over 350 first class matches. He won all of the domestic honours the Northern Union had to offer, was capped by Lancashire county and kicked a goal in the historic first Challenge Cup win over Hunslet in 1899.
After retiring from first team football he continued to assist the "A" team and proved to be still a handful when scoring 11 goals and four tries in a match against Radcliffe Rangers at Radcliffe. He then went on to serve on the Oldham F.C. committee.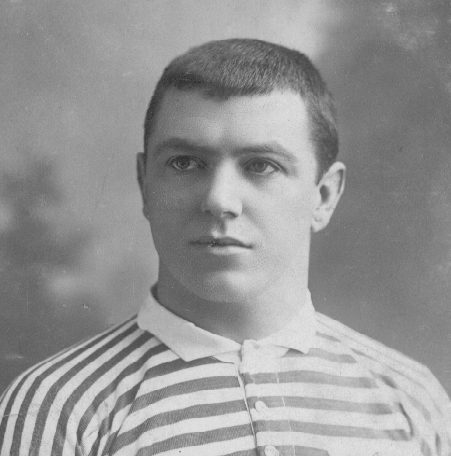 Career Games
| | | | |
| --- | --- | --- | --- |
| Morecambe v Oldham | Away | September 4, 1897 | Lancashire Senior Competition |
| Oldham v Crompton | Home | September 6, 1897 | Friendly |
| Stockport v Oldham | Away | September 11, 1897 | Lancashire Senior Competition |
| Crompton v Oldham | Away | September 13, 1897 | Friendly |
| Oldham v Runcorn | Home | September 18, 1897 | Lancashire Senior Competition |
| Swinton v Oldham | Away | October 1, 1897 | Lancashire Senior Competition |
| Rochdale Hornets v Oldham | Away | October 9, 1897 | Lancashire Senior Competition |
| Bradford v Oldham | Away | October 16, 1897 | Friendly |
| Oldham v Wigan | Home | October 23, 1897 | Lancashire Senior Competition |
| Widnes v Oldham | Away | November 6, 1897 | Lancashire Senior Competition |
| Oldham v Leigh | Home | November 13, 1897 | Lancashire Senior Competition |
| St Helens Recs v Oldham | Away | November 20, 1897 | Friendly |
| St Helens v Oldham | Away | November 27, 1897 | Lancashire Senior Competition |
| Oldham v Halifax | Home | December 4, 1897 | Friendly |
| Oldham v Warrington | Home | December 11, 1897 | Lancashire Senior Competition |
| Leigh v Oldham | Away | December 18, 1897 | Lancashire Senior Competition |
| Oldham v Rochdale Hornets | Home | December 25, 1897 | Lancashire Senior Competition |
| Broughton Rangers v Oldham | Away | December 27, 1897 | Lancashire Senior Competition |
| Oldham v Tyldesley | Home | January 1, 1898 | Lancashire Senior Competition |
| Oldham v Manningham | Home | January 3, 1898 | Friendly |
| Oldham v Widnes | Home | January 8, 1898 | Lancashire Senior Competition |
| Warrington v Oldham | Away | January 15, 1898 | Lancashire Senior Competition |
| Oldham v Stockport | Home | January 22, 1898 | Lancashire Senior Competition |
| Wigan v Oldham | Away | January 29, 1898 | Lancashire Senior Competition |
| Salford v Oldham | Away | February 5, 1898 | Lancashire Senior Competition |
| Oldham v St Helens | Home | February 12, 1898 | Lancashire Senior Competition |
| Oldham v Swinton | Home | February 19, 1898 | Lancashire Senior Competition |
| Oldham v Leeds | Home | February 26, 1898 | Rugby League Challenge Cup |
| Halifax v Oldham | Away | March 5, 1898 | Rugby League Challenge Cup |
| Oldham v Runcorn | Home | March 19, 1898 | Rugby League Challenge Cup |
| Batley v Oldham | Away | March 26, 1898 | Rugby League Challenge Cup |
| Runcorn v Oldham | Away | April 2, 1898 | Lancashire Senior Competition |
| Oldham v Broughton Rangers | Home | April 11, 1898 | Lancashire Senior Competition |
| Oldham v Tyldesley | Home | April 16, 1898 | Lancashire Senior Competition |
| Manningham v Oldham | Away | April 19, 1898 | Friendly |
| Halifax v Oldham | Away | April 25, 1898 | Friendly |
| Oldham v Rest Of Lancs | Home | April 30, 1898 | Champs v Rest |
| Morecambe v Oldham | Away | September 3, 1898 | Lancashire Senior Competition |
| Warrington v Oldham | Away | September 10, 1898 | Lancashire Senior Competition |
| Oldham v Tyldesley | Home | September 17, 1898 | Lancashire Senior Competition |
| Oldham v Runcorn | Home | September 24, 1898 | Lancashire Senior Competition |
| Huddersfield v Oldham | Away | September 26, 1898 | Friendly |
| St Helens v Oldham | Away | October 1, 1898 | Lancashire Senior Competition |
| Oldham v Broughton Rangers | Home | October 8, 1898 | Lancashire Senior Competition |
| Oldham v Workington | Home | October 15, 1898 | Friendly |
| Salford v Oldham | Away | October 22, 1898 | Lancashire Senior Competition |
| Oldham v Seaton | Home | November 5, 1898 | Friendly |
| Rochdale Hornets v Oldham | Away | November 12, 1898 | Lancashire Senior Competition |
| Oldham v Warrington | Home | November 19, 1898 | Lancashire Senior Competition |
| Leigh v Oldham | Away | November 26, 1898 | Lancashire Senior Competition |
| Oldham v Widnes | Home | December 10, 1898 | Lancashire Senior Competition |
| Wigan v Oldham | Away | December 17, 1898 | Lancashire Senior Competition |
| Stockport v Oldham | Away | December 24, 1898 | Lancashire Senior Competition |
| Oldham v Rochdale Hornets | Home | December 26, 1898 | Lancashire Senior Competition |
| Broughton Rangers v Oldham | Away | December 31, 1898 | Lancashire Senior Competition |
| Oldham v Hunslet | Home | January 2, 1899 | Friendly |
| Oldham v Morecambe | Home | January 7, 1899 | Lancashire Senior Competition |
| Tyldesley v Oldham | Away | January 14, 1899 | Lancashire Senior Competition |
| Oldham v Leigh | Home | January 21, 1899 | Lancashire Senior Competition |
| Oldham v St Helens | Home | January 28, 1899 | Lancashire Senior Competition |
| Swinton v Oldham | Away | February 4, 1899 | Lancashire Senior Competition |
| Oldham v Stockport | Home | February 11, 1899 | Lancashire Senior Competition |
| Oldham v Salford | Home | February 18, 1899 | Lancashire Senior Competition |
| Widnes v Oldham | Away | February 25, 1899 | Lancashire Senior Competition |
| Runcorn v Oldham | Away | March 4, 1899 | Lancashire Senior Competition |
| Oldham v Wigan | Home | March 11, 1899 | Lancashire Senior Competition |
| Oldham v Goole | Home | March 18, 1899 | Rugby League Challenge Cup |
| Oldham v Warrington | Home | March 25, 1899 | Rugby League Challenge Cup |
| Bradford v Oldham | Away | April 1, 1899 | Rugby League Challenge Cup |
| Oldham v Widnes | Home | April 8, 1899 | Rugby League Challenge Cup |
| Leigh v Oldham | Neutral | April 15, 1899 | Rugby League Challenge Cup |
| Hunslet v Oldham | Neutral | April 29, 1899 | Rugby League Challenge Cup |
| Morecambe v Oldham | Away | September 2, 1899 | Friendly |
| Millom v Oldham | Away | September 9, 1899 | Lancashire Senior Competition |
| Oldham v Tyldesley | Home | September 16, 1899 | Lancashire Senior Competition |
| Oldham v Runcorn | Home | September 23, 1899 | Lancashire Senior Competition |
| Stockport v Oldham | Away | September 25, 1899 | Lancashire Senior Competition |
| Widnes v Oldham | Away | October 7, 1899 | Lancashire Senior Competition |
| Rochdale Hornets v Oldham | Away | October 14, 1899 | Lancashire Senior Competition |
| Oldham v Stockport | Home | October 17, 1899 | Lancashire Senior Competition |
| Oldham v Salford | Home | October 28, 1899 | Lancashire Senior Competition |
| Swinton v Oldham | Away | November 11, 1899 | Lancashire Senior Competition |
| Oldham v Warrington | Home | November 18, 1899 | Lancashire Senior Competition |
| Wigan v Oldham | Away | November 25, 1899 | Lancashire Senior Competition |
| St Helens v Oldham | Away | December 9, 1899 | Lancashire Senior Competition |
| Broughton Rangers v Oldham | Away | December 23, 1899 | Lancashire Senior Competition |
| Oldham v Rochdale Hornets | Home | December 25, 1899 | Lancashire Senior Competition |
| Oldham v Millom | Home | December 30, 1899 | Lancashire Senior Competition |
| Oldham v Bradford | Home | January 1, 1900 | Friendly |
| Oldham v Leigh | Home | January 6, 1900 | Lancashire Senior Competition |
| Oldham v Widnes | Home | January 13, 1900 | Lancashire Senior Competition |
| Oldham v Wigan | Home | January 20, 1900 | Lancashire Senior Competition |
| Salford v Oldham | Away | January 27, 1900 | Lancashire Senior Competition |
| Oldham v Swinton | Home | February 3, 1900 | Lancashire Senior Competition |
| Oldham v Broughton Rangers | Home | February 17, 1900 | Lancashire Senior Competition |
| Warrington v Oldham | Away | February 21, 1900 | Lancashire Senior Competition |
| Leigh v Oldham | Away | February 24, 1900 | Lancashire Senior Competition |
| Tyldesley v Oldham | Away | February 27, 1900 | Lancashire Senior Competition |
| Oldham v St Helens | Home | March 3, 1900 | Lancashire Senior Competition |
| Runcorn v Oldham | Away | March 10, 1900 | Lancashire Senior Competition |
| Manningham v Oldham | Away | March 17, 1900 | Rugby League Challenge Cup |
| Oldham v Manningham | Home | March 20, 1900 | Rugby League Challenge Cup |
| Halifax v Oldham | Away | March 24, 1900 | Rugby League Challenge Cup |
| Swinton v Oldham | Away | March 31, 1900 | Rugby League Challenge Cup |
| Hull Kingston Rovers v Oldham | Away | April 7, 1900 | Friendly |
| Oldham v Brighouse Rangers | Home | April 16, 1900 | Friendly |
| Workington v Oldham | Away | September 1, 1900 | Friendly |
| Barrow v Oldham | Away | September 8, 1900 | Lancashire Senior Competition |
| Oldham v Wigan | Home | September 15, 1900 | Lancashire Senior Competition |
| Oldham v Barrow | Home | September 22, 1900 | Lancashire Senior Competition |
| Swinton v Oldham | Away | September 29, 1900 | Lancashire Senior Competition |
| Runcorn v Oldham | Away | October 6, 1900 | Lancashire Senior Competition |
| Oldham v St Helens | Home | October 13, 1900 | Lancashire Senior Competition |
| Oldham v Workington | Home | October 20, 1900 | Friendly |
| Oldham v Leigh | Home | October 27, 1900 | Lancashire Senior Competition |
| Birkenhead Wanderers v Oldham | Away | November 3, 1900 | Friendly |
| Salford v Oldham | Away | November 10, 1900 | Lancashire Senior Competition |
| Oldham v Widnes | Home | November 17, 1900 | Lancashire Senior Competition |
| Oldham v Rochdale Hornets | Home | November 24, 1900 | Lancashire Senior Competition |
| Oldham v Millom | Home | December 1, 1900 | Lancashire Senior Competition |
| Halifax v Oldham | Away | December 8, 1900 | Friendly |
| St Helens v Oldham | Away | December 15, 1900 | Lancashire Senior Competition |
| Warrington v Oldham | Away | December 22, 1900 | Lancashire Senior Competition |
| Rochdale Hornets v Oldham | Away | December 25, 1900 | Lancashire Senior Competition |
| Oldham v Broughton Rangers | Home | December 29, 1900 | Lancashire Senior Competition |
| Oldham v Halifax | Home | January 1, 1901 | Friendly |
| Widnes v Oldham | Away | January 5, 1901 | Lancashire Senior Competition |
| Oldham v Swinton | Home | January 12, 1901 | Lancashire Senior Competition |
| Stockport v Oldham | Away | January 19, 1901 | Lancashire Senior Competition |
| Broughton Rangers v Oldham | Away | January 26, 1901 | Lancashire Senior Competition |
| Oldham v Stockport | Home | February 9, 1901 | Lancashire Senior Competition |
| Oldham v Warrington | Home | February 19, 1901 | Lancashire Senior Competition |
| Oldham v Runcorn | Home | February 23, 1901 | Lancashire Senior Competition |
| Oldham v Swinton | Home | February 25, 1901 | Lancashire Senior Competition |
| Bramley v Oldham | Away | March 9, 1901 | Rugby League Challenge Cup |
| Wigan v Oldham | Away | March 16, 1901 | Lancashire Senior Competition |
| Broughton Rangers v Oldham | Away | March 23, 1901 | Rugby League Challenge Cup |
| Widnes v Oldham | Away | March 30, 1901 | Rugby League Challenge Cup |
| Leigh v Oldham | Away | April 2, 1901 | Lancashire Senior Competition |
| Oldham v Salford | Home | April 6, 1901 | Lancashire Senior Competition |
| Millom v Oldham | Away | April 8, 1901 | Lancashire Senior Competition |
| Batley v Oldham | Neutral | April 13, 1901 | Rugby League Challenge Cup |
| Oldham v The Rest | Home | April 20, 1901 | Champs v Rest |
| Werneth v Oldham | Away | April 26, 1901 | Friendly |
| Leigh v Oldham | Away | September 7, 1901 | Northern RL |
| Batley v Oldham | Away | September 14, 1901 | Northern RL |
| Oldham v Huddersfield | Home | September 21, 1901 | Northern RL |
| Bradford v Oldham | Away | September 28, 1901 | Northern RL |
| Oldham v Brighouse Rangers | Home | October 5, 1901 | Northern RL |
| Oldham v Runcorn | Home | October 12, 1901 | Northern RL |
| Oldham v South Shields | Home | October 26, 1901 | Friendly |
| Rochdale Hornets v Oldham | Away | November 2, 1901 | South East Lancashire League |
| Hull FC v Oldham | Away | November 9, 1901 | Northern RL |
| Huddersfield v Oldham | Away | November 23, 1901 | Northern RL |
| Hunslet v Oldham | Away | November 30, 1901 | Northern RL |
| Oldham v Leigh | Home | December 7, 1901 | Northern RL |
| Oldham v Stockport | Home | December 10, 1901 | South East Lancashire League |
| Oldham v Warrington | Home | December 14, 1901 | Northern RL |
| Oldham v Rochdale Hornets | Home | December 25, 1901 | South East Lancashire League |
| Oldham v Hull FC | Home | December 31, 1901 | Northern RL |
| Swinton v Oldham | Away | January 1, 1902 | Northern RL |
| Oldham v Salford | Home | January 4, 1902 | Northern RL |
| Halifax v Oldham | Away | January 18, 1902 | Northern RL |
| Salford v Oldham | Away | January 25, 1902 | Northern RL |
| Oldham v Halifax | Home | January 28, 1902 | Northern RL |
| Brighouse Rangers v Oldham | Away | February 11, 1902 | Northern RL |
| Oldham v Bradford | Home | February 22, 1902 | Northern RL |
| Oldham v Broughton Rangers | Home | February 25, 1902 | Northern RL |
| Oldham v Swinton | Home | March 1, 1902 | Northern RL |
| Runcorn v Oldham | Away | March 5, 1902 | Northern RL |
| Maryport v Oldham | Away | March 15, 1902 | Rugby League Challenge Cup |
| Runcorn v Oldham | Away | March 22, 1902 | Rugby League Challenge Cup |
| Oldham v St Helens | Home | March 29, 1902 | Friendly |
| Stockport v Oldham | Away | March 31, 1902 | South East Lancashire League |
| Hull FC v Oldham | Away | April 5, 1902 | Friendly |
| Hunslet v Oldham | Away | April 14, 1902 | Northern RL |
| South Shields v Oldham | Away | April 19, 1902 | Friendly |
| Salford & Swinton v Broughton Rangers and Oldham | Away | April 29, 1902 | Benefit Match |
| Oldham v Hunslet | Home | October 4, 1902 | Division 1 |
| Wigan v Oldham | Away | October 11, 1902 | Division 1 |
| Oldham v Widnes | Home | October 18, 1902 | Division 1 |
| Bradford v Oldham | Away | October 25, 1902 | Division 1 |
| Oldham v Huddersfield | Home | November 1, 1902 | Division 1 |
| Warrington v Oldham | Away | November 8, 1902 | Division 1 |
| Oldham v Brighouse Rangers | Home | November 15, 1902 | Division 1 |
| St Helens v Oldham | Away | November 22, 1902 | Division 1 |
| Oldham v Salford | Home | December 13, 1902 | Division 1 |
| Oldham v Halifax | Home | December 20, 1902 | Division 1 |
| Oldham v Swinton | Home | December 25, 1902 | Division 1 |
| Oldham v Leigh | Home | December 27, 1902 | Division 1 |
| Widnes v Oldham | Away | January 1, 1903 | Division 1 |
| Oldham v Hull FC | Home | January 3, 1903 | Division 1 |
| Oldham v Hull Kingston Rovers | Home | January 24, 1903 | Division 1 |
| Hunslet v Oldham | Away | January 31, 1903 | Division 1 |
| Batley v Oldham | Away | February 3, 1903 | Division 1 |
| Oldham v Wigan | Home | February 7, 1903 | Division 1 |
| Broughton Rangers v Oldham | Away | February 14, 1903 | Rugby League Challenge Cup |
| Oldham v Wigan | Home | February 21, 1903 | Rugby League Challenge Cup |
| Huddersfield v Oldham | Away | February 28, 1903 | Division 1 |
| Bradford v Oldham | Away | March 7, 1903 | Rugby League Challenge Cup |
| Oldham v Bradford | Home | March 10, 1903 | Division 1 |
| Brighouse Rangers v Oldham | Away | March 14, 1903 | Division 1 |
| Oldham v Hunslet | Home | March 21, 1903 | Rugby League Challenge Cup |
| Oldham v Warrington | Home | March 24, 1903 | Division 1 |
| Oldham v Runcorn | Home | March 28, 1903 | Division 1 |
| Oldham v St Helens | Home | March 31, 1903 | Division 1 |
| Salford v Oldham | Neutral | April 4, 1903 | Rugby League Challenge Cup |
| Salford v Oldham | Neutral | April 8, 1903 | Rugby League Challenge Cup |
| Oldham v Swinton | Home | April 13, 1903 | Division 1 |
| Halifax v Oldham | Away | April 18, 1903 | Division 1 |
| Leigh v Oldham | Away | April 25, 1903 | Division 1 |
| Oldham v Hull FC | Home | September 5, 1903 | Division 1 |
| Halifax v Oldham | Away | September 12, 1903 | Division 1 |
| Oldham v Huddersfield | Home | September 19, 1903 | Division 1 |
| Bradford v Oldham | Away | September 26, 1903 | Division 1 |
| Oldham v Wigan | Home | October 3, 1903 | Division 1 |
| Leeds v Oldham | Away | October 10, 1903 | Division 1 |
| Oldham v Runcorn | Home | October 17, 1903 | Division 1 |
| Salford v Oldham | Away | October 24, 1903 | Division 1 |
| Oldham v Leigh | Home | October 31, 1903 | Division 1 |
| Warrington v Oldham | Away | November 7, 1903 | Division 1 |
| Batley v Oldham | Away | November 14, 1903 | Division 1 |
| Swinton v Oldham | Away | December 19, 1903 | Division 1 |
| Oldham v Batley | Home | December 25, 1903 | Division 1 |
| Oldham v Hull Kingston Rovers | Home | December 26, 1903 | Division 1 |
| Hull FC v Oldham | Away | January 2, 1904 | Division 1 |
| Oldham v Halifax | Home | January 9, 1904 | Division 1 |
| Huddersfield v Oldham | Away | January 16, 1904 | Division 1 |
| Oldham v Bradford | Home | January 23, 1904 | Division 1 |
| Wigan v Oldham | Away | January 30, 1904 | Division 1 |
| Oldham v Leeds | Home | February 6, 1904 | Division 1 |
| Runcorn v Oldham | Away | February 13, 1904 | Division 1 |
| Oldham v Salford | Home | February 20, 1904 | Division 1 |
| Leigh v Oldham | Away | February 27, 1904 | Division 1 |
| Oldham v Warrington | Home | March 5, 1904 | Division 1 |
| Batley v Oldham | Away | March 12, 1904 | Rugby League Challenge Cup |
| Oldham v Swinton | Home | March 19, 1904 | Friendly |
| Broughton Rangers v Oldham | Away | March 26, 1904 | Division 1 |
| Oldham v Oldham A | Home | April 2, 1904 | Friendly |
| Oldham v Swinton | Home | April 4, 1904 | Division 1 |
| Widnes v Oldham | Away | April 9, 1904 | Division 1 |
| Oldham v Keighley | Home | April 12, 1904 | Division 1 |
| Oldham v Hunslet | Home | April 19, 1904 | Division 1 |
| Hull Kingston Rovers v Oldham | Away | April 23, 1904 | Division 1 |
| St Helens v Oldham | Away | September 3, 1904 | Division 1 |
| Hull Kingston Rovers v Oldham | Away | September 10, 1904 | Division 1 |
| Hunslet v Oldham | Away | September 24, 1904 | Division 1 |
| Salford v Oldham | Away | October 8, 1904 | Division 1 |
| Oldham v Warrington | Home | October 15, 1904 | Division 1 |
| Wakefield Trinity v Oldham | Away | October 22, 1904 | Division 1 |
| Oldham v Leigh | Home | October 29, 1904 | Division 1 |
| Oldham v Halifax | Home | November 5, 1904 | Division 1 |
| Bradford v Oldham | Away | November 19, 1904 | Division 1 |
| Oldham v Leeds | Home | November 26, 1904 | Division 1 |
| Runcorn v Oldham | Away | December 3, 1904 | Division 1 |
| Oldham v Broughton Rangers | Home | December 10, 1904 | Division 1 |
| Oldham v Wigan | Home | December 17, 1904 | Division 1 |
| Swinton v Oldham | Away | December 24, 1904 | Division 1 |
| Oldham v Swinton | Home | December 26, 1904 | Division 1 |
| Oldham v St Helens | Home | December 31, 1904 | Division 1 |
| Halifax v Oldham | Away | January 2, 1905 | Division 1 |
| Oldham v Hull Kingston Rovers | Home | January 7, 1905 | Division 1 |
| Batley v Oldham | Away | January 14, 1905 | Division 1 |
| Oldham v Hunslet | Home | January 21, 1905 | Division 1 |
| Widnes v Oldham | Away | January 28, 1905 | Division 1 |
| Oldham v Salford | Home | February 4, 1905 | Division 1 |
| Warrington v Oldham | Away | February 11, 1905 | Division 1 |
| Oldham v Wakefield Trinity | Home | February 18, 1905 | Division 1 |
| Leigh v Oldham | Away | February 25, 1905 | Division 1 |
| Oldham v Normanton | Home | March 4, 1905 | Rugby League Challenge Cup |
| Hull FC v Oldham | Away | March 11, 1905 | Division 1 |
| Batley v Oldham | Away | March 18, 1905 | Rugby League Challenge Cup |
| Oldham v Bradford | Home | March 20, 1905 | Division 1 |
| Leeds v Oldham | Away | March 25, 1905 | Division 1 |
| Broughton Rangers v Oldham | Away | April 8, 1905 | Division 1 |
| Oldham v Runcorn | Home | April 22, 1905 | Division 1 |
| Oldham v Hull FC | Home | April 24, 1905 | Division 1 |
| Millom v Oldham | Away | September 1, 1905 | RL Championship |
| Morecambe v Oldham | Away | September 2, 1905 | RL Championship |
| Warrington v Oldham | Away | September 9, 1905 | RL Championship |
| Oldham v Wigan | Home | September 16, 1905 | RL Championship |
| Runcorn v Oldham | Away | September 20, 1905 | RL Championship |
| Oldham v Barrow | Home | September 23, 1905 | RL Championship |
| Rochdale Hornets v Oldham | Away | September 30, 1905 | RL Championship |
| Oldham v Morecambe | Home | October 7, 1905 | RL Championship |
| Oldham v Broughton Rangers | Home | October 14, 1905 | RL Championship |
| Oldham v Warrington | Home | October 21, 1905 | RL Championship |
| Salford v Oldham | Away | October 28, 1905 | Lancashire Cup |
| Oldham v Widnes | Home | November 4, 1905 | RL Championship |
| Oldham v Wigan | Home | November 18, 1905 | Lancashire Cup |
| Oldham v Wakefield Trinity | Home | November 25, 1905 | RL Championship |
| St Helens v Oldham | Away | December 2, 1905 | RL Championship |
| Hull FC v Oldham | Away | December 9, 1905 | RL Championship |
| Swinton v Oldham | Away | December 16, 1905 | RL Championship |
| Oldham v Leeds | Home | December 23, 1905 | RL Championship |
| Oldham v Rochdale Hornets | Home | December 25, 1905 | RL Championship |
| Oldham v Swinton | Home | January 6, 1906 | RL Championship |
| Oldham v Leigh | Home | January 13, 1906 | RL Championship |
| Broughton Rangers v Oldham | Away | January 20, 1906 | RL Championship |
| Oldham v St Helens | Home | January 27, 1906 | RL Championship |
| Hull Kingston Rovers v Oldham | Away | February 3, 1906 | RL Championship |
| Oldham v Salford | Home | February 10, 1906 | RL Championship |
| Oldham v Dewsbury | Home | February 17, 1906 | RL Championship |
| Pontefract v Oldham | Away | March 3, 1906 | Rugby League Challenge Cup |
| Oldham v Halifax | Home | March 17, 1906 | Rugby League Challenge Cup |
| Oldham v Halifax | Home | March 24, 1906 | RL Championship |
| Wakefield Trinity v Oldham | Away | March 31, 1906 | RL Championship |
| Leigh v Oldham | Away | April 4, 1906 | RL Championship |
| Bradford v Oldham | Away | April 7, 1906 | RL Championship |
| Oldham v Hull Kingston Rovers | Home | April 14, 1906 | RL Championship |
| Wigan v Oldham | Away | April 16, 1906 | RL Championship |
| Oldham v Chadderton | Home | April 19, 1906 | Friendly |
| Barrow v Oldham | Away | April 21, 1906 | RL Championship |
| Widnes v Oldham | Away | April 26, 1906 | RL Championship |
| Dewsbury v Oldham | Away | April 28, 1906 | RL Championship |
| Oldham v Runcorn | Home | September 1, 1906 | League Championship |
| Oldham v Wigan | Home | September 8, 1906 | League Championship |
| Oldham v Hull Kingston Rovers | Home | September 15, 1906 | League Championship |
| Swinton v Oldham | Away | September 22, 1906 | League Championship |
| Oldham v Rochdale Hornets | Home | September 29, 1906 | League Championship |
| Oldham v Huddersfield | Home | October 6, 1906 | League Championship |
| St Helens v Oldham | Away | October 13, 1906 | Lancashire Cup |
| Hunslet v Oldham | Away | October 20, 1906 | League Championship |
| Oldham v Rochdale Hornets | Home | October 27, 1906 | Lancashire Cup |
| Oldham v Leigh | Home | November 3, 1906 | League Championship |
| Barrow v Oldham | Away | November 5, 1906 | League Championship |
| Warrington v Oldham | Away | November 17, 1906 | Lancashire Cup |
| Oldham v Broughton Rangers | Home | December 8, 1906 | League Championship |
| Oldham v Leeds | Home | December 15, 1906 | League Championship |
| Bradford v Oldham | Away | December 18, 1906 | League Championship |
| Rochdale Hornets v Oldham | Away | December 22, 1906 | League Championship |
| Oldham v Swinton | Home | December 25, 1906 | League Championship |
| Runcorn v Oldham | Away | December 26, 1906 | League Championship |
| Oldham v Hunslet | Home | December 29, 1906 | League Championship |
| Salford v Oldham | Away | January 12, 1907 | League Championship |
| Oldham v Hull FC | Home | January 19, 1907 | League Championship |
| Oldham v Warrington | Home | February 4, 1907 | League Championship |
| Hull Kingston Rovers v Oldham | Away | February 9, 1907 | League Championship |
| Warrington v Oldham | Away | February 16, 1907 | League Championship |
| Oldham v Wakefield Trinity | Home | February 23, 1907 | League Championship |
| Oldham v Bradford | Home | March 2, 1907 | League Championship |
| Oldham v Halifax | Home | March 9, 1907 | League Championship |
| Wakefield Trinity v Oldham | Away | March 11, 1907 | League Championship |
| Oldham v Runcorn | Home | March 16, 1907 | Rugby League Challenge Cup |
| Halifax v Oldham | Away | March 23, 1907 | Rugby League Challenge Cup |
| Leigh v Oldham | Away | March 27, 1907 | League Championship |
| Hull FC v Oldham | Away | April 2, 1907 | League Championship |
| Oldham v Runcorn | Home | April 6, 1907 | League Championship |
| Salford v Oldham | Neutral | April 13, 1907 | Rugby League Challenge Cup |
| Halifax v Oldham | Neutral | April 20, 1907 | League Championship |
| Warrington v Oldham | Neutral | April 27, 1907 | Rugby League Challenge Cup |
| Merthyr Tydfil v Oldham | Away | September 7, 1907 | League Championship |
| Rochdale Hornets v Oldham | Away | September 28, 1907 | League Championship |
| Warrington v Oldham | Away | October 5, 1907 | League Championship |
| Oldham v Barrow | Home | October 12, 1907 | Lancashire Cup |
| Oldham v Leigh | Home | October 19, 1907 | League Championship |
| Oldham v Swinton | Home | October 26, 1907 | Lancashire Cup |
| Oldham v Runcorn | Home | November 2, 1907 | League Championship |
| Oldham v St Helens | Home | November 9, 1907 | League Championship |
| Salford v Oldham | Away | November 16, 1907 | Lancashire Cup |
| Oldham v New Zealand | Home | November 23, 1907 | Tour Match |
| Broughton Rangers v Oldham | Neutral | November 30, 1907 | Lancashire Cup |
| Broughton Rangers v Oldham | Away | December 7, 1907 | League Championship |
| Halifax v Oldham | Away | December 9, 1907 | League Championship |
| Oldham v Warrington | Home | December 14, 1907 | League Championship |
| Oldham v Salford | Home | December 21, 1907 | League Championship |
| Oldham v Huddersfield | Home | December 25, 1907 | League Championship |
| Swinton v Oldham | Away | December 26, 1907 | League Championship |
| Oldham v Swinton | Home | December 28, 1907 | League Championship |
| Leeds v Oldham | Away | January 1, 1908 | League Championship |
| Oldham v Halifax | Home | January 4, 1908 | League Championship |
| Oldham v Widnes | Home | January 11, 1908 | League Championship |
| Barrow v Oldham | Away | January 18, 1908 | League Championship |
| Oldham v Merthyr Tydfil | Home | January 25, 1908 | League Championship |
| Oldham v Broughton Rangers | Home | February 1, 1908 | League Championship |
| Leigh v Oldham | Away | February 8, 1908 | League Championship |
| Oldham v Rochdale Hornets | Home | February 15, 1908 | League Championship |
| Dewsbury v Oldham | Away | February 29, 1908 | Rugby League Challenge Cup |
| Oldham v Leeds | Home | March 7, 1908 | League Championship |
| Hunslet v Oldham | Away | March 14, 1908 | Rugby League Challenge Cup |
| St Helens v Oldham | Away | March 21, 1908 | League Championship |
| Ebbw Vale v Oldham | Away | March 25, 1908 | League Championship |
| Runcorn v Oldham | Away | March 28, 1908 | League Championship |
| Oldham v Barrow | Home | April 4, 1908 | League Championship |
| Widnes v Oldham | Away | April 11, 1908 | League Championship |
| Oldham v Wigan | Home | April 18, 1908 | League Championship |
| Oldham v Oldham Past | Home | April 20, 1908 | Friendly |
| Hunslet v Oldham | Neutral | May 2, 1908 | League Championship |
| Hunslet v Oldham | Neutral | May 9, 1908 | League Championship |
| Rochdale Hornets v Oldham | Away | October 3, 1908 | League Championship |
| Swinton v Oldham | Away | January 4, 1909 | League Championship |
| Oldham v Widnes | Home | February 6, 1909 | League Championship |
| Oldham v St Helens | Home | March 6, 1909 | League Championship |
| Hunslet v Oldham | Away | March 22, 1909 | League Championship |
| Salford v Oldham | Away | April 12, 1909 | League Championship |
| Oldham v Oldham Present | Home | January 3, 1916 | Special Friendly |