Norman Pugh
Profile
Norman Pugh was a tall, rangy, second row or loose forward, who came to the club from Swansea Rugby Union where he won county honours with Glamorgan. He made his first team debut in the 8 – 0 home victory over Wakefield on March 5th, 1934.
A most reliable performer in the back row, Norman, whose tall and lean stature, allied to his rallying call of "Get cracking lads", saw him nicknamed "The Whip", would become a cornerstone of the Oldham pack for fourteen years. His consistent displays for the "Roughyeds" earned him eight Welsh caps in Rugby League and on all but one of these occasions he finished on the winning side.
When Rugby League resumed after the Second World War for the 1945-46 season, Oldham, like many other clubs, had its players scattered far and wide, but luckily for the club Norman was available to play in 38 of the 40 matches and when made captain towards the season's end, provided a steadying influence as the club won seven of its last eight games to climb to a respectable mid table position, after looking destined to finish in the lower reaches.
A benefit match was played for Norman between Oldham and an "International and County Xlll", selected by Welsh full back legend, Jim Sullivan on April 22nd, 1947. After his retirement at the end of the 1947-48 season, he maintained a keen interest in the club, helping to form the ex-players association. One of the great servants of Oldham RLFC.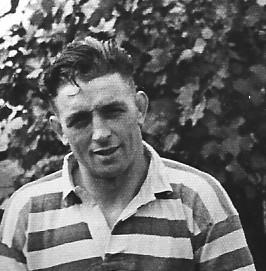 Career Games
| | | | |
| --- | --- | --- | --- |
| Oldham v Wakefield Trinity | Home | March 5, 1934 | League Championship |
| St Helens Recs v Oldham | Away | March 17, 1934 | League Championship |
| Oldham v Halifax | Home | March 19, 1934 | League Championship |
| Swinton v Oldham | Away | March 30, 1934 | League Championship |
| Halifax v Oldham | Away | March 31, 1934 | League Championship |
| Oldham v St Helens Recs | Home | April 2, 1934 | League Championship |
| Leeds v Oldham | Away | April 3, 1934 | League Championship |
| Oldham v Rochdale Hornets | Home | April 7, 1934 | League Championship |
| Oldham v Wigan | Home | April 10, 1934 | League Championship |
| Broughton Rangers v Oldham | Away | April 21, 1934 | League Championship |
| Halifax v Oldham | Neutral | May 12, 1934 | Lancaster Cup |
| Oldham v Rochdale Hornets | Home | August 18, 1934 | Infirmary Cup |
| Wigan v Oldham | Away | August 25, 1934 | League Championship |
| Oldham v Bramley | Home | September 1, 1934 | League Championship |
| Oldham v Widnes | Home | September 8, 1934 | Lancashire Cup |
| Oldham v Warrington | Home | September 15, 1934 | League Championship |
| Oldham v Villeneuve | Home | September 17, 1934 | Friendly |
| Salford v Oldham | Away | September 22, 1934 | League Championship |
| Oldham v Rochdale Hornets | Home | September 29, 1934 | League Championship |
| Keighley v Oldham | Away | October 6, 1934 | League Championship |
| Oldham v Salford | Home | October 13, 1934 | League Championship |
| Oldham v St Helens Recs | Home | October 20, 1934 | League Championship |
| Broughton Rangers v Oldham | Away | October 27, 1934 | League Championship |
| Oldham v Broughton Rangers | Home | November 3, 1934 | League Championship |
| Barrow v Oldham | Away | November 10, 1934 | League Championship |
| Oldham v Wigan | Home | November 17, 1934 | League Championship |
| Widnes v Oldham | Away | November 24, 1934 | League Championship |
| Oldham v Barrow | Home | December 1, 1934 | League Championship |
| Oldham v Keighley | Home | December 15, 1934 | League Championship |
| Rochdale Hornets v Oldham | Away | December 22, 1934 | League Championship |
| Oldham v Swinton | Home | December 25, 1934 | League Championship |
| Hull Kingston Rovers v Oldham | Away | December 26, 1934 | League Championship |
| Oldham v York | Home | December 29, 1934 | League Championship |
| Oldham v Widnes | Home | January 1, 1935 | League Championship |
| Huddersfield v Oldham | Away | January 5, 1935 | League Championship |
| Oldham v St Helens | Home | February 2, 1935 | League Championship |
| Oldham v St Helens | Home | February 9, 1935 | Rugby League Challenge Cup |
| Oldham v Hull Kingston Rovers | Home | February 16, 1935 | League Championship |
| Huddersfield v Oldham | Away | February 23, 1935 | Rugby League Challenge Cup |
| Batley v Oldham | Away | March 2, 1935 | League Championship |
| Warrington v Oldham | Away | March 6, 1935 | League Championship |
| Oldham v Leigh | Home | March 9, 1935 | League Championship |
| Liverpool Stanley v Oldham | Away | March 16, 1935 | League Championship |
| York v Oldham | Away | March 23, 1935 | League Championship |
| Leigh v Oldham | Away | April 6, 1935 | League Championship |
| Oldham v Huddersfield | Home | April 9, 1935 | League Championship |
| Bramley v Oldham | Away | April 13, 1935 | League Championship |
| Swinton v Oldham | Away | April 19, 1935 | League Championship |
| Oldham v Halifax | Home | April 20, 1935 | League Championship |
| St Helens v Oldham | Away | April 22, 1935 | League Championship |
| Rochdale Hornets v Oldham | Away | August 24, 1935 | Infirmary Cup |
| Oldham v Hull Kingston Rovers | Home | August 31, 1935 | League Championship |
| Streatham & Mitcham v Oldham | Away | September 7, 1935 | League Championship |
| Rochdale Hornets v Oldham | Away | September 14, 1935 | Lancashire Cup |
| Oldham v Broughton Rangers | Home | September 16, 1935 | League Championship |
| Warrington v Oldham | Away | September 21, 1935 | League Championship |
| St Helens Recs v Oldham | Away | September 28, 1935 | League Championship |
| Wigan v Oldham | Away | October 2, 1935 | Lancashire Cup |
| Oldham v Wigan | Home | October 5, 1935 | League Championship |
| Hull Kingston Rovers v Oldham | Away | October 12, 1935 | League Championship |
| Oldham v Leigh | Home | October 19, 1935 | League Championship |
| Rochdale Hornets v Oldham | Away | October 26, 1935 | League Championship |
| Oldham v Dewsbury | Home | November 2, 1935 | League Championship |
| Salford v Oldham | Away | November 9, 1935 | League Championship |
| Oldham v Barrow | Home | November 16, 1935 | League Championship |
| Oldham v Widnes | Home | November 30, 1935 | League Championship |
| St Helens v Oldham | Away | December 7, 1935 | League Championship |
| Oldham v Rochdale Hornets | Home | December 14, 1935 | League Championship |
| Broughton Rangers v Oldham | Away | December 25, 1935 | League Championship |
| Oldham v Swinton | Home | December 26, 1935 | League Championship |
| Leigh v Oldham | Away | December 28, 1935 | League Championship |
| Oldham v Wakefield Trinity | Home | January 1, 1936 | League Championship |
| Oldham v St Helens | Home | January 4, 1936 | League Championship |
| Halifax v Oldham | Away | January 11, 1936 | League Championship |
| Oldham v Liverpool Stanley | Home | January 25, 1936 | League Championship |
| Oldham v Higginshaw | Home | February 8, 1936 | Rugby League Challenge Cup |
| Oldham v Wigan | Home | February 22, 1936 | Rugby League Challenge Cup |
| Liverpool Stanley v Oldham | Away | February 26, 1936 | League Championship |
| Oldham v Hunslet | Home | February 29, 1936 | League Championship |
| Dewsbury v Oldham | Away | March 7, 1936 | League Championship |
| Keighley v Oldham | Away | March 10, 1936 | League Championship |
| Barrow v Oldham | Away | March 14, 1936 | League Championship |
| Oldham v Streatham & Mitcham | Home | March 21, 1936 | League Championship |
| Oldham v Warrington | Home | March 24, 1936 | League Championship |
| Oldham v Keighley | Home | March 28, 1936 | League Championship |
| Oldham v Halifax | Home | April 13, 1936 | League Championship |
| Oldham v Rochdale Hornets | Home | August 22, 1936 | Infirmary Cup |
| Wigan v Oldham | Away | August 29, 1936 | League Championship |
| Oldham v St Helens Recs | Home | September 5, 1936 | League Championship |
| Salford v Oldham | Away | September 12, 1936 | Lancashire Cup |
| Barrow v Oldham | Away | September 17, 1936 | League Championship |
| Oldham v Widnes | Home | September 19, 1936 | League Championship |
| Warrington v Oldham | Away | September 26, 1936 | League Championship |
| Oldham v Liverpool Stanley | Home | September 28, 1936 | League Championship |
| Oldham v Salford | Home | October 3, 1936 | League Championship |
| Widnes v Oldham | Away | October 10, 1936 | League Championship |
| Oldham v Keighley | Home | October 17, 1936 | League Championship |
| Broughton Rangers v Oldham | Away | October 24, 1936 | League Championship |
| Oldham v Halifax | Home | October 31, 1936 | League Championship |
| Oldham v St Helens | Home | November 14, 1936 | League Championship |
| Hunslet v Oldham | Away | November 21, 1936 | League Championship |
| Oldham v Barrow | Home | November 28, 1936 | League Championship |
| Oldham v Broughton Rangers | Home | December 12, 1936 | League Championship |
| Hunslet v Oldham | Away | December 14, 1936 | League Championship |
| Liverpool Stanley v Oldham | Away | December 19, 1936 | League Championship |
| Oldham v Swinton | Home | December 25, 1936 | League Championship |
| Rochdale Hornets v Oldham | Away | December 26, 1936 | League Championship |
| Oldham v Wakefield Trinity | Home | January 1, 1937 | League Championship |
| Salford v Oldham | Away | January 2, 1937 | League Championship |
| Oldham v Streatham & Mitcham | Home | January 9, 1937 | League Championship |
| Oldham v Batley | Home | January 16, 1937 | League Championship |
| Wakefield Trinity v Oldham | Away | January 23, 1937 | League Championship |
| Keighley v Oldham | Away | February 6, 1937 | League Championship |
| Oldham v Wigan | Home | February 13, 1937 | Rugby League Challenge Cup |
| Oldham v Leigh | Home | February 20, 1937 | League Championship |
| Bradford Northern v Oldham | Away | March 6, 1937 | League Championship |
| St Helens Recs v Oldham | Away | March 20, 1937 | League Championship |
| Swinton v Oldham | Away | March 26, 1937 | League Championship |
| Oldham v Rochdale Hornets | Home | March 27, 1937 | League Championship |
| Batley v Oldham | Away | March 29, 1937 | League Championship |
| Oldham v Bradford Northern | Home | April 3, 1937 | League Championship |
| Oldham v Warrington | Home | April 5, 1937 | League Championship |
| Leigh v Oldham | Away | April 10, 1937 | League Championship |
| Oldham v Wigan | Home | April 12, 1937 | League Championship |
| Oldham v Broughton Rangers | Home | April 24, 1937 | League Championship |
| Rochdale Hornets v Oldham | Away | August 21, 1937 | Infirmary Cup |
| Warrington v Oldham | Away | August 28, 1937 | League Championship |
| Oldham v Halifax | Home | September 4, 1937 | League Championship |
| Oldham v Warrington | Home | September 11, 1937 | Lancashire Cup |
| Dewsbury v Oldham | Away | September 15, 1937 | League Championship |
| Oldham v York | Home | September 18, 1937 | League Championship |
| Oldham v Wigan | Home | September 20, 1937 | League Championship |
| Barrow v Oldham | Away | September 25, 1937 | League Championship |
| Oldham v Broughton Rangers | Home | October 2, 1937 | League Championship |
| Leigh v Oldham | Away | October 16, 1937 | League Championship |
| Oldham v St Helens Recs | Home | October 23, 1937 | League Championship |
| Halifax v Oldham | Away | October 30, 1937 | League Championship |
| Oldham v Australia | Home | November 6, 1937 | Tour Match |
| York v Oldham | Away | November 13, 1937 | League Championship |
| Oldham v Hull Kingston Rovers | Home | November 20, 1937 | League Championship |
| Broughton Rangers v Oldham | Away | November 27, 1937 | League Championship |
| Oldham v St Helens | Home | December 4, 1937 | League Championship |
| Hunslet v Oldham | Away | December 11, 1937 | League Championship |
| Oldham v Widnes | Home | December 18, 1937 | League Championship |
| Oldham v Swinton | Home | December 25, 1937 | League Championship |
| Oldham v Barrow | Home | January 1, 1938 | League Championship |
| St Helens Recs v Oldham | Away | January 8, 1938 | League Championship |
| Salford v Oldham | Away | January 15, 1938 | League Championship |
| Oldham v Hunslet | Home | January 22, 1938 | League Championship |
| Liverpool Stanley v Oldham | Away | January 29, 1938 | League Championship |
| Oldham v Huddersfield | Home | February 5, 1938 | League Championship |
| Huddersfield v Oldham | Away | February 12, 1938 | League Championship |
| Oldham v Batley | Home | February 19, 1938 | Rugby League Challenge Cup |
| Oldham v Salford | Home | February 26, 1938 | League Championship |
| Widnes v Oldham | Away | March 5, 1938 | League Championship |
| Oldham v Dewsbury | Home | March 12, 1938 | League Championship |
| Oldham v Warrington | Home | March 26, 1938 | League Championship |
| Rochdale Hornets v Oldham | Away | April 5, 1938 | League Championship |
| Wigan v Oldham | Away | April 9, 1938 | League Championship |
| Oldham v Liverpool Stanley | Home | April 11, 1938 | League Championship |
| Swinton v Oldham | Away | April 15, 1938 | League Championship |
| Hull Kingston Rovers v Oldham | Away | April 16, 1938 | League Championship |
| Oldham v Rochdale Hornets | Home | April 18, 1938 | League Championship |
| Oldham v Gf Hutchins International Team | Home | April 30, 1938 | Benefit Match |
| Oldham v Rochdale Hornets | Home | August 20, 1938 | Infirmary Cup |
| St Helens Recs v Oldham | Away | September 17, 1938 | League Championship |
| Oldham v Wigan | Home | September 21, 1938 | Lancashire Cup |
| Oldham v Hunslet | Home | September 24, 1938 | League Championship |
| Oldham v Broughton Rangers | Home | November 19, 1938 | League Championship |
| Oldham v Batley | Home | January 2, 1939 | League Championship |
| Castleford v Oldham | Away | January 7, 1939 | League Championship |
| Oldham v Keighley | Home | January 14, 1939 | League Championship |
| Oldham v Leigh | Home | January 21, 1939 | League Championship |
| Oldham v Swinton | Home | February 20, 1939 | League Championship |
| Oldham v Bradford Northern | Home | March 4, 1939 | League Championship |
| Halifax v Oldham | Away | March 18, 1939 | League Championship |
| Oldham v St Helens | Home | March 25, 1939 | League Championship |
| Swinton v Oldham | Away | April 7, 1939 | League Championship |
| Oldham v Barrow | Home | April 8, 1939 | League Championship |
| St Helens v Oldham | Away | April 15, 1939 | League Championship |
| Oldham v Halifax | Home | April 18, 1939 | League Championship |
| Oldham v Rochdale Hornets | Home | September 16, 1939 | Friendly |
| Oldham v Salford | Home | September 30, 1939 | Lancashire League |
| Barrow v Oldham | Away | October 7, 1939 | Lancashire League |
| Oldham v Wigan | Home | October 14, 1939 | Lancashire League |
| Oldham v Leigh | Home | December 2, 1939 | Lancashire League |
| Oldham v Barrow | Home | December 9, 1939 | Lancashire League |
| Oldham v Broughton Rangers | Home | December 16, 1939 | Lancashire League |
| Oldham v Swinton | Home | December 25, 1939 | Lancashire League |
| Oldham v Liverpool Stanley | Home | December 26, 1939 | Lancashire League |
| Wigan v Oldham | Away | February 24, 1940 | Lancashire League |
| Oldham v Rochdale Hornets | Home | March 2, 1940 | Lancashire Cup |
| Oldham v Warrington | Home | March 16, 1940 | Lancashire League |
| Swinton v Oldham | Away | March 22, 1940 | Lancashire League |
| Oldham v Rochdale Hornets | Home | March 23, 1940 | Lancashire League |
| Warrington v Oldham | Away | March 25, 1940 | Lancashire League |
| Halifax v Oldham | Away | March 30, 1940 | Friendly |
| Wigan v Oldham | Away | April 6, 1940 | Friendly |
| Oldham v Hunslet | Home | April 13, 1940 | Friendly |
| Warrington v Oldham | Away | April 20, 1940 | Friendly |
| Oldham v Salford | Home | April 27, 1940 | Friendly |
| St Helens v Oldham | Away | May 4, 1940 | Lancashire League |
| Oldham v Widnes | Home | May 11, 1940 | Lancashire League |
| Oldham v Leeds | Home | May 18, 1940 | Friendly |
| Oldham v Halifax | Home | May 25, 1940 | Friendly |
| Oldham v Huddersfield | Home | June 1, 1940 | Friendly |
| Liverpool Stanley v Oldham | Away | September 14, 1940 | Lancashire League |
| Oldham v Wigan | Home | September 21, 1940 | Lancashire League |
| Oldham v St Helens | Home | September 28, 1940 | Lancashire League |
| Oldham v Broughton Rangers | Home | October 5, 1940 | Lancashire League |
| Oldham v Warrington | Home | October 12, 1940 | Lancashire League |
| Oldham v Leigh | Home | October 19, 1940 | Lancashire League |
| Oldham v Broughton Rangers | Home | October 26, 1940 | Lancashire League |
| Swinton v Oldham | Away | November 16, 1940 | Lancashire League |
| St Helens v Oldham | Away | December 14, 1940 | Lancashire League |
| Oldham v Leigh | Home | December 21, 1940 | Lancashire League |
| Oldham v Swinton | Home | December 25, 1940 | Lancashire League |
| Warrington v Oldham | Away | December 28, 1940 | Lancashire League |
| Wigan v Oldham | Away | January 25, 1941 | Lancashire League |
| Oldham v Wigan | Home | February 15, 1941 | Friendly |
| Oldham v Leigh | Home | March 8, 1941 | Friendly |
| Wakefield Trinity v Oldham | Away | March 15, 1941 | Yorkshire Cup |
| Oldham v Halifax | Home | April 5, 1941 | Friendly |
| Oldham v Dewsbury | Home | April 12, 1941 | Rugby League Challenge Cup |
| Huddersfield v Oldham | Away | August 23, 1941 | Friendly |
| Halifax v Oldham | Away | September 6, 1941 | War Emergency League |
| Wakefield Trinity v Oldham | Away | September 13, 1941 | War Emergency League |
| Oldham v Dewsbury | Home | January 3, 1942 | War Emergency League |
| Castleford v Oldham | Away | January 10, 1942 | War Emergency League |
| Huddersfield v Oldham | Away | March 28, 1942 | War Emergency League |
| Oldham v Wigan | Home | April 4, 1942 | War Emergency League |
| Leeds v Oldham | Away | April 6, 1942 | War Emergency League |
| Wigan v Oldham | Away | April 11, 1942 | War Emergency League |
| Oldham v Leeds | Home | April 18, 1942 | War Emergency League |
| Oldham v Castleford | Home | April 25, 1942 | Rugby League Challenge Cup |
| Castleford v Oldham | Away | May 2, 1942 | Rugby League Challenge Cup |
| Oldham v Hunslet | Home | May 9, 1942 | Rugby League Challenge Cup |
| Hunslet v Oldham | Away | May 16, 1942 | Rugby League Challenge Cup |
| Leeds v Oldham | Away | May 23, 1942 | Rugby League Challenge Cup |
| Oldham v Leeds | Home | May 30, 1942 | Rugby League Challenge Cup |
| Huddersfield v Oldham | Away | September 4, 1943 | War Emergency League |
| Oldham v Hunslet | Home | September 18, 1943 | War Emergency League |
| Wigan v Oldham | Away | September 25, 1943 | War Emergency League |
| Oldham v Wakefield Trinity | Home | October 2, 1943 | War Emergency League |
| St Helens v Oldham | Away | October 9, 1943 | War Emergency League |
| Barrow v Oldham | Away | October 16, 1943 | Yorkshire Cup |
| Oldham v Barrow | Home | October 23, 1943 | Yorkshire Cup |
| Oldham v St Helens | Home | October 30, 1943 | War Emergency League |
| Oldham v Dewsbury | Home | November 6, 1943 | War Emergency League |
| Halifax v Oldham | Away | November 13, 1943 | War Emergency League |
| Dewsbury v Oldham | Away | November 27, 1943 | War Emergency League |
| Wakefield Trinity v Oldham | Away | December 4, 1943 | War Emergency League |
| Oldham v Featherstone Rovers | Home | December 11, 1943 | War Emergency League |
| Oldham v Wigan | Home | January 8, 1944 | War Emergency League |
| Oldham v Barrow | Home | January 29, 1944 | War Emergency League |
| Featherstone Rovers v Oldham | Away | February 5, 1944 | War Emergency League |
| Oldham v Halifax | Home | February 12, 1944 | War Emergency League |
| Oldham v Huddersfield | Home | February 19, 1944 | War Emergency League |
| Hunslet v Oldham | Away | February 26, 1944 | War Emergency League |
| Oldham v Wigan | Home | March 11, 1944 | Rugby League Challenge Cup |
| Wigan v Oldham | Away | March 18, 1944 | Rugby League Challenge Cup |
| Barrow v Oldham | Away | April 8, 1944 | War Emergency League |
| Oldham v Bradford Northern | Home | April 29, 1944 | War Emergency League |
| Bradford Northern v Oldham | Neutral | May 20, 1944 | Friendly |
| Bradford Northern v Oldham | Away | September 9, 1944 | War Emergency League |
| Oldham v Wigan | Home | September 16, 1944 | War Emergency League |
| Oldham v St Helens | Home | September 23, 1944 | War Emergency League |
| Barrow v Oldham | Away | October 7, 1944 | War Emergency League |
| Oldham v Bradford Northern | Home | October 14, 1944 | War Emergency League |
| Oldham v Wigan | Home | October 21, 1944 | Yorkshire Cup |
| Wigan v Oldham | Away | October 28, 1944 | Yorkshire Cup |
| Huddersfield v Oldham | Away | November 18, 1944 | War Emergency League |
| Oldham v Featherstone Rovers | Home | November 25, 1944 | War Emergency League |
| Oldham v Huddersfield | Home | December 2, 1944 | War Emergency League |
| Castleford v Oldham | Away | December 9, 1944 | War Emergency League |
| Featherstone Rovers v Oldham | Away | December 16, 1944 | War Emergency League |
| Oldham v Castleford | Home | December 23, 1944 | War Emergency League |
| Wakefield Trinity v Oldham | Away | December 26, 1944 | War Emergency League |
| Wigan v Oldham | Away | December 30, 1944 | War Emergency League |
| Keighley v Oldham | Away | February 3, 1945 | War Emergency League |
| Oldham v Hunslet | Home | February 10, 1945 | War Emergency League |
| Oldham v Batley | Home | February 17, 1945 | War Emergency League |
| Hunslet v Oldham | Away | March 3, 1945 | War Emergency League |
| St Helens v Oldham | Away | March 10, 1945 | War Emergency League |
| Featherstone Rovers v Oldham | Away | March 17, 1945 | Rugby League Challenge Cup |
| Oldham v Featherstone Rovers | Home | March 24, 1945 | Rugby League Challenge Cup |
| Keighley v Oldham | Away | March 31, 1945 | Rugby League Challenge Cup |
| Oldham v Keighley | Home | April 2, 1945 | Rugby League Challenge Cup |
| Oldham v Halifax | Home | April 7, 1945 | War Emergency League |
| Oldham v Barrow | Home | April 21, 1945 | War Emergency League |
| Halifax v Oldham | Away | April 28, 1945 | War Emergency League |
| Oldham v Wakefield Trinity | Home | May 5, 1945 | War Emergency League |
| Oldham v Bradford Northern | Home | September 1, 1945 | League Championship |
| Oldham v St Helens | Home | September 8, 1945 | League Championship |
| Oldham v Bramley | Home | September 11, 1945 | League Championship |
| Keighley v Oldham | Away | September 15, 1945 | League Championship |
| Oldham v Wigan | Home | September 22, 1945 | Lancashire Cup |
| Wigan v Oldham | Away | September 29, 1945 | Lancashire Cup |
| Oldham v Salford | Home | October 6, 1945 | League Championship |
| Widnes v Oldham | Away | October 20, 1945 | League Championship |
| Oldham v Warrington | Home | October 27, 1945 | League Championship |
| Oldham v Rochdale Hornets | Home | November 3, 1945 | League Championship |
| Hull FC v Oldham | Away | November 10, 1945 | League Championship |
| Warrington v Oldham | Away | November 17, 1945 | League Championship |
| Oldham v Hull Kingston Rovers | Home | November 24, 1945 | League Championship |
| Oldham v Workington Town | Home | December 1, 1945 | League Championship |
| Halifax v Oldham | Away | December 8, 1945 | League Championship |
| Oldham v Huddersfield | Home | December 15, 1945 | League Championship |
| Rochdale Hornets v Oldham | Away | December 22, 1945 | League Championship |
| Oldham v Swinton | Home | December 25, 1945 | League Championship |
| Broughton Rangers v Oldham | Away | December 26, 1945 | League Championship |
| Wigan v Oldham | Away | January 1, 1946 | League Championship |
| Barrow v Oldham | Away | January 5, 1946 | League Championship |
| Oldham v Liverpool Stanley | Home | January 12, 1946 | League Championship |
| Huddersfield v Oldham | Away | January 26, 1946 | League Championship |
| Oldham v Wigan | Home | February 2, 1946 | League Championship |
| Salford v Oldham | Away | February 9, 1946 | Rugby League Challenge Cup |
| Oldham v Salford | Home | February 16, 1946 | Rugby League Challenge Cup |
| Workington Town v Oldham | Away | February 23, 1946 | League Championship |
| Oldham v Hull FC | Home | March 9, 1946 | League Championship |
| Hull Kingston Rovers v Oldham | Away | March 16, 1946 | League Championship |
| Bradford Northern v Oldham | Away | March 23, 1946 | League Championship |
| Oldham v Broughton Rangers | Home | April 9, 1946 | League Championship |
| St Helens v Oldham | Away | April 13, 1946 | League Championship |
| Swinton v Oldham | Away | April 19, 1946 | League Championship |
| Oldham v Halifax | Home | April 20, 1946 | League Championship |
| Oldham v Keighley | Home | April 22, 1946 | League Championship |
| Liverpool Stanley v Oldham | Away | April 27, 1946 | League Championship |
| Oldham v Widnes | Home | May 7, 1946 | League Championship |
| Salford v Oldham | Away | May 11, 1946 | League Championship |
| Workington Town v Oldham | Away | September 7, 1946 | Lancashire Cup |
| Oldham v Workington Town | Home | September 14, 1946 | Lancashire Cup |
| Oldham v Warrington | Home | September 21, 1946 | League Championship |
| Oldham v Leigh | Home | September 24, 1946 | Lancashire Cup |
| Dewsbury v Oldham | Away | September 28, 1946 | League Championship |
| Leigh v Oldham | Away | October 2, 1946 | Lancashire Cup |
| Castleford v Oldham | Away | October 5, 1946 | League Championship |
| Oldham v Wigan | Home | October 15, 1946 | Lancashire Cup |
| Oldham v Dewsbury | Home | October 19, 1946 | League Championship |
| Oldham v St Helens | Home | November 2, 1946 | League Championship |
| Oldham v Castleford | Home | November 16, 1946 | League Championship |
| Hull FC v Oldham | Away | December 7, 1946 | League Championship |
| Oldham v Keighley | Home | December 14, 1946 | League Championship |
| Oldham v Swinton | Home | December 25, 1946 | League Championship |
| Salford v Oldham | Away | December 26, 1946 | League Championship |
| Oldham v Featherstone Rovers | Home | December 28, 1946 | League Championship |
| Halifax v Oldham | Away | January 4, 1947 | League Championship |
| Widnes v Oldham | Away | January 11, 1947 | League Championship |
| Oldham v Workington Town | Home | January 18, 1947 | League Championship |
| Belle Vue Rangers v Oldham | Away | March 8, 1947 | Rugby League Challenge Cup |
| Warrington v Oldham | Away | March 15, 1947 | League Championship |
| Oldham v Salford | Home | March 22, 1947 | League Championship |
| Oldham v Hull FC | Home | March 29, 1947 | League Championship |
| Swinton v Oldham | Away | April 4, 1947 | League Championship |
| Keighley v Oldham | Away | April 5, 1947 | League Championship |
| Oldham v Barrow | Home | April 7, 1947 | League Championship |
| St Helens v Oldham | Away | April 12, 1947 | League Championship |
| Featherstone Rovers v Oldham | Away | April 19, 1947 | League Championship |
| Oldham v Jim Sullivans Team | Home | April 22, 1947 | Benefit Match |
| Oldham v Halifax | Home | April 26, 1947 | League Championship |
| Rochdale Hornets v Oldham | Away | May 10, 1947 | League Championship |
| Belle Vue Rangers v Oldham | Away | May 24, 1947 | League Championship |
| Oldham v Oldham Athletic Afc | Home | June 5, 1947 | Friendly |
| Oldham v Warrington | Home | August 23, 1947 | League Championship |
| Liverpool Stanley v Oldham | Away | August 30, 1947 | Lancashire Cup |
| Oldham v Liverpool Stanley | Home | September 2, 1947 | Lancashire Cup |
| Oldham v Widnes | Home | September 20, 1947 | League Championship |
| Wigan v Oldham | Away | October 4, 1947 | League Championship |
| Castleford v Oldham | Away | October 18, 1947 | League Championship |
| Oldham v Workington Town | Home | November 15, 1947 | League Championship |
| Oldham v Castleford | Home | November 23, 1947 | League Championship |
| Workington Town v Oldham | Away | December 6, 1947 | League Championship |
| Wakefield Trinity v Oldham | Away | December 20, 1947 | League Championship |
| Oldham v Swinton | Home | December 25, 1947 | League Championship |
| Salford v Oldham | Away | December 26, 1947 | League Championship |
| Oldham v Rochdale Hornets | Home | January 1, 1948 | League Championship |
| Liverpool Stanley v Oldham | Away | January 3, 1948 | League Championship |
| Oldham v Wigan | Home | January 10, 1948 | League Championship |
| Barrow v Oldham | Away | January 17, 1948 | League Championship |
| Leeds v Oldham | Away | January 24, 1948 | League Championship |
| Oldham v Wakefield Trinity | Home | January 31, 1948 | League Championship |
| Hull Kingston Rovers v Oldham | Away | February 7, 1948 | Rugby League Challenge Cup |
| Oldham v Hull Kingston Rovers | Home | February 14, 1948 | Rugby League Challenge Cup |
| Oldham v Leigh | Home | March 6, 1948 | League Championship |
| Bradford Northern v Oldham | Away | March 13, 1948 | Rugby League Challenge Cup |
| Warrington v Oldham | Away | April 17, 1948 | League Championship |
| Halifax v Oldham | Away | April 19, 1948 | League Championship |
| Oldham v Empire XIII | Home | April 27, 1948 | Benefit Match |