Bob Irving
Profile
Signed from the St Joseph's amateur club in Huddersfield in January 1965, when still only sixteen, Bob had a meteoric rise to senior status in the Oldham side and was in the first team before the end of the 1964-65 season.
Bob was a second row forward whose greatest asset was his powerful surges when in possession. One of the truly great "running" forwards to have played for the club, he would not have been out of his depth in any of the teams from more illustrious periods in the history of Oldham RLFC.
Honours came quickly and he was soon representing Great Britain Under 24's against the French. Yorkshire county selection followed and by the time he left to join Wigan in 1973, he had won eleven full Great Britain caps. He was also selected for the 1970 tour to Australia and New Zealand. This was achieved despite the 1969-70 season being the worst in the history of the club and his inclusion speaks volumes for the form and dedication of the player in such adverse circumstances.
One match that will always stand out in the memory was a Challenge Cup second round replay against Bradford on "leap" day (Feb 29th) 1968. Northern were the form team at the time and in front of over 18,000 spectators, Bob turned in a super show to run in two tries, in a famous 12 – 2 victory.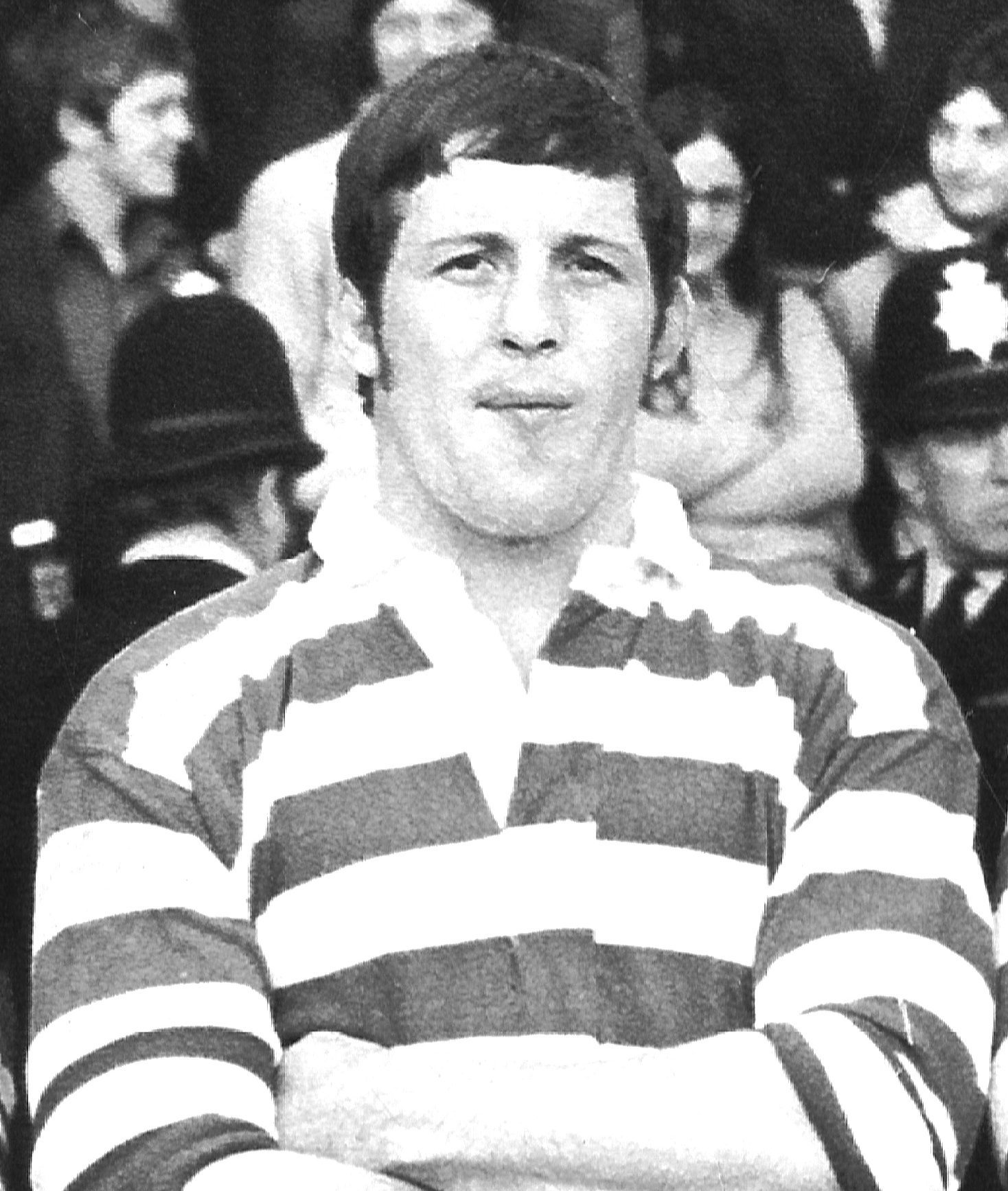 Career Games
| | | | |
| --- | --- | --- | --- |
| Oldham v Keighley | Home | February 13, 1965 | League Championship |
| Liverpool City v Oldham | Away | February 27, 1965 | League Championship |
| Oldham v Leigh | Home | March 6, 1965 | League Championship |
| Oldham v St Helens | Home | March 13, 1965 | League Championship |
| Keighley v Oldham | Away | March 20, 1965 | League Championship |
| Oldham v Huddersfield | Home | March 27, 1965 | League Championship |
| Oldham v Blackpool Borough | Home | April 3, 1965 | League Championship |
| Oldham v Workington Town | Home | April 5, 1965 | League Championship |
| Oldham v Salford | Home | April 13, 1965 | League Championship |
| Swinton v Oldham | Away | April 16, 1965 | League Championship |
| Whitehaven v Oldham | Away | April 17, 1965 | League Championship |
| Hull Kingston Rovers v Oldham | Away | April 24, 1965 | League Championship |
| Oldham v Oldham Past | Home | May 29, 1965 | Benefit Match |
| Oldham v Rochdale Hornets | Home | August 14, 1965 | Law Cup |
| Oldham v Warrington | Home | August 21, 1965 | League Championship |
| Whitehaven v Oldham | Away | August 25, 1965 | League Championship |
| Oldham v Rochdale Hornets | Home | September 6, 1965 | League Championship |
| Oldham v Barrow | Home | September 11, 1965 | Lancashire Cup |
| Blackpool Borough v Oldham | Away | September 13, 1965 | League Championship |
| Oldham v Wigan | Home | September 16, 1965 | Lancashire Cup |
| Workington Town v Oldham | Away | September 18, 1965 | League Championship |
| Oldham v Salford | Home | September 25, 1965 | League Championship |
| Warrington v Oldham | Away | October 6, 1965 | Lancashire Cup |
| Oldham v Huddersfield | Home | October 9, 1965 | League Championship |
| Oldham v Wigan | Home | October 22, 1965 | League Championship |
| Widnes v Oldham | Away | October 28, 1965 | League Championship |
| Salford v Oldham | Away | November 13, 1965 | League Championship |
| Oldham v Leeds | Home | November 20, 1965 | League Championship |
| Leeds v Oldham | Away | December 11, 1965 | League Championship |
| Oldham v Widnes | Home | December 18, 1965 | League Championship |
| Hunslet v Oldham | Away | January 1, 1966 | League Championship |
| Oldham v Hunslet | Home | February 1, 1966 | League Championship |
| Warrington v Oldham | Away | February 9, 1966 | League Championship |
| Swinton v Oldham | Away | February 26, 1966 | Rugby League Challenge Cup |
| Oldham v Leigh | Home | March 4, 1966 | League Championship |
| Liverpool City v Oldham | Away | March 12, 1966 | League Championship |
| Oldham v Swinton | Home | March 22, 1966 | League Championship |
| Oldham v Whitehaven | Home | March 26, 1966 | League Championship |
| Barrow v Oldham | Away | March 31, 1966 | League Championship |
| Swinton v Oldham | Away | April 8, 1966 | League Championship |
| Rochdale Hornets v Oldham | Away | April 11, 1966 | League Championship |
| Oldham v Barrow | Home | April 16, 1966 | League Championship |
| Leigh v Oldham | Away | April 22, 1966 | League Championship |
| Workington Town v Oldham | Away | April 30, 1966 | Top 16 |
| St Helens v Oldham | Away | May 7, 1966 | Top 16 |
| Rochdale Hornets v Oldham | Away | August 13, 1966 | Law Cup |
| Hull FC v Oldham | Away | August 20, 1966 | League Championship |
| Oldham v Blackpool Borough | Home | August 23, 1966 | League Championship |
| Oldham v Hull FC | Home | August 27, 1966 | League Championship |
| Oldham v Swinton | Home | September 2, 1966 | Lancashire Cup |
| Salford v Oldham | Away | September 9, 1966 | League Championship |
| Blackpool Borough v Oldham | Away | September 12, 1966 | League Championship |
| Salford v Oldham | Away | September 15, 1966 | Lancashire Cup |
| Oldham v Whitehaven | Home | September 17, 1966 | League Championship |
| Halifax v Oldham | Away | September 24, 1966 | League Championship |
| Blackpool Borough v Oldham | Away | September 27, 1966 | Lancashire Cup |
| Oldham v Wigan | Home | September 30, 1966 | League Championship |
| Liverpool City v Oldham | Away | October 8, 1966 | League Championship |
| Oldham v Rochdale Hornets | Home | October 14, 1966 | League Championship |
| Whitehaven v Oldham | Away | October 22, 1966 | League Championship |
| Wigan v Oldham | Neutral | October 29, 1966 | Lancashire Cup |
| Leeds v Oldham | Away | November 5, 1966 | League Championship |
| Oldham v Liverpool City | Home | November 11, 1966 | League Championship |
| Warrington v Oldham | Away | November 18, 1966 | League Championship |
| Widnes v Oldham | Away | November 22, 1966 | BBC |
| Workington Town v Oldham | Away | December 3, 1966 | League Championship |
| Oldham v Barrow | Home | December 10, 1966 | League Championship |
| Leigh v Oldham | Away | December 14, 1966 | League Championship |
| Oldham v Leigh | Home | December 17, 1966 | League Championship |
| Huddersfield v Oldham | Away | December 24, 1966 | League Championship |
| Oldham v Warrington | Home | December 31, 1966 | League Championship |
| Barrow v Oldham | Away | January 14, 1967 | League Championship |
| St Helens v Oldham | Away | January 27, 1967 | League Championship |
| Huddersfield v Oldham | Away | February 4, 1967 | Rugby League Challenge Cup |
| Oldham v Workington Town | Home | February 11, 1967 | League Championship |
| Oldham v St Helens | Home | February 17, 1967 | League Championship |
| Oldham v Leeds | Home | February 25, 1967 | Rugby League Challenge Cup |
| Oldham v Huddersfield | Home | March 11, 1967 | League Championship |
| Wigan v Oldham | Away | March 18, 1967 | League Championship |
| Swinton v Oldham | Away | March 24, 1967 | League Championship |
| Oldham v Widnes | Home | March 25, 1967 | League Championship |
| Oldham v Halifax | Home | March 27, 1967 | League Championship |
| Rochdale Hornets v Oldham | Away | March 31, 1967 | League Championship |
| Oldham v Swinton | Home | April 7, 1967 | League Championship |
| Swinton v Oldham | Away | April 15, 1967 | Top 16 |
| Oldham v Swinton | Home | April 18, 1967 | Top 16 |
| Blackpool Borough v Oldham | Away | August 12, 1967 | Friendly |
| Oldham v Liverpool City | Home | August 15, 1967 | League Championship |
| Oldham v Leigh | Home | August 19, 1967 | Lancashire Cup |
| Bradford Northern v Oldham | Away | August 23, 1967 | League Championship |
| Hull FC v Oldham | Away | August 26, 1967 | League Championship |
| Oldham v Whitehaven | Home | September 2, 1967 | League Championship |
| Oldham v Rochdale Hornets | Home | September 16, 1967 | League Championship |
| Whitehaven v Oldham | Away | September 23, 1967 | League Championship |
| Oldham v Wigan | Home | September 30, 1967 | League Championship |
| Oldham v Hull Kingston Rovers | Home | October 3, 1967 | League Championship |
| Oldham v Bradford Northern | Home | October 14, 1967 | League Championship |
| Oldham v Blackpool Borough | Home | October 28, 1967 | League Championship |
| St Helens v Oldham | Away | November 7, 1967 | BBC |
| Oldham v Australia | Home | November 11, 1967 | Tour Match |
| Oldham v Salford | Home | November 13, 1967 | League Championship |
| Widnes v Oldham | Away | November 17, 1967 | League Championship |
| Oldham v Hull FC | Home | November 25, 1967 | League Championship |
| Liverpool City v Oldham | Away | December 2, 1967 | League Championship |
| St Helens v Oldham | Away | December 16, 1967 | League Championship |
| Batley v Oldham | Away | January 6, 1968 | League Championship |
| Oldham v St Helens | Home | January 20, 1968 | League Championship |
| Wigan v Oldham | Away | January 22, 1968 | League Championship |
| Barrow v Oldham | Away | January 26, 1968 | League Championship |
| Hunslet v Oldham | Away | February 3, 1968 | Rugby League Challenge Cup |
| Oldham v Batley | Home | February 14, 1968 | League Championship |
| Oldham v Widnes | Home | February 17, 1968 | League Championship |
| Bradford Northern v Oldham | Away | February 24, 1968 | Rugby League Challenge Cup |
| Oldham v Bradford Northern | Home | February 29, 1968 | Rugby League Challenge Cup |
| Oldham v Workington Town | Home | March 9, 1968 | League Championship |
| Oldham v Leeds | Home | March 16, 1968 | Rugby League Challenge Cup |
| Hull Kingston Rovers v Oldham | Away | April 6, 1968 | League Championship |
| Oldham v Warrington | Home | April 8, 1968 | League Championship |
| Oldham v Swinton | Home | April 12, 1968 | League Championship |
| Oldham v Blackpool Borough | Home | August 10, 1968 | Friendly |
| Huddersfield v Oldham | Away | August 17, 1968 | League Championship |
| Oldham v Blackpool Borough | Home | August 19, 1968 | League Championship |
| Oldham v Featherstone Rovers | Home | August 24, 1968 | League Championship |
| Rochdale Hornets v Oldham | Away | August 28, 1968 | League Championship |
| Workington Town v Oldham | Away | August 31, 1968 | League Championship |
| Rochdale Hornets v Oldham | Away | September 6, 1968 | Lancashire Cup |
| Blackpool Borough v Oldham | Away | September 9, 1968 | League Championship |
| Hunslet v Oldham | Away | September 14, 1968 | League Championship |
| Oldham v Workington Town | Home | September 16, 1968 | Lancashire Cup |
| Oldham v Wigan | Home | September 21, 1968 | League Championship |
| Doncaster v Oldham | Away | September 28, 1968 | League Championship |
| Oldham v Huddersfield | Home | October 5, 1968 | League Championship |
| Salford v Oldham | Away | October 9, 1968 | Lancashire Cup |
| Featherstone Rovers v Oldham | Away | October 12, 1968 | League Championship |
| Rochdale Hornets v Oldham | Away | October 15, 1968 | BBC |
| Oldham v Widnes | Home | October 19, 1968 | League Championship |
| St Helens v Oldham | Neutral | October 25, 1968 | Lancashire Cup |
| Salford v Oldham | Away | October 30, 1968 | League Championship |
| Wigan v Oldham | Away | November 9, 1968 | League Championship |
| Oldham v Warrington | Home | November 15, 1968 | League Championship |
| Whitehaven v Oldham | Away | December 1, 1968 | League Championship |
| Oldham v Hunslet | Home | December 7, 1968 | League Championship |
| Widnes v Oldham | Away | December 20, 1968 | League Championship |
| Oldham v Whitehaven | Home | December 22, 1968 | League Championship |
| Oldham v Huyton | Home | January 4, 1969 | League Championship |
| Warrington v Oldham | Away | January 8, 1969 | League Championship |
| Huyton v Oldham | Away | January 11, 1969 | League Championship |
| Oldham v Salford | Home | January 18, 1969 | League Championship |
| Oldham v Hull Kingston Rovers | Home | January 25, 1969 | Rugby League Challenge Cup |
| Leigh v Oldham | Away | February 1, 1969 | League Championship |
| Oldham v St Helens | Home | February 25, 1969 | Rugby League Challenge Cup |
| Oldham v Workington Town | Home | March 1, 1969 | League Championship |
| Oldham v Leigh | Home | March 3, 1969 | League Championship |
| Oldham v Barrow | Home | March 8, 1969 | League Championship |
| Oldham v Swinton | Home | March 11, 1969 | League Championship |
| Leigh v Oldham | Away | March 18, 1969 | League Championship |
| St Helens v Oldham | Away | March 28, 1969 | League Championship |
| Oldham v Rochdale Hornets | Home | April 7, 1969 | League Championship |
| Oldham v St Helens | Home | April 15, 1969 | League Championship |
| Oldham v Doncaster | Home | April 17, 1969 | League Championship |
| Leeds v Oldham | Away | April 25, 1969 | League Championship |
| Halifax v Oldham | Away | August 2, 1969 | Friendly |
| Oldham v Blackpool Borough | Home | August 9, 1969 | Friendly |
| Oldham v Swinton | Home | August 16, 1969 | Lancashire Cup |
| Oldham v Warrington | Home | August 23, 1969 | League Championship |
| Bradford Northern v Oldham | Away | August 27, 1969 | League Championship |
| Workington Town v Oldham | Away | August 30, 1969 | League Championship |
| Oldham v Keighley | Home | September 6, 1969 | League Championship |
| Blackpool Borough v Oldham | Away | September 8, 1969 | League Championship |
| Wigan v Oldham | Away | September 13, 1969 | League Championship |
| Oldham v Huyton | Home | September 20, 1969 | League Championship |
| Oldham v Rochdale Hornets | Home | September 22, 1969 | League Championship |
| Warrington v Oldham | Away | September 26, 1969 | League Championship |
| Oldham v Workington Town | Home | October 4, 1969 | League Championship |
| Keighley v Oldham | Away | October 11, 1969 | League Championship |
| Oldham v Rochdale Hornets | Home | October 13, 1969 | BBC |
| Barrow v Oldham | Away | October 24, 1969 | League Championship |
| Oldham v Whitehaven | Home | November 1, 1969 | League Championship |
| Leigh v Oldham | Away | November 8, 1969 | League Championship |
| Wigan v Oldham | Away | November 11, 1969 | BBC |
| Oldham v Widnes | Home | November 16, 1969 | League Championship |
| St Helens v Oldham | Away | November 22, 1969 | League Championship |
| Oldham v Wigan | Home | December 13, 1969 | League Championship |
| Swinton v Oldham | Away | December 26, 1969 | League Championship |
| Oldham v Huddersfield | Home | January 10, 1970 | League Championship |
| Huddersfield v Oldham | Away | January 17, 1970 | League Championship |
| Oldham v Barrow | Home | January 24, 1970 | League Championship |
| Whitehaven v Oldham | Away | January 31, 1970 | League Championship |
| Oldham v Blackpool Borough | Home | February 7, 1970 | Rugby League Challenge Cup |
| Oldham v Wigan | Home | February 21, 1970 | Rugby League Challenge Cup |
| Salford v Oldham | Away | February 27, 1970 | League Championship |
| Widnes v Oldham | Away | March 13, 1970 | League Championship |
| Batley v Oldham | Away | March 15, 1970 | League Championship |
| Huyton v Oldham | Away | March 18, 1970 | League Championship |
| Oldham v Blackpool Borough | Home | March 23, 1970 | League Championship |
| Oldham v Swinton | Home | March 27, 1970 | League Championship |
| Rochdale Hornets v Oldham | Away | March 28, 1970 | League Championship |
| Oldham v Bradford Northern | Home | April 3, 1970 | League Championship |
| Oldham v St Helens | Home | April 6, 1970 | League Championship |
| Oldham v Leigh | Home | April 10, 1970 | League Championship |
| Oldham v Batley | Home | April 15, 1970 | League Championship |
| Oldham v Hunslet | Home | August 26, 1970 | League Championship |
| Oldham v Salford | Home | August 29, 1970 | Lancashire Cup |
| Huddersfield v Oldham | Away | September 2, 1970 | League Championship |
| Barrow v Oldham | Away | September 5, 1970 | League Championship |
| Blackpool Borough v Oldham | Away | September 7, 1970 | League Championship |
| Oldham v Bramley | Home | September 12, 1970 | League Championship |
| Doncaster v Oldham | Away | September 19, 1970 | League Championship |
| Oldham v Whitehaven | Home | September 21, 1970 | League Championship |
| Oldham v Dewsbury | Home | September 26, 1970 | League Championship |
| Whitehaven v Oldham | Away | September 30, 1970 | League Championship |
| Workington Town v Oldham | Away | October 3, 1970 | League Championship |
| Oldham v York | Home | October 10, 1970 | League Championship |
| Huyton v Oldham | Away | October 17, 1970 | League Championship |
| Huddersfield v Oldham | Away | October 23, 1970 | BBC |
| Oldham v Wakefield Trinity | Home | October 26, 1970 | League Championship |
| Oldham v Blackpool Borough | Home | November 2, 1970 | League Championship |
| Wakefield Trinity v Oldham | Away | November 14, 1970 | League Championship |
| Oldham v Keighley | Home | November 21, 1970 | League Championship |
| Batley v Oldham | Away | November 29, 1970 | League Championship |
| Warrington v Oldham | Away | December 12, 1970 | League Championship |
| Oldham v Barrow | Home | December 19, 1970 | League Championship |
| Rochdale Hornets v Oldham | Away | December 26, 1970 | League Championship |
| Oldham v Huyton | Home | January 9, 1971 | League Championship |
| Oldham v Batley | Home | January 16, 1971 | League Championship |
| Leeds v Oldham | Away | January 23, 1971 | Rugby League Challenge Cup |
| Halifax v Oldham | Away | January 30, 1971 | League Championship |
| Keighley v Oldham | Away | February 6, 1971 | League Championship |
| Oldham v Huddersfield | Home | February 10, 1971 | League Championship |
| Oldham v Warrington | Home | February 13, 1971 | League Championship |
| Dewsbury v Oldham | Away | March 13, 1971 | League Championship |
| Oldham v Workington Town | Home | March 17, 1971 | League Championship |
| Oldham v Doncaster | Home | March 20, 1971 | League Championship |
| Oldham v Rochdale Hornets | Home | April 9, 1971 | League Championship |
| Hunslet v Oldham | Away | April 10, 1971 | League Championship |
| Bramley v Oldham | Away | April 17, 1971 | League Championship |
| Wigan v Oldham | Away | April 23, 1971 | League Championship |
| Swinton v Oldham | Away | August 8, 1971 | Lancashire Cup |
| Oldham v Barrow | Home | August 21, 1971 | League Championship |
| Swinton v Oldham | Away | August 25, 1971 | League Championship |
| Hunslet v Oldham | Away | August 28, 1971 | League Championship |
| Oldham v Leeds | Home | September 1, 1971 | League Championship |
| Oldham v Wigan | Home | September 8, 1971 | League Championship |
| Leeds v Oldham | Away | September 11, 1971 | League Championship |
| Rochdale Hornets v Oldham | Away | September 15, 1971 | BBC |
| Widnes v Oldham | Away | September 24, 1971 | League Championship |
| Oldham v Featherstone Rovers | Home | October 2, 1971 | League Championship |
| Wigan v Oldham | Away | October 8, 1971 | League Championship |
| Oldham v Blackpool Borough | Home | October 23, 1971 | League Championship |
| Oldham v New Zealand | Home | October 27, 1971 | Tour Match |
| Oldham v Widnes | Home | October 30, 1971 | League Championship |
| York v Oldham | Away | November 21, 1971 | League Championship |
| Oldham v Leigh | Home | November 28, 1971 | John Players Top Tries |
| Oldham v St Helens | Home | December 4, 1971 | League Championship |
| Oldham v Bradford Northern | Home | December 12, 1971 | League Championship |
| Barrow v Oldham | Away | January 1, 1972 | League Championship |
| Oldham v Swinton | Home | January 8, 1972 | League Championship |
| Whitehaven v Oldham | Away | January 15, 1972 | League Championship |
| Featherstone Rovers v Oldham | Away | January 22, 1972 | League Championship |
| Oldham v St Helens | Home | January 29, 1972 | Rugby League Challenge Cup |
| Warrington v Oldham | Away | February 12, 1972 | League Championship |
| Blackpool Borough v Oldham | Away | February 26, 1972 | League Championship |
| Oldham v Doncaster | Home | March 4, 1972 | League Championship |
| Doncaster v Oldham | Away | March 18, 1972 | League Championship |
| Rochdale Hornets v Oldham | Away | March 22, 1972 | League Championship |
| Oldham v Whitehaven | Home | March 25, 1972 | League Championship |
| Oldham v Warrington | Home | April 5, 1972 | League Championship |
| Bramley v Oldham | Away | April 10, 1972 | League Championship |
| Huyton v Oldham | Away | April 13, 1972 | League Championship |
| Wigan v Oldham | Away | April 22, 1972 | League Championship |
| Oldham v Rochdale Hornets | Home | August 12, 1972 | Law Cup |
| Huddersfield v Oldham | Away | August 19, 1972 | League Championship |
| Oldham v Whitehaven | Home | August 23, 1972 | League Championship |
| Oldham v Workington Town | Home | August 26, 1972 | League Championship |
| York v Oldham | Away | August 28, 1972 | League Championship |
| Salford v Oldham | Away | September 1, 1972 | Lancashire Cup |
| Oldham v Hull FC | Home | September 10, 1972 | League Championship |
| Huyton v Oldham | Away | September 17, 1972 | League Championship |
| Hull FC v Oldham | Away | September 24, 1972 | Players No.6 Cup |
| Wigan v Oldham | Away | September 29, 1972 | League Championship |
| Oldham v Salford | Home | October 3, 1972 | BBC |
| Oldham v St Helens | Home | October 7, 1972 | League Championship |
| Workington Town v Oldham | Away | October 14, 1972 | League Championship |
| Oldham v Widnes | Home | October 21, 1972 | League Championship |
| Hull FC v Oldham | Away | November 17, 1972 | League Championship |
| Oldham v Wigan | Home | November 25, 1972 | League Championship |
| St Helens v Oldham | Away | December 1, 1972 | League Championship |
| Leigh v Oldham | Away | December 5, 1972 | BBC |
| Oldham v Salford | Home | December 13, 1972 | League Championship |
| Dewsbury v Oldham | Away | December 17, 1972 | League Championship |
| Rochdale Hornets v Oldham | Away | December 26, 1972 | League Championship |
| Warrington v Oldham | Away | December 31, 1972 | League Championship |
| Whitehaven v Oldham | Away | January 6, 1973 | League Championship |
| Oldham v York | Home | January 14, 1973 | League Championship |
| Barrow v Oldham | Away | January 19, 1973 | League Championship |
| Oldham v Barrow | Home | January 28, 1973 | Rugby League Challenge Cup |
| Leigh v Oldham | Away | February 4, 1973 | League Championship |
| Oldham v Blackpool Borough | Home | February 11, 1973 | League Championship |
| Hull FC v Oldham | Away | February 17, 1973 | Rugby League Challenge Cup |
| Widnes v Oldham | Away | February 25, 1973 | League Championship |
| Castleford v Oldham | Away | March 3, 1973 | Rugby League Challenge Cup |
| Oldham v Barrow | Home | March 11, 1973 | League Championship |
| Blackpool Borough v Oldham | Away | March 18, 1973 | League Championship |
| Oldham v Warrington | Home | March 21, 1973 | League Championship |
| Oldham v Dewsbury | Home | April 1, 1973 | League Championship |
| Oldham v Swinton | Home | April 8, 1973 | League Championship |
| Salford v Oldham | Away | April 13, 1973 | League Championship |
| Swinton v Oldham | Away | April 21, 1973 | League Championship |
| Oldham v Rochdale Hornets | Home | April 23, 1973 | League Championship |
| Dewsbury v Oldham | Away | April 29, 1973 | League Championship |
| Rochdale Hornets v Oldham | Away | August 12, 1973 | Law Cup |
| Leeds v Oldham | Away | August 18, 1973 | Division 1 |