Mick Parrish
Profile
Mick Parrish was signed from Hunslet, in time to make his debut in the narrow 16 – 11 defeat at high flying Hull F.C. on September 21st, 1980. A tall goal kicking centre, he caught the eye at The Boulevard with an impressive defensive display. He also landed four goals and it was through this aspect of his game that he would enter into the Watersheddings record books.
Sadly the 1980-81 season ended in relegation, but in the following second division campaign, Mick played and scored in each of the 39 games played by the club.
This was a repeat of a similar effort for the Hunslet club in 1979-80 and at the time of writing he remains the only player to perform this feat with two different clubs.
He finished the successful 1981-82 season with 164 goals and 17 tries, thus helping Oldham to the second division title, including a haul of 27 points (9 goals and 3 tries) in the match against Blackpool Borough on March 8th, 1982. In only one match did he fail to kick a goal. This was in the John Player Cup semi final when once again Hull F.C. were the opponents. He did, however, crash through for a second half try, as the "Roughyeds" briefly threatened to shock the Humberside giants.
On two other occasions he topped the 100 goal mark in 1983-84 & 1984-85, with the latter almost bringing another 100% season. The only time Mick failed to score in 1984-85 was in the first division 14 – 0 defeat at Hull Kingston Rovers.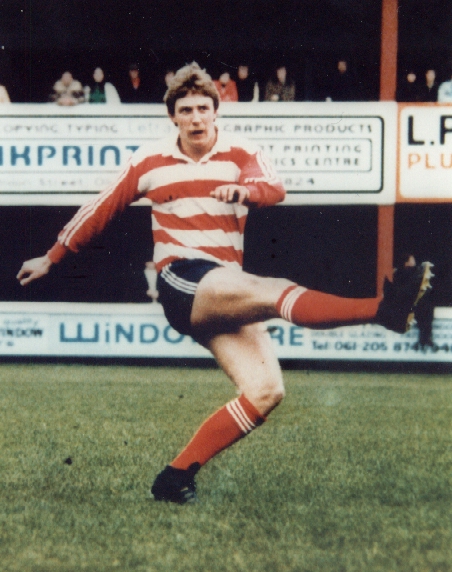 Career Games
| | | | |
| --- | --- | --- | --- |
| Hull FC v Oldham | Away | September 21, 1980 | Division 1 |
| Leeds v Oldham | Away | September 28, 1980 | Division 1 |
| Oldham v Leigh | Home | October 5, 1980 | Division 1 |
| Widnes v Oldham | Away | October 19, 1980 | Division 1 |
| Oldham v Workington Town | Home | October 26, 1980 | Division 1 |
| Featherstone Rovers v Oldham | Away | November 9, 1980 | Division 1 |
| Oldham v Bradford Northern | Home | November 16, 1980 | Division 1 |
| Salford v Oldham | Away | November 19, 1980 | Division 1 |
| York v Oldham | Away | November 23, 1980 | John Player Cup |
| Wakefield Trinity v Oldham | Away | November 30, 1980 | Division 1 |
| Workington Town v Oldham | Away | December 14, 1980 | Division 1 |
| Oldham v Hull Kingston Rovers | Home | December 21, 1980 | Division 1 |
| St Helens v Oldham | Away | December 26, 1980 | Division 1 |
| Oldham v Hull FC | Home | December 28, 1980 | Division 1 |
| Warrington v Oldham | Away | January 1, 1981 | Division 1 |
| Barrow v Oldham | Away | January 4, 1981 | Division 1 |
| Castleford v Oldham | Away | January 18, 1981 | Division 1 |
| Oldham v Leeds | Home | January 27, 1981 | Division 1 |
| Oldham v Barrow | Home | February 1, 1981 | Division 1 |
| Halifax v Oldham | Away | February 8, 1981 | Division 1 |
| Blackpool Borough v Oldham | Away | February 15, 1981 | Rugby League Challenge Cup |
| Oldham v Workington Town | Home | March 1, 1981 | Rugby League Challenge Cup |
| Oldham v Warrington | Home | March 8, 1981 | Division 1 |
| Oldham v St Helens | Home | March 15, 1981 | Rugby League Challenge Cup |
| Leigh v Oldham | Away | March 29, 1981 | Division 1 |
| Oldham v Wakefield Trinity | Home | April 5, 1981 | Division 1 |
| Hull Kingston Rovers v Oldham | Away | April 8, 1981 | Division 1 |
| Oldham v Salford | Home | April 20, 1981 | Division 1 |
| Rochdale Hornets v Oldham | Away | August 2, 1981 | Law Cup |
| Oldham v St Helens | Home | August 9, 1981 | Friendly |
| Oldham v Salford | Home | August 14, 1981 | Lancashire Cup |
| Oldham v Hunslet | Home | August 30, 1981 | Division 2 |
| Blackpool Borough v Oldham | Away | September 6, 1981 | Division 2 |
| Oldham v Dewsbury | Home | September 13, 1981 | Division 2 |
| Huddersfield v Oldham | Away | September 20, 1981 | Division 2 |
| Oldham v Swinton | Home | September 23, 1981 | Division 2 |
| Oldham v Doncaster | Home | September 27, 1981 | Division 2 |
| Halifax v Oldham | Away | October 4, 1981 | Division 2 |
| Oldham v Keighley | Home | October 11, 1981 | Division 2 |
| Oldham v Doncaster | Home | October 18, 1981 | John Player Cup |
| Dewsbury v Oldham | Away | October 25, 1981 | Division 2 |
| Oldham v Huddersfield | Home | November 1, 1981 | John Player Cup |
| Oldham v Carlisle | Home | November 8, 1981 | Division 2 |
| Oldham v Leeds | Home | November 15, 1981 | John Player Cup |
| Oldham v Halifax | Home | November 22, 1981 | Division 2 |
| Hull FC v Oldham | Neutral | November 29, 1981 | John Player Cup |
| Oldham v Huyton | Home | December 6, 1981 | Division 2 |
| Salford v Oldham | Away | January 3, 1982 | Division 2 |
| Oldham v Batley | Home | January 10, 1982 | Division 2 |
| Oldham v Huddersfield | Home | January 24, 1982 | Division 2 |
| Cardiff City Blue Dragons v Oldham | Away | January 31, 1982 | Division 2 |
| Oldham v Cardiff City Blue Dragons | Home | February 7, 1982 | Division 2 |
| Swinton v Oldham | Away | February 14, 1982 | Rugby League Challenge Cup |
| Keighley v Oldham | Away | February 21, 1982 | Division 2 |
| Wakefield Trinity v Oldham | Away | February 28, 1982 | Rugby League Challenge Cup |
| Workington Town v Oldham | Away | March 7, 1982 | Division 2 |
| Oldham v Bramley | Home | March 14, 1982 | Division 2 |
| Batley v Oldham | Away | March 21, 1982 | Division 2 |
| Oldham v Blackpool Borough | Home | March 28, 1982 | Division 2 |
| Swinton v Oldham | Away | April 4, 1982 | Division 2 |
| Oldham v Rochdale Hornets | Home | April 9, 1982 | Division 2 |
| Oldham v Salford | Home | April 12, 1982 | Division 2 |
| Rochdale Hornets v Oldham | Away | April 15, 1982 | Division 2 |
| Huyton v Oldham | Away | April 18, 1982 | Division 2 |
| Carlisle v Oldham | Away | April 25, 1982 | Division 2 |
| Bramley v Oldham | Away | April 28, 1982 | Division 2 |
| Doncaster v Oldham | Away | May 3, 1982 | Division 2 |
| Hunslet v Oldham | Away | May 6, 1982 | Division 2 |
| Oldham v Workington Town | Home | May 9, 1982 | Division 2 |
| St Helens v Oldham | Away | August 15, 1982 | Friendly |
| Oldham v Widnes | Home | August 22, 1982 | Division 1 |
| Oldham v Leeds | Home | August 25, 1982 | Division 1 |
| Bradford Northern v Oldham | Away | August 29, 1982 | Division 1 |
| Blackpool Borough v Oldham | Away | September 5, 1982 | Lancashire Cup |
| St Helens v Oldham | Away | September 12, 1982 | Division 1 |
| Oldham v Warrington | Home | September 15, 1982 | Division 1 |
| Warrington v Oldham | Away | September 19, 1982 | Lancashire Cup |
| Halifax v Oldham | Away | September 26, 1982 | Division 1 |
| Oldham v Featherstone Rovers | Home | September 29, 1982 | Division 1 |
| Oldham v Wigan | Home | October 3, 1982 | Division 1 |
| Workington Town v Oldham | Away | October 10, 1982 | Division 1 |
| Castleford v Oldham | Away | October 24, 1982 | Division 1 |
| Oldham v Carlisle | Home | October 31, 1982 | Division 1 |
| Oldham v Hull FC | Home | November 7, 1982 | Division 1 |
| Barrow v Oldham | Away | November 14, 1982 | Division 1 |
| Leigh v Oldham | Away | December 5, 1982 | John Player Cup |
| Oldham v Workington Town | Home | December 12, 1982 | Division 1 |
| Oldham v Hull Kingston Rovers | Home | December 27, 1982 | Division 1 |
| Leeds v Oldham | Away | January 3, 1983 | Division 1 |
| Featherstone Rovers v Oldham | Away | January 9, 1983 | Division 1 |
| Oldham v Workington Town | Home | February 16, 1983 | Rugby League Challenge Cup |
| Carlisle v Oldham | Away | February 20, 1983 | Division 1 |
| Hull Kingston Rovers v Oldham | Away | February 27, 1983 | Division 1 |
| Oldham v Leigh | Home | March 6, 1983 | Division 1 |
| Widnes v Oldham | Away | March 13, 1983 | Division 1 |
| Oldham v Halifax | Home | March 20, 1983 | Division 1 |
| Leigh v Oldham | Away | March 27, 1983 | Division 1 |
| Oldham v Barrow | Home | April 4, 1983 | Division 1 |
| Wigan v Oldham | Away | April 10, 1983 | Division 1 |
| Oldham v Castleford | Home | April 17, 1983 | Division 1 |
| Hull FC v Oldham | Away | April 24, 1983 | Premiership |
| Oldham v St Helens | Home | August 14, 1983 | Friendly |
| Oldham v Leeds | Home | August 21, 1983 | Division 1 |
| Bradford Northern v Oldham | Away | August 28, 1983 | Division 1 |
| Oldham v Workington Town | Home | September 4, 1983 | Lancashire Cup |
| Featherstone Rovers v Oldham | Away | September 11, 1983 | Division 1 |
| Swinton v Oldham | Away | September 14, 1983 | Lancashire Cup |
| Oldham v Fulham | Home | September 18, 1983 | Division 1 |
| Hull Kingston Rovers v Oldham | Away | September 25, 1983 | Division 1 |
| Oldham v St Helens | Home | October 2, 1983 | Division 1 |
| Oldham v Widnes | Home | October 9, 1983 | Division 1 |
| Castleford v Oldham | Away | October 19, 1983 | Division 1 |
| Oldham v Hull FC | Home | October 23, 1983 | Division 1 |
| Warrington v Oldham | Away | October 30, 1983 | Division 1 |
| Oldham v Leigh | Home | November 6, 1983 | John Player Cup |
| Oldham v Wigan | Home | November 13, 1983 | Division 1 |
| Fulham v Oldham | Away | November 20, 1983 | Division 1 |
| Oldham v Hull Kingston Rovers | Home | November 27, 1983 | Division 1 |
| Wakefield Trinity v Oldham | Away | December 18, 1983 | Division 1 |
| Oldham v Salford | Home | December 26, 1983 | Division 1 |
| Leeds v Oldham | Away | January 2, 1984 | Division 1 |
| Oldham v Leigh | Home | January 8, 1984 | Division 1 |
| Hull FC v Oldham | Away | February 5, 1984 | Division 1 |
| Oldham v Huyton | Home | February 12, 1984 | Rugby League Challenge Cup |
| Whitehaven v Oldham | Away | February 19, 1984 | Division 1 |
| Wigan v Oldham | Away | February 26, 1984 | Rugby League Challenge Cup |
| Oldham v Bradford Northern | Home | March 4, 1984 | Division 1 |
| Oldham v Leigh | Home | March 11, 1984 | Division 1 |
| Wigan v Oldham | Away | March 14, 1984 | Division 1 |
| Oldham v Warrington | Home | March 18, 1984 | Division 1 |
| Leigh v Oldham | Away | March 21, 1984 | Division 1 |
| Oldham v Whitehaven | Home | March 25, 1984 | Division 1 |
| St Helens v Oldham | Away | April 1, 1984 | Division 1 |
| Widnes v Oldham | Away | April 8, 1984 | Division 1 |
| Oldham v Castleford | Home | April 11, 1984 | Division 1 |
| Oldham v Wakefield Trinity | Home | April 15, 1984 | Division 1 |
| Salford v Oldham | Away | April 20, 1984 | Division 1 |
| St Helens v Oldham | Away | August 26, 1984 | Friendly |
| Oldham v Hunslet | Home | September 2, 1984 | Division 1 |
| Workington Town v Oldham | Away | September 9, 1984 | Division 1 |
| Oldham v Widnes | Home | September 12, 1984 | Division 1 |
| Oldham v Blackpool Borough | Home | September 16, 1984 | Lancashire Cup |
| Leeds v Oldham | Away | September 23, 1984 | Division 1 |
| Oldham v Leigh | Home | September 30, 1984 | Division 1 |
| Barrow v Oldham | Away | October 7, 1984 | Division 1 |
| Oldham v Warrington | Home | October 14, 1984 | Division 1 |
| St Helens v Oldham | Away | October 21, 1984 | Division 1 |
| Oldham v Featherstone Rovers | Home | October 28, 1984 | Division 1 |
| Bradford Northern v Oldham | Away | November 4, 1984 | Division 1 |
| Oldham v Hull Kingston Rovers | Home | November 11, 1984 | Division 1 |
| York v Oldham | Away | November 18, 1984 | John Player Cup |
| Warrington v Oldham | Away | November 25, 1984 | Division 1 |
| Hull FC v Oldham | Away | December 2, 1984 | John Player Cup |
| Oldham v Barrow | Home | December 9, 1984 | Division 1 |
| Hull Kingston Rovers v Oldham | Away | December 16, 1984 | Division 1 |
| Widnes v Oldham | Away | December 26, 1984 | Division 1 |
| Oldham v Halifax | Home | January 1, 1985 | Division 1 |
| Featherstone Rovers v Oldham | Away | January 6, 1985 | Division 1 |
| Oldham v Bradford Northern | Home | January 29, 1985 | Division 1 |
| Oldham v Hull FC | Home | February 3, 1985 | Division 1 |
| Oldham v Castleford | Home | February 17, 1985 | Rugby League Challenge Cup |
| Oldham v Castleford | Home | February 27, 1985 | Division 1 |
| Oldham v Leeds | Home | March 3, 1985 | Division 1 |
| Oldham v St Helens | Home | March 8, 1985 | Division 1 |
| Hull FC v Oldham | Away | March 17, 1985 | Division 1 |
| Leigh v Oldham | Away | March 20, 1985 | Division 1 |
| Hunslet v Oldham | Away | March 24, 1985 | Division 1 |
| Wigan v Oldham | Away | March 26, 1985 | Division 1 |
| Oldham v Workington Town | Home | March 31, 1985 | Division 1 |
| Halifax v Oldham | Away | April 5, 1985 | Division 1 |
| Oldham v Wigan | Home | April 8, 1985 | Division 1 |
| Castleford v Oldham | Away | April 12, 1985 | Division 1 |
| Leeds v Oldham | Away | April 28, 1985 | Premiership |
| Oldham v Great Britain | Home | August 21, 1985 | Benefit Match |
| Oldham v St Helens | Home | August 25, 1985 | Friendly |
| Halifax v Oldham | Away | September 1, 1985 | Division 1 |
| Oldham v Swinton | Home | September 4, 1985 | Division 1 |
| Oldham v Leeds | Home | September 8, 1985 | Division 1 |
| Featherstone Rovers v Oldham | Away | October 6, 1985 | Division 1 |
| Salford v Oldham | Away | October 13, 1985 | Division 1 |
| Oldham v Castleford | Home | October 20, 1985 | Division 1 |
| Widnes v Oldham | Away | October 27, 1985 | Division 1 |
| Bradford Northern v Oldham | Away | November 3, 1985 | Division 1 |
| York v Oldham | Away | November 10, 1985 | Division 1 |
| Dewsbury v Oldham | Away | November 17, 1985 | Division 1 |
| Bramley v Oldham | Away | November 24, 1985 | John Player Cup |
| Oldham v Salford | Home | December 8, 1985 | Division 1 |
| Oldham v Dewsbury | Home | December 15, 1985 | Division 1 |
| Oldham v Widnes | Home | December 26, 1985 | Division 1 |
| Leeds v Oldham | Away | January 1, 1986 | Division 1 |
| Oldham v York | Home | January 12, 1986 | Division 1 |
| Castleford v Oldham | Away | January 19, 1986 | Division 1 |
| Warrington v Oldham | Away | February 2, 1986 | Division 1 |
| Oldham v Carlisle | Home | February 9, 1986 | Rugby League Challenge Cup |
| Oldham v Halifax | Home | February 16, 1986 | Division 1 |
| Oldham v Hull Kingston Rovers | Home | March 2, 1986 | Division 1 |
| Oldham v Warrington | Home | March 9, 1986 | Rugby League Challenge Cup |
| Oldham v Bradford Northern | Home | March 16, 1986 | Rugby League Challenge Cup |
| Castleford v Oldham | Neutral | March 22, 1986 | Rugby League Challenge Cup |
| Swinton v Oldham | Away | March 28, 1986 | Division 1 |
| Wigan v Oldham | Away | March 31, 1986 | Division 1 |
| Oldham v St Helens | Home | April 2, 1986 | Division 1 |
| Oldham v Bradford Northern | Home | April 6, 1986 | Division 1 |
| Oldham v Featherstone Rovers | Home | April 9, 1986 | Division 1 |
| Swinton v Oldham | Away | August 16, 1987 | Friendly |