Tommy Rees
Profile
Tommy "Guardsman" Rees joined Oldham in time for the start of the 1928-29 season from London Welsh, having begun his career with Pontyclun. He won full international honours at Rugby Union, gaining four caps. A top class full back and a particularly good field kicker he played in an era when opposing full backs would engage in kicking duels and Tommy was capable of punting the leather tremendous distances in a bid to catch his rival off guard. He was the only player, albeit only once, to keep a fit Jim Sullivan out of the Great Britain team. This was in the first test against the Australian tourists of 1929-30 at Hull.
For Oldham, he was "Mr Consistency", holding down the full back position for a full decade before his transfer to Broughton Rangers in March 1939. This included 121 consecutive appearances between March 1933 and December 1935, a total which is second only to the 134 by "turn of the century" half back Joe Lawton.
In the 1933-34 season he landed 93 goals which was the club record until Bernard Ganley topped the century mark eighteen years later. Included in that total were three successes in the Lancashire Cup Final, when Tommy as club captain received the trophy after St Helens Recs were defeated 12 – 0 at Swinton.
During the Second World War period, Tommy returned to "guest" for Oldham playing in 26 games between 1942 and 1944. He ended his career having scored over 1,300 points for the club. After his retirement he went on to become a first class referee.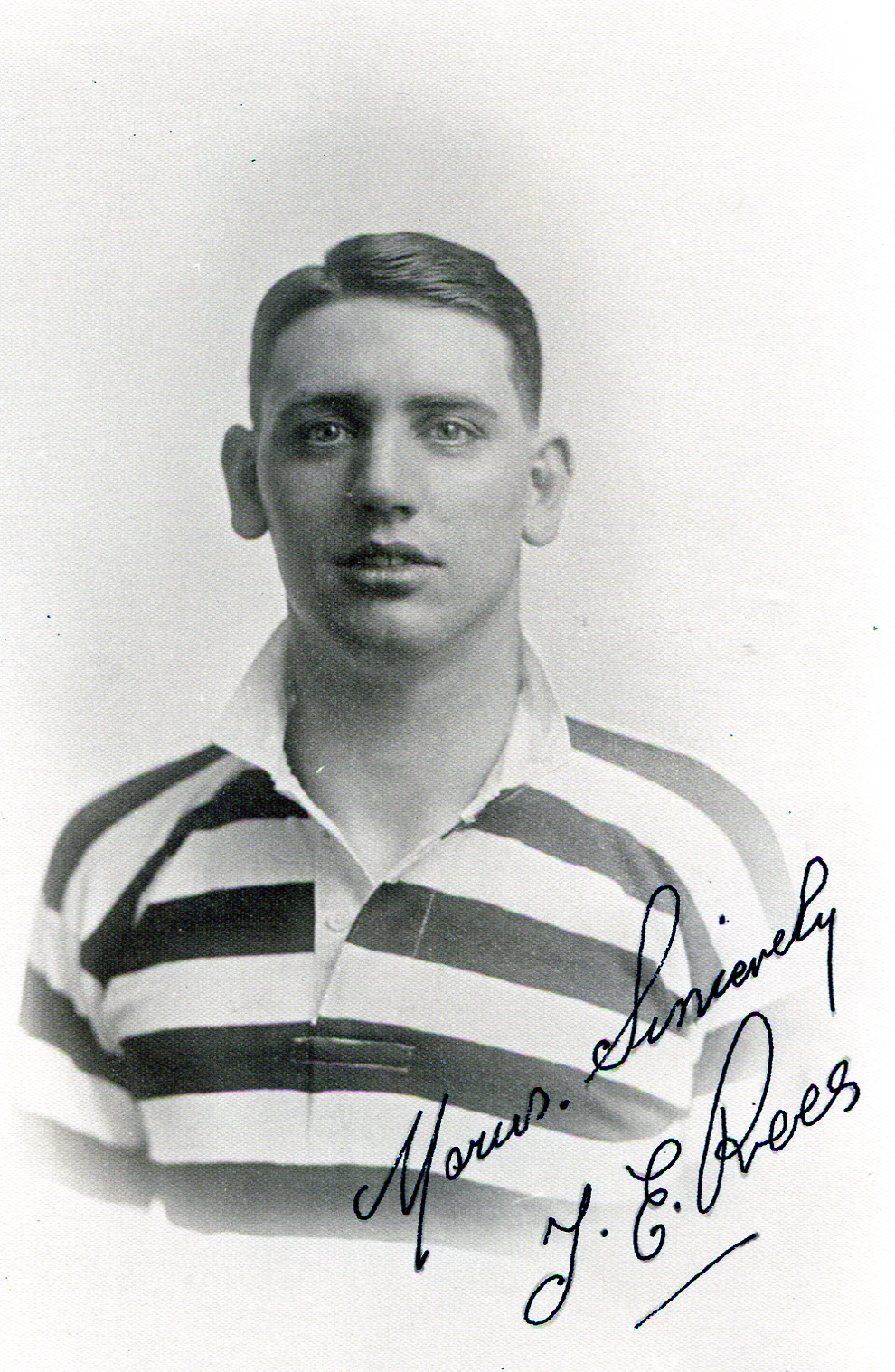 Career Games
| | | | |
| --- | --- | --- | --- |
| Oldham v Salford | Home | August 25, 1928 | League Championship |
| Wigan Highfield v Oldham | Away | September 1, 1928 | League Championship |
| Halifax v Oldham | Away | September 3, 1928 | League Championship |
| Oldham v Halifax | Home | September 8, 1928 | League Championship |
| Hull FC v Oldham | Away | September 15, 1928 | League Championship |
| Oldham v Warrington | Home | September 22, 1928 | League Championship |
| Oldham v Featherstone Rovers | Home | September 29, 1928 | League Championship |
| Hunslet v Oldham | Away | October 6, 1928 | League Championship |
| Oldham v Rochdale Hornets | Home | October 13, 1928 | Infirmary Cup |
| Huddersfield v Oldham | Away | October 20, 1928 | League Championship |
| Oldham v Salford | Home | October 24, 1928 | Lancashire Cup |
| Oldham v Leigh | Home | October 27, 1928 | League Championship |
| Oldham v Wigan | Home | November 5, 1928 | Lancashire Cup |
| Wigan v Oldham | Away | November 7, 1928 | Lancashire Cup |
| Oldham v Wigan | Home | November 10, 1928 | League Championship |
| Salford v Oldham | Away | November 17, 1928 | League Championship |
| Oldham v Hunslet | Home | November 24, 1928 | League Championship |
| St Helens v Oldham | Away | December 1, 1928 | League Championship |
| Oldham v St Helens | Home | December 8, 1928 | League Championship |
| Wigan v Oldham | Away | December 15, 1928 | League Championship |
| Broughton Rangers v Oldham | Away | December 22, 1928 | League Championship |
| Oldham v Swinton | Home | December 25, 1928 | League Championship |
| Oldham v Widnes | Home | December 29, 1928 | League Championship |
| Leigh v Oldham | Away | January 1, 1929 | League Championship |
| Oldham v Leeds | Home | January 6, 1929 | League Championship |
| Warrington v Oldham | Away | January 12, 1929 | League Championship |
| Widnes v Oldham | Away | January 19, 1929 | League Championship |
| Oldham v Wigan Highfield | Home | January 26, 1929 | League Championship |
| Rochdale Hornets v Oldham | Away | February 2, 1929 | League Championship |
| Bramley v Oldham | Away | February 9, 1929 | Rugby League Challenge Cup |
| Warrington v Oldham | Away | February 23, 1929 | Rugby League Challenge Cup |
| Oldham v Huddersfield | Home | March 2, 1929 | League Championship |
| Featherstone Rovers v Oldham | Away | March 9, 1929 | League Championship |
| Oldham v Hull FC | Home | March 16, 1929 | League Championship |
| Oldham v St Helens Recs | Home | March 23, 1929 | League Championship |
| Swinton v Oldham | Away | March 29, 1929 | League Championship |
| Oldham v Rochdale Hornets | Home | March 30, 1929 | League Championship |
| Leeds v Oldham | Away | April 1, 1929 | League Championship |
| Oldham v Broughton Rangers | Home | April 6, 1929 | League Championship |
| Oldham v Barrow | Home | April 13, 1929 | League Championship |
| St Helens Recs v Oldham | Away | April 22, 1929 | League Championship |
| Oldham v Hunslet | Home | August 31, 1929 | League Championship |
| Huddersfield v Oldham | Away | September 4, 1929 | League Championship |
| Dewsbury v Oldham | Away | September 7, 1929 | League Championship |
| Oldham v Broughton Rangers | Home | September 9, 1929 | League Championship |
| Oldham v Huddersfield | Home | September 14, 1929 | League Championship |
| Widnes v Oldham | Away | September 21, 1929 | League Championship |
| St Helens v Oldham | Away | September 28, 1929 | League Championship |
| Wigan v Oldham | Away | October 12, 1929 | Lancashire Cup |
| Oldham v Wigan | Home | October 19, 1929 | League Championship |
| Oldham v St Helens Recs | Home | October 21, 1929 | Lancashire Cup |
| Hunslet v Oldham | Away | October 26, 1929 | League Championship |
| Oldham v Australia | Home | November 2, 1929 | Tour Match |
| Leigh v Oldham | Away | November 9, 1929 | League Championship |
| Oldham v Warrington | Home | November 11, 1929 | Lancashire Cup |
| Oldham v Wigan Highfield | Home | November 16, 1929 | League Championship |
| Rochdale Hornets v Oldham | Away | November 23, 1929 | Infirmary Cup |
| Oldham v Halifax | Home | November 30, 1929 | League Championship |
| Hull FC v Oldham | Away | December 7, 1929 | League Championship |
| Oldham v Salford | Home | December 14, 1929 | League Championship |
| Wakefield Trinity v Oldham | Away | December 21, 1929 | League Championship |
| Oldham v Swinton | Home | December 25, 1929 | League Championship |
| Rochdale Hornets v Oldham | Away | December 26, 1929 | League Championship |
| Oldham v Widnes | Home | December 28, 1929 | League Championship |
| Barrow v Oldham | Away | January 1, 1930 | League Championship |
| Oldham v St Helens | Home | January 4, 1930 | League Championship |
| Warrington v Oldham | Away | January 11, 1930 | League Championship |
| Oldham v Leigh | Home | January 18, 1930 | League Championship |
| Oldham v Barrow | Home | January 25, 1930 | League Championship |
| Salford v Oldham | Away | February 1, 1930 | League Championship |
| Hunslet v Oldham | Away | February 8, 1930 | Rugby League Challenge Cup |
| Oldham v Rochdale Hornets | Home | February 15, 1930 | League Championship |
| St Helens Recs v Oldham | Away | March 6, 1930 | League Championship |
| Oldham v Wakefield Trinity | Home | March 15, 1930 | League Championship |
| Oldham v Widnes | Home | March 17, 1930 | League Championship |
| Halifax v Oldham | Away | March 22, 1930 | League Championship |
| Oldham v Warrington | Home | March 29, 1930 | League Championship |
| Oldham v Leeds | Home | April 12, 1930 | League Championship |
| Swinton v Oldham | Away | April 18, 1930 | League Championship |
| Oldham v St Helens Recs | Home | April 19, 1930 | League Championship |
| Leeds v Oldham | Away | April 21, 1930 | League Championship |
| Wigan v Oldham | Away | April 26, 1930 | League Championship |
| Oldham v Rochdale Hornets | Home | August 25, 1930 | Infirmary Cup |
| Wigan v Oldham | Away | August 30, 1930 | League Championship |
| Oldham v Leigh | Home | September 6, 1930 | League Championship |
| Huddersfield v Oldham | Away | September 10, 1930 | Friendly |
| St Helens Recs v Oldham | Away | September 13, 1930 | League Championship |
| Oldham v Huddersfield | Home | September 15, 1930 | Friendly |
| Oldham v Hull Kingston Rovers | Home | September 20, 1930 | League Championship |
| Oldham v Salford | Home | September 22, 1930 | League Championship |
| Oldham v Barrow | Home | September 27, 1930 | League Championship |
| Rochdale Hornets v Oldham | Away | October 4, 1930 | League Championship |
| Oldham v Salford | Home | October 11, 1930 | Lancashire Cup |
| Hull Kingston Rovers v Oldham | Away | November 1, 1930 | League Championship |
| St Helens Recs v Oldham | Away | November 6, 1930 | Lancashire Cup |
| Oldham v Bradford Northern | Home | November 8, 1930 | League Championship |
| Halifax v Oldham | Away | November 15, 1930 | League Championship |
| Oldham v Broughton Rangers | Home | November 22, 1930 | League Championship |
| Keighley v Oldham | Away | November 29, 1930 | League Championship |
| Oldham v Wigan | Home | December 8, 1930 | League Championship |
| St Helens v Oldham | Away | December 13, 1930 | League Championship |
| Oldham v Widnes | Home | December 20, 1930 | League Championship |
| Oldham v Swinton | Home | December 25, 1930 | League Championship |
| Wigan Highfield v Oldham | Away | December 26, 1930 | League Championship |
| Oldham v York | Home | December 27, 1930 | League Championship |
| Leigh v Oldham | Away | January 3, 1931 | League Championship |
| Oldham v St Helens Recs | Home | January 17, 1931 | League Championship |
| Hull FC v Oldham | Away | January 24, 1931 | League Championship |
| Oldham v Widnes | Home | February 7, 1931 | Rugby League Challenge Cup |
| Broughton Rangers v Oldham | Away | February 14, 1931 | League Championship |
| Oldham v Hunslet | Home | February 16, 1931 | League Championship |
| Bramley v Oldham | Away | February 21, 1931 | Rugby League Challenge Cup |
| Halifax v Oldham | Away | March 7, 1931 | Rugby League Challenge Cup |
| Oldham v Halifax | Home | March 9, 1931 | Rugby League Challenge Cup |
| Oldham v Rochdale Hornets | Home | March 10, 1931 | League Championship |
| Widnes v Oldham | Away | March 14, 1931 | League Championship |
| Halifax v Oldham | Neutral | March 16, 1931 | Rugby League Challenge Cup |
| Oldham v Hull FC | Home | March 21, 1931 | League Championship |
| Bradford Northern v Oldham | Away | March 28, 1931 | League Championship |
| Swinton v Oldham | Away | April 3, 1931 | League Championship |
| Oldham v St Helens | Home | April 4, 1931 | League Championship |
| Oldham v Keighley | Home | April 6, 1931 | League Championship |
| Warrington v Oldham | Away | April 7, 1931 | League Championship |
| Oldham v Wigan Highfield | Home | April 11, 1931 | League Championship |
| Salford v Oldham | Away | April 13, 1931 | League Championship |
| Barrow v Oldham | Away | April 16, 1931 | League Championship |
| York v Oldham | Away | April 18, 1931 | League Championship |
| Oldham v Halifax | Home | April 20, 1931 | League Championship |
| Swinton v Oldham | Away | April 25, 1931 | League Championship |
| Rochdale Hornets v Oldham | Away | August 22, 1931 | Infirmary Cup |
| Salford v Oldham | Away | August 29, 1931 | League Championship |
| Oldham v Wigan Highfield | Home | September 5, 1931 | League Championship |
| Warrington v Oldham | Away | September 12, 1931 | League Championship |
| Hunslet v Oldham | Away | September 16, 1931 | League Championship |
| Oldham v Halifax | Home | September 19, 1931 | League Championship |
| Oldham v St Helens | Home | October 3, 1931 | League Championship |
| Oldham v Barrow | Home | October 10, 1931 | Lancashire Cup |
| Barrow v Oldham | Away | October 15, 1931 | Lancashire Cup |
| St Helens v Oldham | Away | October 17, 1931 | League Championship |
| Oldham v Bramley | Home | October 24, 1931 | League Championship |
| Rochdale Hornets v Oldham | Away | October 31, 1931 | League Championship |
| Oldham v Hull FC | Home | November 7, 1931 | League Championship |
| Widnes v Oldham | Away | November 14, 1931 | League Championship |
| Oldham v Broughton Rangers | Home | November 21, 1931 | League Championship |
| York v Oldham | Away | November 28, 1931 | League Championship |
| Oldham v Leigh | Home | December 5, 1931 | League Championship |
| Bramley v Oldham | Away | December 12, 1931 | League Championship |
| Oldham v Batley | Home | December 19, 1931 | League Championship |
| Oldham v Swinton | Home | December 25, 1931 | League Championship |
| Barrow v Oldham | Away | December 26, 1931 | League Championship |
| Oldham v Hunslet | Home | January 2, 1932 | League Championship |
| Hull FC v Oldham | Away | January 9, 1932 | League Championship |
| Wigan v Oldham | Away | January 16, 1932 | League Championship |
| Oldham v Salford | Home | January 23, 1932 | League Championship |
| Leigh v Oldham | Away | January 30, 1932 | League Championship |
| Oldham v Rochdale Hornets | Home | February 6, 1932 | Rugby League Challenge Cup |
| Oldham v Hunslet | Home | February 8, 1932 | League Championship |
| Halifax v Oldham | Away | February 13, 1932 | League Championship |
| Oldham v Widnes | Home | February 20, 1932 | League Championship |
| Oldham v Leeds | Home | February 27, 1932 | League Championship |
| Broughton Rangers v Oldham | Away | March 5, 1932 | League Championship |
| Oldham v York | Home | March 12, 1932 | League Championship |
| St Helens Recs v Oldham | Away | March 19, 1932 | League Championship |
| Swinton v Oldham | Away | March 25, 1932 | League Championship |
| Oldham v Rochdale Hornets | Home | March 26, 1932 | League Championship |
| Oldham v Wigan | Home | April 9, 1932 | League Championship |
| Wigan Highfield v Oldham | Away | April 16, 1932 | League Championship |
| Oldham v Warrington | Home | April 23, 1932 | League Championship |
| Hull FC v Oldham | Away | August 27, 1932 | League Championship |
| Oldham v St Helens Recs | Home | September 3, 1932 | League Championship |
| Wigan v Oldham | Away | September 24, 1932 | League Championship |
| Oldham v Rochdale Hornets | Home | September 27, 1932 | Infirmary Cup |
| Oldham v Widnes | Home | October 1, 1932 | League Championship |
| St Helens Recs v Oldham | Away | October 8, 1932 | Lancashire Cup |
| Oldham v St Helens Recs | Home | October 10, 1932 | Lancashire Cup |
| Oldham v St Helens Recs | Home | October 13, 1932 | Lancashire Cup |
| Oldham v Halifax | Home | October 15, 1932 | League Championship |
| St Helens Recs v Oldham | Neutral | October 17, 1932 | Lancashire Cup |
| Barrow v Oldham | Away | October 22, 1932 | League Championship |
| Oldham v Wigan Highfield | Home | October 29, 1932 | League Championship |
| Wigan Highfield v Oldham | Away | November 19, 1932 | League Championship |
| Oldham v Hull FC | Home | November 26, 1932 | League Championship |
| Warrington v Oldham | Away | December 3, 1932 | League Championship |
| Oldham v Hull Kingston Rovers | Home | December 10, 1932 | League Championship |
| Widnes v Oldham | Away | December 17, 1932 | League Championship |
| Oldham v St Helens | Home | December 24, 1932 | League Championship |
| Oldham v Swinton | Home | December 26, 1932 | League Championship |
| Broughton Rangers v Oldham | Away | January 14, 1933 | League Championship |
| Oldham v Barrow | Home | January 21, 1933 | League Championship |
| York v Oldham | Away | January 28, 1933 | League Championship |
| Oldham v Broughton Rangers | Home | February 4, 1933 | League Championship |
| Oldham v Rochdale Hornets | Home | February 11, 1933 | Rugby League Challenge Cup |
| St Helens v Oldham | Away | February 18, 1933 | League Championship |
| Wigan v Oldham | Away | March 1, 1933 | Rugby League Challenge Cup |
| Oldham v Salford | Home | March 4, 1933 | League Championship |
| Oldham v Featherstone Rovers | Home | March 18, 1933 | League Championship |
| Hull Kingston Rovers v Oldham | Away | March 25, 1933 | League Championship |
| Oldham v Wigan | Home | March 27, 1933 | League Championship |
| Rochdale Hornets v Oldham | Away | April 1, 1933 | League Championship |
| Oldham v York | Home | April 8, 1933 | League Championship |
| Swinton v Oldham | Away | April 14, 1933 | League Championship |
| Oldham v Rochdale Hornets | Home | April 15, 1933 | League Championship |
| Halifax v Oldham | Away | April 17, 1933 | League Championship |
| Oldham v Broughton Rangers | Home | August 26, 1933 | League Championship |
| Rochdale Hornets v Oldham | Away | September 2, 1933 | League Championship |
| Oldham v Australia | Home | September 9, 1933 | Tour Match |
| St Helens v Oldham | Away | September 16, 1933 | League Championship |
| Oldham v St Helens | Home | September 18, 1933 | League Championship |
| Oldham v Leeds | Home | September 23, 1933 | League Championship |
| Oldham v Widnes | Home | September 30, 1933 | Lancashire Cup |
| Rochdale Hornets v Oldham | Away | October 3, 1933 | Infirmary Cup |
| Oldham v Hunslet | Home | October 7, 1933 | League Championship |
| Broughton Rangers v Oldham | Away | October 11, 1933 | Lancashire Cup |
| Salford v Oldham | Away | October 14, 1933 | League Championship |
| Oldham v Keighley | Home | October 21, 1933 | League Championship |
| Wigan v Oldham | Away | October 25, 1933 | Lancashire Cup |
| Warrington v Oldham | Away | October 28, 1933 | League Championship |
| Oldham v Widnes | Home | November 4, 1933 | League Championship |
| Barrow v Oldham | Away | November 11, 1933 | League Championship |
| St Helens Recs v Oldham | Neutral | November 18, 1933 | Lancashire Cup |
| Leigh v Oldham | Away | November 25, 1933 | League Championship |
| Oldham v Batley | Home | December 2, 1933 | League Championship |
| Wakefield Trinity v Oldham | Away | December 9, 1933 | League Championship |
| Oldham v Barrow | Home | December 16, 1933 | League Championship |
| London Highfield v Oldham | Away | December 20, 1933 | League Championship |
| Oldham v Swinton | Home | December 25, 1933 | League Championship |
| Hull Kingston Rovers v Oldham | Away | December 26, 1933 | League Championship |
| Wigan v Oldham | Away | December 30, 1933 | League Championship |
| Oldham v Hull Kingston Rovers | Home | January 1, 1934 | League Championship |
| Oldham v Warrington | Home | January 6, 1934 | League Championship |
| Oldham v Australia | Home | January 10, 1934 | Tour Match |
| Oldham v Leigh | Home | January 13, 1934 | League Championship |
| Batley v Oldham | Away | January 20, 1934 | League Championship |
| Oldham v London Highfield | Home | January 27, 1934 | League Championship |
| Hunslet v Oldham | Away | February 3, 1934 | League Championship |
| Oldham v Dewsbury | Home | February 10, 1934 | Rugby League Challenge Cup |
| Keighley v Oldham | Away | February 17, 1934 | League Championship |
| St Helens Recs v Oldham | Away | February 24, 1934 | Rugby League Challenge Cup |
| Oldham v St Helens Recs | Home | February 28, 1934 | Rugby League Challenge Cup |
| Widnes v Oldham | Away | March 3, 1934 | League Championship |
| Oldham v Wakefield Trinity | Home | March 5, 1934 | League Championship |
| Oldham v Bramley | Home | March 10, 1934 | Rugby League Challenge Cup |
| Oldham v Salford | Home | March 14, 1934 | League Championship |
| St Helens Recs v Oldham | Away | March 17, 1934 | League Championship |
| Oldham v Halifax | Home | March 19, 1934 | League Championship |
| Widnes v Oldham | Neutral | March 24, 1934 | Rugby League Challenge Cup |
| Swinton v Oldham | Away | March 30, 1934 | League Championship |
| Halifax v Oldham | Away | March 31, 1934 | League Championship |
| Oldham v St Helens Recs | Home | April 2, 1934 | League Championship |
| Leeds v Oldham | Away | April 3, 1934 | League Championship |
| Oldham v Rochdale Hornets | Home | April 7, 1934 | League Championship |
| Oldham v Wigan | Home | April 10, 1934 | League Championship |
| Broughton Rangers v Oldham | Away | April 21, 1934 | League Championship |
| Halifax v Oldham | Neutral | May 12, 1934 | Lancaster Cup |
| Oldham v Rochdale Hornets | Home | August 18, 1934 | Infirmary Cup |
| Wigan v Oldham | Away | August 25, 1934 | League Championship |
| Oldham v Bramley | Home | September 1, 1934 | League Championship |
| Oldham v Widnes | Home | September 8, 1934 | Lancashire Cup |
| Oldham v Warrington | Home | September 15, 1934 | League Championship |
| Oldham v Villeneuve | Home | September 17, 1934 | Friendly |
| Salford v Oldham | Away | September 22, 1934 | League Championship |
| Oldham v Wigan | Home | September 25, 1934 | Lancashire Cup |
| Oldham v Rochdale Hornets | Home | September 29, 1934 | League Championship |
| Keighley v Oldham | Away | October 6, 1934 | League Championship |
| Oldham v Salford | Home | October 13, 1934 | League Championship |
| Oldham v St Helens Recs | Home | October 20, 1934 | League Championship |
| Broughton Rangers v Oldham | Away | October 27, 1934 | League Championship |
| Oldham v Broughton Rangers | Home | November 3, 1934 | League Championship |
| Barrow v Oldham | Away | November 10, 1934 | League Championship |
| Oldham v Wigan | Home | November 17, 1934 | League Championship |
| Widnes v Oldham | Away | November 24, 1934 | League Championship |
| Oldham v Barrow | Home | December 1, 1934 | League Championship |
| Halifax v Oldham | Away | December 8, 1934 | League Championship |
| Oldham v Keighley | Home | December 15, 1934 | League Championship |
| Rochdale Hornets v Oldham | Away | December 22, 1934 | League Championship |
| Oldham v Swinton | Home | December 25, 1934 | League Championship |
| Hull Kingston Rovers v Oldham | Away | December 26, 1934 | League Championship |
| Oldham v York | Home | December 29, 1934 | League Championship |
| Oldham v Widnes | Home | January 1, 1935 | League Championship |
| Huddersfield v Oldham | Away | January 5, 1935 | League Championship |
| Oldham v Liverpool Stanley | Home | January 12, 1935 | League Championship |
| Oldham v Batley | Home | January 19, 1935 | League Championship |
| St Helens Recs v Oldham | Away | January 26, 1935 | League Championship |
| Oldham v St Helens | Home | February 2, 1935 | League Championship |
| Oldham v St Helens | Home | February 9, 1935 | Rugby League Challenge Cup |
| Oldham v Hull Kingston Rovers | Home | February 16, 1935 | League Championship |
| Huddersfield v Oldham | Away | February 23, 1935 | Rugby League Challenge Cup |
| Batley v Oldham | Away | March 2, 1935 | League Championship |
| Warrington v Oldham | Away | March 6, 1935 | League Championship |
| Oldham v Leigh | Home | March 9, 1935 | League Championship |
| Liverpool Stanley v Oldham | Away | March 16, 1935 | League Championship |
| York v Oldham | Away | March 23, 1935 | League Championship |
| Leigh v Oldham | Away | April 6, 1935 | League Championship |
| Oldham v Huddersfield | Home | April 9, 1935 | League Championship |
| Bramley v Oldham | Away | April 13, 1935 | League Championship |
| Swinton v Oldham | Away | April 19, 1935 | League Championship |
| Oldham v Halifax | Home | April 20, 1935 | League Championship |
| St Helens v Oldham | Away | April 22, 1935 | League Championship |
| Rochdale Hornets v Oldham | Away | August 24, 1935 | Infirmary Cup |
| Oldham v Hull Kingston Rovers | Home | August 31, 1935 | League Championship |
| Streatham & Mitcham v Oldham | Away | September 7, 1935 | League Championship |
| Rochdale Hornets v Oldham | Away | September 14, 1935 | Lancashire Cup |
| Oldham v Broughton Rangers | Home | September 16, 1935 | League Championship |
| Warrington v Oldham | Away | September 21, 1935 | League Championship |
| St Helens Recs v Oldham | Away | September 28, 1935 | League Championship |
| Wigan v Oldham | Away | October 2, 1935 | Lancashire Cup |
| Oldham v Wigan | Home | October 5, 1935 | League Championship |
| Hull Kingston Rovers v Oldham | Away | October 12, 1935 | League Championship |
| Oldham v Leigh | Home | October 19, 1935 | League Championship |
| Rochdale Hornets v Oldham | Away | October 26, 1935 | League Championship |
| Oldham v Dewsbury | Home | November 2, 1935 | League Championship |
| Salford v Oldham | Away | November 9, 1935 | League Championship |
| Oldham v Barrow | Home | November 16, 1935 | League Championship |
| Wigan v Oldham | Away | November 23, 1935 | League Championship |
| Oldham v Widnes | Home | November 30, 1935 | League Championship |
| St Helens v Oldham | Away | December 7, 1935 | League Championship |
| Leigh v Oldham | Away | December 28, 1935 | League Championship |
| Oldham v Wakefield Trinity | Home | January 1, 1936 | League Championship |
| Oldham v St Helens | Home | January 4, 1936 | League Championship |
| Halifax v Oldham | Away | January 11, 1936 | League Championship |
| Oldham v Liverpool Stanley | Home | January 25, 1936 | League Championship |
| Oldham v Salford | Home | February 1, 1936 | League Championship |
| Oldham v Wigan | Home | February 22, 1936 | Rugby League Challenge Cup |
| Liverpool Stanley v Oldham | Away | February 26, 1936 | League Championship |
| Oldham v Hunslet | Home | February 29, 1936 | League Championship |
| Dewsbury v Oldham | Away | March 7, 1936 | League Championship |
| Keighley v Oldham | Away | March 10, 1936 | League Championship |
| Barrow v Oldham | Away | March 14, 1936 | League Championship |
| Oldham v Streatham & Mitcham | Home | March 21, 1936 | League Championship |
| Oldham v Warrington | Home | March 24, 1936 | League Championship |
| Oldham v Keighley | Home | March 28, 1936 | League Championship |
| Widnes v Oldham | Away | April 4, 1936 | League Championship |
| Swinton v Oldham | Away | April 10, 1936 | League Championship |
| Oldham v St Helens Recs | Home | April 11, 1936 | League Championship |
| Oldham v Halifax | Home | April 13, 1936 | League Championship |
| Hunslet v Oldham | Away | April 25, 1936 | League Championship |
| Wakefield Trinity v Oldham | Away | May 2, 1936 | League Championship |
| Oldham v Rochdale Hornets | Home | August 22, 1936 | Infirmary Cup |
| Wigan v Oldham | Away | August 29, 1936 | League Championship |
| Oldham v St Helens Recs | Home | September 5, 1936 | League Championship |
| Salford v Oldham | Away | September 12, 1936 | Lancashire Cup |
| Barrow v Oldham | Away | September 17, 1936 | League Championship |
| Oldham v Widnes | Home | September 19, 1936 | League Championship |
| Warrington v Oldham | Away | September 26, 1936 | League Championship |
| Oldham v Liverpool Stanley | Home | September 28, 1936 | League Championship |
| Oldham v Salford | Home | October 3, 1936 | League Championship |
| Widnes v Oldham | Away | October 10, 1936 | League Championship |
| Oldham v Keighley | Home | October 17, 1936 | League Championship |
| Broughton Rangers v Oldham | Away | October 24, 1936 | League Championship |
| Oldham v Halifax | Home | October 31, 1936 | League Championship |
| St Helens v Oldham | Away | November 7, 1936 | League Championship |
| Oldham v St Helens | Home | November 14, 1936 | League Championship |
| Hunslet v Oldham | Away | November 21, 1936 | League Championship |
| Oldham v Barrow | Home | November 28, 1936 | League Championship |
| Halifax v Oldham | Away | December 5, 1936 | League Championship |
| Oldham v Broughton Rangers | Home | December 12, 1936 | League Championship |
| Hunslet v Oldham | Away | December 14, 1936 | League Championship |
| Liverpool Stanley v Oldham | Away | December 19, 1936 | League Championship |
| Oldham v Swinton | Home | December 25, 1936 | League Championship |
| Rochdale Hornets v Oldham | Away | December 26, 1936 | League Championship |
| Oldham v Wakefield Trinity | Home | January 1, 1937 | League Championship |
| Salford v Oldham | Away | January 2, 1937 | League Championship |
| Oldham v Streatham & Mitcham | Home | January 9, 1937 | League Championship |
| Oldham v Batley | Home | January 16, 1937 | League Championship |
| Wakefield Trinity v Oldham | Away | January 23, 1937 | League Championship |
| Keighley v Oldham | Away | February 6, 1937 | League Championship |
| Oldham v Wigan | Home | February 13, 1937 | Rugby League Challenge Cup |
| Oldham v Leigh | Home | February 20, 1937 | League Championship |
| Bradford Northern v Oldham | Away | March 6, 1937 | League Championship |
| Swinton v Oldham | Away | March 26, 1937 | League Championship |
| Oldham v Rochdale Hornets | Home | March 27, 1937 | League Championship |
| Batley v Oldham | Away | March 29, 1937 | League Championship |
| Oldham v Bradford Northern | Home | April 3, 1937 | League Championship |
| Oldham v Warrington | Home | April 5, 1937 | League Championship |
| Leigh v Oldham | Away | April 10, 1937 | League Championship |
| Oldham v Wigan | Home | April 12, 1937 | League Championship |
| Oldham v Hunslet | Home | April 17, 1937 | League Championship |
| Oldham v Broughton Rangers | Home | April 24, 1937 | League Championship |
| Rochdale Hornets v Oldham | Away | August 21, 1937 | Infirmary Cup |
| Warrington v Oldham | Away | August 28, 1937 | League Championship |
| Oldham v Halifax | Home | September 4, 1937 | League Championship |
| Oldham v Warrington | Home | September 11, 1937 | Lancashire Cup |
| Dewsbury v Oldham | Away | September 15, 1937 | League Championship |
| Oldham v York | Home | September 18, 1937 | League Championship |
| Oldham v Wigan | Home | September 20, 1937 | League Championship |
| Barrow v Oldham | Away | September 25, 1937 | League Championship |
| Oldham v Broughton Rangers | Home | October 2, 1937 | League Championship |
| St Helens v Oldham | Away | October 9, 1937 | League Championship |
| Oldham v Huddersfield | Home | February 5, 1938 | League Championship |
| Huddersfield v Oldham | Away | February 12, 1938 | League Championship |
| Oldham v Batley | Home | February 19, 1938 | Rugby League Challenge Cup |
| Oldham v Salford | Home | February 26, 1938 | League Championship |
| Widnes v Oldham | Away | March 5, 1938 | League Championship |
| Oldham v Dewsbury | Home | March 12, 1938 | League Championship |
| Oldham v Warrington | Home | March 26, 1938 | League Championship |
| Oldham v Leigh | Home | April 2, 1938 | League Championship |
| Rochdale Hornets v Oldham | Away | April 5, 1938 | League Championship |
| Wigan v Oldham | Away | April 9, 1938 | League Championship |
| Oldham v Liverpool Stanley | Home | April 11, 1938 | League Championship |
| Swinton v Oldham | Away | April 15, 1938 | League Championship |
| Hull Kingston Rovers v Oldham | Away | April 16, 1938 | League Championship |
| Oldham v Rochdale Hornets | Home | April 18, 1938 | League Championship |
| Oldham v Gf Hutchins International Team | Home | April 30, 1938 | Benefit Match |
| Oldham v Rochdale Hornets | Home | August 20, 1938 | Infirmary Cup |
| Salford v Oldham | Away | August 27, 1938 | League Championship |
| Oldham v Liverpool Stanley | Home | September 3, 1938 | League Championship |
| Wakefield Trinity v Oldham | Away | September 10, 1938 | League Championship |
| Oldham v Wigan | Home | August 29, 1942 | Friendly |
| Oldham v Wigan | Home | December 5, 1942 | War Emergency League |
| Keighley v Oldham | Away | February 13, 1943 | War Emergency League |
| Oldham v St Helens | Home | February 27, 1943 | War Emergency League |
| St Helens v Oldham | Away | March 6, 1943 | War Emergency League |
| Oldham v St Helens | Home | March 27, 1943 | Rugby League Challenge Cup |
| St Helens v Oldham | Away | April 3, 1943 | Rugby League Challenge Cup |
| Oldham v Dewsbury | Home | April 10, 1943 | Rugby League Challenge Cup |
| Dewsbury v Oldham | Away | April 17, 1943 | Rugby League Challenge Cup |
| Huddersfield v Oldham | Away | September 4, 1943 | War Emergency League |
| Bradford Northern v Oldham | Away | September 11, 1943 | War Emergency League |
| Oldham v Hunslet | Home | September 18, 1943 | War Emergency League |
| Wigan v Oldham | Away | September 25, 1943 | War Emergency League |
| Oldham v Wakefield Trinity | Home | October 2, 1943 | War Emergency League |
| St Helens v Oldham | Away | October 9, 1943 | War Emergency League |
| Barrow v Oldham | Away | October 16, 1943 | Yorkshire Cup |
| Oldham v Barrow | Home | October 23, 1943 | Yorkshire Cup |
| Oldham v Dewsbury | Home | November 6, 1943 | War Emergency League |
| Oldham v Barrow | Home | January 29, 1944 | War Emergency League |
| Featherstone Rovers v Oldham | Away | February 5, 1944 | War Emergency League |
| Oldham v Halifax | Home | February 12, 1944 | War Emergency League |
| Oldham v Huddersfield | Home | February 19, 1944 | War Emergency League |
| Hunslet v Oldham | Away | February 26, 1944 | War Emergency League |
| Oldham v Wigan | Home | March 11, 1944 | Rugby League Challenge Cup |
| Wigan v Oldham | Away | March 18, 1944 | Rugby League Challenge Cup |
| Barrow v Oldham | Away | April 8, 1944 | War Emergency League |
| Oldham v Bradford Northern | Home | April 29, 1944 | War Emergency League |