Harry Ogden
Profile
He made his debut against Broughton Rangers the same season, a remarkable achievement for so young a prop forward, and was still wearing the number eight shirt in 1955 when Oldham faced Warrington in the Championship final at Maine Road.
A first team regular until a serious leg injury sustained at Workington in 1956 curtailed his career. When one considers that his early games for the club were in the disrupted wartime period of 1940-45, Ogden's 429 appearances is a truly remarkable achievement.
He was selected for the British Rugby League Xlll to tour France in 1946 and played in the 1954 Lancashire Cup final against Barrow.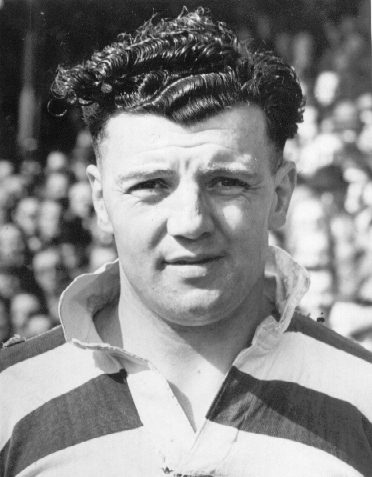 Career Games
| | | | |
| --- | --- | --- | --- |
| Oldham v Broughton Rangers | Home | October 5, 1940 | Lancashire League |
| Oldham v Warrington | Home | October 12, 1940 | Lancashire League |
| Oldham v Leigh | Home | October 19, 1940 | Lancashire League |
| Oldham v Broughton Rangers | Home | October 26, 1940 | Lancashire League |
| Huddersfield v Oldham | Away | August 23, 1941 | Friendly |
| Halifax v Oldham | Away | September 6, 1941 | War Emergency League |
| Wakefield Trinity v Oldham | Away | September 13, 1941 | War Emergency League |
| Oldham v Bradford Northern | Home | September 20, 1941 | War Emergency League |
| Hull FC v Oldham | Away | October 4, 1941 | War Emergency League |
| Keighley v Oldham | Away | October 11, 1941 | War Emergency League |
| Oldham v Hull FC | Home | October 18, 1941 | War Emergency League |
| York v Oldham | Away | October 22, 1941 | Yorkshire Cup |
| Oldham v York | Home | November 1, 1941 | Yorkshire Cup |
| Oldham v Bradford Northern | Home | November 8, 1941 | Yorkshire Cup |
| Bradford Northern v Oldham | Away | November 15, 1941 | Yorkshire Cup |
| Batley v Oldham | Away | November 22, 1941 | War Emergency League |
| Featherstone Rovers v Oldham | Away | December 6, 1941 | War Emergency League |
| Hunslet v Oldham | Away | December 20, 1941 | War Emergency League |
| Oldham v Halifax | Home | December 27, 1941 | War Emergency League |
| Oldham v Dewsbury | Home | January 3, 1942 | War Emergency League |
| Oldham v St Helens | Home | March 21, 1942 | War Emergency League |
| Huddersfield v Oldham | Away | March 28, 1942 | War Emergency League |
| Oldham v Wigan | Home | April 4, 1942 | War Emergency League |
| Leeds v Oldham | Away | April 6, 1942 | War Emergency League |
| Wigan v Oldham | Away | April 11, 1942 | War Emergency League |
| Oldham v Leeds | Home | April 18, 1942 | War Emergency League |
| Oldham v Castleford | Home | April 25, 1942 | Rugby League Challenge Cup |
| Castleford v Oldham | Away | May 2, 1942 | Rugby League Challenge Cup |
| Oldham v Hunslet | Home | May 9, 1942 | Rugby League Challenge Cup |
| Hunslet v Oldham | Away | May 16, 1942 | Rugby League Challenge Cup |
| Leeds v Oldham | Away | May 23, 1942 | Rugby League Challenge Cup |
| Oldham v Leeds | Home | May 30, 1942 | Rugby League Challenge Cup |
| Oldham v Wigan | Home | August 29, 1942 | Friendly |
| Wakefield Trinity v Oldham | Away | September 5, 1942 | War Emergency League |
| Oldham v Batley | Home | September 12, 1942 | War Emergency League |
| Oldham v Featherstone Rovers | Home | September 19, 1942 | War Emergency League |
| Oldham v Bradford Northern | Home | September 26, 1942 | War Emergency League |
| Wigan v Oldham | Away | October 3, 1942 | War Emergency League |
| Halifax v Oldham | Away | October 10, 1942 | War Emergency League |
| Halifax v Oldham | Away | October 17, 1942 | Yorkshire Cup |
| Oldham v Halifax | Home | October 24, 1942 | Yorkshire Cup |
| Oldham v Leeds | Home | October 31, 1942 | War Emergency League |
| Oldham v Wakefield Trinity | Home | November 7, 1942 | War Emergency League |
| Featherstone Rovers v Oldham | Away | November 21, 1942 | War Emergency League |
| St Helens v Oldham | Away | March 6, 1943 | War Emergency League |
| Oldham v Dewsbury | Home | April 10, 1943 | Rugby League Challenge Cup |
| Bradford Northern v Oldham | Away | September 11, 1943 | War Emergency League |
| St Helens v Oldham | Away | October 9, 1943 | War Emergency League |
| Barrow v Oldham | Away | October 16, 1943 | Yorkshire Cup |
| Oldham v Barrow | Home | October 23, 1943 | Yorkshire Cup |
| Oldham v Leeds | Home | November 20, 1943 | War Emergency League |
| Wakefield Trinity v Oldham | Away | December 4, 1943 | War Emergency League |
| Oldham v Featherstone Rovers | Home | December 11, 1943 | War Emergency League |
| Oldham v Wigan | Home | January 8, 1944 | War Emergency League |
| Oldham v Barrow | Home | January 29, 1944 | War Emergency League |
| Oldham v Halifax | Home | February 12, 1944 | War Emergency League |
| Oldham v Huddersfield | Home | February 19, 1944 | War Emergency League |
| Hunslet v Oldham | Away | February 26, 1944 | War Emergency League |
| Oldham v Wigan | Home | March 11, 1944 | Rugby League Challenge Cup |
| Wigan v Oldham | Away | March 18, 1944 | Rugby League Challenge Cup |
| Batley v Oldham | Away | September 30, 1944 | War Emergency League |
| Barrow v Oldham | Away | October 7, 1944 | War Emergency League |
| Oldham v Bradford Northern | Home | October 14, 1944 | War Emergency League |
| Oldham v Wigan | Home | October 21, 1944 | Yorkshire Cup |
| Wigan v Oldham | Away | October 28, 1944 | Yorkshire Cup |
| Oldham v Featherstone Rovers | Home | November 25, 1944 | War Emergency League |
| Featherstone Rovers v Oldham | Away | December 16, 1944 | War Emergency League |
| Wigan v Oldham | Away | December 30, 1944 | War Emergency League |
| Oldham v Hunslet | Home | February 10, 1945 | War Emergency League |
| Oldham v Batley | Home | February 17, 1945 | War Emergency League |
| Hunslet v Oldham | Away | March 3, 1945 | War Emergency League |
| St Helens v Oldham | Away | March 10, 1945 | War Emergency League |
| Featherstone Rovers v Oldham | Away | March 17, 1945 | Rugby League Challenge Cup |
| Oldham v Featherstone Rovers | Home | March 24, 1945 | Rugby League Challenge Cup |
| Keighley v Oldham | Away | March 31, 1945 | Rugby League Challenge Cup |
| Oldham v Keighley | Home | April 2, 1945 | Rugby League Challenge Cup |
| Oldham v Halifax | Home | April 7, 1945 | War Emergency League |
| Halifax v Oldham | Away | April 28, 1945 | War Emergency League |
| Bramley v Oldham | Away | August 25, 1945 | League Championship |
| Oldham v Bradford Northern | Home | September 1, 1945 | League Championship |
| Oldham v St Helens | Home | September 8, 1945 | League Championship |
| Keighley v Oldham | Away | September 15, 1945 | League Championship |
| Oldham v Wigan | Home | September 22, 1945 | Lancashire Cup |
| Wigan v Oldham | Away | September 29, 1945 | Lancashire Cup |
| Oldham v Salford | Home | October 6, 1945 | League Championship |
| Widnes v Oldham | Away | October 20, 1945 | League Championship |
| Oldham v Warrington | Home | October 27, 1945 | League Championship |
| Oldham v Rochdale Hornets | Home | November 3, 1945 | League Championship |
| Hull FC v Oldham | Away | November 10, 1945 | League Championship |
| Warrington v Oldham | Away | November 17, 1945 | League Championship |
| Oldham v Hull Kingston Rovers | Home | November 24, 1945 | League Championship |
| Oldham v Workington Town | Home | December 1, 1945 | League Championship |
| Halifax v Oldham | Away | December 8, 1945 | League Championship |
| Oldham v Huddersfield | Home | December 15, 1945 | League Championship |
| Rochdale Hornets v Oldham | Away | December 22, 1945 | League Championship |
| Oldham v Swinton | Home | December 25, 1945 | League Championship |
| Broughton Rangers v Oldham | Away | December 26, 1945 | League Championship |
| Oldham v Barrow | Home | December 29, 1945 | League Championship |
| Wigan v Oldham | Away | January 1, 1946 | League Championship |
| Oldham v Wigan | Home | February 2, 1946 | League Championship |
| Salford v Oldham | Away | February 9, 1946 | Rugby League Challenge Cup |
| Oldham v Salford | Home | February 16, 1946 | Rugby League Challenge Cup |
| Oldham v Hull FC | Home | March 9, 1946 | League Championship |
| Hull Kingston Rovers v Oldham | Away | March 16, 1946 | League Championship |
| Bradford Northern v Oldham | Away | March 23, 1946 | League Championship |
| Oldham v Broughton Rangers | Home | April 9, 1946 | League Championship |
| St Helens v Oldham | Away | April 13, 1946 | League Championship |
| Swinton v Oldham | Away | April 19, 1946 | League Championship |
| Oldham v Halifax | Home | April 20, 1946 | League Championship |
| Oldham v Widnes | Home | May 7, 1946 | League Championship |
| Salford v Oldham | Away | May 11, 1946 | League Championship |
| Rochdale Hornets v Oldham | Away | August 24, 1946 | Infirmary Cup |
| Liverpool Stanley v Oldham | Away | August 31, 1946 | League Championship |
| Workington Town v Oldham | Away | September 7, 1946 | Lancashire Cup |
| Oldham v Workington Town | Home | September 14, 1946 | Lancashire Cup |
| Oldham v Warrington | Home | September 21, 1946 | League Championship |
| Oldham v Leigh | Home | September 24, 1946 | Lancashire Cup |
| Dewsbury v Oldham | Away | September 28, 1946 | League Championship |
| Leigh v Oldham | Away | October 2, 1946 | Lancashire Cup |
| Castleford v Oldham | Away | October 5, 1946 | League Championship |
| Oldham v Wigan | Home | October 12, 1946 | League Championship |
| Oldham v Wigan | Home | October 15, 1946 | Lancashire Cup |
| Oldham v Dewsbury | Home | October 19, 1946 | League Championship |
| Oldham v St Helens | Home | November 2, 1946 | League Championship |
| Leigh v Oldham | Away | November 9, 1946 | League Championship |
| Oldham v Castleford | Home | November 16, 1946 | League Championship |
| Workington Town v Oldham | Away | November 23, 1946 | League Championship |
| Oldham v Widnes | Home | November 30, 1946 | League Championship |
| Hull FC v Oldham | Away | December 7, 1946 | League Championship |
| Oldham v Keighley | Home | December 14, 1946 | League Championship |
| Wigan v Oldham | Away | December 21, 1946 | League Championship |
| Oldham v Swinton | Home | December 25, 1946 | League Championship |
| Salford v Oldham | Away | December 26, 1946 | League Championship |
| Oldham v Rochdale Hornets | Home | January 1, 1947 | League Championship |
| Halifax v Oldham | Away | January 4, 1947 | League Championship |
| Widnes v Oldham | Away | January 11, 1947 | League Championship |
| Oldham v Workington Town | Home | January 18, 1947 | League Championship |
| Barrow v Oldham | Away | January 25, 1947 | League Championship |
| Oldham v Belle Vue Rangers | Home | February 22, 1947 | Rugby League Challenge Cup |
| Belle Vue Rangers v Oldham | Away | March 8, 1947 | Rugby League Challenge Cup |
| Warrington v Oldham | Away | March 15, 1947 | League Championship |
| Swinton v Oldham | Away | April 4, 1947 | League Championship |
| Keighley v Oldham | Away | April 5, 1947 | League Championship |
| Oldham v Barrow | Home | April 7, 1947 | League Championship |
| St Helens v Oldham | Away | April 12, 1947 | League Championship |
| Featherstone Rovers v Oldham | Away | April 19, 1947 | League Championship |
| Oldham v Jim Sullivans Team | Home | April 22, 1947 | Benefit Match |
| Oldham v Halifax | Home | April 26, 1947 | League Championship |
| Rochdale Hornets v Oldham | Away | May 10, 1947 | League Championship |
| Oldham v Leigh | Home | May 17, 1947 | League Championship |
| Belle Vue Rangers v Oldham | Away | May 24, 1947 | League Championship |
| Oldham v Belle Vue Rangers | Home | May 30, 1947 | League Championship |
| Oldham v Liverpool Stanley | Home | June 3, 1947 | League Championship |
| Oldham v Oldham Athletic Afc | Home | June 5, 1947 | Friendly |
| Oldham v Rochdale Hornets | Home | August 16, 1947 | Infirmary Cup |
| Oldham v Salford | Home | September 15, 1947 | League Championship |
| Oldham v Widnes | Home | September 20, 1947 | League Championship |
| Oldham v Workington Town | Home | September 23, 1947 | Lancashire Cup |
| Oldham v Halifax | Home | September 27, 1947 | League Championship |
| Wigan v Oldham | Away | October 4, 1947 | League Championship |
| Oldham v Barrow | Home | October 11, 1947 | League Championship |
| Castleford v Oldham | Away | October 18, 1947 | League Championship |
| Oldham v New Zealand | Home | October 25, 1947 | Tour Match |
| Oldham v Liverpool Stanley | Home | November 1, 1947 | League Championship |
| Workington Town v Oldham | Away | December 6, 1947 | League Championship |
| Oldham v Hull FC | Home | December 13, 1947 | League Championship |
| Wakefield Trinity v Oldham | Away | December 20, 1947 | League Championship |
| Oldham v Swinton | Home | December 25, 1947 | League Championship |
| Salford v Oldham | Away | December 26, 1947 | League Championship |
| Belle Vue Rangers v Oldham | Away | December 27, 1947 | League Championship |
| Oldham v Rochdale Hornets | Home | January 1, 1948 | League Championship |
| Liverpool Stanley v Oldham | Away | January 3, 1948 | League Championship |
| Oldham v Wigan | Home | January 10, 1948 | League Championship |
| Barrow v Oldham | Away | January 17, 1948 | League Championship |
| Leeds v Oldham | Away | January 24, 1948 | League Championship |
| Oldham v Wakefield Trinity | Home | January 31, 1948 | League Championship |
| Hull Kingston Rovers v Oldham | Away | February 7, 1948 | Rugby League Challenge Cup |
| Oldham v St Helens | Home | February 28, 1948 | Rugby League Challenge Cup |
| Oldham v Leigh | Home | March 6, 1948 | League Championship |
| Bradford Northern v Oldham | Away | March 13, 1948 | Rugby League Challenge Cup |
| Oldham v St Helens | Home | March 20, 1948 | League Championship |
| Rochdale Hornets v Oldham | Away | March 27, 1948 | League Championship |
| Oldham v Hunslet | Home | March 29, 1948 | League Championship |
| Leigh v Oldham | Away | April 7, 1948 | League Championship |
| Hull FC v Oldham | Away | April 10, 1948 | League Championship |
| Oldham v Leeds | Home | April 13, 1948 | League Championship |
| Warrington v Oldham | Away | April 17, 1948 | League Championship |
| Halifax v Oldham | Away | April 19, 1948 | League Championship |
| Oldham v Empire XIII | Home | April 27, 1948 | Benefit Match |
| Rochdale Hornets v Oldham | Away | August 14, 1948 | Infirmary Cup |
| Oldham v St Helens | Home | August 28, 1948 | League Championship |
| Oldham v Liverpool Stanley | Home | August 31, 1948 | League Championship |
| Oldham v Widnes | Home | September 4, 1948 | Lancashire Cup |
| Widnes v Oldham | Away | September 9, 1948 | Lancashire Cup |
| Salford v Oldham | Away | September 11, 1948 | League Championship |
| Oldham v Belle Vue Rangers | Home | September 13, 1948 | League Championship |
| Oldham v Hull Kingston Rovers | Home | September 18, 1948 | League Championship |
| Oldham v Castleford | Home | November 20, 1948 | League Championship |
| St Helens v Oldham | Away | November 27, 1948 | League Championship |
| Oldham v Australia | Home | December 4, 1948 | Tour Match |
| Oldham v Wigan | Home | December 11, 1948 | League Championship |
| Leigh v Oldham | Away | December 18, 1948 | League Championship |
| Oldham v Swinton | Home | December 25, 1948 | League Championship |
| Castleford v Oldham | Away | December 28, 1948 | League Championship |
| Rochdale Hornets v Oldham | Away | January 1, 1949 | League Championship |
| Widnes v Oldham | Away | January 15, 1949 | League Championship |
| Oldham v Barrow | Home | January 22, 1949 | League Championship |
| Liverpool Stanley v Oldham | Away | January 29, 1949 | League Championship |
| Wigan v Oldham | Away | February 5, 1949 | League Championship |
| Oldham v Broughton Moor | Home | February 12, 1949 | Rugby League Challenge Cup |
| Broughton Moor v Oldham | Away | February 19, 1949 | Rugby League Challenge Cup |
| Warrington v Oldham | Away | February 26, 1949 | League Championship |
| York v Oldham | Away | March 5, 1949 | Rugby League Challenge Cup |
| Oldham v Workington Town | Home | March 12, 1949 | League Championship |
| Oldham v Halifax | Home | March 19, 1949 | Rugby League Challenge Cup |
| Oldham v Keighley | Home | March 26, 1949 | League Championship |
| Belle Vue Rangers v Oldham | Away | April 2, 1949 | League Championship |
| Oldham v Salford | Home | April 4, 1949 | League Championship |
| Oldham v Batley | Home | April 9, 1949 | League Championship |
| Oldham v Halifax | Home | April 11, 1949 | League Championship |
| Swinton v Oldham | Away | April 15, 1949 | League Championship |
| Oldham v Rochdale Hornets | Home | April 16, 1949 | League Championship |
| Barrow v Oldham | Away | April 18, 1949 | League Championship |
| Hull Kingston Rovers v Oldham | Away | April 23, 1949 | League Championship |
| Workington Town v Oldham | Away | April 30, 1949 | League Championship |
| Oldham v Invitation XIII | Home | May 4, 1949 | Benefit Match |
| Oldham v Oldham Athletic Afc | Home | May 9, 1949 | Charity Match |
| Rochdale Hornets v Oldham | Away | August 13, 1949 | Law Cup |
| Leigh v Oldham | Away | August 20, 1949 | League Championship |
| Wigan v Oldham | Away | August 27, 1949 | Lancashire Cup |
| Oldham v Wigan | Home | August 31, 1949 | Lancashire Cup |
| Oldham v Hunslet | Home | September 3, 1949 | League Championship |
| Hull Kingston Rovers v Oldham | Away | September 5, 1949 | League Championship |
| St Helens v Oldham | Away | September 10, 1949 | League Championship |
| Oldham v Leigh | Home | September 17, 1949 | League Championship |
| Bramley v Oldham | Away | September 24, 1949 | League Championship |
| Liverpool Stanley v Oldham | Away | October 1, 1949 | League Championship |
| Oldham v Featherstone Rovers | Home | October 8, 1949 | League Championship |
| Oldham v Hull Kingston Rovers | Home | November 5, 1949 | League Championship |
| Oldham v Castleford | Home | November 19, 1949 | League Championship |
| Widnes v Oldham | Away | November 26, 1949 | League Championship |
| Oldham v Warrington | Home | December 3, 1949 | League Championship |
| Oldham v Barrow | Home | December 10, 1949 | League Championship |
| Workington Town v Oldham | Away | December 17, 1949 | League Championship |
| Oldham v Liverpool Stanley | Home | December 24, 1949 | League Championship |
| Hunslet v Oldham | Away | December 26, 1949 | League Championship |
| Oldham v Wigan | Home | January 7, 1950 | League Championship |
| Oldham v Swinton | Home | January 14, 1950 | League Championship |
| Barrow v Oldham | Away | January 21, 1950 | League Championship |
| Oldham v Bradford Northern | Home | February 4, 1950 | Rugby League Challenge Cup |
| Bradford Northern v Oldham | Away | February 11, 1950 | Rugby League Challenge Cup |
| Oldham v Whitehaven | Home | February 18, 1950 | League Championship |
| Oldham v Belle Vue Rangers | Home | March 4, 1950 | League Championship |
| Swinton v Oldham | Away | March 11, 1950 | League Championship |
| Oldham v Widnes | Home | March 18, 1950 | League Championship |
| Oldham v Castleford | Home | March 25, 1950 | League Championship |
| Oldham v Bramley | Home | April 1, 1950 | League Championship |
| Oldham v Salford | Home | April 7, 1950 | League Championship |
| Rochdale Hornets v Oldham | Away | April 8, 1950 | League Championship |
| Oldham v Bordeaux & Villeneuve | Home | April 10, 1950 | Friendly |
| Oldham v Salford | Home | October 7, 1950 | League Championship |
| Oldham v Warrington | Home | October 10, 1950 | Lancashire Cup |
| Keighley v Oldham | Away | October 14, 1950 | League Championship |
| Oldham v Leigh | Home | October 21, 1950 | League Championship |
| Wakefield Trinity v Oldham | Away | October 28, 1950 | League Championship |
| Oldham v Batley | Home | November 4, 1950 | League Championship |
| St Helens v Oldham | Away | November 11, 1950 | League Championship |
| Oldham v Widnes | Home | November 18, 1950 | League Championship |
| Salford v Oldham | Away | November 25, 1950 | League Championship |
| Oldham v Keighley | Home | December 2, 1950 | League Championship |
| Wigan v Oldham | Away | January 27, 1951 | League Championship |
| Workington Town v Oldham | Away | February 3, 1951 | League Championship |
| Leeds v Oldham | Away | February 10, 1951 | Rugby League Challenge Cup |
| Oldham v Leeds | Home | February 17, 1951 | Rugby League Challenge Cup |
| Rochdale Hornets v Oldham | Away | February 24, 1951 | League Championship |
| Oldham v Liverpool Stanley | Home | March 3, 1951 | League Championship |
| Widnes v Oldham | Away | March 10, 1951 | League Championship |
| Oldham v Workington Town | Home | March 17, 1951 | League Championship |
| Swinton v Oldham | Away | March 23, 1951 | League Championship |
| Oldham v Whitehaven | Home | March 24, 1951 | League Championship |
| Oldham v St Helens | Home | March 26, 1951 | League Championship |
| Oldham v St Helens | Home | April 7, 1951 | League Championship |
| Barrow v Oldham | Away | April 14, 1951 | League Championship |
| Leigh v Oldham | Away | April 16, 1951 | League Championship |
| Oldham v Bramley | Home | April 21, 1951 | League Championship |
| Oldham v Wigan | Home | April 23, 1951 | League Championship |
| Oldham v Rochdale Hornets | Home | April 30, 1951 | League Championship |
| Oldham v Halifax | Home | May 8, 1951 | Benefit Match |
| Rochdale Hornets v Oldham | Away | August 11, 1951 | Law Cup |
| Oldham v Bradford Northern | Home | August 18, 1951 | League Championship |
| Belle Vue Rangers v Oldham | Away | August 22, 1951 | League Championship |
| Keighley v Oldham | Away | August 25, 1951 | League Championship |
| Oldham v Liverpool City | Home | August 28, 1951 | League Championship |
| Rochdale Hornets v Oldham | Away | September 1, 1951 | Lancashire Cup |
| Oldham v Rochdale Hornets | Home | September 4, 1951 | Lancashire Cup |
| Wigan v Oldham | Away | September 8, 1951 | League Championship |
| Oldham v Whitehaven | Home | September 10, 1951 | League Championship |
| Oldham v Warrington | Home | October 6, 1951 | League Championship |
| Liverpool City v Oldham | Away | October 13, 1951 | League Championship |
| Oldham v Leigh | Home | October 16, 1951 | Lancashire Cup |
| Oldham v Leigh | Home | October 20, 1951 | League Championship |
| Salford v Oldham | Away | October 27, 1951 | League Championship |
| Oldham v Bramley | Home | November 3, 1951 | League Championship |
| Workington Town v Oldham | Away | November 10, 1951 | League Championship |
| Oldham v Wigan | Home | November 17, 1951 | League Championship |
| Barrow v Oldham | Away | November 24, 1951 | League Championship |
| Oldham v Barrow | Home | December 1, 1951 | League Championship |
| Halifax v Oldham | Away | December 8, 1951 | League Championship |
| Whitehaven v Oldham | Away | December 15, 1951 | League Championship |
| Oldham v Swinton | Home | December 25, 1951 | League Championship |
| Oldham v Workington Town | Home | December 26, 1951 | League Championship |
| Bradford Northern v Oldham | Away | December 29, 1951 | League Championship |
| Oldham v Barrow | Home | January 3, 1952 | League Championship |
| Oldham v Widnes | Home | January 5, 1952 | League Championship |
| Oldham v Salford | Home | January 12, 1952 | League Championship |
| Hull FC v Oldham | Away | February 9, 1952 | Rugby League Challenge Cup |
| Oldham v Hull FC | Home | February 16, 1952 | Rugby League Challenge Cup |
| Oldham v Hull Kingston Rovers | Home | February 23, 1952 | League Championship |
| Leeds v Oldham | Away | March 1, 1952 | Rugby League Challenge Cup |
| Bramley v Oldham | Away | March 8, 1952 | League Championship |
| Leigh v Oldham | Away | March 22, 1952 | League Championship |
| St Helens v Oldham | Away | March 29, 1952 | League Championship |
| Rochdale Hornets v Oldham | Away | April 1, 1952 | League Championship |
| Oldham v Belle Vue Rangers | Home | April 5, 1952 | League Championship |
| Swinton v Oldham | Away | April 11, 1952 | League Championship |
| Oldham v Halifax | Home | April 14, 1952 | League Championship |
| Hull Kingston Rovers v Oldham | Away | April 26, 1952 | League Championship |
| Oldham v RL XIII | Home | May 6, 1952 | Benefit Match |
| Oldham v Rochdale Hornets | Home | August 16, 1952 | Law Cup |
| Oldham v Featherstone Rovers | Home | August 23, 1952 | League Championship |
| Oldham v Swinton | Home | August 30, 1952 | Lancashire Cup |
| Swinton v Oldham | Away | September 3, 1952 | Lancashire Cup |
| Oldham v Leeds | Home | September 6, 1952 | League Championship |
| St Helens v Oldham | Away | September 10, 1952 | League Championship |
| Barrow v Oldham | Away | September 13, 1952 | League Championship |
| Oldham v Australia | Home | September 15, 1952 | Tour Match |
| Oldham v Wakefield Trinity | Home | September 20, 1952 | League Championship |
| Workington Town v Oldham | Away | September 24, 1952 | Lancashire Cup |
| Leeds v Oldham | Away | September 27, 1952 | League Championship |
| Workington Town v Oldham | Away | October 4, 1952 | League Championship |
| Oldham v Widnes | Home | October 11, 1952 | League Championship |
| Warrington v Oldham | Away | October 18, 1952 | League Championship |
| Oldham v Warrington | Home | October 25, 1952 | League Championship |
| Bramley v Oldham | Away | November 1, 1952 | League Championship |
| Oldham v Leigh | Home | November 8, 1952 | League Championship |
| Wakefield Trinity v Oldham | Away | November 15, 1952 | League Championship |
| Oldham v Salford | Home | November 22, 1952 | League Championship |
| Oldham v Belle Vue Rangers | Home | December 6, 1952 | League Championship |
| Bradford Northern v Oldham | Away | December 20, 1952 | League Championship |
| Oldham v Swinton | Home | December 25, 1952 | League Championship |
| Oldham v Wigan | Home | December 27, 1952 | League Championship |
| Wigan v Oldham | Away | January 10, 1953 | League Championship |
| Salford v Oldham | Away | January 17, 1953 | League Championship |
| St Helens v Oldham | Away | February 7, 1953 | Rugby League Challenge Cup |
| Oldham v St Helens | Home | February 14, 1953 | Rugby League Challenge Cup |
| Rochdale Hornets v Oldham | Away | February 21, 1953 | League Championship |
| Whitehaven v Oldham | Away | February 28, 1953 | League Championship |
| Oldham v Bradford Northern | Home | March 7, 1953 | League Championship |
| Widnes v Oldham | Away | March 14, 1953 | League Championship |
| Oldham v Workington Town | Home | March 21, 1953 | League Championship |
| Featherstone Rovers v Oldham | Away | March 28, 1953 | League Championship |
| Swinton v Oldham | Away | April 3, 1953 | League Championship |
| Rochdale Hornets v Oldham | Away | August 8, 1953 | Law Cup |
| Oldham v Wigan | Home | August 15, 1953 | League Championship |
| Huddersfield v Oldham | Away | August 22, 1953 | League Championship |
| Bramley v Oldham | Away | August 26, 1953 | League Championship |
| Oldham v Leeds | Home | August 29, 1953 | League Championship |
| Widnes v Oldham | Away | September 2, 1953 | League Championship |
| Whitehaven v Oldham | Away | September 5, 1953 | Lancashire Cup |
| Oldham v Whitehaven | Home | September 7, 1953 | Lancashire Cup |
| Leigh v Oldham | Away | September 12, 1953 | League Championship |
| Belle Vue Rangers v Oldham | Away | November 28, 1953 | League Championship |
| Oldham v Barrow | Home | December 5, 1953 | League Championship |
| St Helens v Oldham | Away | December 12, 1953 | League Championship |
| Oldham v Workington Town | Home | December 19, 1953 | League Championship |
| Oldham v Swinton | Home | December 25, 1953 | League Championship |
| Workington Town v Oldham | Away | December 26, 1953 | League Championship |
| Hull FC v Oldham | Away | January 2, 1954 | League Championship |
| Oldham v Huddersfield | Home | January 16, 1954 | League Championship |
| Liverpool City v Oldham | Away | January 23, 1954 | League Championship |
| Liverpool City v Oldham | Away | February 6, 1954 | Rugby League Challenge Cup |
| Oldham v Liverpool City | Home | February 13, 1954 | Rugby League Challenge Cup |
| Warrington v Oldham | Away | February 20, 1954 | League Championship |
| Oldham v Warrington | Home | March 6, 1954 | Rugby League Challenge Cup |
| Barrow v Oldham | Away | March 13, 1954 | League Championship |
| Leigh v Oldham | Neutral | April 3, 1954 | Exhibition Match |
| St Helens v Oldham | Away | August 28, 1954 | League Championship |
| Barrow v Oldham | Away | September 4, 1954 | League Championship |
| Oldham v Lancs County Amateurs | Home | September 11, 1954 | Lancashire Cup |
| Oldham v Liverpool City | Home | September 14, 1954 | League Championship |
| Batley v Oldham | Away | September 18, 1954 | League Championship |
| Oldham v St Helens | Home | September 20, 1954 | Lancashire Cup |
| Oldham v Wakefield Trinity | Home | September 25, 1954 | League Championship |
| Workington Town v Oldham | Away | September 30, 1954 | Lancashire Cup |
| Rochdale Hornets v Oldham | Away | October 16, 1954 | League Championship |
| Barrow v Oldham | Neutral | October 23, 1954 | Lancashire Cup |
| Liverpool City v Oldham | Away | October 30, 1954 | League Championship |
| Oldham v Blackpool Borough | Home | November 6, 1954 | League Championship |
| Widnes v Oldham | Away | November 13, 1954 | League Championship |
| Oldham v Whitehaven | Home | November 20, 1954 | League Championship |
| Wigan v Oldham | Away | November 27, 1954 | League Championship |
| Whitehaven v Oldham | Away | December 11, 1954 | League Championship |
| Keighley v Oldham | Away | December 18, 1954 | League Championship |
| Oldham v Swinton | Home | December 25, 1954 | League Championship |
| Oldham v Salford | Home | December 28, 1954 | League Championship |
| Oldham v Belle Vue Rangers | Home | January 1, 1955 | League Championship |
| Leigh v Oldham | Away | January 8, 1955 | League Championship |
| Oldham v Warrington | Home | January 15, 1955 | League Championship |
| Workington Town v Oldham | Away | January 22, 1955 | League Championship |
| Oldham v Rochdale Hornets | Home | January 29, 1955 | League Championship |
| Oldham v Barrow | Home | February 5, 1955 | League Championship |
| Oldham v Wigan | Home | February 12, 1955 | Rugby League Challenge Cup |
| Oldham v St Helens | Home | February 19, 1955 | League Championship |
| Leigh v Oldham | Away | March 5, 1955 | Rugby League Challenge Cup |
| Belle Vue Rangers v Oldham | Away | March 12, 1955 | League Championship |
| Oldham v Widnes | Home | March 19, 1955 | League Championship |
| Warrington v Oldham | Away | March 26, 1955 | League Championship |
| Oldham v Wigan | Home | April 2, 1955 | League Championship |
| Swinton v Oldham | Away | April 8, 1955 | League Championship |
| Hull FC v Oldham | Away | April 9, 1955 | League Championship |
| Oldham v Keighley | Home | April 11, 1955 | League Championship |
| Oldham v Leigh | Home | April 16, 1955 | League Championship |
| Oldham v Hull FC | Home | April 18, 1955 | League Championship |
| Oldham v Leeds | Home | April 23, 1955 | League Championship |
| Warrington v Oldham | Neutral | May 14, 1955 | League Championship |
| Rochdale Hornets v Oldham | Away | August 13, 1955 | Law Cup |
| Oldham v Keighley | Home | August 20, 1955 | Friendly |
| Blackpool Borough v Oldham | Away | August 27, 1955 | Lancashire Cup |
| Rochdale Hornets v Oldham | Away | August 30, 1955 | League Championship |
| Oldham v Hunslet | Home | September 3, 1955 | League Championship |
| Oldham v Leigh | Home | September 7, 1955 | Lancashire Cup |
| Leeds v Oldham | Away | September 10, 1955 | League Championship |
| Oldham v Warrington | Home | September 17, 1955 | League Championship |
| York v Oldham | Away | September 24, 1955 | League Championship |
| Oldham v Featherstone Rovers | Home | October 1, 1955 | League Championship |
| Hunslet v Oldham | Away | October 8, 1955 | League Championship |
| Oldham v Barrow | Home | October 15, 1955 | League Championship |
| Warrington v Oldham | Away | October 22, 1955 | League Championship |
| Oldham v New Zealand | Home | October 29, 1955 | Tour Match |
| Leigh v Oldham | Away | November 5, 1955 | League Championship |
| Wigan v Oldham | Away | November 19, 1955 | League Championship |
| Oldham v Widnes | Home | November 26, 1955 | League Championship |
| Liverpool City v Oldham | Away | December 3, 1955 | League Championship |
| Salford v Oldham | Away | December 10, 1955 | League Championship |
| Oldham v Salford | Home | December 17, 1955 | League Championship |
| St Helens v Oldham | Away | December 24, 1955 | League Championship |
| Blackpool Borough v Oldham | Away | December 27, 1955 | League Championship |
| Oldham v Whitehaven | Home | December 31, 1955 | League Championship |
| Workington Town v Oldham | Away | January 2, 1956 | League Championship |