Ken Wilson
Profile
Kenneth (Tug) Wilson, signed for Oldham in time for the start of the 1963-64 season, coming North with a glowing reputation from Rugby Union, where he had represented the RAF, Gloucester county and earned one full England cap won against the French at Twickenham. More would have undoubtedly followed but for him switching codes. He was also a promising boxer and here again represented the RAF, at heavyweight. However, a hand injury put an end to his career in the ring and luckily for Oldham he was to concentrate solely on his rugby.
He made his senior debut at Rochdale on August 24th, 1963. As the season went on the Bott, McIntyre and Wilson front row proved to be a formidable unit, spearheading the path to the division two title and coming as close to that first, elusive, Wembley appearance as any Oldham side so far, with the epic semi final against Hull K.R.
An absolute workhorse of a prop forward, Ken was always first in line when it came to taking the ball up and never shirked his defensive duties. For ten years he was "Mr Reliable" in the Oldham pack and his front row partnership with hooker Kevin Taylor, gave his side a scrum possession monopoly that was the envy of the league. This of course was in the days, when the ball winning skills of the front row forwards was an integral part of the game, unlike today's scrum half feeding the back row philosophy.
Ken decided to call it a day in 1973 and played his last game against Australia on October 19th of that year. His ten years service to the club were rewarded with a testimonial game between Oldham and an England Xlll, played at Watersheddings on April 22nd, 1975.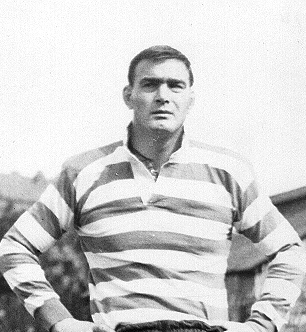 Career Games
| | | | |
| --- | --- | --- | --- |
| Rochdale Hornets v Oldham | Away | August 24, 1963 | Division 2 |
| Oldham v Leigh | Home | August 27, 1963 | Division 2 |
| Oldham v Batley | Home | August 31, 1963 | Division 2 |
| Oldham v Australia | Home | October 5, 1963 | Tour Match |
| Oldham v Doncaster | Home | October 12, 1963 | Division 2 |
| Barrow v Oldham | Away | October 19, 1963 | Division 2 |
| Oldham v Rochdale Hornets | Home | October 26, 1963 | Western Division |
| Doncaster v Oldham | Away | November 2, 1963 | Division 2 |
| Oldham v York | Home | November 9, 1963 | Division 2 |
| Whitehaven v Oldham | Away | November 16, 1963 | Division 2 |
| Oldham v Rochdale Hornets | Home | November 23, 1963 | Division 2 |
| Barrow v Oldham | Away | November 30, 1963 | Western Division |
| Bramley v Oldham | Away | December 7, 1963 | Division 2 |
| Oldham v Dewsbury | Home | December 28, 1963 | Division 2 |
| Oldham v Blackpool Borough | Home | January 4, 1964 | Western Division |
| Oldham v Salford | Home | January 25, 1964 | Division 2 |
| Dewsbury v Oldham | Away | February 1, 1964 | Division 2 |
| Keighley v Oldham | Away | February 8, 1964 | Rugby League Challenge Cup |
| Leigh v Oldham | Away | February 15, 1964 | Western Division |
| Oldham v Blackpool Borough | Home | February 22, 1964 | Division 2 |
| Oldham v Featherstone Rovers | Home | February 29, 1964 | Rugby League Challenge Cup |
| Batley v Oldham | Away | March 7, 1964 | Division 2 |
| Hunslet v Oldham | Away | March 14, 1964 | Rugby League Challenge Cup |
| Oldham v Barrow | Home | March 21, 1964 | Western Division |
| Oldham v Leigh | Home | March 28, 1964 | Western Division |
| Salford v Oldham | Away | March 30, 1964 | Division 2 |
| Hull Kingston Rovers v Oldham | Neutral | April 11, 1964 | Rugby League Challenge Cup |
| Hull Kingston Rovers v Oldham | Neutral | April 15, 1964 | Rugby League Challenge Cup |
| Hull Kingston Rovers v Oldham | Neutral | April 20, 1964 | Rugby League Challenge Cup |
| Rochdale Hornets v Oldham | Away | April 24, 1964 | Western Division |
| Leigh v Oldham | Away | April 27, 1964 | Division 2 |
| St Helens v Oldham | Away | May 1, 1964 | Western Division |
| Oldham v Whitehaven | Home | May 2, 1964 | Division 2 |
| Oldham v Bramley | Home | May 6, 1964 | Division 2 |
| Rochdale Hornets v Oldham | Away | August 15, 1964 | Law Cup |
| Dewsbury v Oldham | Away | August 22, 1964 | League Championship |
| Oldham v Widnes | Home | August 25, 1964 | League Championship |
| Oldham v Swinton | Home | August 29, 1964 | League Championship |
| Whitehaven v Oldham | Away | September 4, 1964 | Lancashire Cup |
| Blackpool Borough v Oldham | Away | September 14, 1964 | League Championship |
| Oldham v Whitehaven | Home | September 26, 1964 | League Championship |
| Leigh v Oldham | Away | October 3, 1964 | League Championship |
| Oldham v Rochdale Hornets | Home | October 10, 1964 | League Championship |
| Workington Town v Oldham | Away | October 17, 1964 | League Championship |
| Oldham v Warrington | Home | October 24, 1964 | League Championship |
| Oldham v Barrow | Home | November 7, 1964 | League Championship |
| Huddersfield v Oldham | Away | November 14, 1964 | League Championship |
| Oldham v Wigan | Home | November 21, 1964 | League Championship |
| Hunslet v Oldham | Away | December 5, 1964 | League Championship |
| Oldham v Hunslet | Home | January 2, 1965 | League Championship |
| Barrow v Oldham | Away | January 9, 1965 | League Championship |
| Hunslet v Oldham | Away | February 6, 1965 | Rugby League Challenge Cup |
| Oldham v St Helens | Home | March 13, 1965 | League Championship |
| Keighley v Oldham | Away | March 20, 1965 | League Championship |
| Rochdale Hornets v Oldham | Away | April 9, 1965 | League Championship |
| Oldham v Salford | Home | April 13, 1965 | League Championship |
| Swinton v Oldham | Away | April 16, 1965 | League Championship |
| Whitehaven v Oldham | Away | April 17, 1965 | League Championship |
| Oldham v Dewsbury | Home | April 19, 1965 | League Championship |
| Oldham v Oldham Past | Home | May 29, 1965 | Benefit Match |
| Oldham v Rochdale Hornets | Home | August 14, 1965 | Law Cup |
| Oldham v Warrington | Home | August 21, 1965 | League Championship |
| Whitehaven v Oldham | Away | August 25, 1965 | League Championship |
| Wigan v Oldham | Away | August 28, 1965 | League Championship |
| Oldham v New Zealand | Home | August 31, 1965 | Tour Match |
| Oldham v Blackpool Borough | Home | September 4, 1965 | League Championship |
| Oldham v Rochdale Hornets | Home | September 6, 1965 | League Championship |
| Oldham v Barrow | Home | September 11, 1965 | Lancashire Cup |
| Blackpool Borough v Oldham | Away | September 13, 1965 | League Championship |
| Oldham v Wigan | Home | September 16, 1965 | Lancashire Cup |
| Oldham v Salford | Home | September 25, 1965 | League Championship |
| St Helens v Oldham | Away | October 1, 1965 | League Championship |
| Warrington v Oldham | Away | October 6, 1965 | Lancashire Cup |
| Oldham v Huddersfield | Home | October 9, 1965 | League Championship |
| Swinton v Oldham | Away | October 19, 1965 | BBC |
| Oldham v Wigan | Home | October 22, 1965 | League Championship |
| Widnes v Oldham | Away | October 28, 1965 | League Championship |
| Oldham v Liverpool City | Home | November 6, 1965 | League Championship |
| Oldham v Leeds | Home | November 20, 1965 | League Championship |
| Oldham v Castleford | Home | November 23, 1965 | BBC |
| Huddersfield v Oldham | Away | November 27, 1965 | League Championship |
| Leeds v Oldham | Away | December 11, 1965 | League Championship |
| Oldham v Hunslet | Home | February 1, 1966 | League Championship |
| Oldham v Halifax | Home | February 5, 1966 | League Championship |
| Warrington v Oldham | Away | February 9, 1966 | League Championship |
| Halifax v Oldham | Away | February 19, 1966 | League Championship |
| Oldham v Leigh | Home | March 4, 1966 | League Championship |
| Liverpool City v Oldham | Away | March 12, 1966 | League Championship |
| Oldham v Swinton | Home | March 22, 1966 | League Championship |
| Oldham v Whitehaven | Home | March 26, 1966 | League Championship |
| Barrow v Oldham | Away | March 31, 1966 | League Championship |
| Rochdale Hornets v Oldham | Away | August 13, 1966 | Law Cup |
| Hull FC v Oldham | Away | August 20, 1966 | League Championship |
| Oldham v Hull FC | Home | August 27, 1966 | League Championship |
| Oldham v Swinton | Home | September 2, 1966 | Lancashire Cup |
| Salford v Oldham | Away | September 9, 1966 | League Championship |
| Blackpool Borough v Oldham | Away | September 12, 1966 | League Championship |
| Halifax v Oldham | Away | September 24, 1966 | League Championship |
| Blackpool Borough v Oldham | Away | September 27, 1966 | Lancashire Cup |
| Oldham v Wigan | Home | September 30, 1966 | League Championship |
| Oldham v Barrow | Home | October 4, 1966 | BBC |
| Liverpool City v Oldham | Away | October 8, 1966 | League Championship |
| Oldham v Rochdale Hornets | Home | October 14, 1966 | League Championship |
| Whitehaven v Oldham | Away | October 22, 1966 | League Championship |
| Wigan v Oldham | Neutral | October 29, 1966 | Lancashire Cup |
| Leeds v Oldham | Away | November 5, 1966 | League Championship |
| Oldham v Liverpool City | Home | November 11, 1966 | League Championship |
| Warrington v Oldham | Away | November 18, 1966 | League Championship |
| Widnes v Oldham | Away | November 22, 1966 | BBC |
| Oldham v Leeds | Home | November 25, 1966 | League Championship |
| Workington Town v Oldham | Away | December 3, 1966 | League Championship |
| Oldham v Barrow | Home | December 10, 1966 | League Championship |
| Leigh v Oldham | Away | December 14, 1966 | League Championship |
| Oldham v Leigh | Home | December 17, 1966 | League Championship |
| Huddersfield v Oldham | Away | December 24, 1966 | League Championship |
| Rochdale Hornets v Oldham | Away | December 27, 1966 | League Championship |
| Oldham v Warrington | Home | December 31, 1966 | League Championship |
| Barrow v Oldham | Away | January 14, 1967 | League Championship |
| Oldham v Salford | Home | January 21, 1967 | League Championship |
| St Helens v Oldham | Away | January 27, 1967 | League Championship |
| Huddersfield v Oldham | Away | February 4, 1967 | Rugby League Challenge Cup |
| Oldham v Workington Town | Home | February 11, 1967 | League Championship |
| Oldham v Leeds | Home | February 25, 1967 | Rugby League Challenge Cup |
| Widnes v Oldham | Away | March 3, 1967 | League Championship |
| Swinton v Oldham | Away | March 24, 1967 | League Championship |
| Oldham v Widnes | Home | March 25, 1967 | League Championship |
| Oldham v Halifax | Home | March 27, 1967 | League Championship |
| Rochdale Hornets v Oldham | Away | March 31, 1967 | League Championship |
| Oldham v Swinton | Home | April 7, 1967 | League Championship |
| Whitehaven v Oldham | Away | September 23, 1967 | League Championship |
| Oldham v Wigan | Home | September 30, 1967 | League Championship |
| Oldham v Hull Kingston Rovers | Home | October 3, 1967 | League Championship |
| Oldham v Bradford Northern | Home | October 14, 1967 | League Championship |
| Salford v Oldham | Away | October 20, 1967 | League Championship |
| Oldham v Blackpool Borough | Home | October 28, 1967 | League Championship |
| Oldham v Australia | Home | November 11, 1967 | Tour Match |
| Oldham v Salford | Home | November 13, 1967 | League Championship |
| Widnes v Oldham | Away | November 17, 1967 | League Championship |
| Oldham v Hull FC | Home | November 25, 1967 | League Championship |
| Liverpool City v Oldham | Away | December 2, 1967 | League Championship |
| St Helens v Oldham | Away | December 16, 1967 | League Championship |
| Swinton v Oldham | Away | December 26, 1967 | League Championship |
| Oldham v Barrow | Home | December 30, 1967 | League Championship |
| Workington Town v Oldham | Away | January 1, 1968 | League Championship |
| Batley v Oldham | Away | January 6, 1968 | League Championship |
| Oldham v St Helens | Home | January 20, 1968 | League Championship |
| Wigan v Oldham | Away | January 22, 1968 | League Championship |
| Barrow v Oldham | Away | January 26, 1968 | League Championship |
| Hunslet v Oldham | Away | February 3, 1968 | Rugby League Challenge Cup |
| Oldham v Batley | Home | February 14, 1968 | League Championship |
| Oldham v Widnes | Home | February 17, 1968 | League Championship |
| Bradford Northern v Oldham | Away | February 24, 1968 | Rugby League Challenge Cup |
| Oldham v Bradford Northern | Home | February 29, 1968 | Rugby League Challenge Cup |
| Rochdale Hornets v Oldham | Away | March 3, 1968 | League Championship |
| Oldham v Workington Town | Home | March 9, 1968 | League Championship |
| Oldham v Leeds | Home | March 16, 1968 | Rugby League Challenge Cup |
| Oldham v Leigh | Home | March 29, 1968 | League Championship |
| Hull Kingston Rovers v Oldham | Away | April 6, 1968 | League Championship |
| Oldham v Swinton | Home | April 12, 1968 | League Championship |
| Oldham v Blackpool Borough | Home | August 10, 1968 | Friendly |
| Huddersfield v Oldham | Away | August 17, 1968 | League Championship |
| Oldham v Blackpool Borough | Home | August 19, 1968 | League Championship |
| Oldham v Featherstone Rovers | Home | August 24, 1968 | League Championship |
| Rochdale Hornets v Oldham | Away | August 28, 1968 | League Championship |
| Rochdale Hornets v Oldham | Away | September 6, 1968 | Lancashire Cup |
| Blackpool Borough v Oldham | Away | September 9, 1968 | League Championship |
| Hunslet v Oldham | Away | September 14, 1968 | League Championship |
| Oldham v Workington Town | Home | September 16, 1968 | Lancashire Cup |
| Oldham v Wigan | Home | September 21, 1968 | League Championship |
| Doncaster v Oldham | Away | September 28, 1968 | League Championship |
| Oldham v Huddersfield | Home | October 5, 1968 | League Championship |
| Salford v Oldham | Away | October 9, 1968 | Lancashire Cup |
| Featherstone Rovers v Oldham | Away | October 12, 1968 | League Championship |
| Oldham v Widnes | Home | October 19, 1968 | League Championship |
| St Helens v Oldham | Neutral | October 25, 1968 | Lancashire Cup |
| Wigan v Oldham | Away | November 9, 1968 | League Championship |
| Oldham v Warrington | Home | November 15, 1968 | League Championship |
| Whitehaven v Oldham | Away | December 1, 1968 | League Championship |
| Oldham v Hunslet | Home | December 7, 1968 | League Championship |
| Widnes v Oldham | Away | December 20, 1968 | League Championship |
| Oldham v Whitehaven | Home | December 22, 1968 | League Championship |
| Oldham v Huyton | Home | January 4, 1969 | League Championship |
| Warrington v Oldham | Away | January 8, 1969 | League Championship |
| Huyton v Oldham | Away | January 11, 1969 | League Championship |
| Oldham v Salford | Home | January 18, 1969 | League Championship |
| Oldham v Hull Kingston Rovers | Home | January 25, 1969 | Rugby League Challenge Cup |
| Leigh v Oldham | Away | February 1, 1969 | League Championship |
| Oldham v St Helens | Home | February 25, 1969 | Rugby League Challenge Cup |
| Oldham v Workington Town | Home | March 1, 1969 | League Championship |
| Oldham v Leigh | Home | March 3, 1969 | League Championship |
| Oldham v Barrow | Home | March 8, 1969 | League Championship |
| Oldham v Swinton | Home | March 11, 1969 | League Championship |
| Leigh v Oldham | Away | March 18, 1969 | League Championship |
| Swinton v Oldham | Away | April 4, 1969 | League Championship |
| Oldham v Rochdale Hornets | Home | April 7, 1969 | League Championship |
| Barrow v Oldham | Away | April 11, 1969 | League Championship |
| Oldham v St Helens | Home | April 15, 1969 | League Championship |
| Oldham v Doncaster | Home | April 17, 1969 | League Championship |
| Leeds v Oldham | Away | April 25, 1969 | League Championship |
| Halifax v Oldham | Away | August 2, 1969 | Friendly |
| Oldham v Blackpool Borough | Home | August 9, 1969 | Friendly |
| Oldham v Swinton | Home | August 16, 1969 | Lancashire Cup |
| Oldham v Salford | Home | August 19, 1969 | League Championship |
| Oldham v Warrington | Home | August 23, 1969 | League Championship |
| Bradford Northern v Oldham | Away | August 27, 1969 | League Championship |
| Workington Town v Oldham | Away | August 30, 1969 | League Championship |
| Oldham v Keighley | Home | September 6, 1969 | League Championship |
| Blackpool Borough v Oldham | Away | September 8, 1969 | League Championship |
| Wigan v Oldham | Away | September 13, 1969 | League Championship |
| Oldham v Huyton | Home | September 20, 1969 | League Championship |
| Oldham v Rochdale Hornets | Home | September 22, 1969 | League Championship |
| Warrington v Oldham | Away | September 26, 1969 | League Championship |
| Oldham v Workington Town | Home | October 4, 1969 | League Championship |
| Keighley v Oldham | Away | October 11, 1969 | League Championship |
| Oldham v Whitehaven | Home | November 1, 1969 | League Championship |
| Oldham v Wigan | Home | December 13, 1969 | League Championship |
| Swinton v Oldham | Away | December 26, 1969 | League Championship |
| Oldham v Huddersfield | Home | January 10, 1970 | League Championship |
| Huddersfield v Oldham | Away | January 17, 1970 | League Championship |
| Oldham v Barrow | Home | January 24, 1970 | League Championship |
| York v Oldham | Away | August 22, 1970 | League Championship |
| Oldham v Hunslet | Home | August 26, 1970 | League Championship |
| Oldham v Salford | Home | August 29, 1970 | Lancashire Cup |
| Huddersfield v Oldham | Away | September 2, 1970 | League Championship |
| Barrow v Oldham | Away | September 5, 1970 | League Championship |
| Blackpool Borough v Oldham | Away | September 7, 1970 | League Championship |
| Oldham v Whitehaven | Home | September 21, 1970 | League Championship |
| Oldham v Dewsbury | Home | September 26, 1970 | League Championship |
| Whitehaven v Oldham | Away | September 30, 1970 | League Championship |
| Workington Town v Oldham | Away | October 3, 1970 | League Championship |
| Oldham v York | Home | October 10, 1970 | League Championship |
| Huyton v Oldham | Away | October 17, 1970 | League Championship |
| Huddersfield v Oldham | Away | October 23, 1970 | BBC |
| Oldham v Wakefield Trinity | Home | October 26, 1970 | League Championship |
| Oldham v Blackpool Borough | Home | November 2, 1970 | League Championship |
| Wakefield Trinity v Oldham | Away | November 14, 1970 | League Championship |
| Oldham v Keighley | Home | November 21, 1970 | League Championship |
| Batley v Oldham | Away | November 29, 1970 | League Championship |
| Warrington v Oldham | Away | December 12, 1970 | League Championship |
| Oldham v Barrow | Home | December 19, 1970 | League Championship |
| Rochdale Hornets v Oldham | Away | December 26, 1970 | League Championship |
| Oldham v Huyton | Home | January 9, 1971 | League Championship |
| Oldham v Batley | Home | January 16, 1971 | League Championship |
| Leeds v Oldham | Away | January 23, 1971 | Rugby League Challenge Cup |
| Halifax v Oldham | Away | January 30, 1971 | League Championship |
| Keighley v Oldham | Away | February 6, 1971 | League Championship |
| Oldham v Huddersfield | Home | February 10, 1971 | League Championship |
| Oldham v Warrington | Home | February 13, 1971 | League Championship |
| Oldham v Halifax | Home | February 24, 1971 | League Championship |
| Dewsbury v Oldham | Away | March 13, 1971 | League Championship |
| Oldham v Workington Town | Home | March 17, 1971 | League Championship |
| Oldham v Doncaster | Home | March 20, 1971 | League Championship |
| Oldham v Rochdale Hornets | Home | April 9, 1971 | League Championship |
| Hunslet v Oldham | Away | April 10, 1971 | League Championship |
| Bramley v Oldham | Away | April 17, 1971 | League Championship |
| Wigan v Oldham | Away | April 23, 1971 | League Championship |
| Oldham v Salford | Home | July 27, 1971 | Friendly |
| Swinton v Oldham | Away | August 8, 1971 | Lancashire Cup |
| Oldham v Barrow | Home | August 21, 1971 | League Championship |
| Swinton v Oldham | Away | August 25, 1971 | League Championship |
| Hunslet v Oldham | Away | August 28, 1971 | League Championship |
| Oldham v Leeds | Home | September 1, 1971 | League Championship |
| Oldham v Wigan | Home | September 8, 1971 | League Championship |
| Leeds v Oldham | Away | September 11, 1971 | League Championship |
| Rochdale Hornets v Oldham | Away | September 15, 1971 | BBC |
| Oldham v Huyton | Home | September 19, 1971 | League Championship |
| Widnes v Oldham | Away | September 24, 1971 | League Championship |
| Oldham v Rochdale Hornets | Home | September 29, 1971 | BBC |
| Oldham v Featherstone Rovers | Home | October 2, 1971 | League Championship |
| Wigan v Oldham | Away | October 8, 1971 | League Championship |
| St Helens v Oldham | Away | October 18, 1971 | League Championship |
| Oldham v Blackpool Borough | Home | October 23, 1971 | League Championship |
| Oldham v New Zealand | Home | October 27, 1971 | Tour Match |
| Oldham v Hunslet | Home | November 6, 1971 | League Championship |
| Whitehaven v Oldham | Away | November 14, 1971 | Players No.6 Cup |
| York v Oldham | Away | November 21, 1971 | League Championship |
| Oldham v Leigh | Home | November 28, 1971 | John Players Top Tries |
| Oldham v St Helens | Home | December 4, 1971 | League Championship |
| Bradford Northern v Oldham | Away | December 19, 1971 | League Championship |
| Oldham v Rochdale Hornets | Home | December 27, 1971 | League Championship |
| Barrow v Oldham | Away | January 1, 1972 | League Championship |
| Oldham v Swinton | Home | January 8, 1972 | League Championship |
| Whitehaven v Oldham | Away | January 15, 1972 | League Championship |
| Featherstone Rovers v Oldham | Away | January 22, 1972 | League Championship |
| Oldham v St Helens | Home | January 29, 1972 | Rugby League Challenge Cup |
| Oldham v Bramley | Home | February 5, 1972 | League Championship |
| Warrington v Oldham | Away | February 12, 1972 | League Championship |
| Blackpool Borough v Oldham | Away | February 26, 1972 | League Championship |
| Oldham v Doncaster | Home | March 4, 1972 | League Championship |
| Oldham v York | Home | March 11, 1972 | League Championship |
| Doncaster v Oldham | Away | March 18, 1972 | League Championship |
| Rochdale Hornets v Oldham | Away | March 22, 1972 | League Championship |
| Oldham v Whitehaven | Home | March 25, 1972 | League Championship |
| Oldham v Warrington | Home | April 5, 1972 | League Championship |
| Bramley v Oldham | Away | April 10, 1972 | League Championship |
| Huyton v Oldham | Away | April 13, 1972 | League Championship |
| Wigan v Oldham | Away | April 22, 1972 | League Championship |
| Oldham v Rochdale Hornets | Home | August 12, 1972 | Law Cup |
| Huddersfield v Oldham | Away | August 19, 1972 | League Championship |
| Oldham v Whitehaven | Home | August 23, 1972 | League Championship |
| Oldham v Workington Town | Home | August 26, 1972 | League Championship |
| York v Oldham | Away | August 28, 1972 | League Championship |
| Salford v Oldham | Away | September 1, 1972 | Lancashire Cup |
| Oldham v Hull FC | Home | September 10, 1972 | League Championship |
| Hull FC v Oldham | Away | September 24, 1972 | Players No.6 Cup |
| Wigan v Oldham | Away | September 29, 1972 | League Championship |
| Oldham v Salford | Home | October 3, 1972 | BBC |
| Oldham v St Helens | Home | October 7, 1972 | League Championship |
| Workington Town v Oldham | Away | October 14, 1972 | League Championship |
| Oldham v Great Britain | Home | October 18, 1972 | Friendly |
| Oldham v Huddersfield | Home | November 4, 1972 | League Championship |
| Oldham v Castleford | Home | November 7, 1972 | BBC |
| Oldham v Huyton | Home | November 12, 1972 | League Championship |
| Hull FC v Oldham | Away | November 17, 1972 | League Championship |
| Oldham v Wigan | Home | November 25, 1972 | League Championship |
| St Helens v Oldham | Away | December 1, 1972 | League Championship |
| Leigh v Oldham | Away | December 5, 1972 | BBC |
| Oldham v Salford | Home | December 13, 1972 | League Championship |
| Dewsbury v Oldham | Away | December 17, 1972 | League Championship |
| Rochdale Hornets v Oldham | Away | December 26, 1972 | League Championship |
| Warrington v Oldham | Away | December 31, 1972 | League Championship |
| Whitehaven v Oldham | Away | January 6, 1973 | League Championship |
| Oldham v York | Home | January 14, 1973 | League Championship |
| Barrow v Oldham | Away | January 19, 1973 | League Championship |
| Oldham v Barrow | Home | January 28, 1973 | Rugby League Challenge Cup |
| Leigh v Oldham | Away | February 4, 1973 | League Championship |
| Oldham v Blackpool Borough | Home | February 11, 1973 | League Championship |
| Hull FC v Oldham | Away | February 17, 1973 | Rugby League Challenge Cup |
| Widnes v Oldham | Away | February 25, 1973 | League Championship |
| Castleford v Oldham | Away | March 3, 1973 | Rugby League Challenge Cup |
| Oldham v Barrow | Home | March 11, 1973 | League Championship |
| Blackpool Borough v Oldham | Away | March 18, 1973 | League Championship |
| Oldham v Warrington | Home | March 21, 1973 | League Championship |
| Oldham v Dewsbury | Home | April 1, 1973 | League Championship |
| Oldham v Swinton | Home | April 8, 1973 | League Championship |
| Salford v Oldham | Away | April 13, 1973 | League Championship |
| Swinton v Oldham | Away | April 21, 1973 | League Championship |
| Oldham v Rochdale Hornets | Home | April 23, 1973 | League Championship |
| Dewsbury v Oldham | Away | April 29, 1973 | League Championship |
| Rochdale Hornets v Oldham | Away | August 12, 1973 | Law Cup |
| Leeds v Oldham | Away | August 18, 1973 | Division 1 |
| Oldham v Dewsbury | Home | August 25, 1973 | Division 1 |
| Oldham v Australia | Home | October 19, 1973 | Tour Match |