Ray Ashton
Profile
Widnes born Ray Ashton came to Oldham from the Widnes Tigers club in 1979 and played a prominent part in the success of the Colts team of the late 70's / early 80's, his good form being recognised with Great Britain Colts honours.
A tricky little half back, his appearances for Oldham were more or less evenly split between the stand off and scrum half positions. Effective in both roles, opinion was divided as to which suited him best. His own preference was for the No 7 spot, where his speed around the pack and swift distribution won him many fans. The speed factor also served him well at stand off from where, with the extra space, he would be through a gap in a flash to either score himself, or bring into play the threequarter line with a pin point pass.
Definitely a player of flair and imagination, he was rewarded with a place on the 1984 tour "down under", only for injury to severely restricted his appearances. He topped the Oldham try list in 1981-82, 82-83, & 83-84. His best total of 26 came in the '81-2 season. Ray holds the Oldham record for "one point" drop goals with 26.
He left to join Leeds just before the Challenge Cup deadline in 1987.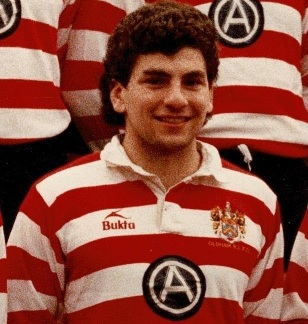 Career Games
| | | | |
| --- | --- | --- | --- |
| Oldham v Leeds | Home | September 16, 1979 | John Player Cup |
| Oldham v St Helens | Home | September 19, 1979 | BBC |
| Batley v Oldham | Away | September 23, 1979 | Division 2 |
| Oldham v Featherstone Rovers | Home | October 7, 1979 | Division 2 |
| Whitehaven v Oldham | Away | October 14, 1979 | Division 2 |
| Oldham v Bramley | Home | October 21, 1979 | Division 2 |
| Huddersfield v Oldham | Away | November 4, 1979 | Division 2 |
| Oldham v Barrow | Home | November 11, 1979 | Division 2 |
| Swinton v Oldham | Away | November 18, 1979 | Division 2 |
| Oldham v Dewsbury | Home | November 25, 1979 | Division 2 |
| Oldham v Batley | Home | December 9, 1979 | Division 2 |
| Dewsbury v Oldham | Away | December 16, 1979 | Division 2 |
| Oldham v Rochdale Hornets | Home | December 26, 1979 | Division 2 |
| Featherstone Rovers v Oldham | Away | December 30, 1979 | Division 2 |
| Oldham v Swinton | Home | January 6, 1980 | Division 2 |
| Keighley v Oldham | Away | January 13, 1980 | Division 2 |
| Halifax v Oldham | Away | January 20, 1980 | Division 2 |
| Dewsbury v Oldham | Away | February 10, 1980 | Rugby League Challenge Cup |
| Oldham v Huddersfield | Home | February 17, 1980 | Division 2 |
| Oldham v Wakefield Trinity | Home | February 24, 1980 | Rugby League Challenge Cup |
| Barrow v Oldham | Away | March 2, 1980 | Division 2 |
| Oldham v Whitehaven | Home | March 9, 1980 | Division 2 |
| Oldham v Keighley | Home | March 16, 1980 | Division 2 |
| Oldham v Doncaster | Home | March 30, 1980 | Division 2 |
| Oldham v Rochdale Hornets | Home | August 3, 1980 | Law Cup |
| St Helens v Oldham | Away | August 10, 1980 | Friendly |
| Swinton v Oldham | Away | August 17, 1980 | Lancashire Cup |
| Oldham v Salford | Home | August 24, 1980 | Lancashire Cup |
| Oldham v Castleford | Home | August 31, 1980 | Division 1 |
| Bradford Northern v Oldham | Away | September 7, 1980 | Division 1 |
| Oldham v Warrington | Home | September 10, 1980 | Lancashire Cup |
| Oldham v Featherstone Rovers | Home | September 14, 1980 | Division 1 |
| Hull FC v Oldham | Away | September 21, 1980 | Division 1 |
| Leeds v Oldham | Away | September 28, 1980 | Division 1 |
| Oldham v Leigh | Home | October 5, 1980 | Division 1 |
| Widnes v Oldham | Away | October 19, 1980 | Division 1 |
| Oldham v Workington Town | Home | October 26, 1980 | Division 1 |
| Featherstone Rovers v Oldham | Away | November 9, 1980 | Division 1 |
| Oldham v Bradford Northern | Home | November 16, 1980 | Division 1 |
| Salford v Oldham | Away | November 19, 1980 | Division 1 |
| Wakefield Trinity v Oldham | Away | November 30, 1980 | Division 1 |
| Workington Town v Oldham | Away | December 14, 1980 | Division 1 |
| Oldham v Hull Kingston Rovers | Home | December 21, 1980 | Division 1 |
| St Helens v Oldham | Away | December 26, 1980 | Division 1 |
| Oldham v Hull FC | Home | December 28, 1980 | Division 1 |
| Warrington v Oldham | Away | January 1, 1981 | Division 1 |
| Barrow v Oldham | Away | January 4, 1981 | Division 1 |
| Castleford v Oldham | Away | January 18, 1981 | Division 1 |
| Oldham v Leeds | Home | January 27, 1981 | Division 1 |
| Oldham v Barrow | Home | February 1, 1981 | Division 1 |
| Halifax v Oldham | Away | February 8, 1981 | Division 1 |
| Oldham v Widnes | Home | March 17, 1981 | Division 1 |
| Oldham v Halifax | Home | March 22, 1981 | Division 1 |
| Leigh v Oldham | Away | March 29, 1981 | Division 1 |
| Oldham v Wakefield Trinity | Home | April 5, 1981 | Division 1 |
| Hull Kingston Rovers v Oldham | Away | April 8, 1981 | Division 1 |
| Oldham v St Helens | Home | April 17, 1981 | Division 1 |
| Oldham v Salford | Home | April 20, 1981 | Division 1 |
| Rochdale Hornets v Oldham | Away | August 2, 1981 | Law Cup |
| Oldham v St Helens | Home | August 9, 1981 | Friendly |
| Oldham v Salford | Home | August 14, 1981 | Lancashire Cup |
| Oldham v Hunslet | Home | August 30, 1981 | Division 2 |
| Blackpool Borough v Oldham | Away | September 6, 1981 | Division 2 |
| Oldham v Dewsbury | Home | September 13, 1981 | Division 2 |
| Huddersfield v Oldham | Away | September 20, 1981 | Division 2 |
| Oldham v Swinton | Home | September 23, 1981 | Division 2 |
| Oldham v Doncaster | Home | September 27, 1981 | Division 2 |
| Halifax v Oldham | Away | October 4, 1981 | Division 2 |
| Oldham v Doncaster | Home | October 18, 1981 | John Player Cup |
| Dewsbury v Oldham | Away | October 25, 1981 | Division 2 |
| Oldham v Huddersfield | Home | November 1, 1981 | John Player Cup |
| Oldham v Carlisle | Home | November 8, 1981 | Division 2 |
| Oldham v Huyton | Home | December 6, 1981 | Division 2 |
| Salford v Oldham | Away | January 3, 1982 | Division 2 |
| Oldham v Batley | Home | January 10, 1982 | Division 2 |
| Oldham v Huddersfield | Home | January 24, 1982 | Division 2 |
| Cardiff City Blue Dragons v Oldham | Away | January 31, 1982 | Division 2 |
| Oldham v Cardiff City Blue Dragons | Home | February 7, 1982 | Division 2 |
| Swinton v Oldham | Away | February 14, 1982 | Rugby League Challenge Cup |
| Keighley v Oldham | Away | February 21, 1982 | Division 2 |
| Wakefield Trinity v Oldham | Away | February 28, 1982 | Rugby League Challenge Cup |
| Workington Town v Oldham | Away | March 7, 1982 | Division 2 |
| Oldham v Bramley | Home | March 14, 1982 | Division 2 |
| Batley v Oldham | Away | March 21, 1982 | Division 2 |
| Oldham v Blackpool Borough | Home | March 28, 1982 | Division 2 |
| Swinton v Oldham | Away | April 4, 1982 | Division 2 |
| Oldham v Rochdale Hornets | Home | April 9, 1982 | Division 2 |
| Oldham v Salford | Home | April 12, 1982 | Division 2 |
| Rochdale Hornets v Oldham | Away | April 15, 1982 | Division 2 |
| Huyton v Oldham | Away | April 18, 1982 | Division 2 |
| Carlisle v Oldham | Away | April 25, 1982 | Division 2 |
| Bramley v Oldham | Away | April 28, 1982 | Division 2 |
| Doncaster v Oldham | Away | May 3, 1982 | Division 2 |
| Hunslet v Oldham | Away | May 6, 1982 | Division 2 |
| Oldham v Workington Town | Home | May 9, 1982 | Division 2 |
| St Helens v Oldham | Away | August 15, 1982 | Friendly |
| Oldham v Widnes | Home | August 22, 1982 | Division 1 |
| Oldham v Leeds | Home | August 25, 1982 | Division 1 |
| Bradford Northern v Oldham | Away | August 29, 1982 | Division 1 |
| Blackpool Borough v Oldham | Away | September 5, 1982 | Lancashire Cup |
| St Helens v Oldham | Away | September 12, 1982 | Division 1 |
| Oldham v Warrington | Home | September 15, 1982 | Division 1 |
| Warrington v Oldham | Away | September 19, 1982 | Lancashire Cup |
| Halifax v Oldham | Away | September 26, 1982 | Division 1 |
| Oldham v Featherstone Rovers | Home | September 29, 1982 | Division 1 |
| Oldham v Wigan | Home | October 3, 1982 | Division 1 |
| Workington Town v Oldham | Away | October 10, 1982 | Division 1 |
| Castleford v Oldham | Away | October 24, 1982 | Division 1 |
| Oldham v Carlisle | Home | October 31, 1982 | Division 1 |
| Oldham v Hull FC | Home | November 7, 1982 | Division 1 |
| Barrow v Oldham | Away | November 14, 1982 | Division 1 |
| Leigh v Oldham | Away | December 5, 1982 | John Player Cup |
| Oldham v Workington Town | Home | December 12, 1982 | Division 1 |
| Hull FC v Oldham | Away | December 19, 1982 | Division 1 |
| Oldham v Hull Kingston Rovers | Home | December 27, 1982 | Division 1 |
| Leeds v Oldham | Away | January 3, 1983 | Division 1 |
| Featherstone Rovers v Oldham | Away | January 9, 1983 | Division 1 |
| Oldham v Bradford Northern | Home | January 19, 1983 | Division 1 |
| Warrington v Oldham | Away | January 23, 1983 | Division 1 |
| Oldham v St Helens | Home | February 6, 1983 | Division 1 |
| Oldham v Workington Town | Home | February 16, 1983 | Rugby League Challenge Cup |
| Carlisle v Oldham | Away | February 20, 1983 | Division 1 |
| Hull Kingston Rovers v Oldham | Away | February 27, 1983 | Division 1 |
| Oldham v Leigh | Home | March 6, 1983 | Division 1 |
| Widnes v Oldham | Away | March 13, 1983 | Division 1 |
| Oldham v Halifax | Home | March 20, 1983 | Division 1 |
| Leigh v Oldham | Away | March 27, 1983 | Division 1 |
| Oldham v Barrow | Home | April 4, 1983 | Division 1 |
| Wigan v Oldham | Away | April 10, 1983 | Division 1 |
| Oldham v Castleford | Home | April 17, 1983 | Division 1 |
| Hull FC v Oldham | Away | April 24, 1983 | Premiership |
| Oldham v St Helens | Home | August 14, 1983 | Friendly |
| Oldham v Leeds | Home | August 21, 1983 | Division 1 |
| Bradford Northern v Oldham | Away | August 28, 1983 | Division 1 |
| Oldham v Workington Town | Home | September 4, 1983 | Lancashire Cup |
| Featherstone Rovers v Oldham | Away | September 11, 1983 | Division 1 |
| Swinton v Oldham | Away | September 14, 1983 | Lancashire Cup |
| Oldham v Fulham | Home | September 18, 1983 | Division 1 |
| Hull Kingston Rovers v Oldham | Away | September 25, 1983 | Division 1 |
| Oldham v St Helens | Home | October 2, 1983 | Division 1 |
| Oldham v Widnes | Home | October 9, 1983 | Division 1 |
| Castleford v Oldham | Away | October 19, 1983 | Division 1 |
| Oldham v Hull FC | Home | October 23, 1983 | Division 1 |
| Warrington v Oldham | Away | October 30, 1983 | Division 1 |
| Oldham v Leigh | Home | November 6, 1983 | John Player Cup |
| Oldham v Wigan | Home | November 13, 1983 | Division 1 |
| Fulham v Oldham | Away | November 20, 1983 | Division 1 |
| Oldham v Hull Kingston Rovers | Home | November 27, 1983 | Division 1 |
| Wakefield Trinity v Oldham | Away | December 18, 1983 | Division 1 |
| Oldham v Salford | Home | December 26, 1983 | Division 1 |
| Leeds v Oldham | Away | January 2, 1984 | Division 1 |
| Oldham v Bradford Northern | Home | March 4, 1984 | Division 1 |
| Oldham v Leigh | Home | March 11, 1984 | Division 1 |
| Wigan v Oldham | Away | March 14, 1984 | Division 1 |
| Oldham v Warrington | Home | March 18, 1984 | Division 1 |
| Oldham v Whitehaven | Home | March 25, 1984 | Division 1 |
| St Helens v Oldham | Away | April 1, 1984 | Division 1 |
| Widnes v Oldham | Away | April 8, 1984 | Division 1 |
| Oldham v Castleford | Home | April 11, 1984 | Division 1 |
| Salford v Oldham | Away | April 20, 1984 | Division 1 |
| Bradford Northern v Oldham | Away | November 4, 1984 | Division 1 |
| Oldham v Hull Kingston Rovers | Home | November 11, 1984 | Division 1 |
| York v Oldham | Away | November 18, 1984 | John Player Cup |
| Warrington v Oldham | Away | November 25, 1984 | Division 1 |
| Hull FC v Oldham | Away | December 2, 1984 | John Player Cup |
| Oldham v Barrow | Home | December 9, 1984 | Division 1 |
| Hull Kingston Rovers v Oldham | Away | December 16, 1984 | Division 1 |
| Widnes v Oldham | Away | December 26, 1984 | Division 1 |
| Oldham v Halifax | Home | January 1, 1985 | Division 1 |
| Featherstone Rovers v Oldham | Away | January 6, 1985 | Division 1 |
| Oldham v Bradford Northern | Home | January 29, 1985 | Division 1 |
| Oldham v Hull FC | Home | February 3, 1985 | Division 1 |
| Oldham v Castleford | Home | February 17, 1985 | Rugby League Challenge Cup |
| Oldham v Castleford | Home | February 27, 1985 | Division 1 |
| Oldham v Leeds | Home | March 3, 1985 | Division 1 |
| Oldham v St Helens | Home | March 8, 1985 | Division 1 |
| Hull FC v Oldham | Away | March 17, 1985 | Division 1 |
| Leigh v Oldham | Away | March 20, 1985 | Division 1 |
| Hunslet v Oldham | Away | March 24, 1985 | Division 1 |
| Oldham v Workington Town | Home | March 31, 1985 | Division 1 |
| Halifax v Oldham | Away | April 5, 1985 | Division 1 |
| Oldham v Wigan | Home | April 8, 1985 | Division 1 |
| Oldham v Great Britain | Home | August 21, 1985 | Benefit Match |
| Oldham v St Helens | Home | August 25, 1985 | Friendly |
| Halifax v Oldham | Away | September 1, 1985 | Division 1 |
| Oldham v Swinton | Home | September 4, 1985 | Division 1 |
| Oldham v Leeds | Home | September 8, 1985 | Division 1 |
| Oldham v Warrington | Home | September 29, 1985 | Division 1 |
| Featherstone Rovers v Oldham | Away | October 6, 1985 | Division 1 |
| Salford v Oldham | Away | October 13, 1985 | Division 1 |
| Oldham v Castleford | Home | October 20, 1985 | Division 1 |
| Widnes v Oldham | Away | October 27, 1985 | Division 1 |
| Bradford Northern v Oldham | Away | November 3, 1985 | Division 1 |
| York v Oldham | Away | November 10, 1985 | Division 1 |
| Bramley v Oldham | Away | November 24, 1985 | John Player Cup |
| Hull Kingston Rovers v Oldham | Away | December 1, 1985 | John Player Cup |
| Oldham v Salford | Home | December 8, 1985 | Division 1 |
| Oldham v Dewsbury | Home | December 15, 1985 | Division 1 |
| Oldham v Widnes | Home | December 26, 1985 | Division 1 |
| Leeds v Oldham | Away | January 1, 1986 | Division 1 |
| Oldham v York | Home | January 12, 1986 | Division 1 |
| Castleford v Oldham | Away | January 19, 1986 | Division 1 |
| Warrington v Oldham | Away | February 2, 1986 | Division 1 |
| Oldham v Carlisle | Home | February 9, 1986 | Rugby League Challenge Cup |
| Oldham v Halifax | Home | February 16, 1986 | Division 1 |
| Oldham v Hull Kingston Rovers | Home | March 2, 1986 | Division 1 |
| Oldham v Warrington | Home | March 9, 1986 | Rugby League Challenge Cup |
| Oldham v Bradford Northern | Home | March 16, 1986 | Rugby League Challenge Cup |
| Castleford v Oldham | Neutral | March 22, 1986 | Rugby League Challenge Cup |
| Wigan v Oldham | Away | March 31, 1986 | Division 1 |
| Oldham v St Helens | Home | April 2, 1986 | Division 1 |
| Oldham v Bradford Northern | Home | April 6, 1986 | Division 1 |
| Oldham v Featherstone Rovers | Home | April 9, 1986 | Division 1 |
| Oldham v Hull FC | Home | April 16, 1986 | Division 1 |
| Hull Kingston Rovers v Oldham | Away | April 18, 1986 | Division 1 |
| St Helens v Oldham | Away | April 20, 1986 | Division 1 |
| Oldham v Oldham Amateur Select | Home | August 24, 1986 | Benefit Match |
| Oldham v Leeds | Home | August 31, 1986 | Division 1 |
| Halifax v Oldham | Away | September 3, 1986 | Division 1 |
| Warrington v Oldham | Away | September 7, 1986 | Division 1 |
| Oldham v Leigh | Home | September 14, 1986 | Lancashire Cup |
| Oldham v Hull Kingston Rovers | Home | September 21, 1986 | Division 1 |
| Oldham v Workington Town | Home | September 24, 1986 | Lancashire Cup |
| Leigh v Oldham | Away | September 28, 1986 | Division 1 |
| Oldham v Widnes | Home | October 1, 1986 | Lancashire Cup |
| Wakefield Trinity v Oldham | Away | October 26, 1986 | Division 1 |
| Oldham v Barrow | Home | November 2, 1986 | Division 1 |
| Oldham v Australia | Home | November 4, 1986 | Tour Match |
| Hull Kingston Rovers v Oldham | Away | November 9, 1986 | Division 1 |
| Oldham v St Helens | Home | November 16, 1986 | Division 1 |
| Oldham v Bradford Northern | Home | November 30, 1986 | John Player Cup |
| St Helens v Oldham | Away | December 21, 1986 | Division 1 |
| Oldham v Salford | Home | December 26, 1986 | Division 1 |
| Leeds v Oldham | Away | January 1, 1987 | Division 1 |
| Hull FC v Oldham | Away | January 4, 1987 | Division 1 |