Terry Flanagan
Profile
Oldham signed Terry Flanagan amidst much competition from other professional clubs in the summer of 1979. He came from Saddleworth Rangers with a big reputation and was soon making his presence felt in the senior team at Watersheddings, his ball playing skills from the loose forward position opening up many a defence in the "Roughyeds" cause.
In his first season he made 24 appearances, helping the team to promotion and became the youngest ever club captain the following year when still only 19 years old. The team struggled and were relegated but the experience was not lost on Terry, who led the side to the second division championship in 1981-82, with only two league matches lost in the entire season. He represented Great Britain at Colts and Under 24 level before winning the first of four full caps in 1983. Considered unlucky to be left out of the original 1984 tour selection, he did receive a late call up to the squad, making a record five Oldham players on the trip. On the Australian leg of the tour he was troubled with injuries, but recovered to force his way into the team for the third New Zealand test and picked up the man of the match award in the game against Papua New Guinea.
Back on the domestic scene Terry was a major influence in the club consolidating its place in the first division in the mid-eighties. A major disappointment was the semi-final defeat by Castleford in the 1986 Challenge C up, when he was substituted at half-time. Oldham had taken the lead just before the break and with stand off Glen Liddiard having to come off with concussion, the decision to replace Terry at the same time was mystifying to say the least. In 1987-88, with the club back in the second division, Terry landed a vital drop goal in the 23 22 victory at Wakefield, which effectively settled the destination of the championship. Oldham then fought through to their first Old Trafford final, where "Flan" was amongst the try scorers in that memorable victory over Featherstone.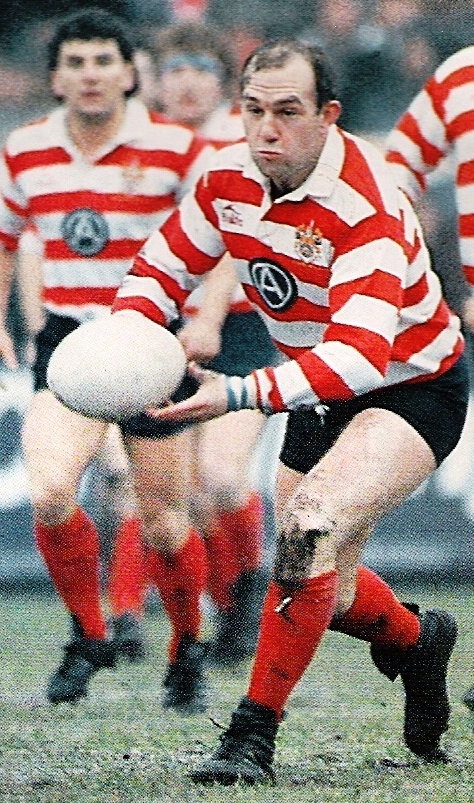 Career Games
| | | | |
| --- | --- | --- | --- |
| Rochdale Hornets v Oldham | Away | August 3, 1979 | Law Cup |
| Swinton v Oldham | Away | August 19, 1979 | Lancashire Cup |
| Oldham v Featherstone Rovers | Home | October 7, 1979 | Division 2 |
| Whitehaven v Oldham | Away | October 14, 1979 | Division 2 |
| Oldham v Bramley | Home | October 21, 1979 | Division 2 |
| Huddersfield v Oldham | Away | November 4, 1979 | Division 2 |
| Oldham v Barrow | Home | November 11, 1979 | Division 2 |
| Swinton v Oldham | Away | November 18, 1979 | Division 2 |
| Oldham v Dewsbury | Home | November 25, 1979 | Division 2 |
| Huyton v Oldham | Away | December 2, 1979 | Division 2 |
| Oldham v Batley | Home | December 9, 1979 | Division 2 |
| Dewsbury v Oldham | Away | December 16, 1979 | Division 2 |
| Oldham v Rochdale Hornets | Home | December 26, 1979 | Division 2 |
| Featherstone Rovers v Oldham | Away | December 30, 1979 | Division 2 |
| Oldham v Swinton | Home | January 6, 1980 | Division 2 |
| Keighley v Oldham | Away | January 13, 1980 | Division 2 |
| Halifax v Oldham | Away | January 20, 1980 | Division 2 |
| Dewsbury v Oldham | Away | February 10, 1980 | Rugby League Challenge Cup |
| Oldham v Huddersfield | Home | February 17, 1980 | Division 2 |
| Oldham v Wakefield Trinity | Home | February 24, 1980 | Rugby League Challenge Cup |
| Barrow v Oldham | Away | March 2, 1980 | Division 2 |
| Oldham v Keighley | Home | March 16, 1980 | Division 2 |
| Oldham v Doncaster | Home | March 30, 1980 | Division 2 |
| Rochdale Hornets v Oldham | Away | April 4, 1980 | Division 2 |
| Oldham v Halifax | Home | April 9, 1980 | Division 2 |
| Oldham v Rochdale Hornets | Home | August 3, 1980 | Law Cup |
| St Helens v Oldham | Away | August 10, 1980 | Friendly |
| Swinton v Oldham | Away | August 17, 1980 | Lancashire Cup |
| Oldham v Salford | Home | August 24, 1980 | Lancashire Cup |
| Oldham v Castleford | Home | August 31, 1980 | Division 1 |
| Bradford Northern v Oldham | Away | September 7, 1980 | Division 1 |
| Oldham v Warrington | Home | September 10, 1980 | Lancashire Cup |
| Oldham v Featherstone Rovers | Home | September 14, 1980 | Division 1 |
| Hull FC v Oldham | Away | September 21, 1980 | Division 1 |
| Leeds v Oldham | Away | September 28, 1980 | Division 1 |
| Oldham v Leigh | Home | October 5, 1980 | Division 1 |
| Widnes v Oldham | Away | October 19, 1980 | Division 1 |
| Oldham v Workington Town | Home | October 26, 1980 | Division 1 |
| Featherstone Rovers v Oldham | Away | November 9, 1980 | Division 1 |
| Oldham v Bradford Northern | Home | November 16, 1980 | Division 1 |
| Salford v Oldham | Away | November 19, 1980 | Division 1 |
| York v Oldham | Away | November 23, 1980 | John Player Cup |
| Wakefield Trinity v Oldham | Away | November 30, 1980 | Division 1 |
| Workington Town v Oldham | Away | December 14, 1980 | Division 1 |
| Oldham v Hull Kingston Rovers | Home | December 21, 1980 | Division 1 |
| St Helens v Oldham | Away | December 26, 1980 | Division 1 |
| Oldham v Hull FC | Home | December 28, 1980 | Division 1 |
| Warrington v Oldham | Away | January 1, 1981 | Division 1 |
| Barrow v Oldham | Away | January 4, 1981 | Division 1 |
| Castleford v Oldham | Away | January 18, 1981 | Division 1 |
| Oldham v Leeds | Home | January 27, 1981 | Division 1 |
| Oldham v Barrow | Home | February 1, 1981 | Division 1 |
| Halifax v Oldham | Away | February 8, 1981 | Division 1 |
| Blackpool Borough v Oldham | Away | February 15, 1981 | Rugby League Challenge Cup |
| Oldham v Workington Town | Home | March 1, 1981 | Rugby League Challenge Cup |
| Oldham v Warrington | Home | March 8, 1981 | Division 1 |
| Oldham v St Helens | Home | March 15, 1981 | Rugby League Challenge Cup |
| Oldham v Widnes | Home | March 17, 1981 | Division 1 |
| Oldham v Halifax | Home | March 22, 1981 | Division 1 |
| Leigh v Oldham | Away | March 29, 1981 | Division 1 |
| Oldham v Wakefield Trinity | Home | April 5, 1981 | Division 1 |
| Hull Kingston Rovers v Oldham | Away | April 8, 1981 | Division 1 |
| Oldham v St Helens | Home | April 17, 1981 | Division 1 |
| Oldham v Salford | Home | April 20, 1981 | Division 1 |
| Rochdale Hornets v Oldham | Away | August 2, 1981 | Law Cup |
| Oldham v St Helens | Home | August 9, 1981 | Friendly |
| Oldham v Salford | Home | August 14, 1981 | Lancashire Cup |
| Oldham v Hunslet | Home | August 30, 1981 | Division 2 |
| Blackpool Borough v Oldham | Away | September 6, 1981 | Division 2 |
| Oldham v Dewsbury | Home | September 13, 1981 | Division 2 |
| Oldham v Doncaster | Home | September 27, 1981 | Division 2 |
| Halifax v Oldham | Away | October 4, 1981 | Division 2 |
| Oldham v Keighley | Home | October 11, 1981 | Division 2 |
| Oldham v Doncaster | Home | October 18, 1981 | John Player Cup |
| Dewsbury v Oldham | Away | October 25, 1981 | Division 2 |
| Oldham v Huddersfield | Home | November 1, 1981 | John Player Cup |
| Oldham v Carlisle | Home | November 8, 1981 | Division 2 |
| Oldham v Leeds | Home | November 15, 1981 | John Player Cup |
| Oldham v Halifax | Home | November 22, 1981 | Division 2 |
| Hull FC v Oldham | Neutral | November 29, 1981 | John Player Cup |
| Oldham v Huyton | Home | December 6, 1981 | Division 2 |
| Salford v Oldham | Away | January 3, 1982 | Division 2 |
| Oldham v Batley | Home | January 10, 1982 | Division 2 |
| Oldham v Huddersfield | Home | January 24, 1982 | Division 2 |
| Cardiff City Blue Dragons v Oldham | Away | January 31, 1982 | Division 2 |
| Oldham v Cardiff City Blue Dragons | Home | February 7, 1982 | Division 2 |
| Swinton v Oldham | Away | February 14, 1982 | Rugby League Challenge Cup |
| Keighley v Oldham | Away | February 21, 1982 | Division 2 |
| Wakefield Trinity v Oldham | Away | February 28, 1982 | Rugby League Challenge Cup |
| Workington Town v Oldham | Away | March 7, 1982 | Division 2 |
| Oldham v Bramley | Home | March 14, 1982 | Division 2 |
| Batley v Oldham | Away | March 21, 1982 | Division 2 |
| Oldham v Blackpool Borough | Home | March 28, 1982 | Division 2 |
| Swinton v Oldham | Away | April 4, 1982 | Division 2 |
| Oldham v Rochdale Hornets | Home | April 9, 1982 | Division 2 |
| Oldham v Salford | Home | April 12, 1982 | Division 2 |
| Rochdale Hornets v Oldham | Away | April 15, 1982 | Division 2 |
| Carlisle v Oldham | Away | April 25, 1982 | Division 2 |
| Bramley v Oldham | Away | April 28, 1982 | Division 2 |
| Doncaster v Oldham | Away | May 3, 1982 | Division 2 |
| Oldham v Workington Town | Home | May 9, 1982 | Division 2 |
| St Helens v Oldham | Away | August 15, 1982 | Friendly |
| Oldham v Widnes | Home | August 22, 1982 | Division 1 |
| Oldham v Leeds | Home | August 25, 1982 | Division 1 |
| Oldham v French XIII | Home | September 22, 1982 | Friendly |
| Halifax v Oldham | Away | September 26, 1982 | Division 1 |
| Oldham v Featherstone Rovers | Home | September 29, 1982 | Division 1 |
| Oldham v Wigan | Home | October 3, 1982 | Division 1 |
| Workington Town v Oldham | Away | October 10, 1982 | Division 1 |
| Castleford v Oldham | Away | October 24, 1982 | Division 1 |
| Oldham v Carlisle | Home | October 31, 1982 | Division 1 |
| Oldham v Hull FC | Home | November 7, 1982 | Division 1 |
| Barrow v Oldham | Away | November 14, 1982 | Division 1 |
| Leigh v Oldham | Away | December 5, 1982 | John Player Cup |
| Oldham v Workington Town | Home | December 12, 1982 | Division 1 |
| Hull FC v Oldham | Away | December 19, 1982 | Division 1 |
| Oldham v Hull Kingston Rovers | Home | December 27, 1982 | Division 1 |
| Leeds v Oldham | Away | January 3, 1983 | Division 1 |
| Featherstone Rovers v Oldham | Away | January 9, 1983 | Division 1 |
| Oldham v Bradford Northern | Home | January 19, 1983 | Division 1 |
| Warrington v Oldham | Away | January 23, 1983 | Division 1 |
| Oldham v St Helens | Home | February 6, 1983 | Division 1 |
| Oldham v Workington Town | Home | February 16, 1983 | Rugby League Challenge Cup |
| Hull Kingston Rovers v Oldham | Away | February 27, 1983 | Division 1 |
| Widnes v Oldham | Away | March 13, 1983 | Division 1 |
| Leigh v Oldham | Away | March 27, 1983 | Division 1 |
| Wigan v Oldham | Away | April 10, 1983 | Division 1 |
| Oldham v St Helens | Home | August 14, 1983 | Friendly |
| Oldham v Leeds | Home | August 21, 1983 | Division 1 |
| Bradford Northern v Oldham | Away | August 28, 1983 | Division 1 |
| Oldham v Workington Town | Home | September 4, 1983 | Lancashire Cup |
| Featherstone Rovers v Oldham | Away | September 11, 1983 | Division 1 |
| Oldham v Fulham | Home | September 18, 1983 | Division 1 |
| Hull Kingston Rovers v Oldham | Away | September 25, 1983 | Division 1 |
| Oldham v St Helens | Home | October 2, 1983 | Division 1 |
| Oldham v Widnes | Home | October 9, 1983 | Division 1 |
| Oldham v Hull FC | Home | October 23, 1983 | Division 1 |
| Warrington v Oldham | Away | October 30, 1983 | Division 1 |
| Oldham v Leigh | Home | November 6, 1983 | John Player Cup |
| Oldham v Wigan | Home | November 13, 1983 | Division 1 |
| Fulham v Oldham | Away | November 20, 1983 | Division 1 |
| Oldham v Hull Kingston Rovers | Home | November 27, 1983 | Division 1 |
| Wakefield Trinity v Oldham | Away | December 18, 1983 | Division 1 |
| Oldham v Salford | Home | December 26, 1983 | Division 1 |
| Leeds v Oldham | Away | January 2, 1984 | Division 1 |
| Oldham v Leigh | Home | January 8, 1984 | Division 1 |
| Oldham v Featherstone Rovers | Home | February 1, 1984 | Division 1 |
| Hull FC v Oldham | Away | February 5, 1984 | Division 1 |
| Oldham v Huyton | Home | February 12, 1984 | Rugby League Challenge Cup |
| Whitehaven v Oldham | Away | February 19, 1984 | Division 1 |
| Wigan v Oldham | Away | February 26, 1984 | Rugby League Challenge Cup |
| Oldham v Bradford Northern | Home | March 4, 1984 | Division 1 |
| Oldham v Leigh | Home | March 11, 1984 | Division 1 |
| Oldham v Warrington | Home | March 18, 1984 | Division 1 |
| Leigh v Oldham | Away | March 21, 1984 | Division 1 |
| St Helens v Oldham | Away | April 1, 1984 | Division 1 |
| Widnes v Oldham | Away | April 8, 1984 | Division 1 |
| Oldham v Castleford | Home | April 11, 1984 | Division 1 |
| Oldham v Wakefield Trinity | Home | April 15, 1984 | Division 1 |
| Salford v Oldham | Away | April 20, 1984 | Division 1 |
| Oldham v Widnes | Home | September 12, 1984 | Division 1 |
| Oldham v Blackpool Borough | Home | September 16, 1984 | Lancashire Cup |
| Oldham v Hull Kingston Rovers | Home | November 11, 1984 | Division 1 |
| York v Oldham | Away | November 18, 1984 | John Player Cup |
| Warrington v Oldham | Away | November 25, 1984 | Division 1 |
| Hull FC v Oldham | Away | December 2, 1984 | John Player Cup |
| Oldham v Barrow | Home | December 9, 1984 | Division 1 |
| Hull Kingston Rovers v Oldham | Away | December 16, 1984 | Division 1 |
| Oldham v Bradford Northern | Home | January 29, 1985 | Division 1 |
| Oldham v Hull FC | Home | February 3, 1985 | Division 1 |
| Oldham v Castleford | Home | February 17, 1985 | Rugby League Challenge Cup |
| Oldham v Castleford | Home | February 27, 1985 | Division 1 |
| Oldham v Leeds | Home | March 3, 1985 | Division 1 |
| Oldham v St Helens | Home | March 8, 1985 | Division 1 |
| Hull FC v Oldham | Away | March 17, 1985 | Division 1 |
| Leigh v Oldham | Away | March 20, 1985 | Division 1 |
| Wigan v Oldham | Away | March 26, 1985 | Division 1 |
| Oldham v Workington Town | Home | March 31, 1985 | Division 1 |
| Halifax v Oldham | Away | April 5, 1985 | Division 1 |
| Oldham v Wigan | Home | April 8, 1985 | Division 1 |
| Leeds v Oldham | Away | April 28, 1985 | Premiership |
| Oldham v Great Britain | Home | August 21, 1985 | Benefit Match |
| Oldham v St Helens | Home | August 25, 1985 | Friendly |
| Halifax v Oldham | Away | September 1, 1985 | Division 1 |
| Oldham v Swinton | Home | September 4, 1985 | Division 1 |
| Oldham v Leeds | Home | September 8, 1985 | Division 1 |
| Oldham v Warrington | Home | September 29, 1985 | Division 1 |
| Featherstone Rovers v Oldham | Away | October 6, 1985 | Division 1 |
| Salford v Oldham | Away | October 13, 1985 | Division 1 |
| Oldham v Castleford | Home | October 20, 1985 | Division 1 |
| Widnes v Oldham | Away | October 27, 1985 | Division 1 |
| Bradford Northern v Oldham | Away | November 3, 1985 | Division 1 |
| York v Oldham | Away | November 10, 1985 | Division 1 |
| Dewsbury v Oldham | Away | November 17, 1985 | Division 1 |
| Bramley v Oldham | Away | November 24, 1985 | John Player Cup |
| Hull Kingston Rovers v Oldham | Away | December 1, 1985 | John Player Cup |
| Oldham v Salford | Home | December 8, 1985 | Division 1 |
| Oldham v Dewsbury | Home | December 15, 1985 | Division 1 |
| Oldham v Widnes | Home | December 26, 1985 | Division 1 |
| Leeds v Oldham | Away | January 1, 1986 | Division 1 |
| Oldham v York | Home | January 12, 1986 | Division 1 |
| Castleford v Oldham | Away | January 19, 1986 | Division 1 |
| Oldham v Halifax | Home | February 16, 1986 | Division 1 |
| Oldham v Hull Kingston Rovers | Home | March 2, 1986 | Division 1 |
| Oldham v Warrington | Home | March 9, 1986 | Rugby League Challenge Cup |
| Oldham v Bradford Northern | Home | March 16, 1986 | Rugby League Challenge Cup |
| Castleford v Oldham | Neutral | March 22, 1986 | Rugby League Challenge Cup |
| Swinton v Oldham | Away | March 28, 1986 | Division 1 |
| Wigan v Oldham | Away | March 31, 1986 | Division 1 |
| Oldham v St Helens | Home | April 2, 1986 | Division 1 |
| Oldham v Featherstone Rovers | Home | April 9, 1986 | Division 1 |
| Oldham v Oldham Amateur Select | Home | August 24, 1986 | Benefit Match |
| Oldham v Leeds | Home | August 31, 1986 | Division 1 |
| Halifax v Oldham | Away | September 3, 1986 | Division 1 |
| Warrington v Oldham | Away | September 7, 1986 | Division 1 |
| Oldham v Leigh | Home | September 14, 1986 | Lancashire Cup |
| Oldham v Hull Kingston Rovers | Home | September 21, 1986 | Division 1 |
| Oldham v Workington Town | Home | September 24, 1986 | Lancashire Cup |
| Leigh v Oldham | Away | September 28, 1986 | Division 1 |
| Oldham v Widnes | Home | October 1, 1986 | Lancashire Cup |
| Wigan v Oldham | Neutral | October 19, 1986 | Lancashire Cup |
| Wakefield Trinity v Oldham | Away | October 26, 1986 | Division 1 |
| Oldham v Barrow | Home | November 2, 1986 | Division 1 |
| Oldham v Australia | Home | November 4, 1986 | Tour Match |
| Hull Kingston Rovers v Oldham | Away | November 9, 1986 | Division 1 |
| Oldham v St Helens | Home | November 16, 1986 | Division 1 |
| Bradford Northern v Oldham | Away | November 23, 1986 | Division 1 |
| Oldham v Bradford Northern | Home | November 30, 1986 | John Player Cup |
| Oldham v Halifax | Home | December 14, 1986 | Division 1 |
| St Helens v Oldham | Away | December 21, 1986 | Division 1 |
| Oldham v Salford | Home | December 26, 1986 | Division 1 |
| Leeds v Oldham | Away | January 1, 1987 | Division 1 |
| Hull FC v Oldham | Away | January 4, 1987 | Division 1 |
| Oldham v Featherstone Rovers | Home | January 18, 1987 | Division 1 |
| Widnes v Oldham | Away | January 21, 1987 | Division 1 |
| Oldham v Wigan | Home | February 4, 1987 | Rugby League Challenge Cup |
| Oldham v St Helens | Home | February 14, 1987 | Rugby League Challenge Cup |
| Oldham v Hull FC | Home | February 22, 1987 | Division 1 |
| Castleford v Oldham | Away | March 1, 1987 | Division 1 |
| Featherstone Rovers v Oldham | Away | March 8, 1987 | Division 1 |
| Oldham v Warrington | Home | March 11, 1987 | Division 1 |
| Oldham v Bradford Northern | Home | March 15, 1987 | Division 1 |
| Barrow v Oldham | Away | April 5, 1987 | Division 1 |
| Wigan v Oldham | Away | April 8, 1987 | Division 1 |
| Oldham v Leigh | Home | April 12, 1987 | Division 1 |
| Salford v Oldham | Away | April 17, 1987 | Division 1 |
| Oldham v Wigan | Home | April 20, 1987 | Division 1 |
| Whitehaven v Oldham | Away | August 30, 1987 | Division 2 |
| Oldham v Keighley | Home | September 2, 1987 | Division 2 |
| Oldham v Bramley | Home | September 6, 1987 | Division 2 |
| Oldham v Springfield Borough | Home | September 20, 1987 | Division 2 |
| Doncaster v Oldham | Away | September 27, 1987 | Division 2 |
| Huddersfield v Oldham | Away | October 4, 1987 | Division 2 |
| Oldham v Sheffield Eagles | Home | October 11, 1987 | Division 2 |
| Oldham v Barrow | Home | October 25, 1987 | Division 2 |
| Keighley v Oldham | Away | November 1, 1987 | Division 2 |
| Oldham v Fulham | Home | November 8, 1987 | John Player Cup |
| Oldham v Bradford Northern | Home | November 15, 1987 | John Player Cup |
| Batley v Oldham | Away | November 22, 1987 | John Player Cup |
| Warrington v Oldham | Away | November 28, 1987 | John Player Cup |
| Oldham v Doncaster | Home | December 6, 1987 | Division 2 |
| Barrow v Oldham | Away | December 13, 1987 | Division 2 |
| St Helens v Oldham | Neutral | December 19, 1987 | John Player Cup |
| Oldham v Rochdale Hornets | Home | December 27, 1987 | Division 2 |
| Springfield Borough v Oldham | Away | January 3, 1988 | Division 2 |
| Oldham v Whitehaven | Home | January 10, 1988 | Division 2 |
| Runcorn Highfield v Oldham | Away | January 17, 1988 | Division 2 |
| Oldham v Wakefield Trinity | Home | January 24, 1988 | Division 2 |
| Warrington v Oldham | Away | January 31, 1988 | Rugby League Challenge Cup |
| Workington Town v Oldham | Away | February 7, 1988 | Division 2 |
| Oldham v Carlisle | Home | February 14, 1988 | Division 2 |
| Featherstone Rovers v Oldham | Away | February 21, 1988 | Division 2 |
| Oldham v Featherstone Rovers | Home | February 28, 1988 | Division 2 |
| Oldham v Workington Town | Home | March 6, 1988 | Division 2 |
| Bramley v Oldham | Away | March 13, 1988 | Division 2 |
| Oldham v Huddersfield | Home | March 20, 1988 | Division 2 |
| Oldham v Runcorn Highfield | Home | April 4, 1988 | Division 2 |
| Wakefield Trinity v Oldham | Away | April 10, 1988 | Division 2 |
| Carlisle v Oldham | Away | April 17, 1988 | Division 2 |
| Oldham v Keighley | Home | April 24, 1988 | 2nd Division Premiership |
| Oldham v Springfield Borough | Home | May 8, 1988 | 2nd Division Premiership |
| Featherstone Rovers v Oldham | Neutral | May 15, 1988 | 2nd Division Premiership |
| Oldham v Salford | Home | August 14, 1988 | Benefit Match |
| Wigan v Oldham | Away | August 28, 1988 | Division 1 |
| Oldham v Leeds | Home | September 4, 1988 | Division 1 |
| Featherstone Rovers v Oldham | Away | September 11, 1988 | Division 1 |
| Oldham v Workington Town | Home | September 18, 1988 | Lancashire Cup |
| Castleford v Oldham | Away | September 25, 1988 | Division 1 |
| Oldham v Salford | Home | September 28, 1988 | Lancashire Cup |
| Oldham v Hull Kingston Rovers | Home | October 2, 1988 | Division 1 |
| Wakefield Trinity v Oldham | Away | October 9, 1988 | Division 1 |
| Salford v Oldham | Away | October 16, 1988 | Division 1 |
| Oldham v St Helens | Home | October 23, 1988 | Division 1 |
| Oldham v Halifax | Home | November 20, 1988 | Division 1 |
| Oldham v Salford | Home | December 26, 1988 | Division 1 |
| Leeds v Oldham | Away | January 1, 1989 | Division 1 |
| Oldham v Bradford Northern | Home | January 22, 1989 | Division 1 |
| Dewsbury v Oldham | Away | January 29, 1989 | Rugby League Challenge Cup |