Phil Larder
Profile
Born locally in Moorside, Phil played for the Werneth club before switching codes and going to play for Oldham Rugby Union. His good form down at Keb Lane made the more senior clubs take notice and before his arrival at Watersheddings he had played for Broughton Park, Manchester, Loughborough College and Sale, picking up Lancashire county recognition along the way.
His debut for Oldham came in a pre-season friendly against Blackpool when he immediately endeared himself to the home fans by scorching 60 yards up the touchline for a super try. Phil is one of the few players to have scored most tries/goals in a season, three times finishing top try scorer and on four occasions being best goal kicker, although never both in the one season.
He passed the century mark of goals in 1971-72 and 1972-73. His consistency on keeping the scoreboard ticking over made him the most prolific "three-quarter" points scorer in the history of the club.
Although he played occasionally on the wing, the great majority of his games were at centre, with the Larder/Elliott wing partnership enjoying much success in what was to prove to be a most enduring and productive three-quarter pairing.
Phil has been club coach at Keighley and Sheffield Eagles, as well as a spell in charge of the Great Britain team.
In 1988 he wrote a book on Rugby League coaching methods.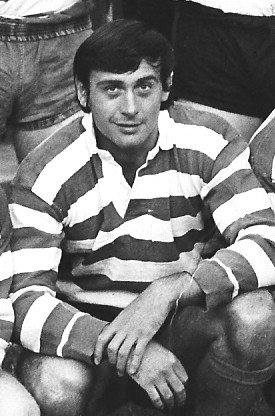 Career Games
| | | | |
| --- | --- | --- | --- |
| Oldham v Blackpool Borough | Home | August 10, 1968 | Friendly |
| Rochdale Hornets v Oldham | Away | September 6, 1968 | Lancashire Cup |
| Hunslet v Oldham | Away | September 14, 1968 | League Championship |
| Oldham v Workington Town | Home | September 16, 1968 | Lancashire Cup |
| Oldham v Wigan | Home | September 21, 1968 | League Championship |
| Doncaster v Oldham | Away | September 28, 1968 | League Championship |
| Oldham v Huddersfield | Home | October 5, 1968 | League Championship |
| Salford v Oldham | Away | October 9, 1968 | Lancashire Cup |
| Featherstone Rovers v Oldham | Away | October 12, 1968 | League Championship |
| Rochdale Hornets v Oldham | Away | October 15, 1968 | BBC |
| Oldham v Widnes | Home | October 19, 1968 | League Championship |
| St Helens v Oldham | Neutral | October 25, 1968 | Lancashire Cup |
| Salford v Oldham | Away | October 30, 1968 | League Championship |
| Wigan v Oldham | Away | November 9, 1968 | League Championship |
| Oldham v Warrington | Home | November 15, 1968 | League Championship |
| Whitehaven v Oldham | Away | December 1, 1968 | League Championship |
| Oldham v Hunslet | Home | December 7, 1968 | League Championship |
| Widnes v Oldham | Away | December 20, 1968 | League Championship |
| Oldham v Whitehaven | Home | December 22, 1968 | League Championship |
| Oldham v Huyton | Home | January 4, 1969 | League Championship |
| Warrington v Oldham | Away | January 8, 1969 | League Championship |
| Huyton v Oldham | Away | January 11, 1969 | League Championship |
| Oldham v Salford | Home | January 18, 1969 | League Championship |
| Oldham v Hull Kingston Rovers | Home | January 25, 1969 | Rugby League Challenge Cup |
| Leigh v Oldham | Away | February 1, 1969 | League Championship |
| Oldham v St Helens | Home | February 25, 1969 | Rugby League Challenge Cup |
| Oldham v Workington Town | Home | March 1, 1969 | League Championship |
| Oldham v Leigh | Home | March 3, 1969 | League Championship |
| Oldham v Swinton | Home | August 16, 1969 | Lancashire Cup |
| Wigan v Oldham | Away | September 13, 1969 | League Championship |
| Warrington v Oldham | Away | September 26, 1969 | League Championship |
| Oldham v Workington Town | Home | October 4, 1969 | League Championship |
| Keighley v Oldham | Away | October 11, 1969 | League Championship |
| Leigh v Oldham | Away | November 8, 1969 | League Championship |
| St Helens v Oldham | Away | November 22, 1969 | League Championship |
| Oldham v Wigan | Home | December 13, 1969 | League Championship |
| Swinton v Oldham | Away | December 26, 1969 | League Championship |
| Oldham v Huddersfield | Home | January 10, 1970 | League Championship |
| Huddersfield v Oldham | Away | January 17, 1970 | League Championship |
| Oldham v Barrow | Home | January 24, 1970 | League Championship |
| Whitehaven v Oldham | Away | January 31, 1970 | League Championship |
| Oldham v Blackpool Borough | Home | February 7, 1970 | Rugby League Challenge Cup |
| Oldham v Wigan | Home | February 21, 1970 | Rugby League Challenge Cup |
| Salford v Oldham | Away | February 27, 1970 | League Championship |
| Widnes v Oldham | Away | March 13, 1970 | League Championship |
| Batley v Oldham | Away | March 15, 1970 | League Championship |
| Huyton v Oldham | Away | March 18, 1970 | League Championship |
| Oldham v Blackpool Borough | Home | March 23, 1970 | League Championship |
| Oldham v Swinton | Home | March 27, 1970 | League Championship |
| Rochdale Hornets v Oldham | Away | March 28, 1970 | League Championship |
| Oldham v Bradford Northern | Home | April 3, 1970 | League Championship |
| Oldham v St Helens | Home | April 6, 1970 | League Championship |
| Oldham v Leigh | Home | April 10, 1970 | League Championship |
| Oldham v Batley | Home | April 15, 1970 | League Championship |
| York v Oldham | Away | August 22, 1970 | League Championship |
| Oldham v Hunslet | Home | August 26, 1970 | League Championship |
| Oldham v Salford | Home | August 29, 1970 | Lancashire Cup |
| Huddersfield v Oldham | Away | September 2, 1970 | League Championship |
| Barrow v Oldham | Away | September 5, 1970 | League Championship |
| Blackpool Borough v Oldham | Away | September 7, 1970 | League Championship |
| Oldham v Bramley | Home | September 12, 1970 | League Championship |
| Doncaster v Oldham | Away | September 19, 1970 | League Championship |
| Oldham v Whitehaven | Home | September 21, 1970 | League Championship |
| Oldham v Dewsbury | Home | September 26, 1970 | League Championship |
| Workington Town v Oldham | Away | October 3, 1970 | League Championship |
| Oldham v York | Home | October 10, 1970 | League Championship |
| Huyton v Oldham | Away | October 17, 1970 | League Championship |
| Huddersfield v Oldham | Away | October 23, 1970 | BBC |
| Oldham v Wakefield Trinity | Home | October 26, 1970 | League Championship |
| Oldham v Blackpool Borough | Home | November 2, 1970 | League Championship |
| Wakefield Trinity v Oldham | Away | November 14, 1970 | League Championship |
| Oldham v Keighley | Home | November 21, 1970 | League Championship |
| Batley v Oldham | Away | November 29, 1970 | League Championship |
| Warrington v Oldham | Away | December 12, 1970 | League Championship |
| Oldham v Barrow | Home | December 19, 1970 | League Championship |
| Rochdale Hornets v Oldham | Away | December 26, 1970 | League Championship |
| Leeds v Oldham | Away | January 23, 1971 | Rugby League Challenge Cup |
| Halifax v Oldham | Away | January 30, 1971 | League Championship |
| Keighley v Oldham | Away | February 6, 1971 | League Championship |
| Oldham v Huddersfield | Home | February 10, 1971 | League Championship |
| Oldham v Warrington | Home | February 13, 1971 | League Championship |
| Oldham v Halifax | Home | February 24, 1971 | League Championship |
| Dewsbury v Oldham | Away | March 13, 1971 | League Championship |
| Oldham v Workington Town | Home | March 17, 1971 | League Championship |
| Oldham v Doncaster | Home | March 20, 1971 | League Championship |
| Oldham v Rochdale Hornets | Home | April 9, 1971 | League Championship |
| Hunslet v Oldham | Away | April 10, 1971 | League Championship |
| Bramley v Oldham | Away | April 17, 1971 | League Championship |
| Wigan v Oldham | Away | April 23, 1971 | League Championship |
| Oldham v Barrow | Home | August 21, 1971 | League Championship |
| Swinton v Oldham | Away | August 25, 1971 | League Championship |
| Hunslet v Oldham | Away | August 28, 1971 | League Championship |
| Oldham v Leeds | Home | September 1, 1971 | League Championship |
| Oldham v Wigan | Home | September 8, 1971 | League Championship |
| Oldham v Huyton | Home | September 19, 1971 | League Championship |
| Widnes v Oldham | Away | September 24, 1971 | League Championship |
| Oldham v Rochdale Hornets | Home | September 29, 1971 | BBC |
| Oldham v Featherstone Rovers | Home | October 2, 1971 | League Championship |
| Wigan v Oldham | Away | October 8, 1971 | League Championship |
| St Helens v Oldham | Away | October 18, 1971 | League Championship |
| Oldham v Blackpool Borough | Home | October 23, 1971 | League Championship |
| Oldham v New Zealand | Home | October 27, 1971 | Tour Match |
| Oldham v Widnes | Home | October 30, 1971 | League Championship |
| Oldham v Hunslet | Home | November 6, 1971 | League Championship |
| Whitehaven v Oldham | Away | November 14, 1971 | Players No.6 Cup |
| York v Oldham | Away | November 21, 1971 | League Championship |
| Oldham v Leigh | Home | November 28, 1971 | John Players Top Tries |
| Oldham v Bradford Northern | Home | December 12, 1971 | League Championship |
| Bradford Northern v Oldham | Away | December 19, 1971 | League Championship |
| Oldham v Rochdale Hornets | Home | December 27, 1971 | League Championship |
| Barrow v Oldham | Away | January 1, 1972 | League Championship |
| Oldham v Swinton | Home | January 8, 1972 | League Championship |
| Whitehaven v Oldham | Away | January 15, 1972 | League Championship |
| Featherstone Rovers v Oldham | Away | January 22, 1972 | League Championship |
| Oldham v St Helens | Home | January 29, 1972 | Rugby League Challenge Cup |
| Oldham v Bramley | Home | February 5, 1972 | League Championship |
| Warrington v Oldham | Away | February 12, 1972 | League Championship |
| Blackpool Borough v Oldham | Away | February 26, 1972 | League Championship |
| Oldham v Doncaster | Home | March 4, 1972 | League Championship |
| Oldham v York | Home | March 11, 1972 | League Championship |
| Doncaster v Oldham | Away | March 18, 1972 | League Championship |
| Rochdale Hornets v Oldham | Away | March 22, 1972 | League Championship |
| Oldham v Whitehaven | Home | March 25, 1972 | League Championship |
| Oldham v Warrington | Home | April 5, 1972 | League Championship |
| Bramley v Oldham | Away | April 10, 1972 | League Championship |
| Huyton v Oldham | Away | April 13, 1972 | League Championship |
| Wigan v Oldham | Away | April 22, 1972 | League Championship |
| Huddersfield v Oldham | Away | August 19, 1972 | League Championship |
| Oldham v Whitehaven | Home | August 23, 1972 | League Championship |
| Oldham v Workington Town | Home | August 26, 1972 | League Championship |
| Salford v Oldham | Away | September 1, 1972 | Lancashire Cup |
| Oldham v Hull FC | Home | September 10, 1972 | League Championship |
| Huyton v Oldham | Away | September 17, 1972 | League Championship |
| Hull FC v Oldham | Away | September 24, 1972 | Players No.6 Cup |
| Wigan v Oldham | Away | September 29, 1972 | League Championship |
| Oldham v Salford | Home | October 3, 1972 | BBC |
| Oldham v St Helens | Home | October 7, 1972 | League Championship |
| Workington Town v Oldham | Away | October 14, 1972 | League Championship |
| Oldham v Great Britain | Home | October 18, 1972 | Friendly |
| Oldham v Widnes | Home | October 21, 1972 | League Championship |
| Oldham v Huddersfield | Home | November 4, 1972 | League Championship |
| Oldham v Castleford | Home | November 7, 1972 | BBC |
| Oldham v Huyton | Home | November 12, 1972 | League Championship |
| Hull FC v Oldham | Away | November 17, 1972 | League Championship |
| Oldham v Wigan | Home | November 25, 1972 | League Championship |
| St Helens v Oldham | Away | December 1, 1972 | League Championship |
| Leigh v Oldham | Away | December 5, 1972 | BBC |
| Oldham v Salford | Home | December 13, 1972 | League Championship |
| Dewsbury v Oldham | Away | December 17, 1972 | League Championship |
| Oldham v Leigh | Home | December 24, 1972 | League Championship |
| Rochdale Hornets v Oldham | Away | December 26, 1972 | League Championship |
| Warrington v Oldham | Away | December 31, 1972 | League Championship |
| Whitehaven v Oldham | Away | January 6, 1973 | League Championship |
| Oldham v York | Home | January 14, 1973 | League Championship |
| Barrow v Oldham | Away | January 19, 1973 | League Championship |
| Oldham v Barrow | Home | January 28, 1973 | Rugby League Challenge Cup |
| Oldham v Blackpool Borough | Home | February 11, 1973 | League Championship |
| Hull FC v Oldham | Away | February 17, 1973 | Rugby League Challenge Cup |
| Widnes v Oldham | Away | February 25, 1973 | League Championship |
| Castleford v Oldham | Away | March 3, 1973 | Rugby League Challenge Cup |
| Oldham v Barrow | Home | March 11, 1973 | League Championship |
| Blackpool Borough v Oldham | Away | March 18, 1973 | League Championship |
| Oldham v Warrington | Home | March 21, 1973 | League Championship |
| Oldham v Dewsbury | Home | April 1, 1973 | League Championship |
| Oldham v Swinton | Home | April 8, 1973 | League Championship |
| Salford v Oldham | Away | April 13, 1973 | League Championship |
| Swinton v Oldham | Away | April 21, 1973 | League Championship |
| Oldham v Rochdale Hornets | Home | April 23, 1973 | League Championship |
| Dewsbury v Oldham | Away | April 29, 1973 | League Championship |
| Leeds v Oldham | Away | August 18, 1973 | Division 1 |
| Oldham v Dewsbury | Home | August 25, 1973 | Division 1 |
| Oldham v Wigan | Home | September 1, 1973 | Lancashire Cup |
| Oldham v Bramley | Home | September 8, 1973 | Division 1 |
| Oldham v Featherstone Rovers | Home | November 7, 1973 | Division 1 |
| Oldham v Widnes | Home | November 11, 1973 | Division 1 |
| Oldham v Wigan | Home | November 25, 1973 | Division 1 |
| Oldham v St Helens | Home | December 8, 1973 | Division 1 |
| Featherstone Rovers v Oldham | Away | December 15, 1973 | Division 1 |
| Oldham v Leigh | Home | December 23, 1973 | Division 1 |
| Oldham v Rochdale Hornets | Home | December 26, 1973 | Division 1 |
| Whitehaven v Oldham | Away | December 30, 1973 | Division 1 |
| Salford v Oldham | Away | January 1, 1974 | Division 1 |
| Oldham v Hull Kingston Rovers | Home | January 6, 1974 | Division 1 |
| Leigh v Oldham | Away | January 13, 1974 | Division 1 |
| Oldham v Wakefield Trinity | Home | February 16, 1974 | Division 1 |
| Oldham v Leeds | Home | March 3, 1974 | Division 1 |
| Widnes v Oldham | Away | March 17, 1974 | Division 1 |
| Hull Kingston Rovers v Oldham | Away | March 24, 1974 | Division 1 |
| Warrington v Oldham | Away | March 29, 1974 | Division 1 |
| St Helens v Oldham | Away | March 31, 1974 | Division 1 |
| Castleford v Oldham | Away | April 7, 1974 | Division 1 |
| Oldham v Salford | Home | April 13, 1974 | Division 1 |
| Rochdale Hornets v Oldham | Away | April 15, 1974 | Division 1 |
| Oldham v Widnes | Home | September 1, 1974 | Lancashire Cup |
| Blackpool Borough v Oldham | Away | September 8, 1974 | Division 2 |
| Oldham v Hull Kingston Rovers | Home | September 10, 1974 | BBC |
| Oldham v Huddersfield | Home | September 14, 1974 | Division 2 |
| Hull Kingston Rovers v Oldham | Away | September 17, 1974 | BBC |
| Hull Kingston Rovers v Oldham | Away | September 20, 1974 | Division 2 |
| Oldham v Workington Town | Home | September 29, 1974 | Players No.6 Cup |
| New Hunslet v Oldham | Away | October 6, 1974 | Division 2 |
| Oldham v Hull FC | Home | October 12, 1974 | Division 2 |
| Whitehaven v Oldham | Away | October 18, 1974 | Division 2 |
| Oldham v Huyton | Home | October 26, 1974 | Division 2 |
| Swinton v Oldham | Away | November 3, 1974 | Division 2 |
| Oldham v Bradford Northern | Home | November 9, 1974 | Players No.6 Cup |
| Oldham v Workington Town | Home | November 16, 1974 | Division 2 |
| Doncaster v Oldham | Away | November 24, 1974 | Division 2 |
| Oldham v Batley | Home | November 30, 1974 | Division 2 |
| Workington Town v Oldham | Away | December 8, 1974 | Division 2 |
| Oldham v Hull Kingston Rovers | Home | December 15, 1974 | Division 2 |
| Huddersfield v Oldham | Away | December 26, 1974 | Division 2 |
| Huyton v Oldham | Away | December 29, 1974 | Division 2 |
| Oldham v New Hunslet | Home | January 5, 1975 | Division 2 |
| Oldham v Doncaster | Home | January 12, 1975 | Division 2 |
| Barrow v Oldham | Away | January 17, 1975 | Division 2 |
| Oldham v Swinton | Home | February 2, 1975 | Division 2 |
| Oldham v Blackpool Borough | Home | February 9, 1975 | Rugby League Challenge Cup |
| Leigh v Oldham | Away | February 16, 1975 | Division 2 |
| Rochdale Hornets v Oldham | Away | February 23, 1975 | Rugby League Challenge Cup |
| Oldham v Rochdale Hornets | Home | February 26, 1975 | Rugby League Challenge Cup |
| Oldham v Widnes | Home | March 9, 1975 | Rugby League Challenge Cup |
| Oldham v Leigh | Home | March 15, 1975 | Division 2 |
| Oldham v Barrow | Home | April 6, 1975 | Division 2 |
| Hull FC v Oldham | Away | April 20, 1975 | Division 2 |
| Oldham v England | Home | April 22, 1975 | Benefit Match |
| St Helens v Oldham | Away | April 25, 1975 | Premiership |
| Rochdale Hornets v Oldham | Away | August 10, 1975 | Law Cup |
| Oldham v Keighley | Home | August 24, 1975 | Division 1 |
| Oldham v St Helens | Home | August 31, 1975 | Lancashire Cup |
| Featherstone Rovers v Oldham | Away | September 7, 1975 | Division 1 |
| Oldham v Wigan | Home | September 21, 1975 | Division 1 |
| Huyton v Oldham | Away | September 28, 1975 | Players No.6 Cup |
| Oldham v Widnes | Home | September 30, 1975 | BBC |
| Keighley v Oldham | Away | October 5, 1975 | Division 1 |
| Oldham v Huddersfield | Home | October 12, 1975 | Division 1 |
| Leeds v Oldham | Away | October 18, 1975 | Division 1 |
| Wakefield Trinity v Oldham | Away | October 26, 1975 | Division 1 |
| Oldham v Dewsbury | Home | November 2, 1975 | Division 1 |
| Oldham v Australia | Home | November 4, 1975 | Centenary Match |
| Salford v Oldham | Away | November 9, 1975 | Players No.6 Cup |
| Oldham v Dewsbury | Home | November 11, 1975 | BBC |
| Oldham v Salford | Home | November 16, 1975 | Division 1 |
| Oldham v Leeds | Home | November 30, 1975 | Division 1 |
| Huddersfield v Oldham | Away | December 7, 1975 | Division 1 |
| Oldham v St Helens | Home | December 14, 1975 | Division 1 |
| Bradford Northern v Oldham | Away | December 21, 1975 | Division 1 |
| Oldham v Swinton | Home | December 26, 1975 | Division 1 |
| Wigan v Oldham | Away | February 22, 1976 | Division 1 |
| Oldham v York | Home | February 29, 1976 | Rugby League Challenge Cup |
| Oldham v Wakefield Trinity | Home | March 7, 1976 | Division 1 |
| St Helens v Oldham | Away | March 14, 1976 | Rugby League Challenge Cup |
| Widnes v Oldham | Away | March 21, 1976 | Division 1 |
| Oldham v St Helens | Home | March 24, 1976 | Division 1 |
| Warrington v Oldham | Away | March 30, 1976 | Division 1 |
| Castleford v Oldham | Away | April 2, 1976 | Division 1 |
| Oldham v Featherstone Rovers | Home | April 4, 1976 | Division 1 |
| Oldham v Warrington | Home | April 7, 1976 | Division 1 |
| Oldham v Bradford Northern | Home | April 11, 1976 | Division 1 |
| Hull Kingston Rovers v Oldham | Away | April 16, 1976 | Division 1 |
| Swinton v Oldham | Away | April 19, 1976 | Division 1 |
| Oldham v Widnes | Home | April 25, 1976 | Division 1 |
| Oldham v Rochdale Hornets | Home | August 15, 1976 | Law Cup |
| Blackpool Borough v Oldham | Away | August 22, 1976 | Lancashire Cup |
| Oldham v Barrow | Home | September 11, 1977 | Division 2 |
| Blackpool Borough v Oldham | Away | September 18, 1977 | Division 2 |
| Doncaster v Oldham | Away | October 2, 1977 | Division 2 |
| Oldham v Barrow | Home | October 23, 1977 | John Player Cup |
| Oldham v Whitehaven | Home | October 30, 1977 | Division 2 |
| Salford v Oldham | Away | November 1, 1977 | BBC |
| Huddersfield v Oldham | Away | November 6, 1977 | John Player Cup |
| Leigh v Oldham | Away | November 13, 1977 | Division 2 |
| Oldham v Halifax | Home | November 20, 1977 | Division 2 |
| Swinton v Oldham | Away | November 27, 1977 | Division 2 |
| Barrow v Oldham | Away | December 4, 1977 | Division 2 |
| Oldham v Batley | Home | December 11, 1977 | Division 2 |
| Oldham v Rochdale Hornets | Home | December 26, 1977 | Division 2 |
| York v Oldham | Away | January 8, 1978 | Division 2 |
| Oldham v Keighley | Home | January 15, 1978 | Division 2 |
| Oldham v Leigh | Home | January 29, 1978 | Division 2 |
| Batley v Oldham | Away | February 4, 1978 | Division 2 |
| Oldham v Doncaster | Home | February 26, 1978 | Rugby League Challenge Cup |
| Oldham v St Helens | Home | March 12, 1978 | Rugby League Challenge Cup |
| Oldham v Blackpool Borough | Home | March 19, 1978 | Division 2 |
| Rochdale Hornets v Oldham | Away | March 24, 1978 | Division 2 |
| Oldham v Huddersfield | Home | March 27, 1978 | Division 2 |
| Oldham v Doncaster | Home | April 2, 1978 | Division 2 |
| Whitehaven v Oldham | Away | April 9, 1978 | Division 2 |
| Oldham v York | Home | April 12, 1978 | Division 2 |
| Halifax v Oldham | Away | April 16, 1978 | Division 2 |
| Oldham v Rochdale Hornets XIII | Home | April 27, 1978 | Benefit Match |
| Oldham v Rochdale Hornets | Home | August 6, 1978 | Law Cup |
| Salford v Oldham | Away | August 18, 1978 | Lancashire Cup |
| Barrow v Oldham | Away | August 27, 1978 | BBC |
| Oldham v Keighley | Home | September 3, 1978 | Division 2 |
| Hull FC v Oldham | Away | September 10, 1978 | Division 2 |
| Oldham v Dewsbury | Home | September 17, 1978 | Division 2 |
| Hull Kingston Rovers v Oldham | Away | September 24, 1978 | John Player Cup |
| Keighley v Oldham | Away | October 1, 1978 | Division 2 |
| Doncaster v Oldham | Away | October 15, 1978 | Division 2 |
| Halifax v Oldham | Away | October 22, 1978 | Division 2 |
| Oldham v Blackpool Borough | Home | November 26, 1978 | Division 2 |
| Oldham v Halifax | Home | December 10, 1978 | Division 2 |
| Huyton v Oldham | Away | December 17, 1978 | Division 2 |
| Oldham v Swinton | Home | December 26, 1978 | Division 2 |
| Oldham v Ace Amateurs | Home | February 28, 1979 | Rugby League Challenge Cup |
| Oldham v Wakefield Trinity | Home | March 4, 1979 | Rugby League Challenge Cup |
| Oldham v Huyton | Home | March 11, 1979 | Division 2 |
| Oldham v Bramley | Home | March 25, 1979 | Division 2 |
| Blackpool Borough v Oldham | Away | April 1, 1979 | Division 2 |
| Oldham v Doncaster | Home | April 8, 1979 | Division 2 |
| Swinton v Oldham | Away | April 13, 1979 | Division 2 |
| Batley v Oldham | Away | April 15, 1979 | Division 2 |
| New Hunslet v Oldham | Away | April 22, 1979 | Division 2 |
| Dewsbury v Oldham | Away | April 25, 1979 | Division 2 |
| Oldham v Whitehaven | Home | April 29, 1979 | Division 2 |
| Oldham v Hull FC | Home | May 7, 1979 | Division 2 |
| Bramley v Oldham | Away | May 13, 1979 | Division 2 |
| York v Oldham | Away | May 20, 1979 | Division 2 |
| Rochdale Hornets v Oldham | Away | August 3, 1979 | Law Cup |
| Oldham v St Helens | Home | August 12, 1979 | Friendly |
| Swinton v Oldham | Away | August 19, 1979 | Lancashire Cup |
| Oldham v Warrington | Home | August 26, 1979 | Lancashire Cup |
| Doncaster v Oldham | Away | September 2, 1979 | Division 2 |
| Oldham v Huyton | Home | September 9, 1979 | Division 2 |
| Oldham v Leeds | Home | September 16, 1979 | John Player Cup |
| Oldham v St Helens | Home | September 19, 1979 | BBC |
| Batley v Oldham | Away | September 23, 1979 | Division 2 |
| Oldham v Featherstone Rovers | Home | October 7, 1979 | Division 2 |
| Swinton v Oldham | Away | November 18, 1979 | Division 2 |
| Oldham v Dewsbury | Home | November 25, 1979 | Division 2 |
| Huyton v Oldham | Away | December 2, 1979 | Division 2 |
| Barrow v Oldham | Away | March 2, 1980 | Division 2 |
| Oldham v Whitehaven | Home | March 9, 1980 | Division 2 |
| Oldham v Keighley | Home | March 16, 1980 | Division 2 |
| Oldham v Doncaster | Home | March 30, 1980 | Division 2 |
| Rochdale Hornets v Oldham | Away | April 4, 1980 | Division 2 |
| Oldham v Halifax | Home | April 9, 1980 | Division 2 |
| Bramley v Oldham | Away | April 20, 1980 | Division 2 |
| Oldham v Rl Select | Home | April 27, 1980 | Benefit Match |
| Oldham v Featherstone Rovers | Home | September 14, 1980 | Division 1 |